Here are Australia's Richest People Under 40 in 2018
The Financial Review has revealed Australia's Young Rich List for 2018, with record-breaking wealth recorded amongst the country's next generation of game changers. This year marks the 15th anniversary of the Financial Review Young Rich List of wealthy Australians aged 40 and under. The collective wealth of the top 100 earners sits at a staggering $23.5 billion.
For a record seventh year, the list was topped by tech company Atlassian co-founders Mike Cannon-Brookes and Scott Farquhar. They take the #1 and #2 positions with a record $14.2 billion, smashing their previous $6.08 billion.
2018 TOP 10
#1 & 2 Mike Cannon-Brookes & Scott Farquhar * – $14.2 B (Technology)
#3 Tim Gurner – $631 M (Property)
#4 Ori Allon – $539 M (Technology)
#5 & 6 Kayla Itsines & Tobi Pearce * – $486 M (Fitness, technology)
#7 Owen Kerr – $460 M (Financial services)
#8 & 9 Collis & Cyan Ta'eed * – $428 M (Technology)
#10 Peter Greensill – $412 M (Agribusiness, financial services)
*shared wealth
Melbourne-based property developer Tim Gurner occupies #3 on this year's List with wealth of $631 million. You may remember Gurner as the clown who said young Australians would struggle to buy a home when "spending $40 a day on smashed avocados and coffees and not working."
New York-based technology and property identity Ori Allon, aged 38, rises to #4 on the 2018 Young Rich List with $539 million wealth to his name.
The fifth and sixth spots on the 2018 Young Rich List are jointly occupied by fitness power couple Kayla Itsines, 27, and Tobi Pearce, 26, whose $486 million combined wealth has seen them make one of the biggest jumps up the List over the past year. The duo, who generated most of their earnings from their fitness app Sweat, are the wealthiest self-made 20-somethings in Australia.
Thor actor Chris Hemsworth topped the celebrity earnings. The God of Thunder made an impressive $58 million. Stunner Miranda Kerr made $52 from modelling and her brand Kora Organics.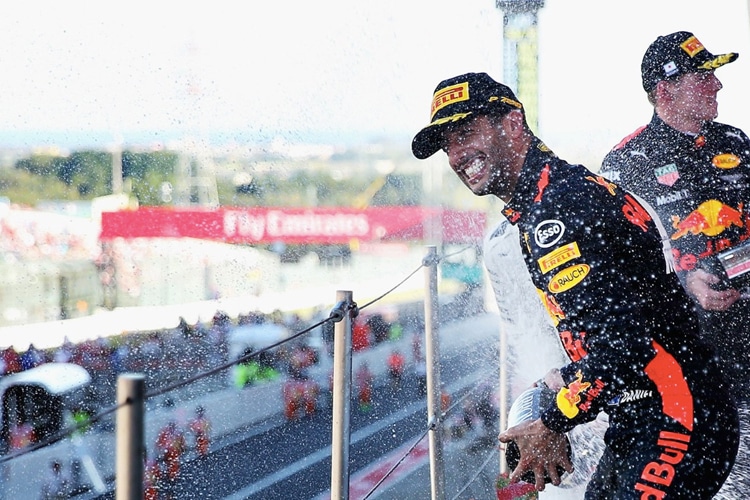 The roll call of Australian sporting names on the List includes Andrew Bogut, Adam Scott, Harry Kewell, Tim Cahill, Daniel Ricciardo, Jason Day, Chad Reed and James Spithill.
Steve Smith even made the list despite being dropped from the team for ball tampering back in March. The longest tenure on the List sits with soccer star Harry Kewell who's remained in the top 100 earners since 2003.
You can find the complete Financial Review Young Rich List including a short story on each of the top 100 inside the November issue of The Australian Financial Review available from October 26.
TOP 5 WOMEN
Kayla Itsines – $486 million (5, 6) *
Cyan Ta'eed – $428 million (8, 9) *
Melanie Perkins – $177 million (17, 18) *
Miranda Kerr – $52 million (52)
Emily Skye – $36 million (67, 68) *
*shared wealth
TOP 5 MEN
Mike Cannon-Brookes & Scott Farquhar – $14.2 billion (1, 2) *
Tim Gurner – $631 million (3)
Ori Allon – $539 million (4)
Tobi Pearce – $486 million (5, 6) *
*shared wealth
ARTS/CELEBRITY
Chris Hemsworth – $58 million (49)
Miranda Kerr – $52 million (52)
TOP 5 SPORT
Andrew Bogut – $81 million (30)
Adam Scott – $77 million (33)
Harry Kewell – $58 million (48)
Jason Day – $49 million (53)
Tim Cahill – $40 million (63)