Jaxjox Offers a Connected Home Workout Personalised to Your Progress
Everything is connected anymore, including your workouts. And now, your workout gear is getting in on the show as well. Jaxjox new InteractiveStudio is a home workout solution that offers connected fitness using a variety of cardio, strength training, and recovery workouts.
You'll also like:
Carbon Trainer is the New Fitness Mirror Designed for Home Strength Training
Punch It Out with the Liteboxer Bundle
Tempo Fit System Uses AI to 3D Map Your Body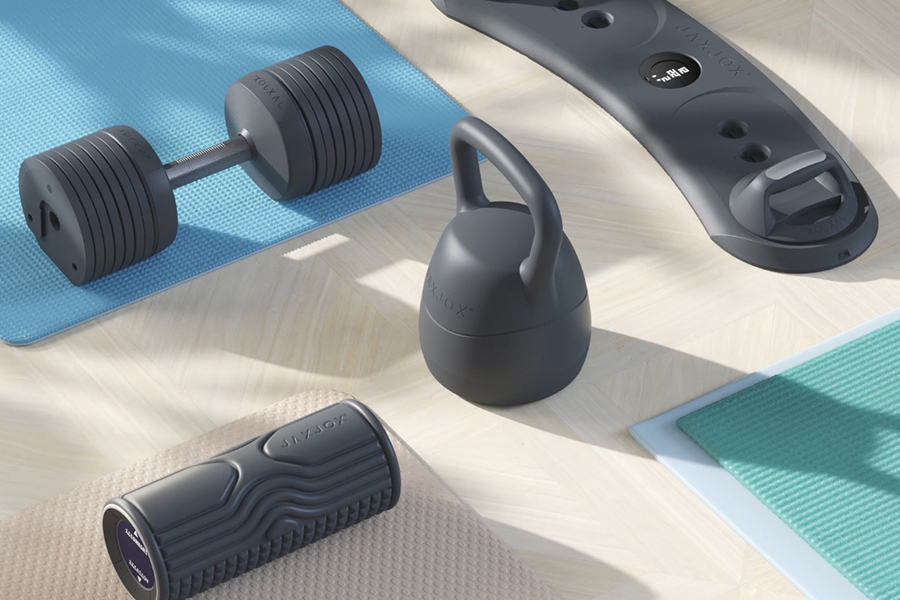 Jaxjox InteractiveStudio is a freestanding system that includes a kettlebell, dumbbell, foam roller, and a push-up tool. Even with all that equipment, the system still only takes up about half the space that a stationary bike does and a third of the space of a treadmill. A 43-inch touchscreen TV mounts directly to your wall and can be rotated either horizontally or vertically. It also tilts 15 degrees so that when you are doing floor exercises you can still see the screen.
Each piece of the system connects virtually, allowing you to track your workouts. The KettlebellConnect 2.0 is an adjustable kettlebell that can provide weight from 12 to 42 pounds. The DumbbellConnect similarly adjusts, ranging from 8 to 50 pounds. Using the app, you can control the Foam RollerConnect to work through five vibration intensity zones. Finally, the Push UpConnect uses four different hand positions to help target different muscle groups while maintaining correct position and stabilising your wrists. The system also comes with a subscription to the Jaxjox Studio, which includes live and on-demand classes ranging from High Intensity Interval Training to yoga. You can also use rhe app to track your progress and performance with real-time data.
"At Jaxjox, our goal is to give you the best gym experience you've ever had—all from your home," says Stephen Owusu, the CEO and founder of Jaxjox. "We've created a first-of-its-kind, connected fitness setup that works together to personalise our workouts, track your progress and support you in reaching your fitness goals. We've achieve that with the InteractiveStudio. We're delivering something that is a complete solution rather than just speaking to strength training or just speaking to cardio. We're fulfilling it all in one." The Jaxjox InteractiveStudio retails for USD$2,199, while the subscription to the workout programs costs USD$39.99 a month.
You'll also like:
Carbon Trainer is the New Fitness Mirror Designed for Home Strength Training
Punch It Out with the Liteboxer Bundle
Tempo Fit System Uses AI to 3D Map Your Body