40 Best Australian Lollies, Candy, and Sweets
The best Australian lollies, candy and sweets have all become a ubiquitous part of the Aussie experience. We've contributed numerous lollies to the world's supply; some good (Fantales, Dairy Milk Snack, Caramello Koalas), some bad (Red Frogs), and some just bizarre (could you imagine handing an American eating a Witchetty Grub?). Our list of the best below has all the great flavours you're after when you want to take a trip down memory lane.
RELATED: These are the best Australian chocolate brands to eat right now.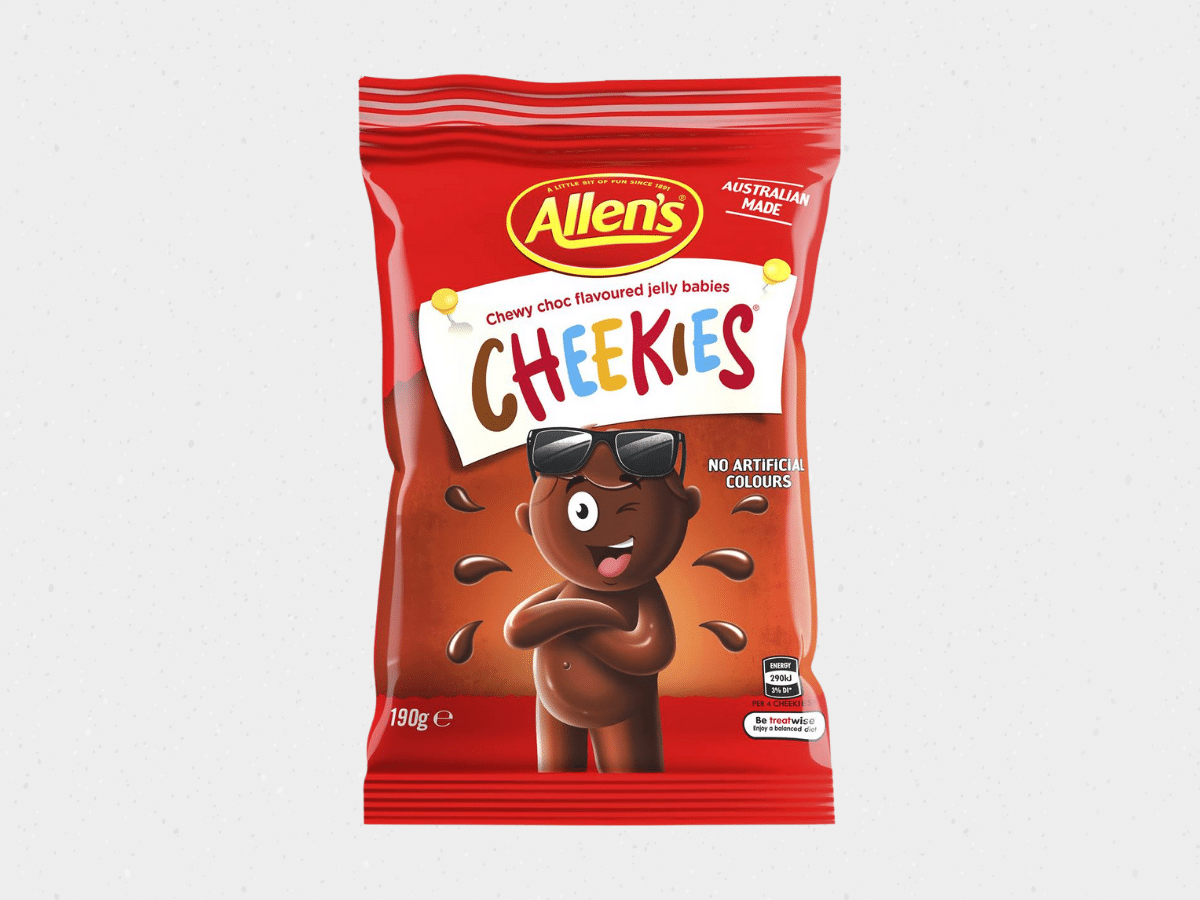 1. Cheekies
Originally named 'Chicos' after the Spanish word meaning 'children', Cheekies were subject to a name change on 16 November 2020 but their formula remains the same. Textures are gelatinous – similar to jelly babies – except in this case, Cheekies are chocolate flavoured, with cocoa giving them their dark brown hue. They're kind of a love-it-or-hate-it candy but with the debate officially squashed around the potentially racist undertones of the name, we're happy to mark them at the top of our list of Australian lollies.
Manufacturer: Allen's
Flavour: Chocolate
Price: from $2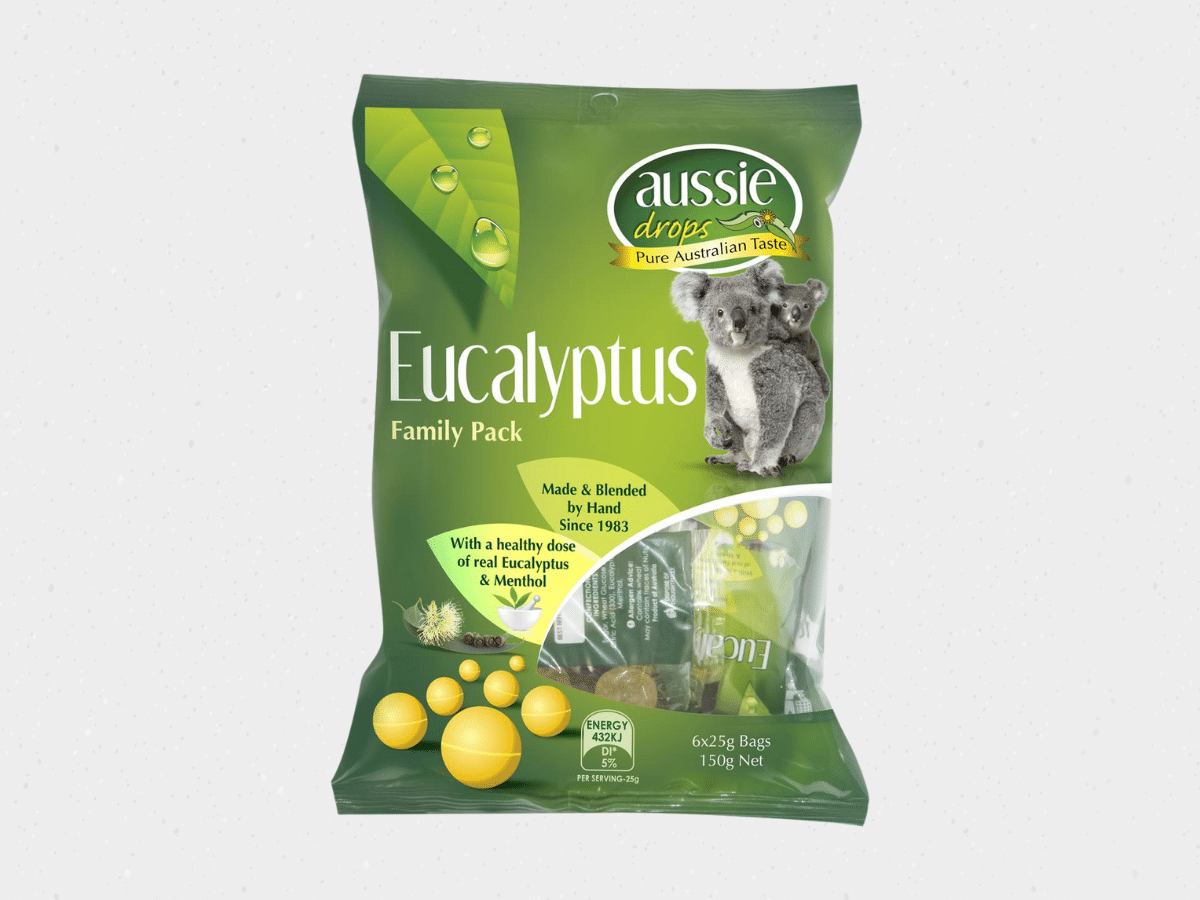 2. Eucalyptus Drops
Often copied but never replicated, this is about as good as true blue Aussie sweets get. When a sore throat also doubles as the perfect excuse to break out some treats the humble eucalyptus drop is happy to oblige. Made from a mixture of eucalyptus and menthol, these hard candies have a soothing yet tingling feeling ideal for numbing a sore throat. They're also ruddy cheap, "they only cost a few bucks" as we Aussies would say. Just don't open a pack around your mates, they're like seagulls to hot chips with these lollies.
Ingredients: Sugar, Wheat Glucose Syrup, Citric Acid (330), Eucalyptus Oil & Menthol.
Manufacturer: Aussie Drops
Flavour: Eucalyptus
Price: from $3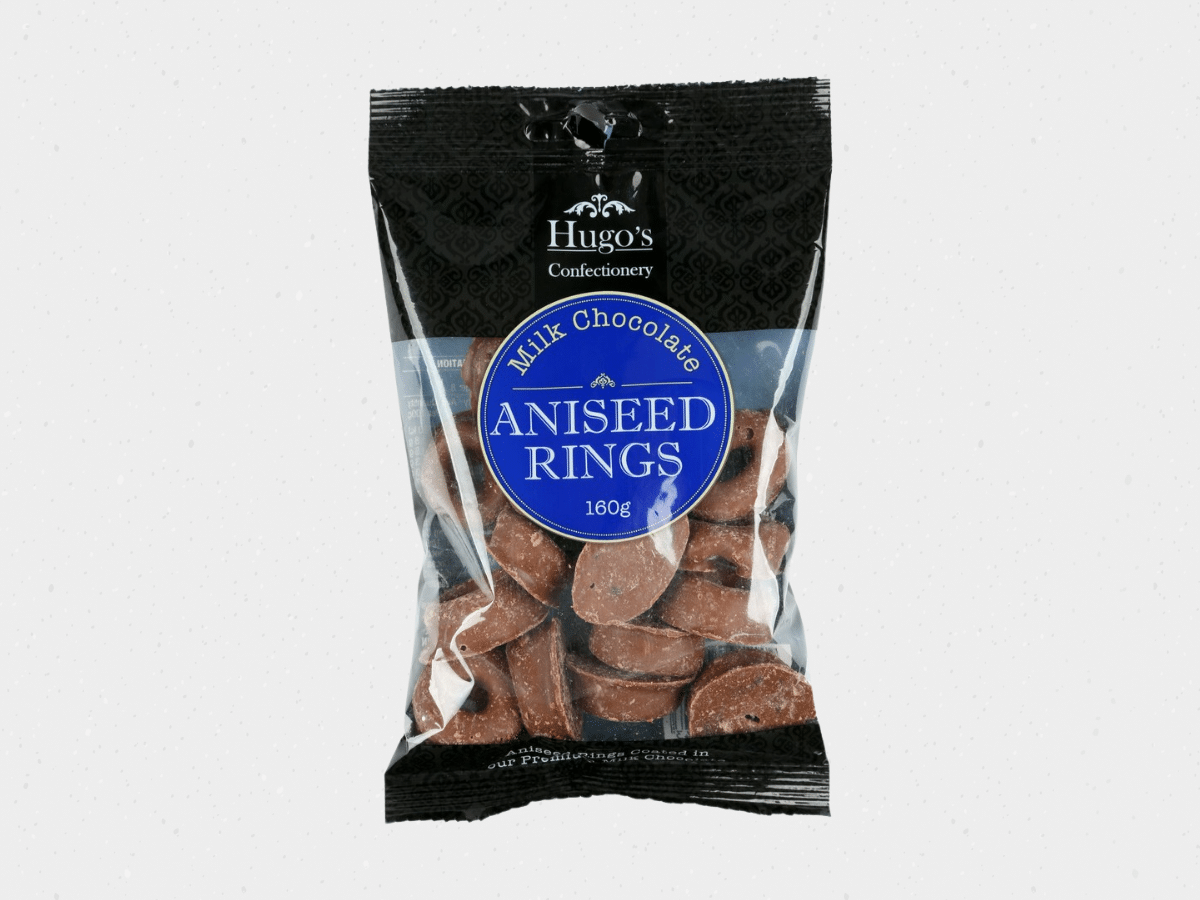 3. Aniseed Rings
Part of the parsley family, anise seed seems like an odd addition to a lolly. Traditionally used as a cure for digestive issues, the strong flavour of anise seed was masked with sugar and turned into aniseed balls, lollies, and Aniseed Rings to make a palatable yet beneficial treat. Today's Aniseed Rings are gelatinous ringed lollies flavoured with aniseed and covered in sugar – if you haven't tried them before, ask your grandmother what she thinks and report back to us.
Manufacturer: Hugo's Confectionery
Flavour: aniseed rings coated in milk chocolate
Price: from $4
---
Featured Video from Man of Many
---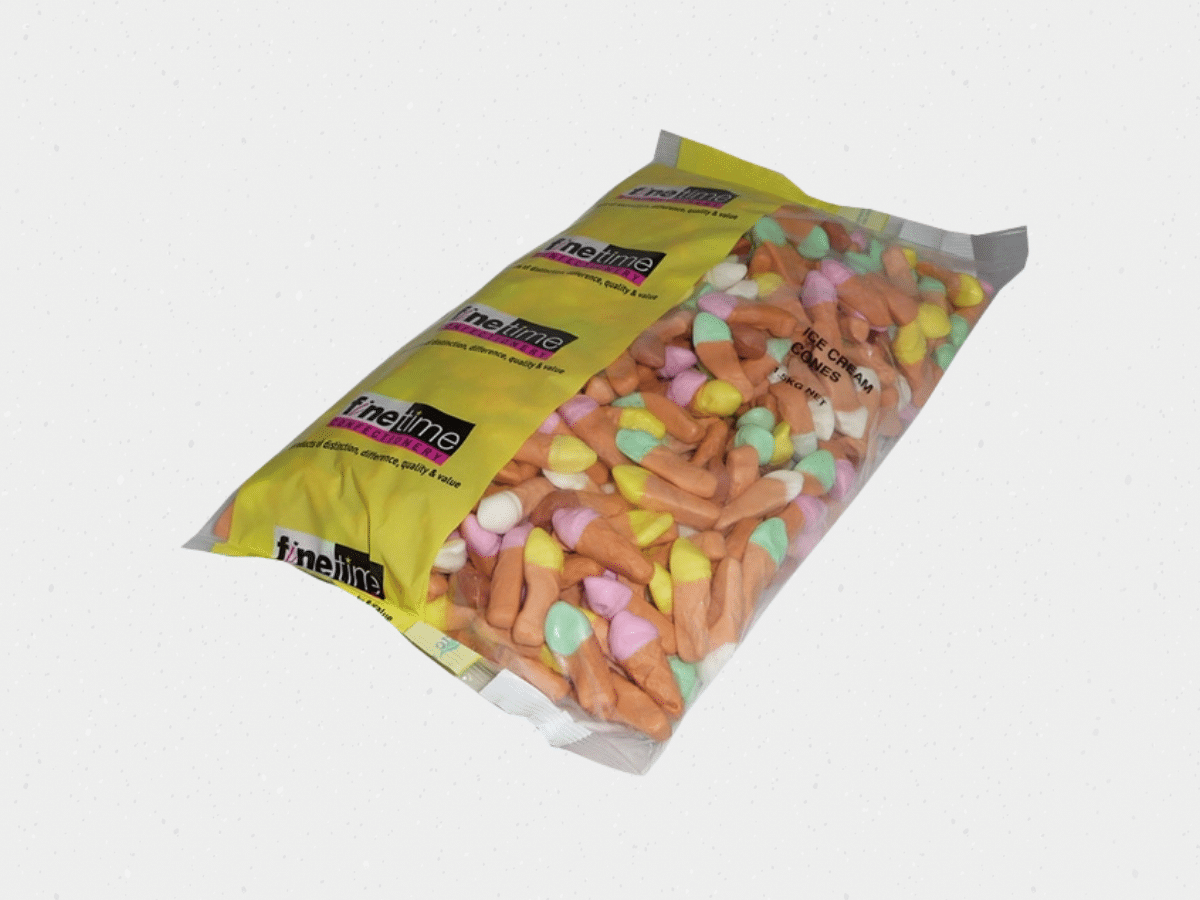 4. Ice Cream Cones – Discontinued
While they might be a little hard to find these days, the old FineTime Ice Cream cones are an Aussie staple. Pretty much a necessity in every kid's party lolly bag since their inception, these Aussie treats are relatively tasteless; a lower tier pick 'n' mix candy at the cinema. More nostalgic than tasteful.
Manufacturer: FineTime
Flavour: cream
Price: Discontinued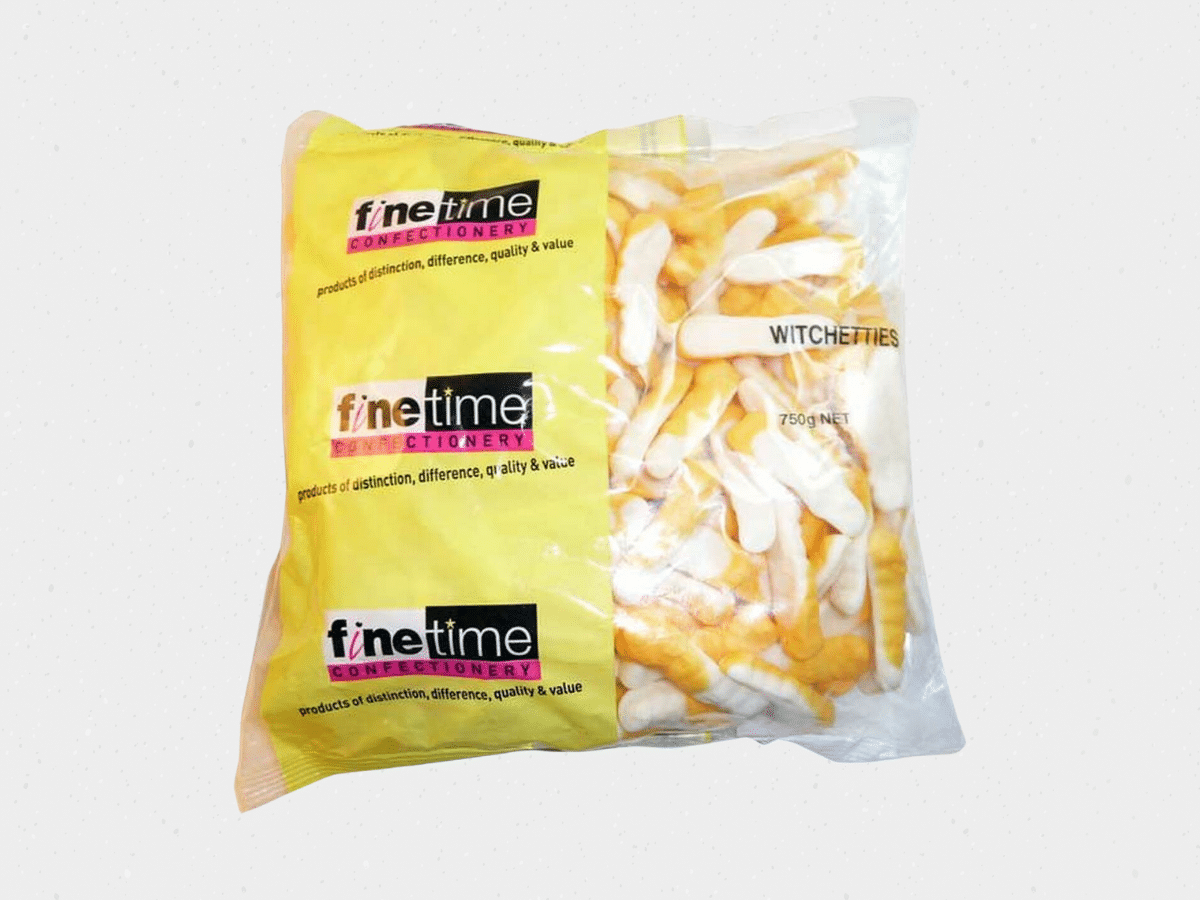 5. Witchetties
If we're being completely honest here, the old Aussie witchetty candy is pretty tasteless and rather underwhelming as a lollie. But I guess they're better than actual witchetty grubs? We'd almost call them a complete carbon copy of ice cream cones but less cute and more insect-y.
Brand/Manufacturer: FineTime
Flavour: cream
Price: from $3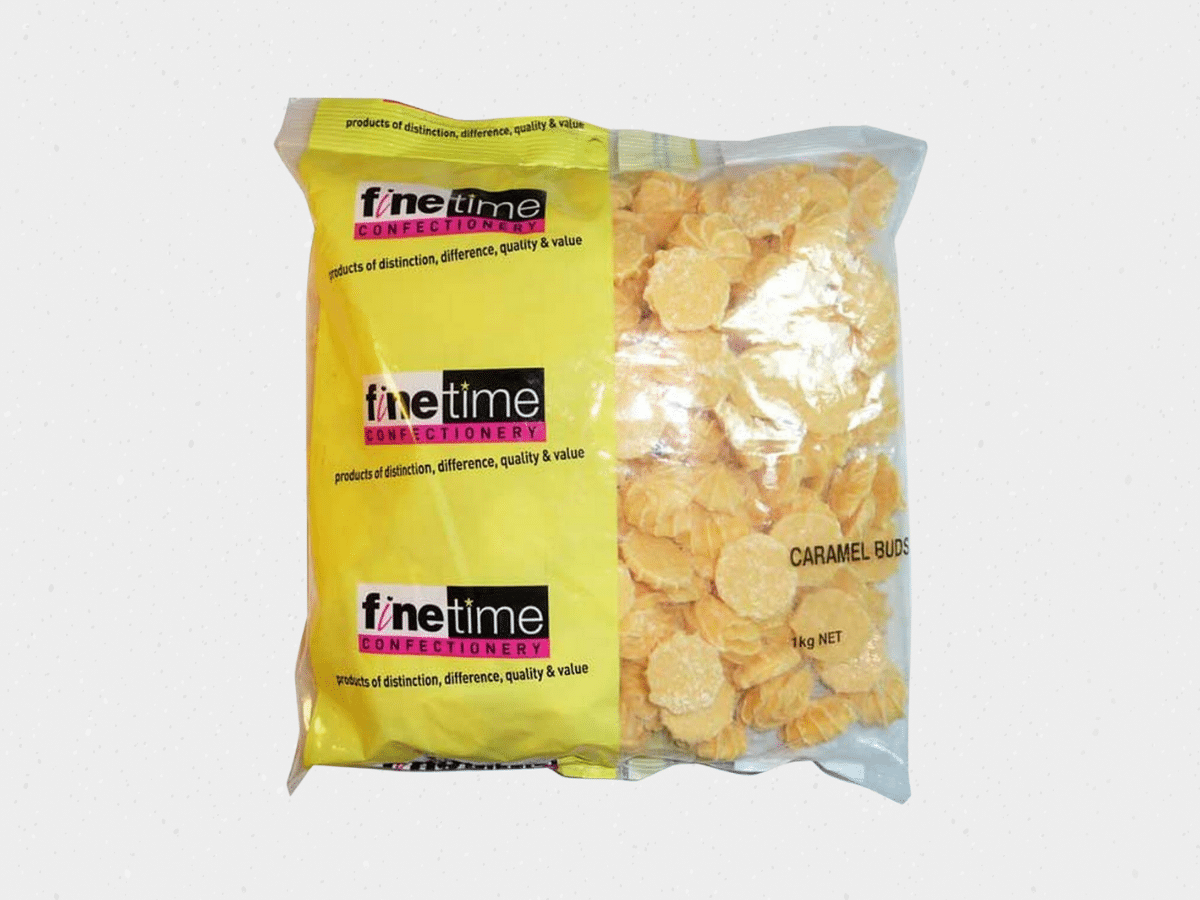 6. Caramel Buds – Discontinued
An old classic, definitely a higher-tier pick 'n' mix candy. These are like a poor man's fudge; nice but sickeningly sweet by the time you get around to the second handful. And then you grab your third, and fourth.
Manufacturer: FineTime
Flavour: caramel flavoured chocolate
Price: Discontinued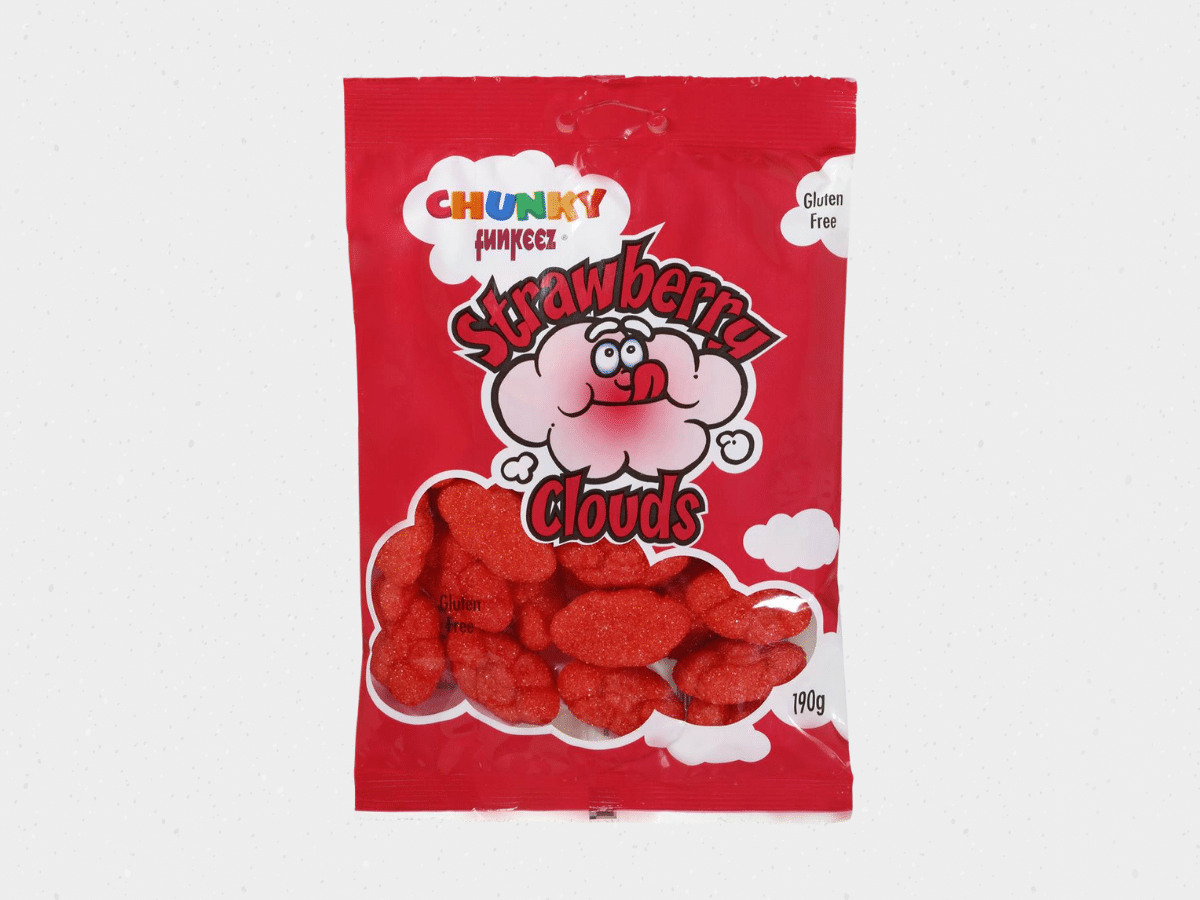 7. Strawberry Clouds
These fluffy Aussie lollies and delicious and oh-so-tasty. Most importantly, they highlight the fact that clouds, apparently, taste like strawberries! Hey, we're not complaining.
Manufacturer: Chunky Funkeez
Flavour: strawberry, blueberry, watermelon, strawberries and cream, blackcurrant, orange, grape
8. Sour Ears
This vaguely off-putting-looking candy makes your tongue tingle in the best possible way and is an ideal Halloween candy.
Manufacturer: Chunky Funkeez
Flavour: strawberry, sour
Price: $2.90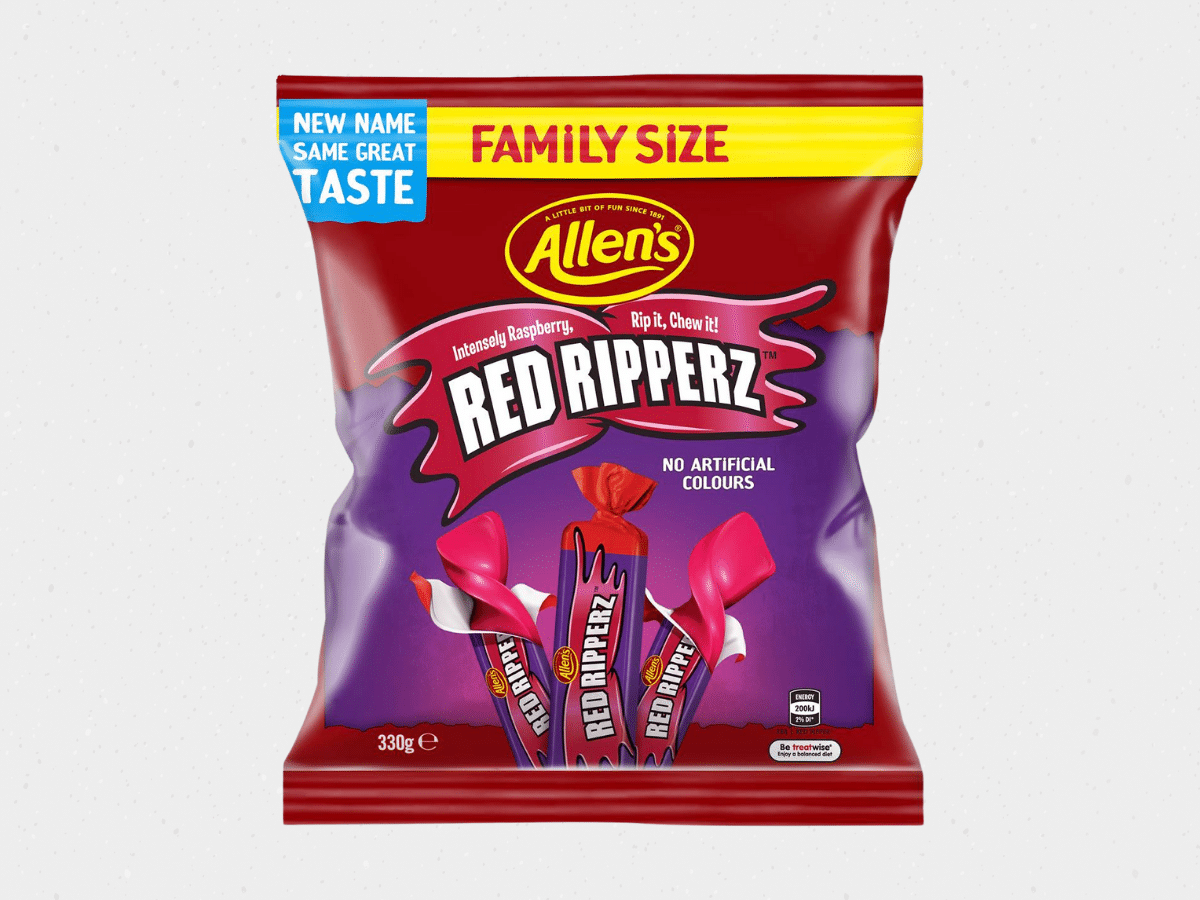 9. Red Ripperz
Previously called 'Red Skins' the king of red-coloured candy went through a name change towards the end of last year alongside a few other household names. Regardless of its previous racially undertoned name, this delicious childhood favourite changes texture depending on heat, but ultimately they'll get stuck in your teeth for hours after consuming one.
Manufacturer: Allen's
Flavour: raspberry
Price: from $4/ 330g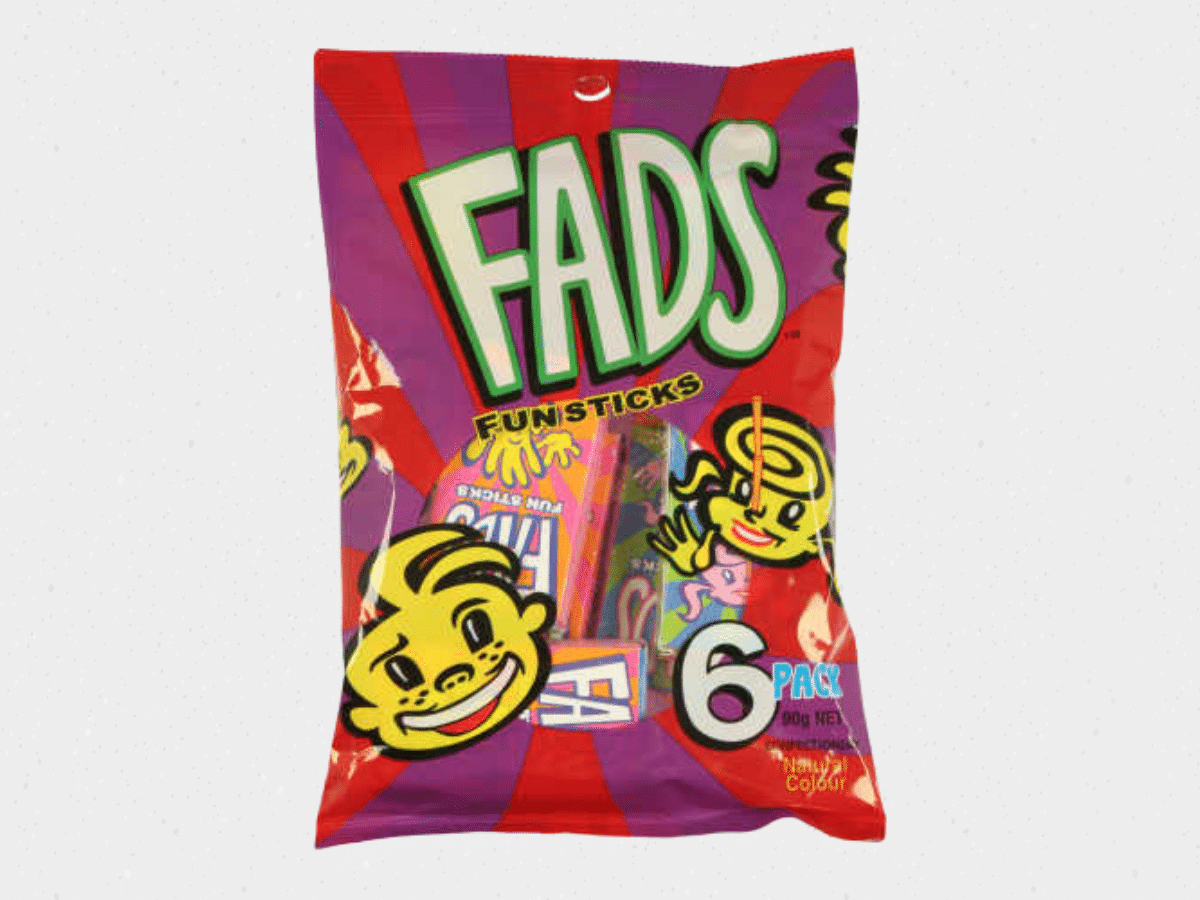 10. Fads
Did you know this Aussie Lollie was originally called F*gs and marketed as candy cigarettes? Regardless, these 'fun sticks' are a pretty decent musk-flavoured way to down some sugar.
Manufacturer: Riviera Confectionery
Flavour: musk
Price: from $2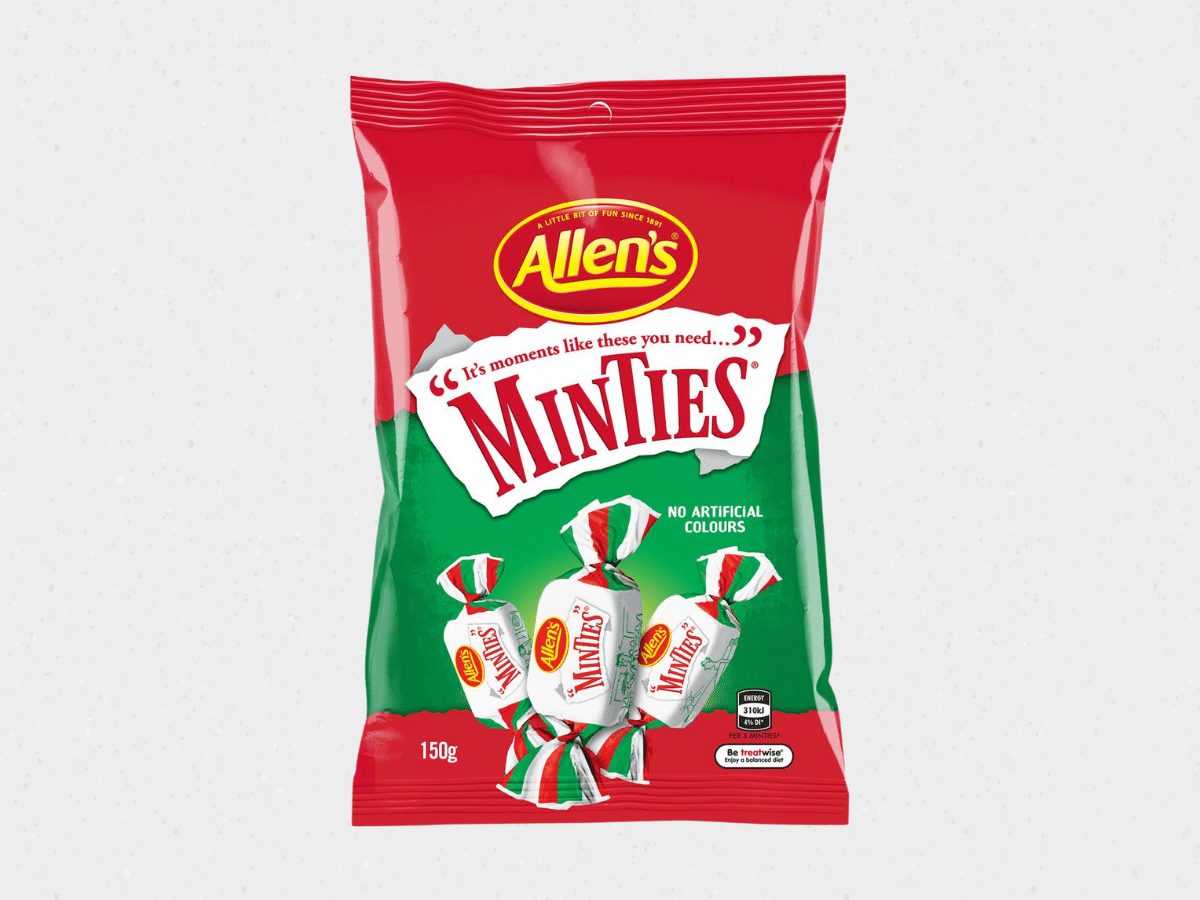 11. Minties
We mainly ate Minties to see how far we could rip the wrapper in a spiral before it tore, but a good candy to cleanse the palate and get your breath minty fresh while undertaking the all-important Mintie Challenge.
Manufacturer: Allen's
Flavour: mint
Price: from $3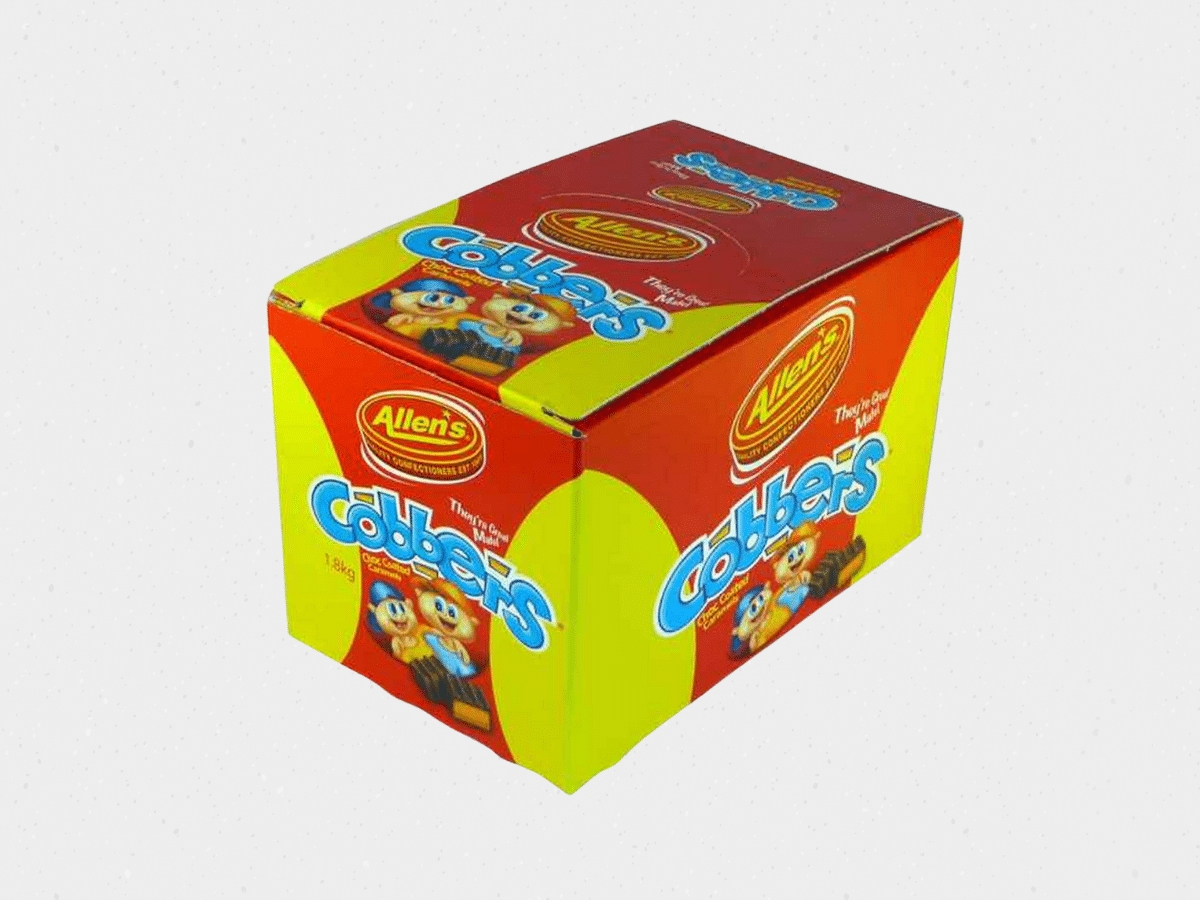 12. Cobbers – Discontinued
Delicious, dangerous, and now; discontinued. Probably due to the teeth chipping while tackling these chocolate-covered caramel delights, but it was (almost) worth it.
Manufacturer: Allen's
Flavour: caramel coated in chocolate
Price: from $20/ discontinued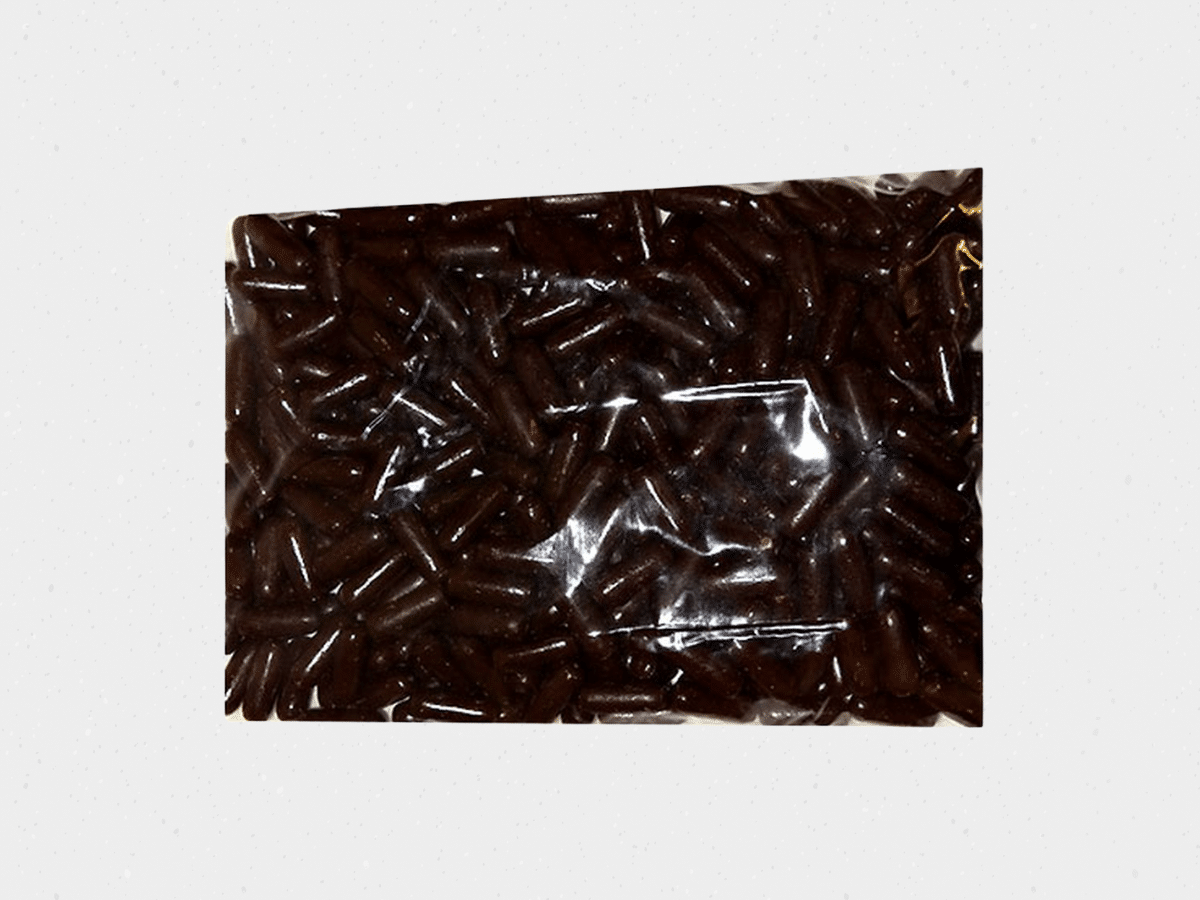 13. Licorice Bullets
Eating a Bullet is the candy equivalent of taking a bullet – we'd rather not. Unless you're into chocolate-covered licorice.
Manufacturer: Fyna Confectionery
Flavour: Chocolate-covered licorice
Price: from $8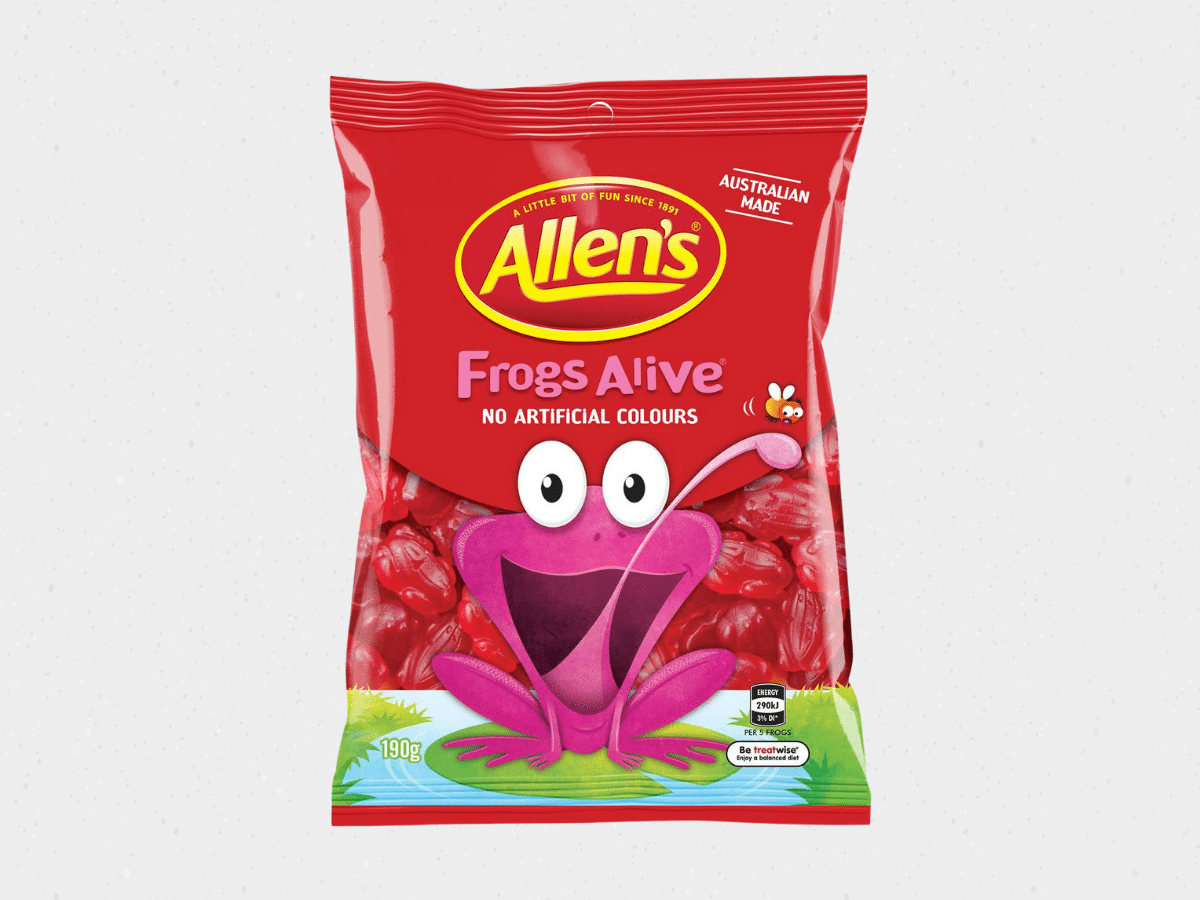 14. Frogs
Another low-tier lolly bag staple. Clean out your childhood room and you'll probably find a couple of these bad boys covered in lint but relatively unharmed. One of the most durable gelatinous candies, this kind of tasted like nothing but remains a lolly mainstay to this day.
Manufacturer: Allen's
Flavour: red and raspberry berry
Price: from $2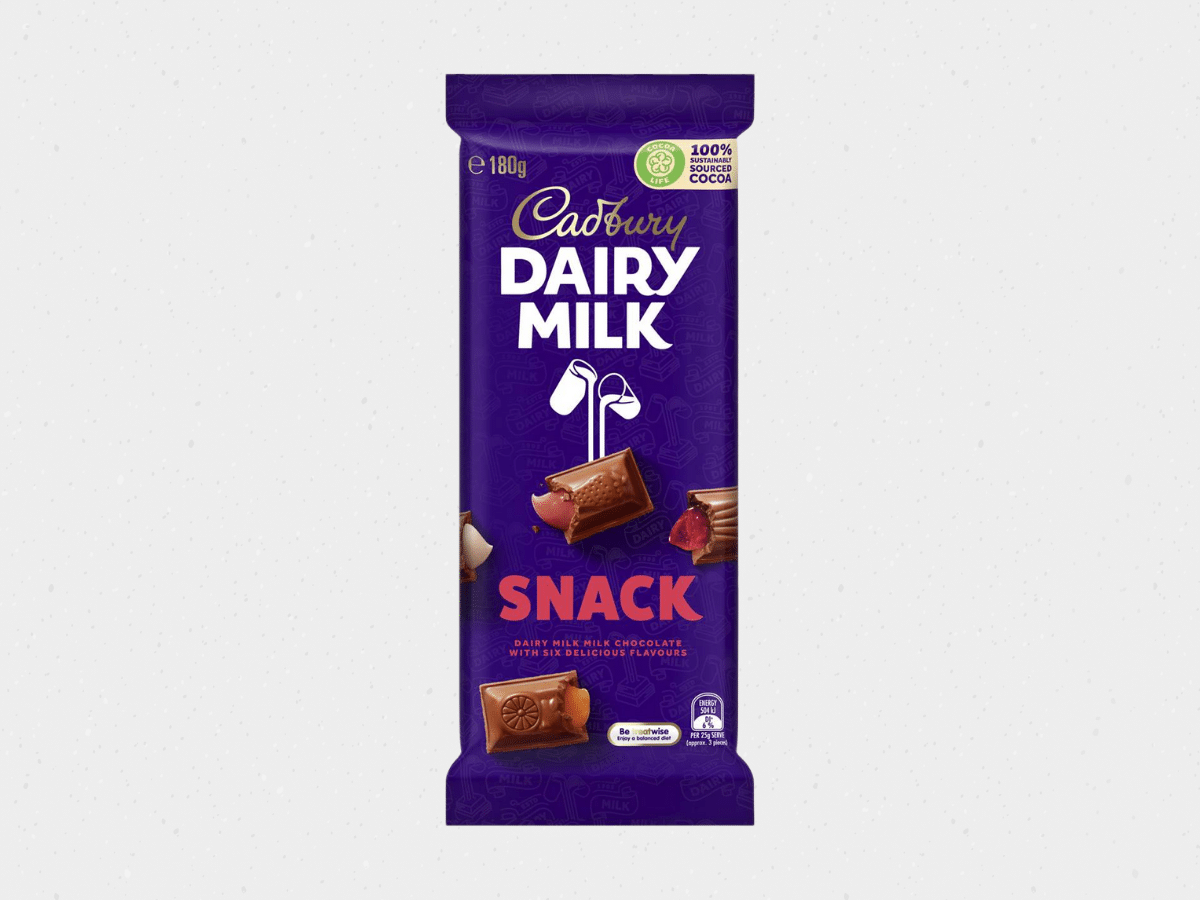 15. Dairy Milk Snack
Now we're talking. One of the most binge-able chocolates, the Dairy Milk Snack had something for everyone with six flavours – strawberry, pineapple, orange, coconut ice, Turkish Delight, and caramel.
Manufacturer: Dairy Milk
Flavour: strawberry, pineapple, orange, coconut ice, Turkish Delight, caramel
Price: from $3.50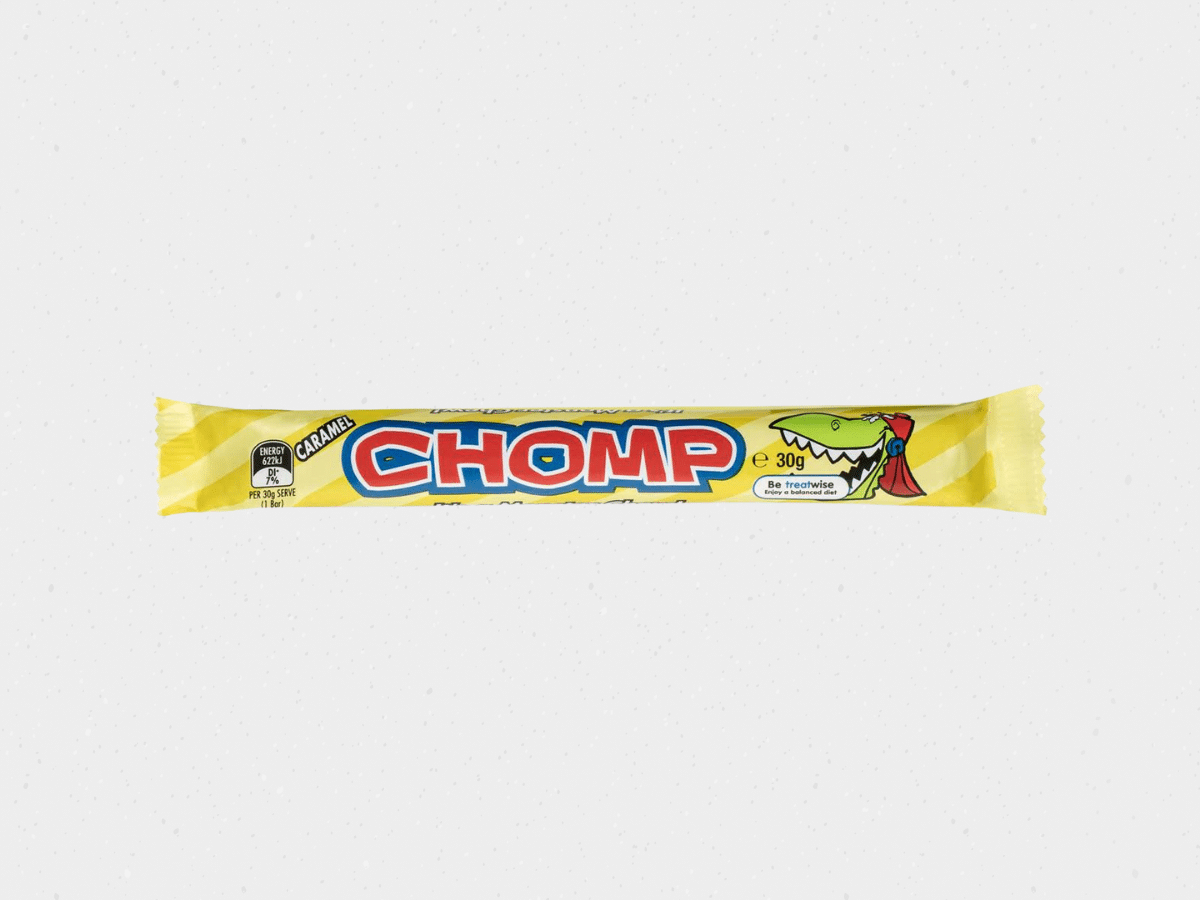 16. Chomp
A culinary amalgam of the Twix and Mars Bar, chomp was the perfect bargain candy (during the 1970s, they were marketed in Australia with the slogan "ten cents never tasted so good". A monster chew indeed.
Manufacturer: Cadbury
Flavour: caramel, compound chocolate
Price: from $0.50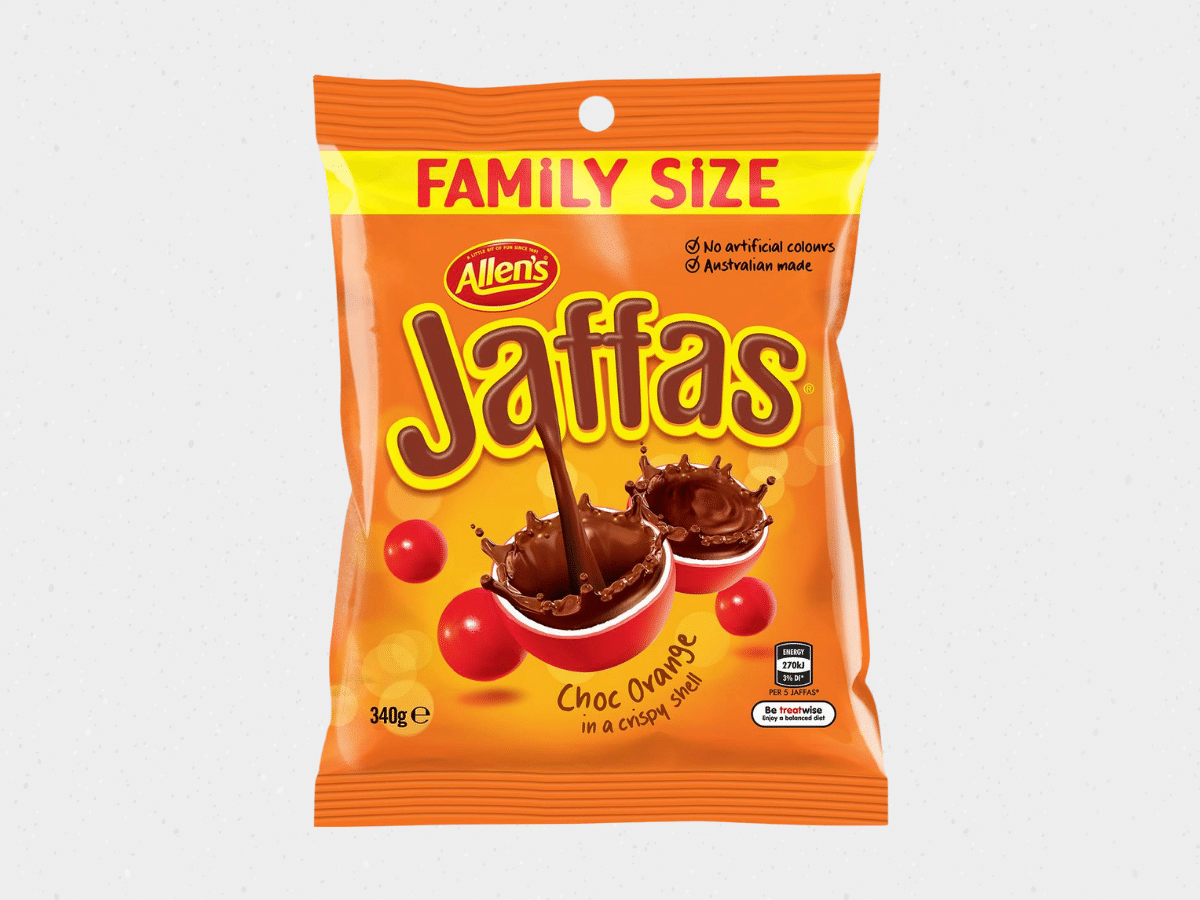 17. Jaffas
Hard orange candy-covered chocolate balls with tooth-cracking potential.
Manufacturer: Allen's
Flavour: chocolate with an orange flavoured shell
Price: from $5.00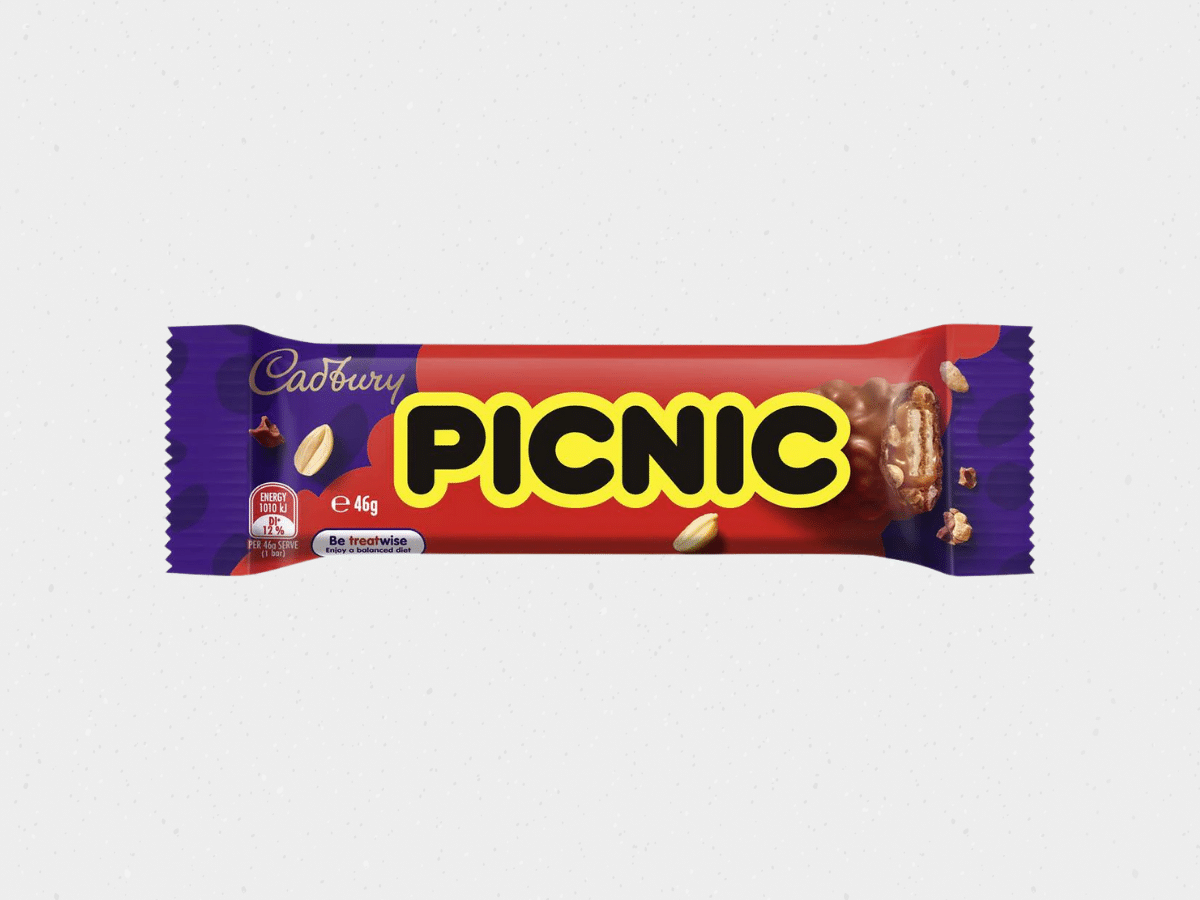 18. Picnic
Don't judge candy by its cover. Nougat, wafer, caramel, peanuts, and rice puffs hide under a haphazard chocolate exterior.
Manufacturer: Cadbury
Flavour: nuts with wafer, chocolate, rice crisps and caramel
Price: from $1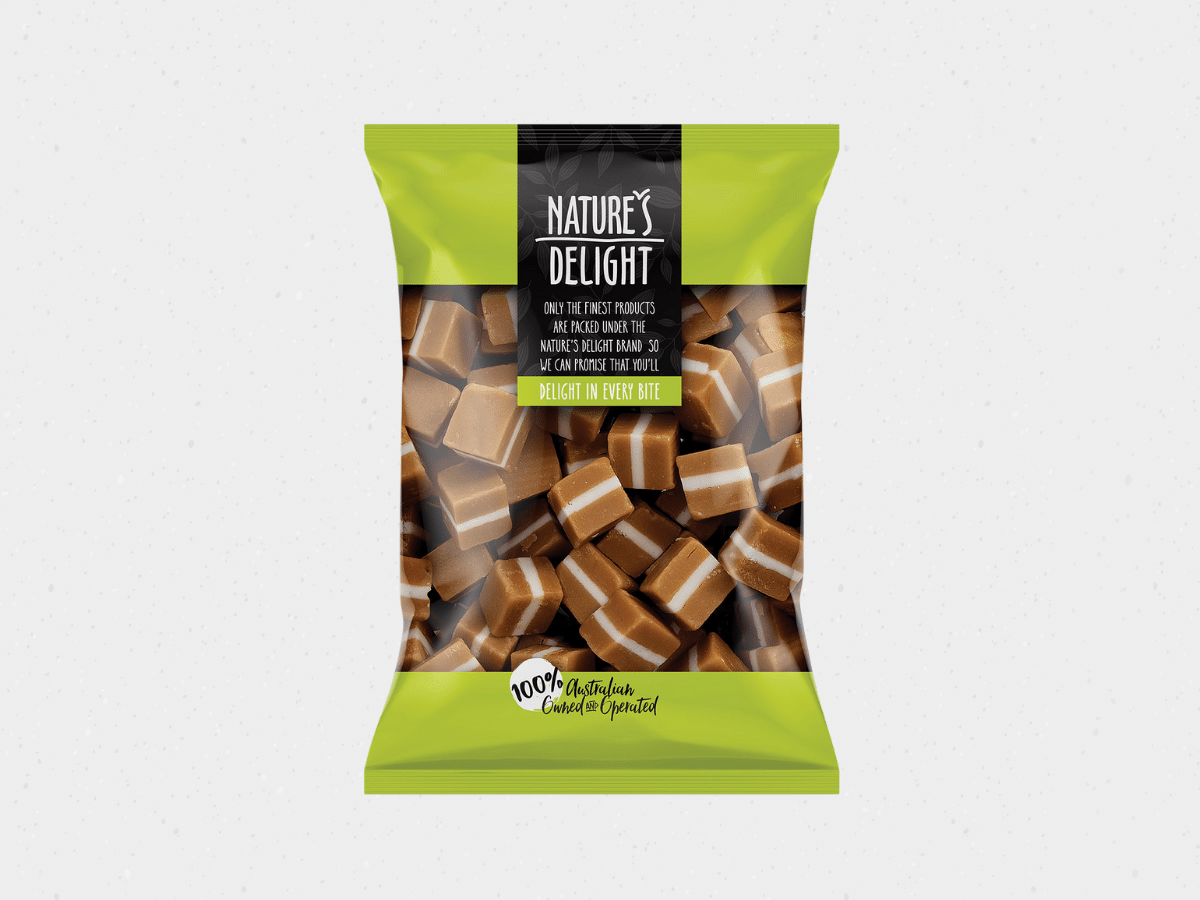 19. Jersey Caramels
Yes. Always delicious – separate the two caramel sides from the white middle and eat them separately for maximum taste surface area satisfaction. This option from Nature's Delight is highly recommended, the home brand jobs just don't hit the same if you catch our drift.
Manufacturer: Nature's Delight
Flavour: Caramel
Price: from $3.50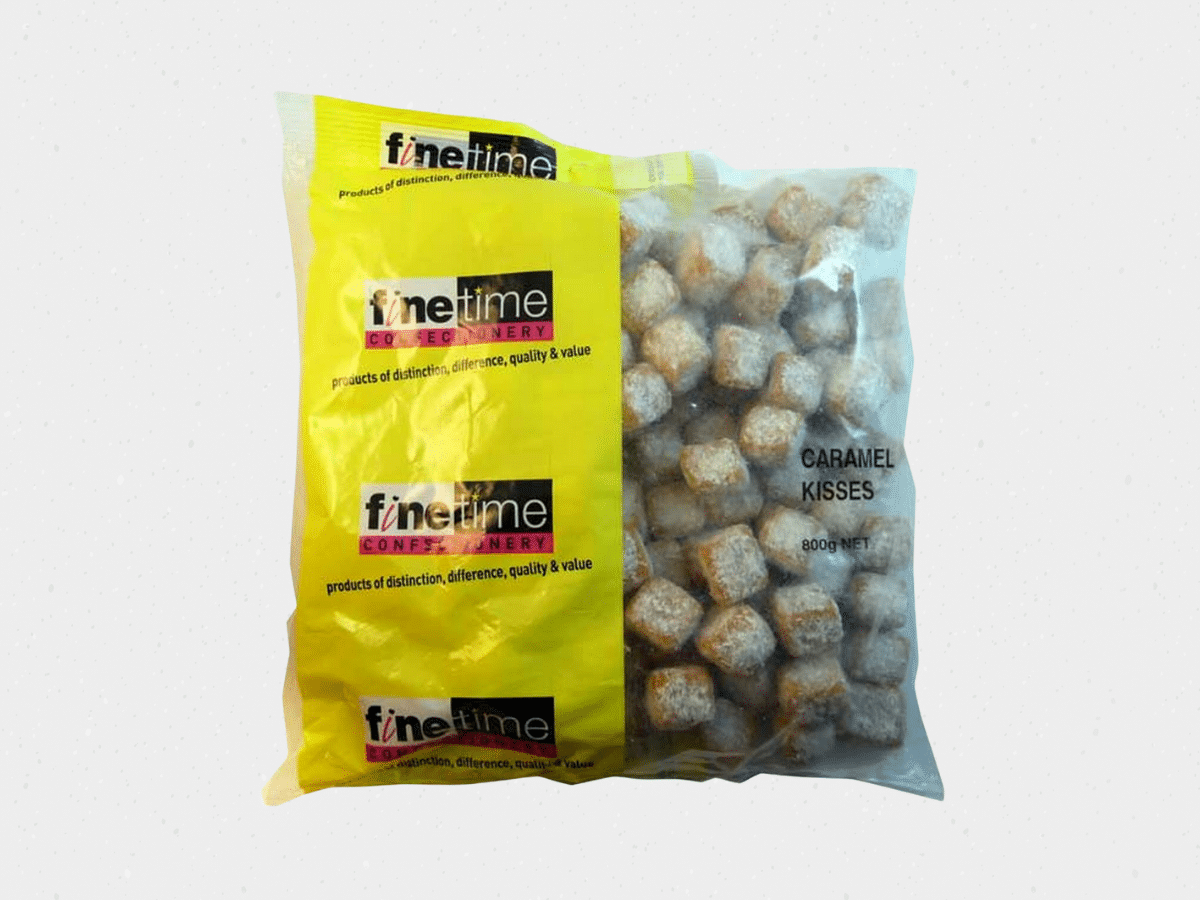 20. Caramel Kisses
Similar to the caramel part of Jersey Caramels, but with coconut thrown into the mix.
Manufacturer: Everfresh Confectionery, Paul's Confectionery, and more
Flavour: jersey caramels covered in coconut
Price: from $12/ discontinued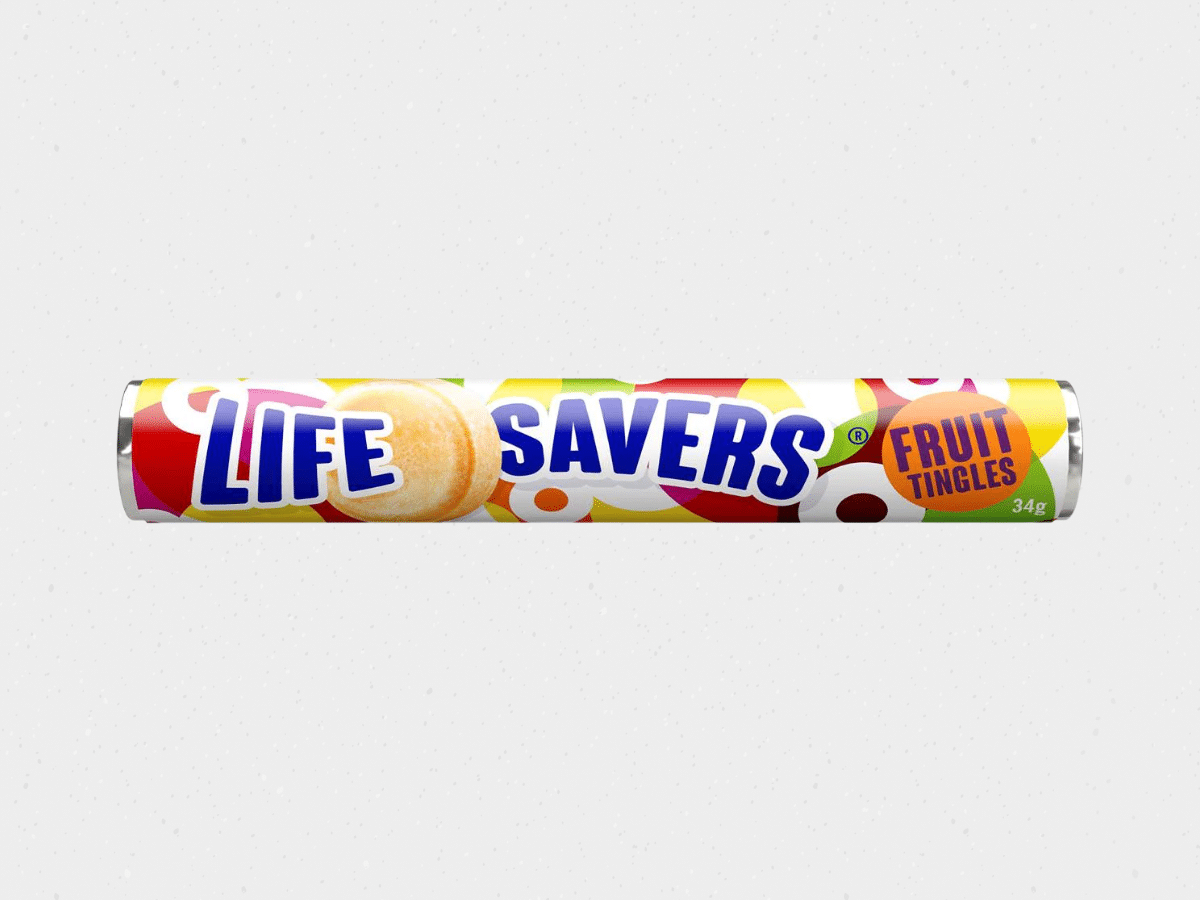 21. Fruit Tingles
Only someone with no taste would pick Mentos over these at the checkout. These would be towards the top of the list if we were making a personal awards system, but for the average joe maybe these are a little too spicy. All we know for sure is that the taste is in the name – they're fruity and tingly.
Manufacturer: Life Savers
Flavour: lime, orange, raspberry, lemon
Price: from $1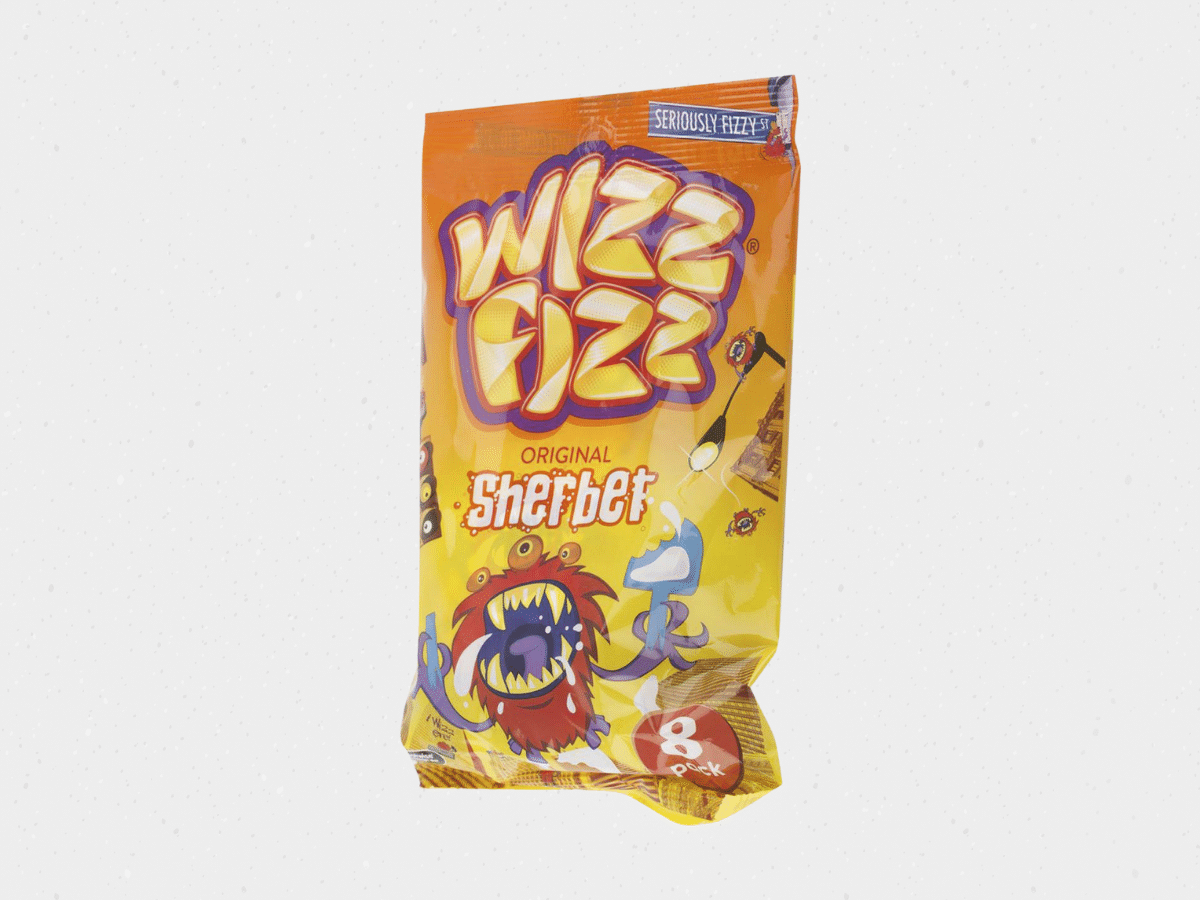 22. Wizz Fizz Sherbet
A sherbety party for your taste buds. If you didn't pretend they were of the nose variety growing up, did you even have a childhood in Australia? Jokes aside, these things rock and they're pretty sugary too.
Manufacturer: Wizz Fizz
Flavour: original sherbet, black and orange tongue, lollipops
Price: from $2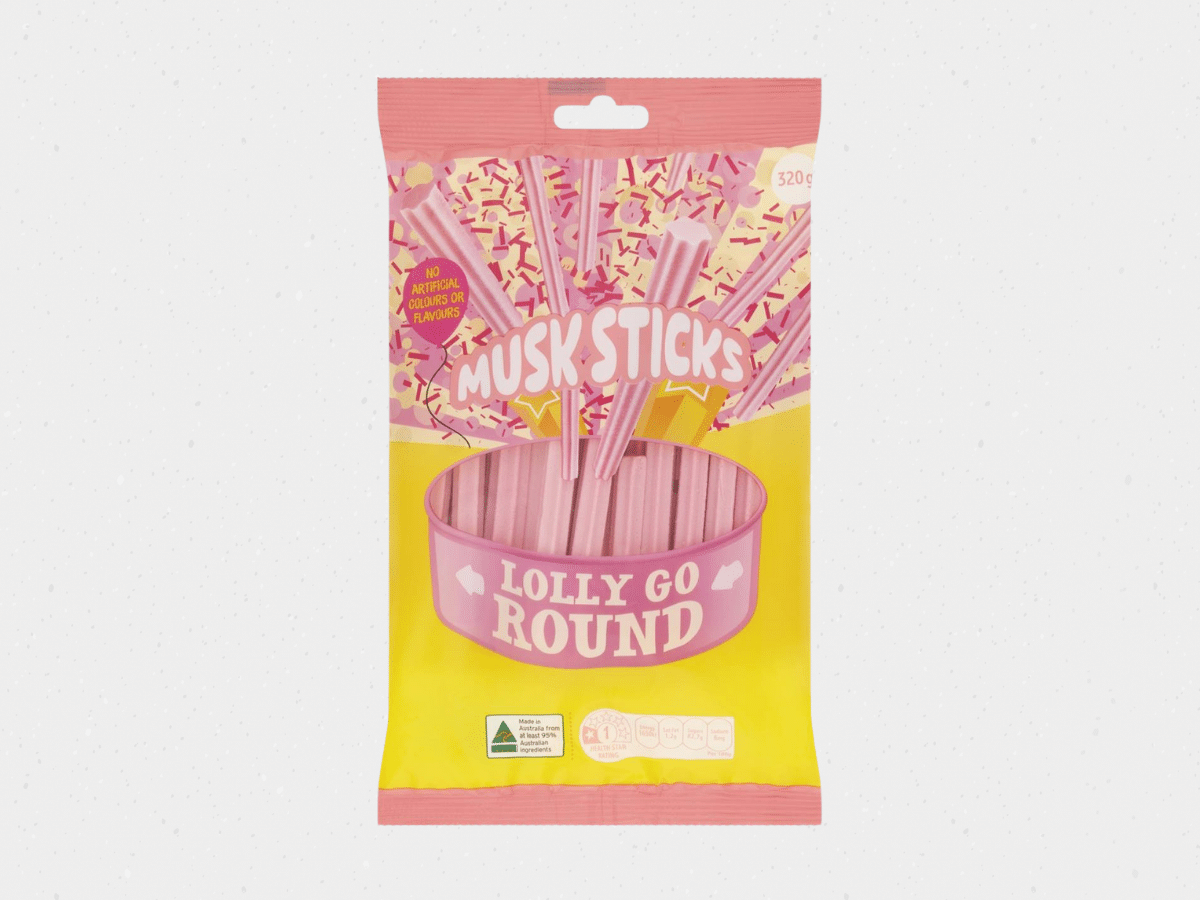 23. Musk Sticks
Apparently, they made it into Sweden's Disgusting food museum (along with fellow candy member Witchetty Grubs and Aussie diet staple Vegemite), but Musk Sticks are deliciously misunderstood. Luckily they're appreciated down under as one of the most popular candies.
Manufacturer: Lolly Go Round
Flavour: Musk
Price: from $2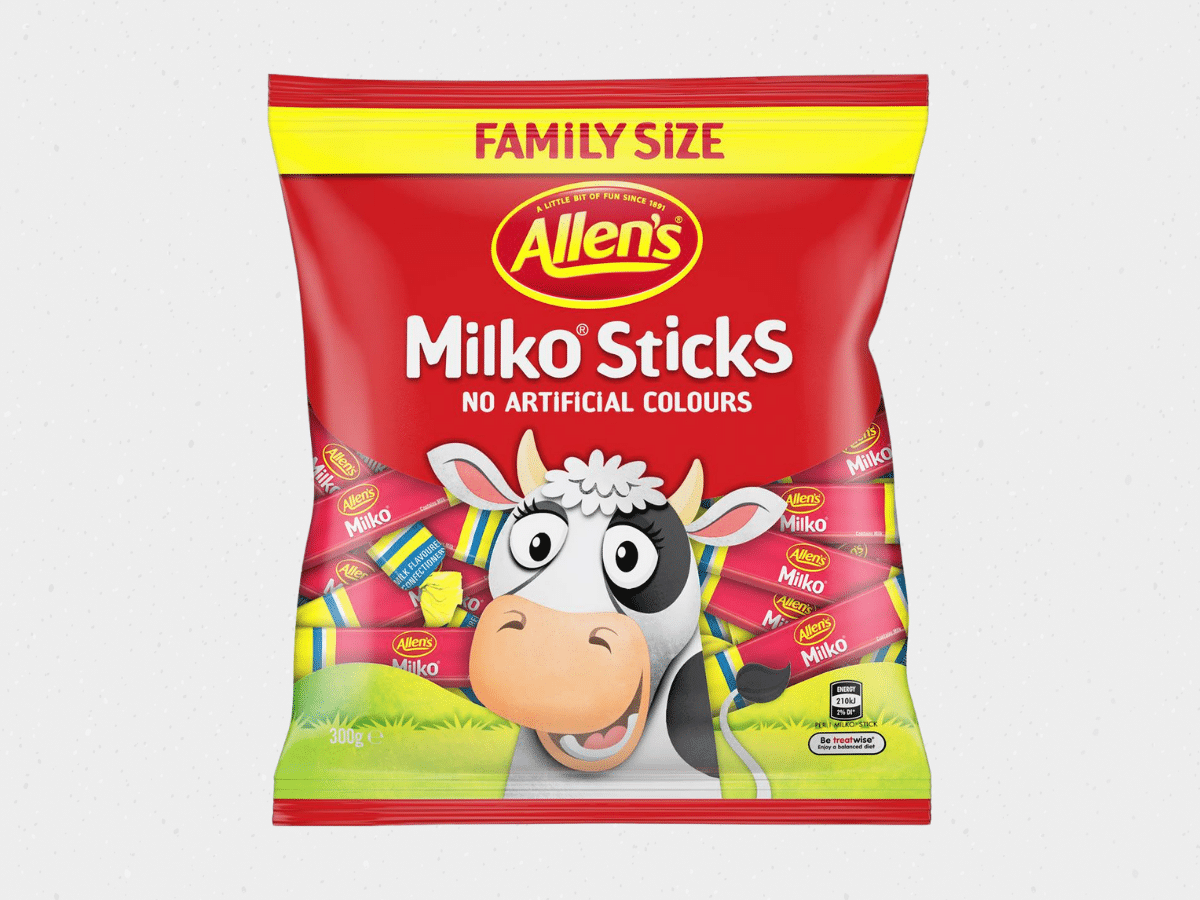 24. Milko Chews
Soft chewy candy made from condensed milk. You can't go wrong.
Manufacturer: Allen's
Flavour: Condensed milk
Price: from $4/ discontinued for individual sale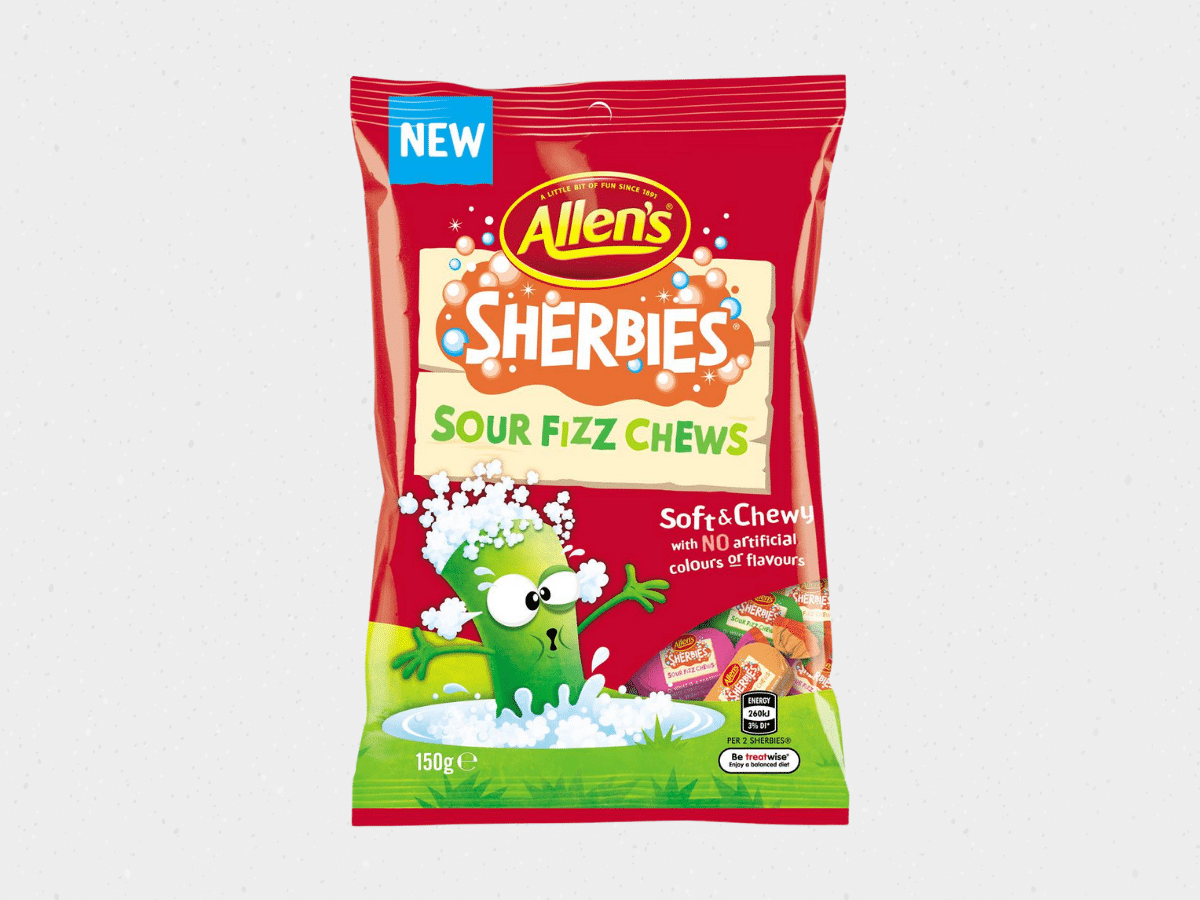 25. Sherbies
They've probably changed a little since you last saw them, but they're still made from Allen's so the flavour is properly delicious. Tangy orange-flavoured chewy lollies with a sherbet surprise in the centre (not really a surprise when you're onto your third bag of the day, but anyway…). Along with Milko ChewsRed Ripperz, these are part of Allen's classic Chew Mix.
Manufacturer: Allen's
Flavour: Orange
Price: from $2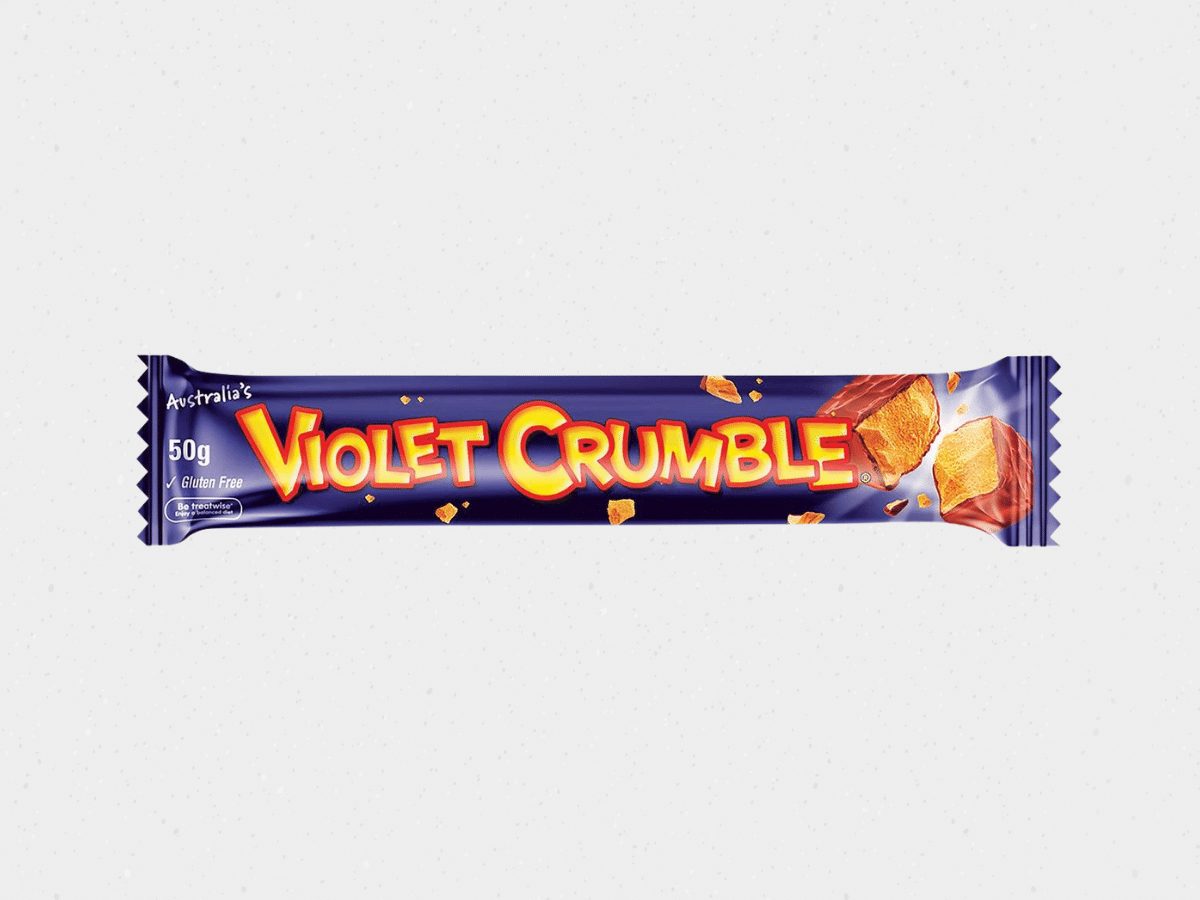 26. Violet Crumble
The older, underappreciated sister of the Crunchie bar. Violet Crumbles are crispier than their fellow honeycomb sibling and prove that the way it shatters really does matter.
Manufacturer: Nestlé
Flavour: honeycomb toffee
Price: from $2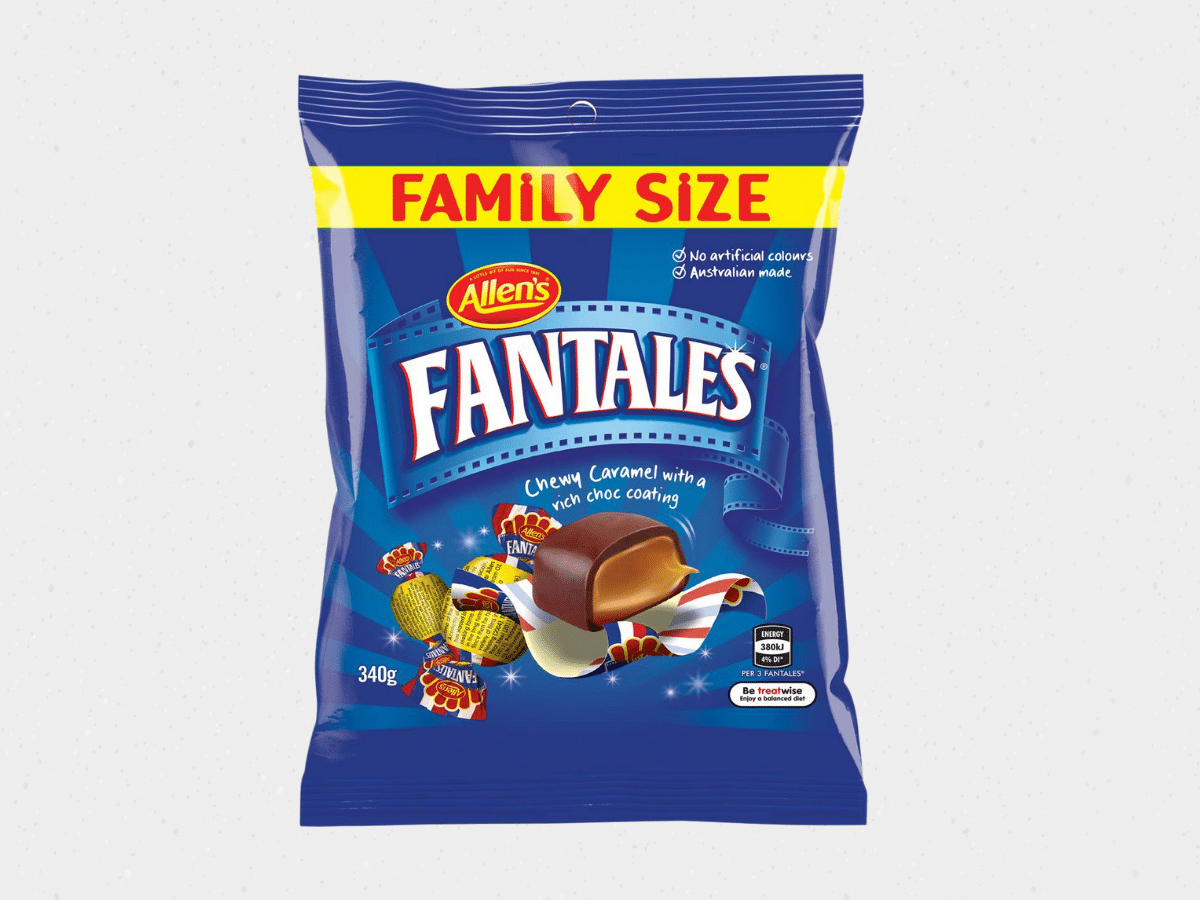 27. Fantales
These chocolate-covered caramel lollies come with a trivia fact on the wrapper, perfect for making idle small talk with strangers. Or crack open a packet of Fantales and avoid the conversation altogether in favour of sucking on a Fantale.
Brand/Manufacturer: Allen's
Flavour: caramel fudge with chocolate
Price: from $5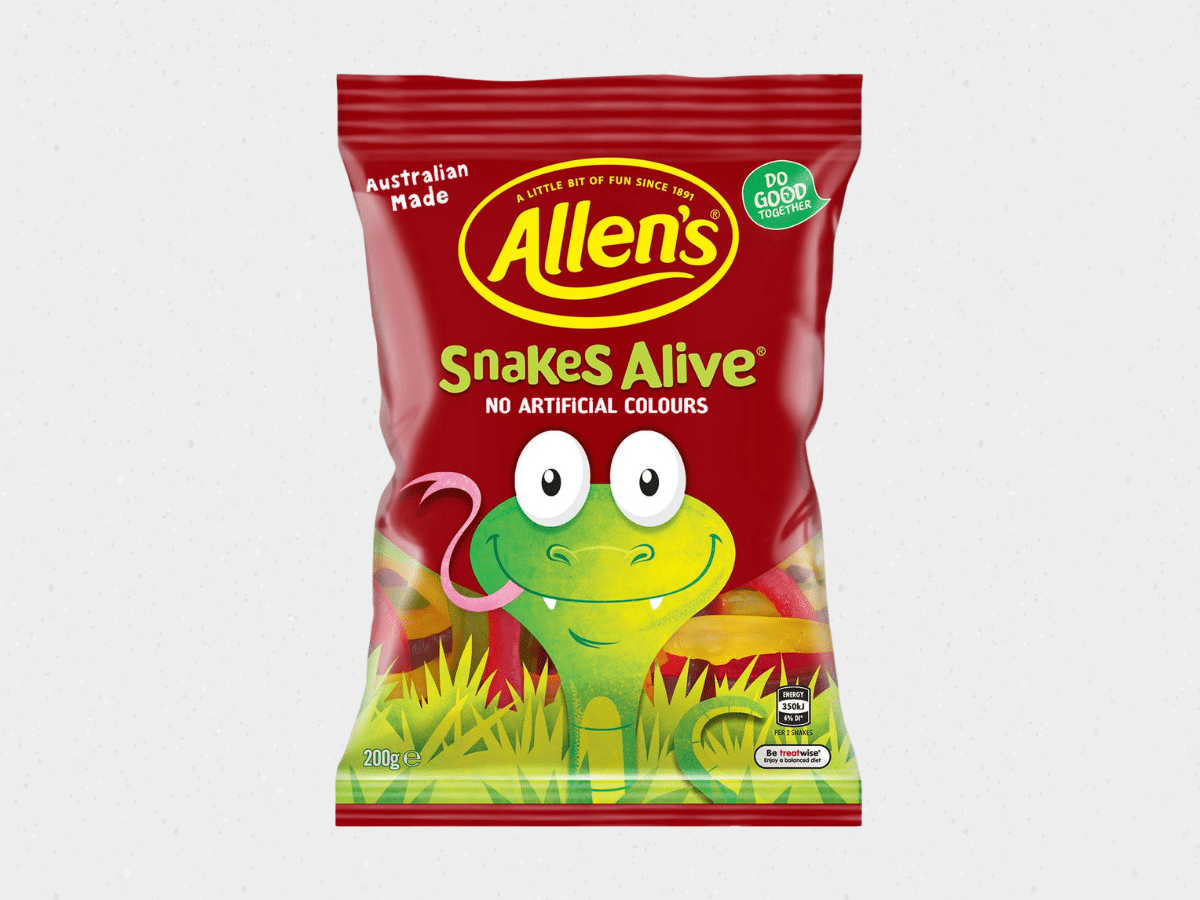 28. Snakes
Gelatinous candy snakes. Like frogs but in snake form. Australia has an odd way of dealing with its dangerous wildlife by eating candy replicas of them.
Manufacturer: Allen's
Flavour: blackberry, strawberry, pineapple, lemon, apricot
Price: from $3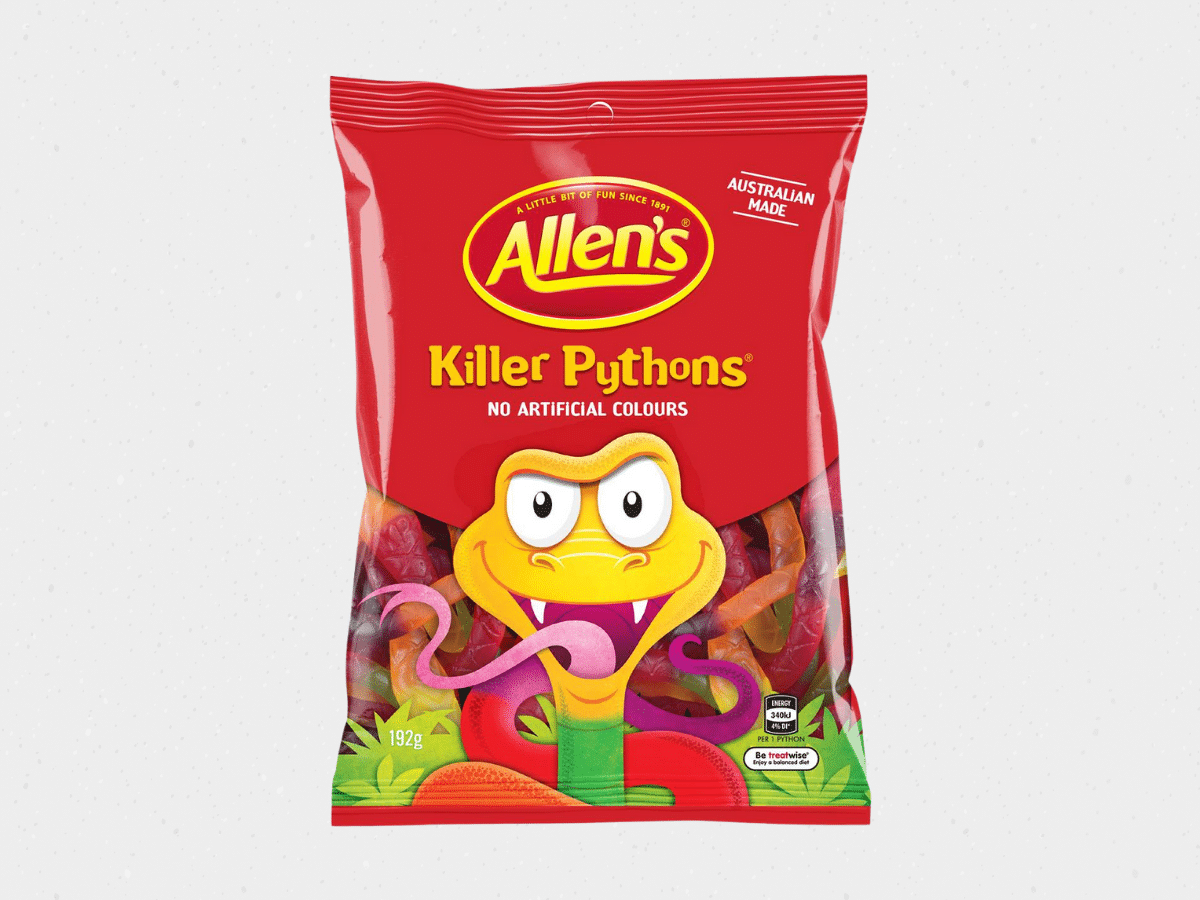 29. Killer Python
Really big snakes.
Manufacturer: Allen's
Flavour: orange, crisp apple, tasty pineapple, luscious mixed berry, zesty strawberry
Price: from $4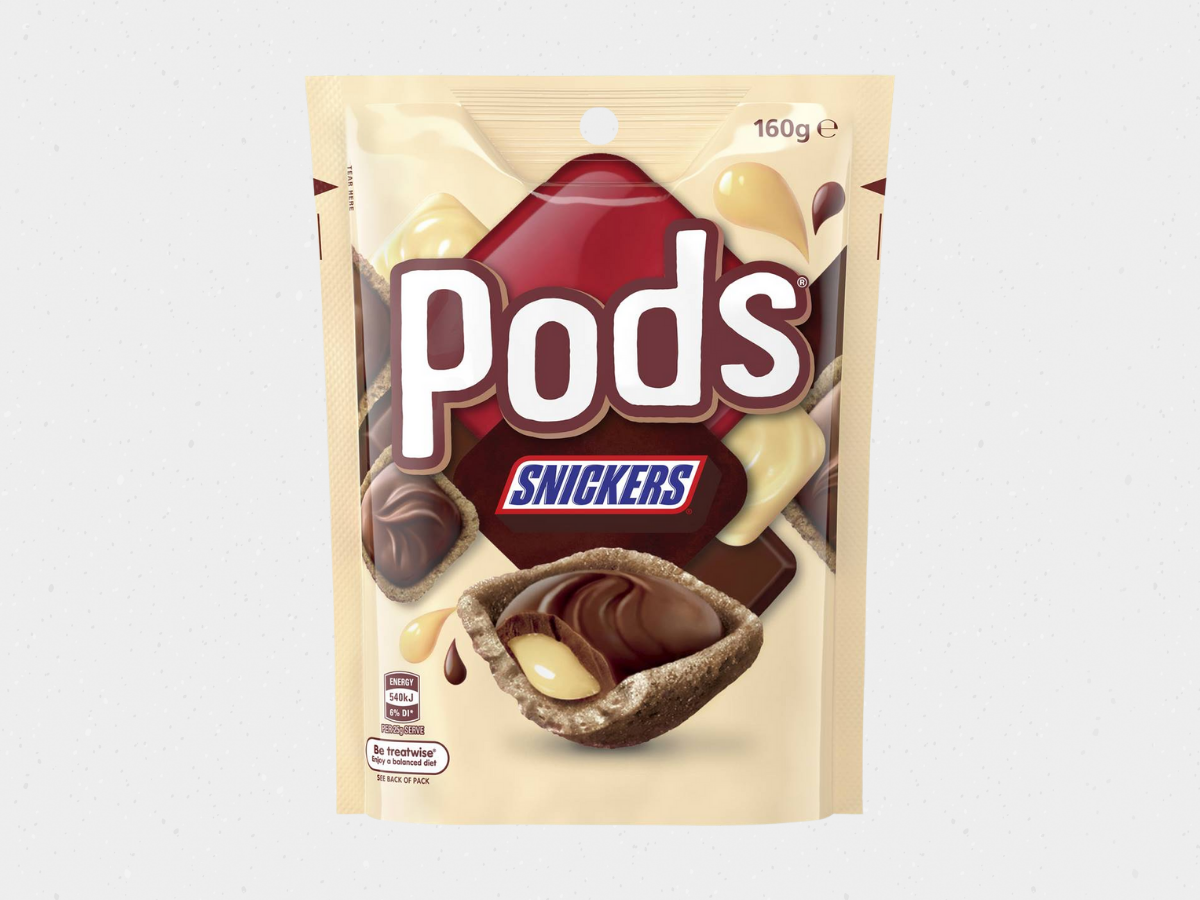 30. Pods
Released over a decade before the viral Tide Pod Challenge, these are infinitely more delicious and less dangerous pods to consume. Classic chocolate favourites like Mars Bars, Twix, Snickers, and Dove sit on a wafer biscuit base and are topped with milk chocolate.
Manufacturer: Mars, Incorporated
Flavour: Mars, Twix, Snickers
Price: from $4.50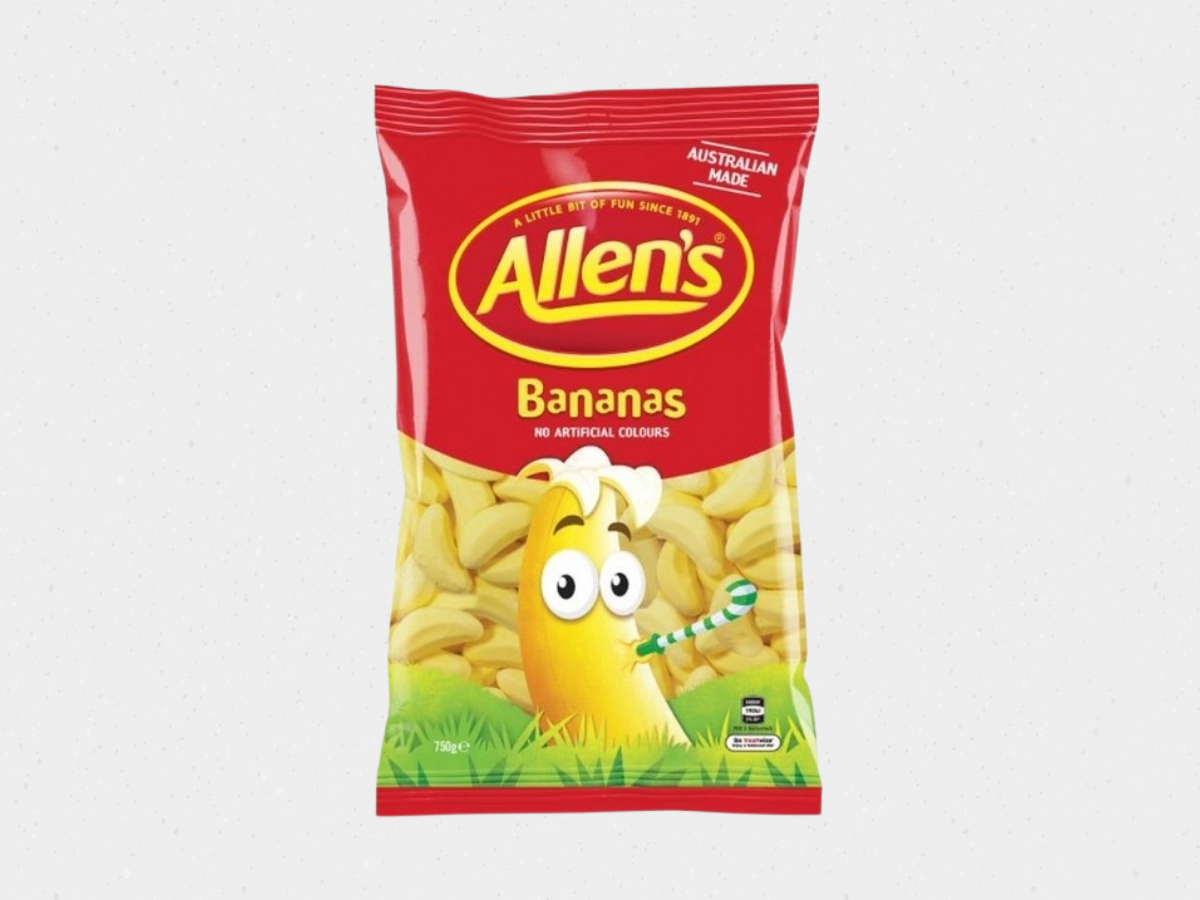 31. Bananas
Yummy artificial banana taste.
Manufacturer: Allen's
Flavour: Banana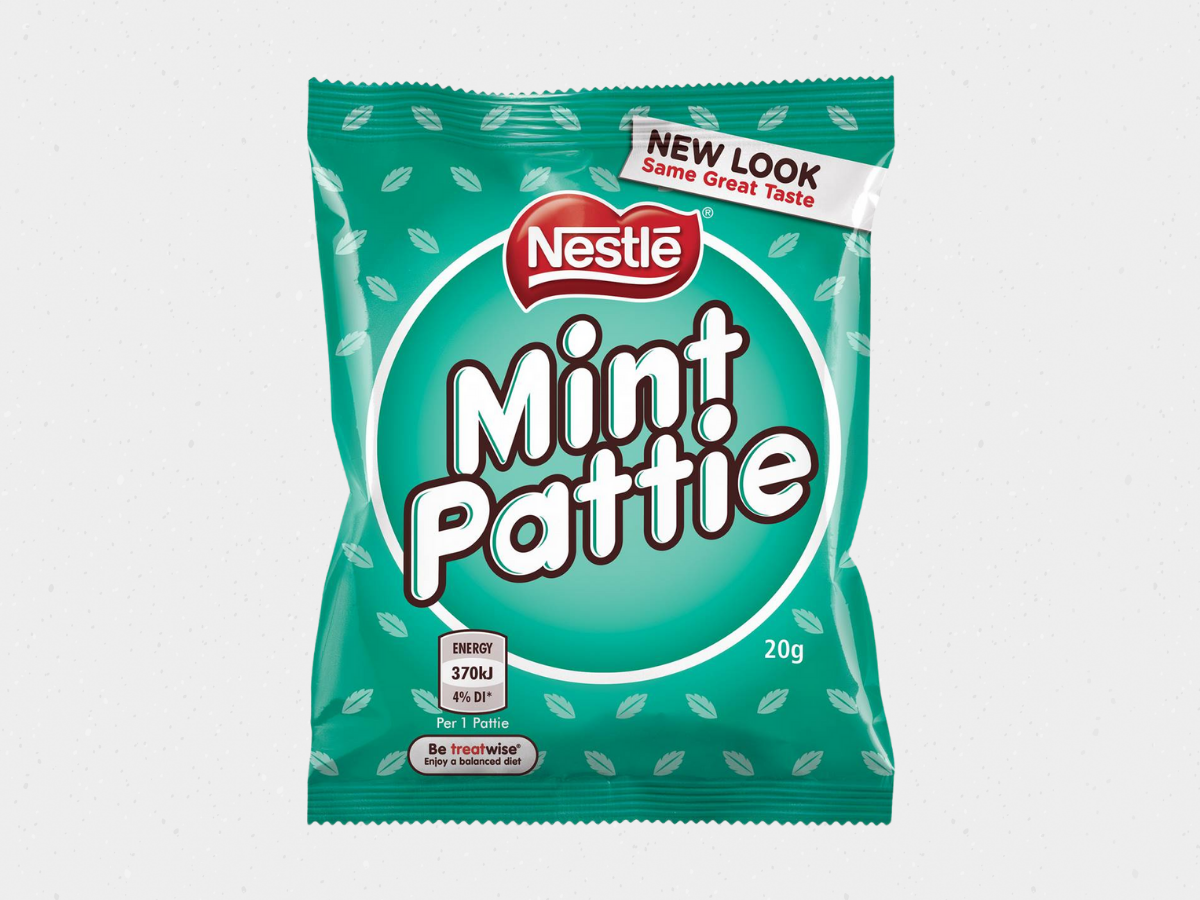 32. Mint Pattie
Dark chocolate encases a sweet but slightly dubious peppermint centre.
Manufacturer: Nestlé
Flavour: dark chocolate with a peppermint centre
Price: from $1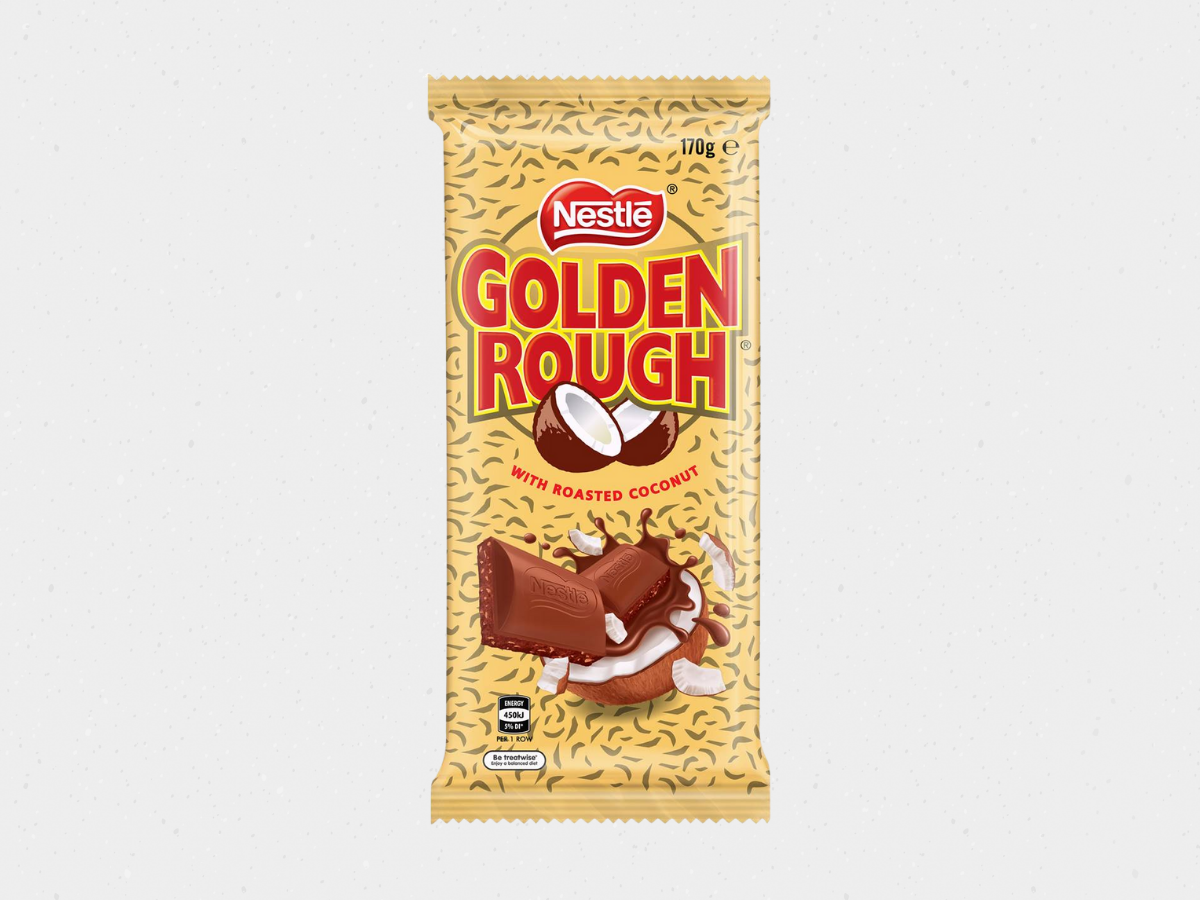 33. Golden Rough – Discontinued
Roasted coconut covered in milk chocolate.
Manufacturer: Nestlé
Flavour: roasted coconut and milk chocolate
Price: from $5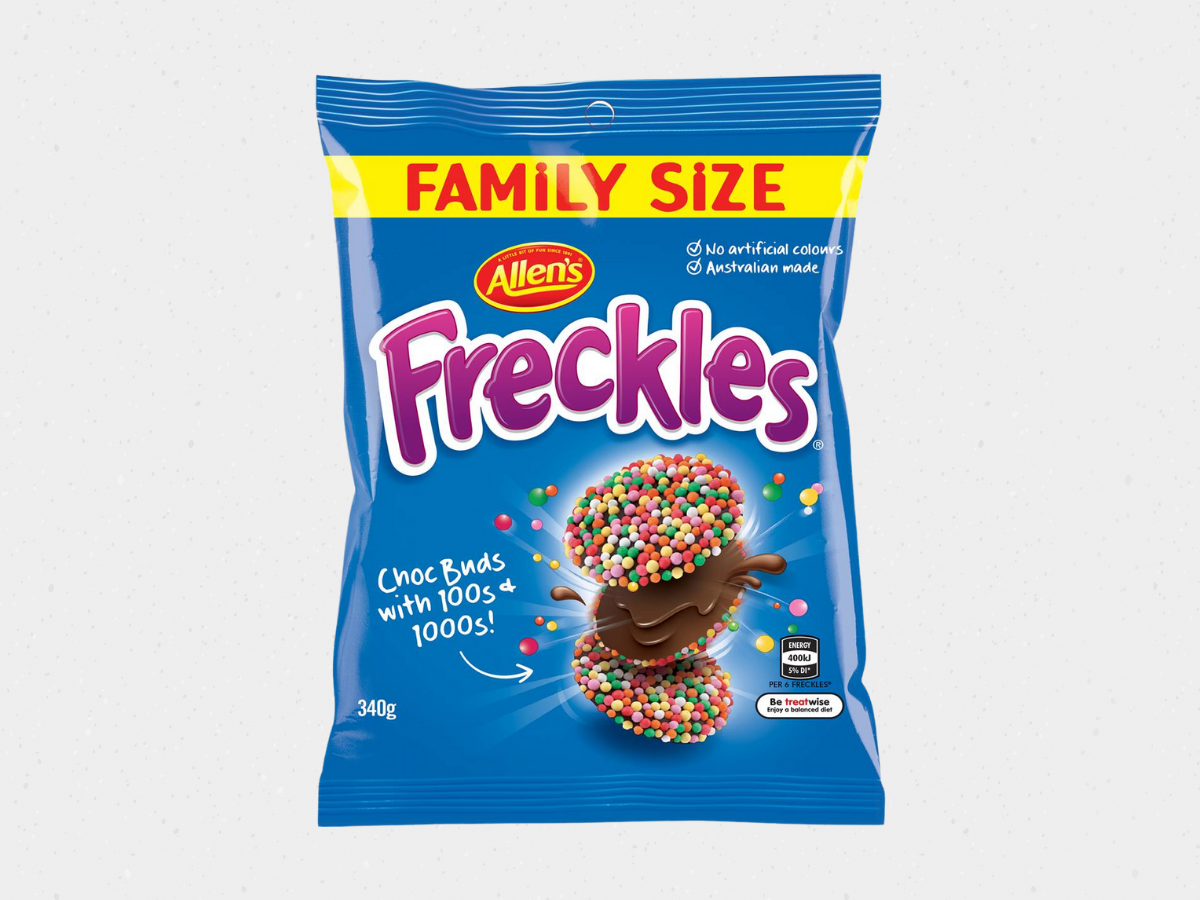 34. Freckles
Slightly low-quality milk chocolate topped with hundreds and thousands. Not the best, but a decent candy to find in a party lolly bag. This Aussie lolly has stood the test of time.
Manufacturer: Allen's
Flavour: Candy-coated chocolate buttons
Price: from $5/ family size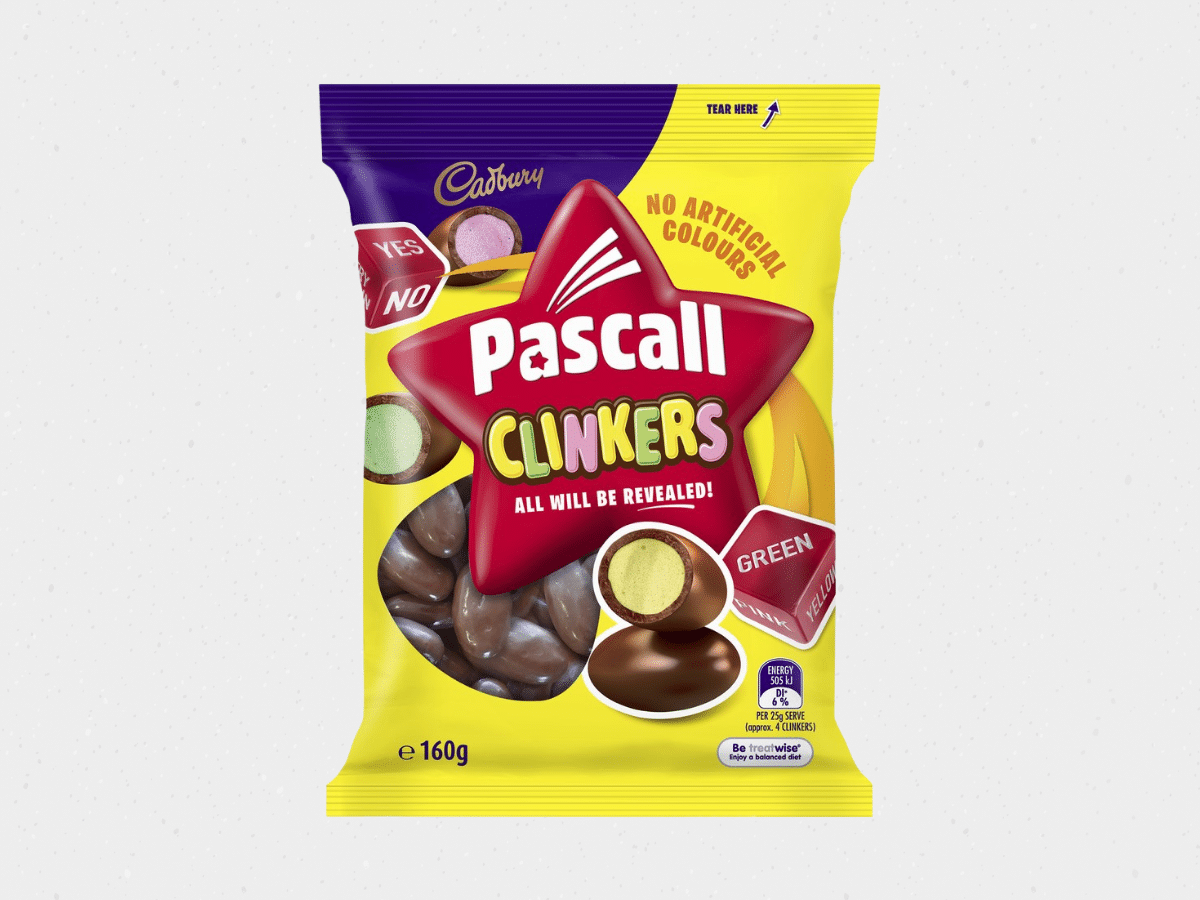 35. Clinkers
They're probably all the same, but I swear the green and pink ones taste better than the yellow ones. Best consumed by carefully scraping the chocolate off with your teeth and eating the exposed candy centre separately.
Manufacturer: Cadbury
Flavour: Chocolate-coated fondant
Price: from $2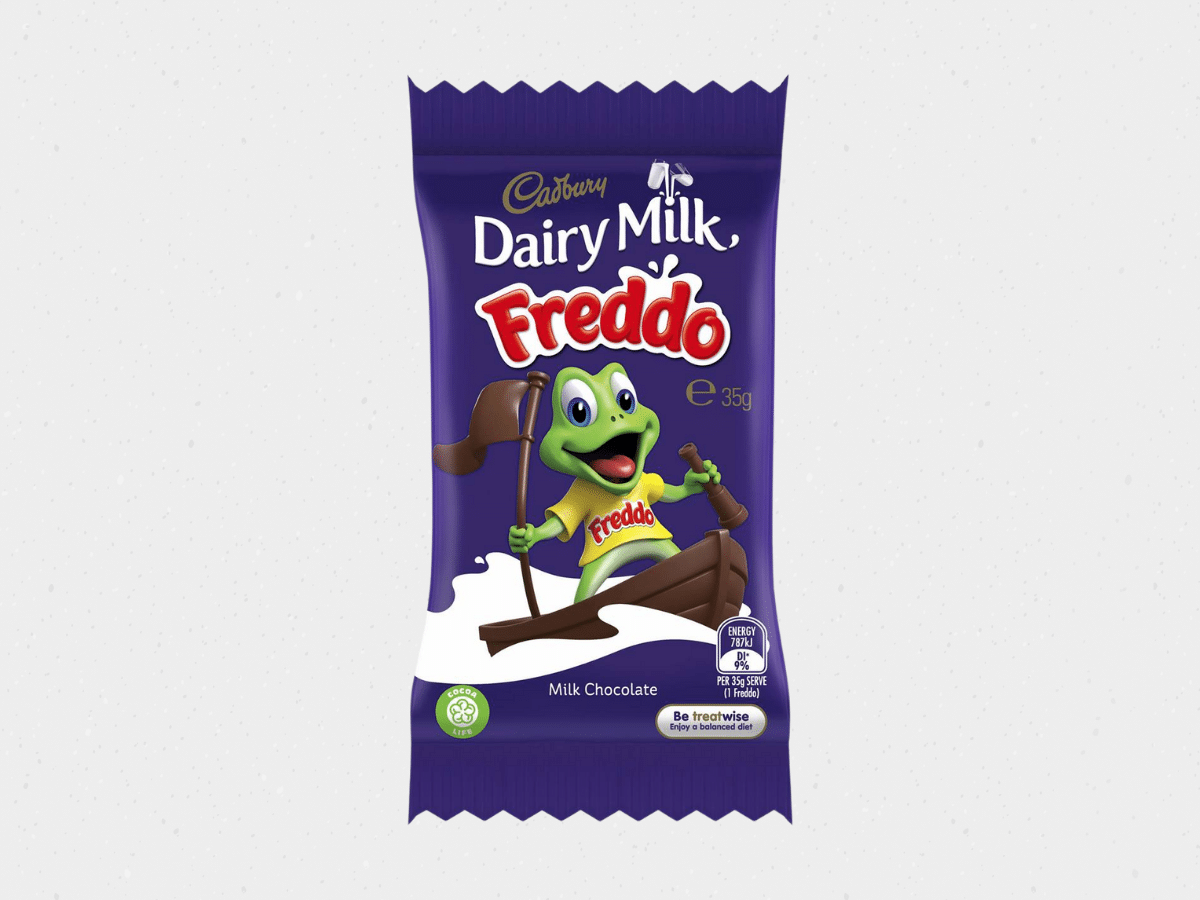 36. Freddo Frog
Just normal milk chocolate but made better by its frog shape. Pretty sure these funded the majority of school trips, dance recitals, and charity organizations for school kids across the country.
Manufacturer: Cadbury
Flavour: chocolate
Price: from $0.50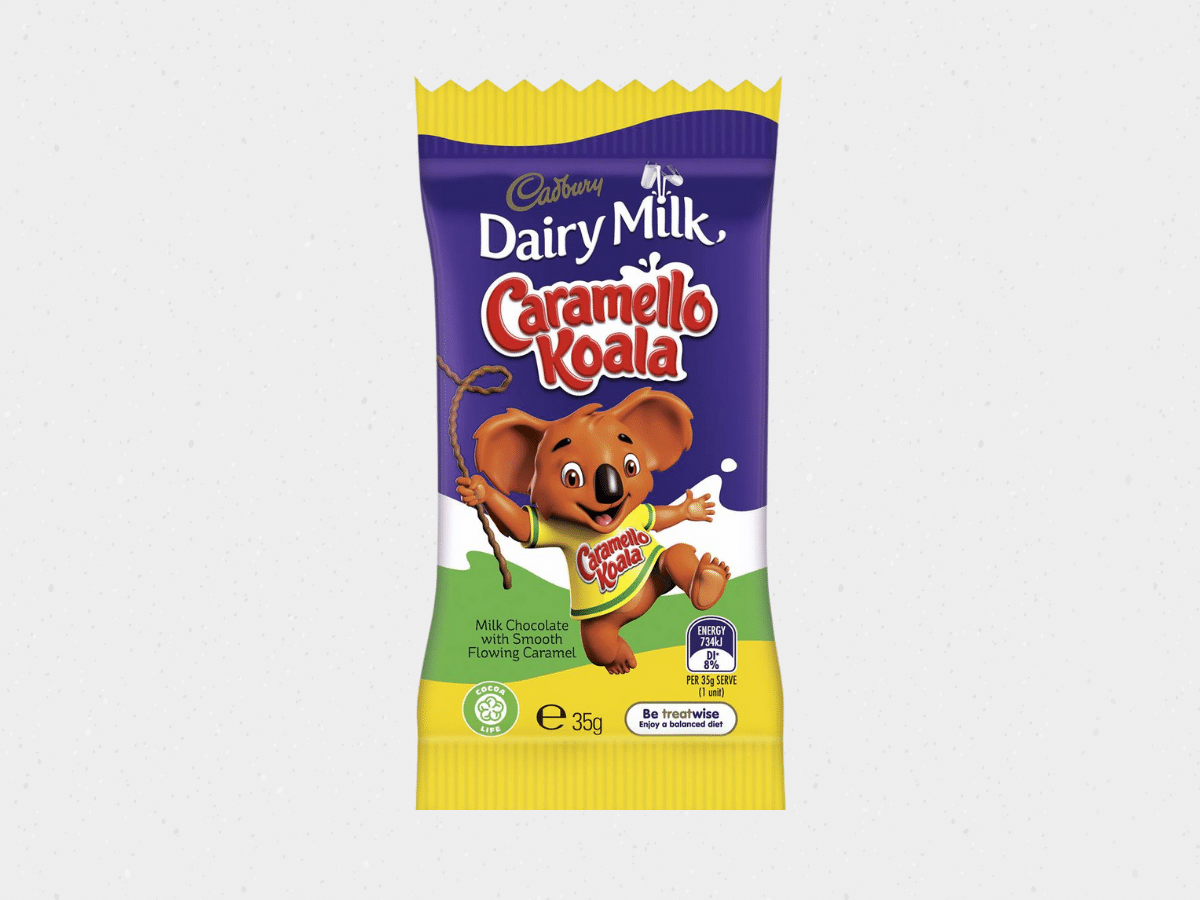 37. Caramello Koala
Ditto with these. Chocolate with a soft caramel centre, made better by its koala shape.
Manufacturer: Cadbury
Flavour: chocolate with caramel
Price: from $0.50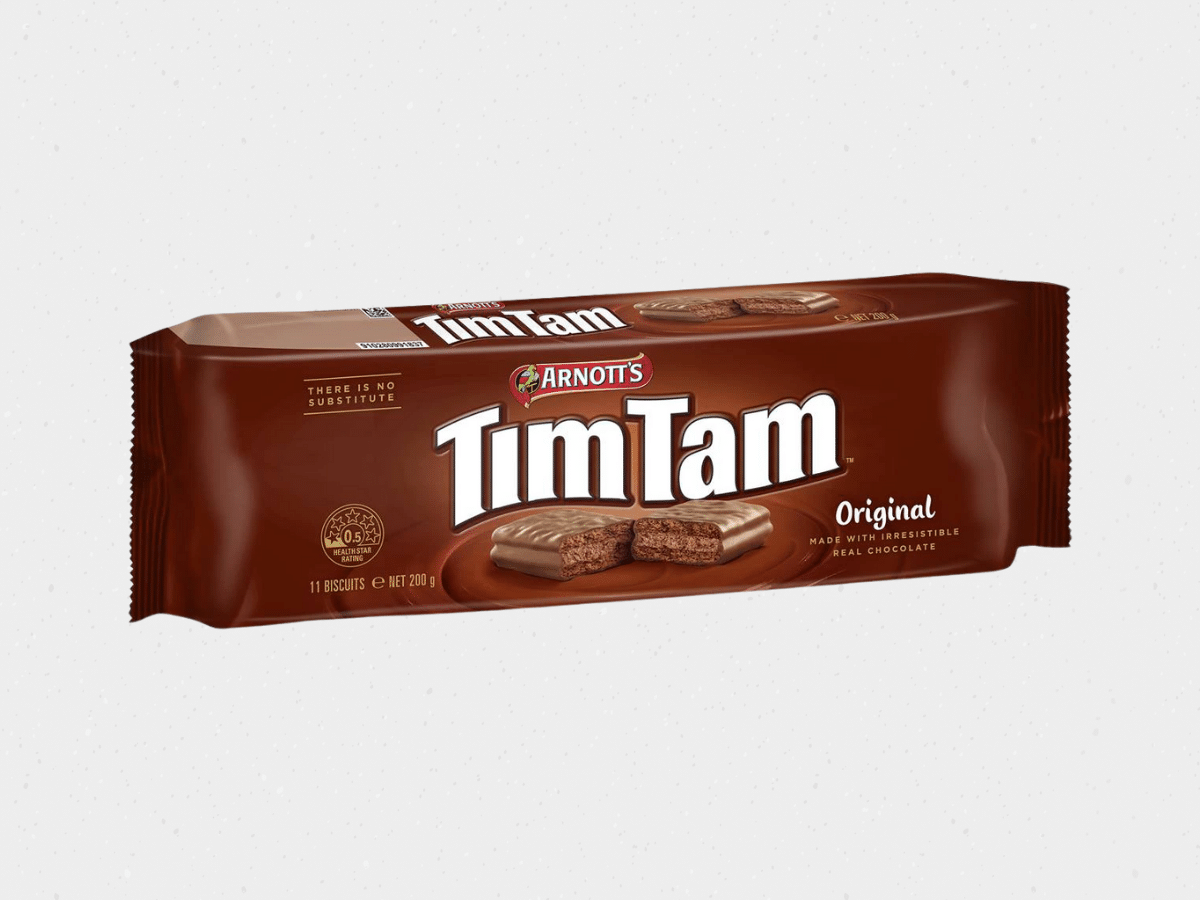 38. Tim Tams
Making Australia proud since 1964. Two malted chocolate biscuits surround a thin layer of chocolate cream and are coated in a layer of chocolate. This description doesn't do them justice; Tim Tams have to be tasted to be believed.
Manufacturer: Arnott's
Flavour: Original Chocolate, Dark, White, Double Coat, Choc Mint, Chewy Caramel
Price: from $3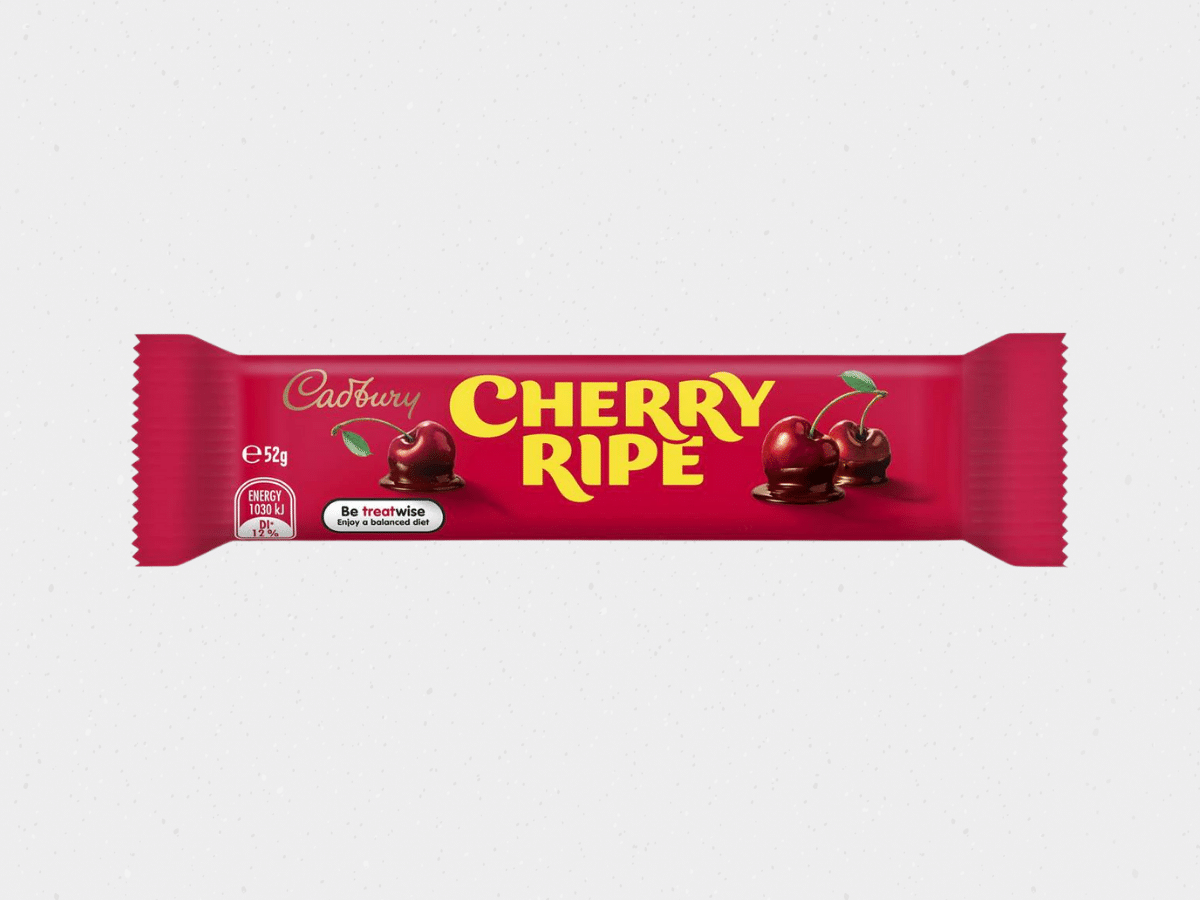 39. Cherry Ripe
Cherries and desiccated coconut encased in milk chocolate. A classic.
Manufacturer: Cadbury
Flavour: cherry and coconut in dark chocolate
Price: from $1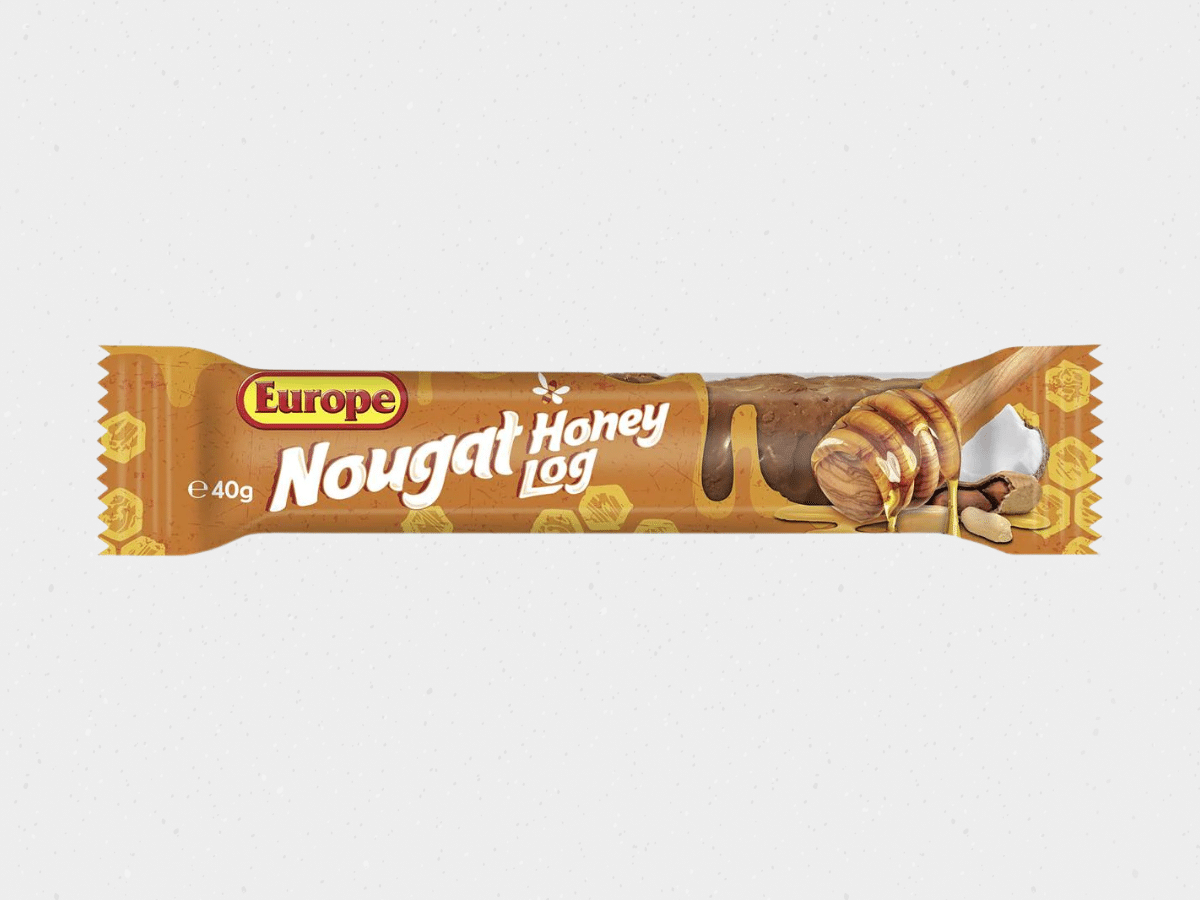 40. Europe Nougat Honey Log
Peanuts and coconut surrounded by nougat, then coated in chocolate. An easy favourite and a wildcard in the Freddo Frog and Caramello Koala-dominated fundraising box.
Manufacturer: Europe
Flavour: chocolate with roasted peanuts, coconut and honey nougat
Price: from $1
FAQ
What is the most popular candy in Australia?
Cadbury and Allen's are two of the most popular candy brands in Australia. Cadbury favourites include Dairy Milk chocolate, Freddo Frogs, and Caramello Koalas. Meanwhile, popular Allen's lollies are Red Skins, Sherbies, and Milko Chews.
What is candy called in Australia?
Candy is typically called 'lollies' in Australia.
What are lollies in Australia?
Lollies is the Australian word for sweets or candy.
What is the most popular chocolate bar in Australia?
Cadbury's Dairy Milk is the most popular chocolate bar in Australia.
Are Cherry Ripes Australian?
Cherry Ripes are an Australian chocolate, introduced by Australian confectioner MacRobertson's in 1924.
What is the best chocolate in Australia?
Cherry Ripe, Picnic, Dairy Milk, and Mars Bars.
---
Featured Video from Man of Many