23 Best Australian Chocolate Brands
Crafted with skill and precision, the best Australian chocolate is something no Aussie would argue with. When we say "Australian chocolate," we mean chocolate that's actually produced and distributed in these very parts by the best Australian chocolate brands. We won't go as far as to tell France or Belgium to bugger off, but should they pull their chocolate from our shelves, you won't see us crying over it. And with all due respect to Cadbury's Australian arm, this just isn't that kind of list.
As you'll soon discover, there's more Australian-made chocolate than you even anticipated. It comes to us from leading Australian chocolate brands such as Zokoko, Just William, and Haigh's, to name a few. Hailing from all across the nation, these acclaimed purveyors are guaranteed to satisfy your sweet tooth. Without further delay, here are the best Australian chocolate brands.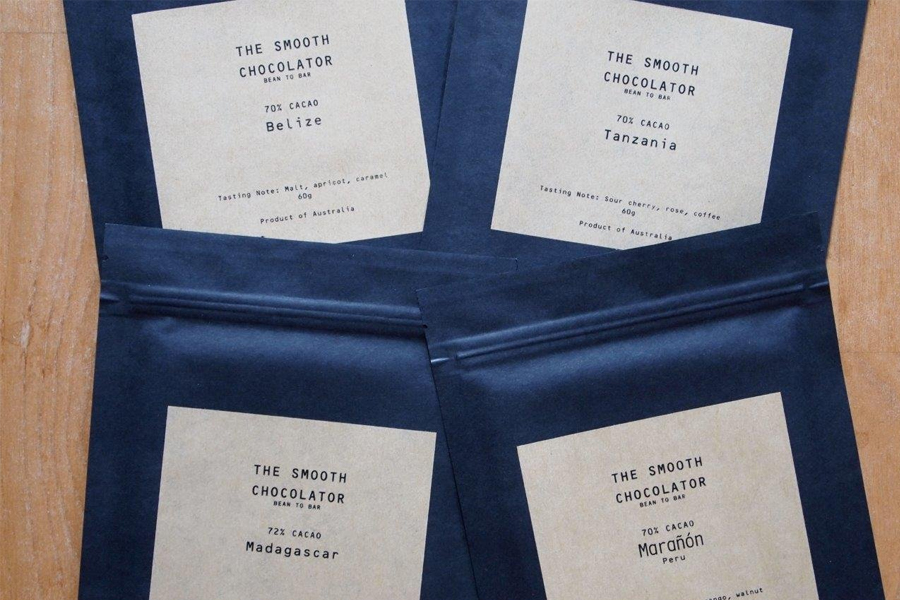 1. The Smooth Chocolator
Ethically sourcing its cocoa beans from various regions around the world, The Smooth Chocolator carefully roasts, cracks, winnows, conches, and tempers to perfection. The result is a vast array of distinctive flavours, which has helped this Australian chocolate brand pick up an impressive number of awards, including three International Chocolate Awards. This is small-batch bean-to-bar done right.
Based in: Geelong
Prices from: $12.50
2. Zokoko
Some of the best chocolate in Australia comes to us from chocolatier Michelle Morgan, who plies her craft at the base of the Blue Mountains in Western Sydney. The Alto Bene Bolivian 68% dark chocolate won gold at the Sydney Royal Chocolate Competition and with good reason. Along similarly acclaimed lines, the award-winning Tranquilidad 72% must be tasted to be believed. Since 2009, Morgan has been raising the chocolate bar and she won't be stopping any time soon.
Based in: Emu Heights NSW
Prices from: $8.50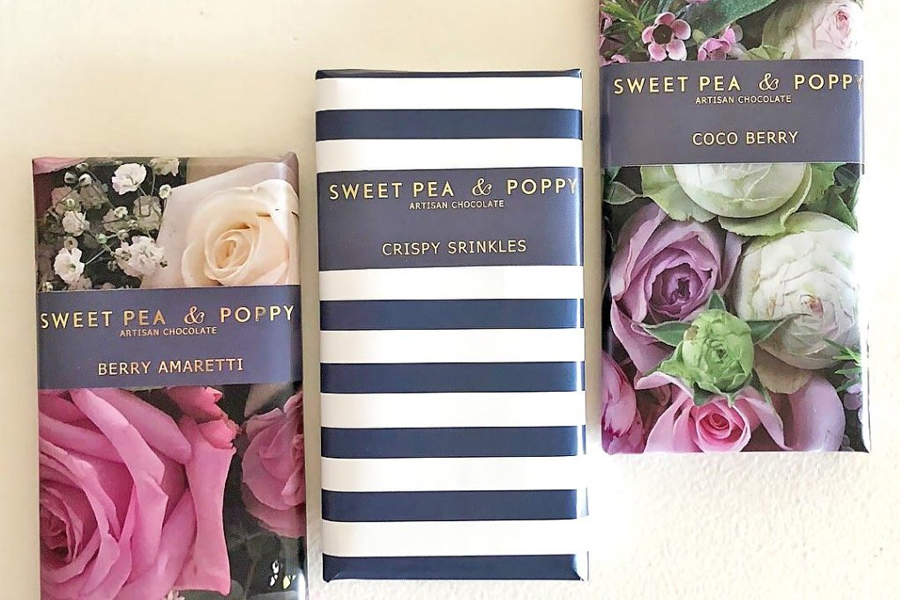 3. Sweet Pea & Poppy
Oh, Sweet Pea & Poppy, you had us at "handmade artisan chocolate." Look beyond the somewhat flowery packaging to find a bounty of unique ingredients and scrumptious flavours. A number of these award-winning Australian chocolate bars are small-batch in the truest sense of the concept, meaning you should buy one up before it sells out and disappears forever.
Based in: Campbell
Prices from: $15.00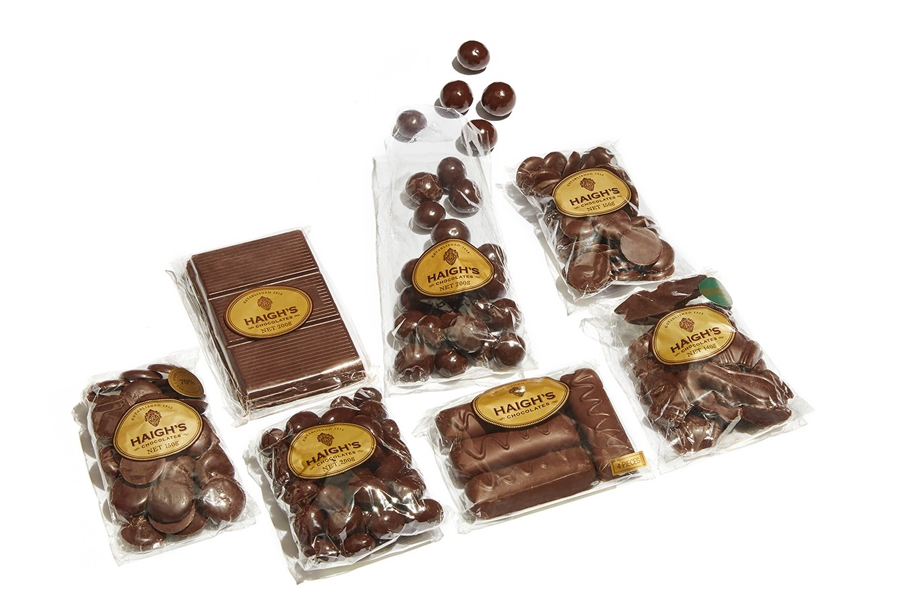 4. Haigh's Chocolate
Alfred E. Haigh founded this Australian chocolate company all the way back in 1915. Here we are over a century later and the brand is still making chocolate from scratch, using raw UTZ-certified cocoa beans as a source. In 1993, it launched the Easter bilby, which has since become the stuff of local legend. With store locations in Adelaide, Sydney, Melbourne, and Canberra, Haigh's endures as a veritable institution and a damn great one at that.
Based in: Adelaide
Prices from: $5.50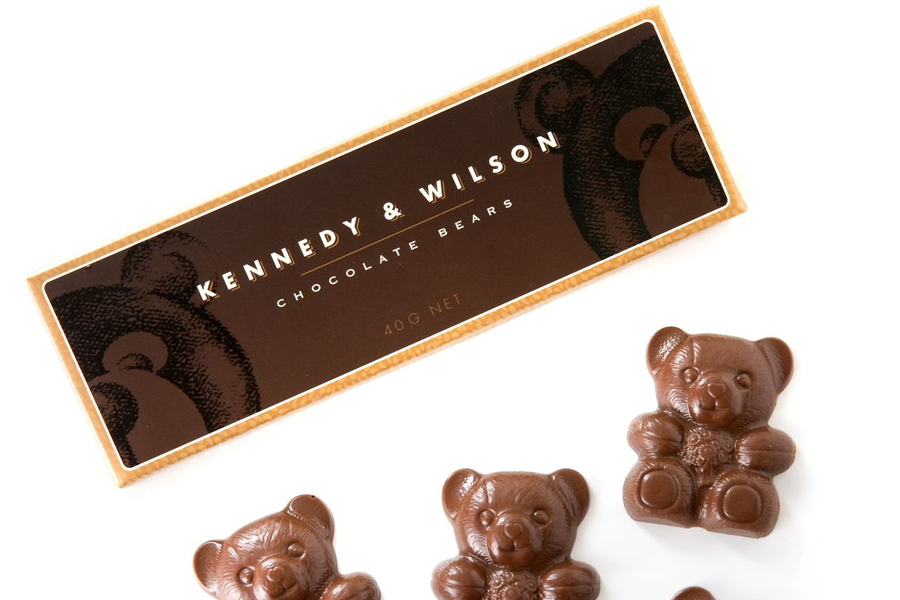 5. Kennedy and Wilson
Former punk band manager and winemaker Peter Wilson discovered the wonders of Valrhona chocolate while travelling through Europe. He and partner Juliana Kennedy launched this Australian chocolate brand in Victoria's Yarra Valley soon after. That was 25 years ago. Featuring exquisite flavours, melt-in-your-mouth textures, and clever names, the brand's small-batch blends have been pleasing palates ever since. Kennedy and Wilson also supplies other well-known brands such as the Mildura Chocolate Company.
Based in: Yarra Valley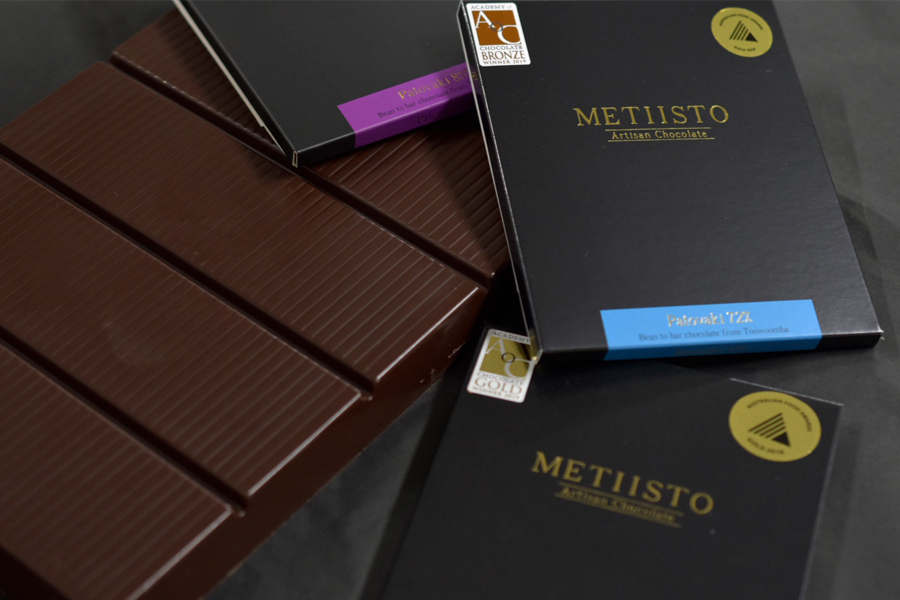 6. Metiisto
What began in Sweden is now based in Toowoomba, QLD, and we're all the more thankful for it. Making full use of its new digs, Metiisto ethically sources its cocoa beans from nearby regions like the Solomon Islands, where small-batch farmers go to great lengths to achieve the highest quality. Each and every bean is inspected by the brand before it's roasted, winnowed, refined, conched, aged, tempered, and wrapped. One taste and you'll know what all those awards are for.
Based in: Toowoomba QLD
Prices from: $11.00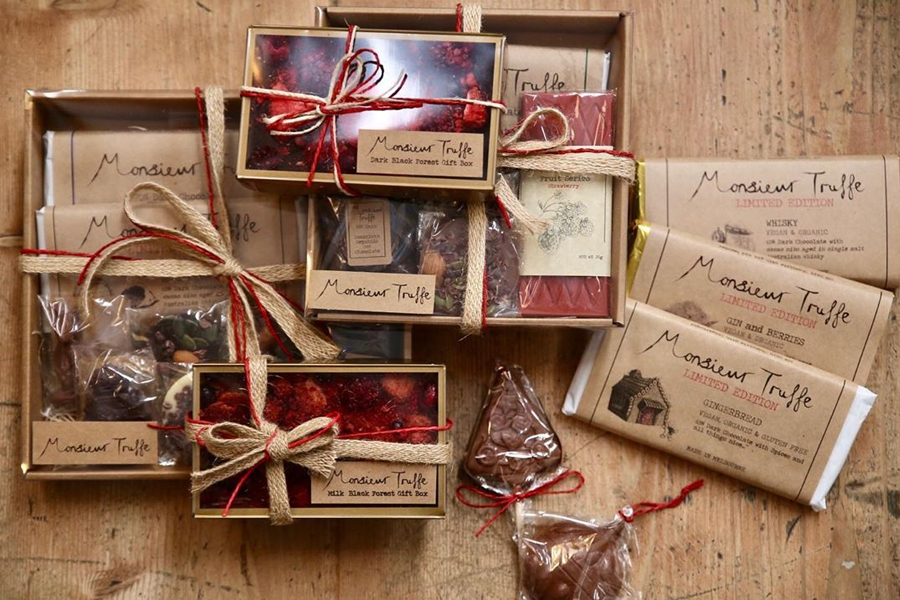 7. Monsieur Truffe
This Australian chocolate company began as a one-man operation back in 2006, exclusively serving Melbourne's Prahran market. Jump ahead a few years and Monsieur Truffe is bigger and better than ever before, with a factory, online store, and additional retail space to show for it. Between the organic ingredients, sustainable packaging, and tremendous variety, there's nothing not to love about this artisanal brand.
Based in: Melbourne
Prices from: $11.99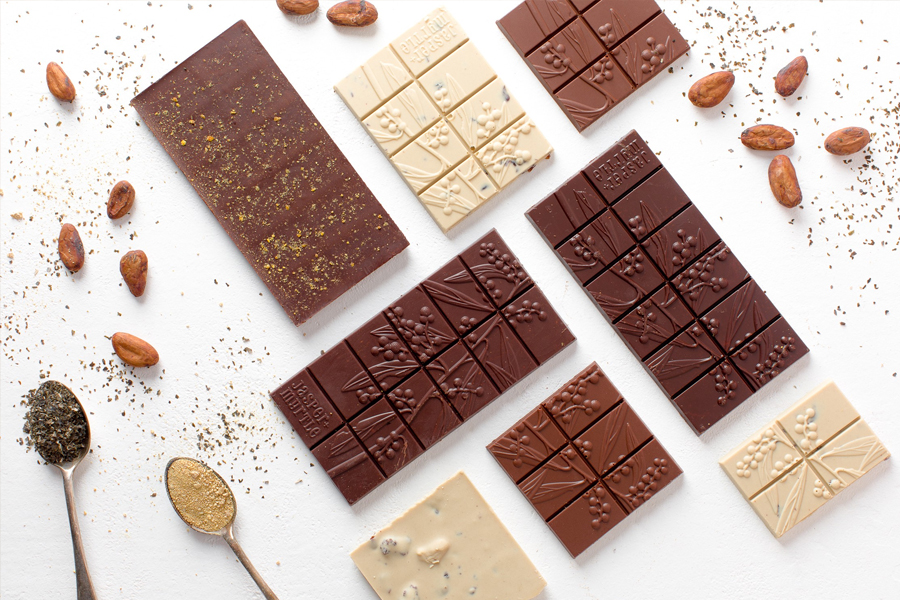 8. Jasper + Myrtle
What do you get when you take carefully-sourced cocoa beans from places like Peru and Papua New Guinea, roast them on-site, and then blend in all sorts of quality ingredients? One of the best chocolate brands in Australia, that's what. No artificial colours or preservatives are used and no two batches are the same.
Based in: Canberra
Prices from: $8.64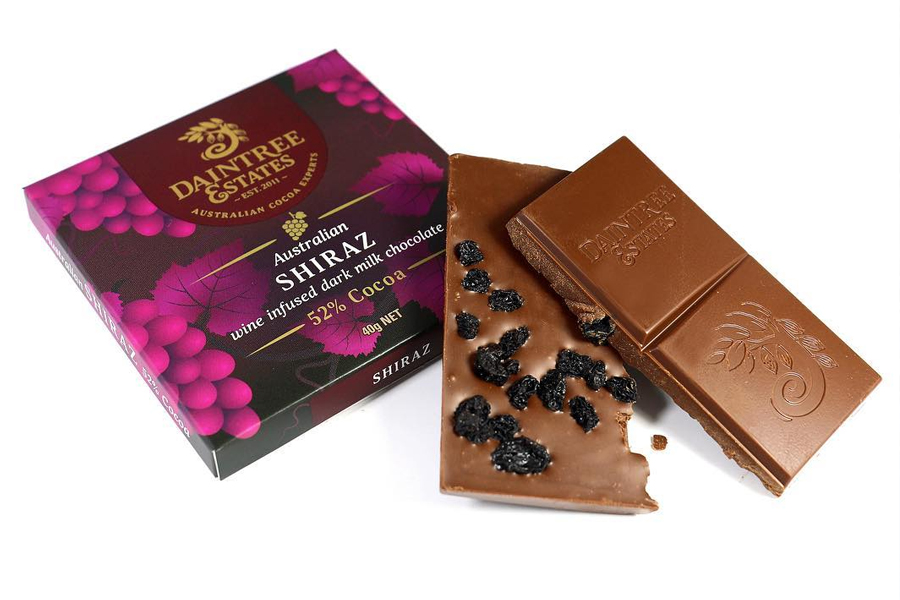 9. Daintree Estates
Not only is this native chocolate brand 100% owned and operated by Aussies, but it actually sources cocoa beans from the Daintree region of tropical Far North Queensland. That makes Daintree Estates the first brand to commercially produce chocolate of Australian origin. Enlisting help from a cooperative of farmers, it even uses local dairy and sugar as well. The words "made in Australia" don't get any more all-encompassing than they do here. Unfortunately, you might have to be a wholesaler to score some of this single-origin goodness. Good luck.
Based in: Daintree QLD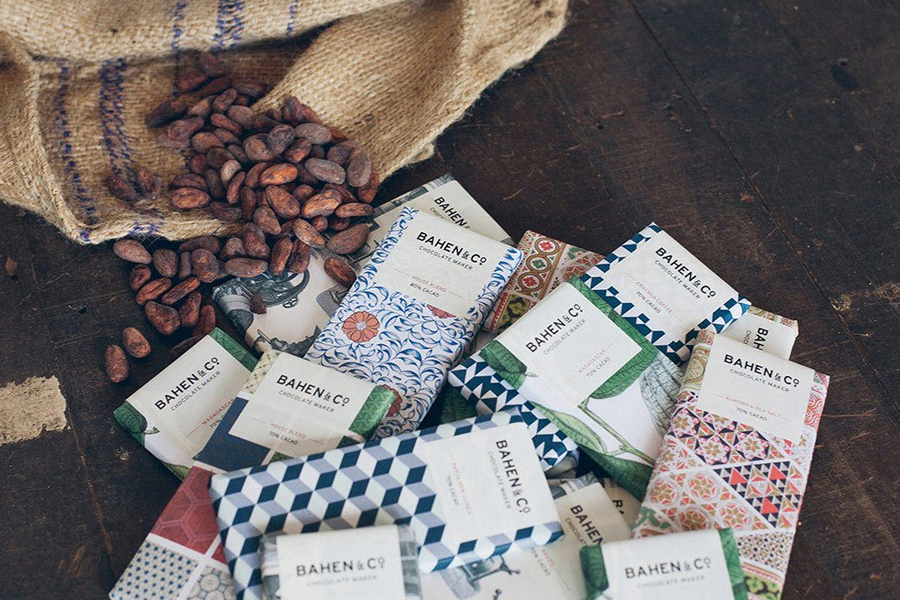 10. Bahen & Co
Winemaker Josh Bahen made a seamless transition into chocolate, which makes plenty of sense when you think about it. The cocoa beans are directly sourced from some of the most remote and exotic places in the world, then stone-ground, conched, tempered, and wrapped at Bahen's factory in the Margaret River wine region. Choose at random amongst a variety of bars or simply go with the gift set because you can do no wrong with this Australian chocolate brand.
Based in: Margaret River
Prices from: $9.90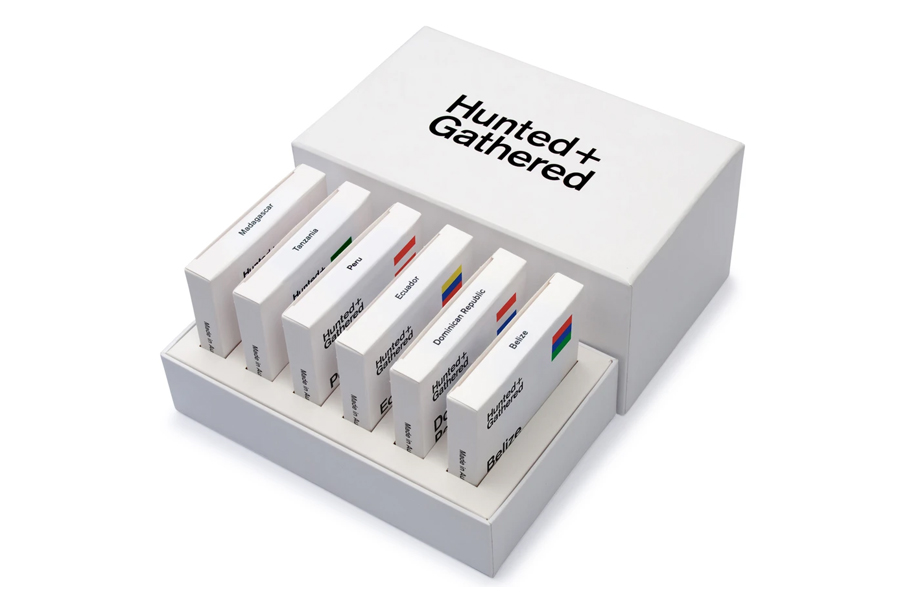 11. Hunted + Gathered
A huge winner at the 2018 Australian Food Awards, this Melbourne-based collective maintains a "less is more" philosophy. To that end, no single chocolate bar contains more than five ingredients, while most have merely three. In other words, it's all about the bean, which in this case is sourced directly from co-ops in Central and South America. Purity be thy name!
Based in: Melbourne
Prices from: $7.50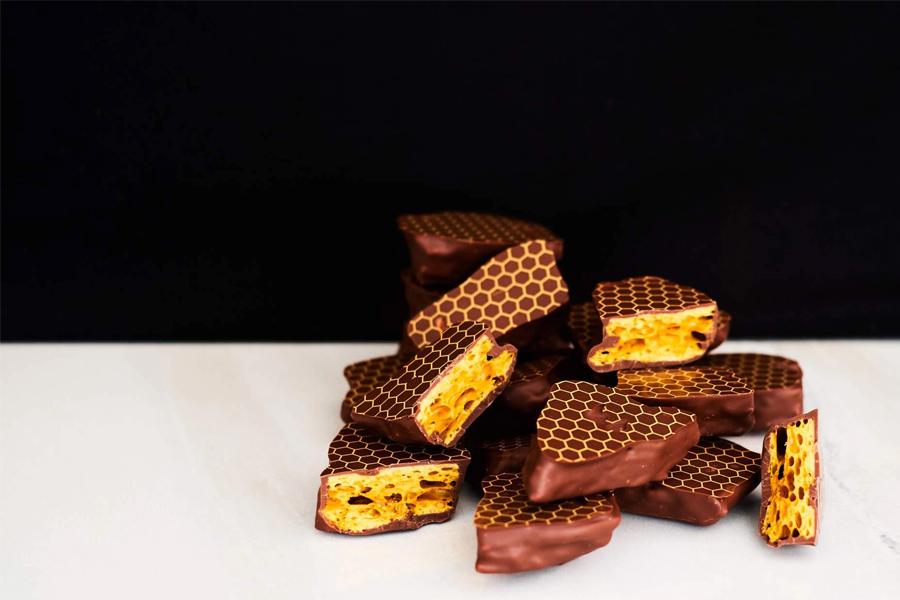 12. Ms Peacock
Her name is Lisa Morley but you know her best as Ms Peacock, whose award-winning expertise knows no bounds. If you can think of it, you'll find it here in the form of honeycomb smash bars and candied nuts and everything in between. The brand also offers a mystery gift service, where you can anonymously send chocolate to a friend or loved one, who must use three clues to guess your identity.
Based in: Bowral NSW
Prices from: $4.50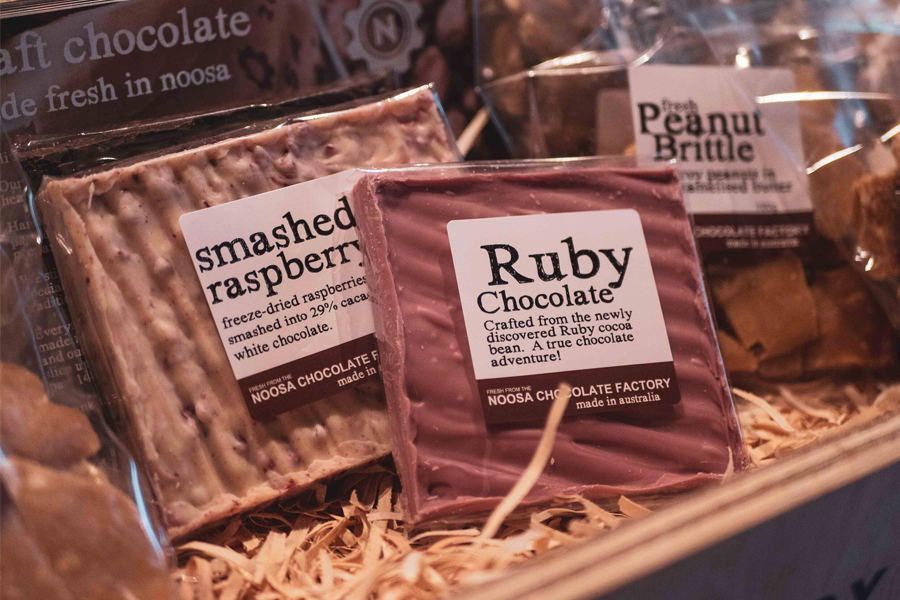 13. Noosa Chocolate Factory
Handcrafted daily and sent straight to a retail outlet in Maroochydore, Noosa Chocolate Factory delivers quality and variability in equal measure. The chocolate here is so fresh that you can't even buy it online.
Based in: Maroochydore QLD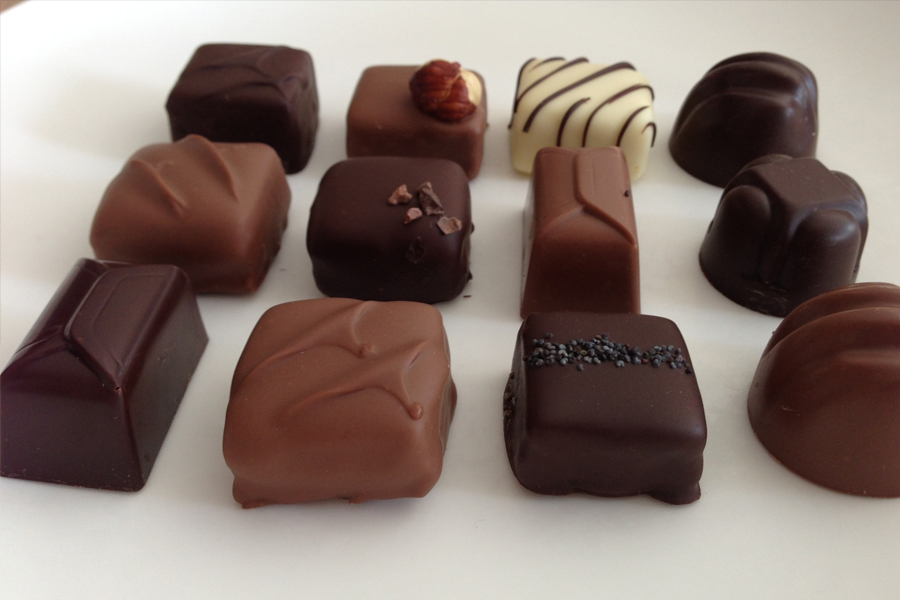 14. Couverture & Co
For a true small-batch experience, head into the suburbs of Brisbane and track down this beloved brick and mortar. Each truffle and bar is hand tempered, dipped, and piped in an onsite kitchen before hitting the display case. It doesn't get any fresher than this, folks.
Based in: Red Hill QLD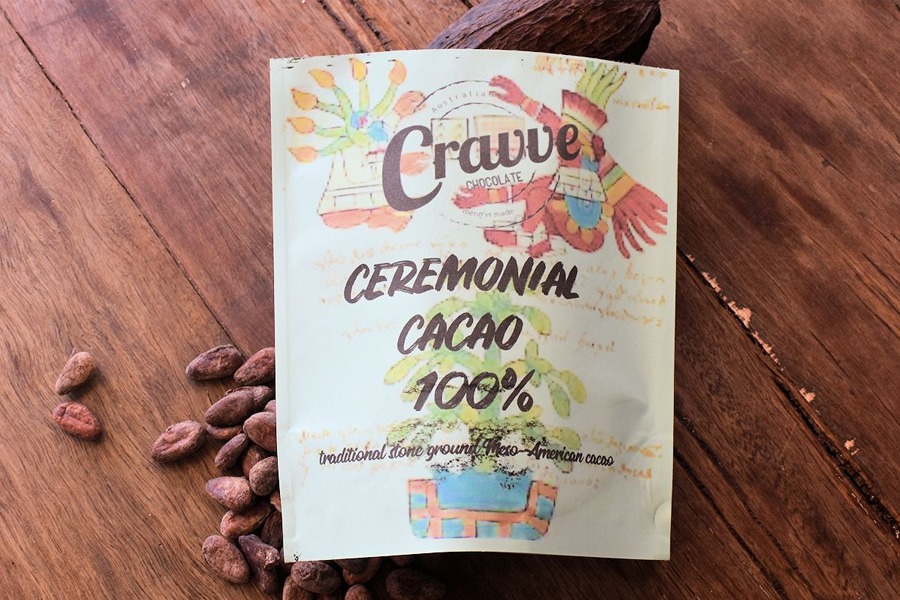 15. Cravve
If artisan chocolate is what you crave, then this appropriately-named Aussie brand has you covered. It sources raw cocoa beans from the Pacific region and thrives on variety. Get the truffle box as a gift and make sure the recipient is in a sharing mood. Vegan and sugar-free chocolates are also available.
Based in: Burleigh Heads QLD
Prices from: $4.21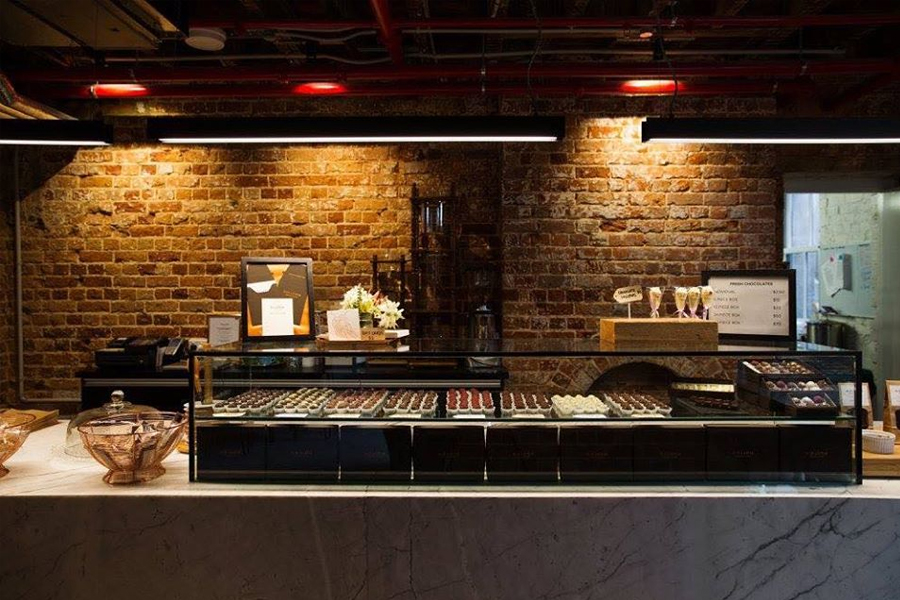 16. Sue Lewis Chocolatier
Hailing from Perth, Sue Lewis is everything one of the best Australian chocolatiers should be and more. Every single chocolate is handmade on-site, using both local ingredients and some of the world's finest covertures. The truffles or bars will do you just right, as will Lewis' famous Rocky Road.
Based in: Perth
Prices from: $5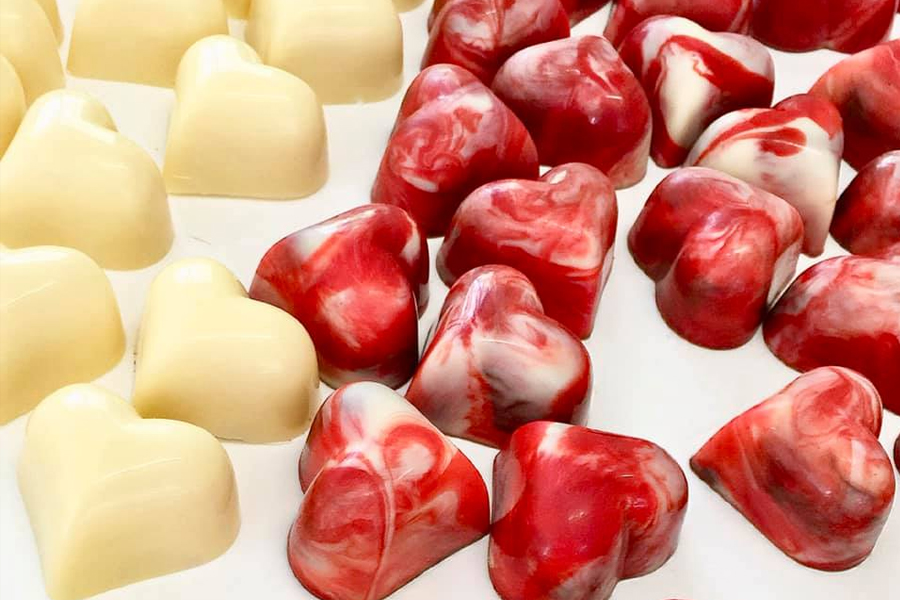 17. Maleny Chocolate Company
Formerly known as Lief Chocolates, this top Australian provider churns out a choice product no matter which name it goes by. Staying true to its core principles, Maleny Chocolate Company never uses artificial flavourings or vegetable oils. Head over to Maleny and taste the difference.
Based in: Maleny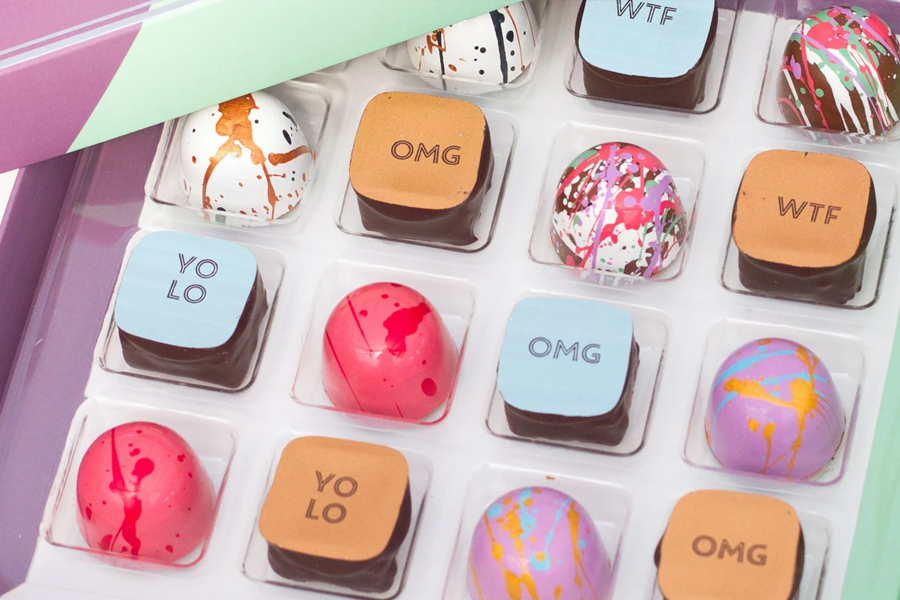 18. Just Bliss
The name pretty much says it all and this boutique chocolate brand duly abides. Located in Adelaide, Just Bliss delivers handcrafted and hand-painted chocolates, including the renowned Gin & Tonic Truffles. It all makes for the perfect gift, to say the least.
Based in: Adelaide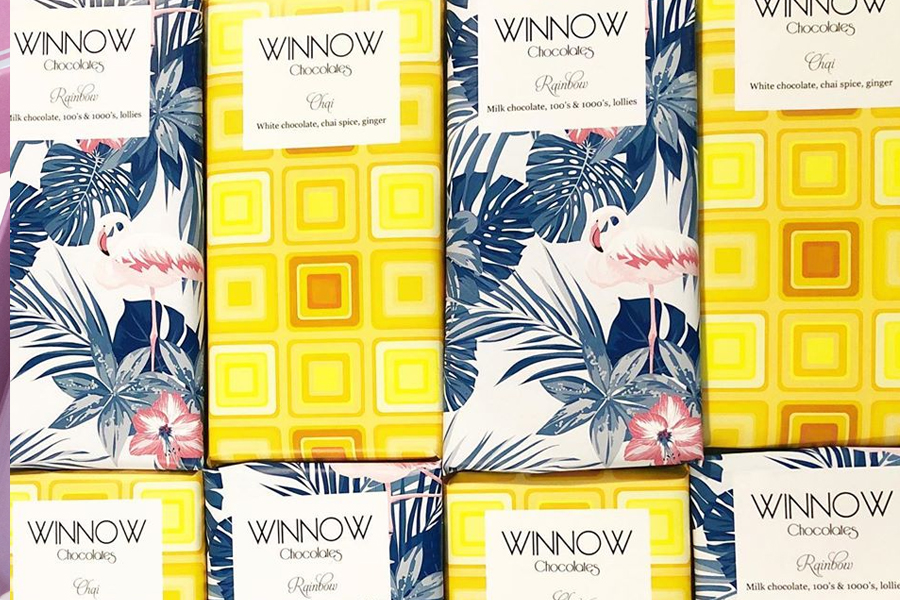 19. Winnow Chocolates
All-natural and delicious, Winnow Chocolates are simply bursting with eye-catching colour and flavourful distinction. Using organic, fair-trade couverture chocolate, the brand employs the traditional French technique of hand-tempering on marble. Waste is kept to a minimum while the taste is truly maxed out. 
Based in: Blue Mountains NSW
Prices from: $10.95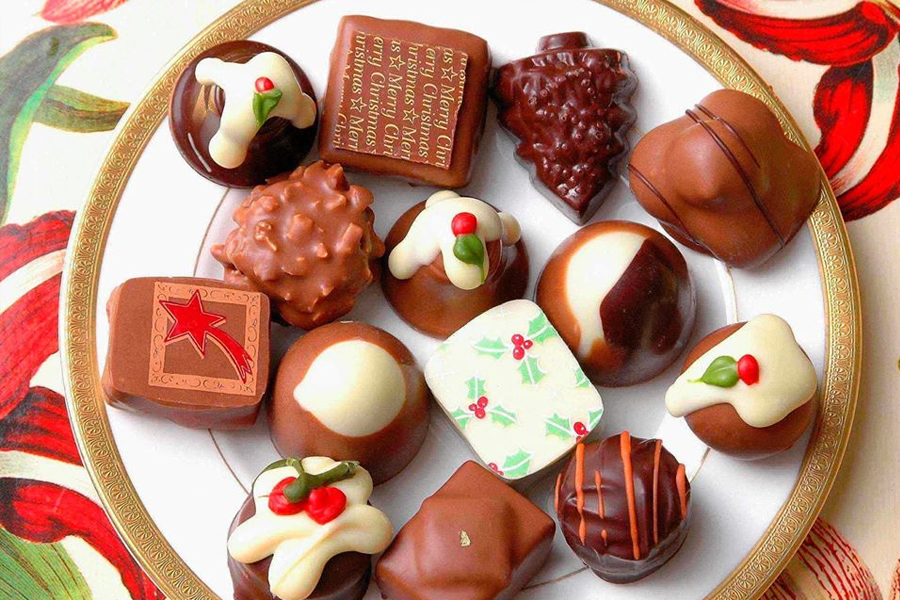 20. Just William
Located on William Street in Paddington, this Australian chocolate shop has garnered quite the following since opening its doors in 1984. Owner Suzanne Francis comes from four generations of chocolate makers and she puts that experience to deft use, one handmade batch at a time. Stop in to see what all the fuss is about.
Based in: Paddington NSW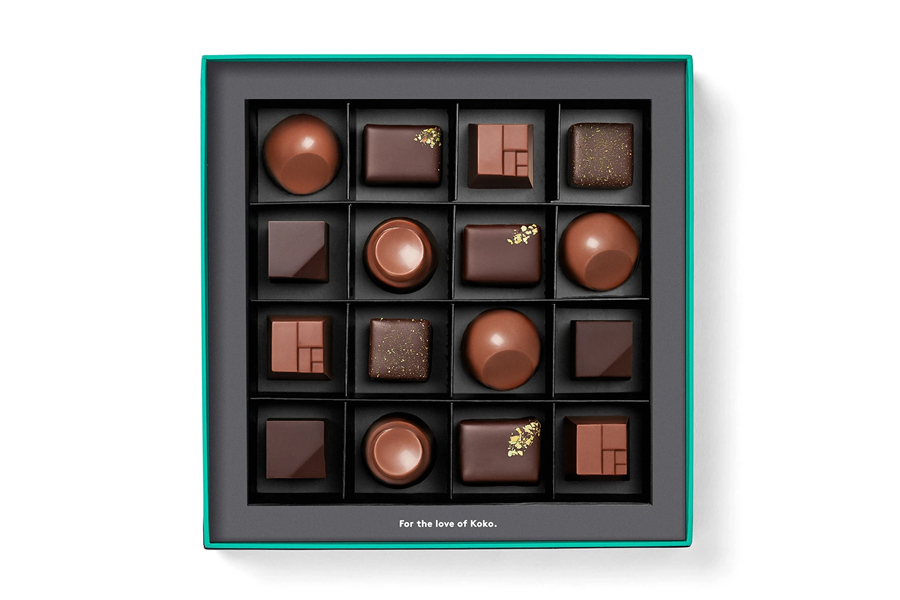 21. Koko Black
After learning the art of choclate-making in Germany, the founders of this popular brand opened their first store back in 2003. You'll now find Koko Black and its extraordinary chocolates all throughout the nation. Most recently, the brand collaborated with Chef Dan Hunter to create an exclusive range. For some of the best chocolate in Australia, look no further.
Based in: Melbourne
Prices from: $6.93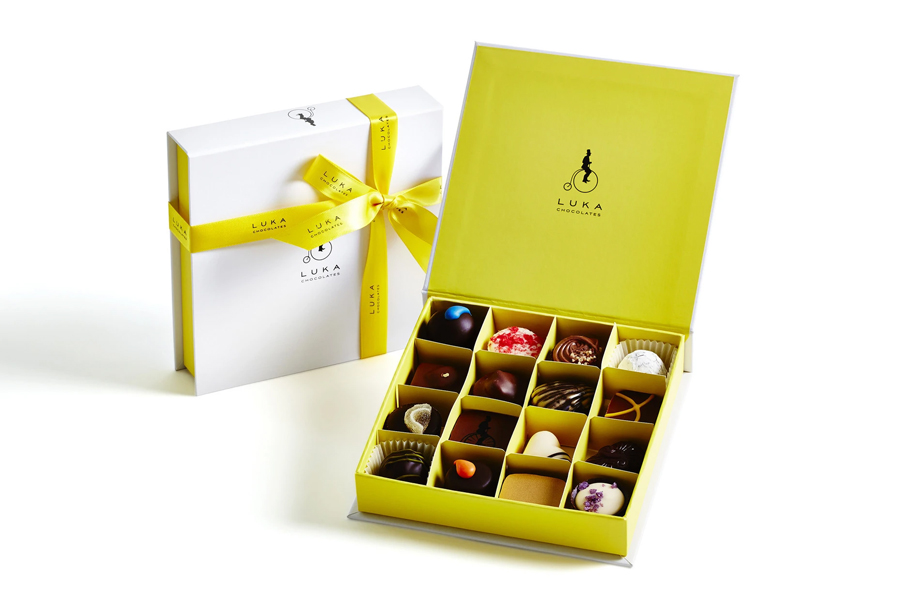 22. Luka Chocolates
Inspired by Belgian methods and makers, this top Aussie brand offers excellence in every bite. Visit the Wyong Milk Factory in Yarramalong Valley to go full Willy Wonka. And bring your sweet tooth.
Based in: Wyong NSW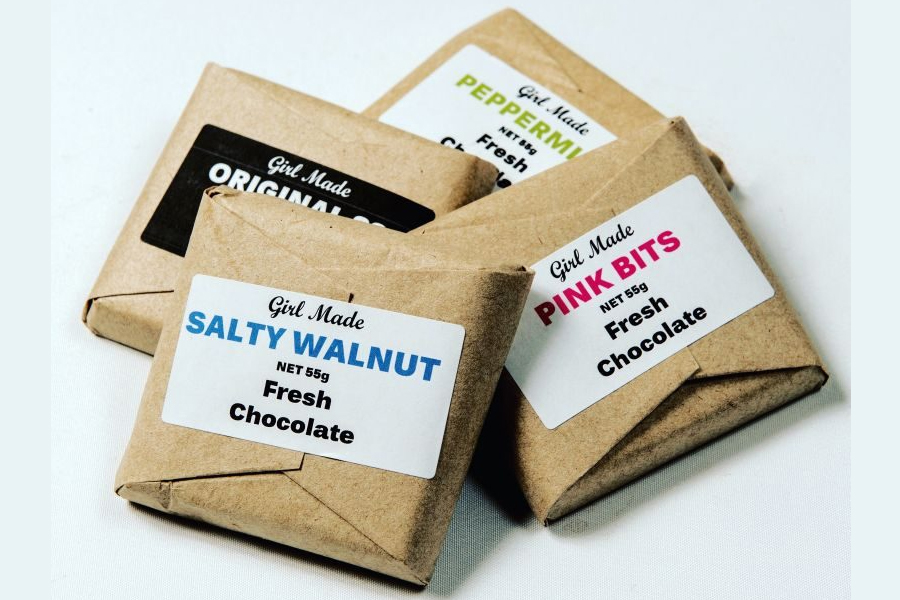 23. Girl Made Chocolate
Run by two women—hence the name—this boutique brand handcrafts every one of its small-batch chocolates in Bondi Beach. Their raw chocolate blocks are supremely high in quality and completely vegan. They also produce an alternative chocolate range, which comes packed with nutritional extras. This is feel-good stuff in every sense of the word!
Based in: Bondi Beach NSW
FAQ
What is the most popular chocolate in Australia?
Despite a growing number of local producers, global brands such as Cadbury, Hershey's, and Mars provide the best-selling chocolate in Australia. Cadbury is the nation's best-selling chocolate brand and its oldest Australian factory is located in Tasmania.
Is Australian chocolate different?
Small-batch producers are always going to offer something unique in terms of taste. However, even the chocolate from larger brands like Cadbury will taste different in Australia than they do elsewhere.
What are the best Australian chocolate brands?
Some of the best small-batch chocolate brands in Australia are the following: Haigh's, Metiisto, Monsieur Truffe, Ms Peacock, Kennedy and Wilson, Zokoko, and Bahen & Co.
You may also like:
Top 40 Australian Lollies, Candy & Sweets
Arnott's Chocolate Blocks Are Coming
Peak Focus Chocolate Helps You Survive the Daily Grind