How to Make a Healthy Poke Bowl
Are you wondering how to make a Hawaiian poke bowl at home? We certainly can't blame you. After all, this wildly popular food craze is delicious, satisfying, and presumably healthier than whatever you normally scarf down for lunch or dinner. And while you can always head over to one of those poke bowl spots that popped up in your city overnight, making the dish at home entails a firmer degree of control over ingredients and portion size (which isn't to mention all the money you'll save). What's more, learning how to make a poke bowl isn't a labour intensive or overly complicated process.
Meanwhile, you might be asking yourself: what is a poke bowl anyway? And is it really as healthy as everyone says it is? Also, is there such a thing as a chicken poke bowl? For the answers, look no further than our trusty guide, which will have you eating right in no time. Here's how to make a Hawaiian poke bowl at home.
---
You'll also like:
12 Best Ramen Restaurants in Melbourne
Oahu – The Other Side of an Island Paradise
12 Best Japanese Restaurants in Sydney
---

What is a Poke Bowl?
True to its name, a Hawaiian poke bowl is a bowl with Hawaiian poke in it. And what is Hawaiian poke? It's a form of diced raw fish—most commonly yellowfin tuna (aka ahi tuna)—that's seasoned and then served as either an appetiser or main course. The word "poke" actually means "to slice" or "cut crosswise into pieces," hence the cube-like consistency. When served in a bowl, it's usually joined by a base of rice or noodles, along with vegetables and sauce.
According to legend, traditional poke was first cultivated by Hawaiian fisherman, who began seasoning and eating spare chunks from their catches. Taking cues from Japanese cuisine (Japan has its own take on poke, by the way), the fishermen added everything from soy sauce to sesame oil to green onions to wasabi to a bevy of other ingredients. Soon, the tasty trend took off across Hawaii, and more recently, the world.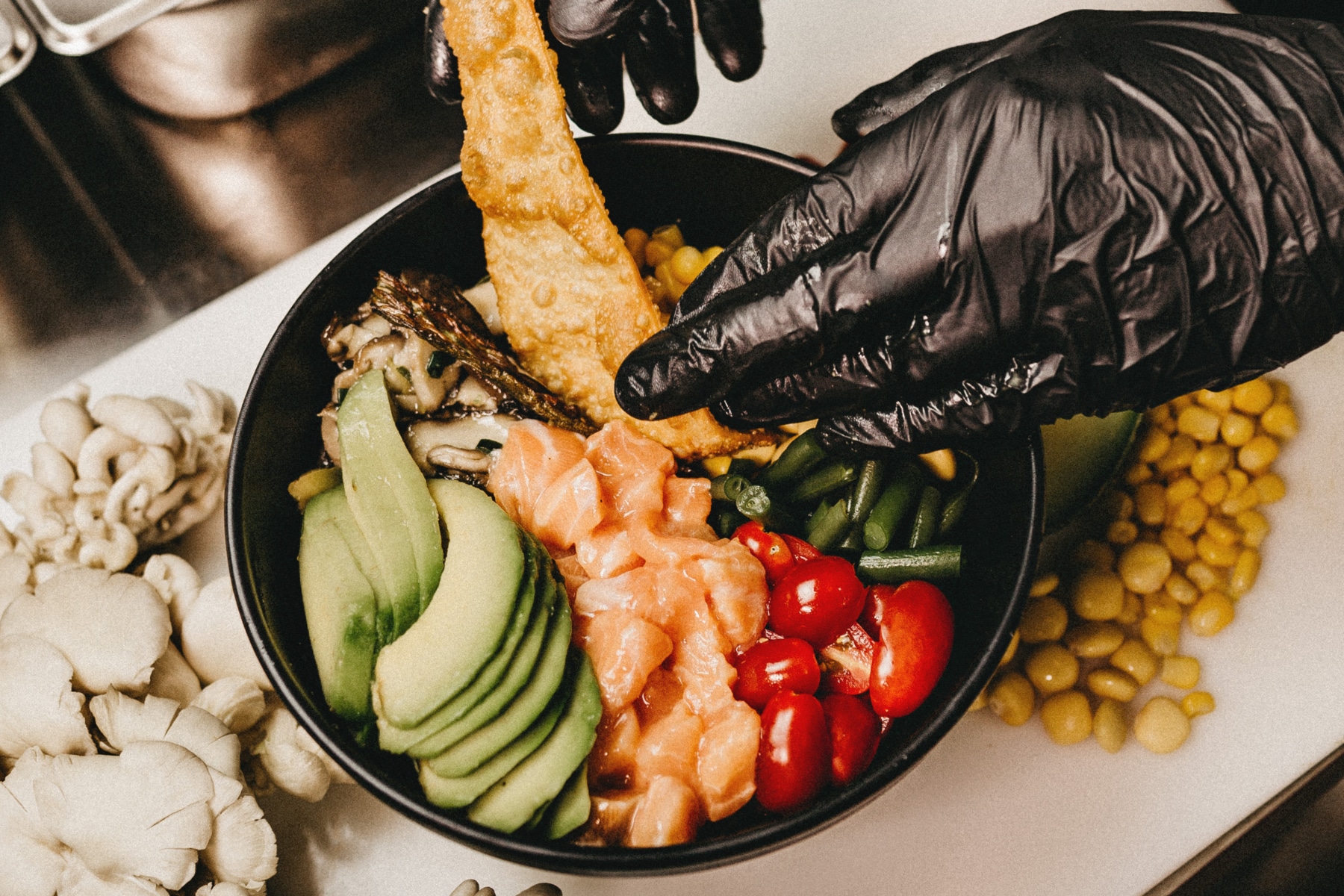 Are Poke Bowls Healthy?
Compared to your standard lunch break fare, poke bowls can be quite healthy (and delicious). That said, the quality of health benefits is intrinsically correlated to ingredients and portion sizes. In other words, you can overdo it on poke bowls just like you can overdo it on anything else, especially when you go heavy on the sauce. Ultimately, however, traditional poke bowls are lower in calories and higher in nutrition than say a cheeseburger and fries or three slices of pizza.
For starters, raw fish makes for a terrific source of lean protein. And while ahi, in particular, isn't as rich in omega-3 fatty acids as other types of fish or even other types of tuna, you can always swap it out for something like salmon. Along similarly healthy lines, you can never have too many vegetables in your diet. This is perhaps why poke bowls have taken off among the fitness crowd as a perfect post-workout meal.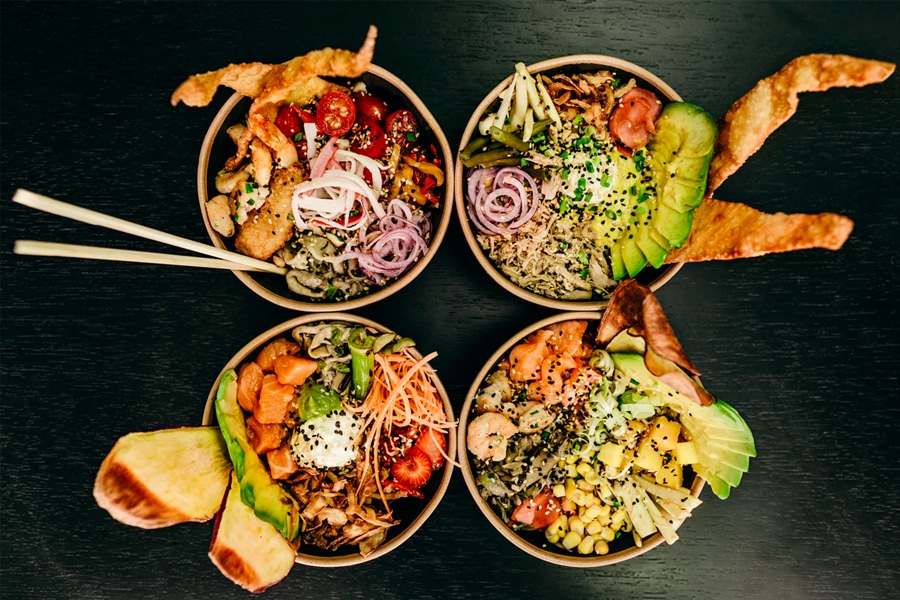 Type of Poke Bowls
One sees the words "poke bowl" and immediately pictures diced cubes of raw ahi tuna, but this popular dish has become much broader in terms of its variety and subsequent appeal. In fact, there are some versions that don't contain any raw fish at all. Does that technically mean those versions aren't "poke bowls" in the true sense of the concept? It does, but we're not here to nitpick. When making a poke bowl at home, consider the following types:
Salmon or Ahi Tuna
The most common and classic type mixes cubes of raw salmon or ahi tuna with a heap of savoury ingredients. Naturally, you can substitute whatever form of raw fish you so desire, though be sure that it's of sashimi-grade quality since you don't want to get sick. You're also welcome to cook the fish, though to do so will definitely influence things like taste and texture.
Chicken
Sure, "chicken poke bowl" is an oxymoron, but who cares when you're scarfing down all that deliciousness? For maximum nutrition, you should poach the chicken, as this method uses water (in lieu of butter or oil) to transfer heat during the cooking process. If the taste is your only concern, fry it up, baby!
Prawns
Prawns are packed with protein, healthy fats, vitamin B12, iron, and phosphorus. They're also relatively low in calories, presuming you shy away from heavy amounts of oil or butter, and don't go overboard in terms of quantity. What more do you need to know?
Tofu
More than a popular substitute for meat or fish, tofu is quite versatile in its ability to blend with other ingredients. It's also rich in protein and iron, among other things. For all the vegans and vegetarians out there, this one's for you.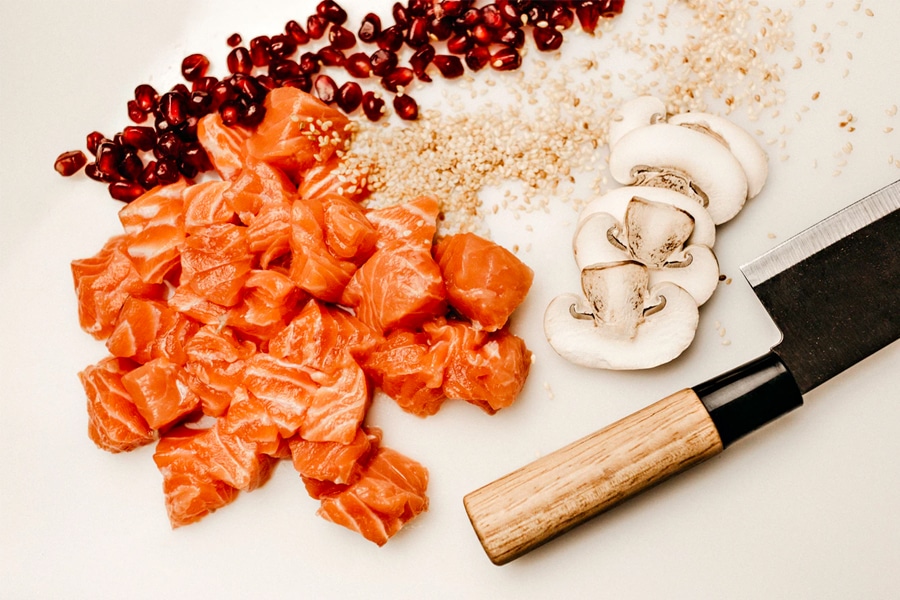 How to Make Poke Bowl
We know, we know: when are we actually going to make this thing?! Right now. Presumably, you've already picked up your protein of choice (see above). Here's what else you'll need to make a poke bowl at home:
Base
Start your poke bowl by adding a base ingredient, which enhances texture and furthermore turns your small snack into a full meal. Predictably, you have options, the healthiest among them being brown rice, quinoa, or cabbage, respectively. For something less nutritious (but arguably more satisfying in terms of texture), consider soba noodles or sushi rice instead.
Protein
We already dove into which proteins you can add to your poke bowl, so we won't repeat ourselves here. Just remember to dice the protein up into easily digestible cubes, since it would be way too ironic if you choked to death while trying to be more healthy. Also, you might want to sauce up and season your protein before adding it to the bowl, resulting in a more robust flavour profile.
Vegetables
There's really no such thing as an unhealthy vegetable and you should load up accordingly. We're talking carrots, edamame, kimchi, radish, beets, or whatever else works for you.
Add-Ons
There is no shortage of "extras" one can add to a poke bowl, including avocado, fish eggs, wasabi peas, tamari almonds, coconut, and seaweed. Ingredients like avocado and almonds are nutritious, but high in calories. Dry seaweed, meanwhile, is light and flavourful. Use your judgment when sprucing up your bowl.
Sauce
Nothing brings your poke bowl together like the right sauce, but this is also where one can easily go overboard. Soy sauce, for example, is a popular ingredient that contains loads of sodium. We're not saying you have to leave it off, just that you should apply it sparingly. Roasted sesame dressing is another poke bowl mainstay, but again you don't want to overdo it. For something a little healthier, stick with extra virgin olive oil and a squeeze of lemon, demonstrating proper restraint with the oil.
Seasoning
Feel free to top off your poke bowl with a sprinkle of chilli pepper, or sesame seeds, or green onions, or all of the above. It can deliver the perfect finishing touch.
Healthy Poke Recipes
Ahi Tuna Poke Bowl Recipe with Ponzu Sauce
3-4 cups cooked brown rice
1 pound of sushi-grade ahi tuna, diced
3 green onions, sliced
2 avocados, diced
1 cup diced mango
1 cup diced cucumber
1 cup shelled edamame, steamed
1 jalapeno chilli, sliced
Coriander leaves
2-3 tablespoons sesame seeds
1/2 cup Australian macadamia nuts, chopped (optional)
1 tablespoon toasted sesame oil (optional)
Citrus Ponzu Dressing:
1/2 cup soy sauce (or gluten free tamari)
1/4 cup orange juice, freshly squeezed
2 tablespoons lime or lemon juice
1 tablespoon mirin (sweet rice wine) or rice vinegar
Creamy Sriracha Sauce:
1/4 cup mayonnaise
1-2 tablespoons of sriracha
Splash of lemon or lime juice
Furikake Tuna Poke Bowl
12 oz sushi- or sashimi- grade tuna, cut into ¾-inch chunks
3 cups cooked forbidden rice ramen noodles (or other noodles such as soba or kelp)
1 large carrot, shredded
1 red onion, thinly sliced
1 cup snow peas, thinly sliced
4 large red radishes, thinly sliced
Furikake Dressing: 
1 tbsp rice vinegar
3 tbsp raw honey
3 tbsp sesame oil
1 tbsp reduced-sodium tamari
1 clove garlic, minced
1/4 cup brown and/or black sesame seeds
2–3 large sheets toasted nori, ground
1/4 cup bonito flakes (dried fish)
½ tsp sea salt
Pinch ground cayenne pepper, optional
---
You'll also like:
12 Best Ramen Restaurants in Melbourne
Oahu – The Other Side of an Island Paradise
12 Best Japanese Restaurants in Sydney
---