10 Best Halal Snack Packs in Sydney
Greetings brothers and sisters, inshallah you are all well. Since being invited into the inner sanctum and glory that is the Halal Snack Pack Appreciation Society (HSPAS), I've been salivating at the thought of devouring the crispiest of chips, the most succulent of meats and the sauciest of sauces that this great land has to offer. So to help fellow members of the magnificent HSPAS, we've put together a list of the best halal snack packs in Sydney. While you might not find the best HSP Sydney has to offer in establishments in the Eastern Suburbs or around Darlinghurst, if the list is anything to go by, the West reigns supreme. Do you agree?
Note: We had to choose the feature image above taken by Jordan Noble-Madrusan at Stockland Mall, Baulkham Hills as it features the traditional drink, a Powerade, to be had alongside an HSP.
RELATED: These are the best burgers in Sydney right now.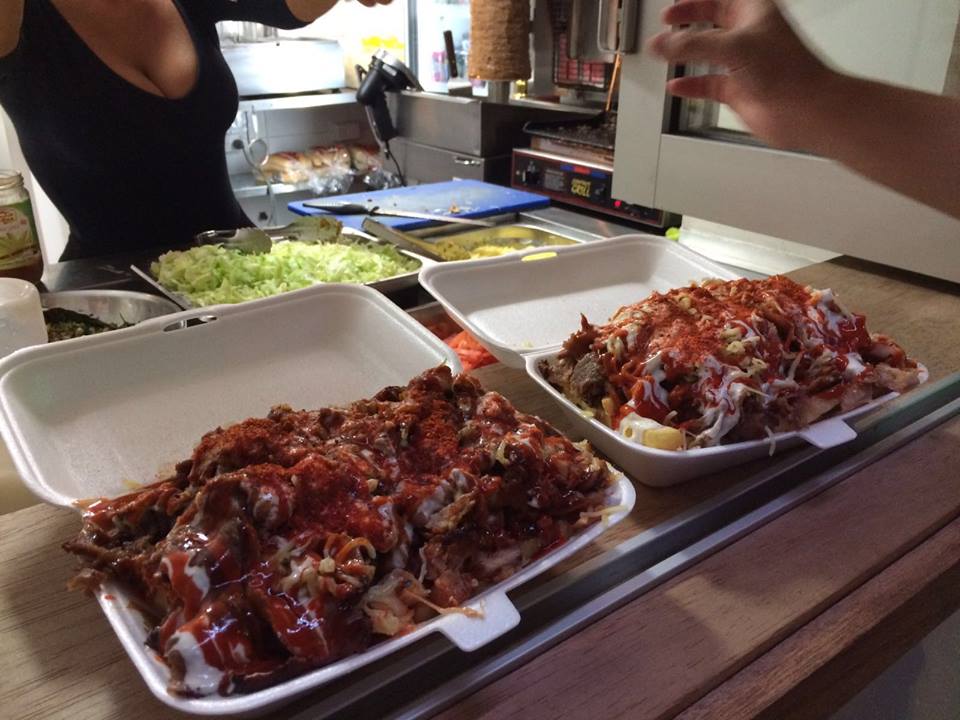 1. Kinky Kebabs, Sefton
Address: 54 Clapham Rd, Sefton NSW 2162
Trading hours: Thu 9pm-3am, Fri-Sat 9pm-4am
Reviewed by: Sophie Quang (source: HSPAS)
Asalaam alaikum my brothers and sisters.
We were feeling the thirst at Sefton Playhouse and decided to hit up Kinky Kebabs. Best HSP Sydney has to offer.
Halal signage: not neon, but right above a handdrawn picture of one of the promised 72 virgins 10/10
Service: created by a specimen from heaven, we were blinded by this beauty that we forgot to take the free water 20/10
Packaging: styrofoam/10
Meat: the beef and chicken were better than any meat inside Sefton Playhouse 9.5/10
Chips: golden and crunchy on the outside, but soft like a flaccid appendage upon entering my mouth 8/10
Sauce: the garlic and chili sauce hit us harder than the Playhouse hits our wallets. Extra point for chili powder 11/10
Price: solid $12 for a dece sized box with cheese 10/10
---
Featured Video from Man of Many
---
Overall 10/10 will cum again
2. SIM Kebab House, Ashfield
Address: 160 Liverpool Rd, Ashfield NSW 2131
Phone: +61 2 9797 7909
Trading hours: Mon-Thu 10am-12am, Fri-Sat 10am-2:30am, SUn 12pm-12am
Reviewed by: Siobhan Pedroza (source: HSPAS)
Good evening brothers and sisters,
This afternoon, 13 March 2016, I had the privilege of dining at Sim Kebabs at 160 Liverpool Road Ashfield, 2131 NSW, to experience my first ever HSP.
Apart from the vendor judging my choice of being a vegetarian and infesting my HSP with devil meat, I am proud to say my faith has been converted to HSP
As you can witness from my attachments, the Halal certification was proudly on display, 10/10.
My styrofoam packaging and presentation was a solid 10/10-would-recommend.
The even amount of garlic and bbq sauce covering my meal was second to none, so another 10/10
The sauce mixed well with my even layering of delicate and moist cheese, a 8/10.
I was quite pleased that my friend at Sim was kind enough to cut up my falafel for my meal, despite his meat poisoning over my beloved food, so an 8/10, with obvious docking for the treacherous meat act.
Price: $9 for a small, so definitely halal
Only downfall of my experience was the lack of greeting from our host, which will credit him only a 4/10. Plus I'm still salty from the inclusion of meat in my meal
I give Sim's an overall score of 9/10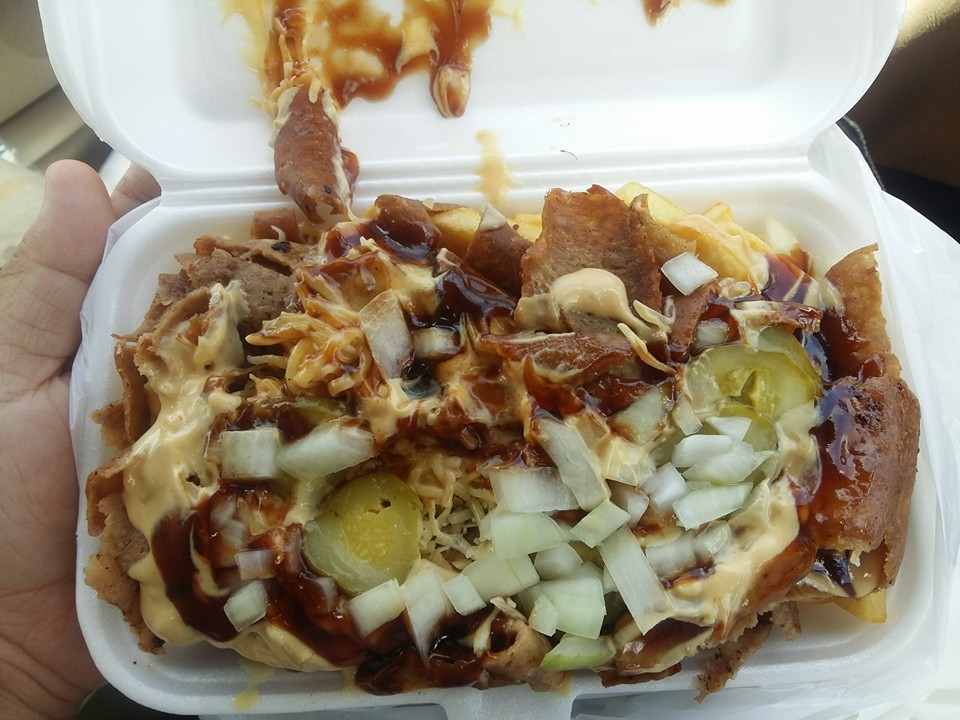 3. Bj's Kebabs & Burgers, Granville
Address: Ferndell St, Granville NSW 2142
Trading hours: Open till midnight
Reviewed by: Yavuz Suna (source: HSPAS)
BJ's bbq big mac HSP. Best HSP Sydney has to offer.
Toppings: cheese, bj saws, bbq saws, pickles and onion.
Greetings: "Selamualeikum how are you brother?". Most authentic greeting 10/10
Meat: juicy and not oily 10/10
Chips: crisp on the out side soft in the middle and salted perfectly 10/10
Halal signage: next to a masjid and brother has a beautiful beard 10/10
Overall: 10/10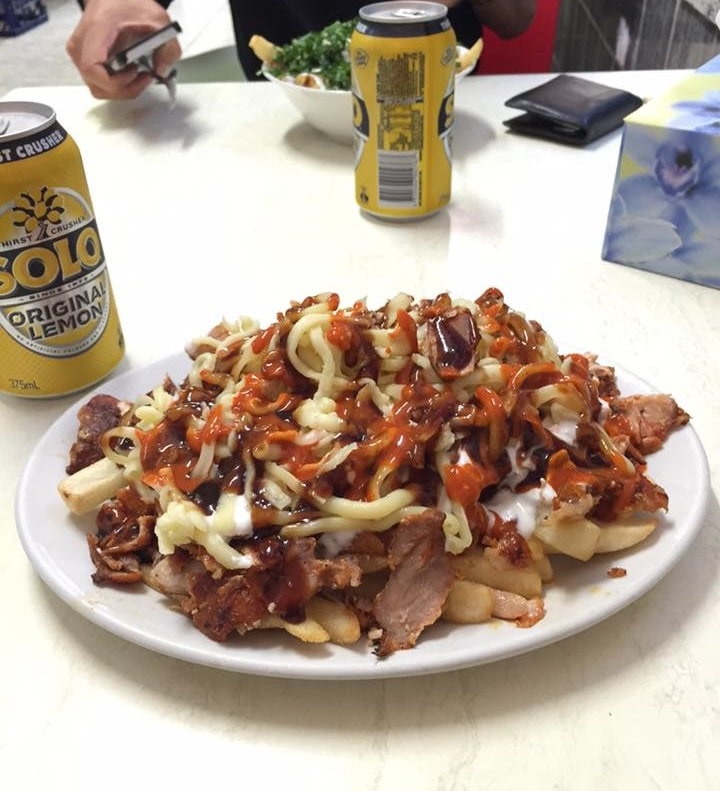 4. Granville Sofra, Granville
Address: 11 South St, Granville NSW 2142
Phone: +61 2 9637 5266
Trading hours: Mon-Sun 4:30am-1am
Reviewed by: Kris Anderson (source: HSPAS)
Best HSP Sydney has to offer.
Halal: 10/10 halal as fuck one sign outside and one sign inside incase you missed the one outside by the time you get inside.
Price: $11 for large snacky with cheese and a can of soft drink.
Service: 10/10 served by the homie Afaq, dude is straight fire ?
Meat: 8/10 went with chicken, pretty eets lost couple points for a few burnt bits.
Chips: 8/10 straight from the fryer Afaq takes care of his boiz, lost points for lack of chicken salt, still eets but.
Sauce: 9/10 got bbq, garlic and chilli – flavour country.
Cheese: 6/10 my fault because I forgot to ask for cheese before sauce so it didn't melt, still eets but.
Overall: 8/10 Afaq and his crew are fucking mad cunts, good dudes would hang out with them if they invited me to.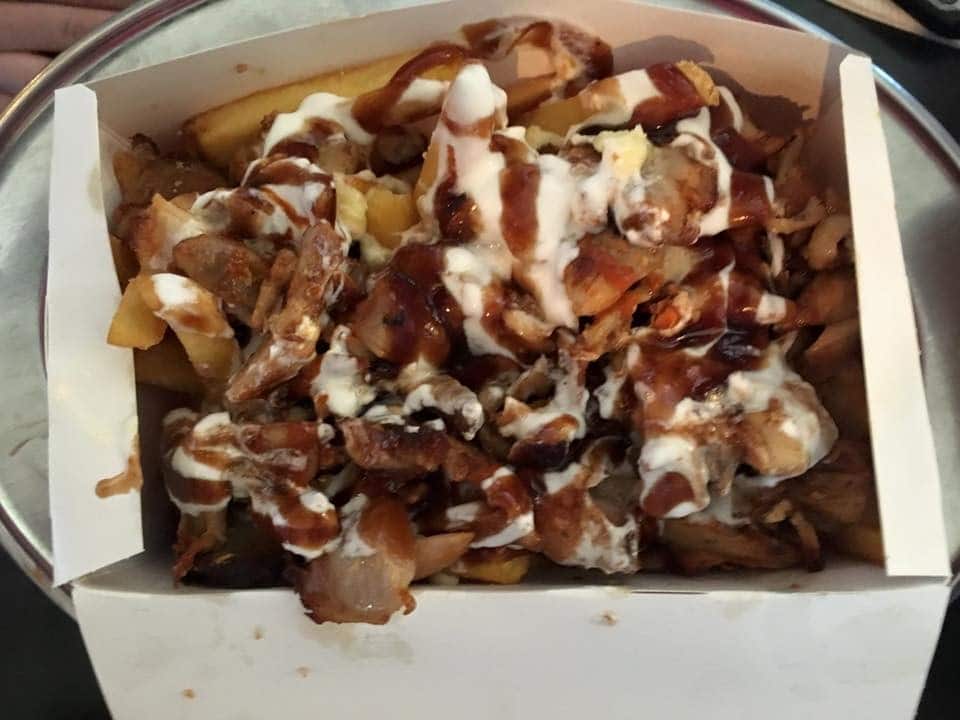 5. Saray Turkish Pizza and Kebabs, Enmore
Address: 18 Enmore Rd, Newtown NSW 2042
Phone: +61 2 9557 5310
Trading hours: Sun-Thu 11:30am-12am, Fri-Sat 11:30am-1:30am
Reviewed by: Matthias Laubi (source: HSPAS)
Saray, Turkish pizza and Kebab, Newtown, Sydney. Best HSP Sydney has to offer.
Greeting: 2/10 – As we walked In she expressed almost a mute like connotation. Her first words were "what would you like". We were expecting at least expecting a "hello" considering our HSP virginity.
Packaging : 4/10 – zero evidence of halal certification. No styrofoam containers, the cardboard inappropriately affected the flavour.
Chips: 9/10 – obviously freshly fried and the crispness had a positive impact on the texture.
Sauce: 7/10 – a garlic and chilli sauce. The chilli packed a good punch backed up by the well balanced flavour of the garlic, a nice topping overall.
Meat: 9/10 – succulent beef was a nice portion to the pack. Quite filling but bite sized cut pieces. Definately what is expected.
Cheese: 6/10 – the cheese was quite nice quality however there was a lacking of quantity and I think in this scenario quantity would have been preferred over quality.
Overall: 6.5/ 10 – Definitely well scored in the food aspect. It was filling and tasty. However the service was inexcusable and there was no guarantee of halal. Would maybe come again for a feed.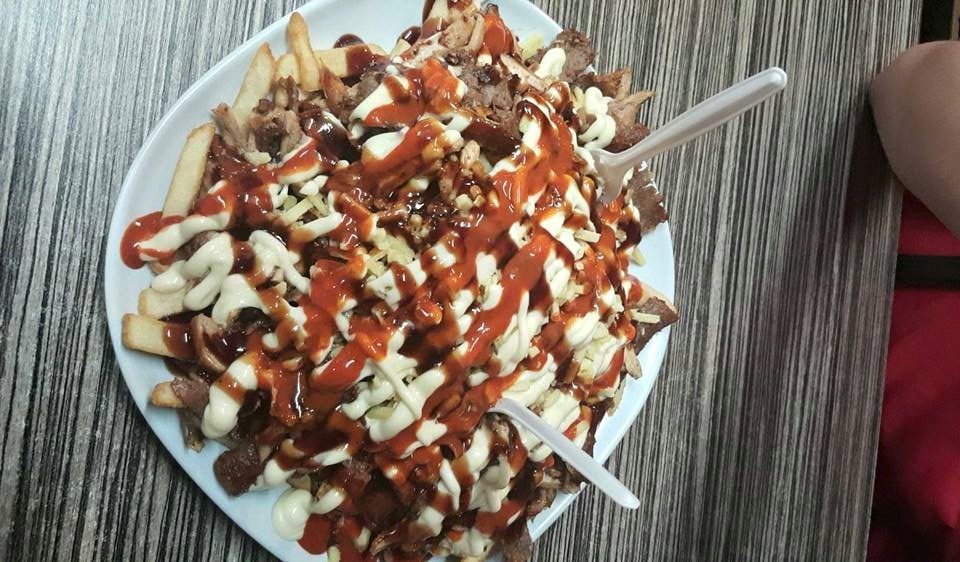 6. Watsup Brothers, Condell Park
Address: 149 Eldridge Rd, Condell Park NSW 2200
Phone: +61 2 8764 3236
Trading hours: Sun-Wed 9am-1am, Thu-Sat 9am-4am
Reviewed by: Moodaii Ibrahim (source: HSPAS)
Good evening my brothers and sisters of hspas clan, tonight i succumb to the urge to fill my belly with the heavenly goodness of a halal snack pack. So i went to Watsup brothers in condell park and Tonight god has praised me for i received a marvel of engineering and all praise to god for such a immensely tasty snack pack. Best HSP Sydney has to offer.
Greeting: was greeted by the owner himself with a hearty "hello brother how are you today" for that i must give a 10/10
Signage: several halal signs throughout the menu and takeaway menus 10/10
Meat: chicken and beef both cooked to perfection with a proper sweaty turk responsible for it. 10/10
Cheese: placed evenly across the whole plate so that it melted nicely throughout the snack pack. 10/10
Chips: were excellent with a generous amount of chicken salt 1 point will be lost due to them being slightly more soggy than i like them but not enough to take away from the overall snack pack 9/10
Sauce: today i felt abit adventurous so i went from my usual bbq chilli garlic to mayo instead of garlic and what a decision that was! The sauce was evenly spread out with no pools anywhere, a round of applause to that lovely sweaty browed man. 10/10
Price: honestly im not 100% as i was comatized by that delicious snack pack i just accepted any price he threw at me but i payed $15 including a glass bottle of coke. 10/10
Overall 9.8/10
Like i said i cannot complain it was just too good im still struggling to breath and i hope that all of my hsp brothers and sisters can enjoy a lovely watsup brothers snack pack the next time they get a chance, i will admit service is sometimes sub par as it gets stupidly busy there but tonight i could not falter the service. Thank you for your time brothers and sisters i hope your snack pack adventures end as great as mine has on this day.
Asalam ou alaykoum
7. Metro One Kebab Pizza and Pide, Ashfield
Address: 309 Liverpool Rd, Ashfield NSW 2131
Phone: +61 2 9797 1034
Trading hours: Sun-Thu 9am-12am, Fri-Sat 9am-2am
Reviewed by: David Dang (source: HSPAS)
To Metro One
Look, I can't think of how many reasons I like you, but above all the rest is your ability to make me happy no matter what mood I'm in. I can't stand not being around you for more than a few days. I start missing you the second you're gone. Truthfully, I believe that this is the happiest I've ever been. I understand you recently got out of a messy talk about whether you were halal or haram, you were so upset ;/. But I know for a fact that you are the most halal snack pack that I've ever been with. When I look at you I think of all the things we can do together. When you're not with me, I'm thinking about taking you to dinner, or a movie, or just showing up to your house with flowers, Just anything that I think will make you happy. I can't stand seeing you unhappy, If I know you're upset I will try my hardest to make you feel better. I'm no dingo thats why I want to be yours, to be there for you, to treat you right, and to calm you down when you're about to punch your mother, I can't find one imperfection, or flaw in your character. and right now I'm scared of what I'd ever do without you. Best HSP Sydney has to offer.
Kind Regards,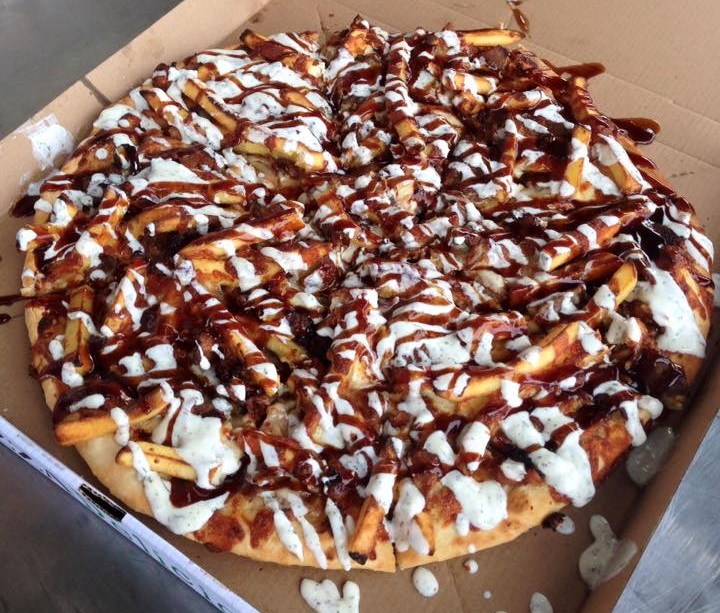 8. Kebab Express Pizza Pide and Adana, Blacktown
Address: 14/10 Sunnyholt Rd, Blacktown NSW 2148
Phone: +61 2 9671 5321
Trading hours: Mon-Sun 9am-1am
Reviewed by: Hayden Moxey (source: HSPAS)
HSP – The Pizza Edition.
Big ups to Chris and Kiara for driving the maitrio (Luke & Will + this guy) on the long trek to this place after going to Kings Kebabs C-town last week, and I think the results will surprise.
Greeting/service 6/10: No brother, kind of rushed into the order and cut the lady off coz I was ravenous but she was real nice and triple checked our order so there were no dingo stuff ups. The snackie didn't take long but the pizza needs about 20 minutes so be prepared for the wait, Rome wasn't built in a day. Best HSP Sydney has to offer.
Signage 7/10 I think?: Disappointed in myself, wasn't paying enough attention. Fairly sure there wasn't neon, remember a distinct halal sign but can't remember size and placement, only had eyes for the goodies.
Meat 9/10: The backbone of the meal. Brought so much flavour to the feed, and made me kept eating long after I was full. Crispy yet no where near dry. My only grievance was the lack of the rarer third meat amigo, lamb.
Sauce 10/10: The holy trinity, garlic, BBQ & chili. Creamy & strong, sweet & tasty, and spicy & mouth watering respectively. Nuff said.
Cheese 8.5/10: Tasty, melty, strings as you pull away a piece, golden & crispy on top from the oven. Lost marks for poor cheese placement strategy that needs a little work, as we faced the age old toppings-sliding-off problem.
Chippies 7/10: Probably the only downside, soggyish (and I mean ish, still had crunch but as chiperfectionists we know what makes a good fried spud) from the sauce absorption and extra cooking. A better double fry method would solve this easy. Plus needed extra salt made of chickens.
Packaging 0 or 10/10, you decide: In my opinion 10, I think the pizza is genius and well worth copping the haram label, but if you're a styro purist you can chuck it a zero, full respect.
Price 8/10: This is a score only for the HSPizza, at $17 for a family (the only size offered), this is incredible value, the thing is massive. A few dollars off would easily push it to a ten.
Verdict: 8.2/10 – certified halal and a half.
We had HSPs as well as the HSPizza, but the pizza was the clear winner and that's why I reviewed it and not the regular snackie, which was 100% halal dw.
Those who hate on the HSPizza need to take a good hard look at themselves, coz this thing is only an improvement on the classic snackie. The base acts as a spoon THAT YOU CAN EAT, meaning the perfect ratio of meat cheese sauce chips with every single bite. Eliminating the fork means not disrupting the beautiful masterpiece your local shaved meat vendor has prepared for you, and consuming it the way they intended, with every ingredient in every bite, down to the last one. How many times have you not gotten every layer while using the fork? Plus, the base itself is plane enough not to clash but adds a crunchy, tasty addition.
I've had Kings Kebabs, and don't get me wrong I loved it, but I think the flavour of the crispy yet juicy meat at Kebab Express just puts the place miles ahead, let alone the game changing pizza base foundation. Maybe it was the hype, but Kings just didn't pop like I thought it was gonna, yet I had the complete opposite experience at Kebab Express. Could fault the chips for being short of full crunch and not being chicken salted to my liking, but even still, gonna go against the fanboys and say this is better than Kings.
Go forth to this wonderful place people, will not disappoint.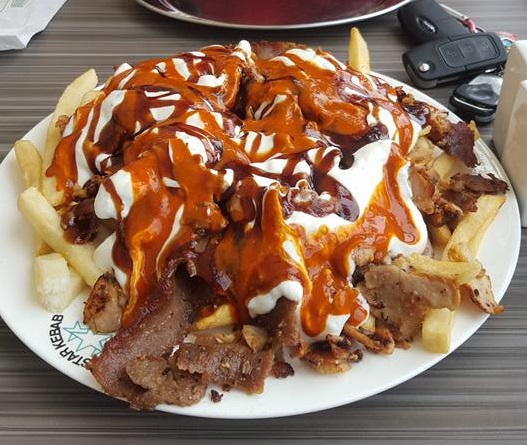 9. New Star Kebabs, Auburn
Address: 15 Auburn Rd, Auburn NSW 2144
Phone: +61 2 9643 8433
Trading hours: Mon-Thu 7am-1am, Fri-Sat 7am-2am, Sun 7am-2:30am
Reviewed by: Justin van Hulsen (source: HSPAS)
The joy of seeing the renowned "New Star Kebabs" of Auburn in the horizon is an experience that should be felt by all, followers and dingos alike. Enough rambling about the joint and time for the mothafuckin review of the mixed HSP food with the holy trinity of sauces. Best HSP Sydney has to offer.
Greeting: I expected more from the boys at New Star, being my 3rd visit. We were greeted with a dull and lifeless "what do you want" not impressed
2/10
Service: The joyous snacky was brought out quickly and efficiently.
8/10
Presentation: Well would you tickle me elbow and call me Jeffrey, it looked goddamn beautiful, as if it was from Allah's hands himself
9/10
Chippies: Most had the all important ratio of crispy and soft, yet some near the bottom were slightly soggy due to the sauce near the end
8/10
Meat: Perfectly cooked and grilled, can only really complain about the length of some slices, otherwise on point
9/10
Sauce: Distribution and ratio of each sauce was borderline perfect, possibly nearing the quality of Kings Kebabs in Campbelltown
9/10
Overall: Twas' a beaut m8, would definitely reccomended to any snacky lover.
8/10
10. King Kebab House, Campbelltown
Address: 2/171-179 Queen St, Campbelltown NSW 2560
Phone: +61 2 4656 1707
Trading hours: Mon-Sun 8am-12am
Reviewed by: Joseph Perri (source: HSPAS)
About 2 weeks ago, I moved in with my mrs. She lives in campbelltown and I've heard the stories about the hallowed ground that is king kebab.
I made it today and holy shit I can't go back to any other snacky besides watsup bros. Best HSP in Sydney.
Greeting – 9/10, busy but i was greeted with a smile and a "hello brother, what can i get for you?"
Signage – 10/10. Like walking in an art gallery.
Sauce – 10/10 – bbq,chilli and garlic. Copious amounts. Like they dont give a fuck about the price of sauce these days.
Meat – 10/10. I got the mixed. They dont skimp. It was so flavourful that i wept silently in the corner knowing i had made it to Mecca.
Cheese – 8/10. Was a little cold but then the heat from the meat and chips melted it into perfection.
Chips – 10/10- crunchy golden brown. Amazing.
Price…. 15/10 – $17 for this and a 600ml drink. Can't go wrong, you could feed four people with this.
In summary, this is the most beautiful snackky ive ever seen. I am so grateful i have been able to taste this wonder of the world. I am quite sad though, knowing this is it. This is the snackky to beat all snackkies. The batman to robin. The ren to my stimpy.
Im now home, sitting on the toilet, contemplating what i had just witnessed and eaten and think, what a glorious day it has been.
Now to play the division and relax.
General FAQ
What is a halal snack pack?
A halal snack pack is a Mediterranean fast food dish consisting of a meat (traditionally beef, chicken, or mixed) layered upon chips, which is then drenched in sauce (famously chili, garlic and BBQ).
What does HSP stand for?
HSP stands for Halal Snack Pack.
What does halal mean?
Halal refers to food that follows Islamic law as stated in the Koran.
Where can I find a halal snack pack in Sydney?
Sim Kebab House, Granville Sofra and Watsup Brothers are just some of the places where you can get a halal snack pack in Sydney.
---
Featured Video from Man of Many