Johnnie Walker Blue Label Blended Scotch Whisky – Long Live the King
Out there right now are millions of men who work hard, make money, and relish a drink or two at the end of the day. These men are not experimental when it comes to alcohol–they have their brands and stick to those brands, saving their risks for other ventures. Having developed a taste for Scotch whisky over the years, their brand of choice became Johnnie Walker. The beautiful bottle of Johnnie Walker Blue Label Blended Scotch Whisky that they received as a gift or bought for themselves after closing a major deal remains one of their most prized possessions, as does the box it came in.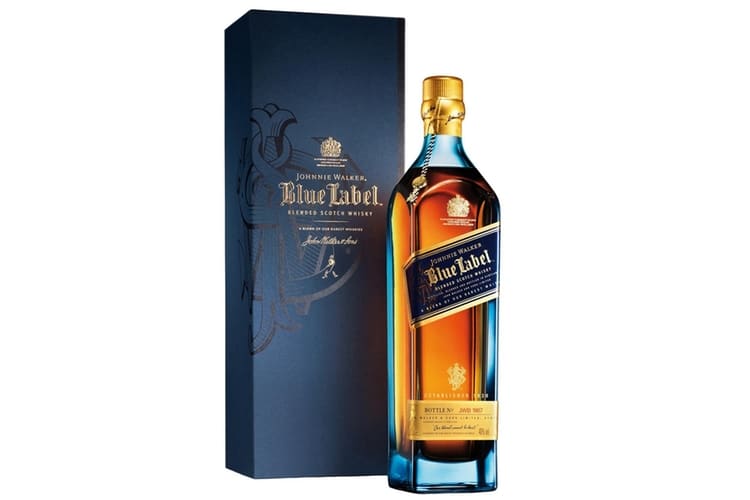 In the land of alcohol, Johnnie Walker is a living dynasty and Johnnie Walker Blue Label is king of that dynasty. Accordingly, next to ringside seats or a box of Cuban cigars, a bottle of Johnnie Walker Blue is the perfect gift in the business world. Give your valued client a bottle and watch them treat you with a newfound respect. Likewise, if your boss or an associate hands you a bottle as a "thank you", rest assured you're doing something right and are on your way up.
Of course for every fan of the expression there are legions of hipsters and connoisseurs who will scoff at the hefty price tag before launching into a diatribe about better whiskies at far less cost, but those hipsters and connoisseurs are already missing the point. Johnnie Walker Blue Label is part spirit, part symbolic entity. Similar to dining at Spago or staying at a Four Seasons Hotel, the exclusivity is as much a part of the appeal as the quality.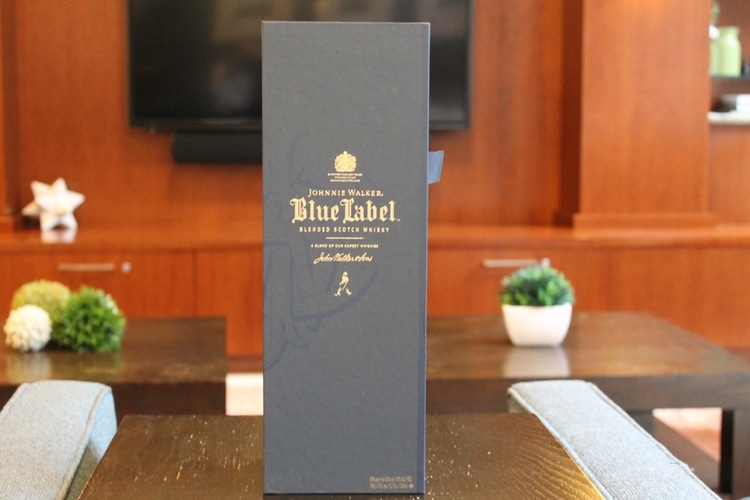 It's therefore only natural that Johnnie Walker Blue Label Scotch Whisky announces itself before you've even opened it. The bottle comes in a hefty, visually stunning box that exudes prestige and distinction and is too aesthetically formidable to leave you anything but impressed. You lift the lid as though opening an instrument case to discover a perfectly tinted bottle inside, one that's adorned with modest, refined touches and a name nearly 200 years in the making. Between the hand-stamped label on the bottle and the story printed on the box there's a palpable vibe that you're drinking something special.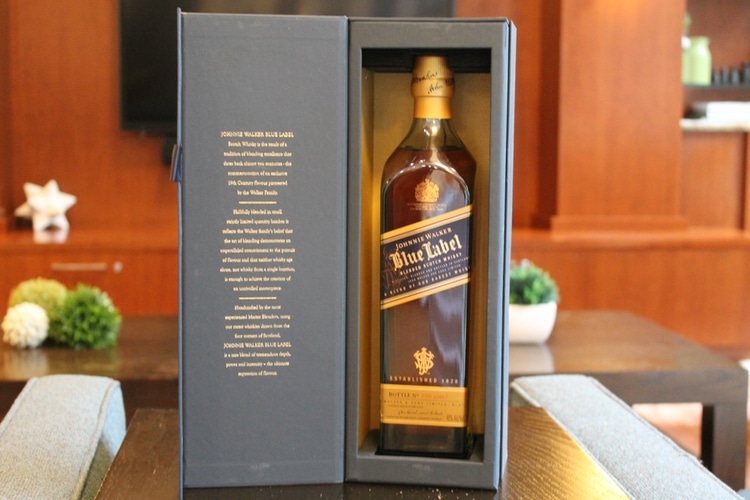 Johnnie Walker Blue offers no age statement and uses a blend that consists of both malts and grains. That unique blend becomes apparent once you pour yourself a dram and take a big whiff, noticing how the malt element is discernibly muted compared to other expressions in the brand's portfolio. In addition to those understated notes of malted barley are aromatics of vanilla and oak and then a flowery, confectionary fragrance vaguely reminiscent of expensive bath soap and freshly baked pastries.
You take a sip and the taste is exceptionally smooth, almost to the point of abstraction. Layers of honey and oak share a space with malt as wisps of smoke, spice and chocolate linger in the background. You let the 40% ABV whisky hang in the mouth and a clean, completely burn-free smoothness truly stays its course, an achievement unto itself whereas even the most premium of spirits usually present at least a little heat if you keep them in your mouth long enough. That consistent, immaculate texture carries effortlessly into the finish, joined by subtle bursts of oak, malt, honey and chocolate.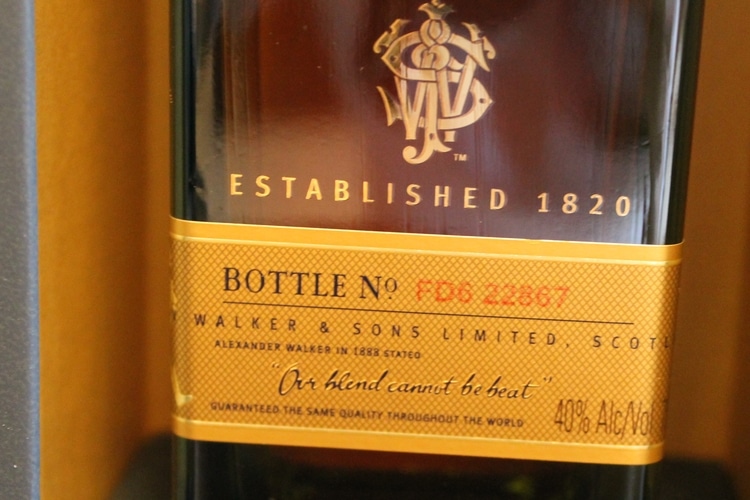 Needless to say (even if I've said it like five times already), Johnnie Walker Blue Label Blended Scotch Whisky is a defiantly smooth dram. Flavour wise–with the presence of oak and honey coupled with notes of malt and chocolate–the taste seems to almost exist somewhere between premium Scotch and premium bourbon. Personally, I prefer the more robust and remarkably balanced profile of Johnnie Walker Green Label, but the Blue definitely makes good on its promise of liquid elegance by way of an unwavering, silky character. Meanwhile, the brilliant presentation offers refined luxury in lieu of tasteless opulence.
In our current era of a zillion choices, Johnnie Walker (currently owned by Diageo) can be controversial among hardcore whisky enthusiasts, often for no other reason than ubiquity. After all, every single bar on the planet has a bottle of Red Label and Black Label on the shelf, and for many drinkers the book on Scotch both opens and closes with Johnnie Walker. Such massive popularity is bound to summon a slew of detractors, but those same detractors frequently ignore the obvious reasons behind the brand's ongoing legacy. Put simply, Johnnie Walker is a longstanding name that runs the full spectrum of blended whisky options and delivers a dependable, classic taste that drinkers don't have to over-think.
Furthermore, there's something qualitatively unifying about a brand with such omnipresent appeal. Two casual drinkers are far more likely to find common ground over a glass of Johnnie Walker Black or Blue than are two hardcore snobs who associate their individual personalities with specific flavour profiles and constantly argue the merits of various production methods. In other words, sometimes a front-runner is necessary and welcomed if only because it enables and maintains a genuine connection. It also allows the singular experience of giving or receiving a box of Johnnie Walker Blue Label Blended Scotch Whisky to remain universally thrilling and symbolically relevant. This is royalty in a bottle. Long live the king.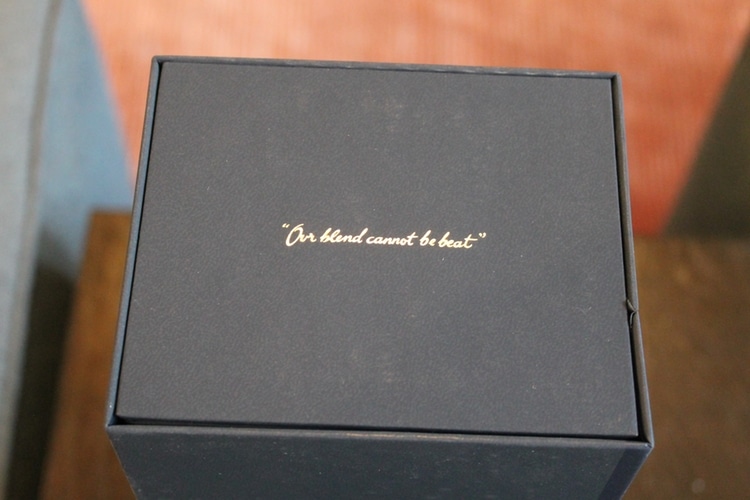 Have you subscribed to Man of Many? You can also follow us on Facebook, Twitter, Instagram, and YouTube.