REVIEW: Smeg A Modo Mio Elevates Your Capsule Coffee Game
It seemed that Nespresso perfected the capsule coffee machine a couple of years ago. All of a sudden we didn't need a barista to supply our daily dose of caffeine at five dollars a pop. Now, coffee was on our kitchen bench. Cheaper, easier and still pretty damn tasty. So, how on earth was Lavazza going to improve on something so… perfect?
That's where the A Modo Mio comes in. The best thing since sliced bread… Or, at least since the dawn of Nespresso machines. We got hands-on with the best capsule coffee machine money can buy to see what all the hype is about.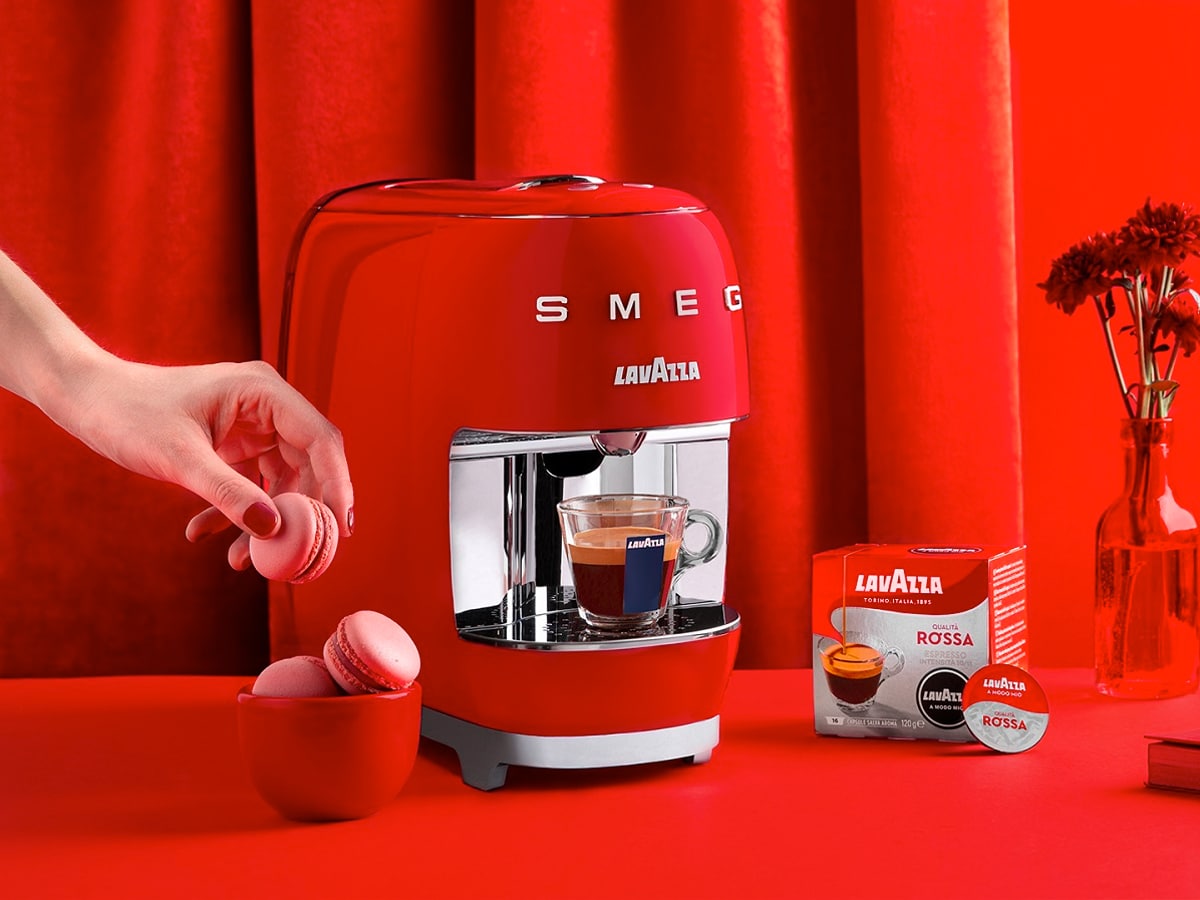 The Lowdown
If there was anything lacking for the regular old capsule machine it was taste and style.
Lavazza knows this better than most. So,  when they reached out to the iconic Italian Home Appliance designer, Smeg, to collaborate on their latest consumer coffee machine they wanted to ensure that there was no doubt that this machine would tick the boxes other machines missed. The result, well Lavazza x Smeg have created a machine that ooozes functionality, classic Italian sophistication and that inimitable Lavazza taste.
Whilst the Lavazza Smeg A Modo Mio is one of the more expensive machines on the market, you're paying for a truly beautiful appliance that'll do exactly what it says on the box, day in and day out. If you need any more convincing, go into your calculator and multiply exactly how much you spend on coffee per day by 365. For most, that's over AUD $1,500… Suddenly a $350 machine doesn't look so exy.
Taste
Lavazza has spent the last 120 years perfecting its curated selection of the finest blends to bring you a cup of coffee to die for. Born from traditional Italian ideals, Lavazza celebrates that beautiful communal ritual of dropping everything you're doing and sharing a cuppa with those you love. And it's that passion that you can taste in every drop of Lavazza's espresso and they've made sure to bring this to their Smeg A Modo Mio.
Compatible with the Lavazza A Modo Mio range of espresso pods, also known as eco pods, the Smeg A Modo Mio supports a uniquely designed coffee pod that differs from what you get in the Nespresso machines. Their pods are shallower with a wider circumference than other pods, allowing a more significant surface area and netting a stronger taste and noticeable crema. Whilst the this can be a hassle, throwing out whatever old pods you had and replacing them with Lavazza's, it's well worth the effort. The Lavazza range offers myriad flavour profiles for even the most fastidious coffee afficiando.
If you're smart, you'll save yourself the hassle and sign up for the Lavazza subscription service to simplify your coffee orders. Just set your favourite blend and forget, new capsules will be delivered to your doorstep without the hassle. Want a new blend? No dramas, just adjust your order and enjoy exploring the extensive range from Lavazza.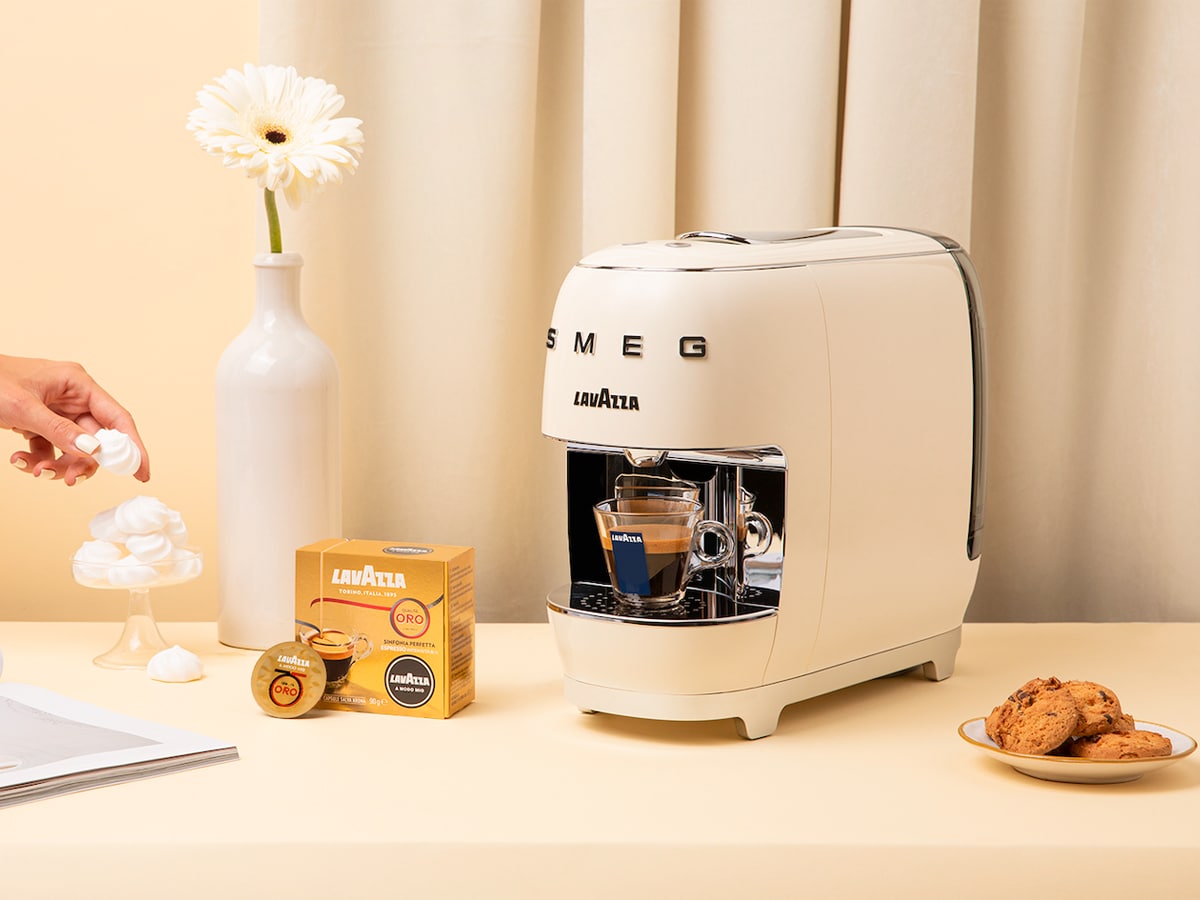 Design
With taste taken care of, Lavazza naturally outsourced the styling to Smeg. Known for their iconic retro '50s designs coming in bold and expressive colours, the new Lavazza Smeg A Modo Mio is hands down the best looking coffee machine on the market. With a streamlined, perfectly symmetrical design, it looks at home at your benchtop. An appliance you'd proudly display next to your cookbooks and fruit bowl. Not, like many pod machines are, something that you find yourself stuffing away in a cupboard whenever you have guests over.
Available in three vivid colours – black, red and cream – the Smeg A Modo Mio fits perfectly with your other Smeg appliances. Whether that's your milk frother, toaster or stand mixer… Everything is crafted to work seamlessly together.
Price
The Smeg A Modo Mio, as we said above, is one of the more expensive machines on the market. At AUD $349.00 there are a number of machines that do the same thing without costing an arm and a leg. But what the Smeg A Modo Mio has is that it combines Lavazza's award-winning capsule blends with the reliability and style of Smeg appliances, bringing barista-quality coffee to your kitchen bench.
When you sign up to the Lavazza Subscription service, you can actually save up to $220 on your choice of machine – including the Smeg A Modo Mio – and from their get pods from 52 cents each. It's an absolute no brainer.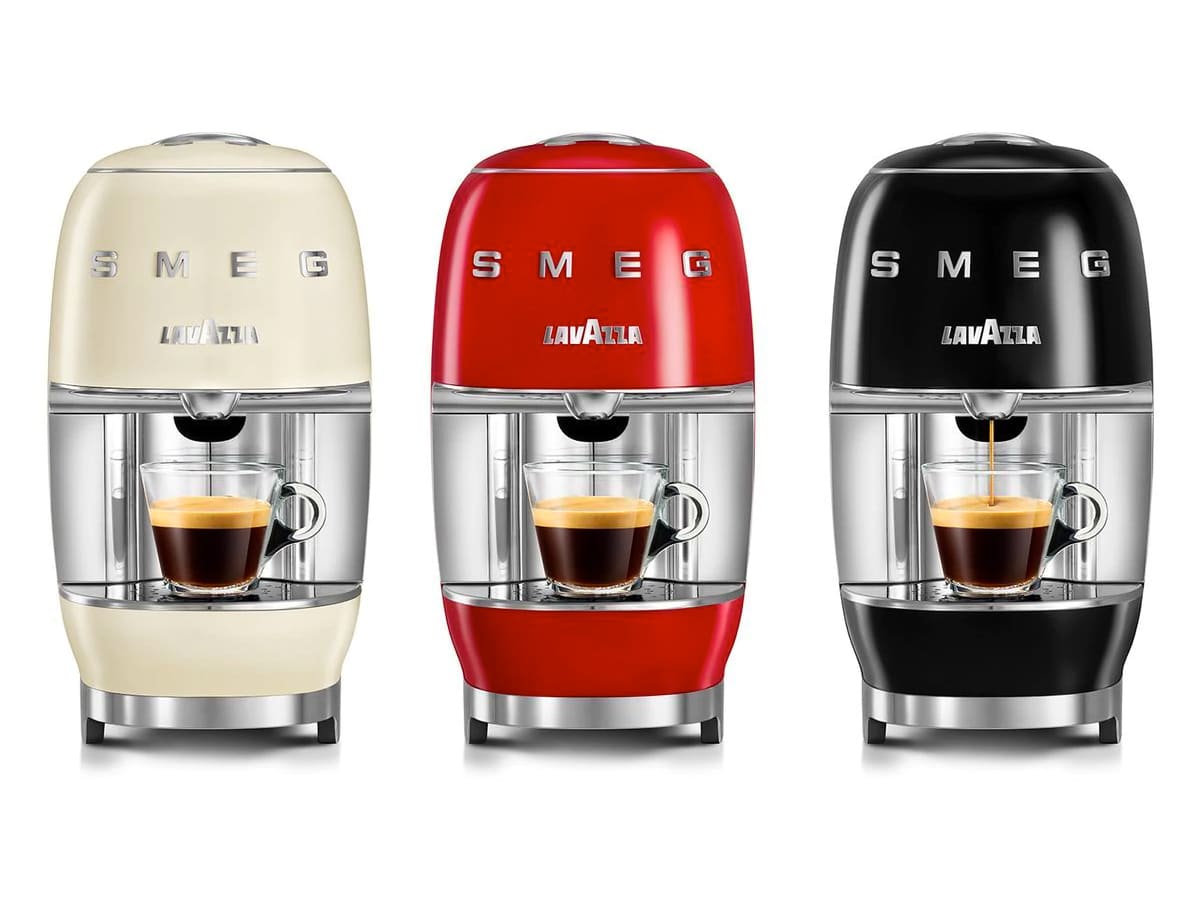 The Wrap-Up
It's likely that your old school Nespresso machine is still churning out sub-par coffee that gives you a speedy kinda caffeine hit that gets you in the shower and on the way to work before you desperately need another shot. And, well, if that's what you want then power to you.
But if you're someone who wants to prioritise taste, design and quality, then it's only natural that you'll look towards a Smeg A Modo Mio first. It's the best coffee capsule machine on the market. Whilst a little on the expensive side, you're paying for a gorgeous machine that'll be at home on your kitchen bench and make you smile whenever you take that first sip of latte, espresso or whatever gets you going in the morning.