10 Best Fishing Spots in Melbourne
If you're looking for the best fishing spots in Melbourne, you'll need to venture to the Mornington Peninsula's, Rye Pier, Portsea Pier and Flinders. Melbourne has amazing spots teaming with marine life, and our group of expert fishermen and editors have patiently sampled the best fishing spots and compiled a comprehensive list of where you'll enjoy casting a line, reeling it back in and doing it all over again.
Best Fishing Spots in Melbourne at a Glance:
Our list of best fishing spots in Melbourne goes like this.
Without further delay, we present the best fishing spots in Melbourne.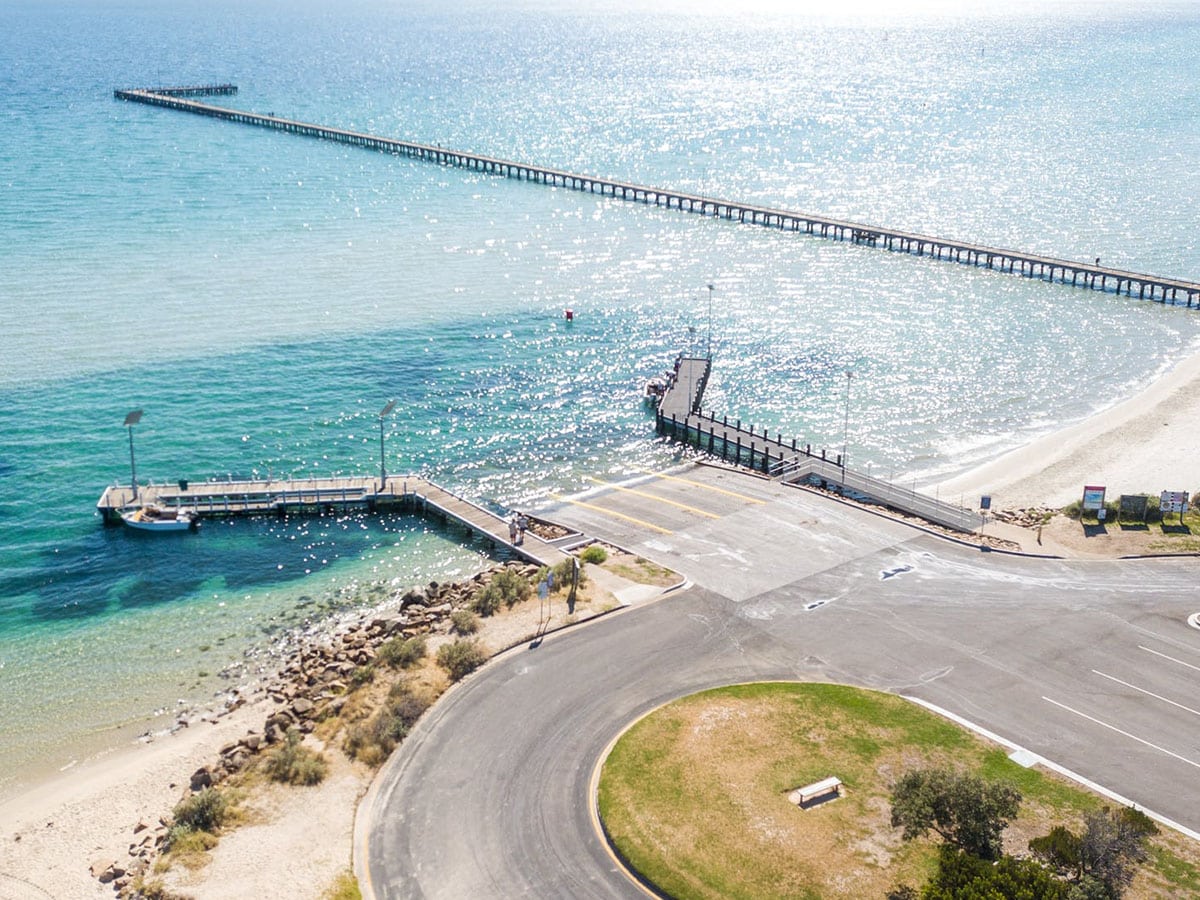 1. Rye Pier
Rye is a bustling sea town around one hour from Melbourne's CBD, filled with avid anglers who thrive on their ability to catch squid. You'll find plenty of marine life cruising around as seals, dolphins, stingrays and fish have all returned to the pier after its closure during the lockdown. Locals have flocked to the pier between sunset and night to haul mass amounts of squid.
Type of fishing: Pier Fishing
Expect to find: Whiting, Squid, Snapper, Salmon, Trevally, Flathead, Leather Jacket, Banjo Shark.
Rules or hazards: Stay clear of any sun-baking fur seals and respect their space.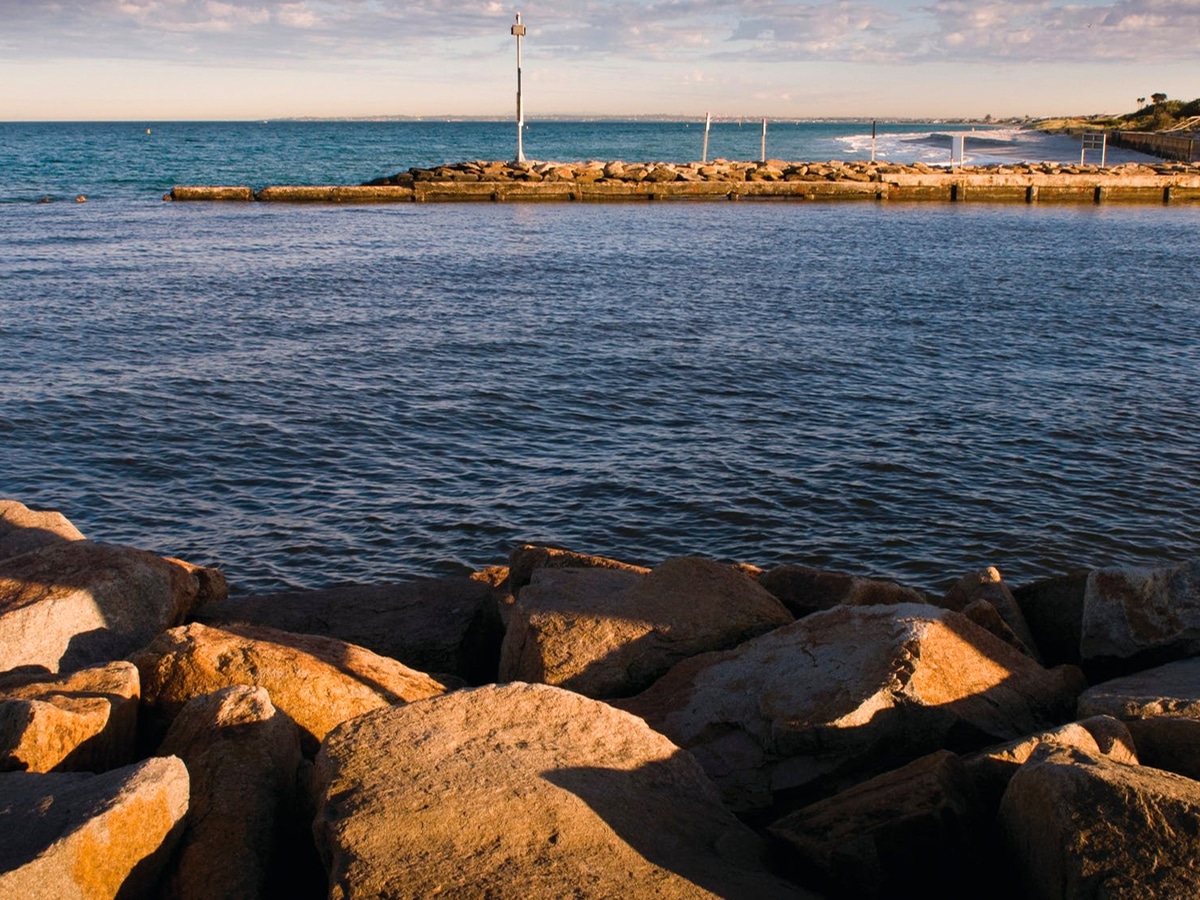 2. Patterson River
Head out to Patterson Lakes, just under an hour's drive from Melbourne's CBD and discover the famous river entrance known for snapper, flathead, or even squid tugging at your line. Take a boat or kayak upstream to lure in bream, salmon, mullet, and other species. Meanwhile, the river is flanked by various parks, BBQ facilities, fishing stations, amenities, trails, gardens, and an art centre.
Type of fishing: River
Expect to find: Snapper, Flathead, Squid, Salmon, Bream, Mullet, Mulloway, Flounder.
Rules or hazards: Be wary of boat traffic and poisonous wildlife (snakes, etc.).
---
Featured Video from Man of Many
---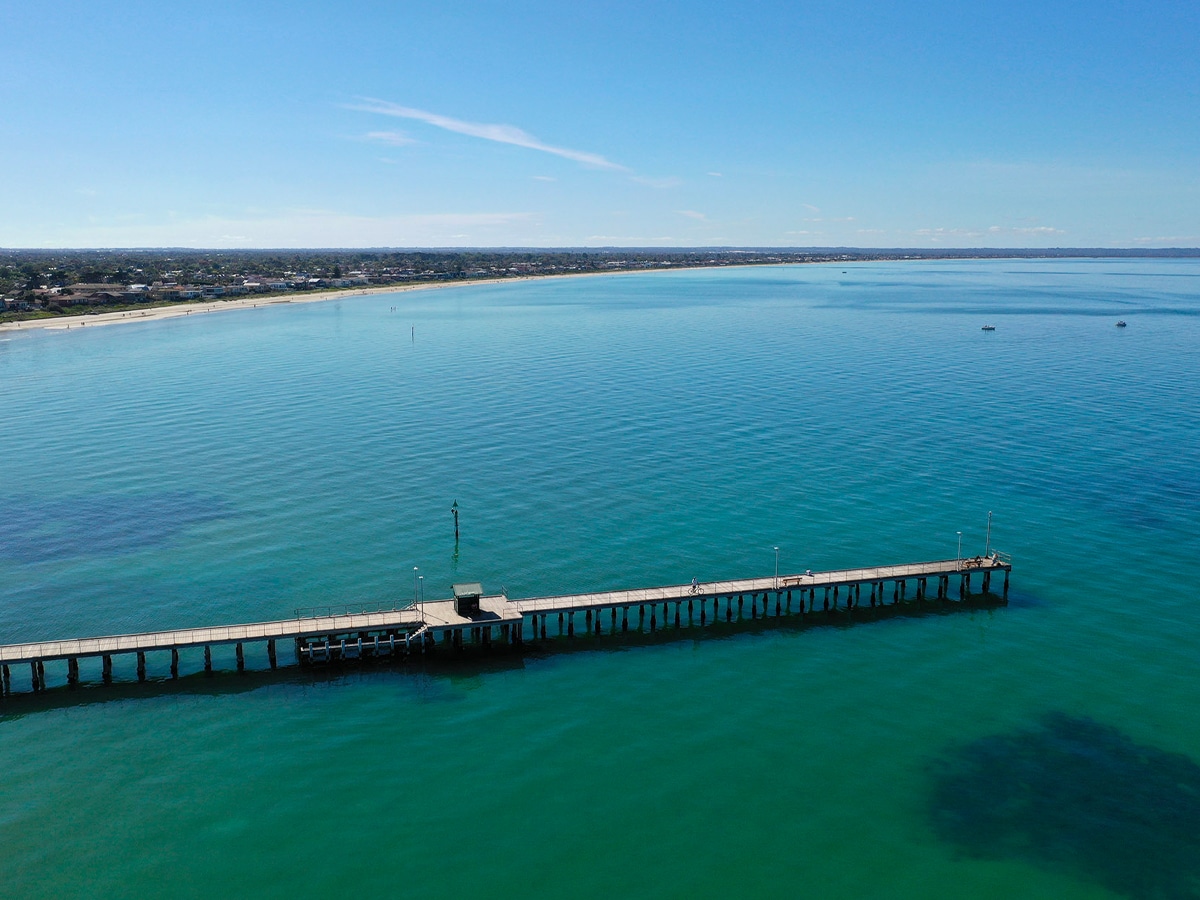 3. Mordialloc Pier
Mordialloc Pier, or 'Mordi Pier', is a bustling fishing pier just under an hour away from Melbourne's CBD and is filled with anglers all hoping to catch snapper. Mordialoc Pier has been known to be one of the better spots for snapper, and it's no longer a well-kept secret. Plenty of shops around the pier if you're looking for a 'bite' to eat. Mordialloc is always busy, and there's always fresh seafood on the menu whether you have caught anything.
Type of fishing: Pier
Expect to find: Snapper, Flathead, Salmon, Trevally, Mullet, Squid, Garfish and Leather Jackets.
Rules or hazards: Be wary of other anglers so as not to tangle your lines, and keep a close eye on any young children because the pier can get slippery.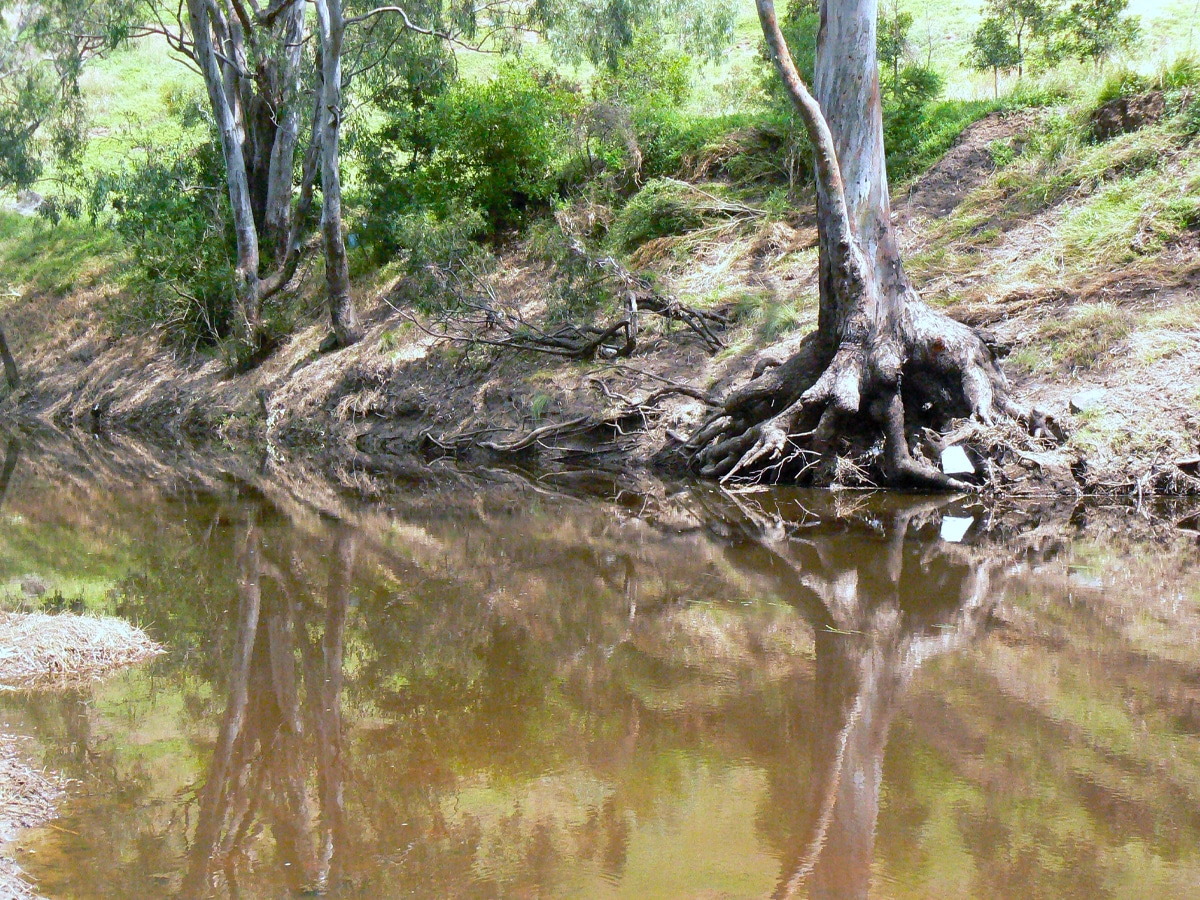 4. Brimbank Park
Located on the outer reaches of the Maribyrnong River, around half an hour from Melbourne's CBD, this popular trout fishing destination in greater Melbourne is bustling with activity both above ground and below the water. Cast some live bait, and you might reel in a redfin or carp. More than one of the best fishing spots, Brimbank Park is your gateway to adventure.
Type of fishing: Bank, Kayak, or Jetty
Expect to find: Trout, Bream, Garfish, Salmon, Redfin, Eel and Carp.
Rules or hazards: Be wary of nearby snakes.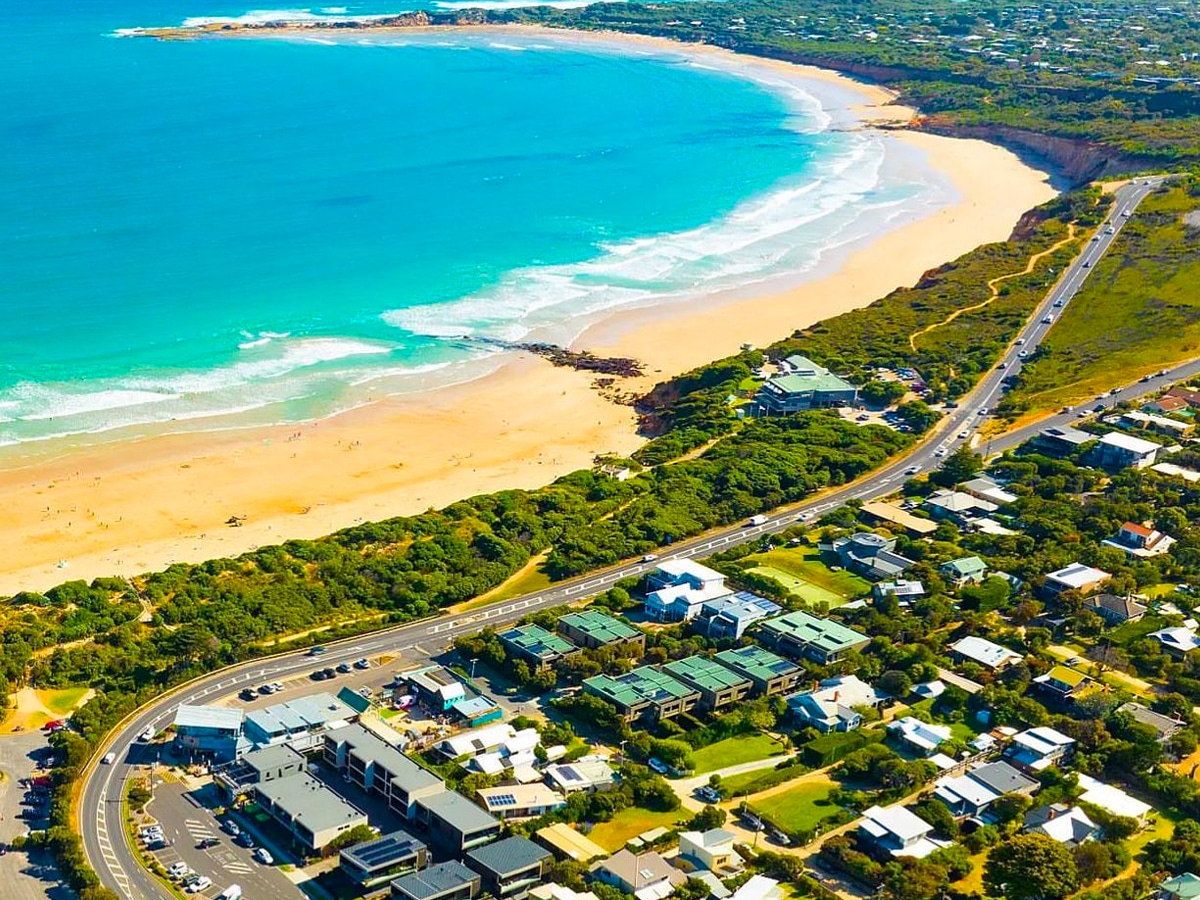 5. Anglesea
If you live in Melbourne, you might want to hit up Anglesea for an entire weekend because it takes just over an hour to drive. Situated before the Great Ocean Road entrance, it offers clean beaches and sizable estuary systems. That means you can fish by land or boat, taking in some gorgeous scenery. Go beach fishing at night, and you might reel in a gummy shark.
Type of fishing: Beach or river
Expect to find: Salmon, Snapper, Leather Jackets, Trevally, Gummy Shark, Garfish, Flathead, Bream and Mullet.
Rules or Hazards: Watch out for rogue lines and hooks, the pier can get congested during the summer months.
6. Portsea Pier
Portsea is known by many for the annual Portsea Polo, which takes place in the eloquent suburb filled with Melbourne's prime beachside real estate. This bustling calamari pier is just over an hour away from the city, and what people may not know is the Portsea Pier is a fantastic family fishing spot where you can take your mates, partners or kids to soak up the sunset, the beautiful panoramic views of Portsea and fish for squid, flathead and salmon.
Type of fishing: Pier Fishing, Beach Fishing
Expect to find: Whiting, Squid, Snapper, Salmon, Trevally, Flathead and Leather Jackets.
Rules or hazards: Careful of choppy conditions. Waves tend to make it onto the lower pier.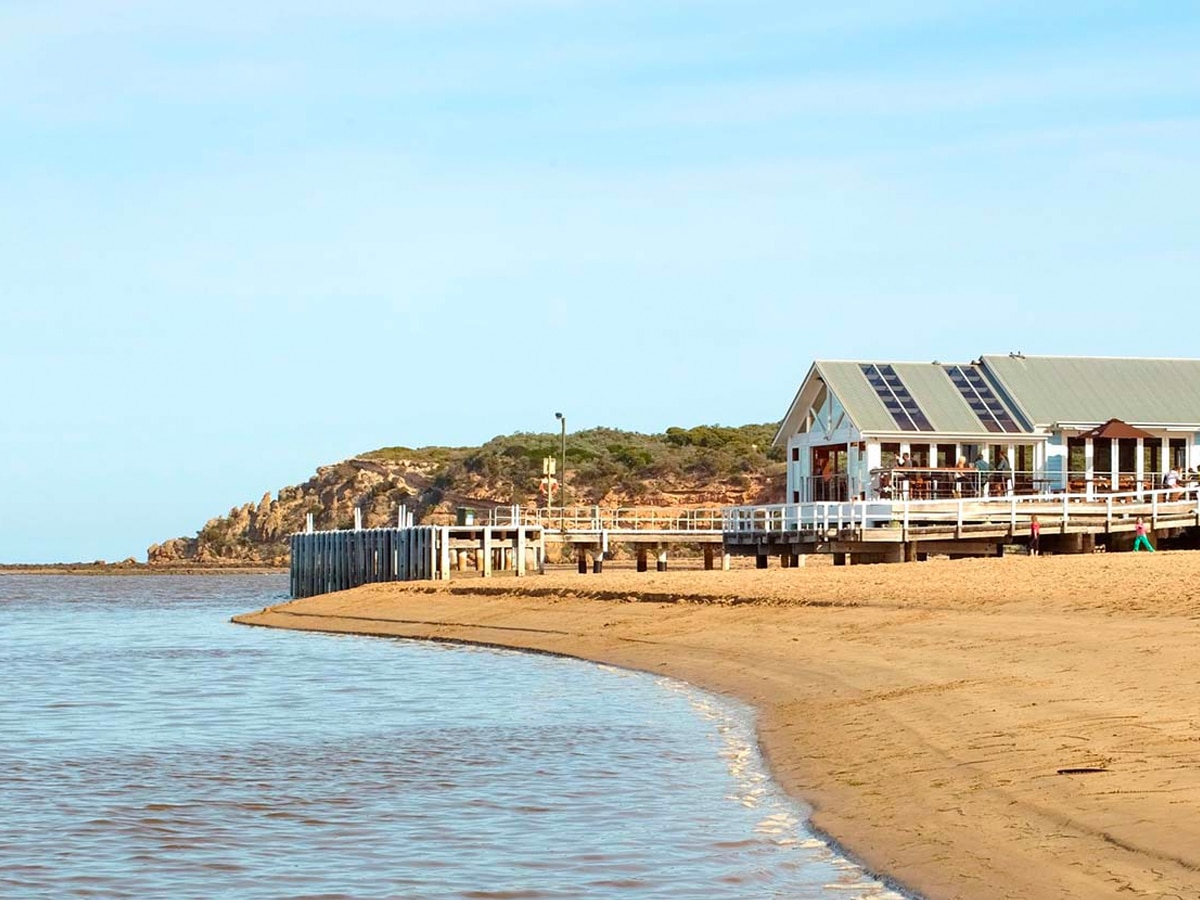 7. Barwon Heads
Welcome to Barwon Heads, home to some of Victoria's best fishing and much more. Located on the southern coast of the Bellarine Peninsula, this scenic township delivers tons of activity in every sense of the word. Go surf fishing for salmon, and you'll rarely come up empty-handed. Or you can charter a boat to the Bass Strait to find many species.
Type of fishing: Beach or strait
Expect to find: Snapper, Flathead, Snook, Barracouta, Salmon, Squid and Shark.
Rules or hazards: If you're fishing from Barwon Heads Bluff—which is a marine sanctuary—then restrictions may apply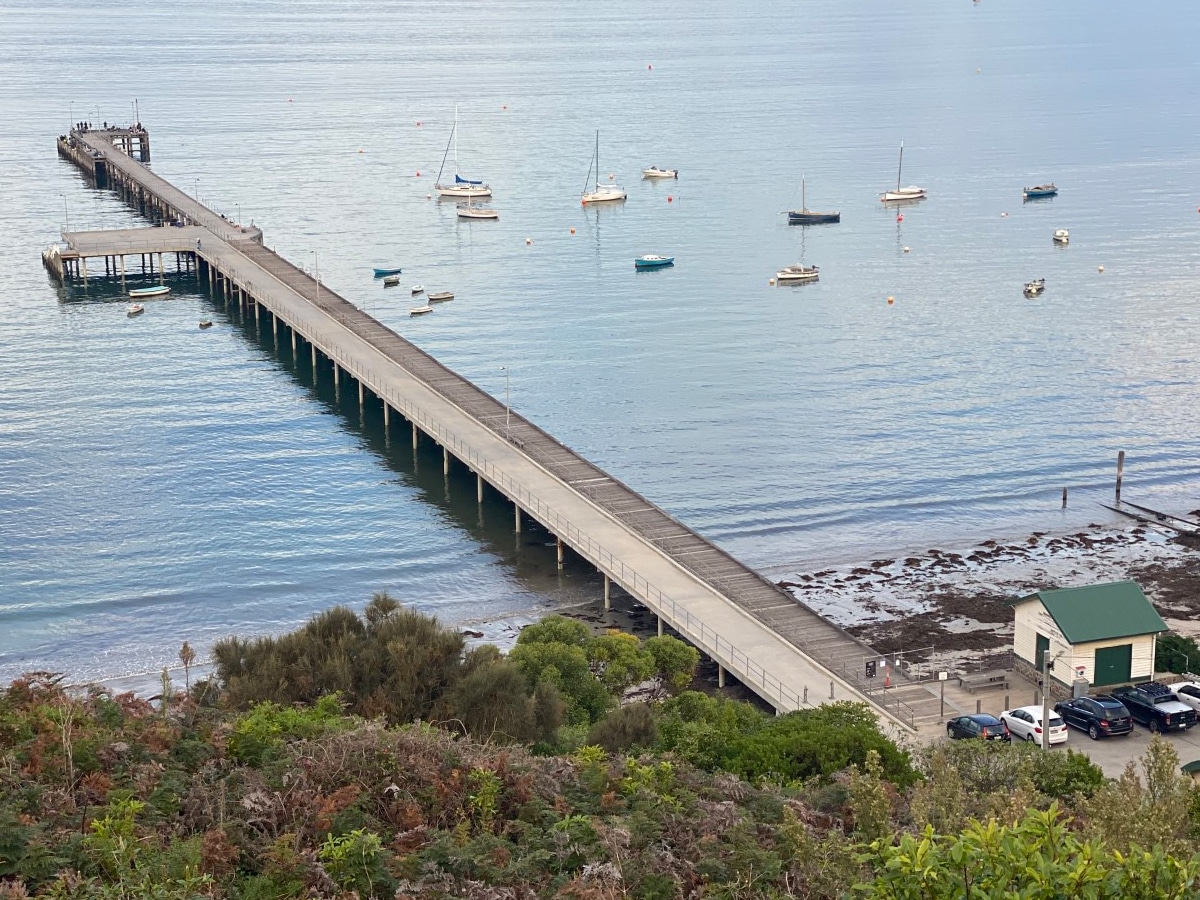 8. Flinders Pier
Flinders is a gem for anglers looking for a diverse marine offering. Underneath the surface Flinder's pier is surrounded by vast beds of weedy grass hiding large amounts of squid, leather jackets and snapper. Salmon make an appearance around the pier, and you should be prepared for open-water type fish while casting off the jetty. Reports have documented large Trevally and shark.
Type of fishing: Pier Fishing
Expect to find: Snapper, Whiting, Whiting, Salmon, Wrasse, Barracouta, Pike, Trevally, Leather Jacket, Port Jackson Sharks and Rays.
Rules or hazards: Be careful of winding roads and overhanging trees, during winter or high-wind forecast.
9. Sorrento Pier
The Sorrento Pier continues to draw anglers searching for whiting, squid, snapper, salmon, and other species. There's plenty to do and see in these parts. That includes nighttime snorkelling, boating, kayaking, golfing, or watching hordes of spider crabs migrate in Autumn. The Mornington Peninsula is one of Melbourne's premiere camping spots, and there's plenty to do and see while you aren't casting your line waiting for a bite. You can eat at the Continental Hotel in Sorrento and venture down the main shopping strip, which is always bustling with people and ice cream.
Type of fishing: Pier
Expect to find: Whiting, Squid, Snapper, Salmon, Trevally, Flathead, Leather Jackets,
Rules or hazards: Be wary of other people on the oft-crowded pier.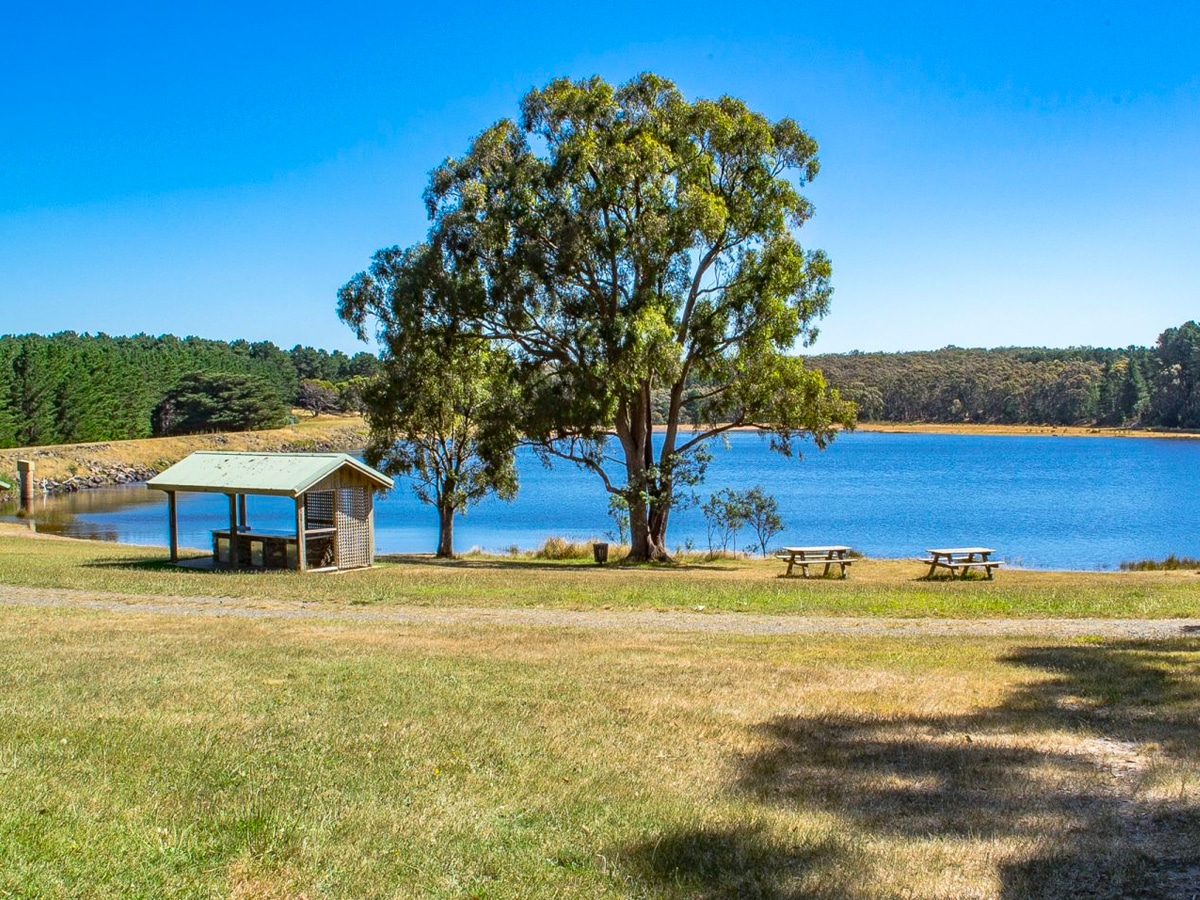 10. Bostock Reservoir
All the secret fishing spots in Melbourne and Victoria would only stay a secret for a while if everyone knew about them. However, Bostock Reservoir might be the next best thing, as it's not on the radar. Come to this underrated destination for some rewarding trout fishing and quality family time amongst some of the best fishing in Victoria.
Type of fishing: Bank
Expect to find: Brown Trout, Rainbow Trout, Redfin, Tench, Carp, Roach, Eel, and more.
Rules or hazards: Shore fishing only (no boats or fishing with waders), the use of barley is prohibited, catch and release of all native species are encouraged, common European carp must not be thrown back, and be wary of snakes.
Key Things to Consider for Melbourne's Best Fishing
The key factors to keep in mind when deciding where to go:
Safety – Ensure you check for weather warnings and ocean conditions.
Variation – Fish diversity.
Location – How far are you willing to travel for the perfect spot?
Preparation – Ensure you pack for all conditions, and purchase all the relevant licenses.
Rules for Noxious Aquatic Species in Victoria
Noxious Aquatic Species such as Cyprinus carpio are known for their aggression. They are a significant contributor to the decimation of native fish – a complete list of these species can be found here. The Victorian Government has some apparent outlines when it comes to fishing these fish, including;
Without a permit, don't:
Bring noxious aquatic species into Victoria,
Take, hatch, keep, possess, or sell noxious aquatic species
Transport noxious aquatic species
Put noxious aquatic species into any container
Release noxious aquatic species into protected waters
Without a permit, don't:
Import or bring koi carp into Victoria
Keep, sell, trade, transport or possess koi carp
Source: Victorian Fisheries Authority
The rules around European Common Carp are even tighter, the Victorian Fisheries Authority states;
"Cyprinus carpio or European Common Carp is a declared noxious aquatic species in Victoria, which makes it an offence to possess, transport or release live carp, or use live carp (including all forms of carp and goldfish) as fishing bait."
In May 2016, the Commonwealth Government announced $15 million over 2.5 years for the development of a National Carp Control Plan (NCCP). More information on the NCCP can be found via this link.
Fishing Licences in Victoria
The bad news is that you'll need a recreational licence (RFL) before fishing in Melbourne. The good news is that the licence is downright affordable, especially when you purchase it online. Here's a breakdown of how much it costs to fish in Victoria:
3-day licence for $10 (same price online).
28-day licence for $21.50 (same price online).
1-year licence for $37.70 ($35.50 if you buy online).
3-year licence for $102.20 ($96.80 if you buy online).
You can purchase the licence online up to 3 months ahead of your trip. A list of licensed fishing license outlets can be found here.
How Man Of Many Chose The Best Fishing Spots In Melbourne
With an editorial team full of anglers, Man Of Many has had the unique opportunity to directly sample and experience fishing from the best spots in Melbourne. It is also based on our own personal experience, in-depth research and customer reviews of fishing in Melbourne. As expert journalists who guide people between competing products and services, we have provided our independent opinion in formulating Man of Many's selections. Our editors have taken into account, location, fish diversity and fishing conditions, while also making a concerted effort to highlight a few spots outside of the CBD. You can review our editorial policy here surrounding how we maintain our independence in our editorial reviews.
General FAQ
Where can I fish in Victoria?
Presuming you have a recreational fishing licence, there is no shortage of places to fish in Victoria. That includes certain spots in or around Port Phillips Bay, Yarra River, and Maribyrnong River.
Where can I fish for squid in Melbourne?
You can fish for squid in Melbourne at some of the following locations: Rye Pier, Mount Martha rocks, Port Welshpool Long Pier, Queenscliff, Frankston Pier, Sorrento Pier, Blairgowrie Pier, Flinders Pier, and Portsea Piers.
Where can I get snapper in Victoria?
Delicious snapper isn't too hard to come by in Victoria, presuming you take your expedition out to saltwater territory. Popular snapper fishing spots include St Kilda in Port Phillip Bay, Hastings in Western Port Bay, and the Port of Portland.
You'll also like:
25 Best Camping Spots In Victoria
15 Best Sports Bars in Melbourne
Best French restaurants in Melbourne
---
Featured Video from Man of Many