25 Best Camping Spots in Victoria for a Scenic Getaway
There are a lot of advantages to camping in Victoria. The state's impressive scenery and family-friendly vibes make it the perfect getaway for those looking to make the most of the golden sands and clear beaches. Similarly, you could find yourself enamoured by the solitude and serenity of a mountain trip. Whether you want a quick weekend away or to completely cut-off from the world for a few weeks, this guide to best camping Victorian has to offer is for you. The activity is a great and fun way to get some much needed R&R, without breaking the bank.
Sparkling beaches and breezy days await, so let's go ahead and take a look at our list of the 25 best camping spots in Victoria.
You'll also like:
Stag Rack's Ultra-Portable Roof Racks are Stronger Than You Think
Tactile Turns' Cerakote-Coated Titanium Pen is Chemical, Temperature and Scratch-Proof
Glamping – When Luxury Meets Nature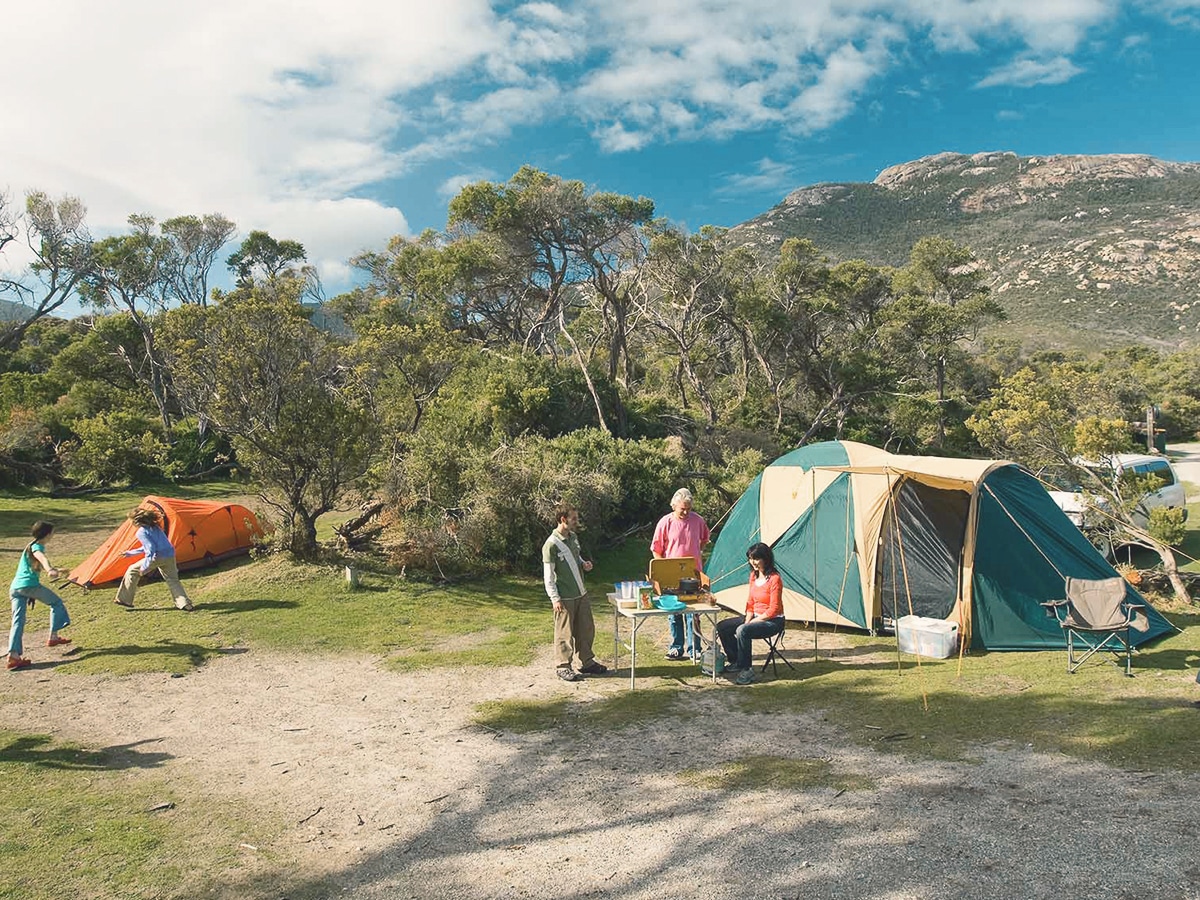 1. Tidal River, Wilsons Promontory
Tidal River is one of the most popular spots for beach camping in Victoria. With the added benefit of being situated both by the river and Norman Beach, you'll find no lack of things to do. All modern amenities are available including hot showers, dish-washing stations, toilets and picnic spots with free gas barbeques.
Address: Ring Rd, Tidal River VIC 3960
Phone: +61 131963
Hours: Mon-Sun 8:30am-5pm
Nearest town or city: Yanakie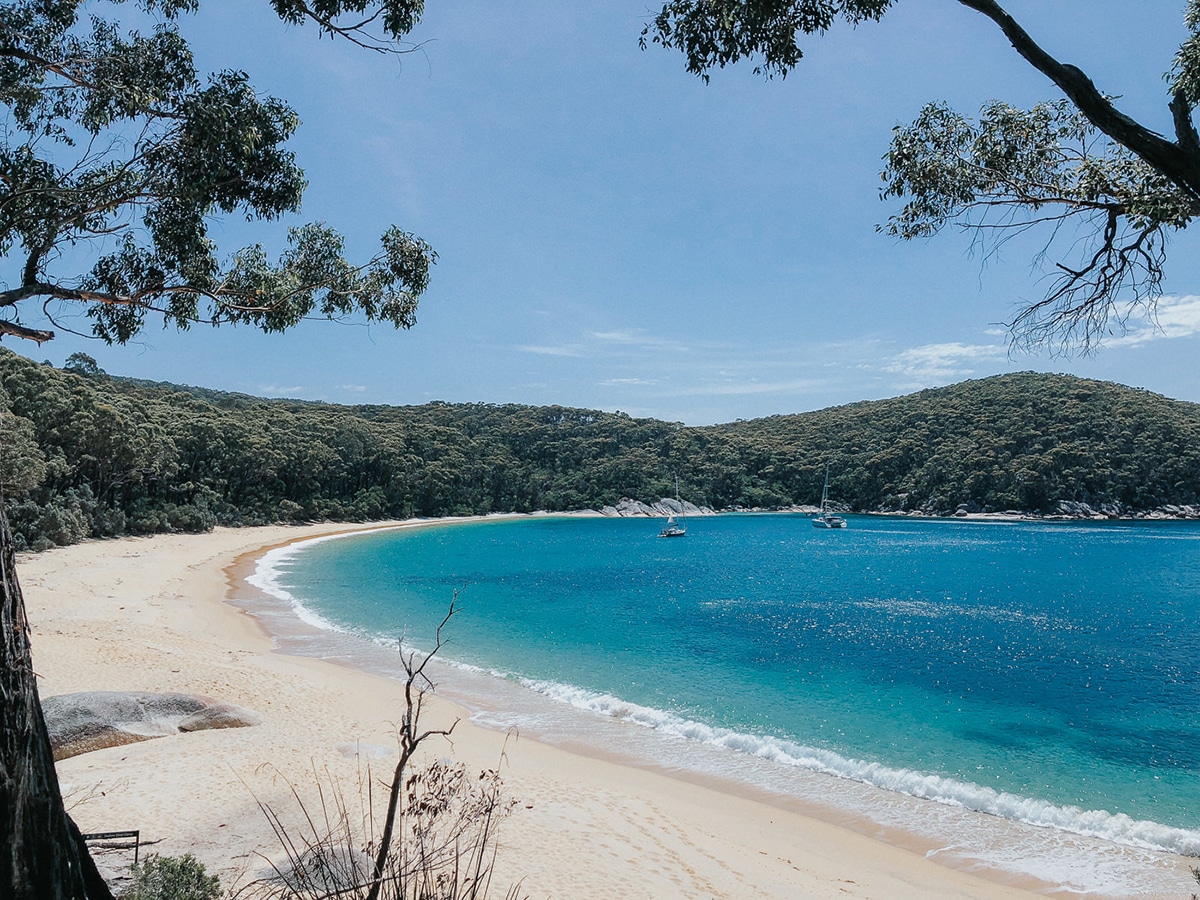 2. Refuge Cove, Wilsons Promontory
Whether you are a local or from interstate, this secluded and pristine beach offers a Victorian camping experience you won't soon forget. Located at the southern side of the cove, the Refuge Cove campsite is surrounded in nature and only a hop, skip and a jump from the water. The campsite includes all the basic facilities you would expect and requires advanced bookings.
Address: Refuge Cove Camp, Wilsons Promontory VIC 3960
Phone: +61 131963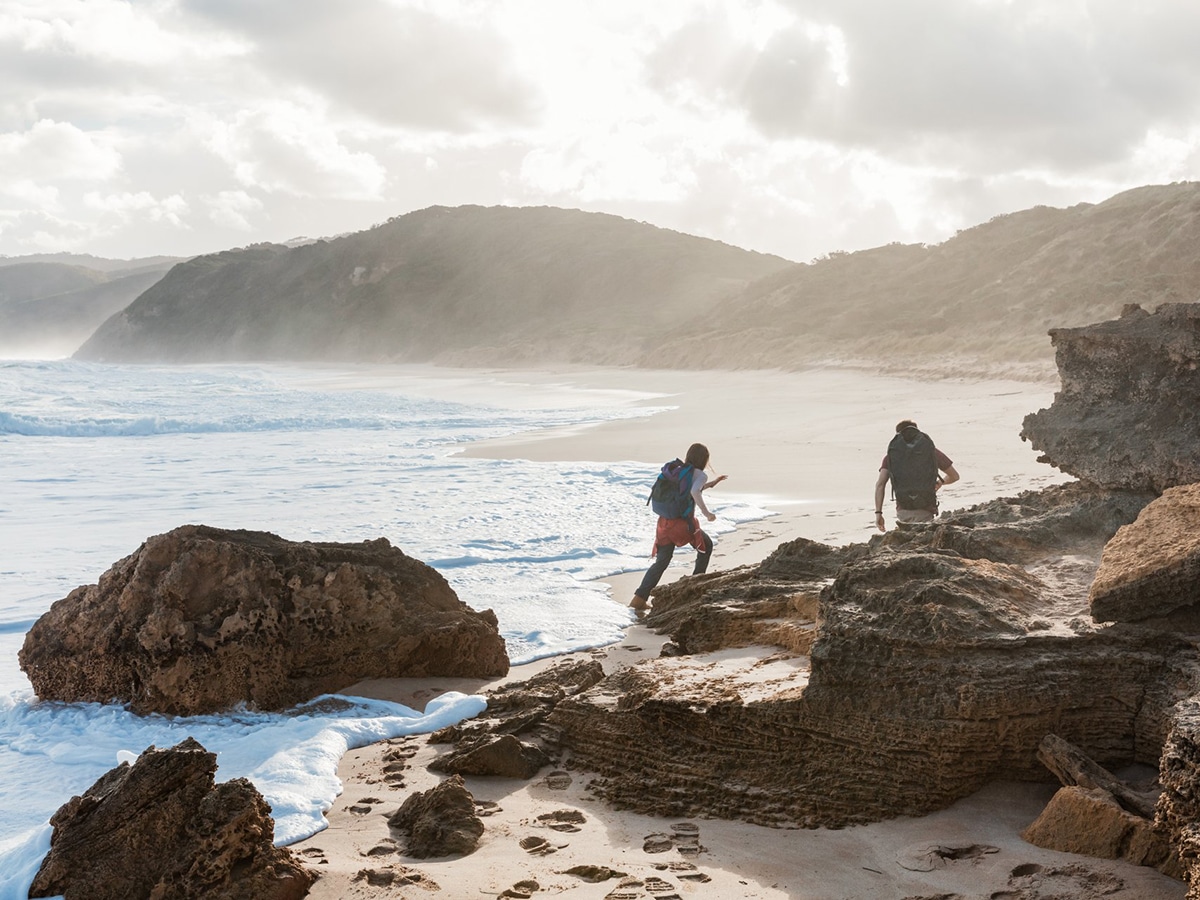 3. Johanna Beach, Great Otway National Park
Behind the dunes at Johanna Beach, this popular campsite is a beloved surfing spot along the Great Ocean Road. Johanna Beach is also one of the very few spots for free camping in Victoria, which does mean the facilities are pretty rustic, so it's perfect for those looking to get back to nature.
Address: Red Johanna Road, Johanna, Victoria 3238, Australia
Phone: +61 3 8427 2002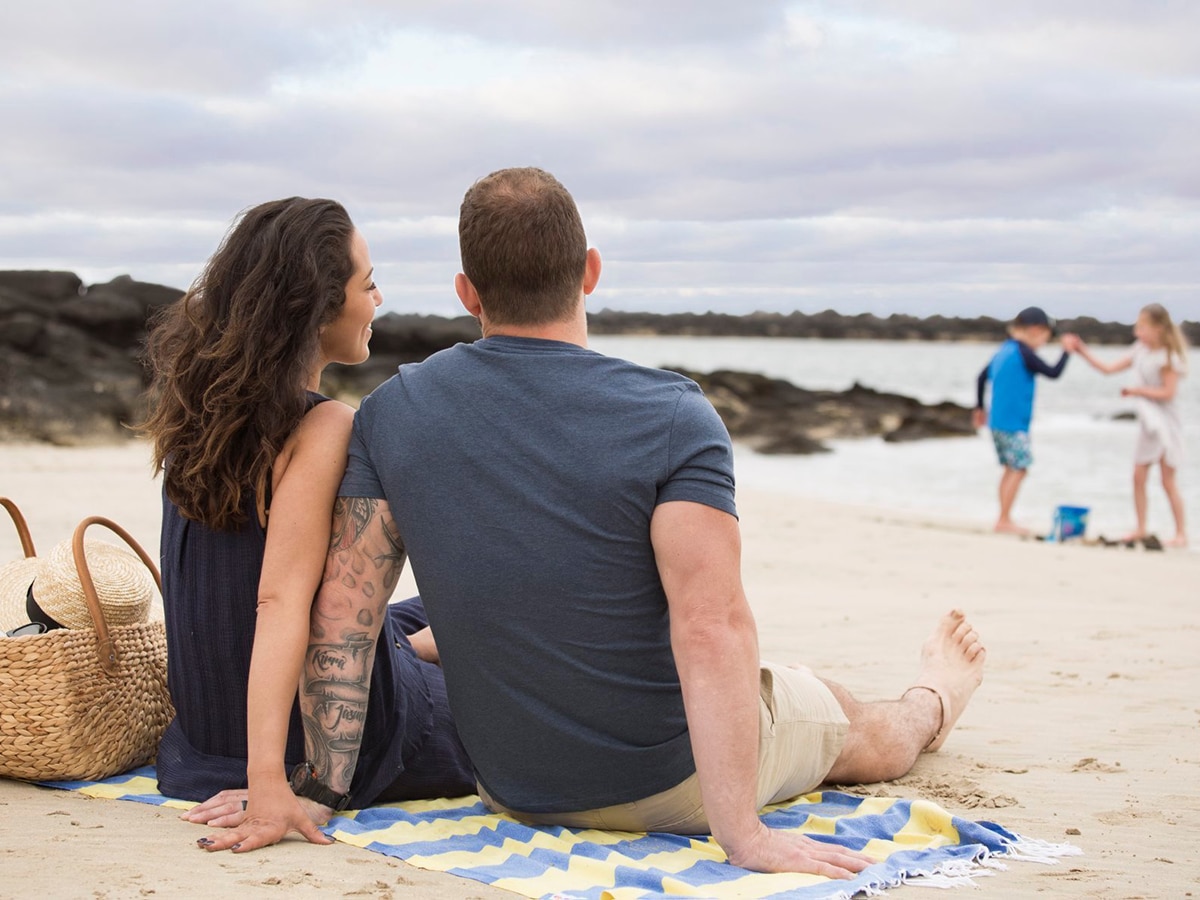 4. Killarney Beach, Killarney
Killarney Beach provides some of the best camping Victorian has to offer, perfect for anglers and anyone looking for the perfect beach getaway. Nestled in a small rural setting, known for its sprawling farmlands and only 282kms outside Melbourne, this place is sure to deliver the peace you're looking for. You can book powered and unpowered sites, there's a playground for the kids and all the amenities you could possibly need. It's also pet-friendly!
Address: Beach Road, Killarney VIC 3283
Phone: +61 428 314 823
Hours: Mon-Sun 8:30am-5pm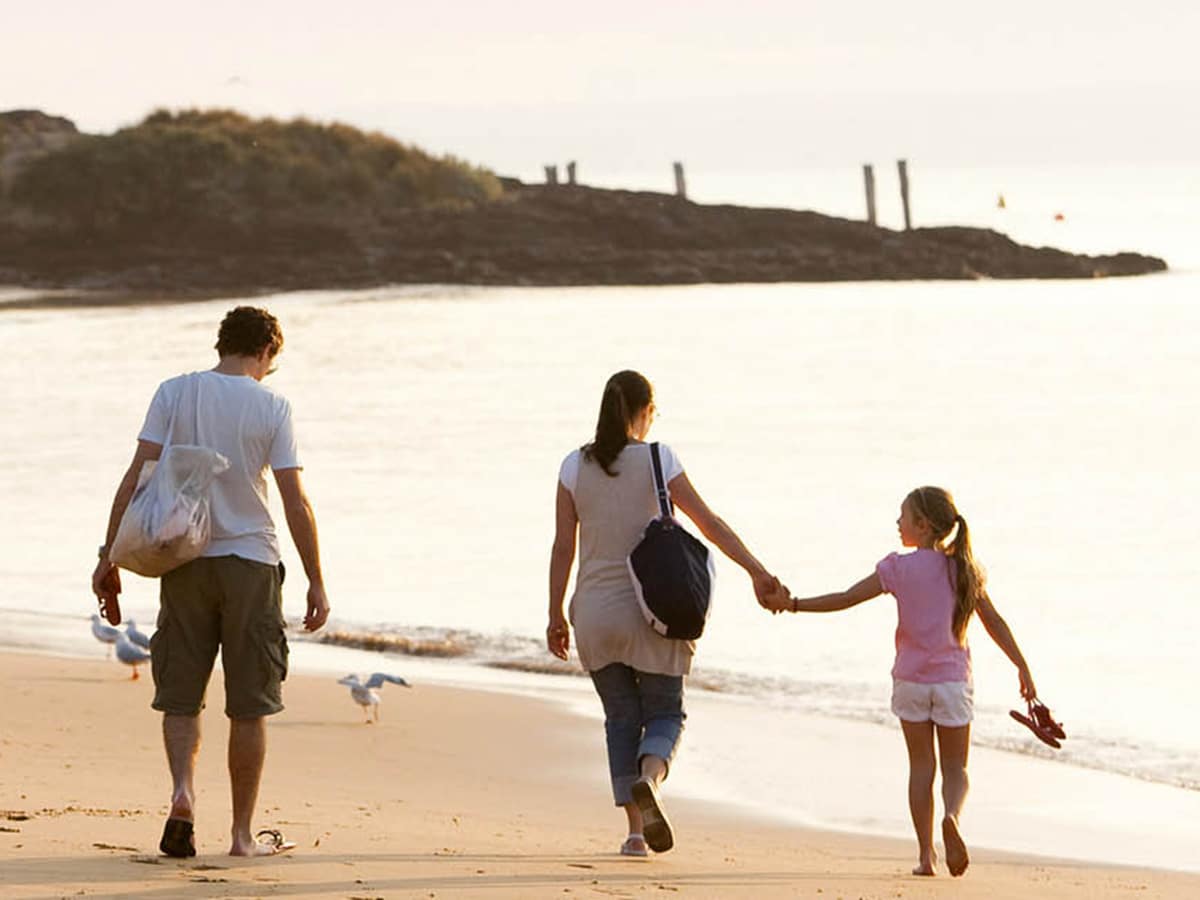 5. Newhaven Beach, Phillip Island
Phillip Island is a perfect destination when it comes to beach camping in Victoria and BIG4 Phillip Island Caravan Park on Newhaven Beach offers the perfect getaway. If you're after natural beauty and seeing some of Australia's iconic animals, this is the spot for you. Catch the Penguin Parade at sunset or try and spot one of the islands many koalas.
Address: 24 Old Bridge Dr, Newhaven VIC 3925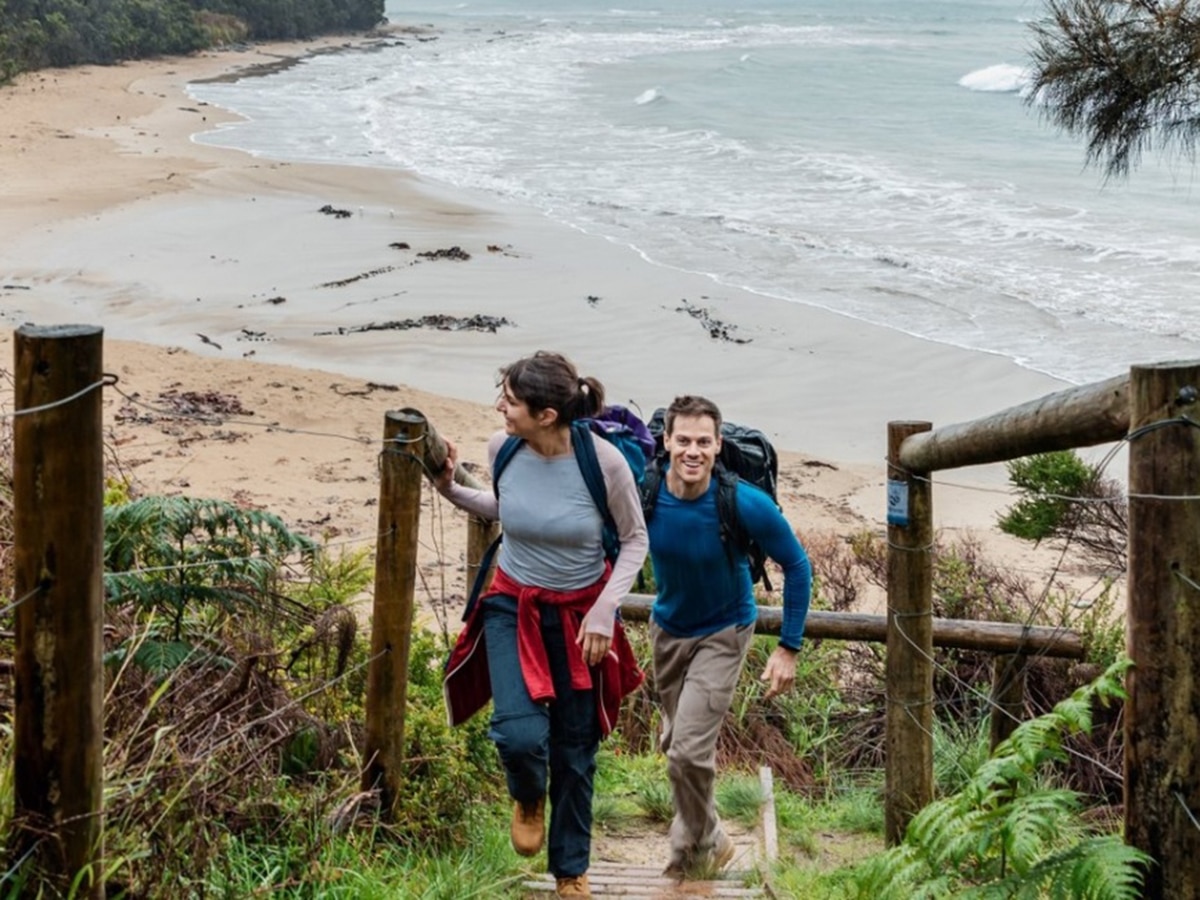 6. Blanket Bay, Great Otway National Park
Near south-west Apollo Bay, Blanket Bay is ideal for those who love a good hike or bush-walk. Surrounded in nature and with fantastic views, Blanket Bay is a popular spot at Great Otway National Park. Hikers can experience the Great Ocean Walk which will take you past several of the other beaches in the area and provides some spectacular scenery.
Address: Blanket Bay Road, Great Otway National Park, Cape Otway VIC 3233
Phone: +61 131963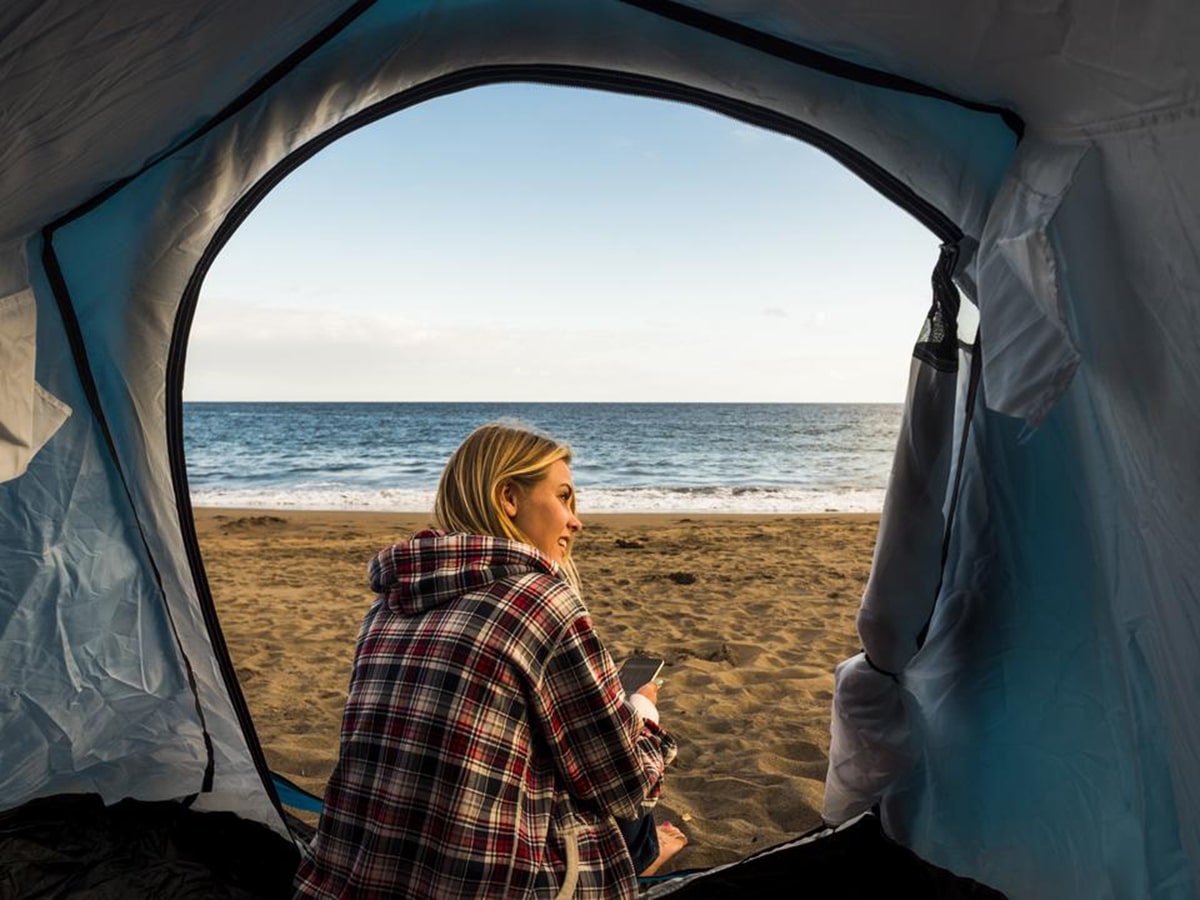 7. Mornington Peninsula Foreshore
The Mornington Peninsula Foreshore contains some of Victoria's most beautiful beaches including, Rosebud, Rye and Sorrento. Scenic views of the ocean and excellent facilities make this one of the most popular spots for camping on the Mornington Peninsula. Activities include swimming, hiking and cycling, and local shops and cafes are just a stone's throw away.
Address: 1380 Point Nepean Rd, Rosebud VIC 3939
Phone: +61 3 5950 1011
Hours: Mon-Fri 8:30am-5pm

Mornington Peninsula Foreshore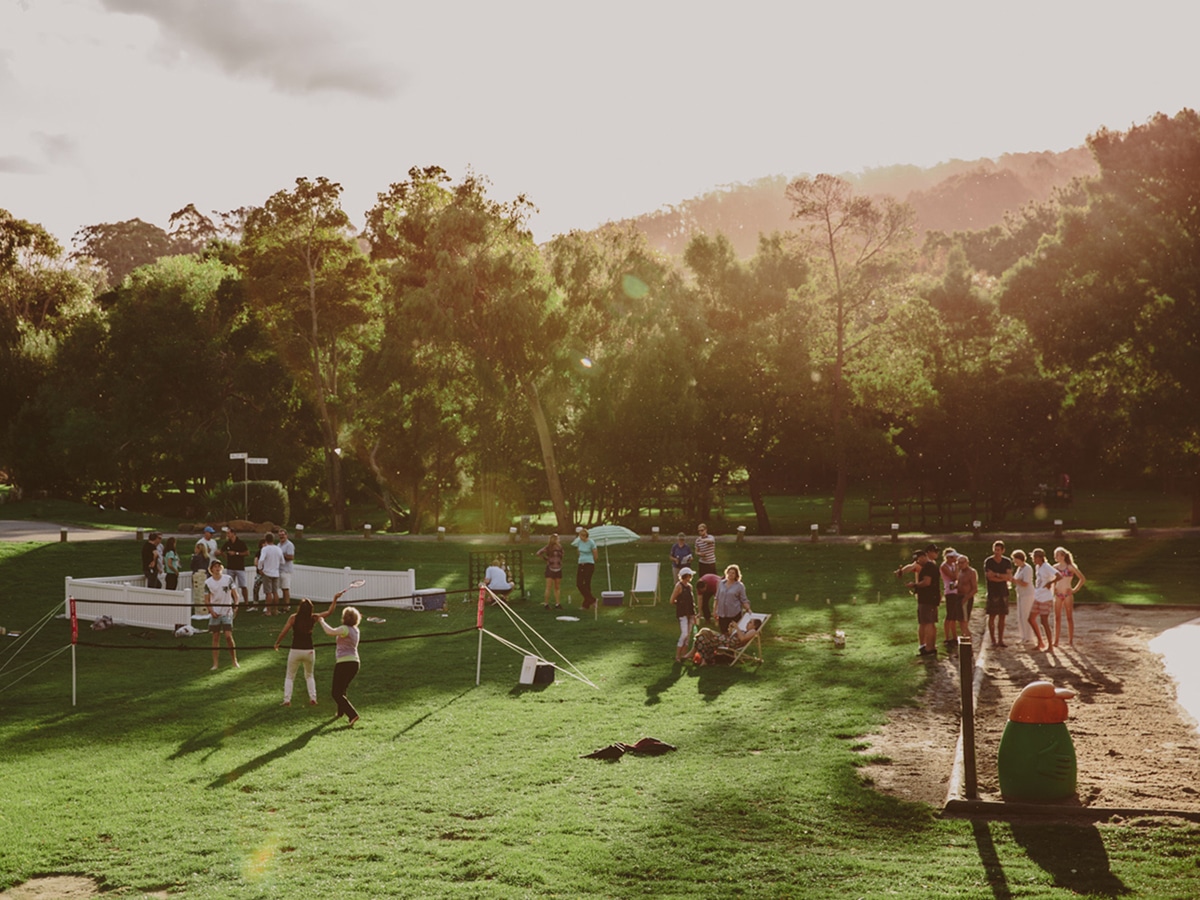 8. Wye River Foreshore, Great Otway National Park
A top spot for camping in Victoria, the Wye River Foreshore offers loads of things to see and do. Along the Great Ocean Road this site offers a pleasant pit stop and is close by to Cape Otway, 12 Apostles and Apollo Bay. Key amenities include BBQ areas, camp kitchen, hot showers and more.
Address: Wye Rd, Separation Creek VIC 3221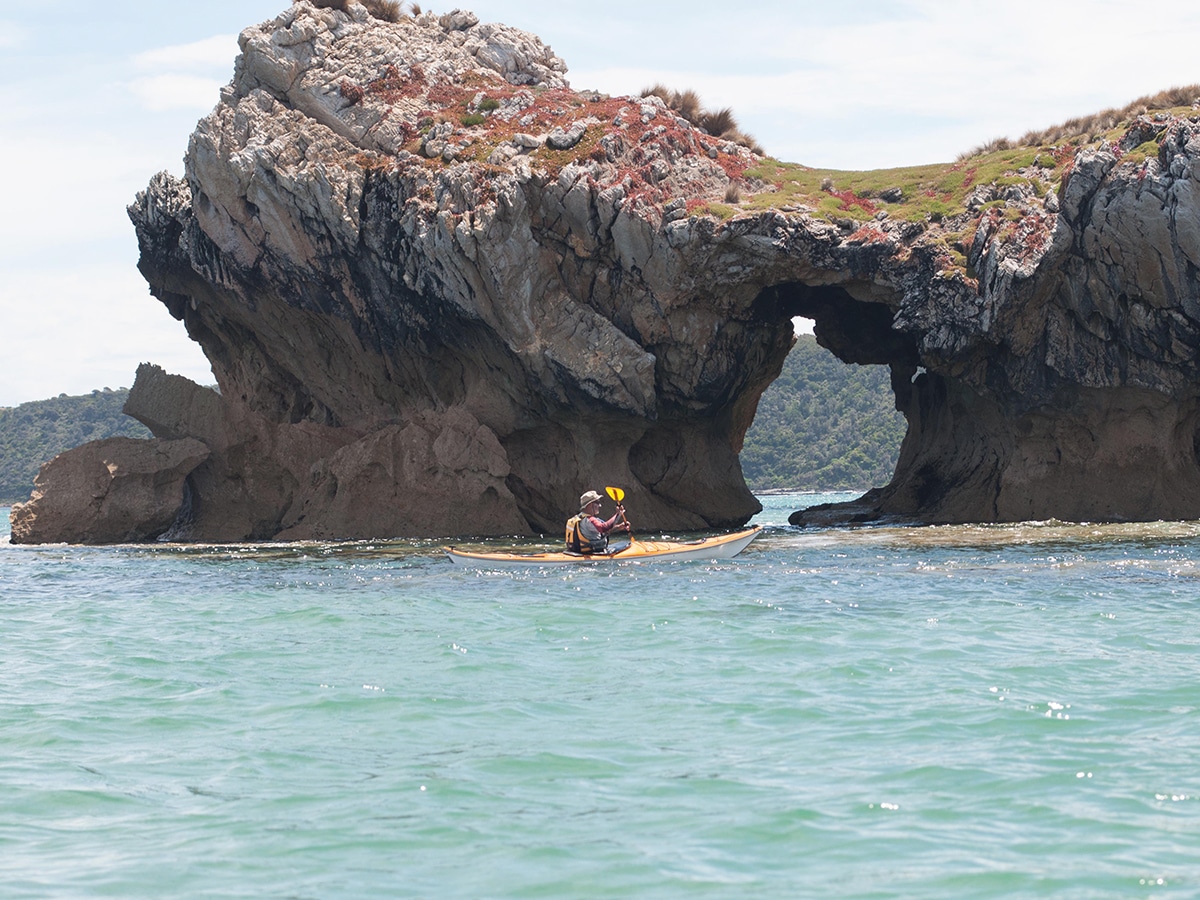 9. Bear Gully Campground, Cape Liptrap Coastal Park
Bear Gully Campground, located near the shores of Waratah Bay is a popular spot for fishing and rock pooling. Nestled next to the tall banksias, the campground features 33 sites and offers a few basic facilities. Advanced booking are required since this is quite a popular spot and can get busy at certain periods.
Address: Bear Gully Rd, Tarwin Lower VIC 3956
Phone: +61 131963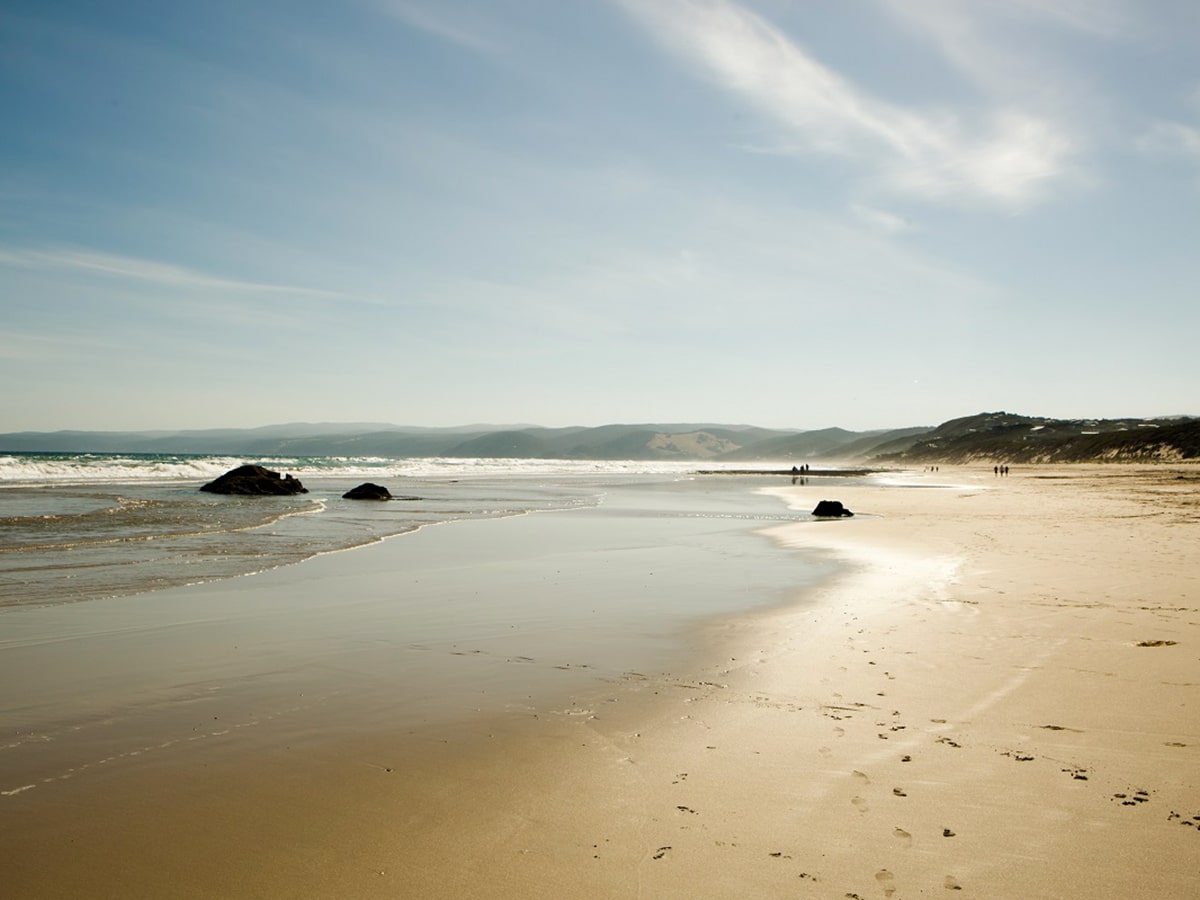 10. Fairhaven, French Island National Park
Fairhaven is accessible by passenger ferry, so tent camping is your only option. That won't bother you too much when you see just how beautiful French Island National Park is. Activities are in abundance too with multiple walking tracks, swimming and exploring to be done. You'll find a diverse range of wildlife and open woodlands to discover. You'll need to bring your own cooking supplies but other basic facilities are provided.
Address: Coast Rd, French Island VIC 3921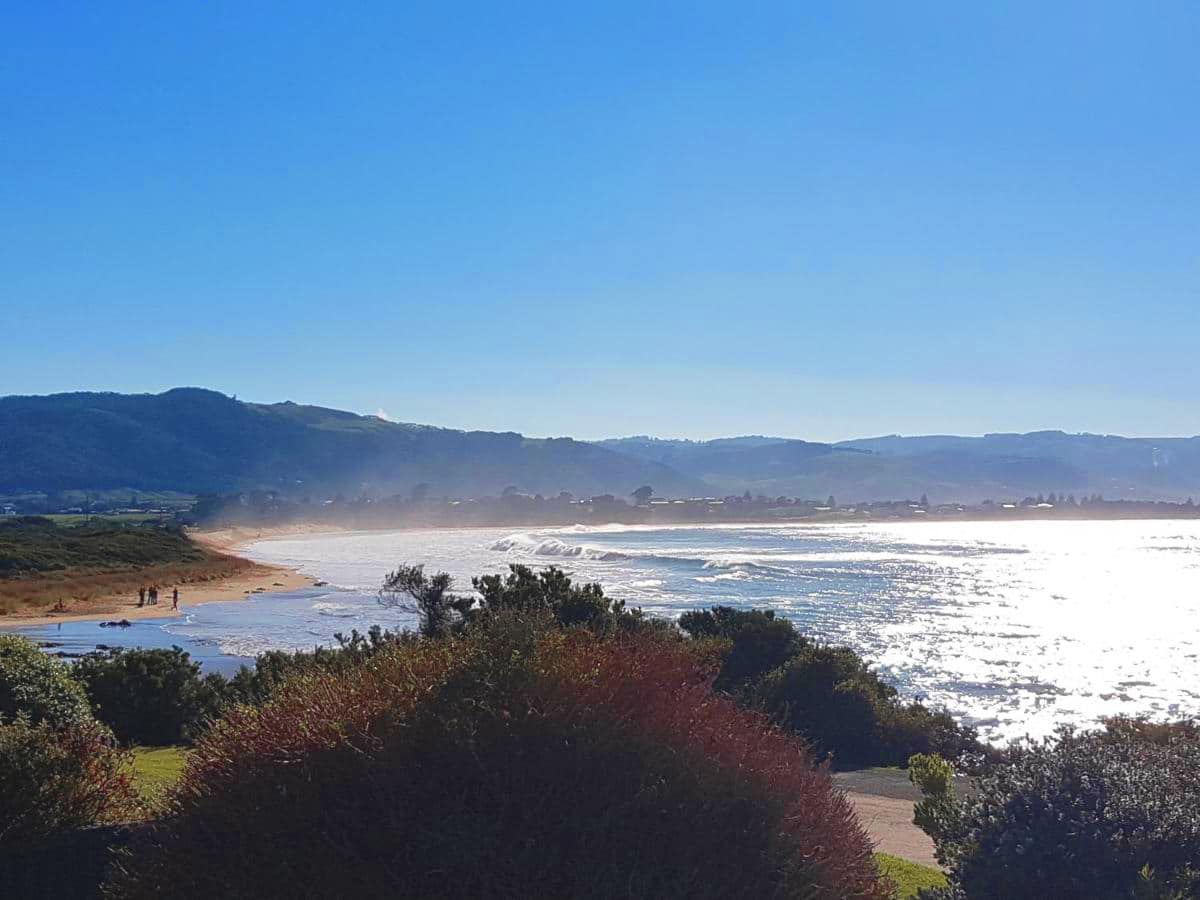 11. Marengo Holiday Park, Apollo Bay
Marengo Holiday Park in Apollo Bay offers powered and non-powered sites with stunning ocean views. This pet-friendly park is also within walking distance of several local beaches where your furry friends can stretch their legs. All the essential facilities are taken care of and include bathrooms, laundry, camp kitchens and BBQ areas. The park is also adjacent to Marengo Reef Marine Sanctuary where you might even catch a peek of the resident seal colony.
Address: Great Ocean Rd, Apollo Bay VIC 3233
Phone: +61 3 5237 6162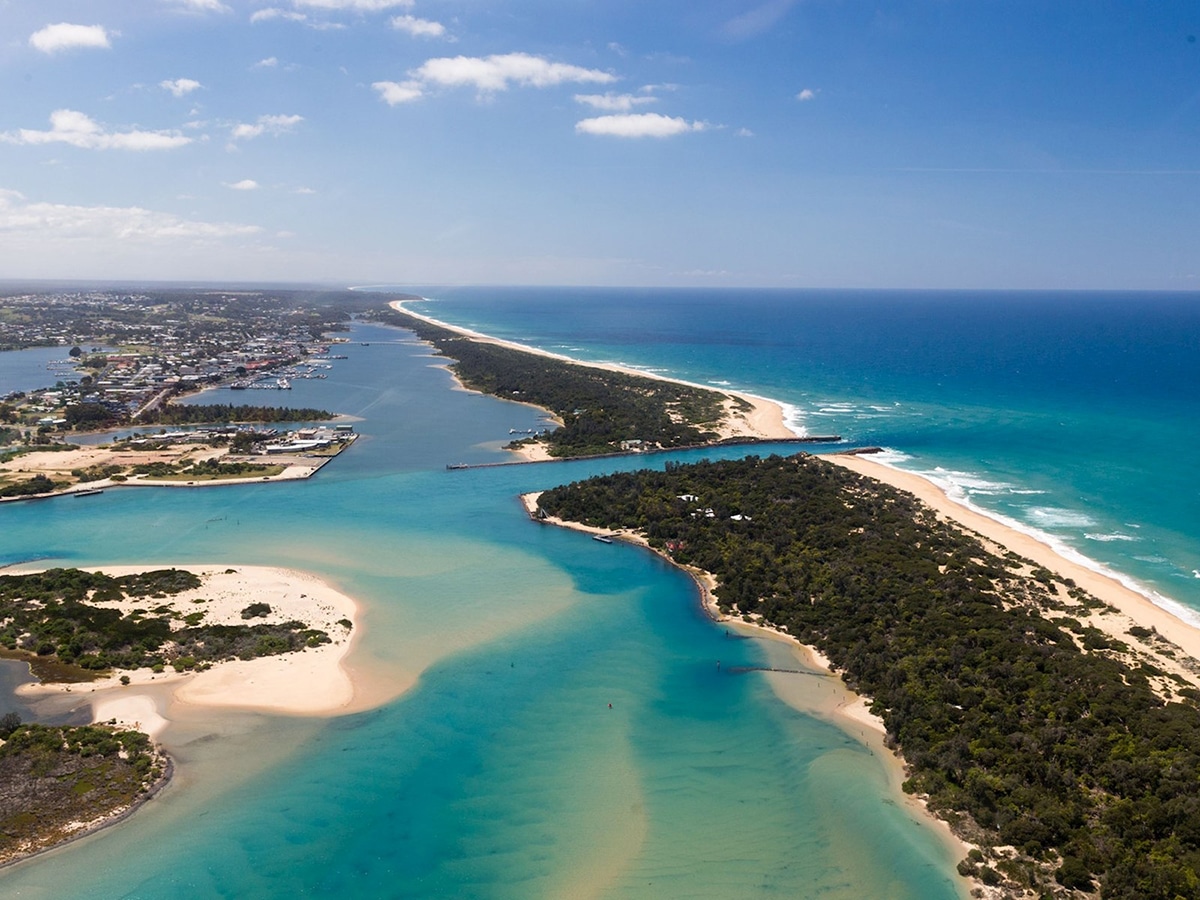 12. Shoreline Drive, Gippsland Lakes Coastal Park
Shoreline Drive Campground offers 115 sites, 65 of which are suited to tent camping. All sites are protected by the sandy dunes and all have easy access directly to the beach. Laze around on Golden Beach and take time to explore the surrounds. Only some of the sites are pet friendly, so if you're bringing your four-legged friend, make sure before you start pitching a tent. This is a free beach camping spot and you don't have to book here, but take note, it's on a first-come, first-served basis.
Address: Shoreline Dr, Flamingo Beach VIC 3851
Phone: +61 131963
Hours: Mon-Fri 9:30am-4pm, Sat-Sun 10:30am-3pm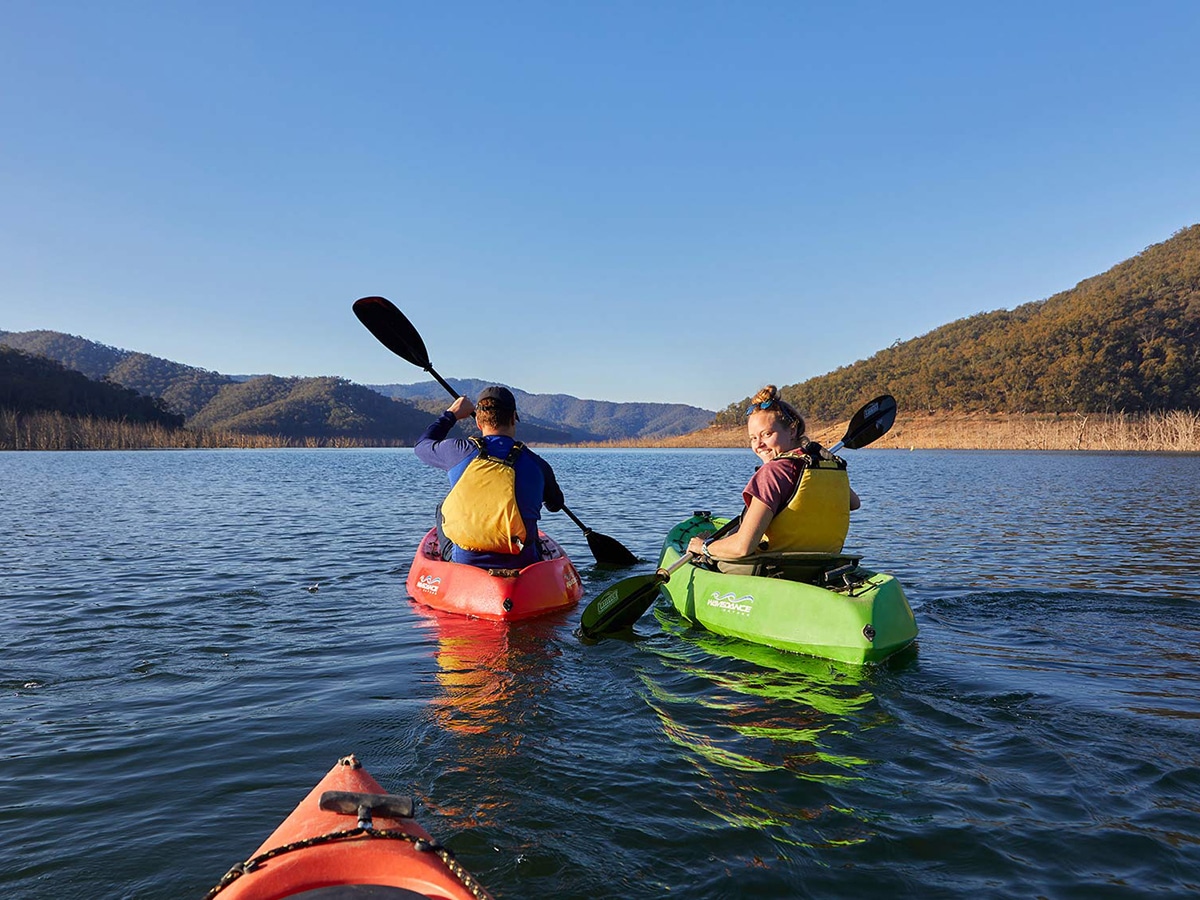 13. Fraser Camping Area, Lake Eildon National Park
There are three different camping grounds on offer at Fraser Camping Area; Devil Cove, Lakeside and Candlebark, all within the Lake Eildon National Park. Just a two-hour drive from Melbourne, the park protects over 68,000 acres of natural woodlands and forest. All campsites have full amenities and the lake offers loads of activities. In the evening, the shoreline is scattered with kangaroos where they can be seen up close and personal.
Address: Lake Eildon National Park, Eildon VIC 3713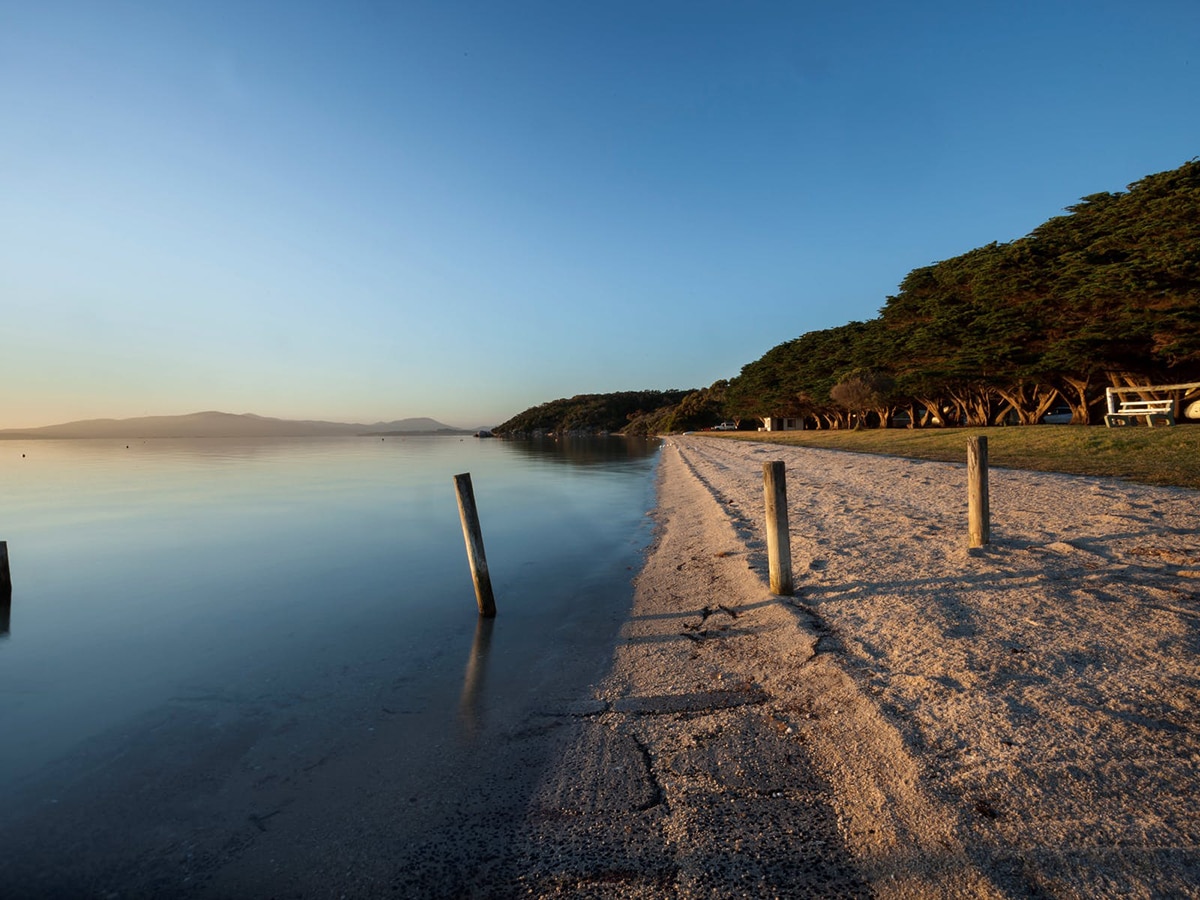 14. Yanakie Campgrounds, Wilsons Promontory
Just five minutes from entering Wilsons Promontory National Park, Yanakie Campgrounds offers an ideal spot for waterfront views. Loads of activities are on offer with fishing, swimming, hiking and more. The park kiosk can be accessed for essential items including fishing gear and bait.
Address: 390 Foley Road, Yanakie VIC 3960
Phone: +61 3 5687 1295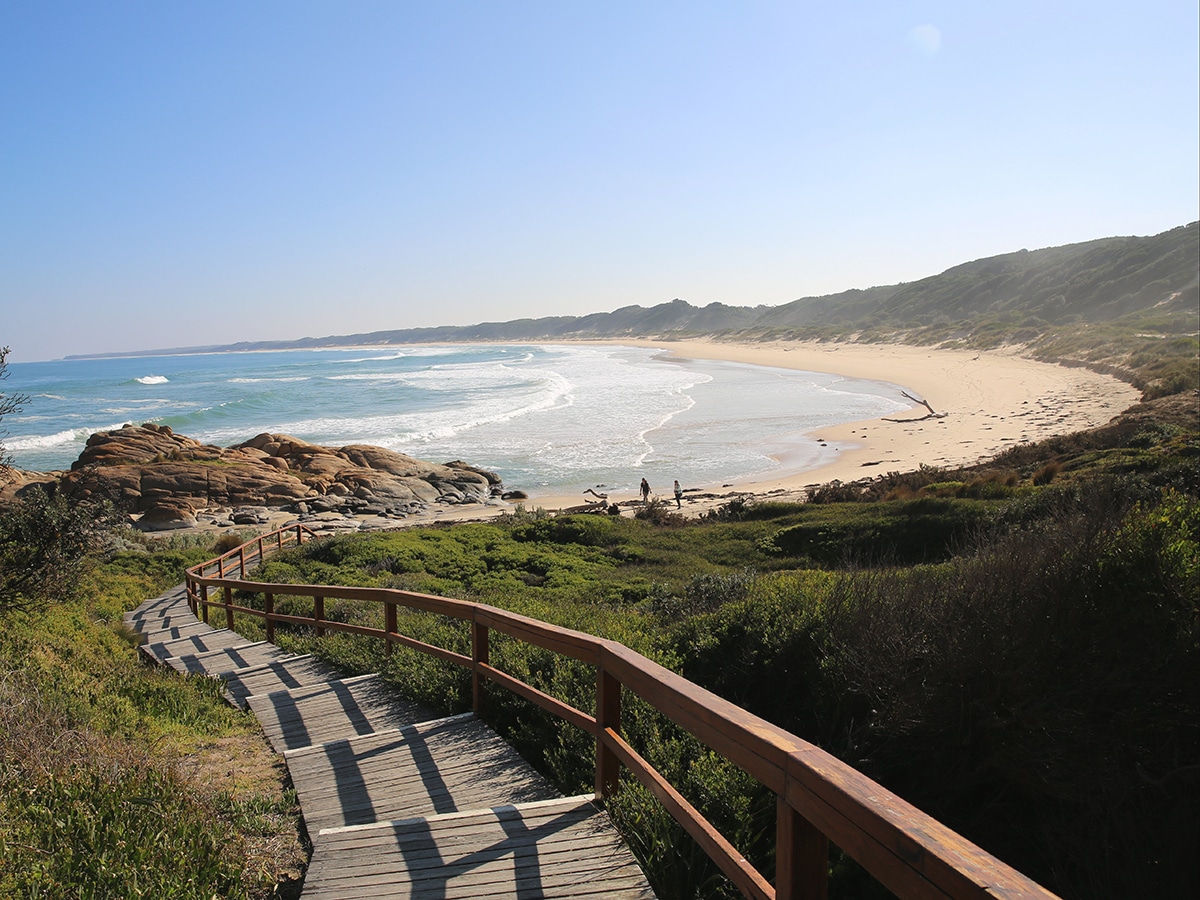 15. Cape Conran, Gippsland
Cape Conran campgrounds are just 100 metres away from the beach and are spread out over 1km. Stop and explore your surroundings at one of the best camping spots Victorian has to offer. You'll be sure to find a quiet little spot to pitch a tent or park your caravan. Be aware though, due to the popularity of this site, it's advised to book well in advance.
Address: Yeerung Road, Cape Conran VIC
Phone: 07 5486 5486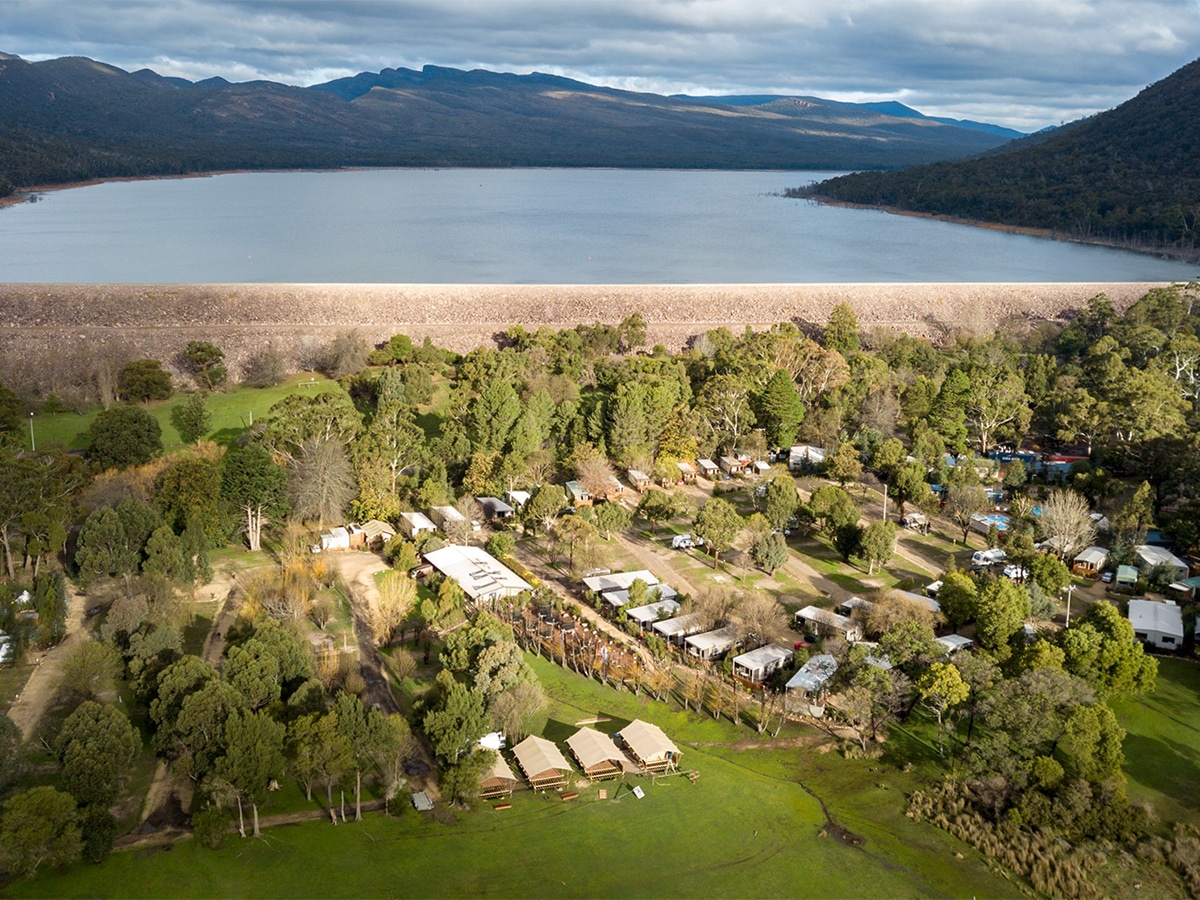 16. Halls Gap Lakeside Tourist Park, Grampians National Park
One for all seasons, Halls Gap camping park has something for everyone, no matter the weather. This fun-filled camping spot encompasses large outdoor areas, trampolines (available for adults too!), and even an eleven metre long heated outdoor pool – which is open all year round! It also boasts a camp lounge, which is fitted out with a TV, bar, and a big cosy fireplace. Halls Gap Lakeside Tourist Park offers endless fun for all the family; home to a big playground, complete with a rock-climbing wall and even a seasonal ice cream kart, this certainly is one of the best camping spots in Victoria!
Address: 27 Tymna Drive, Halls Gap 3381
Phone: 03 5356 4281
E-mail: [email protected]
Halls Gap Lakeside Tourist Park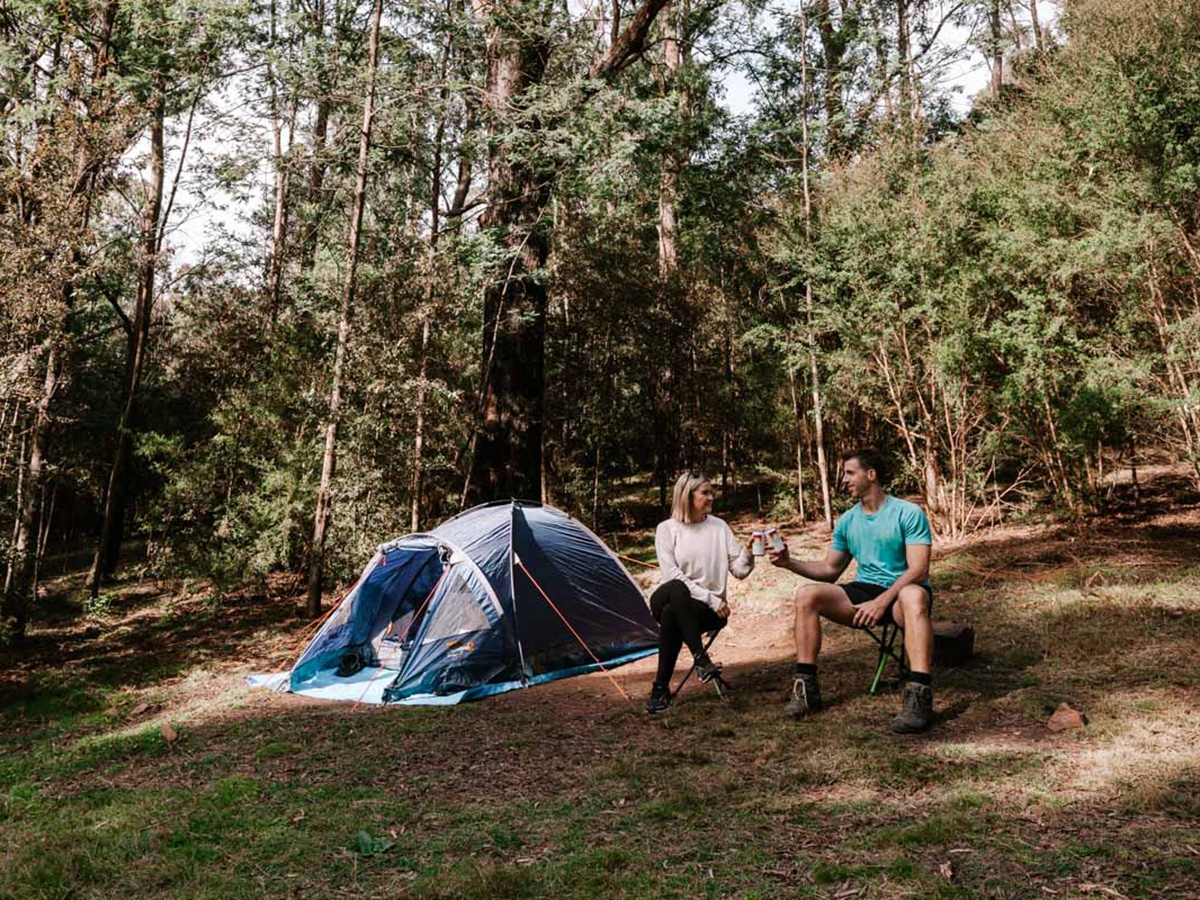 17. Neds Gully Campground, Cathedral Range State Park
Breathtaking, rugged ridges set the backdrop for this awe-inspiring region, which is the perfect destination for adventurous travellers. Neds Gully is set deep in the woodland clearing and provides a fantastic base camp for lovers of bushwalking and mountain hikes. Neds Gully campground provides quick and easy access to the rocky ridges of Neds Peak, boasting panoramic views across the entire Cathedral Range.
Situated in open woodland, Ned's Gully Campground has basic camping facilities but offers an overall pleasant experience as campers can pitch their tents on the grassy meadows of the banks of Little River. The sites here are unpowered and are suitable for tents only, as they are located a 50m walk from the car park.
Address: Little River Rd, Taggerty VIC 3714
Phone: +61 13 19 63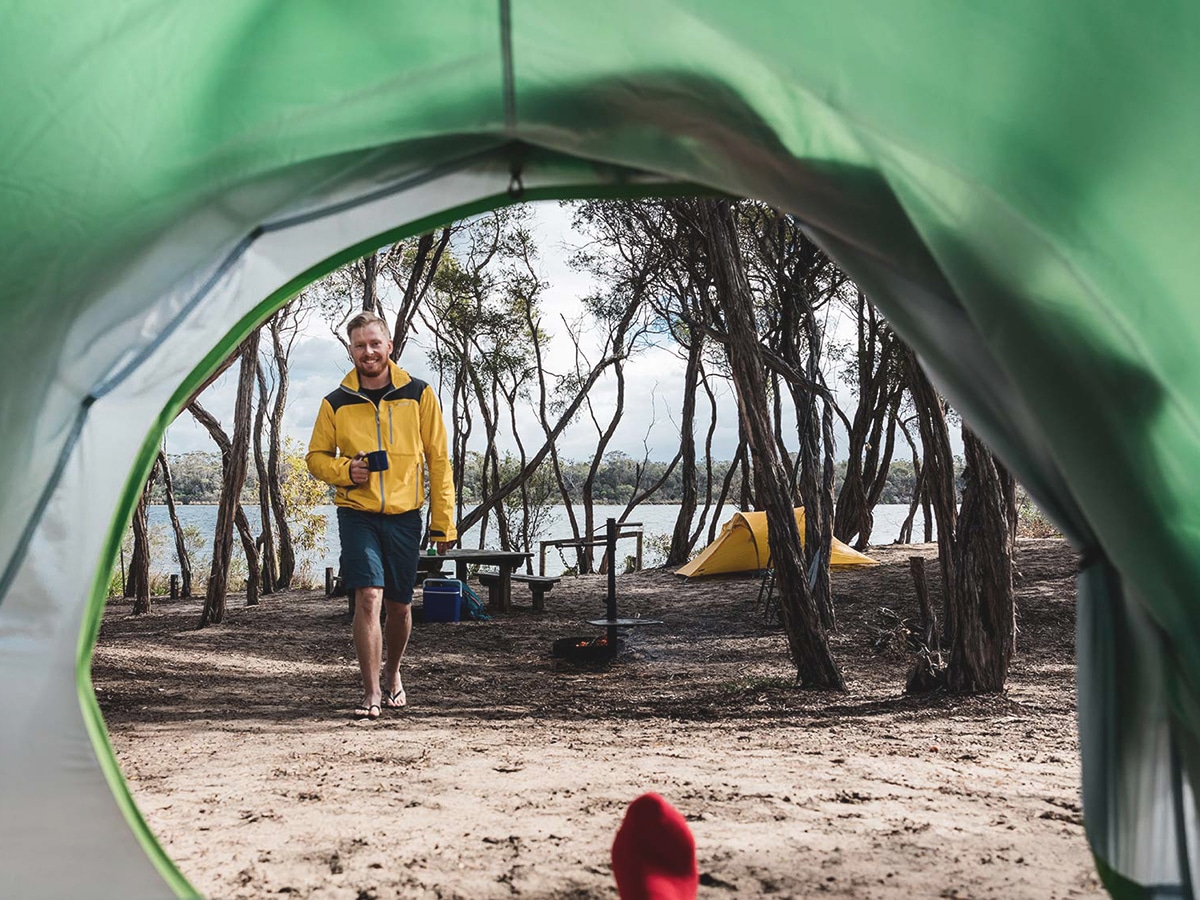 18. Bunga Arm, Gippsland Lakes Coastal Park
Bunga Arm is accessible only by boat with daily crafts leaving from nearby Paynesville. Boats make stops on the beach at designated campgrounds and day visitor areas along the length of the arm and here you will find seven grounds along the water's edge to chose from. The area provides kayaking tours and waterskiing adventures for all the family or just relax with a gentle swim and take in the natural beauty of this unique lakeside location.
There's a plethora of different fish to be caught at the river's edge or cast a line into the ocean and try and catch local salmon and snapper. You can even spot dolphins while taking a coastal walk along the banks! Non-flush toilets and covered picnic facilities are available. Fires may be lit in the firepits provided by Parks Victoria but the collection of firewood from the site is not permitted, so make sure to plan ahead!
Address: Boole Poole VIC 3880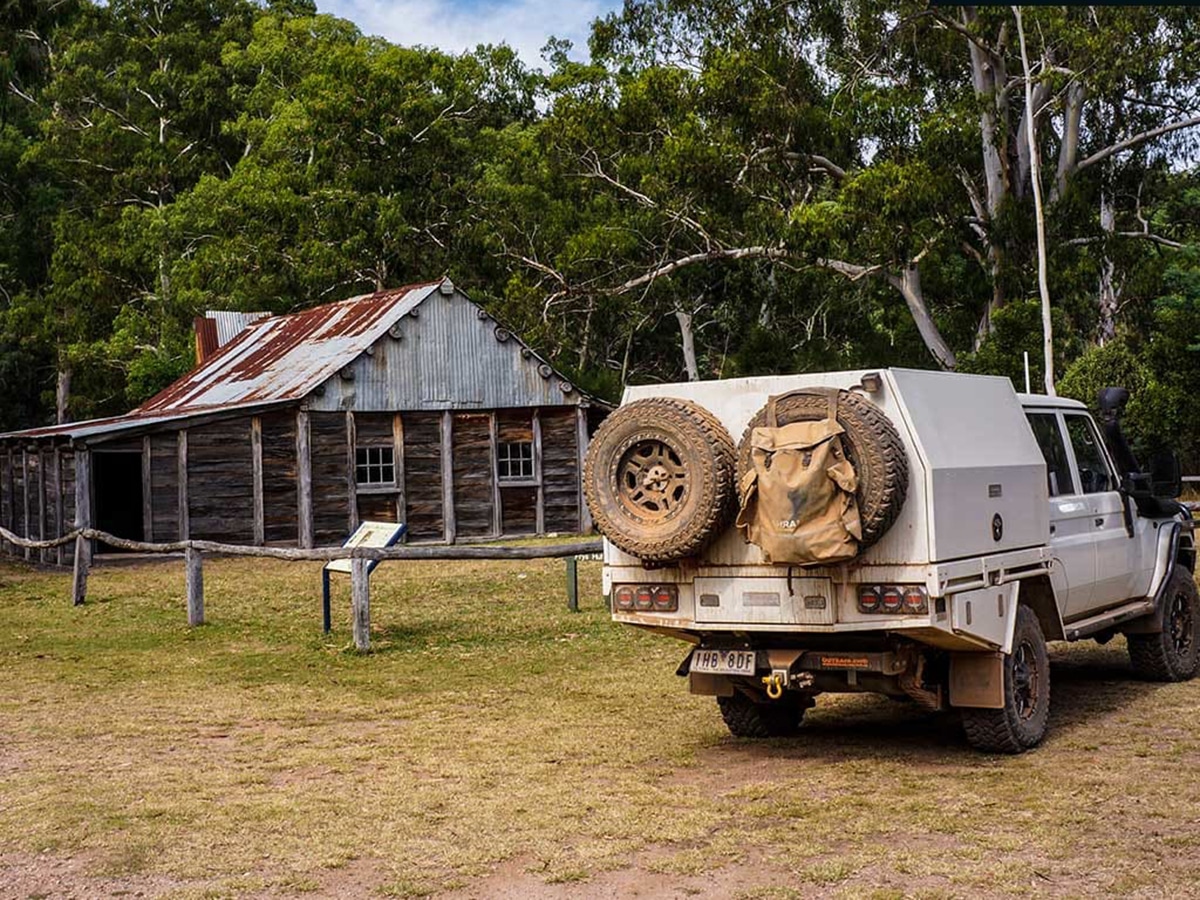 19. Sheepyard Flat, Howqua Hills
Sheepyard Flat is one of the top campsites in Victoria, and best of all… it's free! Camp under the stars in open woodland surrounded by Peppermint and Manna Gum trees. Sheepyard Flat is situated in a natural valley on the banks of the Howqua River. The site is large (over 50 spots!) mostly grassy, and has plenty of shade. It's a perfect location for swimming and there are fishing spots within a short walk too.
Important to note is that it is super popular and can get full during peak season as it is a great starting point for 4wd adventures into the Victorian High Country. Many species of wildlife can be spotted here too and visitors often see koalas and wombats and kangaroos. Wood barbeques are available but you must bring your own firewood and check on local fire bans.
Address: Brocks Rd, Howqua Hills VIC 3723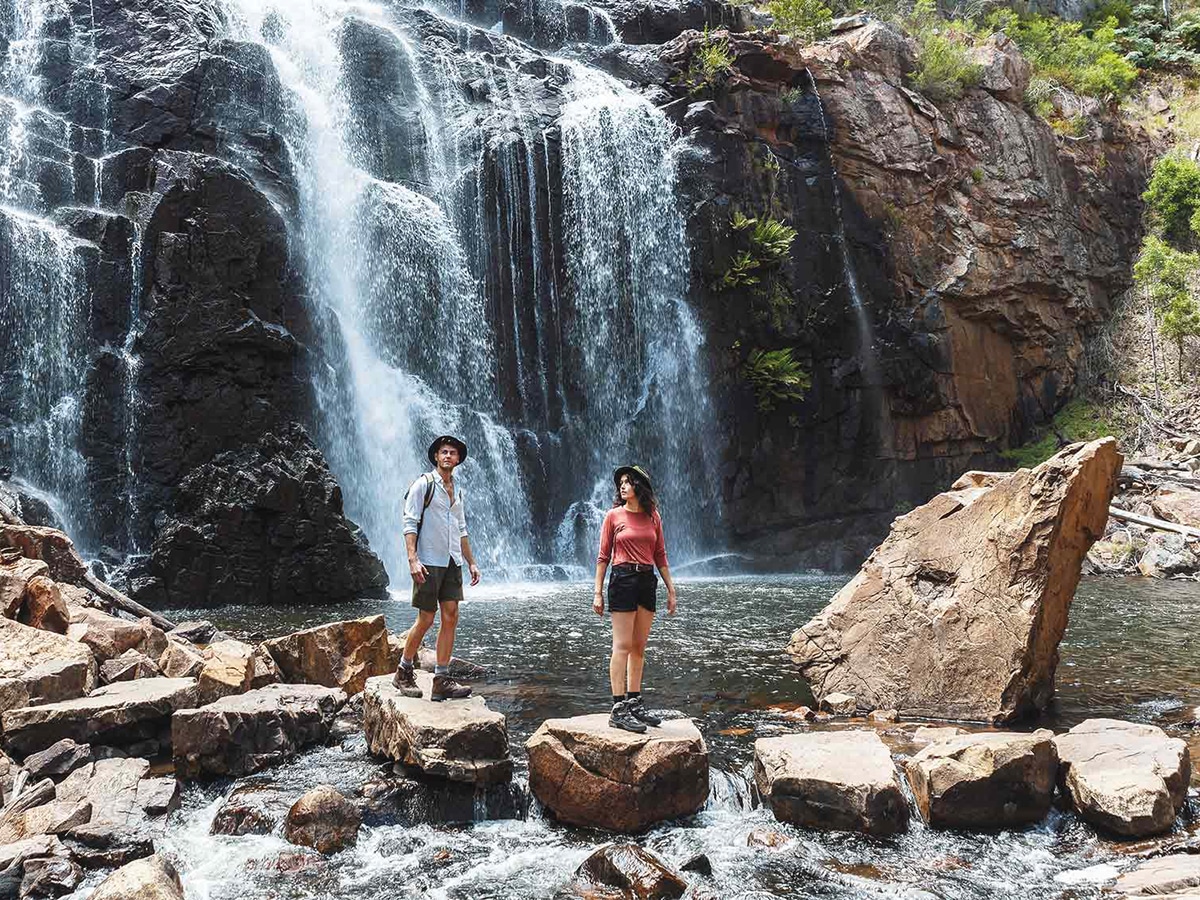 20. Smiths Mill, Grampians National Park
Located in the heart of The Grampians, Smiths Mill campground is a perfect spot to explore what this beautiful region has to offer. Based on the site of an old sawmill and surrounded by picturesque woodlands, this campground is also one of the best to explore Victoria's native plant species and wildlife.
Nestled in the valley of the Mackenzie River, the campsite provides you with the company of kangaroos and emus, which can be spotted close by while pitching your tent. Smiths Mill Campground is a great base to explore the local attractions of Mackenzie Falls, Lake Wartook, and a just a short drive to lots of majestic local lookouts. Camping permits are essential and can be purchased from The National Park & Cultural Centre.
Address: Old Mill Rd, Zumsteins, VIC 3401
Phone: +61 13 19 63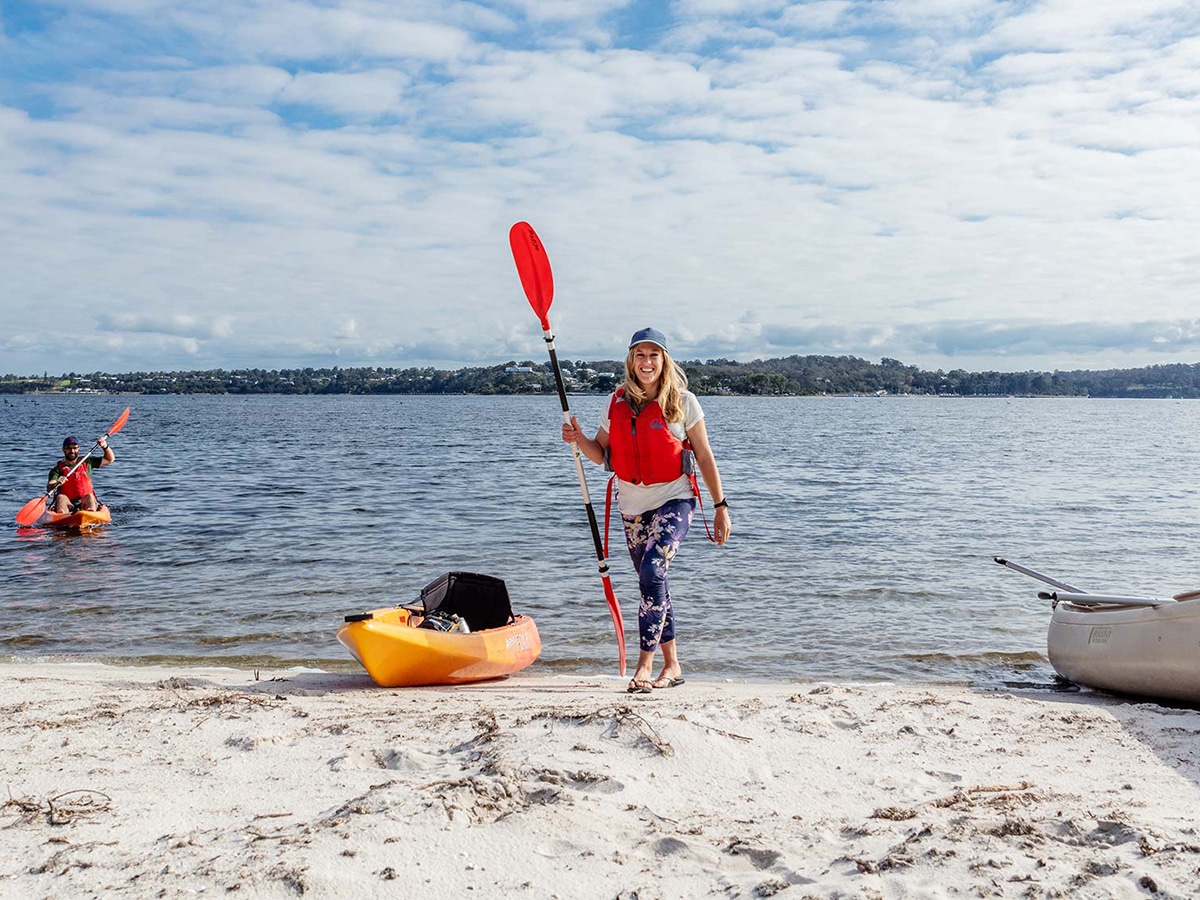 21. Spoon Bay, Gippsland Lakes Coastal Park
Just south of Holland's Landing, Spoon Bay campground is situated amongst the tranquil coastal lagoons of the Gippsland Lakes. Spoon Bay is unique in that it offers two different camping experiences in one location. Both Shoreline Drive and Paradise Beach attract those with a love for the coast complete with access to the beach. Further across we have Red Bluff which offers an inland bush camping experience and is only a short drive to Lake Victoria and Lake Wellington; two popular spots in the area. All sites have easy access for tents, camper trailers, and campervans and there are even a few spots for caravans.
Address: Seacombe VIC 3851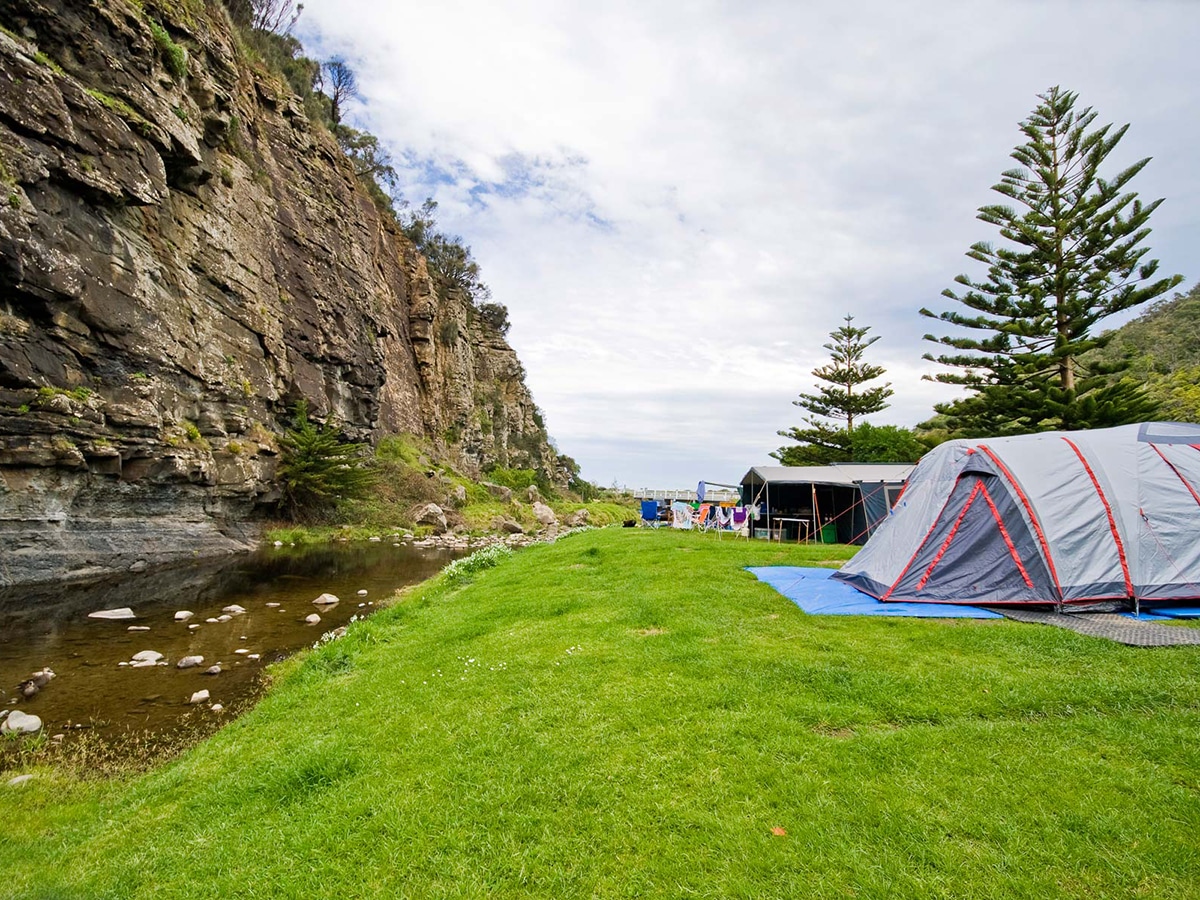 22. Cumberland River Holiday Park, Lorne
Cumberland River Holiday Park is the ultimate travel destination and is certainly one of the best camping spots in Victoria. Right on the edge of the Great Ocean Road, this evergreen campsite has meticulously maintained plots and boasts the most spectacular views! Swim, snorkel, or surf at the park's very own private beach (which is only a two-minute walk from the campsite) or take in the scenery on one of the areas famous coastal walks.
Fed up of your tent? There are even glamping options here. Alongside the grassy site areas, the campsite is home to cedar cabins with full-length verandas and beautiful riverside units overlooking the cliffs. Each campsite (or cabin) has its own campfire or BBQ and no need to BYO as Cumberland River Holiday Park has an extremely well-stocked shop, full of gas supplies, ice, and firewood.
Address: 2680 Great Ocean Road, Cumberland River VIC 3232
Phone: +61 (03) 5289 1790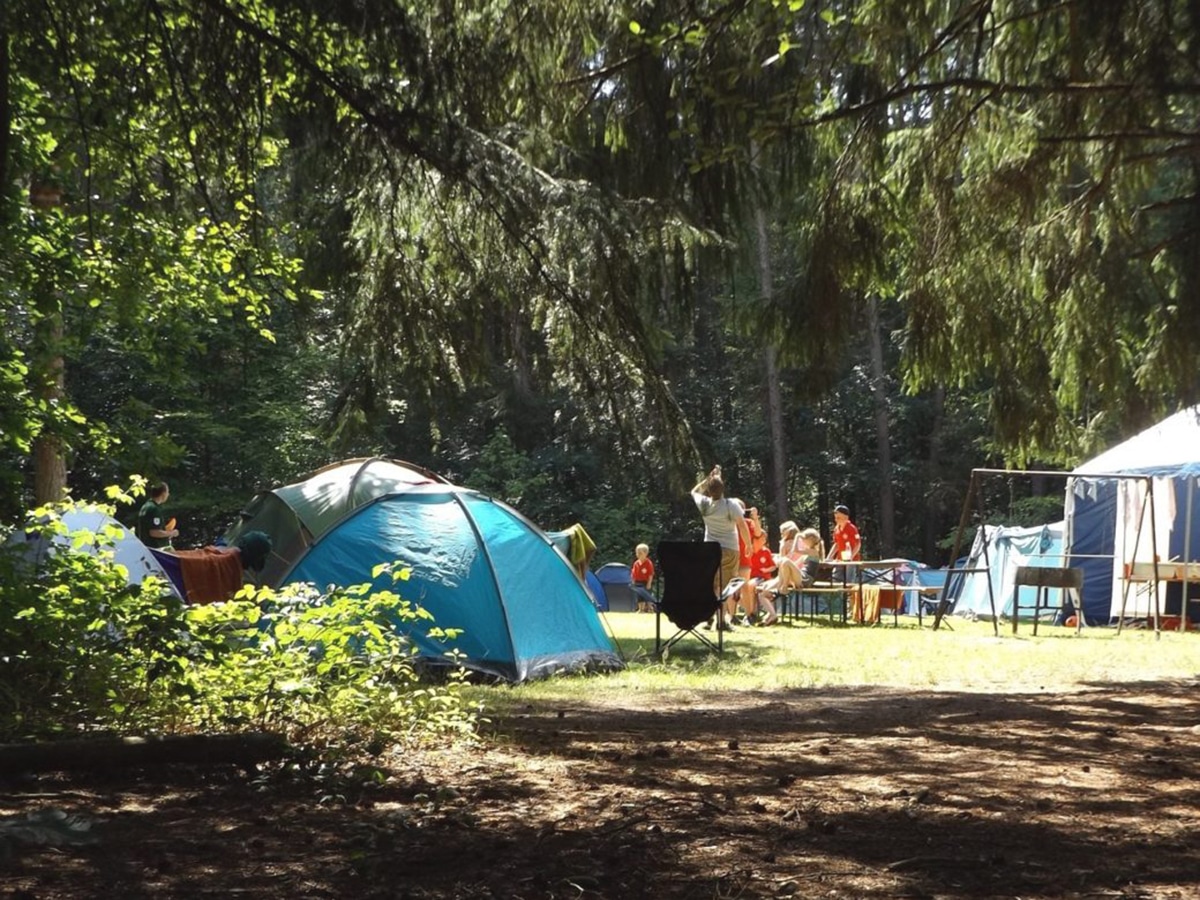 23. Cooks Mill, Cathedral Range State Park
Just over a two-hour drive from the Melbourne CBD, Cooks Mill is one of the best camping spots in Victoria for rock climbing, abseiling, and hiking. From here, you can explore all the delights that the Cathederal Ranges have to offer. Set amongst the Stringybarks, this campground allows you to get amongst the Australian native wildlife, including Kangaroos and wombats. There is also a fantastic spot for bird watching where there are many different species of native bird and plenty of Kookaburras.
Cooks Mill Campground is equipped with non-flush toilets and communal fireplaces. It is suitable for camper vans, and caravans, but as it is situated in a dense forest, there is very little light for tent campers… so be sure not to forget your flashlight! Oh, and make sure you book ahead on the Parks Victoria website.
Address: Little River Track, Taggerty VIC 3714
Phone: +61 13 19 63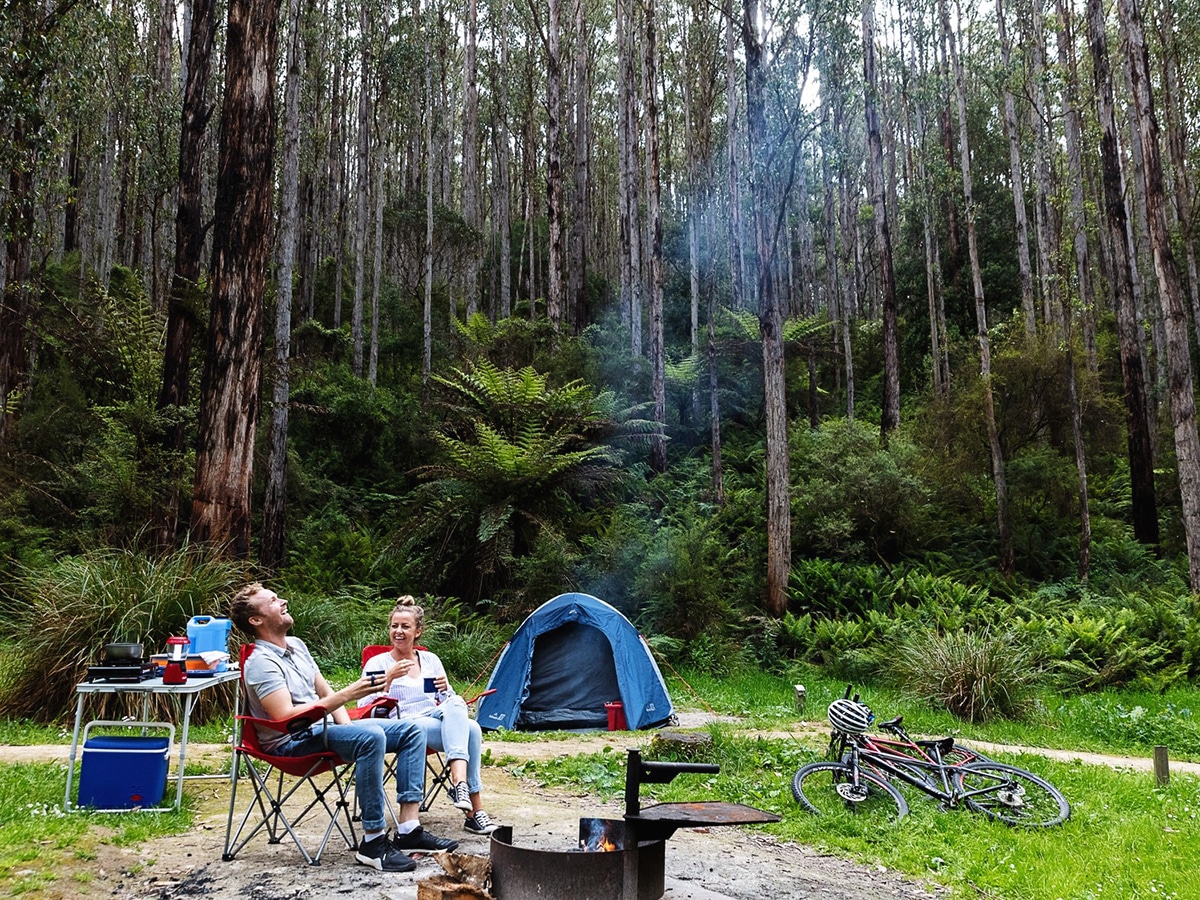 24. Lake Elizabeth, Great Otway National Park
The height of river camping in Victoria, Lake Elizabeth campground is deep in the Otways forest and is abundant with local flora, including towering Eucalyptus trees that grow over 100m in height. The trees and bush provide privacy to each site but the overall park does have a cosy and friendly feel. Take a 10-minute stroll through the tree ferns, over to the lake, or continue on to the Lake Elizabeth Loop for a few more kilometres (4.7 to be exact), for one of the most picturesque walks in The Otways. A popular time to walk this trail is during the night as the sides of the trail are covered in incredibly bright glow worms!
Address: Great Otway National Park, Forrest, VIC 3236
Phone: +61 13 19 63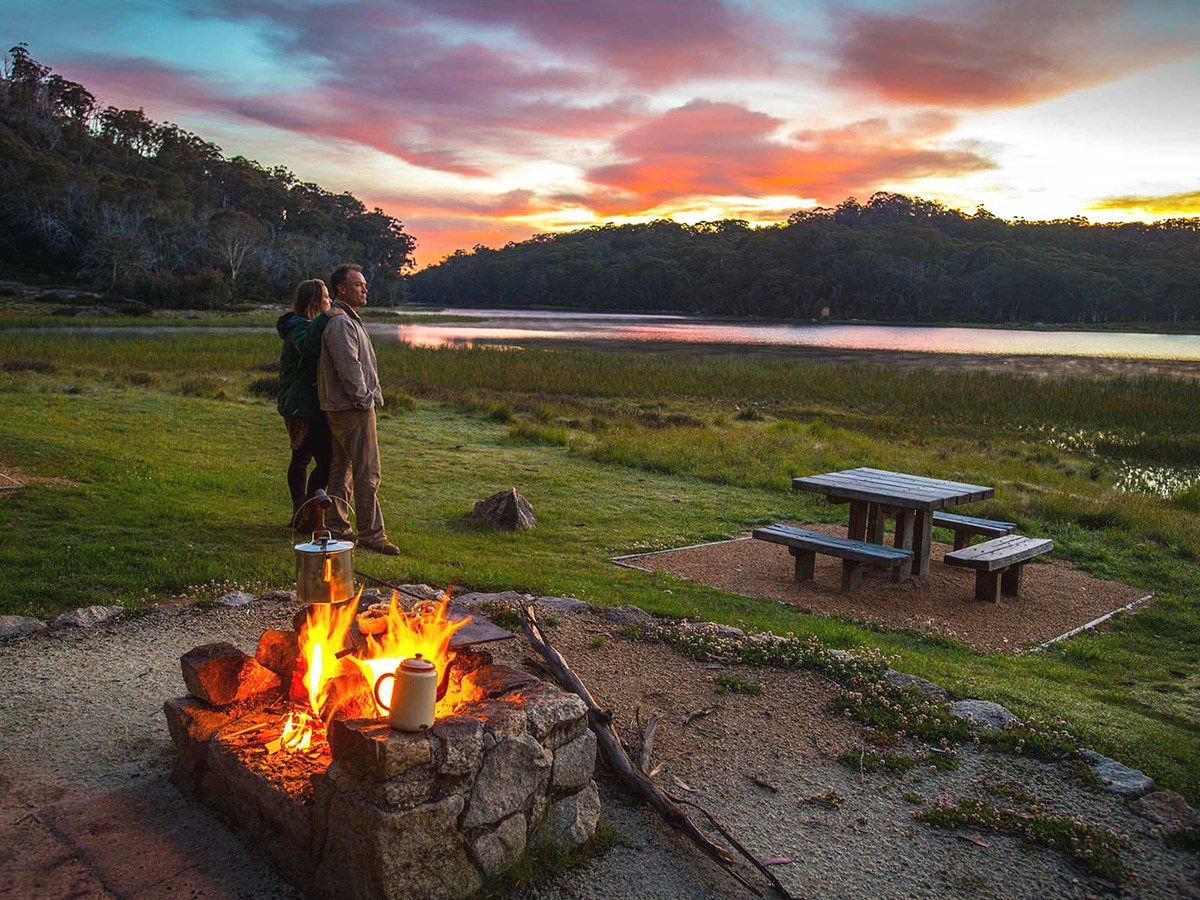 25. Lake Catani, Mount Buffalo
Lake Catani is an incredibly picturesque area located on the Mount Buffalo Plateau. From Lake Catani campground you will find a variety of walks suitable for all levels. The trails will take you to the many swimming spots on the pristine alpine waters and lots of beautiful picnic spots. You can even get out onto the water for a sunrise paddle as the lake is just one minute walk from where you pitch your tents. Discover the natural beauty of the alpine landscapes and woodlands around the lake or adventure to the region's top waterfalls just a short drive away.
The site is easily accessed by road and boasts flushing toilets and hot showers. The campground is open from November to April and bookings are essential.
Address: Mount Buffalo Rd, VIC 3740
Phone: +61 13 19 63
You'll also like:
Sleep Better with Nemo Switchback Ultralight Sleeping Pad
SOD Rise 4×4 is a Luxury Tiny Home on the Back of a Mercedes-Benz Unimog
This $85 Ultralight Sleeping Pad Has Room for Two
General FAQs
Where can you camp for free in Victoria?
There are a wealth of free camping sites in Victoria, however, the best include Sheepyard Flats and Shoreline Drive.
What campsites in Victoria have family-friendly amenities?
While most camping spots in Victorian will have amenities, those at Tidal River, Refuge Cove and Killarney Beach are suited to full family trips.
What is the best month to go camping in Victoria?
Most experienced campers will tell you Autumn is the best month for camping, This way, you get to experience the full seasonal change, without copping the searing heat of summer or the freezing temperatures of winter.