Cigarette Racing and Mercedes Make it a Dozen with Tiranna 59 AMG
It's the perfect dozen—Mercedes-AMG and Cigarette Racing are collaborating for the twelfth time, and this last time is the culmination of a spectacular grouping. Cigarette Racing is premiering their 59-foot Tiranna AMG Edition at the Miami International Boat Show. For their part, Mercedes-AMG is producing a one-off G63 Cigarette Edition.
You'll also like:
115m Stormbreaker Superyacht is Built for the Off-gridder
Royal Falcon One Yacht Defines Functional Luxury
Lexus Goes Yachting with $3.7 Million LY650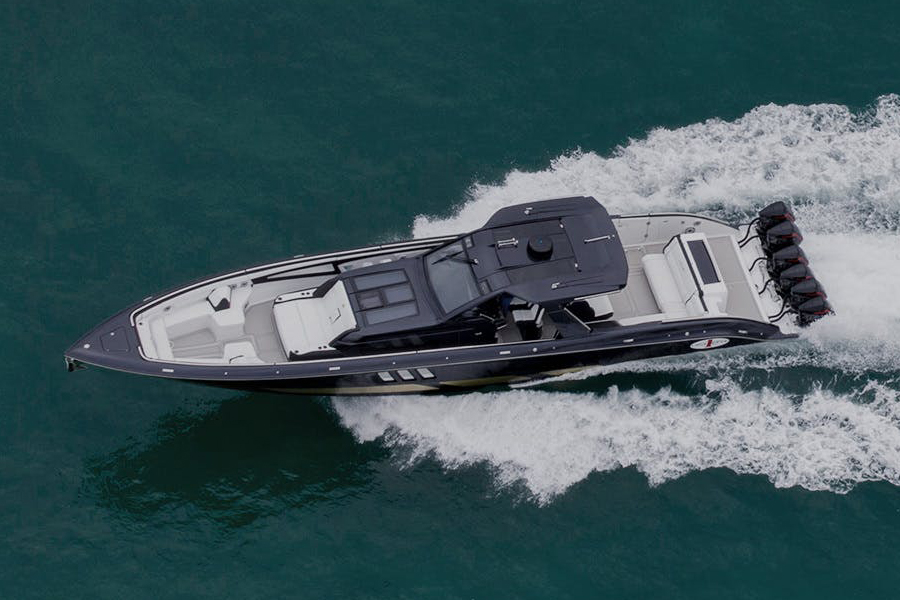 There's definitely no shortage of horsepower in this duo. The Tiranna features six supercharged 4.6-litre V8 Mercury Racing 450R outboard engines. By themselves, each of these engines produces 450 horsepower, but stack them all together and you get a monstrous 2,700 horsepower. That means this racing boat can hit 80 miles an hour on open water. Keeping the boat upright is a gyrostabiliser that reduced roll by 80 per cent, which will come in handy on choppy water. When low speed is needed, thrusters at the bow and stern are available. The Tiranna isn't just speed. Cigarette Racing states that the Tiranna is a cross between a "luxury yacht and a performance-oriented super console." AMG took care of the luxury part, decking out the craft with a Macchiato Beige and dark-blue interior. The deck is spacious, with room for 26 passengers. Below that deck is a master cabin with a king bed and a separate bathroom. The transom holds a kitchen with a sink and a grille. The G63 is no slouch on power either thanks to its 4.0-litre twin-turbo V8. That engine produces 577 horsepower. Both the boat and the G63 are done in black and gold, and both share mutual branding.
"Without a doubt, this is the most exciting, most technically advanced AMG Cigarette we've developed. A 59-foot, 40,000-pound boat that can do 80 mph is pretty amazing," states Cigarette Racing Team CEO Skip Braver. Who is this boat intended for? According to Braver, "A buyer for this boat is likely to be a family guy who likes enjoying life with friends and family, and will use it more like a day boat for heading to lunch, or hanging on the hook at the sandbar." One thing is for certain, whoever that buyer is, he'll have plenty of horsepower at his disposal.
You'll also like:
115m Stormbreaker Superyacht is Built for the Off-gridder
Royal Falcon One Yacht Defines Functional Luxury
Lexus Goes Yachting with $3.7 Million LY650