Jeep Wrangler Rubicon 'Recon' Review: Why this 4WD has Already Sold Out
Jeep fanatics will argue that this is the Wrangler in its most ultimate and pure form, so what on earth are these people talking about? As far as the average punter is concerned, a Jeep is a Jeep. But, as we found out, there's a lot more to the name than just a boxy off-roader with removable doors. We jumped behind the wheel of a Jeep Wrangler Rubicon 'Recon' of the uber-rare short wheelbase variety for a week to find out. And you can hardly wipe the smile off our face, even today!
2020 Jeep Wrangler Rubicon Recon Short Wheelbase Specifications
Engine: 3.6-litre naturally aspirated petrol V6
Power (kW): 209kW @ 6400rpm
Torque (Nm): 347Nm @ 4100rpm
Tare Weight (kg): 1917
Warranty: Five years/100,000km
Priced from: AU$66,950
We'll be the first to say that after spending the week driving sportscars on the track, jumping behind the wheel of a Wrangler for the first time was quite the shock. Heck, even making the switch from an average commuter car would be quite the sea-change. Adapting to the agricultural nature of the Rubicon takes all of 10mins, and once you get your head around the fact that the steering is a mere suggestion of direction, you'll struggle (very) hard to wipe the big cheesy grin off your face.
Our first impression was mostly of confusion, why on earth would someone consider living this on a day-to-day basis? The answer became apparent within minutes of driving. You can have as much fun driving a Jeep Wrangler at 60km/h as you can have driving a sportscar at 150km/h. This is an enthusiasts car by every stretch of the imagination, and if you're anything like us, and you enjoy jumping behind the wheel and driving, this is some of the most fun you can have.
"You can have as much fun driving a Jeep Wrangler at 60km/h as you can have driving a sportscar at 150km/h"

Weekend Away
Now, we're no stranger to camping, we've spent a lot of time on four-wheels over the years. However, as we found out very quickly, no amount of Landcruiser, Patrol or Dual-cab ute is going to prepare you for the experience of a Jeep Wrangler. Fanatics will be punching the air reading this, but we were one of those Jeep sceptics that never really understood the idea behind limited space, thirsty motors and a general lack of driving dynamics. But it was these factors and expectations, that never played against the Jeep while it was in our possession. Compromise is part of Jeep ownership, and we'd be happy to compromise every day of the week for the Rubicon.
It started when we were packing the Wrangler for our weekend away. Immediately, you just know you're going to have a space issue, especially with the short-wheelbase model. The rear seats were the first piece of the puzzle, easily removed with a simple push down lever, it's as if they weren't meant to be there in the first place. With them out of the way, the boot capacity increases significantly, to the point you'd easily be able to get away with your partner for a weekend.
So with the Rubicon packed up with swags and snacks, we made our way out towards Lithgow and the ZigZag railway with a few mates on a quest for some familiar trails.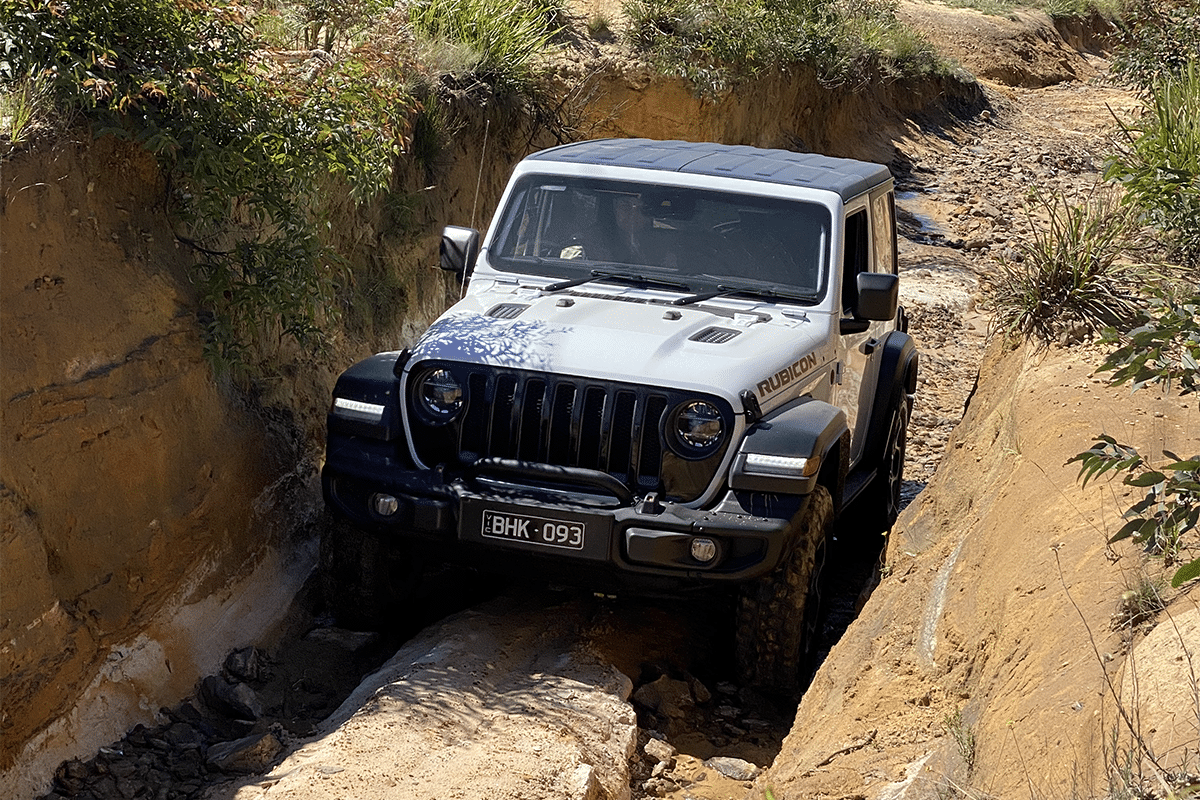 Offroad
We had barely left our driveway when the Jeep experience began. The stares you get in this car are consistent, it's as if you're in an exotic supercar. But they're stares in the best possible sense, no one is giving you the 'snob' face or middle finger. They're giving you a nod out of respect for a vehicle that is so cool and unique you can't help but love it. The average broken neck isn't going to understand the significance behind the Rubicon sticker that dons the bonnet of this two-doored variant, but man, when you find someone who does, it's like you're driving a vintage Ferrari. People love this car.
After driving our way out to the Blue Mountains in style, waving at every Jeep driver on the road (literally). We pointed the Jeep Wrangler Rubicon 'Recon' at the first track we could find. Our first order of the day was an awesome little section under the powerlines just after the ZigZag railway car park. We weren't playing around either, we engaged the transmission in low-range, locked both front and rear diff locks, disconnected the swaybar and gave the right foot a tickle. Quickly finding out why many experts call this the most capable 4wd money can buy.
There was a couple of other fourbies around who couldn't help but watch as the bone-stock (yet extremely capable) little Wrangler walked its way up a pretty gnarly section of rock steps and ruts. The smile we had on our face all morning just got bigger as we showed up trucks twice our size under the powerlines all morning. At one point, we had to turn off the diff locks to give ourselves a bit more of a challenge!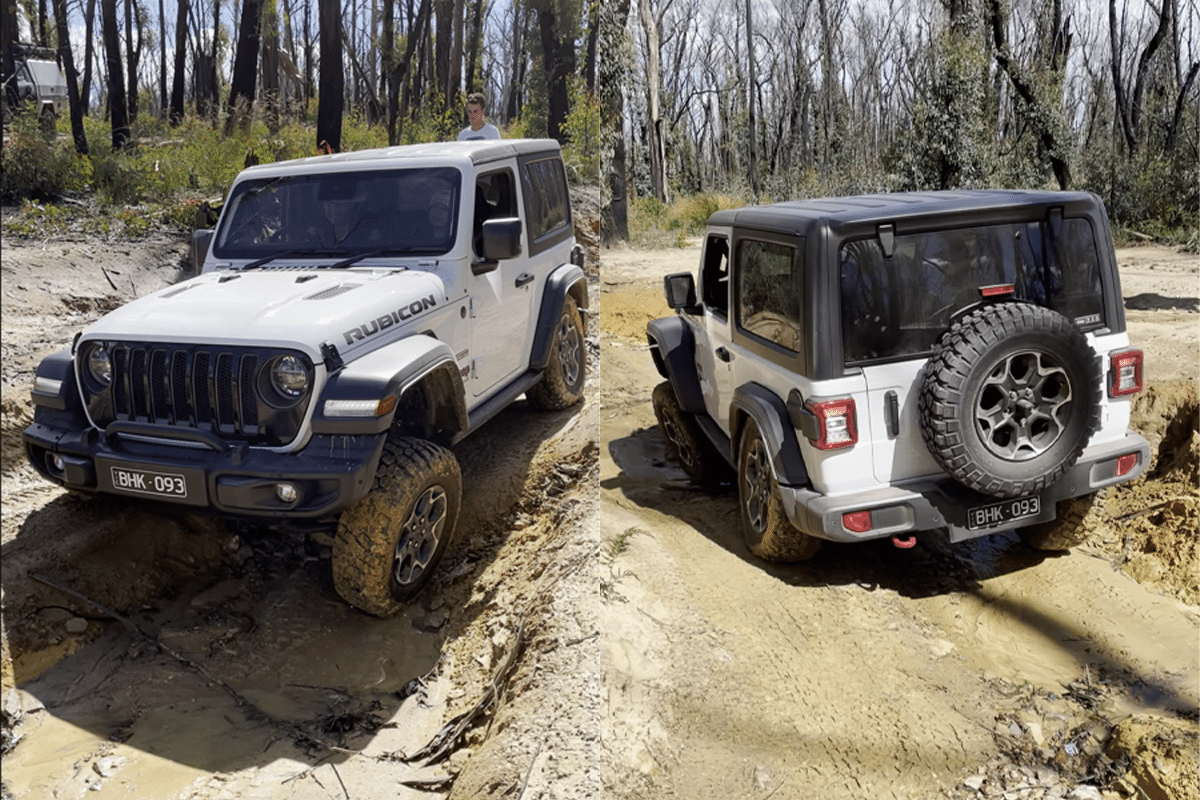 Spending the rest of the day exploring what the area had to offer, we ventured out towards the 'Lost City' and found ourselves having a play in a little bit of mud, as well as picking a few hard lines by way of some wombat holes. This was where the Rubicon shined, showing off its solid upgraded front and rear axles, double diff locks and disconnectable front sway-bar. With plenty of flex on display, it clawed its way through the undulations, only scrambling for traction when we forgot to engage the diff lock. We'd agree that there isn't another car you can buy from new that can drive such challenging tracks without modification.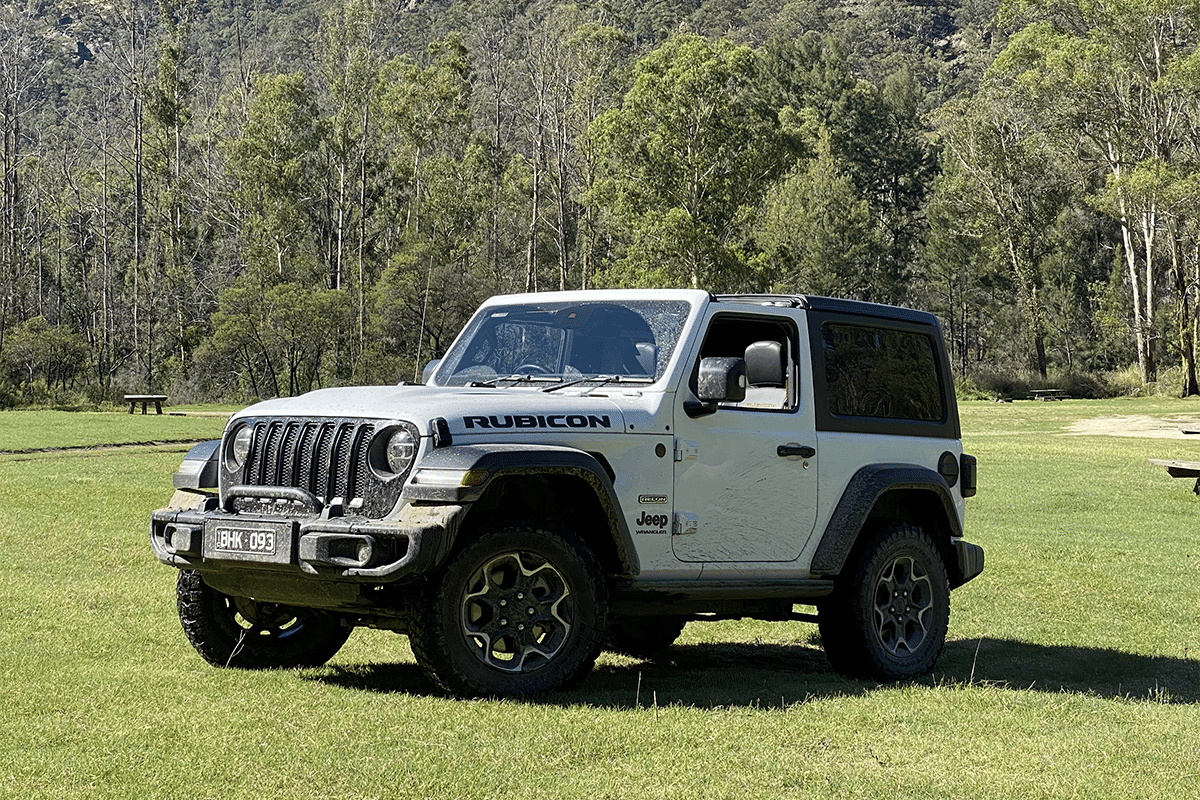 Living with a Jeep Wrangler
The creature comforts of the latest JL Wrangler aren't to be underestimated. The brand has taken leaps and bounds with the latest models interior, and you could easily live with it every day thanks to a plethora of creature comforts. Driver and passengers are immediately drawn towards the big 8.4-inch touch screen display in the centre of the vehicle with Apple Carplay. There's an awesome sound system, and the doors and roof are sound insulated to prevent a lot of noise from entering the cabin. Yes, you can hear the 32-inch BFG Muddies roaring at highway speeds but that's all part of the experience of owning a supremely capable off-road weapon.
Take the freedom panels off (above the driver) and you've got the perfect weekday cruiser. All of which is taken care of in less than 5mins with the turning of six latches. But ultimately, you'll want to take off the roof for the full experience, and we can't recommend it enough. You'll need two people, but all it takes is unscrewing eight bolts (with the included tool kit) and boom, you've got the look many cars dream of.
The additions you get in this 'Recon' spec include red accents throughout the vehicle as well as a blacked-out front grille which adds a heap of class and character. You'll find red accents on the seatbelts, tow-hooks, and stickers, including the 'Rubicon' sticker on the bonnet. We LOVE the way this car looks, and the two-door variant is by far the coolest looking Jeep shape. Add that special sticker on the bonnet and you've got a very cool little 4WD that is respected by everyone from the casual fan to fully-fledged Jeep enthusiast.

The Verdict
There's absolutely no mistaking this car for anything less than the most capable 4WD money can buy in Australia today. It goes without saying, you're sacrificing a fair amount of general comfort and practicality for a vehicle that is by no means cheap and cheerful. But there isn't another vehicle money can buy like it, and you have to pay to play that kind of 'exclusive' game. We'll bet you can't wipe the smile off your face if you decide to play.
There are only 40 short-wheelbase Rubicons on the road in Australia, many of which (if not all) have already been snatched up. After all, the target market is mostly made up of lifetime subscribers to the Jeep brand and lifestyle, so when it comes to decision time, they'll likely have made up their minds. For others (like us), we now play the waiting game for whatever comes next from Jeep, hoping there's another short-wheel base Rubicon on the market again soon.
2020 Jeep Wrangler Rubicon Recon Short Wheelbase Off-road Features
Differential ratio: 4.1:1
Crawl ratio: 77.2:1
Approach, departure and ramp over angle: 42°, 31°, 27°
Ground clearance: 255mm
Tyre size (diameter): LT255/75 R17 (32.1 inches)
Other notable features: Tru-Lok Front & Rear Locking Differentials, Heavy Duty Front and Rear Dana Axles, Electronic Front Sway Bar Disconnect, 230V Power Outlet, Heavy Duty Rock Slider with Step Assist, Programmable Aux Switches.

You'll also like:
Jeep's 'Magneto' Fully Electric Wrangler Concept is a Stick Shift Tease
Designer Creates a Cybertruck Cyber Camper Concept
Daniel Arsham Erodes a Porsche 911