2021 Jaguar F-Pace SVR Review: A Swansong for the Supercharged V8
With Jaguar announcing the production of internal combustion engines will cease by 2025, it's only a matter of time before the brute and brawn of the SVR model range disappears entirely. Taking with it a motor that proves shoving a supercharged V8 in just about every model might not move the ticker for sales, but man is it a great thing it exists. We'll miss these cars when they're gone, and there's no better time than now to jump behind the wheel and take a history lesson on everything we grew up to love about cars. We can't think of a better teacher than the 2021 Jaguar F-Pace SVR.
What's the Interior Like on the Jaguar F-Pace SVR?
Key interior equipment found on the 2021 Jaguar F-Pace SVR, includes;
11.4″ Touchscreen
Interactive Driver Display
Meridian Sound System – 400W, 13 speakers incl. Sub. Includes Active Road Noise Cancellation
Android Auto and Apple CarPlay
Pivi Pro (Connected)
14-way heated and cooled electric driver and passenger memory Performance front seats
40:20:40 SVR folding, heated rear seats with centre armrest
SVR Leather Heated steering wheel with Satin Chrome gearshift paddles
Cabin lighting – 10 colours configurable ambient lighting, zone control
Two-zone Climate Control – Automatic with Solar Sensing and Mist Sensing
Auto-dimming interior rear-view mirror
Jaguar absolutely nailed it when it comes to the facelifted F-Pace lineup. While the styling features on the exterior are moderate, one step inside the redesigned cabin and you're immediately greeted by a fresh interior laced with soft-touch materials, Alcantara, and rotary switches. The highlights are a new dashboard with digital gauges and an 11.4-inch central touchscreen with the brand's new Pivi Pro infotainment system.
Take a seat in the F-Pace and you'll immediately realise the vehicle's sporty characteristic. The bucket seats are some of the best we've sat in, giving great support while not going fully-fledged racecar as you find in a Porsche or new BMW M4. The driving position itself is perfect for spirited driving. Our main concern was that the car would feel large and unwilling, however, it does a fantastic job at masking its SUV height and weight with an encouraging position. Knee contact points and foot positioning is comfortable and precise, but we'd prefer some grippier material on the steering wheel at the expense of longevity leather. The new gear selector isn't great for resting your palm on either – if we had to be critical.
While the majority of new features are available across the model lineup, the SVR loses active noise cancellation on the interior in favour of sound from the supercharged V8. We love the fact the engine noise doesn't sound artificial on the interior, you wouldn't need it anyway! An exhaust button mutes sound to an idle growl when closed.
How Does the Jaguar F-Pace SVR Look?
We're a little biased because of the engine, but we think this is the best looking SUV in the segment – just notching out the Alfa Stelvio. When comparing the F-Pace to the likes of the Porsche Macan, X3 M, and Mercedes GLC 63 AMG it's more elegant in its approach with a sleeker roofline and larger front grilles. Our press car was optioned with SVO Atacama Orange (a whopping $11,000 option) that just looks epic, although we'd probably settle for the regular metallic blue if we had it our way. It'll be interesting to see if the rare colour's become great investment pieces once the V8's disappear.
The exterior has received a similar treatment to the inside, with bigger front intake grilles, sharper-looking headlights and taillights that better align with the rest of the range. Unlike many SUV's on sale today, it lacks a gigantic front grille to tell everyone how much your car's worth, and that might be the most attractive feature.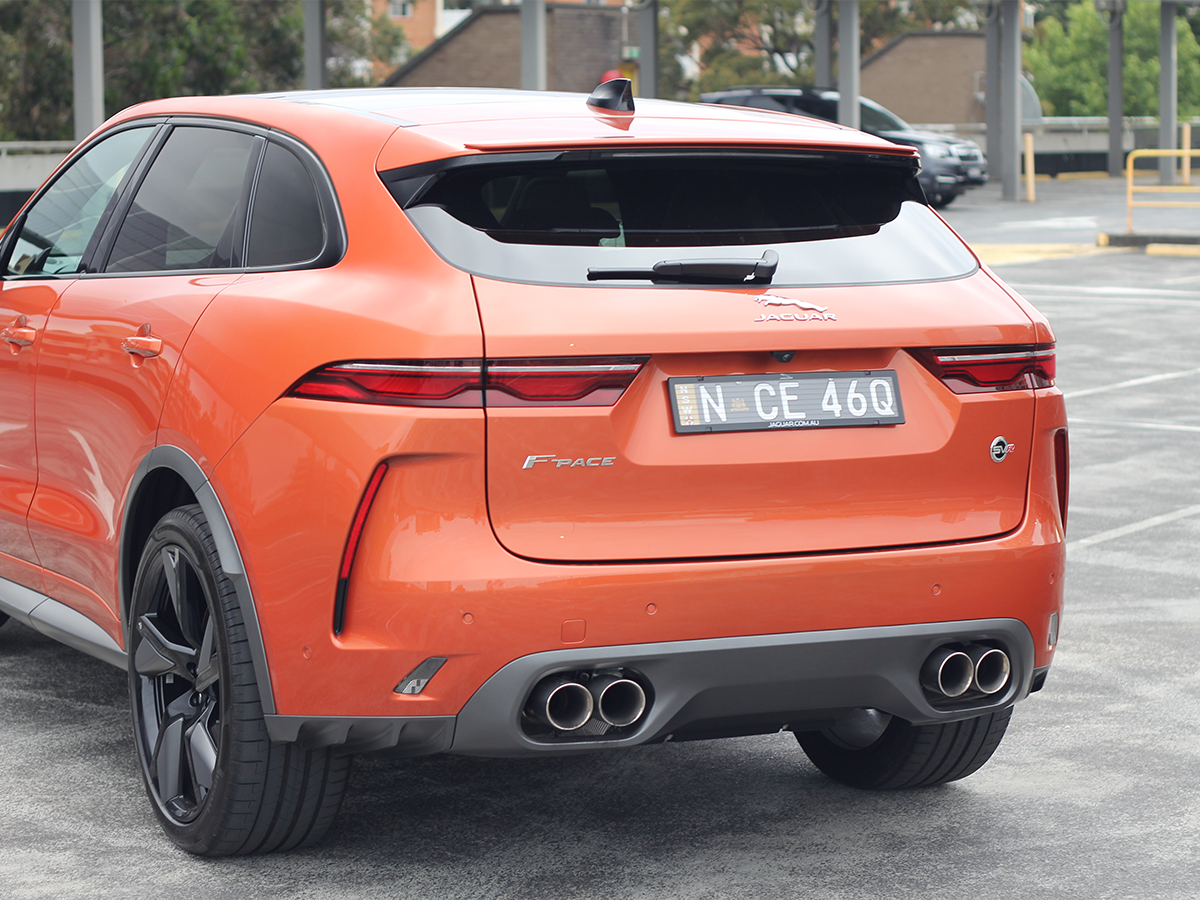 What Engine Does the F-Pace SVR Have?
| | |
| --- | --- |
| Engine | 5.0-litre supercharged V8 |
| Power and torque | 405kW @ 6250rpm, 700Nm @3500-5000rpm |
| Transmission | Eight-speed automatic |
| Drive type | AWD |
| Weight | 2133kg |
| Fuel consumption (combined) | 11.7L/100km |
The crème de la crème of the medium-sized SUV market is the supercharged 5.0-litre V8 from Jaguar. For many, this will be the sole reason they buy the F-Pace and we don't blame them. Fuel consumption aside (it's not great), this motor gives you everything you'd want and more. Yes, it's got the figures to back the claims, but it's got so much character that you'll fall in love with it after just a few KM's, even if Jaguar has taken out the pops and bangs that the earlier SVR models made on overrun due to petrol particulate filter requirements in most markets.
It's still one of the loudest and best sounding cars on sale today (with the valves open).
Cars don't have to make perfect sense for you to truly appreciate them. We experienced a similar feeling in the Alfa Romeo Giulia Quadrifoglio, and the case rings true again with the F-Pace SVR. There are more logical choices in the model lineup – the best being the F-Pace P400 with the 294KW/550NM 3.0-litre motor – but where the SVR loses out in all-out practicality, it makes up for with brutal finesse and character. It's not just a rip-snorting V8 with heaps of power, it's lively, playful, and you'll want to drive it every day.
How Does the Jaguar F-Pace SVR Drive?
| | |
| --- | --- |
| Acceleration | 0-100km/h in 4.0 secs |
| Top Speed | 286 km/h |
| Car Type | Sports-SUV |
When driving the Jaguar F-Pace SVR around town you'll almost always want to drive it in eco mode. The throttle response is far too sharp in any other mode and the engine just feels like it wants to go at a moments notice. Unfortunately, the car doesn't remember what mode you left it in, so you have to manually switch to eco mode each time you get in. The stop-start is nice and quick (we left it turned on) and the brake pedal bites with precision and a comfortable amount of travel.
If you're driving on a few twisty's we recommend leaving the car in its normal setting as Dynamic is far too stiff for normal roads and the engine response is nice and linear without jerkiness. As is the advantage with supercharged motors, the powerband is strong all the way to redline at 6750rpm, it builds and builds until you grab another gear from the 8-speed torque converter transmission (the same that was used in Project 8). It might not be the quickest vehicle in the segment on paper, but at no point did we want much more. Sacrificing outright speed for sound is always a winner.
Revised Suspension
Jaguar's SVO team have gone over the suspension with a fine-toothed comb to deliver a precise driving dynamic that works on back roads as well as it works on the street. The majority of the suspension bushings are revised, lower front control arms are new, and the electronic systems have been tuned. You won't forget that you're driving a 'sports' SUV as the ride is firm, however, it's no worse than the competition. Take the 22-inch wheels into consideration and it's rather comfy!
As mentioned, if you're on a perfect piece of tarmac or racetrack, flick the dial into Dynamic and unlock 100% rear-biased torque splits that turn the car unlike many others in its class. It's unbelievable how fun the F-Pace is to drive on the twisties and we wish luck to whatever sportscar owner thinks they're leaving it for dust on the track.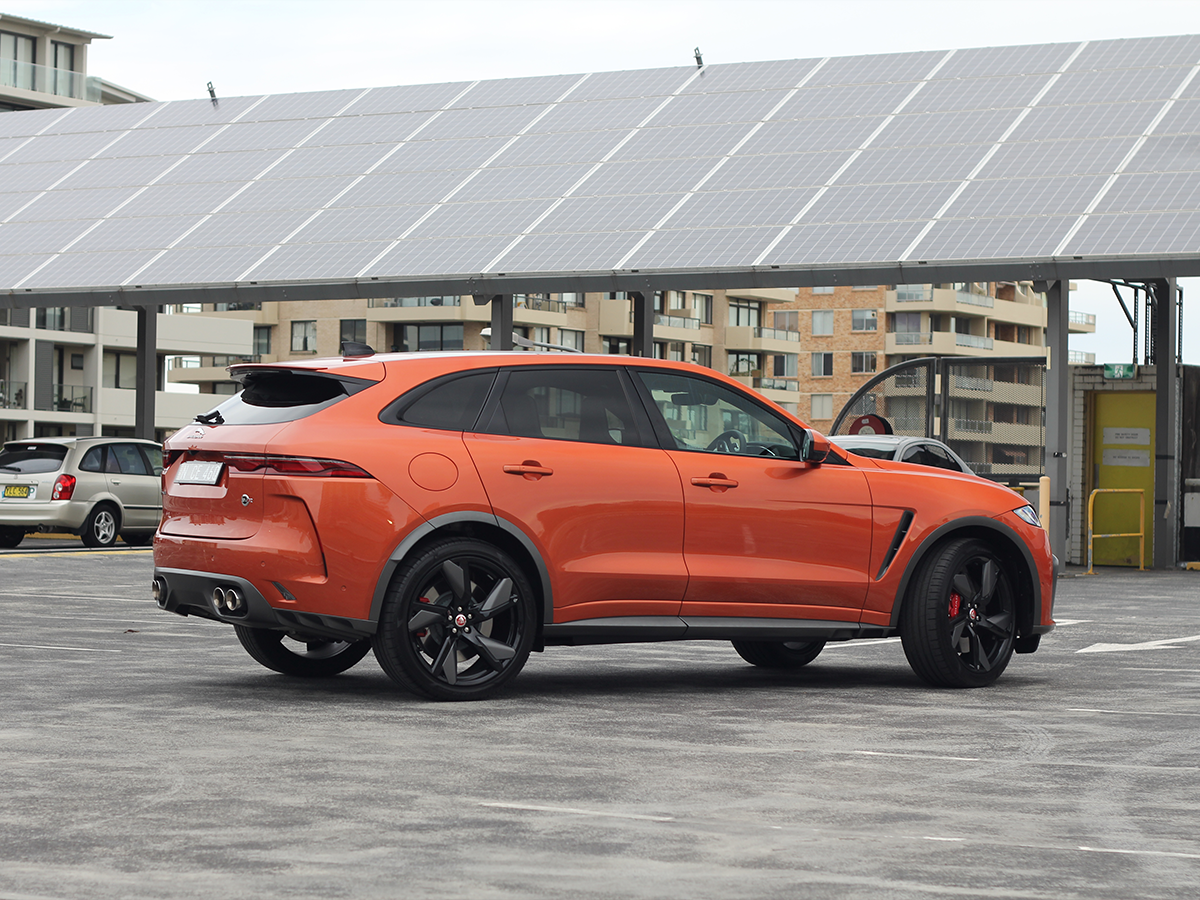 Is the Jaguar F-Pace a Good Buy?
| | |
| --- | --- |
| ANCAP safety rating | Five stars (tested 2016) |
| Warranty | Five years/unlimited kilometres w/ Roadside Assistance |
| Main competitors | BMW X3M, Mercedes GLC63 AMG, Porsche Macan |
| Price | From $142,170 plus on-road costs |
Our particular model was spec'd in optimal 'press-spec' as we call it – e.g. it had every option under the sun to impress the chump who chariots it around backroads. In reality, most will avoid the $11,000 SVO paint option, so the majority of cars will top out around AU$160,000 plus on-roads. Competitive to say the least, and when you compare it outside of the SUV market itself, it's still a pretty sharp deal if you cross-shop true sportscars.
This is the last of a dying breed, and with the competition sitting around the same mark but lacking the theatre associated with the SVR badge, we'll take one in blue, please.
You'll also like:
Exploring the Central Coast's Best Hidden Lookouts With Land Rover Defender 90
2022 Range Rover Officially Unveiled, Still a Luxury Yacht for the Road
Rolls-Royce Black Badge Ghost Swaps Suit for Streetwear