Taking the Long Way Home in the BMW X3 M Competition
It's safe to say that when you're offered a chance to drive any BMW M division car you jump at the opportunity. After spending my time with the M4 Competition last year I was looking forward to jumping behind the wheel of the X3 M and experiencing all 510HP of its M3 Competition sourced engine again, but it wasn't without a little scepticism. The idea of 510HP in a sports coupe or sedan makes all the sense in the world, however, the same cannot be said when applied to a car that's essentially designed to drop the kids off at school… can it?
Your train of thought goes like this; Is it cool? Yes. Practical? Yes. Does it make 100% sense? Not really. Does that make it even cooler? Yes.
I was on a mission to see if there's any sense to be made in a 510HP family SUV and to make the most of my time with the vehicle I took a road trip to Canberra for the weekend. Here I could put the car through its paces with a freeway cruise on Friday, a run around on Saturday, and then on Sunday, take a long way back home and drive its socks off on a lesser-known NSW driving road. Here's how it went.
| High Point | Low Point | Verdict |
| --- | --- | --- |
| A true dual-purpose SUV that is just as fun to drive in the twisties as it is comfortable to drop the kids off at school. | Unless you see yourself taking advantage of the power on a regular basis and really engaging with the driving dynamics (brakes, torque split differentials, and M-modes) you're better off with an X3 M40i. | The most rounded, quickest, and fun to drive SUV at its price point. |
Related: This Colour Changing BMW Tells Everyone When You're Sad.
How Does the BMW X3 M Competition Cruise?
In a world where fuel prices are hitting record highs and EVs are offering enjoyably simple driving experiences, the X3 M Competition takes a strong detour from the status quo by shoving a 510HP inline 6-cyl from the M3 Competition into the engine bay of the family wagon. A detour that would make absolutely no sense if the car was fuel-hungry and uncivilised, but this is a BMW M car we're talking about so the expectations were sky-high.
To impress us, the X3 M would have to be just as good on the freeway in terms of fuel economy, comfort, and infotainment to justify the flip side, that is, outright power and excitement. The journey from Sydney to East Hotel in Canberra is right around 300km and takes about 3hrs (less in the X3 M).
What's the Interior Like on the X3 M?
I'll give BMW credit here for its ability to standardise most of its lineup so every interior is familiar, easy to use, and comfortable. While competitors can be a little over the top and gaudy, the X3 M is practical with plenty of physical buttons and gauges, something that goes a long way when you're trying to do simple things like changing a driving mode or even just skip a track.
Standard features on the inside of the BMW X3 M, include the Driving Assistant Professional packages with autonomous emergency braking, adaptive cruise control with stop-and-go, lane-centring assist, blind-spot monitoring w/ braking support, cross-traffic alert, traffic-sign recognition, and reversing assistant, but extends to other features, including but not limited to;
12.3-inch digital instrument cluster
12.3-inch infotainment touchscreen with over-the-air updates
Wireless Apple CarPlay and Android Auto
DAB digital radio
Harman Kardon surround sound system
Head-up display
Electric front sports seats with heating
Driver's lumbar support
Extended Merino leather upholstery
Panoramic glass sunroof
Sensatec-trimmed instrument panel
Carbon-fibre trim inlays
Feel and Touch
There's a host of physical buttons to control the suspension, exhaust, M-modes, climate, and music, but most importantly a total lack of capacitive touch buttons on the steering wheel. We can't preach how much we despise capacitive touch buttons and it's nice to see them missing from such a functional vehicle as the X3 M.
Obviously, M-badged vehicles feel extra special on the inside with plenty of carbon fibre, dark Rhombicle aluminium vents, sports seats (with a light-up M-badge), and a perfectly designed sports steering wheel that's one of the best in any car.
Related: 16 Best Cars of the Year 2021: Man of Many's Favourite Drives
Infotainment
The BMW X3 M Competition is equipped with BMW Live Cockpit Professional which displays all the important information you could want right in front of you. The ability to see augmented reality versions of the cars around you while cruising down the freeway adds an extra layer of safety and awareness. A feature that's particularly useful when taking advantage of the assisted driving features that can accelerate, steer and slow down the car for you on the freeway (with your hands on the wheel).
Both cluster digital display and central drivers displays are 12.3-inches in size and work flawlessly with Apple Carplay and Android Auto as standard. The heads-up display is particularly customisable so you never have to take your eyes off the road while remaining practical and distraction-less when driving in M-mode.
What About Fuel Economy?
The icing on the cake for cruisability was the fuel economy in the BMW X3 M, returning a highway average for us of around 10l/100km that included a few highway on-ramp blasts here and there. This is right around the stated 8.6l/100km highway average from the manufacturer. Obviously, you'll want to take advantage of the 510HP on tap every now and then, but that figure is right in the acceptable range for a daily driver and 2l/100km better than we saw in the Jaguar F-Pace SVR late last year.
Related: We were shocked how much we liked the 2022 BMW iX3, here's why it's the model to buy.
How Does the BMW X3 M Competition Drive?
After putting around the Canberra streets for a day – including a nice drive up to Black Mountain – we were itching to put the BMW X3 M through its paces on an engaging piece of tarmac. Already ticking the boxes in the comfort department the time had come to utilise those bright red 'M' buttons on the steering wheel, but first, here are the specs.
| | 2022 BMW X3 M Competition Engine Specifications |
| --- | --- |
| Engine | 3.0-litre twin-turbo inline-six |
| Power | 375 kW |
| Torque | 650 Nm |
| Transmission | 8-speed automatic gearbox |
| Acceleration | 0 – 100 km/h in 3.8 seconds |
| Top Speed | 250 km/h electronically-limited |
We'd heard of a special road out near Taralga, NSW, that linked four of the best turns in the state. It's a long detour home, however, the scenery is special, the road is quiet, and it would cement the duality of the X3 M if it could perform up to the task with some proper backroad blasting. Here we would be able to test the different driving modes, the rear-biased torque split, and the electromechanical M Servotronic steering and DSC (Dynamic Stability Control).
Is it Fun to Drive?
After sitting at the bottom of the hill to grab a few stationary sound clips we double pressed the M1 button on the steering wheel to jump into our custom M-mode selection before diving into the first turn of the section. Immediately the M xDrive all-wheel-drive system made its presence felt as the front end becomes surprisingly playful and light for a car this size under turn-in. Any amount of induced understeer that is presented in this 2010kg SUV is immediately corrected with the right foot under acceleration as the rear end squats into the tarmac and the front wheels pull the car out of the corner.
Through the switchback section, you dive under brakes for the hairpin that's both uphill and off-camber. The brakes are strong and bite early with plenty of feedback, they don't suck you into your seatbelt like a true sports car, because the feeling of the car's weight pitching forward on the suspension is the primary motion here. Once again turn-in is direct with plenty of feedback and weight through the electronically assisted rack.
Before you can blink you're washing off speed through the long sweeper where you feel the rear-biased torque split sending plenty of power to the rear wheels before accelerating out the other side. The feeling couldn't be further away from your traditional front-wheel biased all-wheel-drive systems and this makes the BMW X3 M plenty of fun to drive.
Related: Can you draw any comparisons between the X3M and X4 xDrive30i?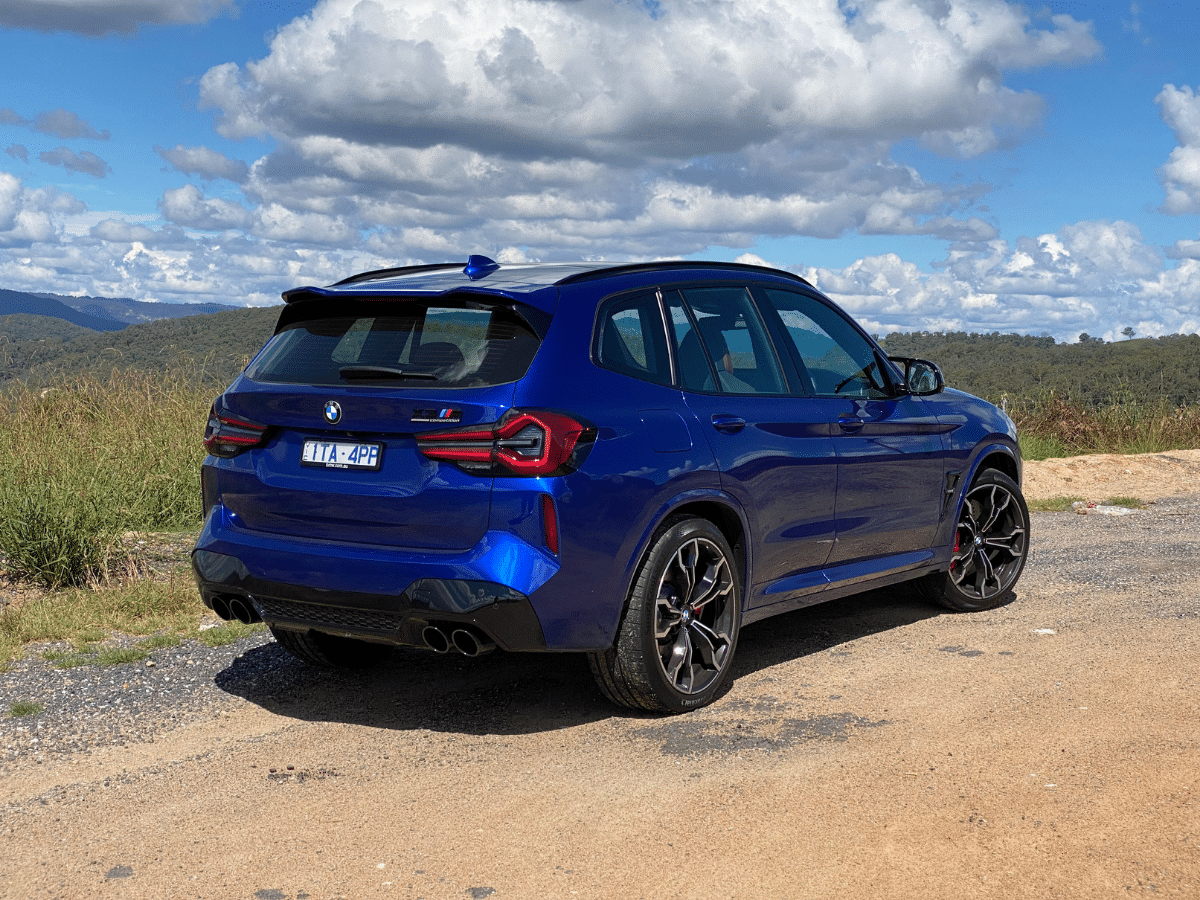 What's the Verdict on the BMW X3 M?
The BMW X3 M compromises little to bring you the best of both worlds when commuting or pushing hard on backroads. It reminds you just how much character an internal combustion engine can have – even in an SUV – and although we love vehicles like the iX3 for everyday driving and commuting, the X3 M has a wow factor from its sound and carbon-clad cabin alone.
Technology is familiar and useful, the fuel consumption was surprisingly solid, and the whole package is everything you'd expect from BMW M-division. The leap from M440i to M3 is more than you'd initially imagine, and the same can be said of the X3 M. It's a true M-car in its performance and daily driving capabilities – a favourite of mine this year.
2022 BMW X3 M and X4 M Australian Pricing and Options
X3 M Competition – $160,900 (up $3000)
X4 M Competition – $167,900 (up $3000)
A range of optional packages are available for the BMW X3 M on top of the standard features listed above, including;
$1400-$2000 Rear Seat Comfort Package: Sun protection glazing, Heated rear seats, Reclining rear seats, Second-row roller sun blinds, Luggage compartment net.
$2000 Executive Package: Steering wheel heating, Acoustic glazing, Ventilated seats.
$1400 Innovations Package: Remote engine start, Gesture control for infotainment, BMW Drive Recorder onboard 'dashcam'.
$2500-$4000 M Carbon Package: M Carbon 'precision strut' and M Carbon mirror caps.
For more information, to request a test drive, or to enquire about a BMW X3 M of your own, follow the link below.
You'll also like:
This Colour Changing BMW Tells Everyone When You're Sad
BMW's M440i xDrive Gran Coupe is a Seriously Impressive All-Rounder
2023 BMW XM Revealed, Priced for Australia
---
Featured Video from Man of Many