2022 Jeep Grand Cherokee L Review
The 'L' in the new 2022 Jeep Grand Cherokee L stands for long, large, and luxurious. It's a genius marketing idea (at least in our eyes) that had us interested in the new model as soon as the production models started to roll off the line in Detroit.
You should've seen our excitement then when Jeep Australia confirmed the model would be arriving on our shores. It might be months since the global market had a look, but for us Aussies, we couldn't wait to get our hands on the family wagon and give it a proper shakedown.
Australian media first got their hands on the new Jeep Grand Cherokee 'L' in early May. The launch event was held at a beautiful country property an hour out of Canberra. Here, we had the chance to try a bit of everything, from moderate off-roading (some fairly serious), some highway cruising, and passenger rides that gave us a chance to breeze through the infotainment and three-row comfort. Is this THE 7-seater to buy in Australia right now? We'll explain below.
Related: We Love the Jeep Gladiator Rubicon: Here's Why.
Performance of the New Jeep Grand Cherokee L
The previous generation WK Jeep Grand Cherokee was built on a familiar Mercedes-Benz GLE platform, so this new model has a lot of expectations to live up to. Highly successful for Jeep Australia at launch, they helped push the brand to its sales peak in the market when they sold just over 16,000 Grand Cherokee in 2014.
Over the vehicle's life span, they would become known as a quality tow-rig with solid braked towing capacity and a strong diesel engine. It goes without saying then he latest WL series must deliver on the driving performance front. So how have they done it?
Grand Cherokee L pulls chassis architecture from its cousins under the Stellantis umbrella – mainly the potent Alfa Romeo Stelvio, Giulia, and Maserati Grecale. Assumptions then were high for the chassis, however, remained quite low for the decade-old Pentastar V6 petrol with which we are far too familiar at this point.
What Engine Does it Have?
In Australia, the 2022 Grand Cherokee L gets one engine option at launch in the 3.6-litre Pentastar V6. We like to call it 'old reliable' because it's about as exciting as an old relative, seriously. It won't knock your socks off with its highly-strung figures of 210kW of power at 6400rpm and 344Nm of torque at 4000rpm, nor will its trusty eight-speed automatic transmission that acts like a grumpy brother "do I really have to kick down two or three gears to overtake this truck," but we'll give it credit for being reliable and getting the job done.
The brand can't wait to roll out the plug-in hybrid '4xe' model towards the end of this year, however, both seem like placeholders for something exciting that's rumoured to arrive next year in the form of a 400HP+ Inline 6-cyl turbo engine. Will it make its way into the Grand Cherokee L? We can only hope, it's something that could quite literally transform Jeep's fortunes in Australia, but the brand isn't ready to spill the beans quite yet.
Related: Insane 6-Wheeled 'Hemi-Hellcat' Jeep Sells for $300,000…on eBay.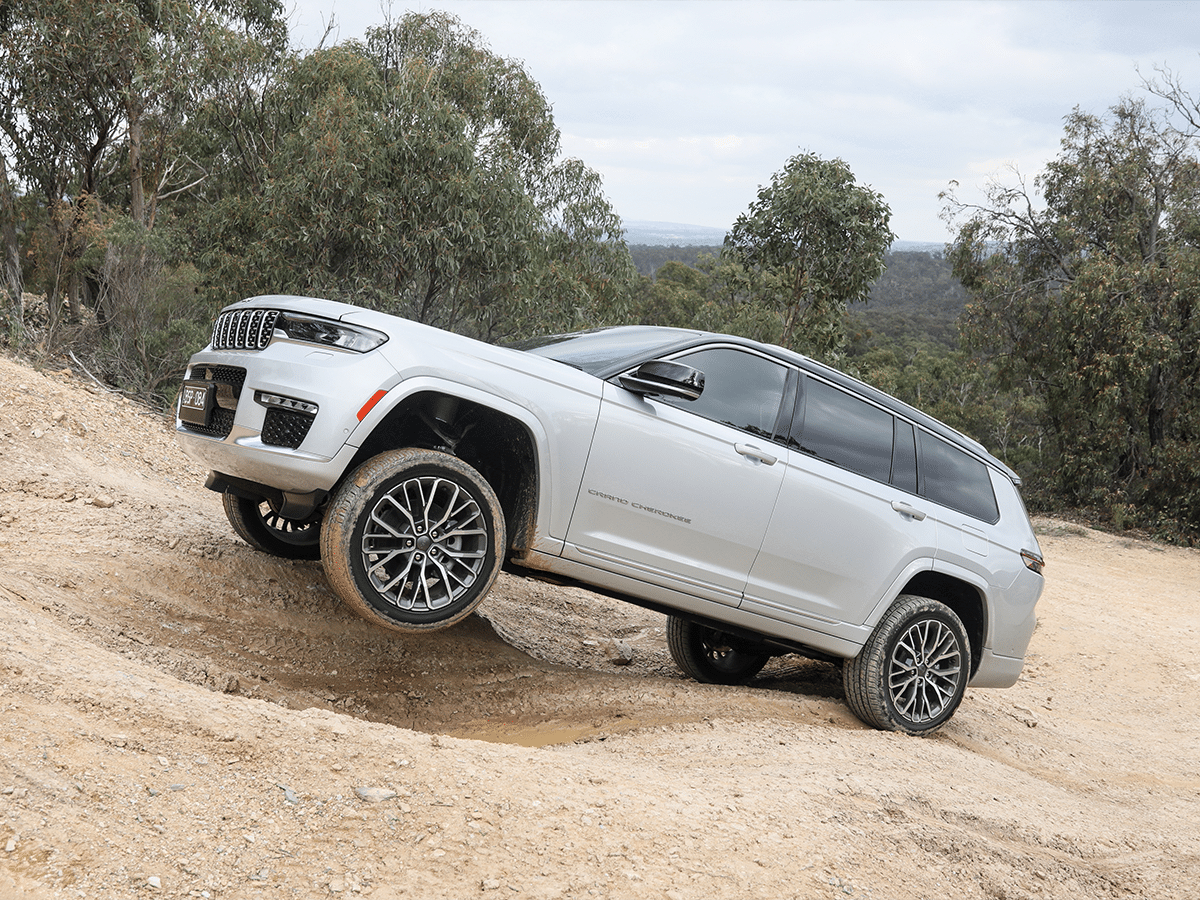 What About the Chassis?
Engine aside, the Grand Cherokee L has so much to give from a chassis and dynamics perspective. In jumping out of a BMW X3M Competition and into the big 7-seater we couldn't have found a more polar opposite experience on paper, however, the body control, steering, and ride were pleasant and exactly what you would expect from a large American family SUV. Is it going to blow your socks off with engagement? Absolutely not, but it's going to get you to your next destination in comfort, style, and with plenty of conveniences which is about all you ask for in a 2190-2270kg family wagon.
The launch program offered a mixture of driving conditions including on-road and off-road.
On-road
Maybe the biggest stand out on-road was the composure of the unibody chassis. While we loved our time in the Toyota LandCruiser 300-series, the feeling of driving around a ladder-framed behemoth was far from confidence-inspiring, although completely expected. It's hard to pinpoint an area on-road that the Jeep Grand Cherokee L doesn't best its main competitors. Outside of the Volvo XC-90 the Jeep is remarkably poised and comfortable to drive. If only we could get a better engine at launch.
Our time was split between Limited and Summit Reserve offerings, with the latter (more expensive) model having the option of Air Suspension. This is an absolute must on-road for vehicles at this price point and while we didn't notice a world of difference between the Limited and Summit Reserve initially, the marked difference came when we explored corners on the King's Highway just outside of Batemans Bay.
Flowing corners were taken with ease and you could lean on the tires a little more before your passenger asked you nicely to "slow the F down" with the weight of the vehicle starting to make a name for itself. Cruising is comfortable and reflective of the experience in the cabin, delightful really, just don't expect to make any serious passing moves on the highway.
Off-road
Our main driving day consisted of 80% off-road and 20% on-road and it goes without saying that we tortured these vehicles in the time we had with them. Hats off to the detailers that were on hand because we certainly didn't expect to be pushing these behemoths down tight moderate offroad tracks and the results speak for themselves.
By lunchtime, we'd encountered more challenging off-road trails than your average Grand Cherokee L would ever think about driving. Slippery mud (with highway terrain tires), off-camber ruts, and some seriously steep sections that required more momentum than we'd usually like. Remarkably, the Grand Cherokee L in 'Summit Reserve' spec took it in its stride, utilising Quadra-Drive II the system is more focused for off-road with Selec-Terrain, Quadra-Lift air suspension, and a two-speed active transfer case with low-range gearing.
After lunch we jumped in the Limited. This model offers Jeep's Quadra-Trac I four-wheel-drive system with Selec-Terrain traction management, incorporating Sport, Snow and Sand/Mud drive modes. In reality, if you'd even consider driving down any of these trails again, your only real option is the Summit Reserve model. A  single-speed active transfer case isn't going to get the job done on any front off-road, nor are running and wading clearances of 215mm and 530mm in the Limited vs. 276mm and 610mm in the Summit Reserve. A big erosion mound was the only time the limited got stuck.
Thought-starter: We'd love to see an Overland model hit Australian shores to combine the 'Limited' trim with the Quadra-Trac I four-wheel-drive system found in the Summit Reserve. A few bash-plates thrown in for good measure would result in a true Toyota Prado competitor that you'd happily punch down a trickier off-road section than you'd want to in a 'Limited' spec vehicle.
Credit goes to Jeep Australia for organising an amazing driving experience that really let us explore this vehicle.
Related: 2022 Jeep Compass Review: It's What's On the Inside That Counts.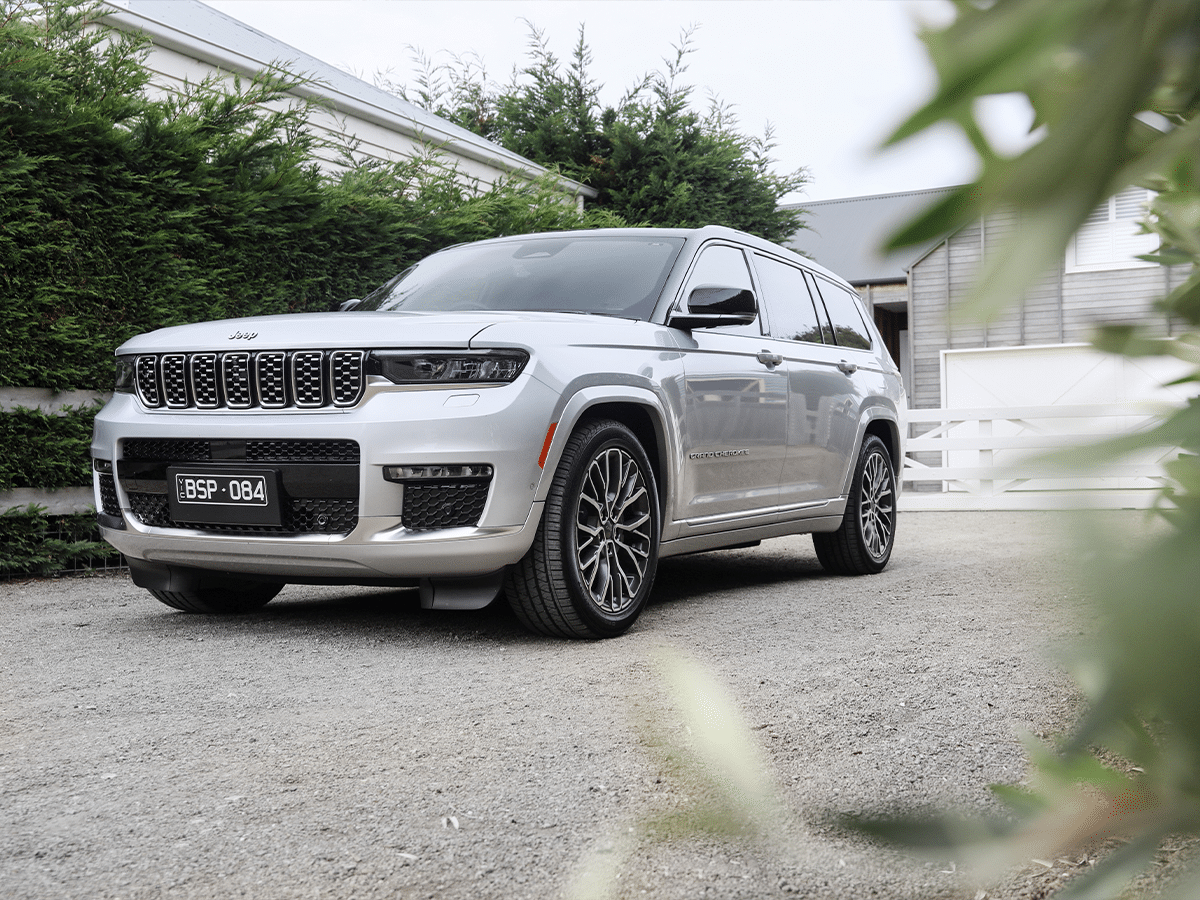 Design of the 2022 Jeep Grand Cherokee L
What Do We Think of the Exterior?
While we'd like to steer you towards the interior of the vehicle (below) it's worth mentioning that the overall length of the Grand Cherokee L is up more than 30cm (374mm) over the WK model, but it manages to gain only 106kg. In terms of offroad credentials, the approach, break-over and departure angles are 20.6, 18.2 and 21.5 degrees on the Night Eagle and Limited. Summit Reserve (with its height-adjustable suspension) increases these to 28.2, 22.6 and 23.6 degrees.
Overall, we think it's a powerful and commanding exterior with a lot of road presence.
Related: 2023 Jeep 'BEV' Revealed as Brand's First Fully Electric City Slicker.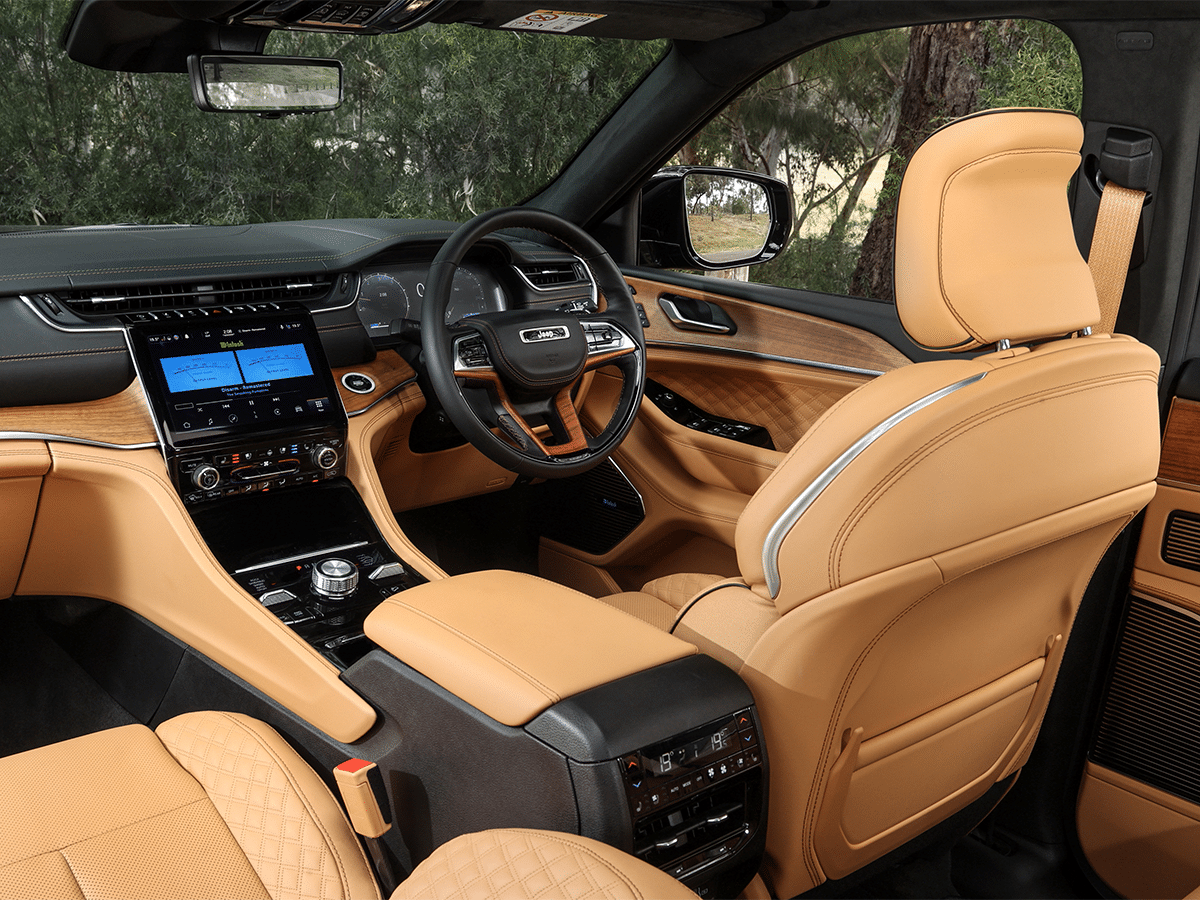 What About the Interior?
It's got all the whizz-bang components that you look for in a luxury SUV that doubles as a straight-up family hauler. A 'metal wing' crosses the mostly piano-black dashboard (uh, oh) and intersects with the door cars in spectacular fashion while real wood adorns the upper spec'd Summit Reserve, as does diamond stitching.
Tech in both models is plentiful, with only the Nighteagle (not on the test) getting a rather outdated equipment package with an 8.4-inch screen. Infotainment is taken care of in the rest of the range via the brand spanking new (to us) 10.1-inch Uconnect 5 infotainment system with Apple CarPlay and Android Auto. The system is responsive, intuitive (with its shortcuts), and reminds us of the latest Pivi Pro system found in Jaguar Land Rover products in both its presentation and features.
Moving to the digital driver's display and it's not quite as nice as those found in Volkswagen products, however, it's functional and even includes a night mode that can pick up hiding Kangaroos. Adjustability includes a number of modes with our favourite being the 'analogue style,' as the others could do with an improvement in graphics. The fonts and gauges hardly look premium by today's standards. Overall, the interior is far superior to that found in the LandCruiser 300-series, but for more on that particular vehicle, check out our review here.
Much Space Back There?
Yes, adults who sit around 6ft will happily sit in the second row and with 180cm of headroom to play within the third row it's big enough for slightly longer journeys than normal. To aid with third-row space, the second row can be slid forward to add knee room and the Summit Reserve even offers a power-folding option.
Segment Luggage Space Comparison
Jeep Grand Cherokee L has 487L
Hyundai Palisade has 311L
Land Rover Discovery has 258L
Toyota Kluger has 241L
Mazda CX-9 has 230L
The Summit Reserve certainly feels every inch of its $116,000 AUD price tag, however, the same cannot be said for the 'Limited' that misses out on most of the glitz and glamour such as soft-touch trims, particularly on the sides of the centre console where your knees rest on long journeys. It does, however, retain most of the technology bar the McIntosh sound-system found in the Summit Reserve (it's EPIC).
Don't get us wrong, we'd happily spend time in the Limited for long trips with kids, however, the Summit Reserve just feels like a different vehicle, but maybe that the sign of a good lineup offering, touché Jeep.
Related: Jeep Wrangler Rubicon 'Recon' Review: Why this 4WD has Already Sold Out.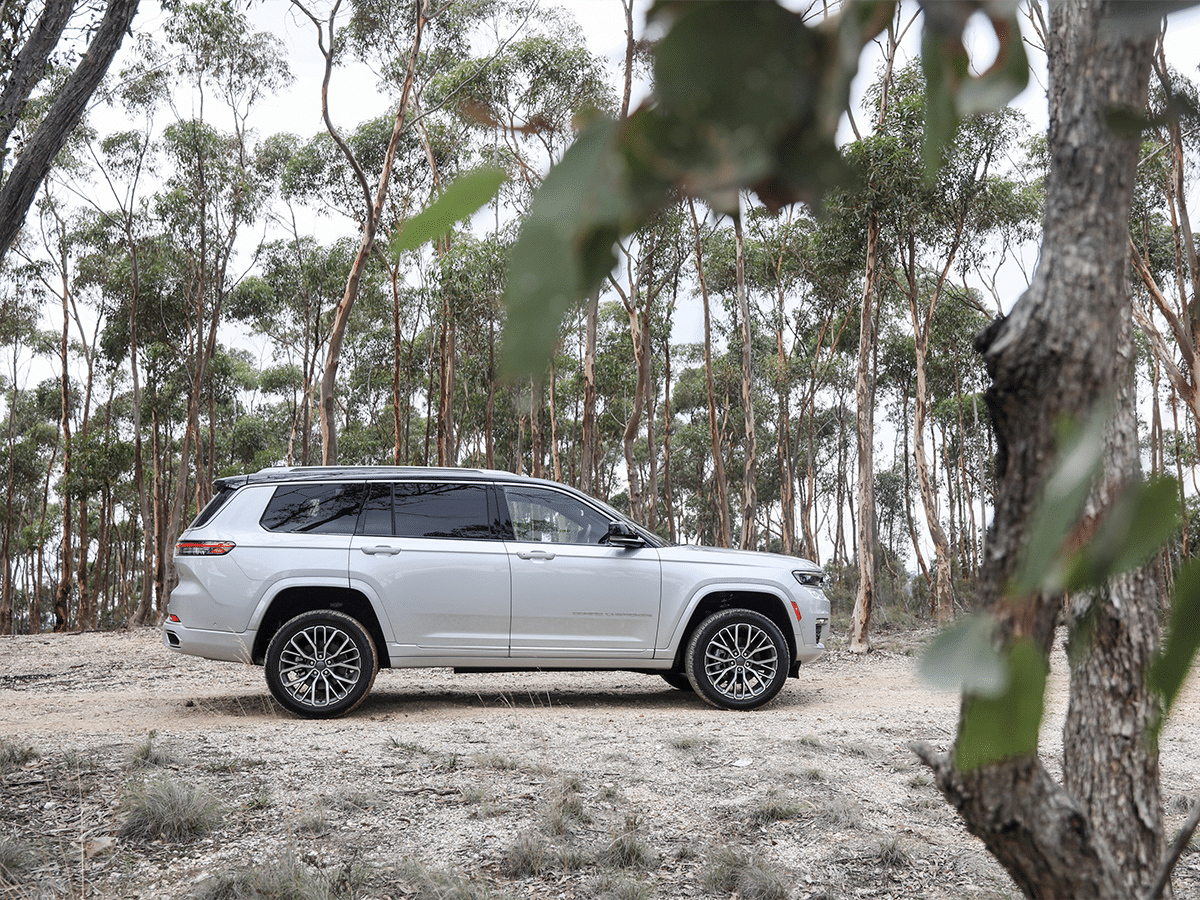 Should You Buy the New Jeep Grand Cherokee L?
Is it Safe?
At the time of writing, the 2022 Jeep Grand Cherokee L is yet to be ANCAP rated.
Standard safety features include:
AEB with pedestrian and cyclist detection.
Lane-keep assist.
Blind-spot monitoring.
Rear cross-traffic alert.
Driver fatigue detection.
Traffic sign recognition.
Adaptive cruise control with stop/go.
Reversing camera.
Front and rear parking sensors.
Front, front-side, front knee and curtain airbags.
The Summit Reserve adds:
Active Driving Assist (lane centring + adaptive cruise)
Surround-view camera
How Much Does it Cost?
Looking at the pricing for the Grand Cherokee L and things can start to get a little confusing. It seems Jeep is trying to position themselves above the usual players in the SUV segment, such as; Hyundai Palisade topping out at $75,700, Toyota Kluger topping out at $75,700 and the Mazda CX9 which tops out at $73,881. It seems then, that you're better off pricing the WL against Toyota Landcruisers and Land Rover Discoveries, in which its off-road capabilities start to make more sense.
New Grand Cherokee L Model Pricing in Australia
Night Eagle starts at $82,250 AUD before on-road costs.
Limited specification starts at $87,950 before on-road costs.
Summit Reserve starts at $115,450 AUD before on-road costs.
What's the Warranty Like?
Sporting a five-year, 100,000km warranty, the Jeep Grand Cherokee L also offers five years of capped-price servicing. Intervals are are every 12-months or 12,000km and capped at $399 AUD each. This stacks up as 'reasonable' by 2022 standards, although rivals offer a more competitive 'unlimited KM' warranty.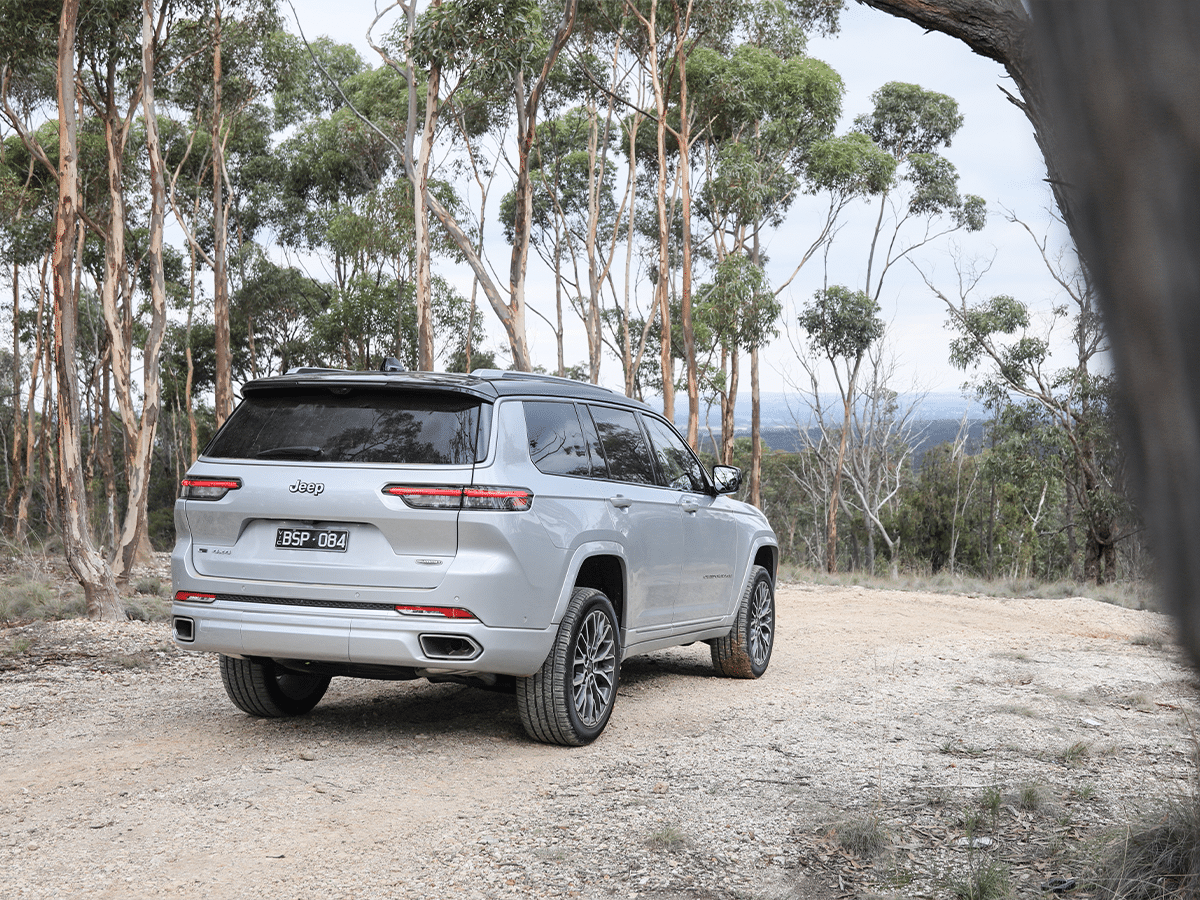 Final Thoughts
The Jeep Grand Cherokee 'L' nails the design brief in just about every way; good exterior, pleasant interior with heaps of space, great infotainment matched with a quality sound system, good use of materials overall, unexpectedly good off-road credentials, and top of the class on-road poise – but it's let down by a lack-lustre engine with low towing capacity.
We'd like to reserve absolute final judgement on the Grand Cherokee 'L' until we spend some more time in it towards the end of this year in 4xe engine spec. However, if we had one recommendation for those sitting on the fence about the V6 Pentastar engine (if ever so cheeky) it would be to drive one and appreciate the vehicle for everything else, before waiting until either the 4xe hits our shores, or the highly anticipated inline 6-cyl turbo motor finds its way into the engine bay. That could spell a segment champion – like the previous generation managed – again.
You'll also like:
10 Must-Know 4WD Tips for Beginners
This Unassuming 4×4 is Making a Comeback for the Ages
Dual-Cab Ute Power Comparison: How Does the V6 Ranger Stack Up?