2022 Lamborghini Huracan STO Track Review
Some days at work are better than others, especially those that involve Italian supercars, Phillip Island, and a helicopter ride (it's a tough gig alright). Unfortunately, that anticipation can quickly turn in an instant when mother nature throws a curveball and your $600,000, 630hp, very limited Lamborghini Huracan STO is now racing down the main straight of Phillip Island GP circuit in the soaking wet… north of 220km/h. Did I mention the cars are left-hand drive?! Uh oh.
I still remember the first moment I laid our eyes on the 2022 Lamborghini Huracan STO or 'Huracan Super Trofeo Omologato' at an unveiling in Sydney last year. It looked so bonkers with the wings, ducts, spine, and blue/ orange paint job that I genuinely couldn't believe someone could exchange money for such a car and then drive it on the road.
Fast forward 12 months and an email landed in my inbox that loosely translates to "come drive attempt to tame this literal raging bull at Phillip Island." Of course, I jumped at the opportunity and before long I was hooking into a lunch above pitlane and doing my best to mentally and physically (roast beef doesn't sit well on a racetrack) prepare for a 280km/h sprint down the main straight.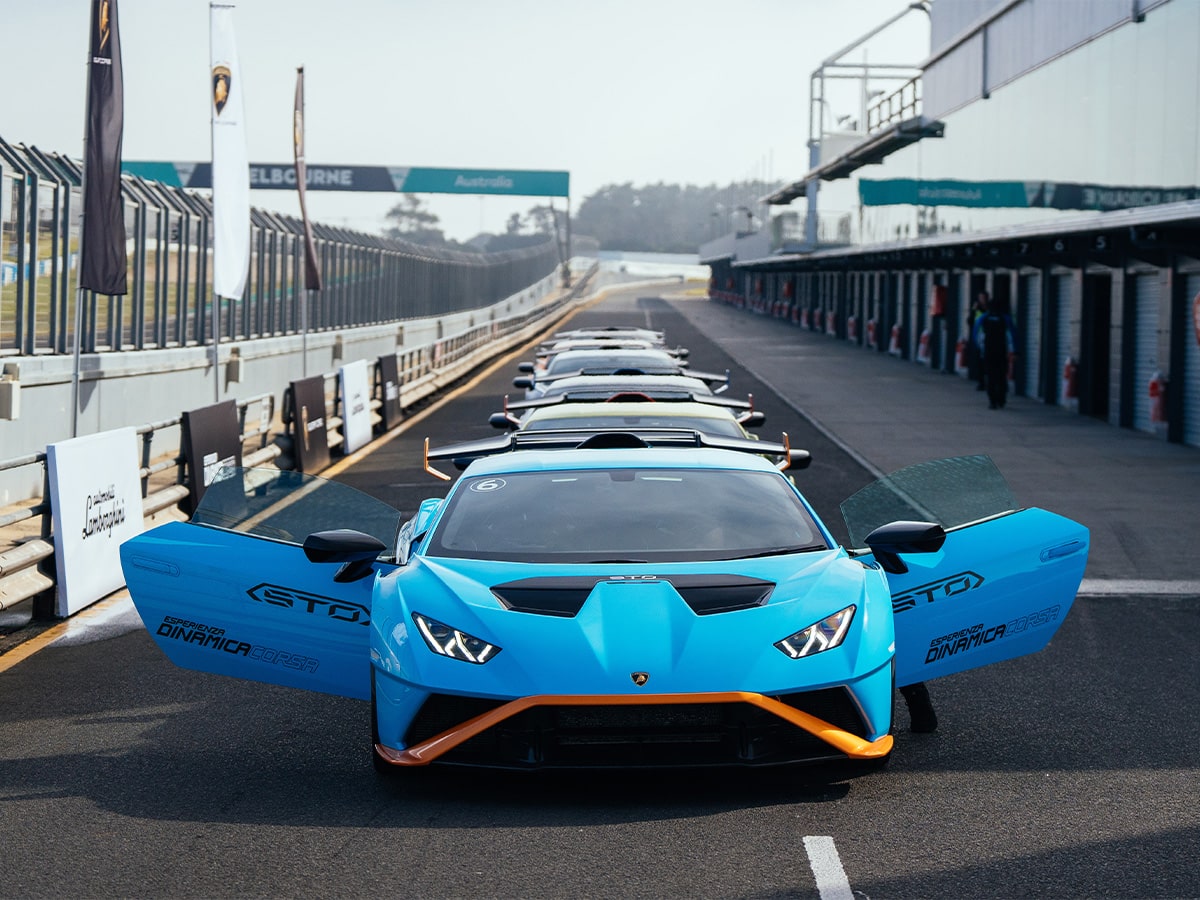 2022 Lamborghini Huracan STO Performance
I'll put the car in perspective before I continue. I hate claiming 'lap times' as much as the next guy but when Lamborghini states the STO's 1:48.9 lap time around Daytona International Speedway is around three seconds quicker than the Huracan Performante you start taking the car pretty seriously. And when the brand states that the STO is just 2.5-seconds off the Huracan Evo GT3 race car your jaw drops to the floor.
| | |
| --- | --- |
| | 2022 Lamborghini Huracan STO Performance Specifications |
| Engine | 5.2-litre naturally aspirated V10 |
| Power | 470kW @ 8000rpm |
| Torque | 565Nm @ 6500rpm |
| Drive type | Rear-wheel drive |
| Transmission | 7-speed dual-clutch automatic |
| Power-to-weight ratio | 312kW/t (estimated) |
| Weight (kerb) | 1470kg estimated (1339kg claimed dry weight) |
| 0–100km/h | 3.0sec (claimed) |
| 0–200km/h | 9.0sec (claimed) |
| Top speed | 310km/h |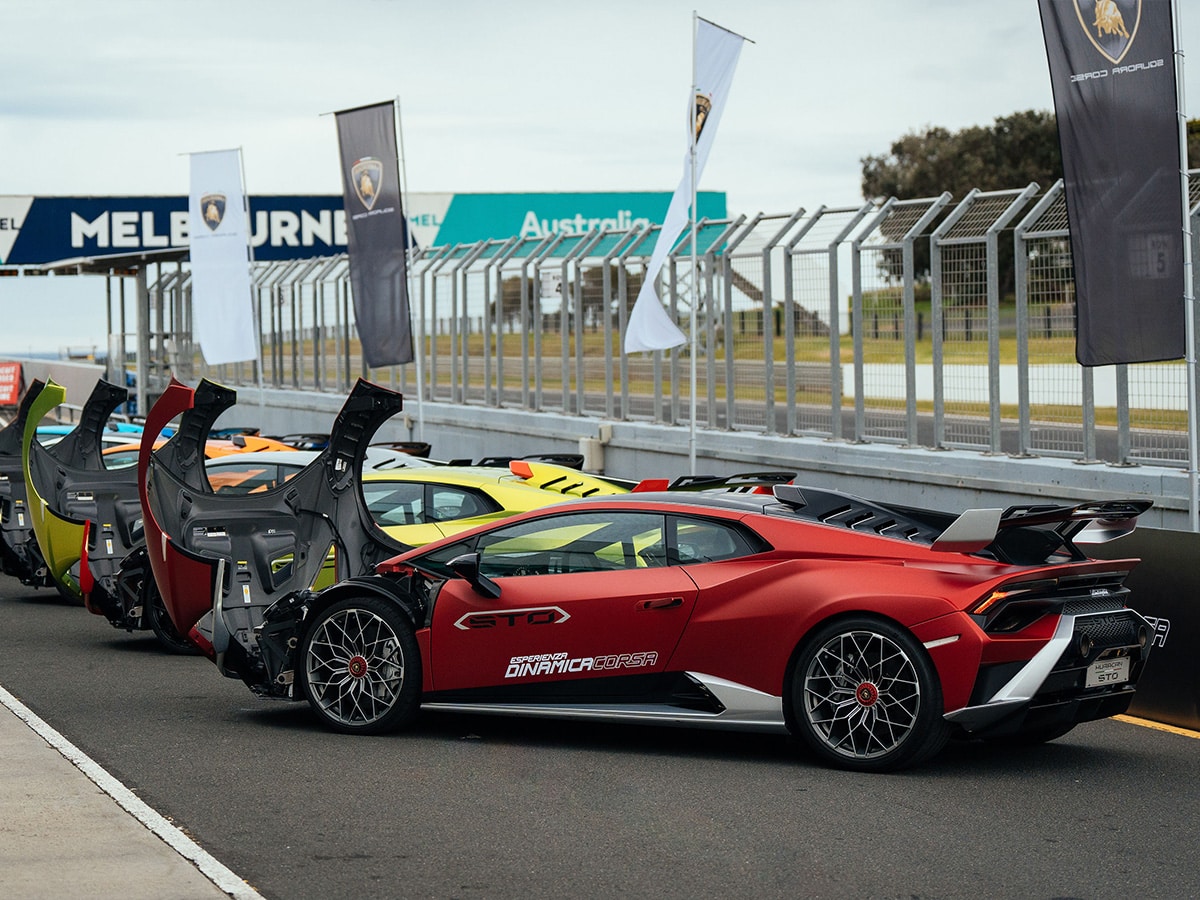 With that information alone, I threw myself into the 2022 Lamborghini Huracan STO Performance expecting it to be one of the best automotive experiences I've ever had. Some of the top commentators and racing drivers in the world accurately claim that this is the "best Lamborghini made in the last 20 years" and I was more than ready to experience every inch of it. That was before I had our little safety meeting.
The room fell awkwardly silent as I was taken through the safety briefing. Without going into too much detail I'll boil it down into this "these cars are left-hand drive, you might run wide into turn three, do so and you will probably crash… so please don't." Ahh, that makes sense. Peruse the performance numbers above and there's no hiding the fact this is going to be a seriously wild ride.
My safety net is identified as Pioggia mode or 'rain mode' and it's there to apply an Italian helping hand by controlling the traction control, torque vectoring system, rear-wheel steering and antilock brakes to make sure you don't partake in a ballet recital at turn 6. In reality, it lets you get a little slip going and you could absolutely do the dance with all the helpers switched on.
Those without a brain could be tempted to flick the drive mode into STO (which is the default for everyday driving) or Trofeo (which is optimised for track attacks) but doing it on a day like today would be about as good as shutting your eyes and praying you made it to the finish line. Don't let these images fool you!
---
Featured Video from Man of Many
---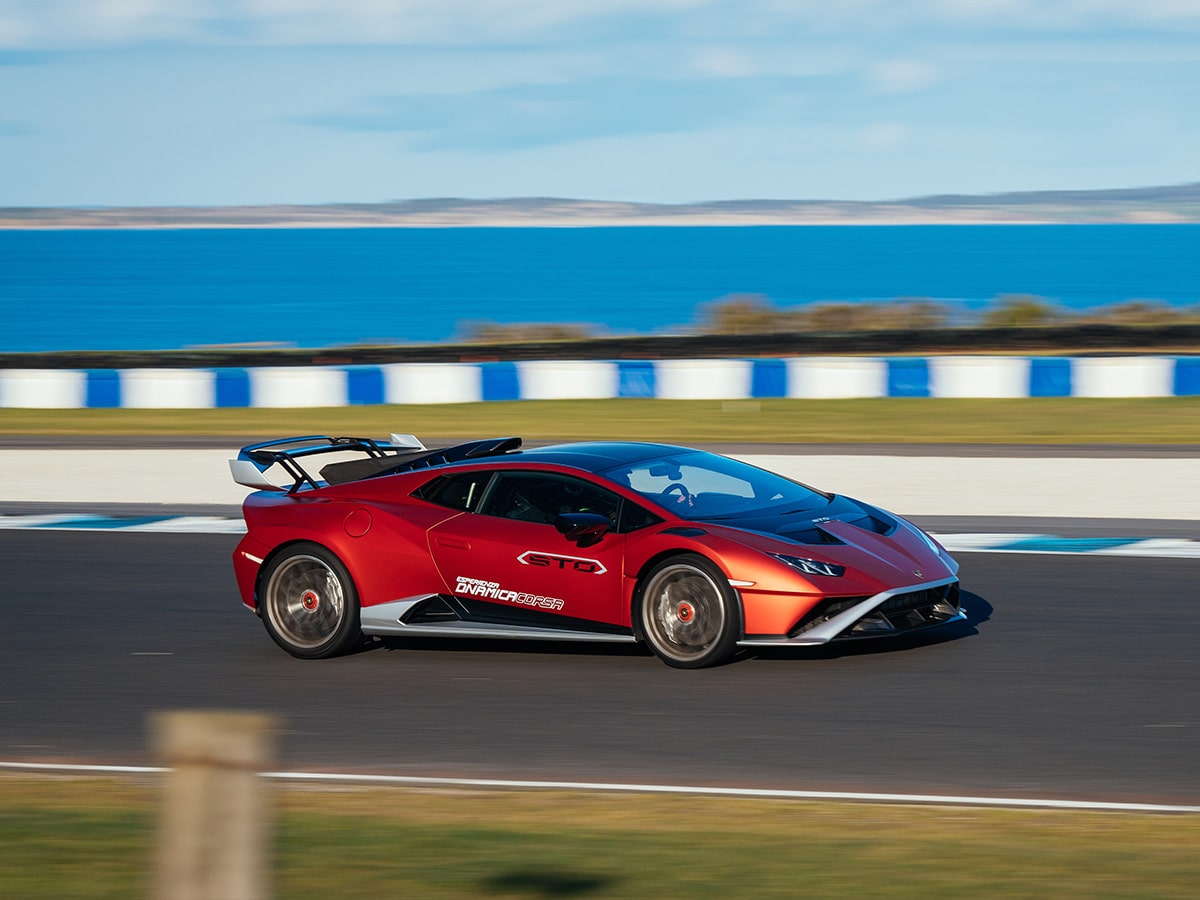 So How Does the 2022 Lamborghini Huracan STO Drive on Track?
It was time to head out on track. The question was immediately raised, "who wants to go first?" and I jumped at the opportunity to go out on the track first and set a record for the slowest lap of the day while looking like a total legend by simply not crashing.
Unfortunately, going first meant I'd be the first off the track if it did dry out. It did.
I donned a helmet, squished my 6ft something frame into the driver's seat, and tilted the seat back as far as it would go to get my head (and helmet) inside the cockpit. Your eyes are drawn to the plethora of carbon-fibre everything, including Alcantara-clad sports bucket seats backed in carbon fibre, carbon-fibre floor and carbon-fibre interior door panels. There are switches that change just about everything, but touching any before heading out on track felt like a death wish.
Flick up the little red cover, hit the start button and the 5.2-litre naturally aspirated V10 comes to life in all its glory. Even with a helmet on it sounds incredibly loud and raucous, how this thing passes noise emissions I have no idea but god I'm glad it's rowdy. It simply wouldn't be a Lamborghini without the sound, and a tiny violin starts playing as I realise it won't be long before we don't have any sound at all, except for that Dodge Charger Daytona abomination with the fake V8 sound.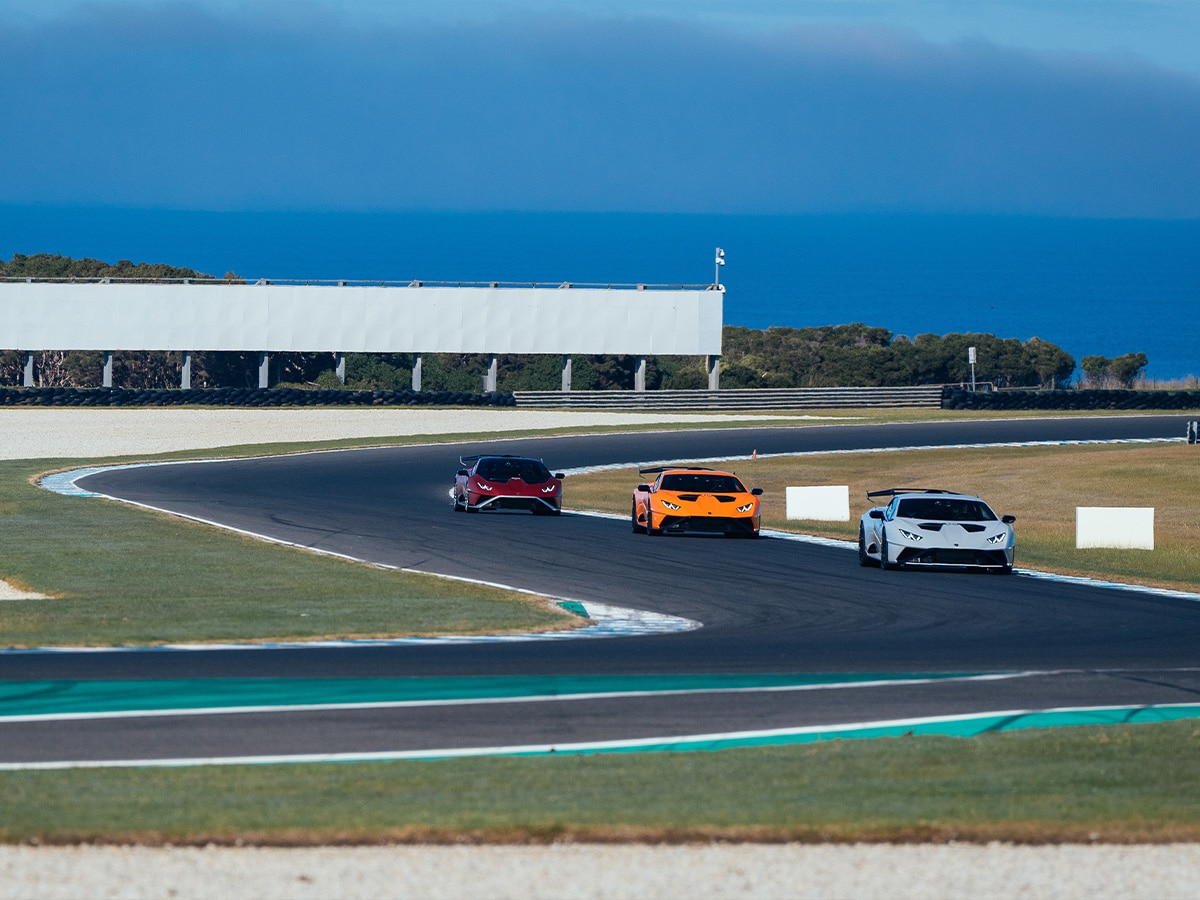 A Quick Lap of Phillip Island
First impressions are outstanding. I thought the Porsche GT3 was talkative on the track but this thing is in a completely different league. You can feel every inch of rubber contact, every ounce of feedback from the front and rear end, and every right (and wrong) steering input.
It's analogue, but it's balanced by a software triumph that is the Pioggia mode keeping us from having a few huge moments coming out of Honda.
One, two, and on the third lap I cracked 220km/h down the main straight before avoiding a few endangered geese (literally, Phillip Island locals know). A slight lift under the sign and you think about setting the car up for turn 1, balance the car in a higher gear, and squeeze the power out of the corner. Get on the brakes and settle in for the long off-camber left-hander that is Stoner Corner, a particularly sketchy corner in the wet.
Survive Stoner and you're flying down to Honda, usually our favourite corner, but a tricky one in the wet that is properly rubbered down. It's like an ice rink on the corner exit and the following left-hander, Siberia, is equally slippery.
I hold the STO steady through turns 7 and 8 before cresting Lukey Heights and getting hard on the brakes. The new CCM-R braking system is absolutely bonkers. You look forward to braking as much as you do wiggling the tail out of corners, they're the best I've experienced on a road car. Technically speaking they provide 4 times higher thermal conductivity than traditional CCB, as well as a 60% higher stress resistance, 25% more brake power, and longitudinal deceleration improved by 7%. It feels like more.
I ducked back into the pits and regain our composure. Shaking with adrenaline it's time to go sit on the pit wall with a coffee and watch a few drive past while taking in the symphony of V10s in what could be their send-off. It also gave us a chance to put out thoughts together on what just happened.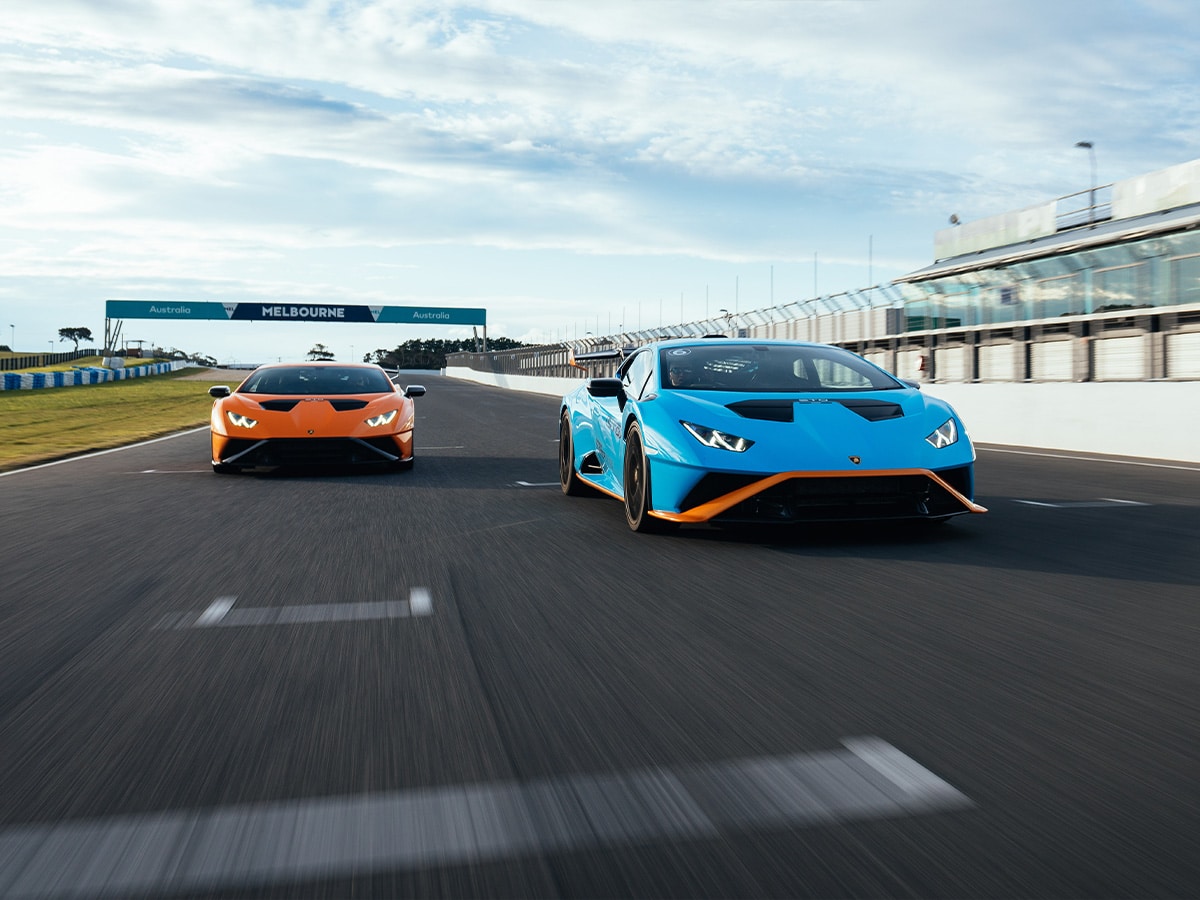 Struggling to Put 2022 Lamborghini Huracan STO Into Words
By the afternoon the sun had popped its head out from behind the clouds and a dry line started to appear on the track. The next challenge was juggling wet corners, dry corners, and everything in between. I eventually saw north of 270km/h down the front straight but the professionals were cracking 300km/h.
I never reached beyond six or seven-tenths in the STO but there are certainly some conclusions to be had. Mainly, if you have any idea what you're doing, the STO will reward you with one of the most precise, delicate, yet exciting four-wheel experiences you can have in a modern-day supercar.
It's connected at every level, from the rubber on the road to the rear end as it twitches with every input. Your right foot guides your adventure and the car will play ball at every instance, it wants to go faster as much as it wants to scare and remind you what it's got left in the tank.
If the rumours are true and this is the last of Lamborghini's hardcore production V10s, then bravo Lamborghini, Bravo. The 2022 Lamborghini Huracan STO left an all-time impression, buy one at all costs.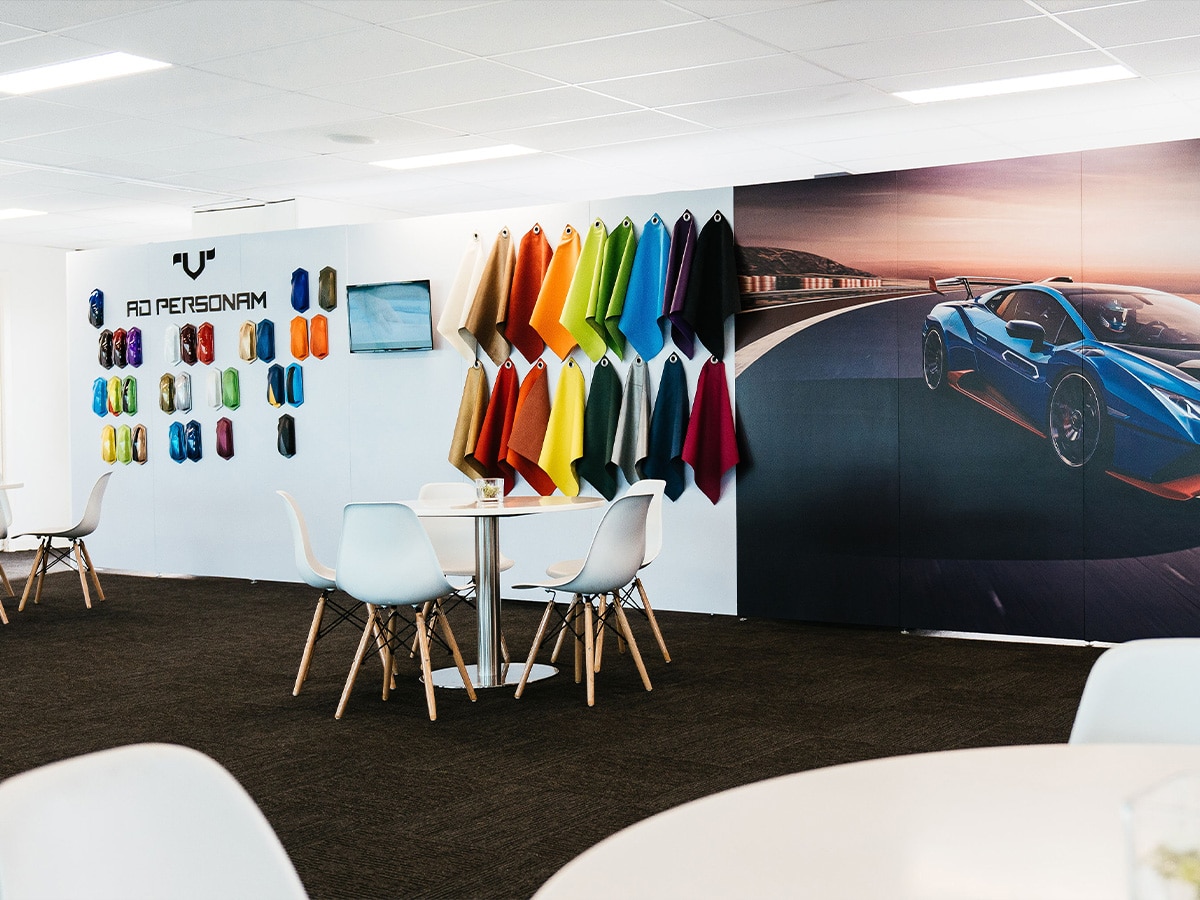 You'll also like:
2022 Audi RS 3 Review
2023 Polestar 2 Review
2022 Kia EV6 GT-Line AWD Review

---
Featured Video from Man of Many