ASUS ROG Phone 5 Ultimate Review: Power in Your Pocket
There's no other phone quite like the ASUS ROG Phone 5 Ultimate. Sure, it covers all the basics, but it's primarily designed with gamers in mind. It's the whopping 18GB of RAM, virtual trigger buttons, performance settings and gamer chic appearance that sets this powerhouse apart from the competition. ASUS launched the ROG Phone 5 in three distinct models. The Ultimate is the top-of-the-line phone, and it's priced accordingly at AUD$1,900. Part pocket rocket, part statement piece, it's the perfect phone for hardcore mobile gamers chasing the PC experience on the go even if the RAM is excessive.
You'll also like:
ASUS ROG Zephyrus Duo 15 Laptop Review
Roccat Magma Gaming Keyboard Review
SteelSeries Arctis Prime Headset Review

ASUS ROG Phone 5 Design
At a glance, the 6.78-inch OLED display and sleek curves place the ASUS ROG Phone 5 Ultimate right at home amongst its contemporaries. The bezel remains narrow, and there's no camera notch to speak off. However, flip it over, and this smartphone goes full gamer. Dark lines stretch and twist across the matte white surface, surrounding a slim secondary monochrome display. Yeah, there's another screen on the back.
Boot the Armoury Crate app, and you can select from a series of animations to play when the phone is unlocked, or create your own messages and graphics and load them during specific apps and functions. There's also a library of designs from other users available for download. The monochrome display is a fun but unnecessary feature. One that certainly helps the phone stand out. We got creative with the display, as you can see below.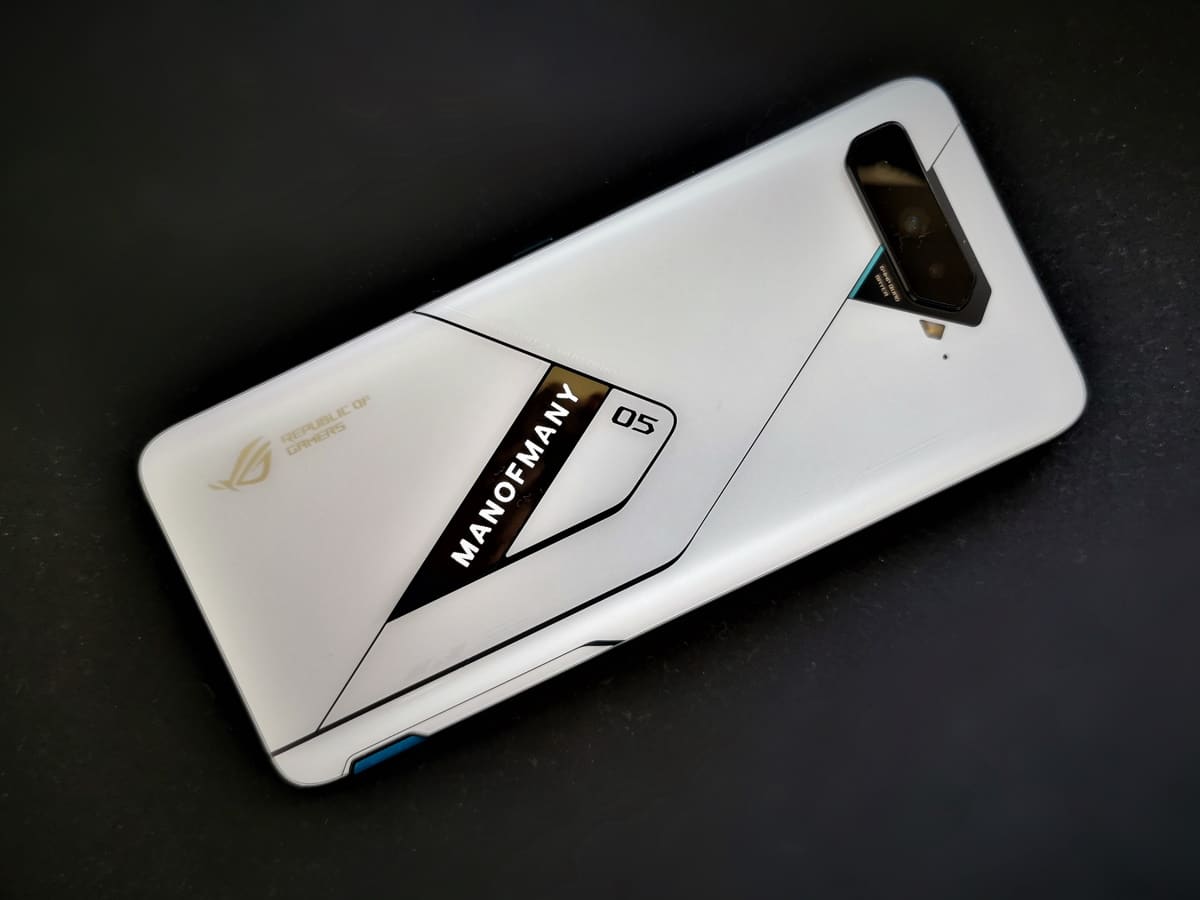 Some of the most surprising and welcome design additions are the inputs/outputs. For example, ROG Phone 5 has two Type-C charging ports. There's the standard one at the base and another on the side. Don't want to stop gaming even though the battery is running low? Just stick the charging cable in the side-mounted port, and it won't get in your way while gaming or streaming in landscape mode.
ASUS has also managed to retain the headphone jack. Where other brands want to pretend like a 3.5mm audio out is not a useful addition, ASUS found a way to include the popular port amongst other impressive features.
Continue travelling around the edges, and you'll find three subtle microphones, plus there's a fourth on the back near the camera. The power/lock screen button and SIM port continue the gamer styling and stand out thanks to the metallic blue colouring. There's also subtle ROG branding in the corners, which doubles as the ultrasonic AirTriggers. These hidden shoulder buttons can be mapped to serve specific functions in game.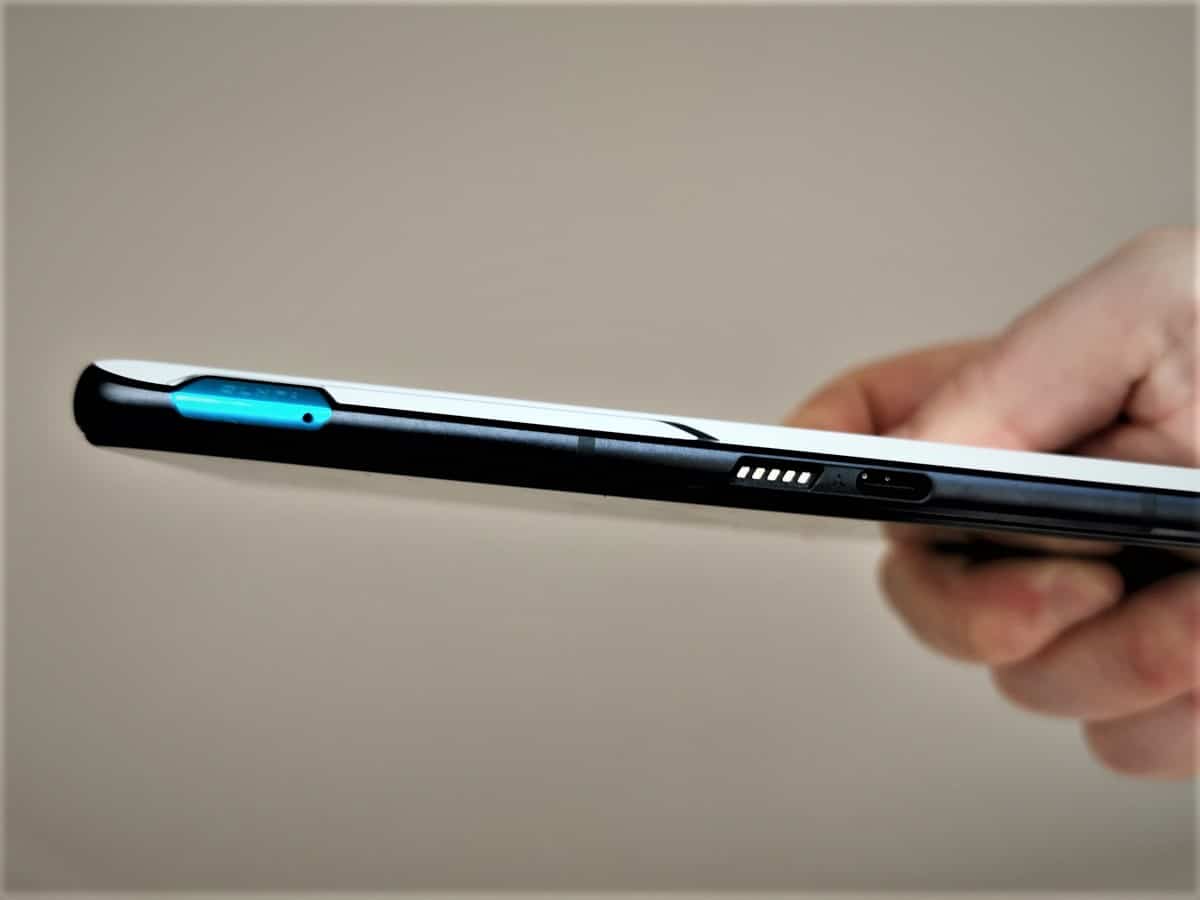 Next to the side-mounted Type-C port are five tiny POGO pins. This is an additional port for attaching the AeroActive Cooler accessory. AeroActive is a bulky accessory that clips onto the phone's back with a built-in fan for cooling when ROG Phone 5 is set to performance modes.
AeroActive Cooler also has two trigger buttons mounted on the back for gaming and an arm that functions as a phone stand for when in landscape mode. The accessory comes in useful as the ROG Phone 5 does get hot, and owners will find one packed within the pentagon-shaped box.
The phone doesn't feel overly heavy or bulky in the hands. Weighing in at 238 grams, it's only 10g heavier than an iPhone 12, which is great considering everything that's crammed inside.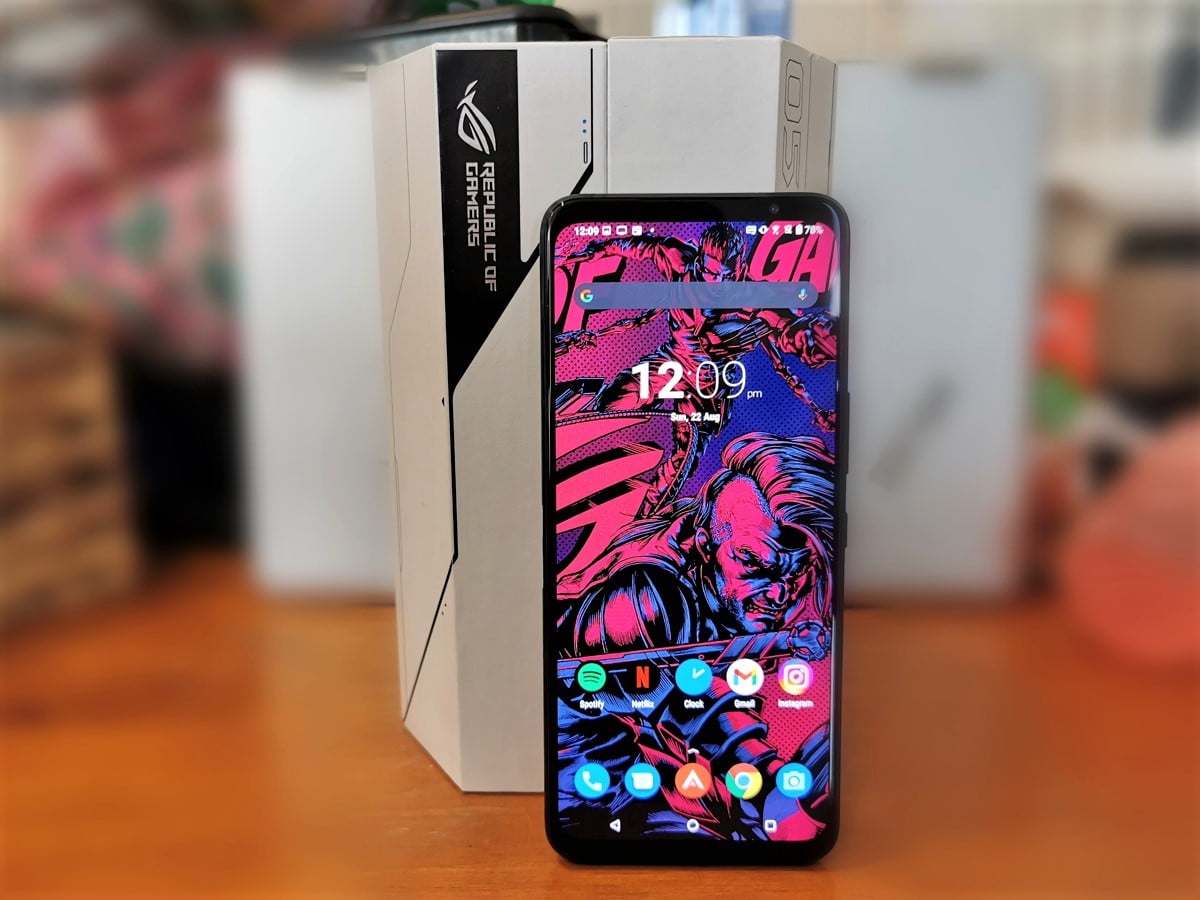 ASUS ROG Phone 5 Ultimate Specs
Processor: 2.84 GHz Qualcomm Snapdragon 888, 64-bit Octa-core
GPU: Qualcomm Adreno 660
Operating system: Android 11, ROG UI
Display: 6.78", 2448×1080 (395ppi) 144Hz/1ms AMOLED HDR10+ certified
Memory: 18GB
Storage: 512GB
SD storage: no built-in card reader
Back cover display: ROG Vision – monochrome PMOLED
Rear cameras: 64MP SONY IMX686 sensor, 13MP, 125˚ ultra-wide, 5MP Macro
Front camera: 24MP 35mm camera
Speakers: Dual front-facing speakers by dual Cirrus Logic CS35L45 Mono AMP
Microphones: 4 x Quad microphones with OZO Noise Reduction Technology
Wireless: 3 x Antenna, WiFi Direct, Bluetooth 5.2
SIM cards: Dual SIM Nano
Network: 5G, 4G
Connectivity: 2 x USB Type C, 3.5mm audio, POGO pins,
NFC: Yes
Battery: Dual 3,000mAh batteries
Water resistance: none
Dimensions: 172.8mm, 77.2mm, 10.29mm
Weight: 238 grams
Colour: matte white
Price: AU$1,900 JB Hi-Fi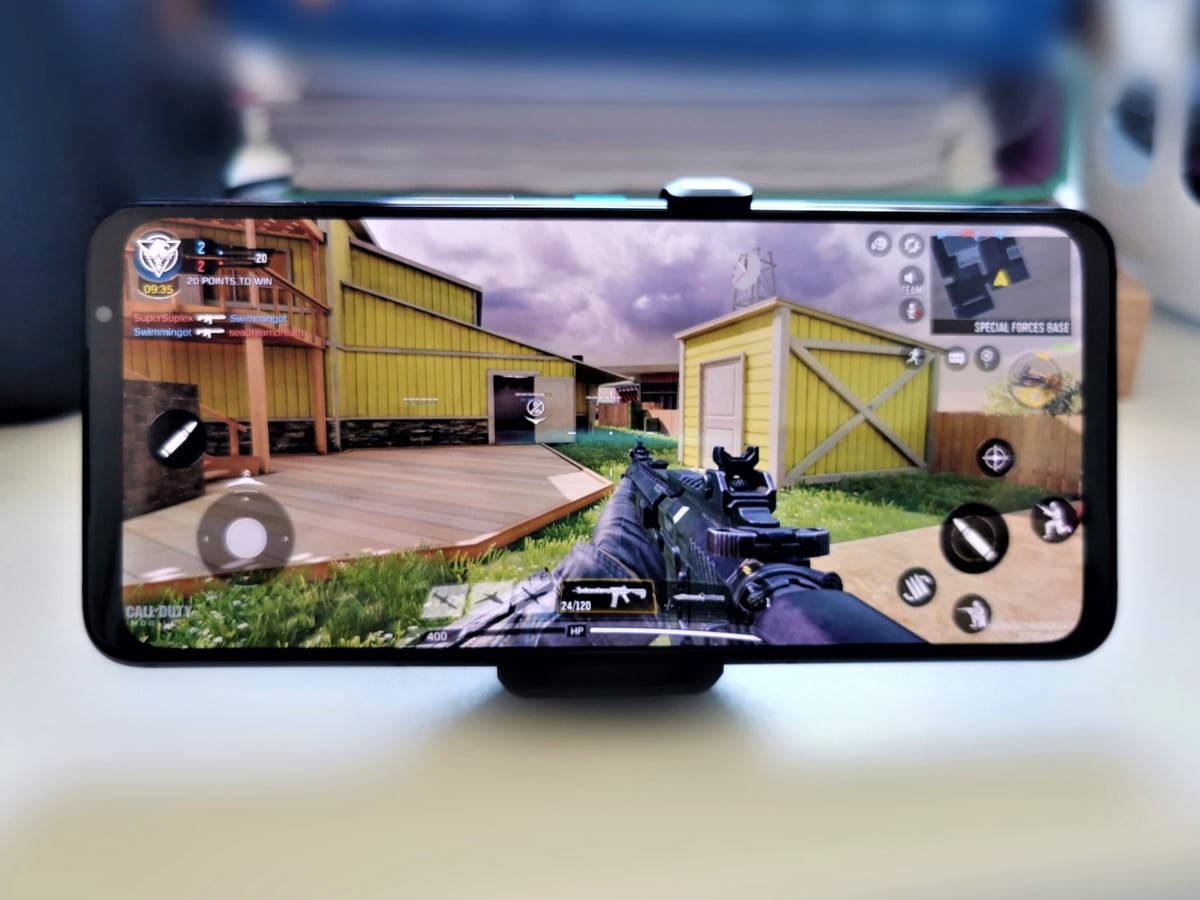 ASUS ROG Phone 5 Ultimate Performance
This phone is an absolute pleasure to use. The stunning OLED display provided by Samsung remains as crystal clear as one would expect from a top-of-the-line phone, and it's 23% brighter than the ROG Phone 3.
The dual front-facing speakers are surprisingly clear and provide a robust soundscape. Of course, headphones are still preferable, but these phone speakers are as good as they come.
Performance remains lighting fast even when the phone is filled with games and a handful of apps are open simultaneously. ROG Phone 5 Ultimate runs a custom version of Android 11 altered to reflect ASUS styling and software. As a result, any Android user will feel right at home.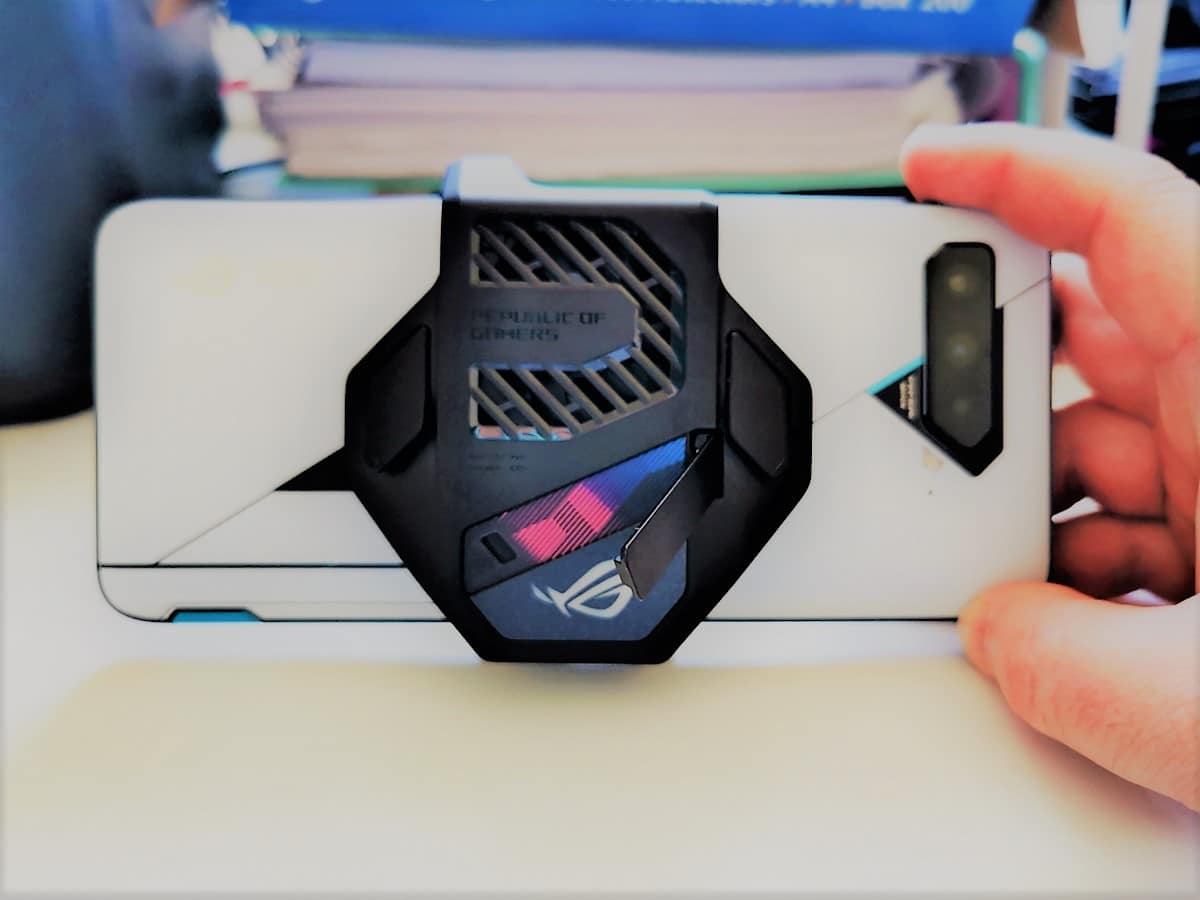 With its Snapdragon 888 processor and 18GB of RAM, It's unlikely that you'll find a phone in Australia more powerful than the ROG 5 Ultimate. Although it's hard to say exactly what all that power is for. Only a handful of games push mobile hardware, and the lack of game streaming services in Australia means that attractive prospect remains untested.
There's no external support for MicroSD, but it will take some time to fill the 512GB of internal storage, and you can connect an external HDD.
As mentioned earlier, one of the phone's unique features is the Armoury Crate app. This ASUS software is all about tweaking performance to suit specific games and your preferences. You can use the app as a dashboard to boot all your installed games and create custom settings profiles for each.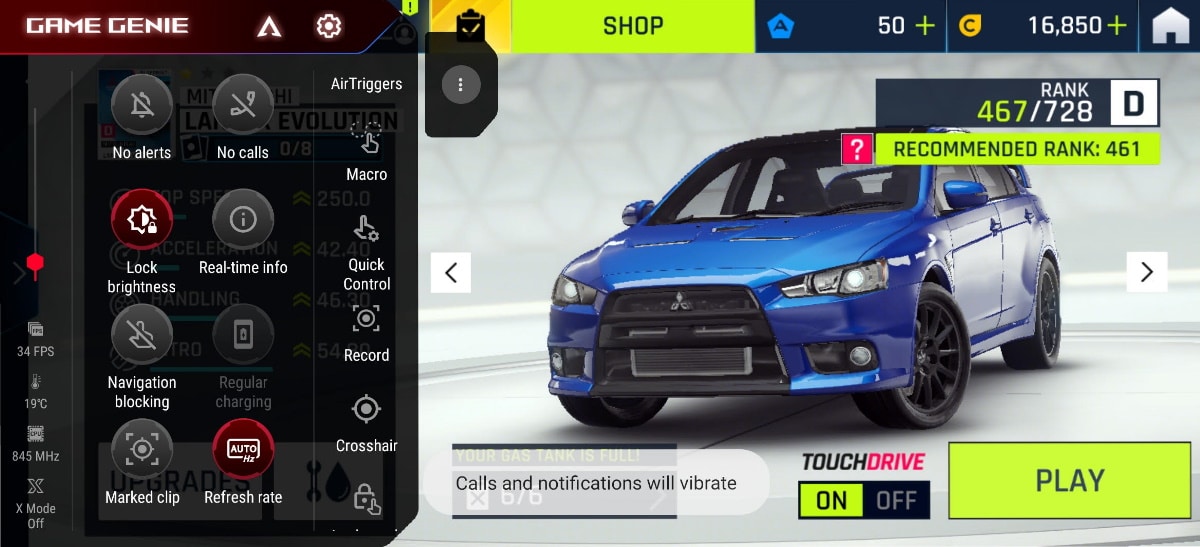 Tweak screen refresh rate, graphics, the processor and button mapping. The app will even inform you of the current frames per second and the temperature of the phone. These are essentially the tools you find on gaming PCs and with high-end graphics cards.
The ultrasonic AirTriggers have huge potential for lifting mobile gaming to be on par with consoles and PC. Located on the edge and positioned for index fingers, these sensors take on the role of a controller's triggers/shoulder buttons and offer more precise gaming when compared to the touch screen's virtual buttons.
Playing Call of Duty Mobile and Genshin Impact with triggers make these games feel more natural, accurate and ultimately easier to play. Triggers have been a gaming standard for 15 to 20 years now. So, It's impressive that ASUS could include these sensors/buttons on its phone without disrupting the sleek aesthetic. And we'd love to see this become the new standard for all phones.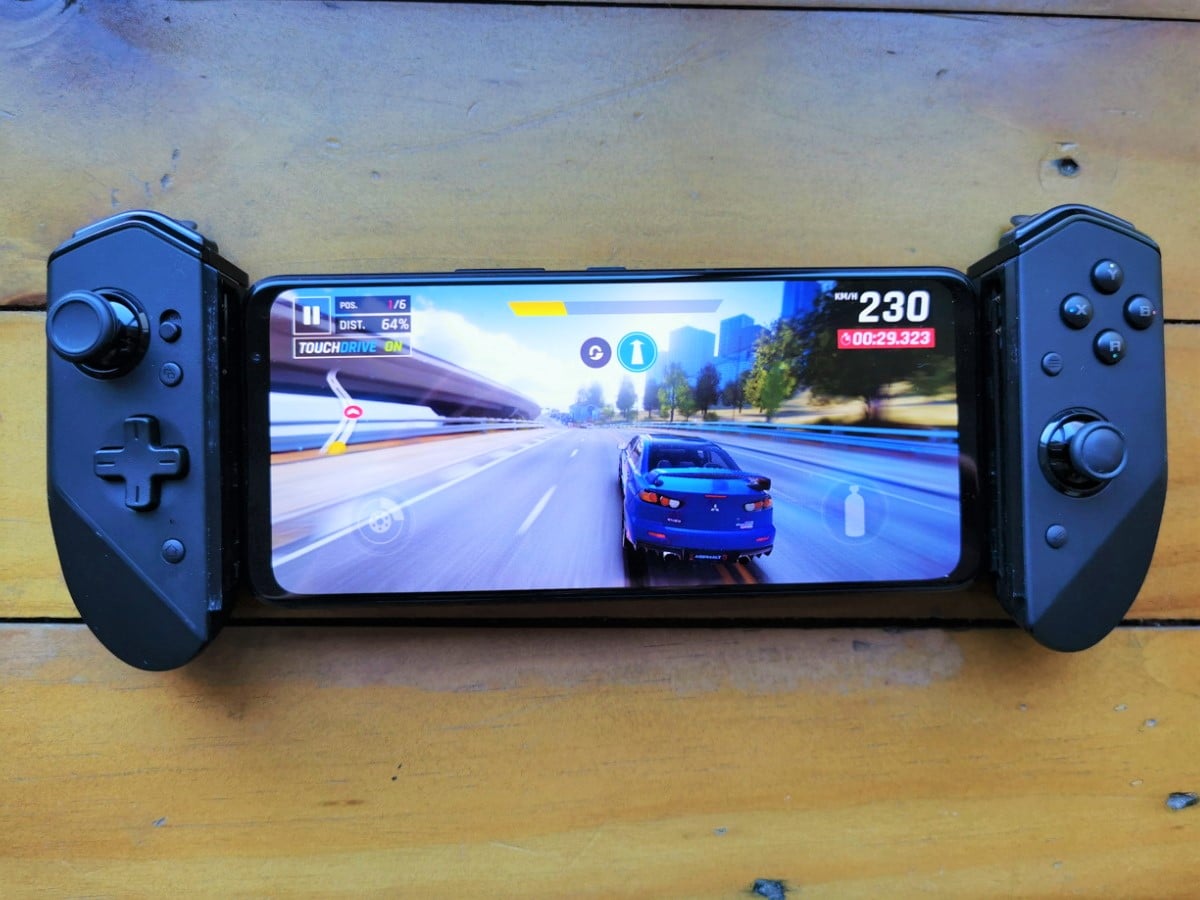 For the review, ASUS loaned us one of its Kunai 3 gamepads. This accessory is a lot like a Nintendo Switch controller in that the modular design allows for standard gamepad use or for it to be docked to either side of the ROG Phone 5 for handheld use.
ASUS Kunai 3 is comfortable and familiar, with up to 6 hours of battery life between charges. The only downside is its price. In Australia, you're looking at $200 – $250. Alternatively, the ROG Phone 5 supports connections for PlayStation DualShock 4 and Xbox One controllers if you prefer a familiar, more affordable option.
ROG Phone 5 is powered by a 6,000mAh battery split into two 3,000mAh cells. ASUS says splitting between two cells helps to lower temperatures. The phone can be charged in under an hour using the included charger, but it lacks wireless charging support. In total, you're looking at a solid 8 hours of gaming and streaming video or around 36 hours of everyday use between charges.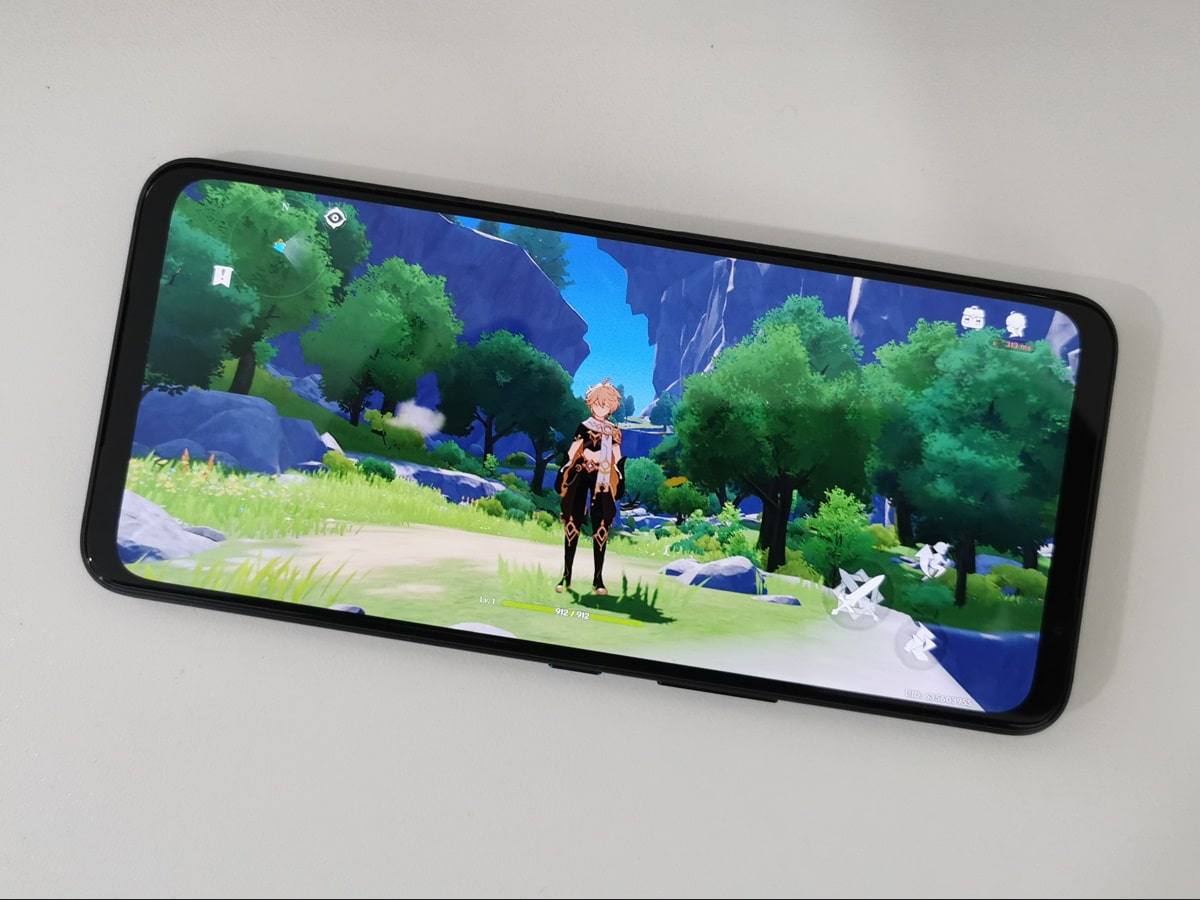 ASUS ROG Phone 5 Ultimate Camera
With its focus on gaming, ASUS still packs a reasonable array of cameras, but there's no telephoto lens. So you won't find a zoom to the capabilities of the Samsung S21+ or iPhone 12 Pro. However, casual photographers will still find plenty to like with the Sony 64 megapixel primary camera. You're also looking at a 13 megapixel ultra-wide camera, a 5MP macro lens and a 24 megapixel camera at the front.
The colour range is true to life, with a good depth of field and reasonable clarity. In addition, ASUS packs in plenty of software for improving pictures, including a Pro Video Mode as well as Free Zoom, Wind Filter, and Acoustic Focus functions to make your content stand out.
Videographers will be pleased to know the ROG Phone 5 can shoot up to 8K video at 30fps, 4K video at 60fps, slow-motion video in 4K at 120fps, and take still photos while filming.
ROG Phone 5 – The Verdict
There's a lot to like about the ROG Phone 5 Ultimate. The smartphone stands tall thanks to its unique design and impeccable performance. Still, its pricing falls in line with other premium phones that feature better cameras, wireless charging, stronger reputations and some form of water resistance.
ASUS is clearly targeting a gamer niche – one that's cashed up. The appeal could stretch further if they shaved a few hundred dollars off the unit, maybe by reducing the RAM. This shouldn't affect performance and could ultimately put the phones in more hands.
ASUS loaned the writer a ROG Phone 5 for the purpose of review
You'll also like:
ASUS ROG Zephyrus Duo 15 Laptop Review
Roccat Magma Gaming Keyboard Review
SteelSeries Arctis Prime Headset Review
General FAQ
Is the ASUS ROG Phone 5 Ultimate worth it?
The ASUS ROG Phone 5 Ultimate is an incredible phone that stands tall thanks to its unique design and impeccable PC-like performance. But its pricing falls in line with other premium phones like the iPhone 12 Pro and Samsung Galaxy S21+, which feature better cameras, stronger reputations and some form of water resistance. At AU$1,900, ASUS targets a specific gamer niche. If you don't fit the niche, then this phone isn't for you.
Is the ASUS ROG Phone 5 water-resistant?
Nowhere in its descriptions or specifications does it mention an IP water resistance rating. So no, don't get the ASUS ROG Phone 5 wet by splashing or submerging it.
Does ROG Phone 5 support wireless charging?
This premium phone does not support wireless charging. The trade off is two USB Type-C ports and fast wired charging if using the accompanying cable and charger.