ASUS ROG Zephyrus Duo 15 Review: A Portable Powerhouse
We cover a lot of luxury brands here at Many of Many – Bentley, Montblanc, TAG Heuer and Louis Vuitton to name a few. We should categorise ASUS as luxury too because the ROG Zephyrus Duo is all about excess – unique design, powerhouse performance, premium price tag – this dual-screen laptop is less for gamers who love to travel and more for those with money to burn. Priced between AU$4,100 – $5,600, you could potentially buy an entire desktop setup, including the desk, chair, peripherals and a year of high-speed internet for that price. And yet, the ASUS ROG Zephyrus Duo delivers on its promises, making it an enticing gaming machine for a select few – like those who just received larger than expected tax returns.
You'll also like:
Windows 11 Revealed: Everything You Need to Know
SteelSeries Rival 5 Review: Remarkable in the Right Hands
10 Best New Games Revealed at E3 2021
ASUS ROG Zephyrus Duo 15 SE Design
When most modern laptops feature light tones and minimalist designs, the ASUS ROG Zephyrus Duo goes full industrial and it would appear right at home in some 1980's vision of the future. We're talking a matte black metal chassis with hard corners and only slightly tapered edges instead of well-rounded ones. The aesthetic lines and dot matrix pattern on the cover, along with the segmented grilles on the back, all work in unison to give this gaming laptop serious Blade Runner or Cyberpunk 2077 vibes. And that's just the exterior.
Power on the Zephyrus Duo, and the keyboard dances with RGB lighting before settling on the familiar colours that one expects from gaming gear. The touchpad is located to the right of the keyboard and it lights up and doubles as a number pad with a long press on the top left corner. It's really neat and could be useful if you need to crunch the numbers between rounds of Overwatch or Rocket League.
Head north of the keyboard, and you're looking at the reason this Republic of Gamers laptop is dubbed Duo. There's a second screen! This is the ScreenPad Plus, a second display/touchscreen and the technology ASUS has flaunted for a few years now across several Duo laptops.
We'll get to the performance of the ScreenPad Plus later. While focussing on design, I want to highlight the second display's excessive bezel. With every aspect of the PC vying for space, a slim bezel could have freed up additional room for the keyboard, which would have been greatly appreciated.
The keyboard feels cramped and becomes a burden during long periods of typing. So a larger keyboard and smaller secondary display could be the way to go moving forward. The ROG Zephyrus Duo is a gaming laptop first and a tool for productivity a distant second.
The left edge houses an input for the power cable, an audio jack, and MicroSD reader. On the right, there's a pair of USB 3.2 ports and a DisplayPort compatible Type-C port.
Flip the laptop around, and you will find Ethernet, HDMI, and a third USB port on a small panel at the rear. Utilising this space is a brilliant idea. It keeps cables from getting in the way of your arms and should be universally adopted by the tech industry. It's also worth mentioning that the ASUS ROG Zephyrus Duo has no built-in webcam. This is a tad disappointing, especially from a gaming perspective and considering the laptop can do pretty much everything else and then some.
Lastly, we need to talk about weight. The laptop weighs in at a whopping 2.48kg, plus the hefty power brick weighs about half as much again. This is certainly something to consider if you plan on lugging these around on your day-to-day.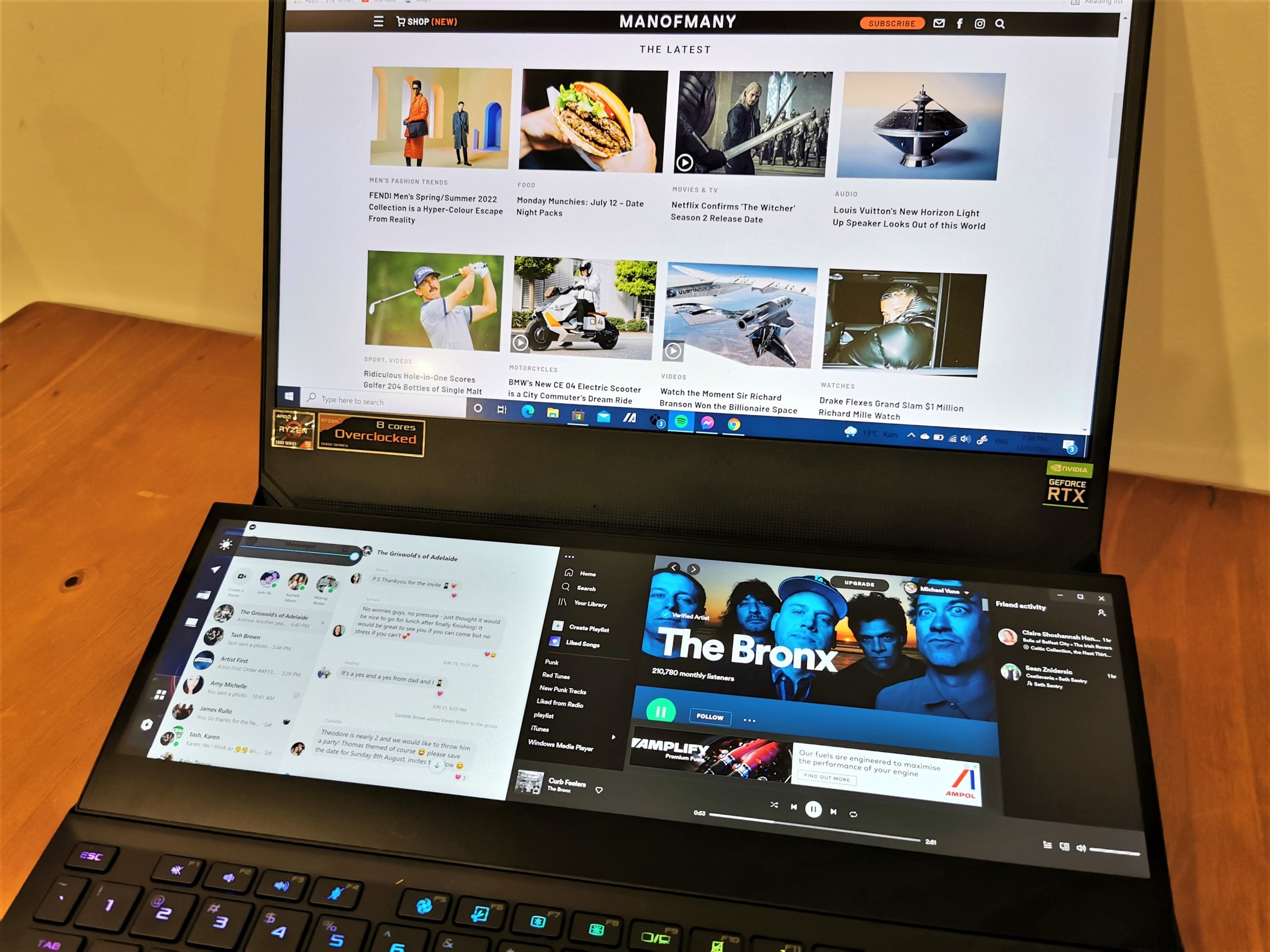 ASUS ROG Zephyrus Duo 15 SE (GX551) Specs
CPU: Up to AMD Ryzen 9 5900HX CPU
Graphics: Up to NVIDIA GeForce RTX 3080 GPU
Memory: 32GB DDR4
Storage: 2TB SSD
Display: 4K 120Hz/3ms with 100% Adobe RGB
ScreenPad Plus: 60Hz touch display
Audio: 6 speaker virtual 5.1.2 surround sound
Connectivity: Wi-Fi 6, Bluetooth 5.1
Ports: 1 x 3.5mm audio in/out, 1 x MicroSD, 1 x HDMI,
3 x USB 3.2, 1 x USB Type-C, Ethernet
Camera: None
Battery: 4.5 – 6 hours
Weight: 2.48kg
Size: 36cm x 27cm x 3cm
Price: $4,099 – $5,599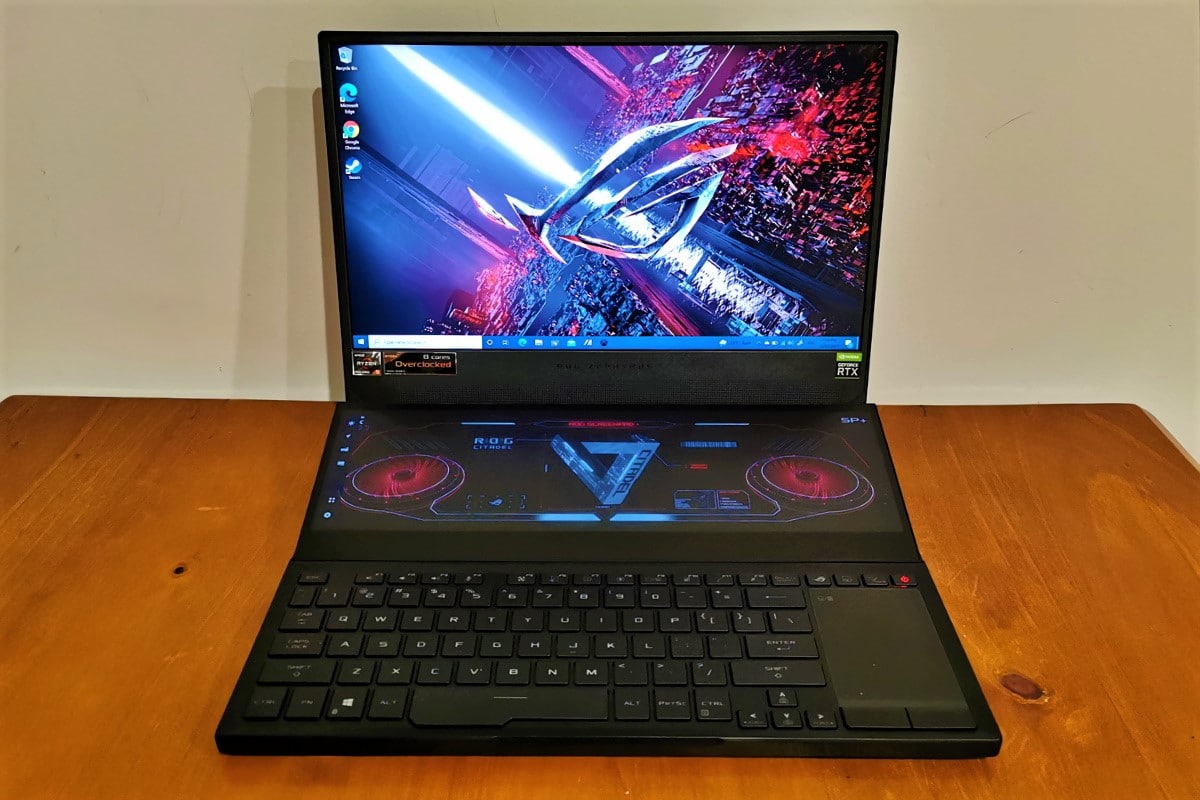 ASUS ROG Zephyrus Duo 15 SE Performance
Under its hood, the latest ROG flagship is powered by top-of-the-line hardware with options up to an overclocked AMD Ryzen 9 5900HX CPU with the latest NVIDIA GeForce RTX Graphics. There's also plenty of memory and SSD storage, whichever tier laptop you choose. At the top end, you're looking at support for up to 32GB of DDR4 memory and 2TB SSD storage.
ASUS encourages overclocking by switching on Turbo mode. These settings overclock the processor and GPU for achieving that benchmark performance. However, if we're looking at ASUS' recorded results across games like Overwatch, Far Cry 5 and Control, the max recorded frames per second are only slightly higher than the Zephyrus Duo set to Performance mode or even the lower settings of Silent Mode. Turbo mode is great, but it can be loud and causes the laptop to get quite hot underneath. I expect most gamers would agree that the quieter Performance mode suffices.
I exploited the Game Pass library and ran games including Forza Horizon 4, Gears 5 and DOOM Eternal. All games ran without a hitch.
Potential buyers can choose between several display options, but at the high end, you're looking at a 15.6 inch 4K display at 1080p with a 4K 120Hz/3ms refresh rate. It's a stunning display, exceeding personal expectations for portable gaming.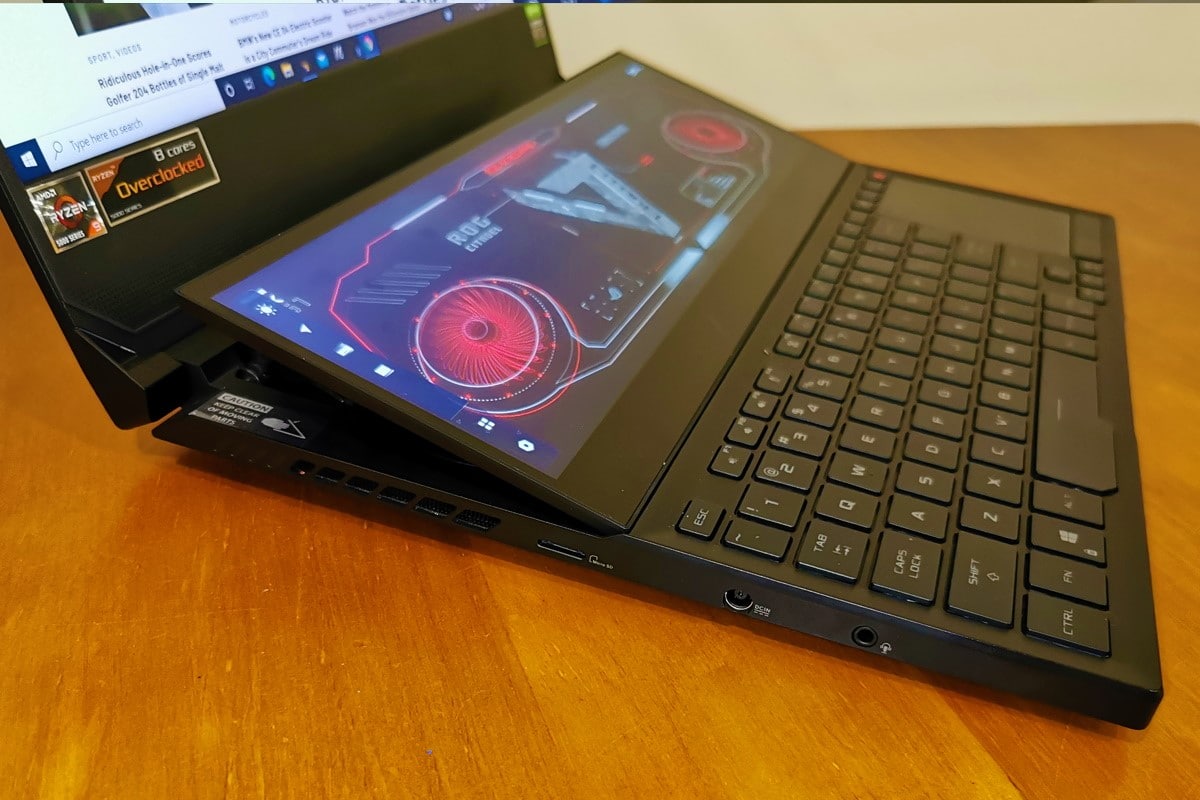 Travel south, and the secondary display, the ScreenPad Plus, is a 4K touch display angled at 13 degrees for better viewing. But it's not quite the optimal viewing angle. A steeper angle would be preferential, but the 13-degree angle is what we've got. The ScreenPad is the full width of the laptop and around 10cm in height.
ASUS is championing its secondary display as a productivity booster, and it has serious potential. Designers will appreciate Adobe's support with specialised layouts for Photoshop, Premiere Pro, After Effect and Lightroom. You can also drag any other app to the bottom display to keep things like Messenger, Spotify and Discord open while the main display remains distraction-free.
Only a handful of games support ScreenPad Plus: League of Legends, CS:GO and Dying Light 2 to name a few, with the latter not actually launch until December 7, 2021.
Note: ASUS includes a free copy of Dying Light 2 with all Zephyrus Duo purchases claimable via redemption.
Sound-wise, the ROG Zephyrus Duo 15 SE draws you in for a slightly more immersive experience than one would expect from a laptop. Underneath, there are dual woofers to bounce sounds off of your table. Above, two tweeters fire sound your way while there's another two hidden beneath the ScreenPad. Dolby Atmos powers this 5.1.2 virtual surround setup.
Finally, we're on to battery life. With all the high powered technology crammed into a 15.6-inch laptop, you'd expect battery life to be short. And it is. But also, possibly longer than you expected. We tested the battery life three times. For productivity, for video and for gaming. Using the Zephyrus Duo for work – mainly web browsing and typing with ScreenPad Plus switched on – battery life lasted around 5.5 – 6 hours. With Netflix streaming, we recorded 4.5 – 5 hours and a similar timeframe while gaming. So you can get a solid half-day of usage, but it wouldn't hurt to pack the power brick for emergencies.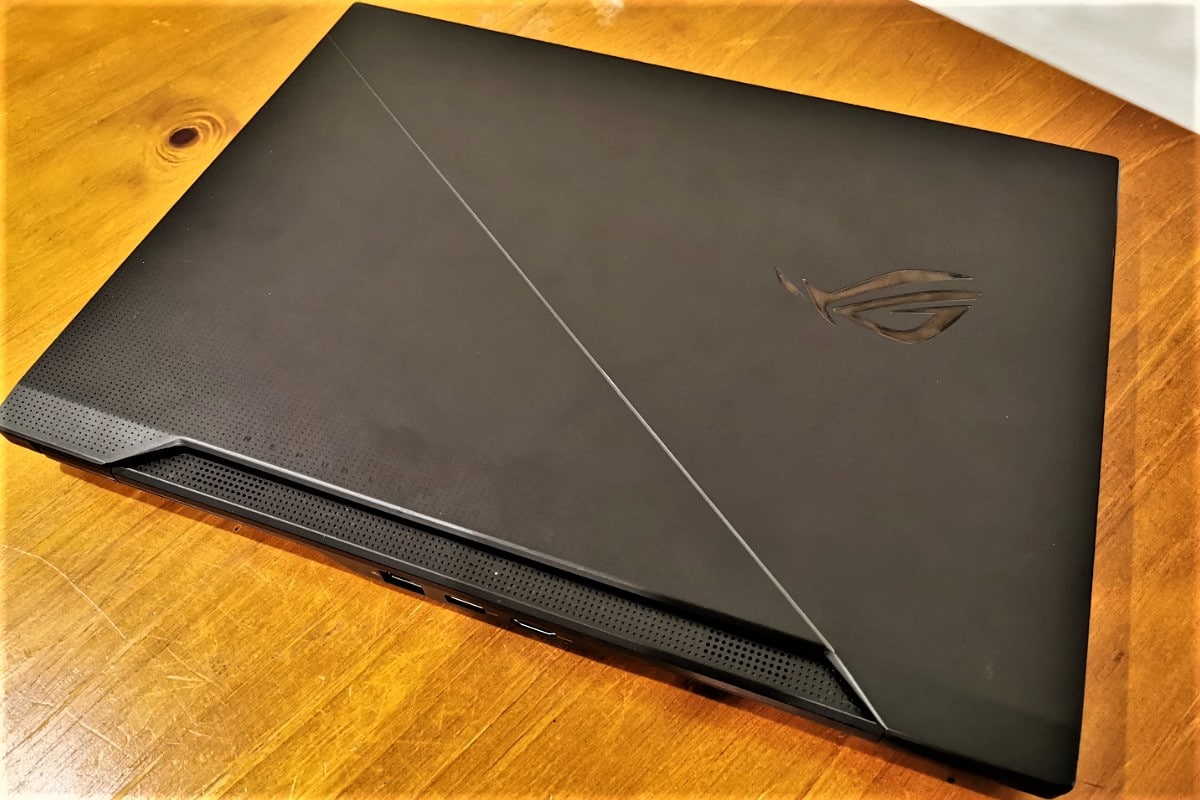 Zephyrus Duo 15 SE – The Verdict
There's no denying that the ROG Zephyrus Duo is one of the highest performing gaming laptops available. It hits high benchmarks for gaming and the ScreenPad Plus has the potential to boost your productivity and multitasking.
The audio quality and battery life are better than expected, but the lack of a built-in webcam is disappointing, especially for a PC that's targeted at gamers. Otherwise, there's a lot to like about the laptop, so long as the price tag doesn't break your budget and its weight doesn't damage your back.
You'll also like:
Windows 11 Revealed: Everything You Need to Know
SteelSeries Rival 5 Review: Remarkable in the Right Hands
10 Best New Games Revealed at E3 2021
General FAQ
Is the ASUS ROG Zephyrus Duo 15 SE GX551 worth it?
The ASUS ROG Zephyrus Duo 15 SE is a stylish, ultra high-performance gaming laptop. The keyboard does feel cramped for typing, but everything else about it excels for gaming. It's one of the best gaming laptops available. You just need to decide for yourself if it's worth the AUD $4,100 - $5,600 price tag.
Is ASUS ROG good for gaming?
Absolutely! The Taiwanese brand crafts high-performance gaming hardware that rivals brands like MSI and Razor and exceeds them in several categories. ASUS ROG laptops come in many shapes and sizes, with options to suit gaming needs and price ranges.
What is the price of the ASUS ROG Zephyrus Duo 15 SE GX551?
The innovative dual-screen ASUS ROG Zephyrus Duo 15 SE GX551 is an expensive laptop. Depending on the internal specs, you can expect to pay between USD $2,999 - $3,699 (AU$4,099 - AU$5,599).