Samsung Galaxy Z Fold5 Review: The Most Premium Foldable Smartphone Money Can Buy
Every time I unfold the Samsung Galaxy Z Fold5 in public it feels like I'm performing something of a magic trick. It doesn't matter if I'm sitting on the train, having breakfast at a local cafe, or waiting at the park for my dog to return with her ball, you'd be surprised by how often this phone catches the attention of someone nearby. In fact, I've had a number of people stop to ask me about it. The same thing used to happen with the Galaxy Z Fold4 as well, but where those questions used to be along the lines of "What is that?!", now people tend to enquire, "I've heard about those things. Are they any good?" 
This genuine curiosity combined with heightened awareness seems to support Samsung's belief that consideration of foldables is on the rise and within five years foldable devices will become the dominant form factor within the smartphone market. Naturally, the Korean firm wants people who are considering the switch from the traditional candybar design to choose one with Samsung printed down the side. To that end, it recently launched its fifth generation of foldable devices: the Fold5 and its cheerful sibling the Galaxy Z Flip5.
But is the Fold5 any good? I'll get to that imminently. First, I should say that the Flip5 is a bigger step forward when compared to its predecessor — for the most part due to the introduction of its much larger external screen or 'Flex Window'. By comparison, the Fold5 feels more like a consolidation and refinement of what came before. That's not a criticism, more an observation that the Fold4 was so good that it left less room for improvement than the Flip4. With that out of the way, let's dive into Samsung's latest uber-premium foldable.
Table of contents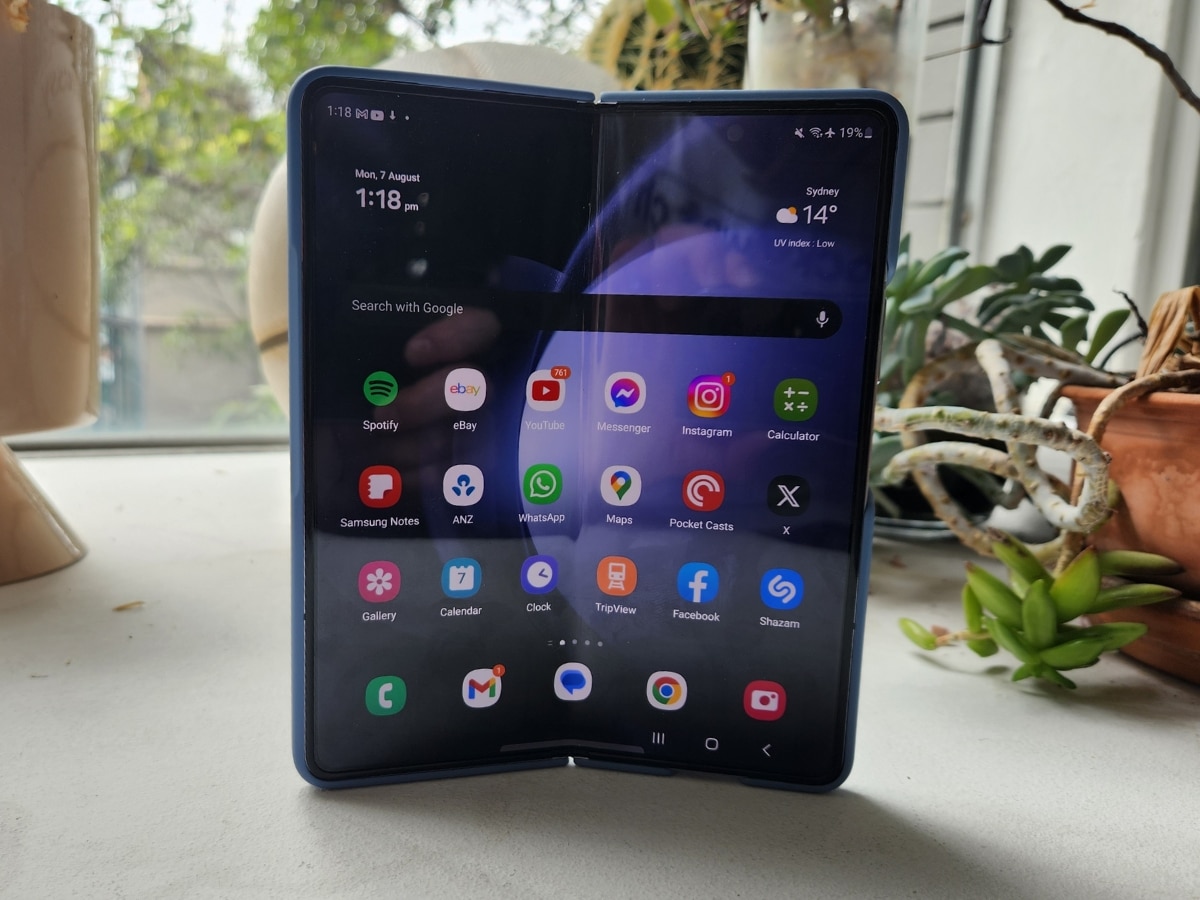 Design & Screen
The whole point of the Fold series (and competing devices like the Google Pixel Fold) has always been to provide the user with a smartphone and a tablet experience in one package. Well, the Fold5's design presents the most elegant take on this idea that I've encountered. This is largely down to the newly developed Flex Hinge—present within both the Fold5 and Flip5—which for the first time enables both sides of the folding device to sit flush when it's closed.
The impact of this is that the Fold5 is more than 2 mm thinner than its predecessor. That might not sound like much, but when you're talking smartphone dimensions it makes an enormous difference. Not only does it mean the Fold5 is more pocketable, it also helps to prevent the thin layer of dust I'd encounter on the Fold4's screen every time I'd open it. Unfolding the Fold4 was always paired with a quick brush of its screen with the back of my hand – not a dealbreaker by any means, but it did somewhat undermine how slick you felt unfolding the device. With the Fold5 there's no such issue.
Related: Everything Samsung Announced at Unpacked 2023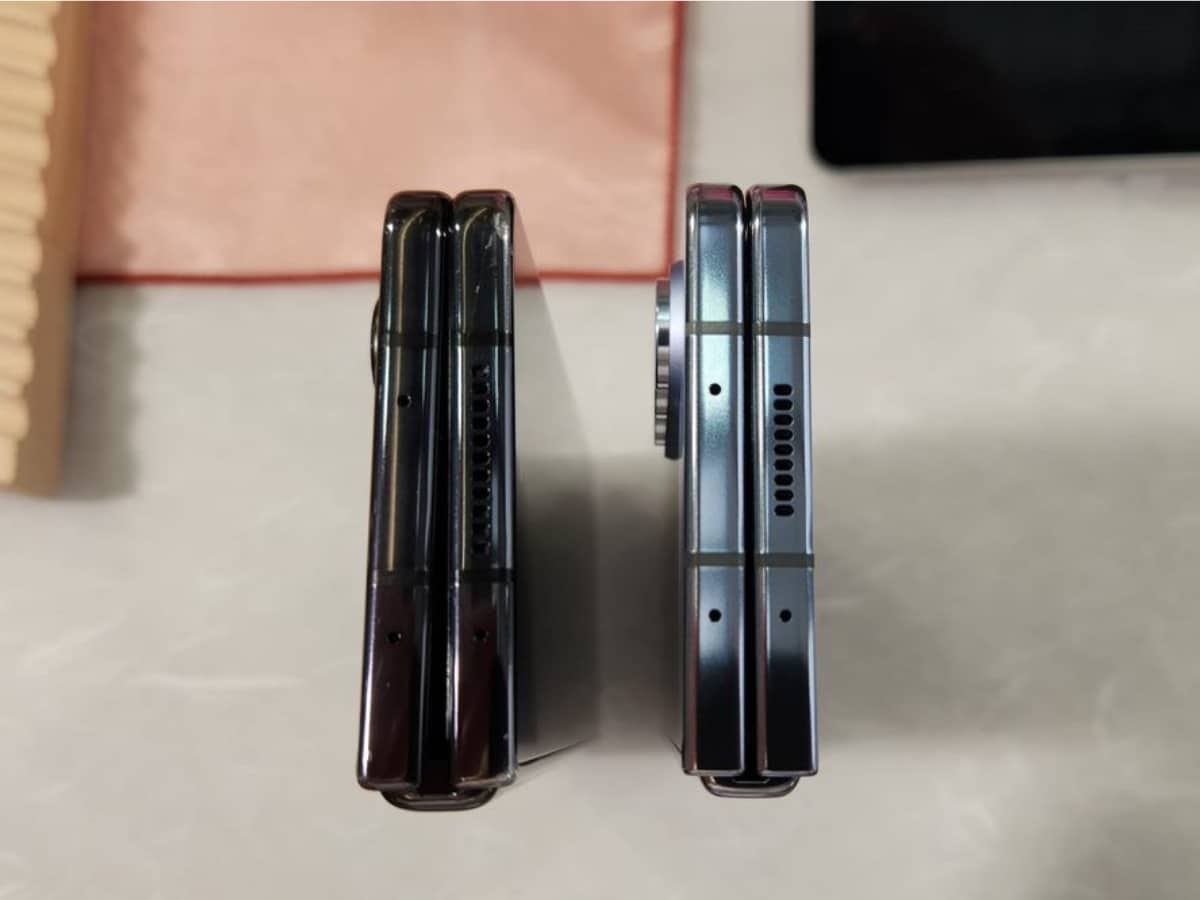 It's small details like this that make the whole device feel elevated, as does the improvement of the 7.6-inch internal screen. With brightness increased by over 30 per cent (up to 1750 nits), it really pops, even in bright sunlight. I never really had trouble viewing the Fold4's screen under those conditions, but the upgrade to the Fold5 is noticeable nonetheless.
While the infamous crease remains in place, it's a little less pronounced than it was last time. And you barely notice it when using the screen anyway. Streaming videos, playing games, or browsing the web has never looked so good on a foldable, and the Fold5 gives you enough screen real estate to do more than one of these at a time.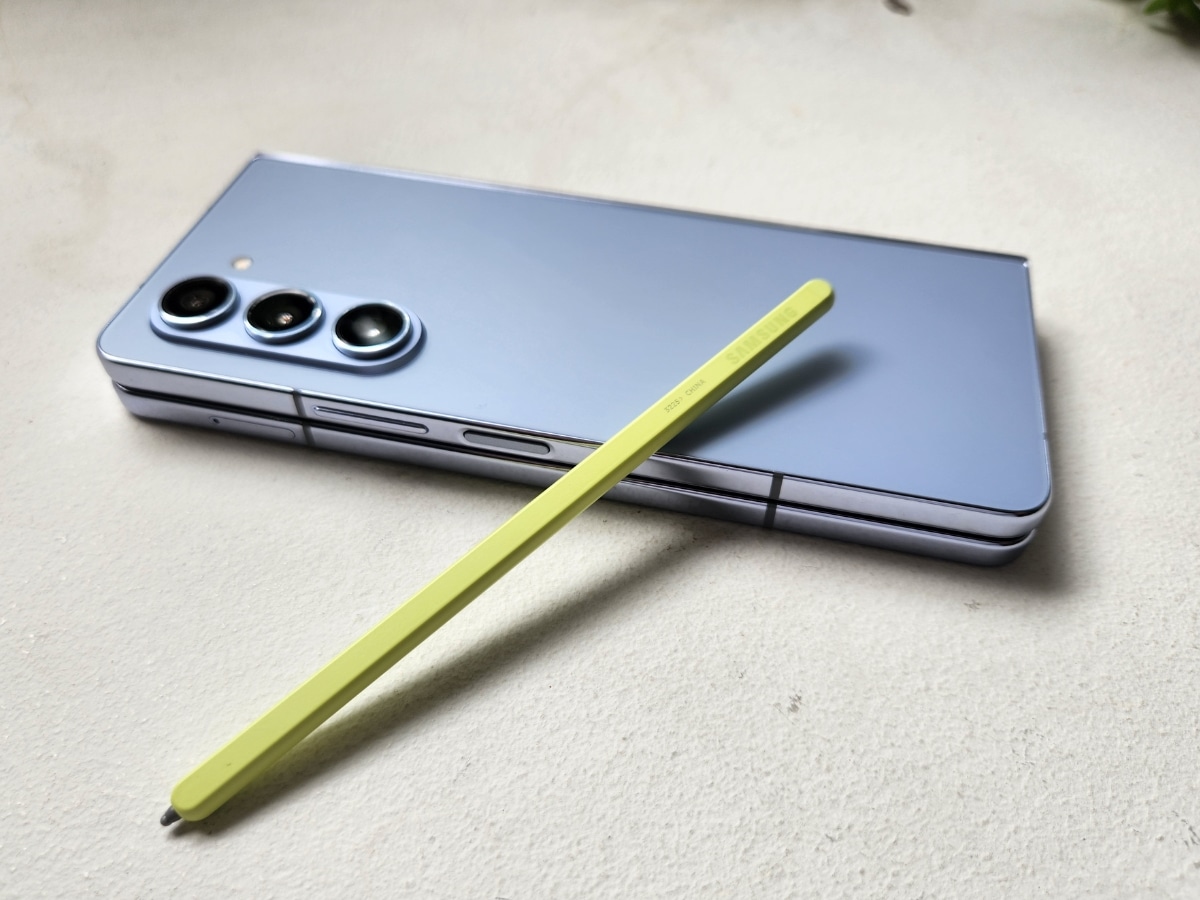 Functionality & S Pen
It's this accommodation of multi-tasking that really gives the Fold series its edge over traditional smartphones. And with the Fold5, the introduction of a slim new S Pen helps to make that edge even more pronounced. While the Fold5 doesn't come with the S Pen—and at this price point it really should—it's still worth investing the AUD$109 dollars that buying one will set you back.
Better yet, snap up the Galaxy Z Fold5 Slim S Pen Case, which features an easy-access slot for your S Pen without adding much bulk to your streamlined device. While I'm looking forward to the day when Samsung launches a Fold that features an S Pen that pops out from its body like the Galaxy S23, this will do for the time being.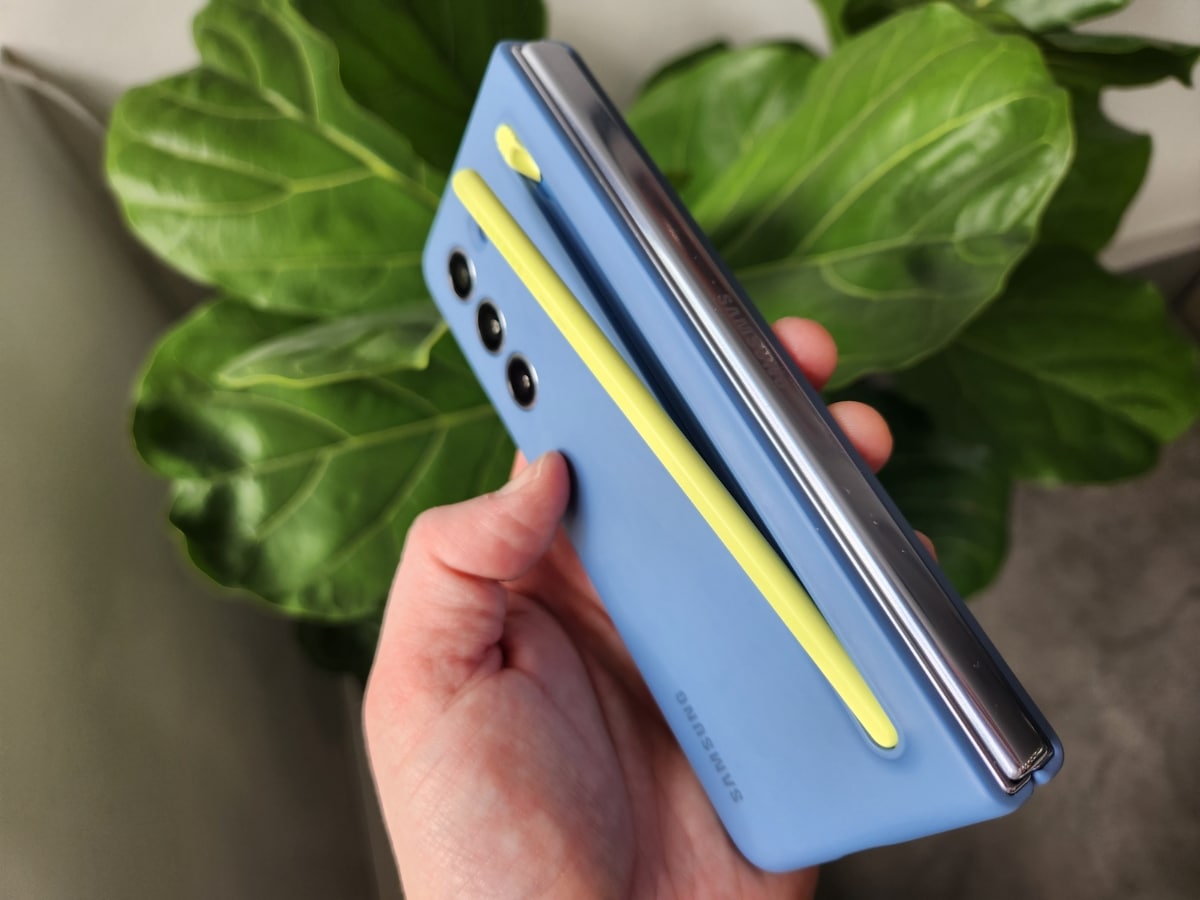 Anyway, with the S Pen in hand, you can use the Fold5's Multi Window functionality to run three apps simultaneously across your unfolded split screen. For example, you could be video calling into a work meeting, taking notes on it in your Samsung Notes app, and monitoring your emails all at the same time. That's productivity, baby. You can also have apps floating on top of others if that works for you, while the taskbar sitting at the bottom of screen makes it a breeze to jump between your most recently used apps.
Plus, the days of apps not knowing how to handle the foldable screen's dimensions and offering up a letterboxed version of themselves—meaning there's black bars on either side—are now a thing of the past.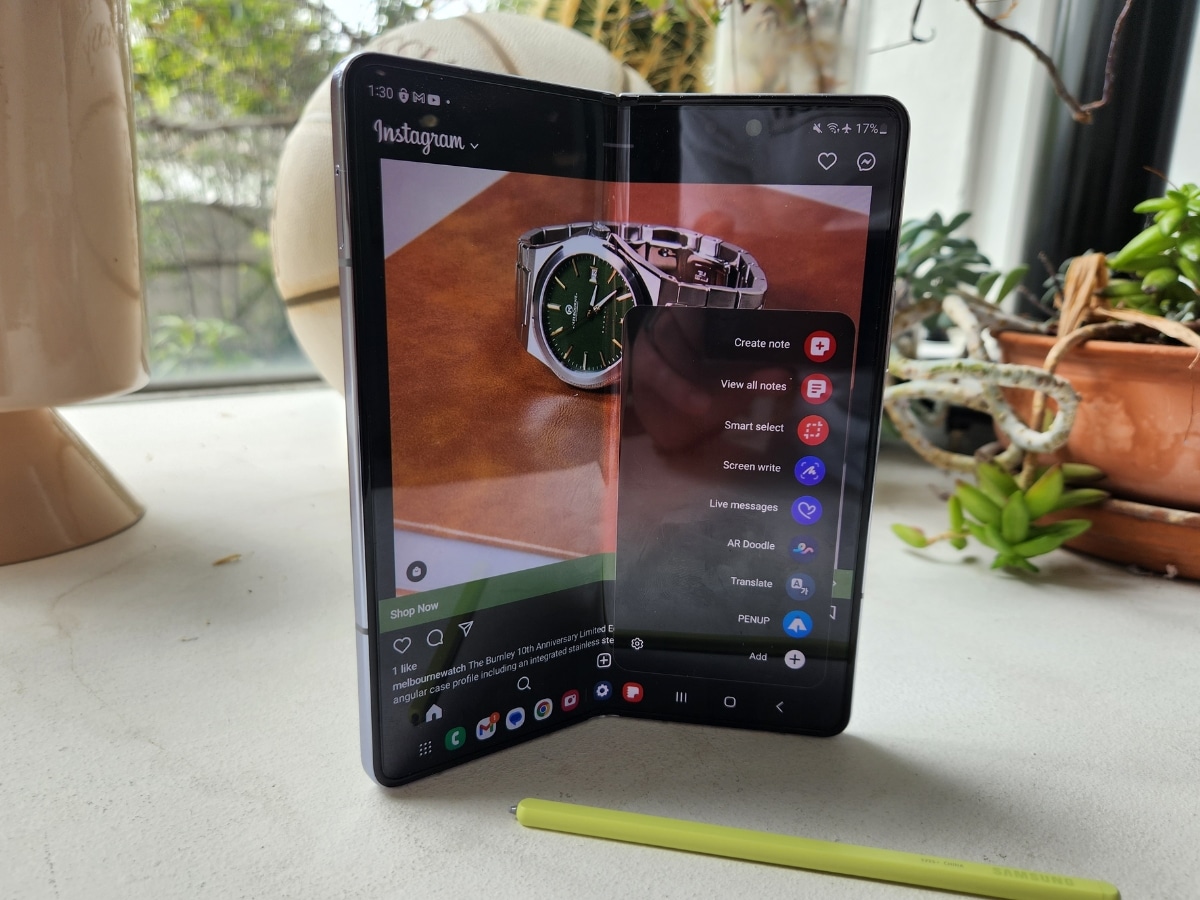 Battery Life
There wouldn't be much point in highlighting how the Fold5 enables you to do more (in terms both work and play), if the battery couldn't handle everything you throw at it. Fortunately, I've frequently managed to get a full two days use out of my device as powered by its 4400mAh battery. This is the same size as the Fold4's but I've found the Fold5 to last significantly longer.
This could be due to the Qualcomm Snapdragon 8 Gen 2 processor, which Samsung claims adjusts "power usage to your habits and your needs, making one charge last longer than ever before." While I can't verify that's the specific reason why I was able to get two days out of the Fold5 without having to take it easy on the device, it would make sense for that to be the case.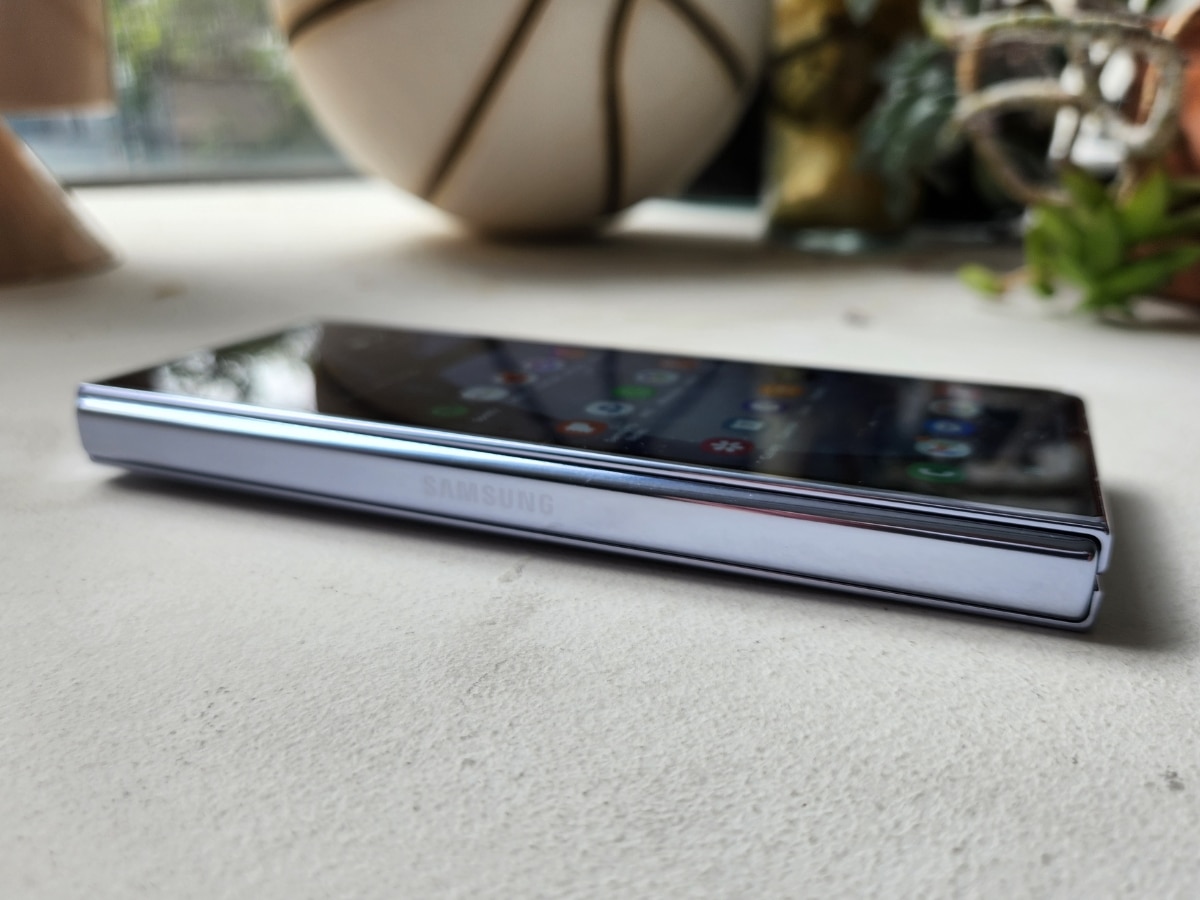 Camera
With a total of five cameras, the Fold5 gives you plenty of options when it comes to capturing snaps and video. They're all perfectly serviceable and you can get some fantastic results, but I can't help feeling that given the premium nature (and price point) of the device it should sport Samsung's very best camera offering, which is currently found on the Galaxy S23 Ultra. In my opinion the Fold line should represent the very best of everything Samsung has to offer, and that includes the camera. Oh well, maybe next time.
For now, the back of the Fold5 boasts a 10MP 3x optical zoom telephoto camera, 50MP wide-angle camera, and 12MP ultra wide camera. In addition, the cover screen features a 10MP camera, while the internal screen packs a 4MP under display camera. Or to summarise, it has three good cameras on the back, a standard selfie camera on the external screen, and a camera that should only really be used for video calls under the internal screen.
The cameras on the rear perform well in a range of lighting conditions, thanks in part to Samsung's cringingly monikered (but really rather handy) "Nightography" technology. This takes a rapid series of photos and combines them to give you vivid results in low light. If you're into taking selfies, the Fold5—like previous Folds—enables you to open it up and use the front screen as a viewfinder while taking advantage of the high-quality lenses on the back. And again, like previous Folds, the design of the Fold5 means the phone can act as its own tripod, allowing you to get more inventive with your shot framing.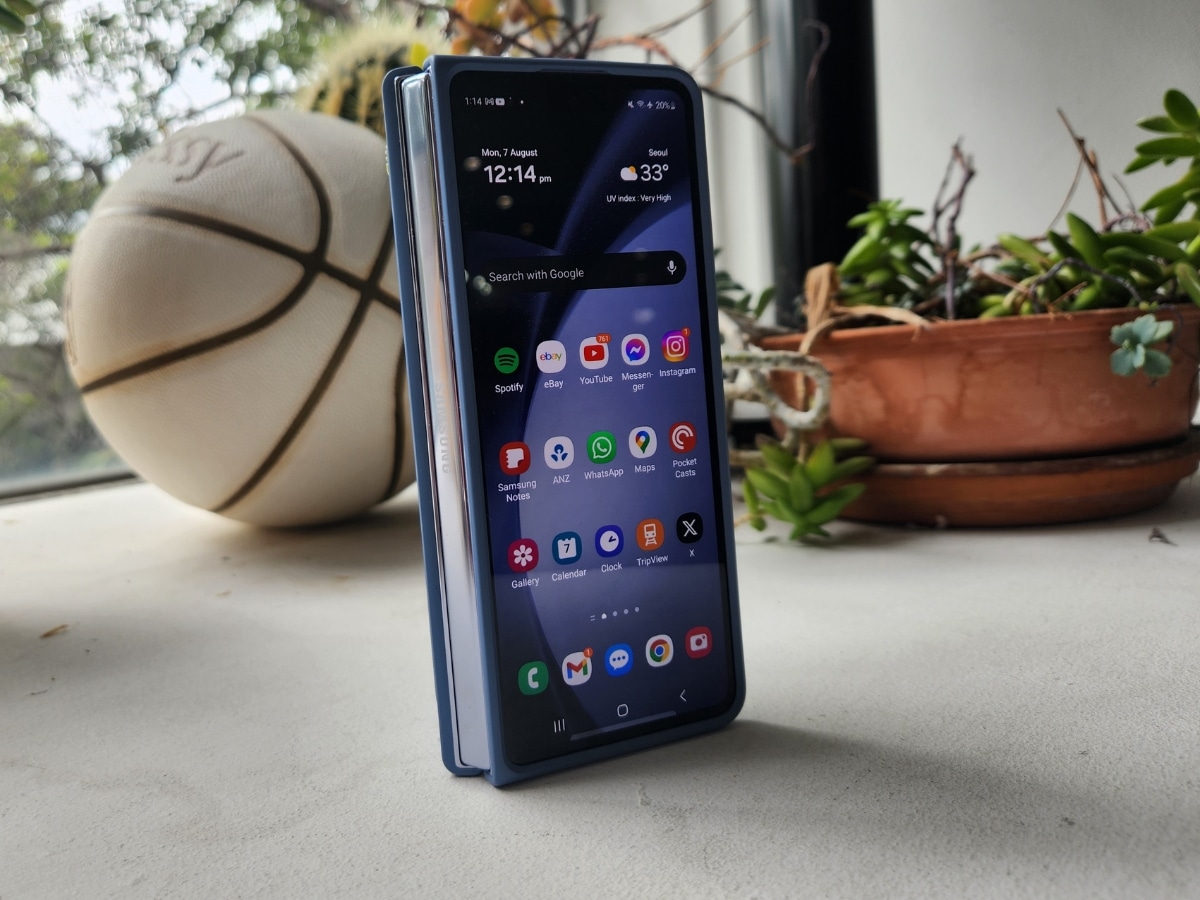 Durability
Look, I was never going to intentionally drop the Fold5 to see how it holds up to a beating. The best policy with premium devices like this is to slap a case on them as soon as possible, even if that undermines the slick nature of the phone a little, breaking the hearts of Samsung's design team (it really does, I confirmed this while speaking to them in Seoul).
Saying that, I'll confess that I've had my Fold4 for quite some time now and have never placed a case on it. It's held up remarkably well, proving to be far more robust than you'd expect a device with so many moving parts. I'd wager the same will apply to the Fold5. Plus, the Fold5 carries on its predecessor's IPX8 rating, making it water resistant should the very worst happen. Does that mean I'd take it swimming? Probably not. But drop it in the sink and you should be fine.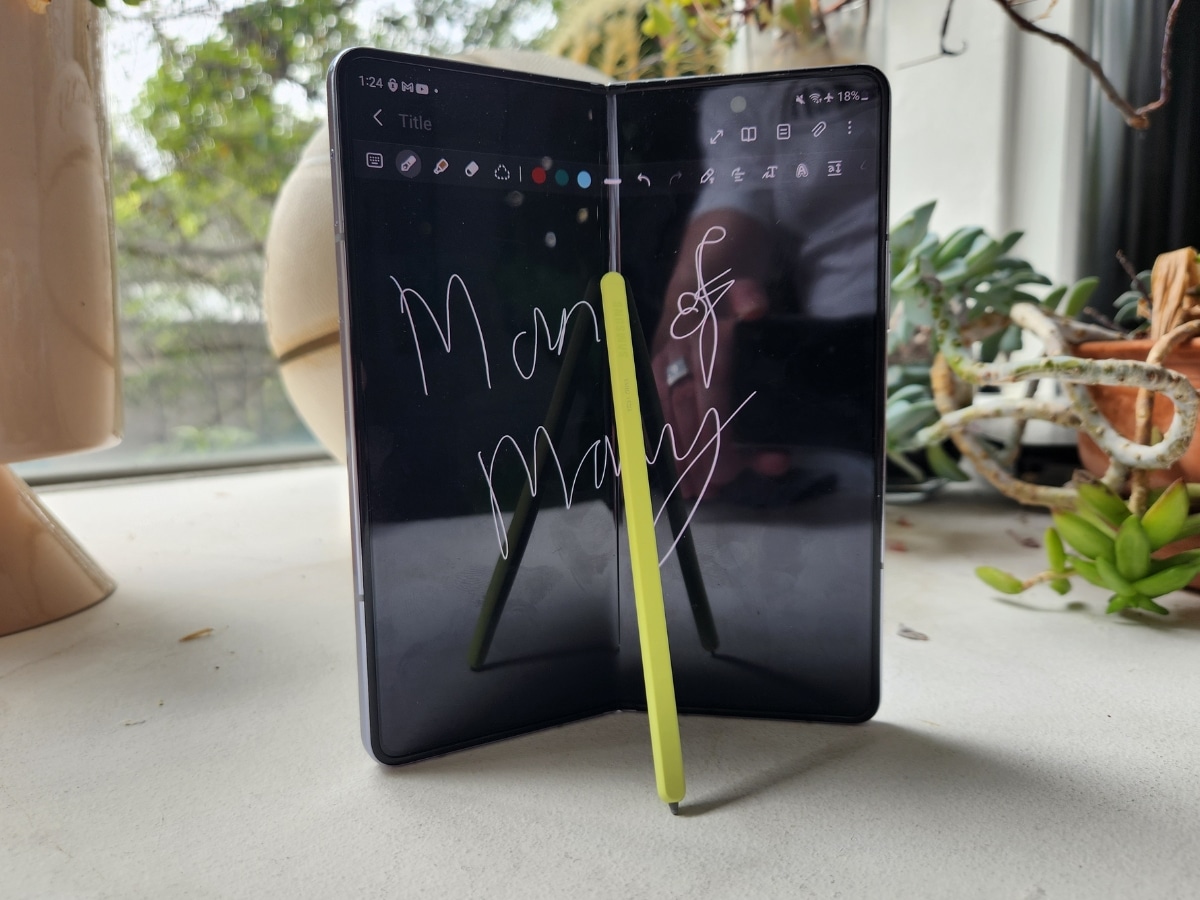 Pricing
It should come as no surprise that Samsung's Galaxy Z Fold5 is a premium device that demands premium pricing. But I have to say that you can see exactly where every cent you spend has been invested in the design and build of this technology. Holding it in your hand, the pricing seems fair to me. Saying that, it won't be for everyone.
The Galaxy Z Fold5 is available in three storage volumes. The 256GB model will set you back AUD$2,599, while you'll pay AUD$2,799 for the 512GB device, and AUD$3,149 for the 1TB model. It also comes in three core finishes (Icy Blue, Phantom Black, and Cream) along with two online exclusive colours (Grey and Blue).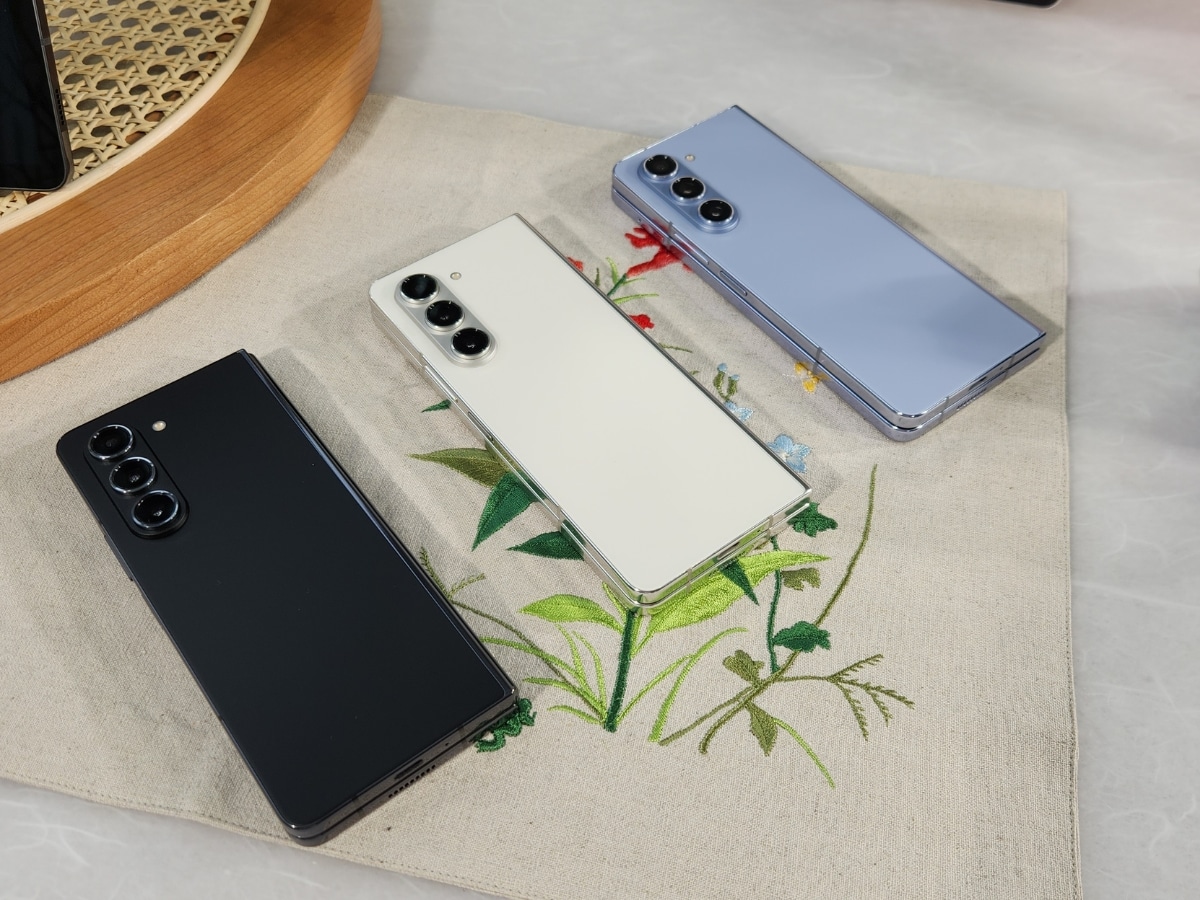 Final Verdict
While I've encountered a few minor quibbles with the Fold5, it remains an absolute marvel of a device and I've recommended it to anyone who's asked. Sure, it should really include the S Pen in the box at this price point. I also wish the camera at least matched the Galaxy S23. And I believe that if the external screen was just a few millimetres wider it would make it so much easier for those with larger hands to embrace this form factor. However, none of that changes the fact that this is the most premium, polished foldable smartphone money can buy. It's a seamless marriage of hardware and software, and it makes a very strong argument that Samsung may just be right about that whole foldable smartphones being the future thing.
DISCLAIMER: The author of this article, Rob Edwards, was provided the Samsung Galaxy Z Fold5 for the purposes of this review.