Samsung Brings Gaming Hub Down Under for Instant Access to Your Favourites
If you thought your Smart TV was just for binge-watching the latest series or catching the footy, think again. Samsung Australia is hitting a new level with the launch of the Gaming Hub, an exclusive streaming discovery platform designed for those select owners of Samsung Smart TVs and Smart Monitors that love a good game or two (hundred).
Related: Samsung's Monster 49-Inch Odyssey OLED G9 Monitor is Finally Coming Down Under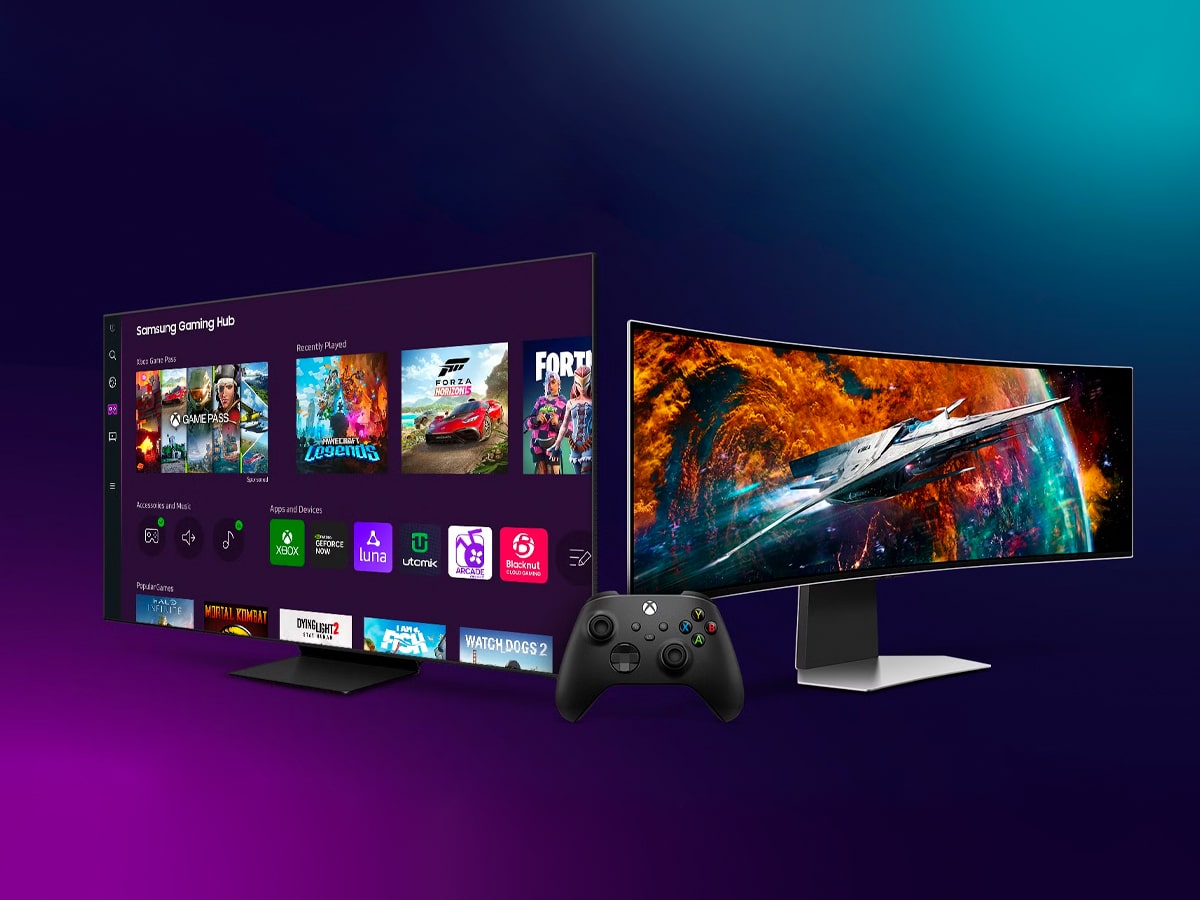 Imagine this: diving into the best of Twitch, XBOX GamePass, NVIDIA GeForce NOW, YouTube, and Spotify, all from the comfort of your couch, without needing a console or PC. That's not a future promise; that's a reality for owners of select 2023 Samsung Smart TVs and Smart Monitors, starting today.
Jeremy Senior, vice president-Consumer Electronics Samsung Australia, laid it out clearly: partnering with top gaming content providers to deliver the best entertainment experiences, including gaming, is where it's at. And it's not just about playing to win; it's about exploring new worlds, enjoying premium visuals, incredible audio, and fast gaming speeds.
"Samsung is committed to pushing the boundaries of display AI innovation," Senior said. "This has enabled us to partner with the best gaming content providers so consumers can explore new worlds and play to win while enjoying premium picture, incredible audio, and fast gaming speeds from the screens they already have at home."
But the real game-changer? Intuitive Gaming Discovery. The Gaming Hub can curate and tailor its home screen based on your interests, offering recommendations on the latest and most popular games. Throw in related video clips, detailed game meta-information, and compatibility with your favourite Bluetooth headsets and controllers, and you've got yourself a gaming ecosystem right at home.
You won't just be playing games; you'll be living them, thanks to advanced motion enhancements and latency-reducing technology in Samsung's 2023 Smart TV and Smart Monitor line-up. Fast decoding, optimised buffer control technology to reduce input lag, incredible 4K and 8K resolution with AI upscaling, high colour accuracy, and sharpness – it's all there to make your gaming experience something extraordinary.
And don't worry multitaskers; Gaming Hub's Quick Menu has got you covered. Using the TV and Monitor's remote or a compatible gaming controller offers access to gaming news, tutorials, curated music playlists, podcasts, and more. Because who says you can't enjoy a podcast while annihilating virtual enemies?
Owners of Neo QLED 8K TVs, Samsung OLED TVs, and a host of other 2023 models can access Gaming Hub from today and select 2022 Smart TVs and monitors from August 2023. So grab a snag, settle in, and gear up for a gaming experience that's more Aussie, more immersive, and more available than ever. Game on, Australia. Game on.