Man of Many's Binge List: Pulp Fiction – March 2022
In Partnership with Uber Eats
A bit of rest and recuperation is good for the soul, right? Welcome to the Binge List, our culinary, cocktail-heavy expedition through the wide world of cinema. Curated by yours truly, this new content series puts a sword to the best movies, beverages and meals on your binge-list, providing a full stay-home itinerary. Watching Goodfellas with a bowl of Paulie's Prison Sauce and a glass of vino (Sicilian, of course), what could be better? Maybe The Charlotte Russe from Once Upon a Time in America? Or perhaps sliding 50 hard-boiled eggs down your gullet in one hour like Paul Newman in Cool Hand Luke is more your style? Cholesterol issues aside, film is full of great food moments and we're kicking off with a tasty one. Fire up the grill, slap on a streaming service and settle in – the menu has been set.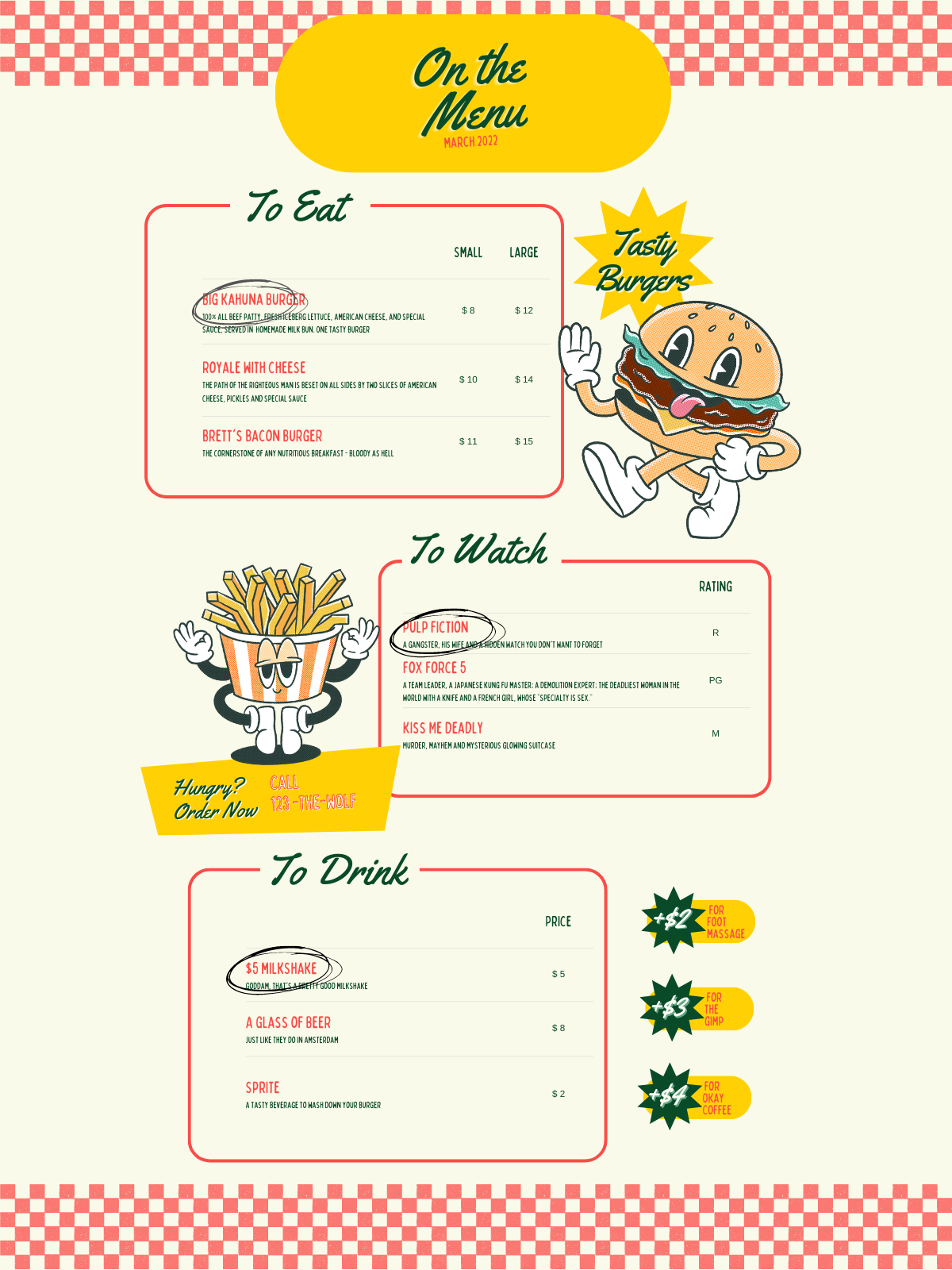 To Watch – Pulp Fiction
A Tarantino masterclass of modern cinema, Pulp Fiction is the fabled director's magnum opus, even if he doesn't think so (spoiler, he prefers Inglorious Basterds). A deep black comedy that twists and turns through the interconnected lives of petty criminals and mob bosses in 1990s Los Angeles, the film strays from your stock-standard thriller. There's comedy, romance, insane violence and in true trademark Tarantino-style, to-die-for dialogue, but Pulp Fiction almost didn't happen.
When Tarantino and co-writer Roger Avary first pitched the film, TriStar Pictures reportedly turned down the script as "too demented". Thankfully, Miramax took a gamble on the 30-year-old's gritty neo-noir and it paid off. Tarantino and Avery scored an Academy Award for Best Writing, Screenplay Written Directly for the Screen, while also securing seven other nominations, including nods for John Travolta, Samuel L. Jackson and Uma Thurman.
Told out of chronological order, Pulp Fiction follows three main stories, each with a different protagonist: Vincent Vega, a hitman; Butch Coolidge, a prizefighter; and Jules Winnfield, Vincent's business partner. While Butch, played by Bruce Willis, perhaps has the most heart (peep the Christopher Walken cameo) and Vincent's story is the strongest by definition, it's Samuel L. Jackson's role as Jules that steals the show and the lines right out of your mouth…among other things.
Available on: Stan Australia
Release date: 24 November 1994 (Australia)
Director: Quentin Tarantino
Story by: Quentin Tarantino; Roger Avary
Box office: $213.9 million
Production companies: A Band Apart; Jersey Films
Distributed by: Miramax, FilmFlex, Miramax Home Entertainment
To Eat – Big Kahuna Burger
You don't often equate eating a burger with an act of intimidation, but somehow Samuel L. Jackson does it. In one of the most iconic scenes in cinema history, Jackson's Jules hunts down the unfortunate folks who made the monumental misstep of wronging his boss Marcellus Wallace, just after they've stopped for burgers at Hawaiin fast-food chain Big Kahuna. In a stare down of epic proportions, Jules politely invites himself to the table, tasting the burger before shooting Flock of Seagulls in the chest.
Suffice to say, up until that point, it's hard to watch the scene without getting a little hungry, so like Jules, we're doing the Lord's work for you. Here, we've put together a recipe for how to make the Big Kahuna Burger from Pulp Fiction and best of all, we didn't even have to head to the store to do it. Many of the ingredients we needed were already in our pantry, but for everything else, we turned to Uber Eats. The meal delivery option just bumped up its grocery and alcohol offering, dishing out $0 delivery on orders of $20 for Uber Pass members, and with foodie favourites Woolworths and IGA on-platform, you can make sure your pantry is stocked.
Pulp Fiction Burger Ingredients
500g lean beef patties (because, well…the metric system)
10 slices bacon, cooked crispy
1/2 red sliced onion
1 can crushed pineapple
BBQ glaze
8 plain hamburger buns
8 slices American cheese
Pickles
1/2 tomato
Ketchup
Mayonnaise
Mustard
Shredded iceberg lettuce
Pulp Fiction Burger Recipe
Heat grill to medium/high.
Coat each patty with the BBQ glaze.
Grill patties for 3 minutes on both sides
While the patties are cooking, toast the buns.
Remove patties and glaze again, then top with a slice of cheese.
Spread some ketchup, mustard and mayo on one side of the bun
Dress burger with lettuce, onion, pickles, tomato and pineapple
Wash down with a tasty beverage (see below)
To Drink – A $5 Milkshake
What makes a $5 milkshake worth $5? Well, it's a shake. It's milk and ice cream. It's five dollars. And unlike Vincent Vega and Mia Wallace's iconic drink in the Jackrabbit Slim's good-time diner in Pulp Fiction, we put bourbon in it. To elevate the classic $5 milkshake, we also enlisted the help of a few hundred jersey cows, courtesy of Gelato Messina. Made using organic Heilala Tahitian vanilla bean from Tonga, free-range eggs and the gelato legend's own fresh Jersey milk, this scoop is just a little bit fancy. Better still, we got it delivered, exclusively through partner Uber Eats. Here's what you need:
Pulp Fiction's $5 Milkshake Ingredients
100g Gelato Messina vanilla ice cream
500ml full-cream milk
Wild Turkey 86.8 Proof bourbon whiskey
Cherry
Whipped cream
Chocolate shavings
Pulp Fiction's $5 Milkshake Recipe
Combine ice cream and milk in the tall glass
Add a shot of bourbon
Blend until thick consistency
Top with whipped cream, chocolate shavings, and a cherry
That's it. Easy peasy. Look, we don't know if it's worth five dollars but it's a pretty f*cking good shake. Now you've got your technique down and everything, maybe you could do something special for your housemate and pass it along. Don't you just love it when you come back from the bathroom and find your food waiting for you? But just remember, it is not a date. It's just like if you were gonna take your buddy's wife to a movie or somethin'. It's just good company, that's all.