Could You Handle The 'F*ck That's Hot!' Cookbook?
You know the feeling—when the heat starts to rise from your stomach, burning its way through your throat and even into your nostrils. Your forehead gets hot and your eyelids—upper and lower—start to sweat. There's a bit of a ringing in your ears, and it's tough to breathe, even though all you want to do is to take a deep breath and let it go in a long exhale in the hopes that the breeze will somehow quench the fire. It's that feeling that is the inspiration behind the new irreverent cookbook, "F*ck That's Hot!" Written by Billy Law, the cookbook features 70 recipes that are hot enough to light a match just by looking at it.
You'll also like:
Everything You Need to Know About the Mediterranean Diet
13 Best American BBQ Restaurants in Melbourne
10 Best Korean BBQ Restaurants in Sydney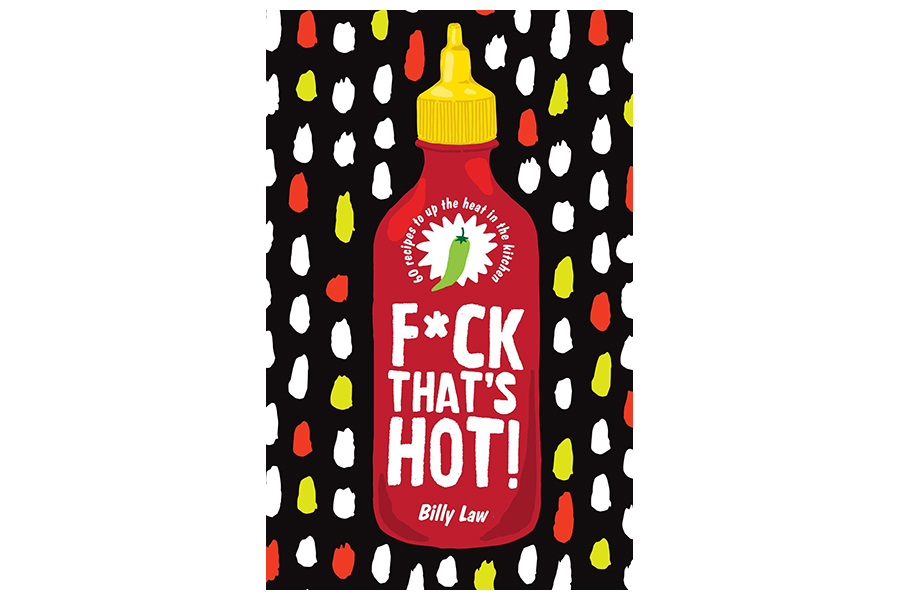 Filled with recipes that "are seriously spicy and not for the faint of heart (or, for that matter, the faint of stomach)," this new cookbook celebrates everything hot. Featuring the world's spiciest dishes, the book provides everything you need to know to cook dishes like Nashville hot chicken, ghost pepper kimchi, sriracha buttered shrimp, Sichuan dan-dan noodles, chicken vindaloo, Thai beef salad with bird's eye dressing, Sichuan cumin lamb, and habanero chilaquiles. If you like it hot, this book will help you turn up the heat.
Author Billy Law knows a few things about cooking, and about making it hot. A former MasterChef contestant, Law has been making a living as a food blogger and travel writer. He's also a food stylist and photographer, and has published two other books: "Little Korea" and "XXL." Originally from Ipoh, Malaysia, Law now lives in Sydney, where he came to study. Law invokes all those skills for "F*ck That's Hot!" including using his food styling and photography talents to create beautiful images of the dishes found in the book. Man of Many was lucky enough to cop a peek at The Hot KFC, one of Law's most infamous recipes from "F*ck That's Hot!" which you'll find beneath this article. If you're ready to experience a nuclear meltdown of heat in your next meal, Law's book and The Hot KFC are for you.
The Hot KFC 
I love all kinds of fried chicken, but Korean fried chicken is my ultimate kryptonite. It has a lighter flour coating, which gives the chicken a non-greasy crispy skin that still has a crunch to it. It's then coated in that yangnyeom sweet and spicy sauce for orgasmic finger-licking satisfaction. 
SERVES: 4-6
Ingredients:
1.5 kg  (3 lb 5 oz)  chicken wings
1  teaspoon sea salt
1  teaspoon freshly ground  black pepper
1 cm  (1/2 in)  knob of ginger, minced
90 g  (3 oz/1/2 cup)  potato starch
45 g  (11/2 oz/1/4 cup)  rice flour
35 g  (11/4 oz/1/4 cup)  plain (all-purpose)  flour
1  teaspoon bicarbonate of soda (baking soda)
1  free-range egg
vegetable oil, for shallow-frying
toasted sesame seeds, to garnish
steamed rice, to serve
Yangnyeom sauce
1  tablespoon vegetable oil
4  garlic cloves, finely chopped
2  tablespoons soy sauce
2  tablespoons gochujang
1  tablespoon white vinegar
1  tablespoon Korean rice syrup (ssalyeot) or corn syrup
2  tablespoons sugar
 Method:
Cut the chicken wings into three: the meaty drumette, the wingette and the tip. Discard the tips or reserve them to make chicken stock. Place the chicken in a large bowl, along with the salt, pepper and ginger and rub into the chicken. Add the potato starch, rice flour, plain flour, bicarbonate of soda and egg. Toss everything together until the chicken is thickly coated in the flour mixture.
Heat about 5 cm (2 in) of vegetable oil in a large heavy based saucepan or flameproof casserole dish until it reaches 165°C  (330°F) on a cook's thermometer. Working in batches, fry the chicken pieces, turning occasionally to prevent them sticking together, for 10–12 minutes, until light golden brown. Using tongs, remove the chicken and transfer to a wire rack with paper towel underneath to catch the excess oil.
Bring the oil temperature back to 165°C (330°F). Working in batches, fry the chicken pieces a second time for 12–15 minutes, until they are deep golden brown and super crunchy. Remove and transfer back to the wire rack to drain.
While the chicken is frying, make the yangnyeom sauce. Heat the oil in a large non-stick frying pan or wok over medium–high heat. Add the garlic and stir-fry for 1 minute until fragrant. Add the remaining ingredients and stir until the sugar has dissolved. Reduce the heat to medium and simmer for 2–3 minutes, or until the sauce has thickened and reduced by half.
Add the fried chicken to the pan and give it a quick toss to coat the chicken in the sauce. Transfer to a serving plate, sprinkle with sesame seeds and serve immediately with steamed rice.
You'll also like:
Everything You Need to Know About the Mediterranean Diet
13 Best American BBQ Restaurants in Melbourne
10 Best Korean BBQ Restaurants in Sydney