2017 Christmas Gift Guide – The Gamer
Gamers and geeks rejoice! It's an incredible time to be you! Whether you're into building Lego versions of iconic Star Wars vehicles or slaying dragons in virtual reality, our 2017 Christmas Gift Guide has the perfect gift for you. Warning: Every gift featured below will provide a substantial amount of indoors entertainment. Prepare to put your life on hold until at least 2019. For all things gaming related, be sure to check out our Gaming page.
2017 Christmas Gift Guide – The Gamer
2017 Christmas Gift Guide – Stocking Stuffers
Explore All Christmas Gift Guides
Xbox One X
Xbox One X is the ultimate console. It's 40% more powerful than the PS4 Pro and thanks to the impressive hardware, games simply play better. One X can play Ultra HD Blu-rays and streams Netflix and Amazon Prime in 4K. Game wise, you have access to the complete library of Xbox One titles and 400+ backwards compatible games with over 130 receiving enhancements thanks to One X's increased processing power. Xbox One X is the new standard for console gaming.
PlayStation 4 Pro
PlayStation fans, it's time to upgrade! The PlayStation 4 Pro improves game performance and offers 4K playback for both games and streaming media such Netflix, Amazon and Stan (in Australia). The hefty performance upgrade also gives PSVR headsets a much-needed performance boost for more immersive gaming. While not quite as powerful as Xbox One X, PlayStation competes with its incredible selection of exclusive titles like Horizon Zero Dawn, Uncharted 4, and the upcoming God of War and Days Gone By. Seriously, look them up.
Nintendo Switch
2017 is the year of Nintendo. The family-friendly company bounced back with arguably its best console to date which is entirely portable. Thanks to its 6.2 inches (16 cm) screen size and removable joy-con controllers, you can enjoy the likes of Super Mario Odyssey and Zelda: Breath of the Wild on your holidays, daily commute or both. Simply dock the console when you make it home to enjoy full HD gaming on your TV. It's the best of both worlds.
Super Nintendo Classic
Nostalgia is an incredibly powerful tool, and no one knows how to exploit it quite like Nintendo. Back in the early 90s, the Super Nintendo introduced us to some of the greatest games of all time. The SNES Classic features 21 of these classics pre-installed, and can easily be plugged into any high-definition TV using the included HDMI cable. Plus it comes with two controllers for a convenient couch co-op. It's the perfect opportunity to revisit your childhood or explore these classics for the first time.
Lego Millennium Falcon Ultimate Collector's Edition
"You've never heard of the Millennium Falcon? It's the ship that made the Kessel Run in less than twelve parsecs." Coming in at 7,500 pieces, the Star Wars Millennium Falcon is one of the biggest models Lego has ever created. Han Solo's unforgettable Corellian freighter features intricate exterior detailing, upper and lower quad laser cannons, landing legs, a lowering boarding ramp and a 4-minifigure cockpit with detachable canopy. You can play out classic Star Wars fantasies with the included Han, Leia, Chewbacca and C-3PO mini-figures.
Lenovo Jedi Challenges AR Headset
Maybe you'd rather harness the power of AR to hone your skills as a Jedi? Lenovo's Star Wars: Jedi Challenges AR headset works with an iOS or Android smartphone for you to engage in virtual Jedi duels against the likes of Kylo Ren and Darth Vader. Plus there's a holographic chess game and another mode that has you leading troops through some of the most iconic Star Wars locations of all time including Hoth and Tatooine. This AR headset includes an awesome lightsaber controller.
PlayStation VR
PlayStation VR is built with hi-tech hardware and the artistic stylings of a compact Daft Punk helmet. It works in conjunction with the PlayStation Camera and PS4 and features a 5.7-inch OLED 1080p display that can run at up to 120 frames a second, so you'll be getting virtual visuals in glorious HD. For the ultimate VR experiences, we recommend checking out Resident Evil 7, Gran Turismo Sport, Skyrim VR and the upcoming Doom VFR. That's right, Doom in VR!
Sphero Star Wars BB-9E Robot
Meet the First Order's new menace from the upcoming Star Wars: The Last Jedi – BB-9E. This Sphero App-Enabled Droid houses sophisticated tech to support the exploration of holographic environments like the First Order's Supremacy Mega Star Destroyer and for you to immerse yourself in the Star Wars galaxy like never before. Control BB-9E with your smart device and see it roll just like on the big screen. You can even interact with other Sphero Star Wars droids.
Meccano M.A.X. Robot
The future is here, and it's bound to scare the hell out of your cat. M.A.X. is a 12-inch advanced robot from Meccano that's packed with a multitude of fun, educational features. Once assembled, M.A.X. functions as a friendly robot companion and personal assistant. He engages in conversation, learns from interaction and remembers important dates. M.A.X. is designed for budding engineers and offers a challenging yet rewarding build consisting of 332 parts. Like all Meccano kits, M.A.X. can be reassembled into a variety of other robotics toys.
Sphero Star Wars R2-D2 Robot
Sphero's take on the world's most popular droid features an integrated speaker which emits authentic beeps and boops; combined with LED lights and the ability to switch switches between bi-pod and tri-pod modes, Artoo waddles just like in the films. He'll even take you for a tour through the Millennium Falcon using augmented reality. The best feature though is his reactions. Play your favourite Star Wars film, and he knows how to react to all the best parts. This is precisely the droid you are looking for.
Samsung Gear VR + Controller
Samsung's Gear VR headset is the perfect entry point into VR technology. Powered by Oculus, Gear VR features 42mm lenses with 101-degree Field of View and advanced distortion correction technology to minimise motion sickness. It's powered by your Samsung smartphone so the price is kept way down and it's now paired with a controller for improved and simplified gaming. With Gear VR you can immerse yourself in the likes of Minecraft, 3D photography and some fascinating ways of viewing films and social media.
Google Daydream VR Headset
Enjoy VR with a soft, lightweight fabric headset that's easy-to-wear and comes with an expressive controller that's simple to use. Experience music, sports and photos with a full 360° panoramic view. Plus you can access a massive library of VR games. Daydream is similar to Gear VR but is compatible with a broader selection of Android smartphones and has an even lower price point.
Nerf Star Wars Captain Phasma Blaster
Star Wars' first female Stormtrooper is also it's most deadly. Now you can own her signature bolt-action blaster in Nerf form which features GlowStrike technology that charges the darts to make them glow when fired. Load 5 darts into the barrel of this single-fire blaster, pull the bolt back to prime it, and then pull the trigger to unleash and hear authentic laser sound effects! Keep priming and pulling the trigger to unleash the remaining darts. Just go easy on the younger siblings and pets.
PlayStation VR Aim Controller
PlayStation's Aim Controller is the best way to shoot things in VR. It offers precise and intuitive aiming thanks to its advanced motion sensing and light tracking technology. Aim features an ergonomic, two-handed design with immersive vibration feedback and includes all of the Dualshock 4 buttons and controls in easily accessible positions. Just like Dualshock 4, Aim is rechargeable via a PS4 console. It's the perfect way to play games like Farpoint, Doom VFR, zombie shooter Arizona Sunshine and the upcoming Bravo Team.
HP Omen X Gaming Computer
That design…Omen X looks like it came from space! Yet it's a top-of-the-line gaming PC built right here on Earth. With Omen X, you can easily move from your desktop to the couch for comfort gaming and even strap it onto your back and immerse in VR. Omen X features a factory overclocked NVIDIA GeForce GTX 1080 processor, high-bandwidth GDDR5X and DirectX 12 to deliver fast, smooth, and power-efficient gaming experiences. VR headset and backpack straps sold separately.
ASUS ROG Zephyrus Gaming Notebook
Zephyrus is a revolutionary gaming laptop that's also incredibly thin. The slimmer body is a mere 16.9-17.9mm, yet still retains the hardware necessary to rival high-end gaming desktops. It's built with NVIDIA GeForce GTX 1070 graphics with Max-Q Design, a 7th Generation Intel Core processor, an optional 120Hz wide-view display, and Windows 10 Professional. The sleek chassis also includes powerful cooling thanks to an intelligent new air-flow design: Active Aerodynamic System, and an RGB keyboard that will feel familiar to desktop gamers. Zephyrus is the perfect notebook for hardcore gaming professionals on the move.
Anki Overdrive: Fast & Furious Edition
With Anki Overdrive: F&F Edition you can live your life a quarter-mile at a time. This intelligent battle racing system comes with an 8 configuration racetrack and two self-aware A.I.-powered race cars – Dom's Charger and Hobb's MXT. You and a friend control the vehicles wirelessly via an app where you can race against each other, or battle against characters from the film. This racing system brings the blockbuster movie series to life.
Super Mario Odyssey
Remember in Super Mario 64 how you could collect 120 stars? Well, Odyssey has over 800 power moons for you to discover. Using his new wearable companion Cappy, Mario can possess all of the iconic characters including goombas, bullet bills and Koopa troopers to name a few. Each character offers new abilities and gameplay clallenges. Plus there are loads of pixelated 2-D platforming sections as throwbacks to Mario's 8-bit days. Not only is Odyssey one of the best games on Nintendo Switch, it's also one of the best games of 2017.
Need for Speed Payback
From insane heist missions and devastating car battles to over-the-top set pieces, Need for Speed Payback is basically Fast & Furious the game. Set in the underworld of Fortune Valley, you and your crew are reunited by a search for vengeance against The House, a nefarious cartel that rules the city's casinos, criminals, and cops. Race, drift, craft unique rides, cruise the open world looking for jumps and prove yourself online. Need for Speed Payback has it all. It's also available for Xbox One and PC.
South Park: The Fractured But Whole
Fractured But Whole is a South Park fan's dream come true. It's written and directed by the TV show's creators Matt Stone and Trey Parker and features hundreds of references to the program's past. The more episodes of South Park you have seen, the more you will enjoy the game. The original story tackles superheroes, social media, racism, Kayne West and cat abductions, each in an increasingly amusing and offensive manner. South Park: The Fractured but Whole is easily the funniest game of 2017. It's also available on PS4 and PC.
Star Wars Battlefront II
Star Wars Battlefront II lets you embark on an endless action experience through its deep multiplayer, modes and original story that's set between Return of the Jedi and The Force Awakens. Use the Force to prove your worth with or against iconic characters such as Kylo Ren, Darth Maul, and Luke Skywalker, as you play a part in 40 years of timeless Star Wars films. Unfortunately developer DICE didn't include fan favourite Greedo. I guess it's safe to say that Han shot first. Also available on Xbox One and PS4.
Assassin's Creed: Origins
After a few years off, Assassin's Creed returns with an ancient Egyptian sandbox and a whole bunch of new tricks up its sleeve. Uncover lost tombs, explore the pyramids, and discover the secrets of mummies, the gods, and the last pharaohs. Sail down the Nile and fight your way through dangerous factions and wild beasts like crocodiles and hippos. Origins features an entirely new and improved combat system and overhauled stealth mechanics. Plus there's an in-depth and personalised RPG system in play. Origins marks a new beginning for the Assassin's Creed series and is easily its best game so far. Also available on PS4 and PC.
Gran Turismo Sport
Sony's glorious racing sim returns with a sports car focused experience and true-to-life graphics running at 1080p resolution and 60 frames per second. Developer Polyphony created a new physics engine for more realistic handling, and the game features more than two dozen exclusive concept cars, designed with auto manufacturers including Bugatti, Aston Martin, and Mercedes. GT Sport has the world's only official FIA Championship for gamers to represent their countries online. Plus you can drive every single vehicle from inside its cockpit using a PSVR headset. Sony even stated free story content is on its way.
NBA Live 18
After a few stumbles, NBA Live 18 is the return to form that the long-running basketball series needed. It's not perfect but offers enough in the way of personalisation that it genuinely feels like YOUR basketball story. Plus James Harden and his incredible beard are there to guide and narrate your journey from college basketball to a professional NBA career. Being an EA game, it features Ultimate Team for you guessed it, building the best team from drafts and randomly drawn cards.
Ashes Cricket
Ashes Cricket is the officially licensed video game of cricket's greatest rivalry. It brings all the fast-paced action, big hits and skill in both a more realistic and authentic way than ever before. Ashes Cricket features photorealistic likenesses for all of the Australian and English men's and women's teams and stadiums from across those nations, plus it's got T20 games, custom team creation and commentary from Michael Slater and others. Sadly there's no licensing for other cricketing teams, but the quality of gameplay makes up for any shortcomings. Nice Garry! It's also available on Xbox One.
Madden NFL 18
Madden NFL 18 is the best and most complete entry in years. Thanks to the Frostbite engine, it's also the best looking NFL game to date. The extraordinary underdog story in Longshot mode has no right being in a sports game, and it lifts Madden NFL 18 to new heights. Plus the diverse game's modes including Arcade and Ultimate Team will entice a broader crowd of gamers and makes it the perfect entry point for the series. Madden NFL 18 is also available on PS4.
FIFA 18
Football or soccer, both FIFA 18, sees the most significant steps in gameplay innovation yet by introducing Real Player Motion Technology – an all-new animation system which unlocks a new level of responsiveness, and player personality. The improved player control combined with new team styles and positioning gives you the tools to deliver dramatic moments that will ignite stadiums around the world. You can also continue Journey as footballing hero Alex Hunter along with a star-studded cast of characters, including Cristiano Ronaldo. The other significant addition to FIFA 18 is icon players like Ronaldo Nazário and other football legends who are available to join your Ultimate Team roster. FIFA 18 is also available on Xbox One, PC and Nintendo Switch.
Skyrim VR
The Elder Scrolls V: Skyrim is the game that keeps on giving. It was initially released back in 2011 and since then, has received stacks off DLC, a remastered version, a portable version via Nintendo Switch and now the landmark RPG has gone full-blown VR. It's the same 200+ hour dark fantasy adventure reimagined for absolute immersion and now features motion controls. Murder some chickens, pick some pockets and slay some dragons like never before.
Wolfenstein II: The New Colossus
You got to love the Nazis. Certainly not for their beliefs or actions, but as the best pop culture cannon-fodder this side of the zombie apocalypse. In this alternate reality, the Nazis won WWII and now occupy North America polluting your way of life. Events follow 2014's Wolfenstein: The New Order and you once again play as BJ Blazkowics, who continues his struggle from Nazi oppression. The gameplay and story are both excellent. Wolfenstein II: The New Colossus is easily the best first-person shooter of the year. Also available on PS4 and PC.
NBA 2K18
Your virtual basketball career has arrived or will arrive Christmas Day. The newest entry in the bestselling, highest rated basketball series offers hardcore fans a hardcore simulation of their favourite ball sport. This year brings the incredible graphics, pumping soundtrack and heaps of modes to keep you busy long into 2018. NBA 2K18 is also available on Xbox One X and Nintendo Switch.
Forza Motorsport 7
Experience the limits and beauty of competitive racing with the most comprehensive automotive game ever made. Forza 7 has an unrivalled car list consisting of over 700 cars, including the most extensive collection of Ferraris, Lamborghinis and Porsches ever. There are over 30 real-world locations spanning multiple race classes and driving conditions. Plus Forza Motorsport 7 is one of the best examples of Xbox One X 4K gaming, offering UHD playback at 60 frames per second.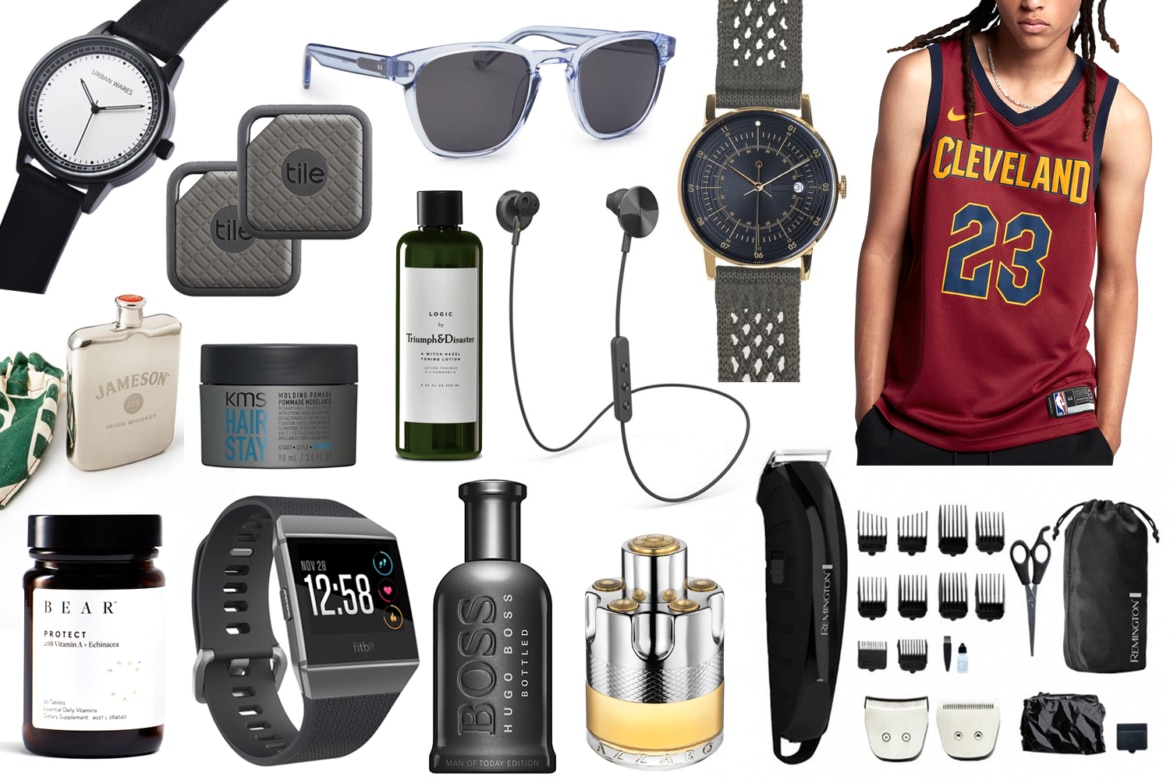 2017 Christmas Gift Guide – The Gamer
2017 Christmas Gift Guide – Stocking Stuffers
Explore All 2017 Christmas Gift Guides