10 Chess Sets Worthy of a Grandmaster
They say you shouldn't rely on your tools for a good performance. But clearly, whoever said this didn't have a good looking set of tools. If chess is your game of choice, you're going to want a board that looks as good as you play. That's why we've collated a list of 10 chess sets worthy of a grandmaster. Whether you're picking it up for the first time, or you're a chess board champion, we'll have the chess set for you.
Following the success of The Queen's Gambit on Netflix, you may have noticed chess becoming a more popular pastime. If you've been into the game of chess before the bandwagon started filling up, you'll know how fun, frustrating, and fulfilling the game can be. A chess set is also a great piece of décor that suggests sophistication, as long as its not covered in pizza boxes and spills. For play or display, read on for our list of 10 best chess sets to buy.
You may also like:
22 Best Unique Gift Ideas
The Queens Gambit is Breaking Netflix Viewership Records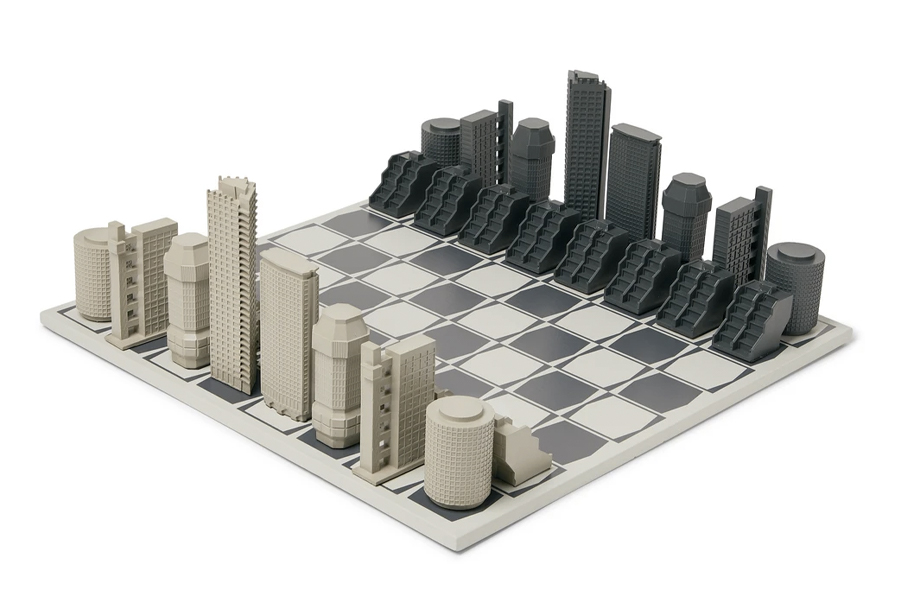 1. Skyline Chess – London Brutalist Edition
As the name suggests, this Skyline Chess board is inspired by the architecture of London. Each piece is hand cast from a heavy resin, with all your favourites like One Kemble Street, Cromwell Tower, and Centre Point. The board itself is a simple wooden board, with an eloquent and modern chequered design. The heavy resin casting of the chess pieces makes them tougher, to take the beating when you flip the board in frustration. But try not let things get to that point. Sit back with tea and biscuits, as you admire this great chess set.
Made by: Skyline Chess
Cost: $655 AUD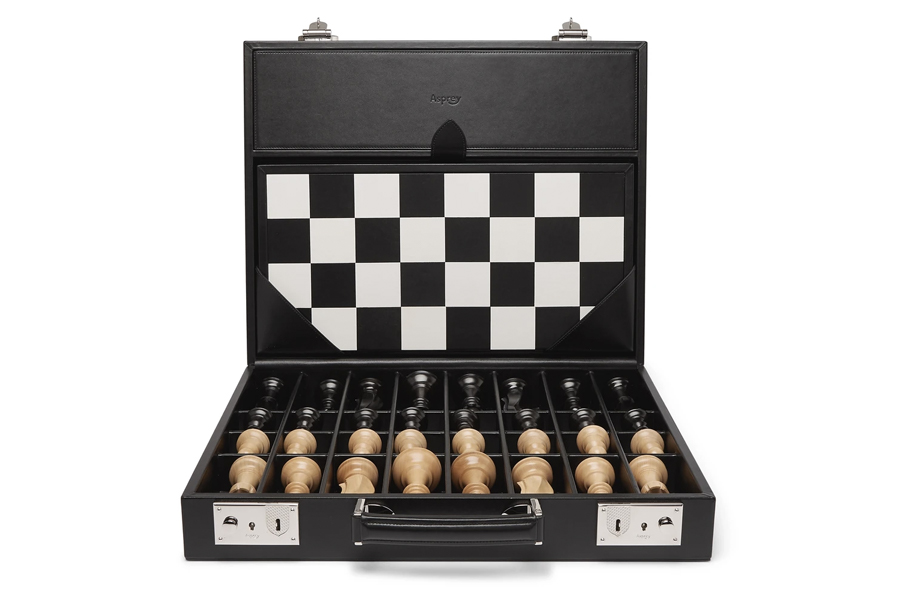 ---
Featured Video from Man of Many
---
2. Asprey Hanover Leather Chess Case
The Asprey Hanover Leather Chess Case has a unique story as to how it was created. George Harrison commissioned the board to be made for his fellow Beatle, Ringo Starr, and now you can own a version for yourself. Coming in its own leather briefcase, this chess set is great for travel, or escaping manic, screaming fans. The pieces used here are the standard chess piece designs you know and love. Whether it be for Abbey Road or your living room, this is one of the best chess sets you can get your hands on.
Made by: Asprey
Cost: $7,832 AUD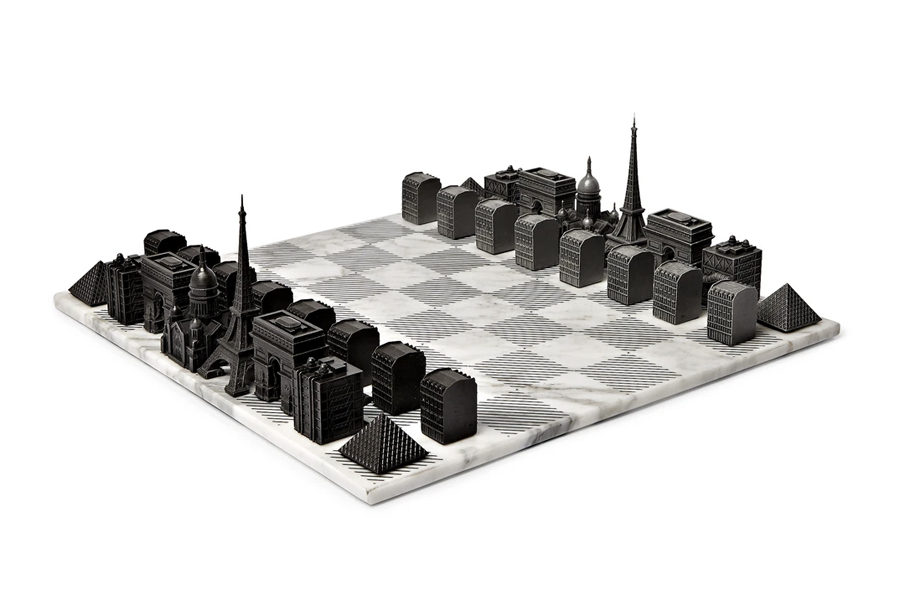 3. Skyline Chess – Paris Marble and Metal
Paris is known for its fine art and architecture, and nowhere is this clearer than the Paris Edition of this Skyline Chess board. Resting atop a hand-painted marble board, each piece is cast to resemble the Paris skyline. Representing the rook is The Lourve, the knight replaced by Le Centere Pompidou, and the Sacre Coeur as the queen. This chess board made of marble and metal pairs well with candles, wine, and a cheeseboard, for good measure. Just try not to get any crumbs on the Eiffel Tower while you're playing.
Made by: Skyline Chess
Cost: $748 AUD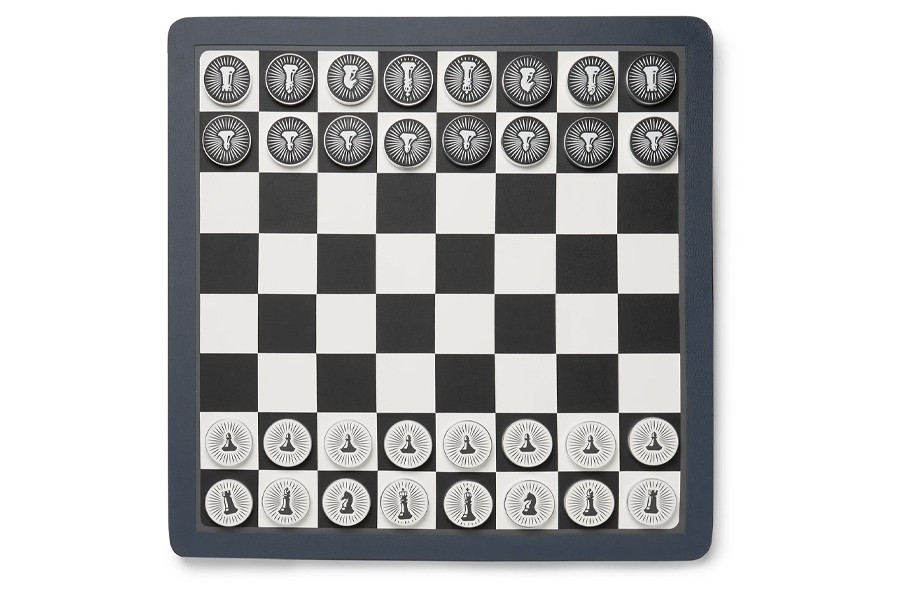 4. William & Son Reversible Leather Checkers and Chess Board
The William & Son Reversible Leather Checkers and Chess Board combines the best of both worlds. The chess and checkers pieces are combined here, easily flipped over to play each game. Although you lose the towering chess pieces this way, the convenience and simplicity of storage well and truly make up for it. And, of course, each piece and the board itself is handcrafted, tirelessly worked on until perfection is achieved.
Made by: William & Son
Cost: $4,129 AUD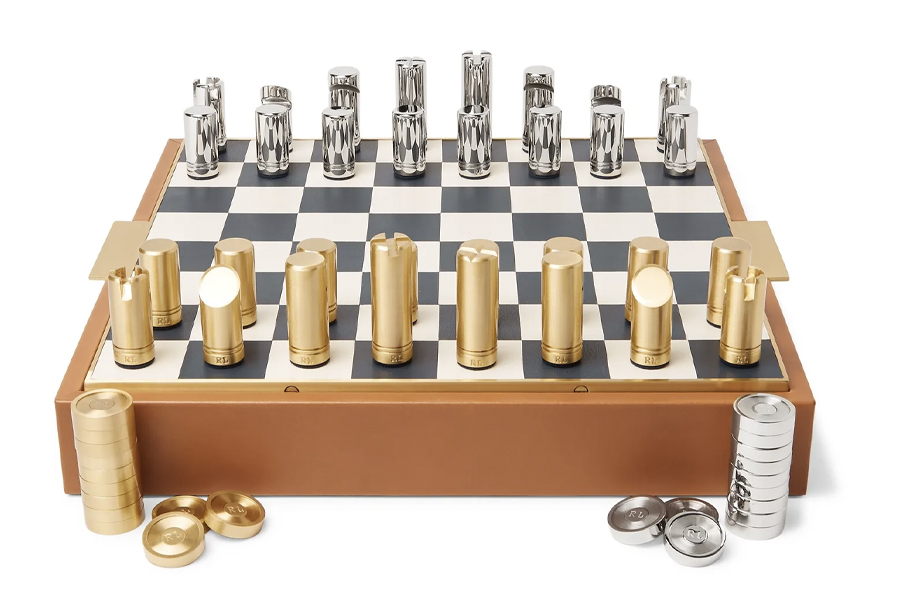 5. Ralph Lauren Home
This Ralph Lauren Home chess set is exactly what you'd expect from such a high-quality brand. The set is entirely handmade, down to the smallest details. The chequered pattern of the board is made of precisely cut leather, and the chess pieces are made of gold plated brass. The usual chess pieces are replaced here with minimalist, chic shapes that almost look like bullet casings. This chess set also includes checkers, along with convenient storage for all pieces below the board.
Made by: Ralph Lauren
Cost: $3,472 AUD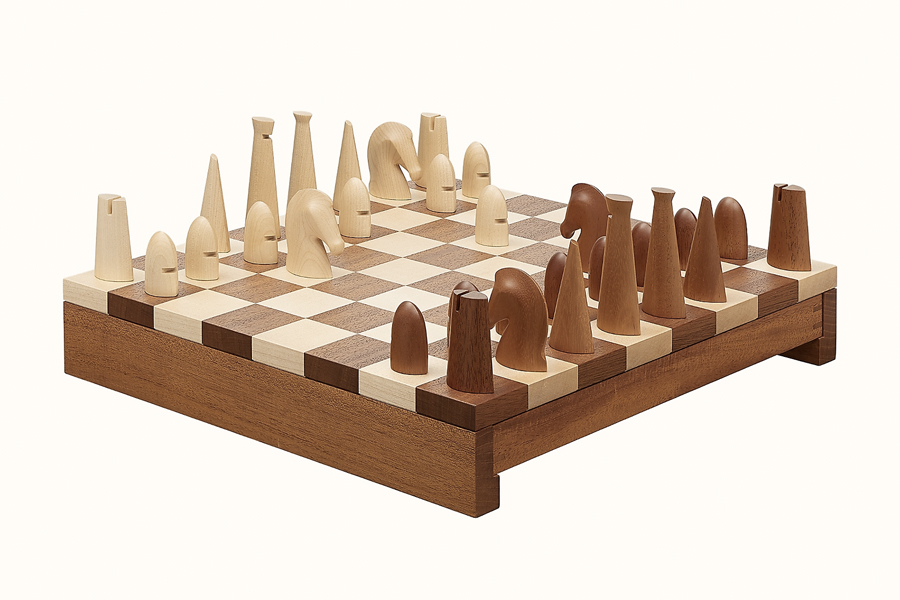 6. Hermes Samarcande Chess Board
The Samarcande Chess Board is an all-wooden chess set. Using sycamore and mahogany woods for the board and pieces, this is a chess set that'll feel at home in a study, with leather-bound books and a glass of scotch. Each piece has its own abstract design, while still being distinctive enough to know what goes where. Storage for the pieces is again below the board, so you shouldn't have to worry about anything going missing or being knocked off between games.
Made by: Hermes
Cost: $7,555 AUD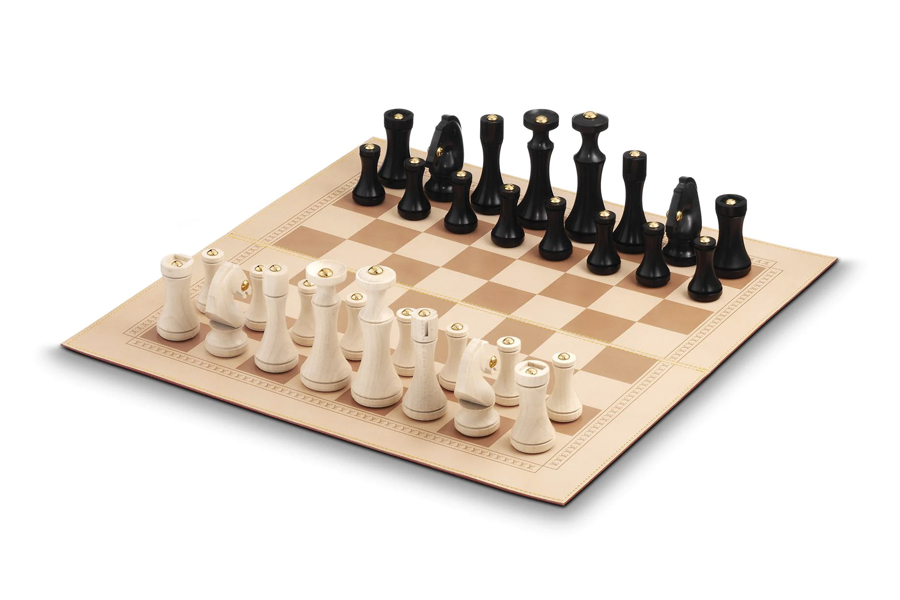 7. Louis Vuitton Chess Case
The Louis Vuitton Chess Case is by far the most expensive chess set on our list of the 10 chess sets worthy of a grandmaster. It just goes to show that you can slap an 'LV' on anything, and the price will go up by 1,000%. This isn't to say that the board lacks quality, with the board being made of fine ebony and maple, and the pieces of metal. This is all stored in a Louis Vuitton carry case, if you dare leave the house with such an investment.
Made by: Louis Vuitton
Cost: $24,000 AUD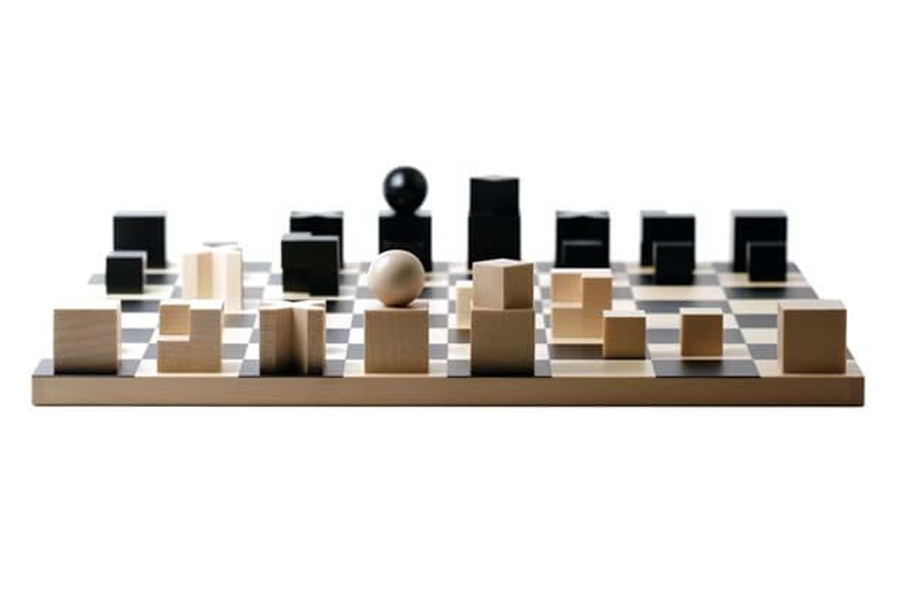 8. Bauhaus Chess Set by Josef Hartwig
The Bauhaus Chess Set by Josef Hartwig is simple chess, made to the highest quality. The board is as much art as it is a board game, designed by Hartwig after World War 1. The pieces of the board have been redesigned to demilitarise the game, now in neutral shapes rather than warring factions. This minimalist design means you may have to keep the box around to remember which piece is which. A wooden storage case holds all the handmade pieces comfortably, making it great for play on the move.
Made by: Bauhaus
Cost: $808 AUD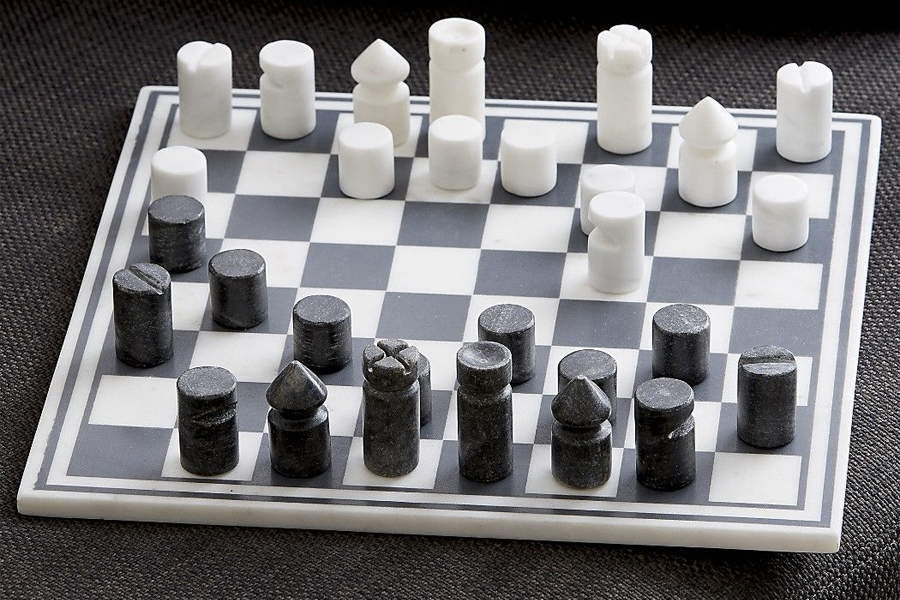 9. CB2 Marble Chess Game
The CB2 Marble Chess Game is a great chess set for play, or for display. The boards sleep marble design could easily be mistaken for a large coaster. The hand-carved, hand-polished chess pieces too, could easily stand on their own as décor or miniature paperweights. This chess board is an attractive set to tie any room together, as well as host a great game of chess.
Made by: CB2
Cost: $144 AUD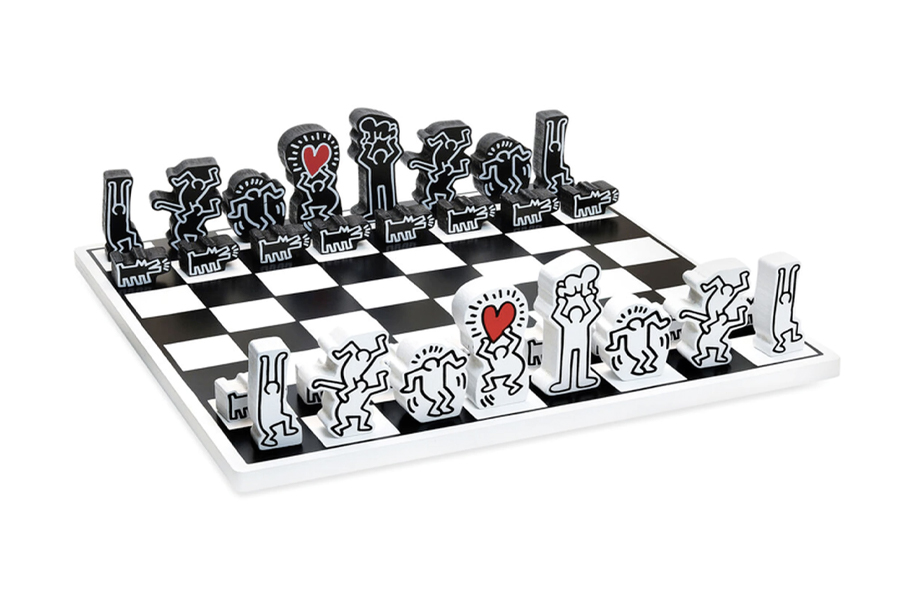 10. Keith Haring Chess Set
The Keith Haring Chess Set is a quirky, abstract chess set that closes out our list of the 10 chess sets worthy of a grandmaster. Each chess piece depicts a funky artwork by Keith Haring, making them incredibly unique and well as functional. Crafted on lacquered wood, with a cloth carry bag, this is a chess set that's great for kids. This is also, by far, the most affordable chess set on our list, making it great for that first step up from beginner to grandmaster.
Made by: MoMA Design
Cost: $58 AUD
You may also like:
Bioshock, XCOM 2 and Borderlands Collections on Nintendo Switch
The Queens Gambit is Breaking Netflix Viewership Records
General FAQ
How do you play chess?
The aim of chess is to take out the other players king. This is done by moving pieces around the board in designated movements.
What's a chess board setup?
Of two rows, the front row is all pawns. Behind them from left to right, you should have a rook, a knight, a bishop, a king or queen (the white queen goes on the white square, the black queen on the black), the leftover king or queen, and then a bishop, a knight and finally a rook.
---
Featured Video from Man of Many