NBA 2K22 Gameplay Details: Everything New
It's that time of the year again when NBA 2K starts ramping up the content previews in anticipation of the launch of their new title. This year's gameplay developed Mike Wang placed a massive focus on defence, dribbling, and dunking to create a more competitive game than ever before. Gameplay is set to be faster, more skill-based on offense, and there's even a new player builder. Let's check it out.
You'll also like:
NBA 2K22 Player Ratings Revealed: How Do the Aussie's Stack Up?
Top Video Games and Release Dates for September 2021
Call of Duty: Vanguard Explores the Dawn of Special Forces with Epic WWII Narrative
With big changes forecast to improve the skill gap, increase competition in Pro-Am, and provide more fun for casual players in The City or MyCareer.  NBA 2K22 is sounding like the most complete gameplay experience in franchise history. We're breaking it all down and covering everything from new animations, techniques and optimisations. Starting with the biggest changes, on the defensive end.
Defence
The biggest influence of gameplay development.
Completely rewritten block and shot contest systems.
New animations for snatch blocks and spikes.
Emphasis on basketball IQ.
Not getting a hand in the shooter's face will lead to easy buckets.
Rewarding body-up animations.
Layup and dunk strips from high-rated stealers.
Body-up rides and bumps feel much more rewarding.
Reduced vacuum on screens.
We were massive NBA 2K21 next-gen players, having spent more than enough time in The City, Pro-Am, and MyCareer to understand the shortcomings on the defensive end. In 2K21, offense took a massive leap with crazy dunk animations, 6'7″ PF's playing point guard, and dribble moves that were mostly unguardable. 2K22 gameplay has changed that entirely, with a stronger focus on the defensive end, rewarding those of us who play lockdown defense and anticipate well.
Blocks and Steals
A completely redesigned shot-blocking and contest system will make big men relevant again, with new snatch and spike animations paving the way for basketball IQ to be better exposed in the system. Big men will find a place in a Pro-Am teams system and won't be heavily exposed in the park with a proper dunk and layup contest system.
Steal has also seen a big boost on the ball, with greater emphasis on the steal attribute itself. In past generations bump steals were relatively easy to generate no matter the rating, however, this year developers have 'reach punishing' animations for low rated stealers. Those with good timing and opportunity will be able to pick pockets much easier. Layup and dunk strips have been greatly increased, in fact, there's a new badge dedicated to such.
Shot Contest
A shot contest rewrite removes the ghost contests (where you didn't have to get a hand-up) and is a massive improvement for both defensive and offensive-minded builds. In 2K21, there was nothing worse than working for an open shot and receiving a ghost contest (15-30%) from a 6ft point guard 1m away from you. This year, not getting a hand in the shooter's face will lead to some easy buckets for the offense. On the other hand, properly crowding shooters with good contests will result in plenty of bricks and airballs, as they should.
Defensive Positioning
Lockdown defenders will receive better body-up rides and bumps feel much more rewarding as the motion team has dramatically improved the feel of on-ball defensive movement. Solid reduction in bump steals to allow a greater field of movement for defenders and ball handlers. Movement – especially on next-generation consoles is improved – with shifts, launches, stops, and cuts tightened thanks to new-gen foot-planting, a lot less sliding on both ends of the floor.
Dribbling
Size-ups combine with motion capped animations (seamless).
Speed stick returns for fast crossovers.
50 unique signature size-up packages each with a different advantage.
32 unique 'signature combos' each with a different advantage.
New combos, cancels, and move chains (drag dribble hesitations and spin stepbacks).
All 28 dribble styles were refreshed.
Height compensation for dribble movement (e.g. tall players slower).
Identical between new and current-gen games.
Gameplay developer Mike Wang says "playmakers are going to have a field day with this year's game" thanks to new dribbling animations and mechanics. Fans of the current dribbling mechanics, that allows a solid amount of exploits – for those who are keen to practice – we hope many of these are kept in the game for NBA 2K22. Especially when you consider the vast improvements on the defensive end.
Size-ups
1-to-1 Basic Size-ups have been removed and replaced by 1-to-1 Signature Size-ups. Basically, there are no more generic signature size ups, allowing more combinations for the dribbler when integrating the 'hold-up' motion-captured moves.
Speed dribbling returns with the stick e.g. Steph Curry's rapid crossovers. Mike Wang has integrated more than 50 unique signature size-up packages to choose from, each with its own distinct advantages catered to your style of play, rhythm, and scoring options. There are also 32 unique dribble sequences to choose from now (3-4 second combos).
Combinations
Mike has kept most of these a secret but he does mention "quickly sending multiple Pro Stick commands and/or attempting to move in various directions with the left stick just after performing a dribble move will open up a world of new combos". And that's enough to get us a little excited.
Movement
Overall a much faster pace and tighter control than previous games. All dribble styles were refreshed with new content to better match the real-life counterpart. Tall players will no longer be at an advantage when it comes to speed with ball rating, with smaller players returning to be faster than ever. Finally, dribbling moves will be the same across new and current generation games.
Shooting
New shot meter, dynamically resizing window.
Emphasis on shot IQ.
Shot timing still plays the greatest role.
Additional boost for turning off the meter.
No speed difference for corner shooting!
Shot Meter
The single biggest change to shooting this year is the shot meter itself. Players will still receive a boost for turning the meter off, and that's exactly what we recommend doing. For those who chose to leave it on, you'll be left with a dynamically changing meter that changes size depending on the quality of the shot, contest, distance, fatigue. Most importantly Mike Wang has confirmed speed will remain the same no matter where you shoot from on the perimeter (including corner).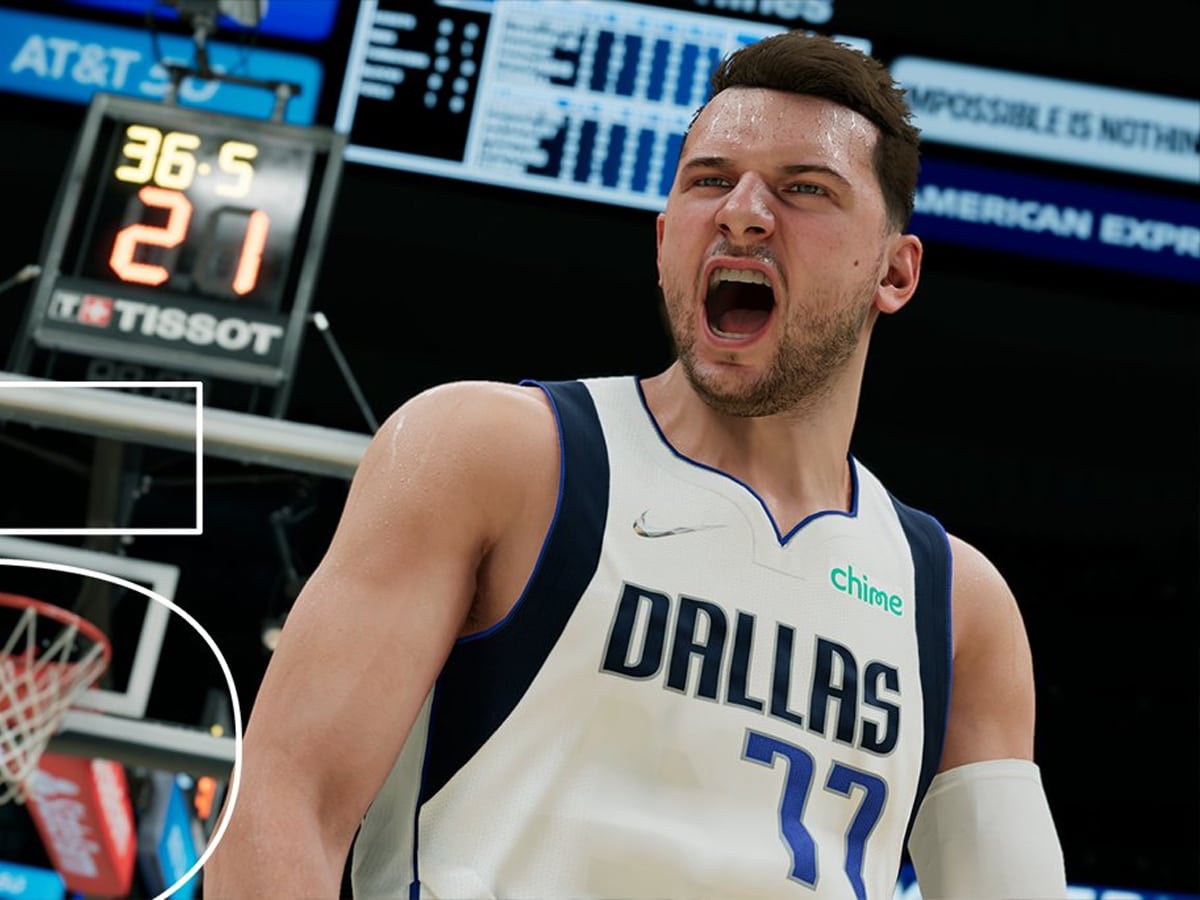 Finishing
Revamped block system, means rim protectors have more tools to make great stops at the rim.
Timing for alley-oops and contact dunks on the new-generation game.
Pro stick dunking will trigger timing for an automatic contact dunk (high risk, high reward).
Dunk celebrations.
More dunks than ever before, with Dunk Style Creator option.
One of the hottest topics for NBA 2K21 next-gen players was finishing. It was far too easy to accomplish contact dunks when every player on the court was 6'7″ with 99 driving dunk and the defender had 25 interior defence. The game was tough for those who didn't understand the positioning and importance of certain attributes. These have all been addressed with 2K22.
Rim protectors will prevent the automatic 2-pointers that happened in previous games with a range of new block animations. We expect to see a lot more big men in the park and in the competitive pro-am scene than in previous games.
Pushing down on the Pro stick while holding sprint will activate a contact dunk animation where the user has to time the dunk. It's a high risk, high reward play but it's certainly more satisfying than rim-running and knowing you're getting automatic 2-points.
New Badges
Fast Twitch – Ability to get off the floor quicker for standing layups and dunks
Grace Under Pressure – Ability to convert standing layups more effectively
Limitless Takeoff – Ability to soar from further away on driving dunk attempts
Mouse in the House – Ability for bigs to finish over shorter players more efficiently
Unstrippable – Ability to secure the ball better when gathering for a layup/dunk in traffic
Chef – Ability to knock down Steph-like off-dribble deep 3's
Limitless Spot-up – Ability to hit logo-range 3's off a catch and shoot
Lucky #7 – Boosts your ability to score when shooting early in the clock
Mismatch Expert – Ability to successfully shoot over taller defenders on a switch
Glue Hands – Ability to make difficult catches and quicker branch out to a shot or dribble
Hyperdrive – Boosts the speed and effectiveness of moving dribble moves
Quick Chain – Boosts the ability to quickly chain dribble moves together
Post Playmaker – Boosts the effectiveness of both shots and moves when playing in the post
Triple Threat Juke – Increases the effectiveness of triple threat fakes, jabs, and go moves
Ball Stripper – Ability to strip layup and dunk attempts more effectively
Hustler – Ability to get to those scrappy 50/50 balls quicker than opponents
Menace – Significantly drops the offensive ratings of opponents when you smother them
For NBA 2K22, the developers have added further details into the player builder menu with more badges at your disposal and an attribute screen that tells you exactly what the threshold for each badge is. The total badge count now stands at 80 to offer more ways for players to impact the game.
Finally, there's a new-gen exclusive called Takeover Perks, a modifier that you can unlock to strengthen your existing Takeover abilities. Instantly this reminds us of the Grand-badge from previous 2K's but details are yet to be shared amongst the community.
NBA 2K22 will be available on September 10 for PlayStation 5 and PlayStation 4, Xbox Series X|S and Xbox One, Nintendo Switch, and PC platforms. We can't wait to get our hands on a copy. For more information, we recommend following gameplay developer Mike Wany @beluba on Twitter as he spends the rest of the day answering the in-depth questions from the community.
You'll also like:
NBA 2K22 Player Ratings Revealed: How Do the Aussie's Stack Up?
Top Video Games and Release Dates for September 2021
Call of Duty: Vanguard Explores the Dawn of Special Forces with Epic WWII Narrative