Former NASA Engineer's 'Mission Impossible' Squirrel Maze
Sometimes the simplest solution is the best. This is not one of those cases. Just a year after he unveiled the world's most insane animal obstacle course, former NASA engineer Mark Rober is back at it again with the Backyard Squirrel Maze 2.0. After several failed attempts to keep squirrels out of his bird-feeder, the astute handyman set to work on building a contraption designed at testing the mental fortitutde of his four-legged friends. In his 2020 clip, the YouTube star showed off his eight-part Ninja-Warrior-inspired course, which saw his neighbourhood squirrel's traversing "The Bridge of Instability", "The Maze of 1,000 Corridors", "The Pitchfork Tumblers of Treachery", "The Homewrecker", "The Slinky Bridge of Deception", "The Tourist Trap", "The Quad Steps of Great Elevation" and "The Orbital Assist Platform". This time around, Rober's Squirel Maze takes things to all new heights.
You'll also like:
Watch This Stunt-Car Driver Plough a Limo Through an RV
True Story of Barry Wood: 'Wood Sitting On a Bed' Meme
This Slow Motion Video of a Pinball Machine is Oddly Satisfying
In his latest video, the BYU mechanical engineering alumni reveals what he calls "the most secure walnut vault in the Western United States". The nine-part gruelling obstacle course starts with climb from the ground to a single platform. According to Rober, all other poles were fitted with some kind of counter-weight, meaning the start pole was the only possible way to get the ball rolling. Once the course began, however, it's straight to the casino.
Rober built a small squirrel house designed to look like the casino from iconic heist flick Ocean's Eleven, complete with hotel buffet and a bevy of playful interiors. After traversing a spinning lock, the squirrels were forced to move through a number of challenges, including a disappearing wall and a moving helicoptor, much like the one in Mission Impossible. Keeping that film theme, Rober also added the classic drop-down indoor abseil scene from the Tom Cruise epic, before finishing with a triggered laser room like the one from Entrapment that led to Fort Nuts.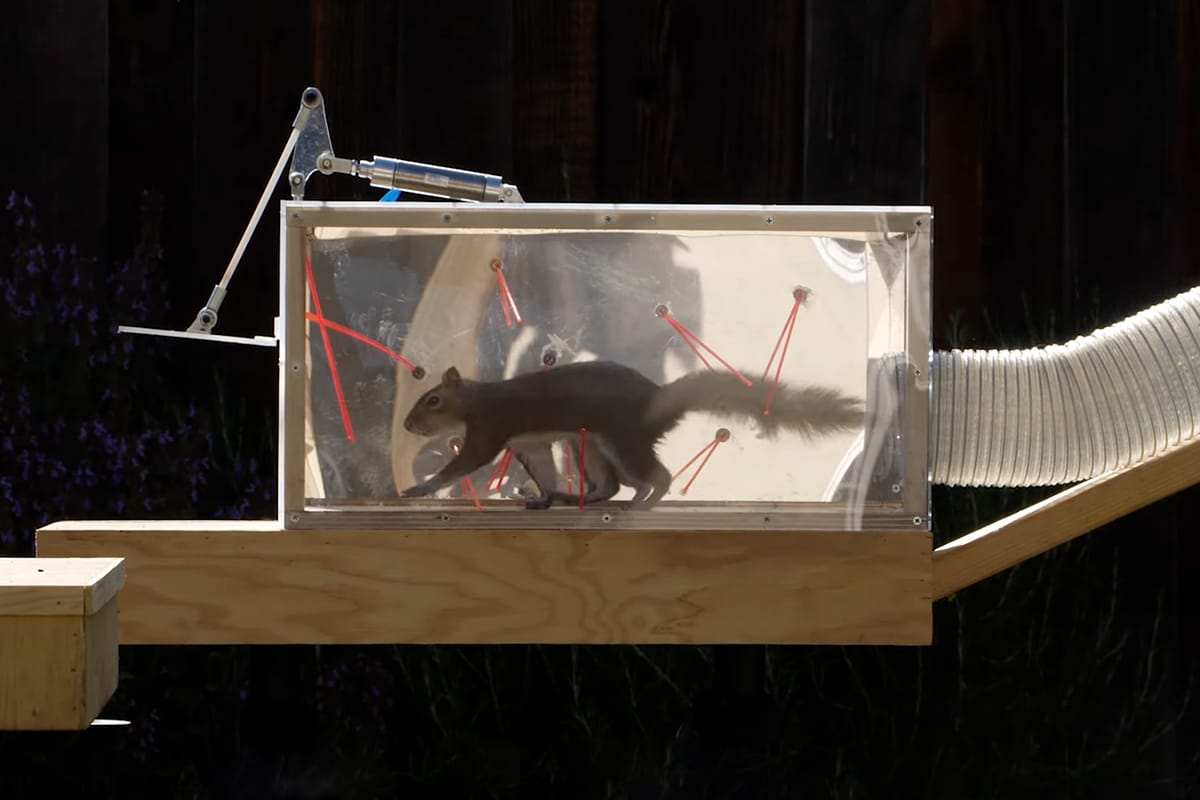 According to Rober, the Squirrel Maze took him and an accomplice about two months to design and build. Taking up most of his backyard, the full-scale course was designed to safeguard his stash of walnuts, something he failed to do the first time around. More intricate and eloborate than ever before, the Squirrel Maze 2.0 may have had all the elements of the perfect security system, but surprisingly, all it took to break in was a few days and four squirrels with an above-average hunger for walnuts. Quick score check: Squirrels 2, Rober 0.
You'll also like:
Watch This Stunt-Car Driver Plough a Limo Through an RV
True Story of Barry Wood: 'Wood Sitting On a Bed' Meme
This Slow Motion Video of a Pinball Machine is Oddly Satisfying