New On Disney+ in July 2021
As we all make our way through the endless cavalcade of content filling up on screens, squaring our eyes and shortening our lifespans (presumably, we don't know), it's time we turn our attention to Disney+. The gargantuan media giant's all-encompassing collection of films, new series and stunning originals has been dropping blockbuster releases at a near-daily rate, and we for one, can't get enough. Marvel movies aside, Disney+ has a bevy of gnarly new shows to watch out for, and we want to make sure you don't miss a second. This time around, it's a boatload of shark content. From Shark Attack Files to When Sharks Attack to Shark Gangs to Playing With Sharks, Disney's July content schedule is doing its best to make sure you never go into the water again. Anyways, here's everything coming to Disney+ in July 2021.
You'll also like:
New On Netflix in July 2021
New on Amazon Prime Video in July 2021
New On Netflix in June 2021
Best New Movies of Disney+
Black Widow
This is the big one. After months of setbacks, the long-awaited Marvel cinematic event has arrived. In the latest action-packed spy thriller Black Widow, Natasha Romanoff confronts the darker parts of her ledger when a dangerous conspiracy with ties to her past arises. "Pursued by a force that will stop at nothing to bring her down, Natasha must deal with her history as a spy and the broken relationships left in her wake long before she became an Avenger." Of course, Scarlett Johansson is killing it, but look out for Florence Pugh as Yelena, Stranger Things' David Harbour as Alexei/The Red Guardian, and Rachel Weisz as Melina. Boom.
Release Date: 9 July 2021
Jungle Cruise
Dwayne Johnson, Emily Blunt, an ancient tree with unparalleled healing abilities – it's the classic combination. In Jungle Cruise, which Disney is describing as a "rollicking thrill-ride down the Amazon", wisecracking skipper Frank Wolff and intrepid researcher Dr Lily Houghton search to uncover an ancient tree that could change the future of medicine. Insert supernatural forces, creatures and villains in this Jumanji-style adventure on the high seas. It looks silly AF and the dialogue leaves much to be desired, but let's face it – we're gonna watch it anyway.
Release Date: 30 July 2021
Best New Series on Disney+
Loki
The first season of Loki didn't disappoint. In fact, it was one of the most-watched new series of the year, and in mid-July, things ramp up. The finale of the hit first season sees the God of Mischief step out of his brother's shadow after the events of Avengers: Endgame in a quest to fix the timeline. Things get heated as new characters are introduced and new powers are unleashed. As Owen Wilson would say…wow.
Finale Date: 14 July 2021
Turner & Hooch
A reboot we didn't know we needed, and still aren't sure if we do. Turner & Hooch sees uptight Deputy Marshal Scott Turner inherit Hooch, a giant unruly dog who promptly destroys his apartment and seems dead set on destroying his career. Bizarrely, this new series isn't so much inspired by the Tom Hanks original, but a direct era-altering copy. Turner & Hooch stars Josh Peck as Scott Turner, son of Detective Scott Turner portrayed by Hanks in the 1989 film of the same name. Apparently, Loki isn't the only one messing with the timeline at Disney.
Release Date: 21 July 2021
Monsters at Work
A spinoff of the classic Monster Inc. franchise, Monsters at Work tells the story of some of the lesser-known creatures in the universe. For this series, we see Tylor Tuskmon, a new arrival at Monsters Incorporated beginning his dream job as a Scarer, only to discover scaring is out and laughter is in. As a result, he is temporarily reassigned to MIFT, the Monsters Incorporated Facilities Team. Sure, it's for kids, but it will make you laugh.
Release Date: 7 July 2021
The Wonderful World of Mickey Mouse
It wouldn't be a Disney round-up with the Mouse-man himself. In The Wonderful World of Mickey Mouse, we see the old gang back together, with Minnie, Donald, Daisy, Goofy and Pluto embarking on a new series of adventures. Each seven-minute short is filled with laughs, modern settings, timeless stories, new music and the unmistakable classic art style of the "Mickey Mouse" shorts.
Release Date: 28 July 2021
Best New Documentaries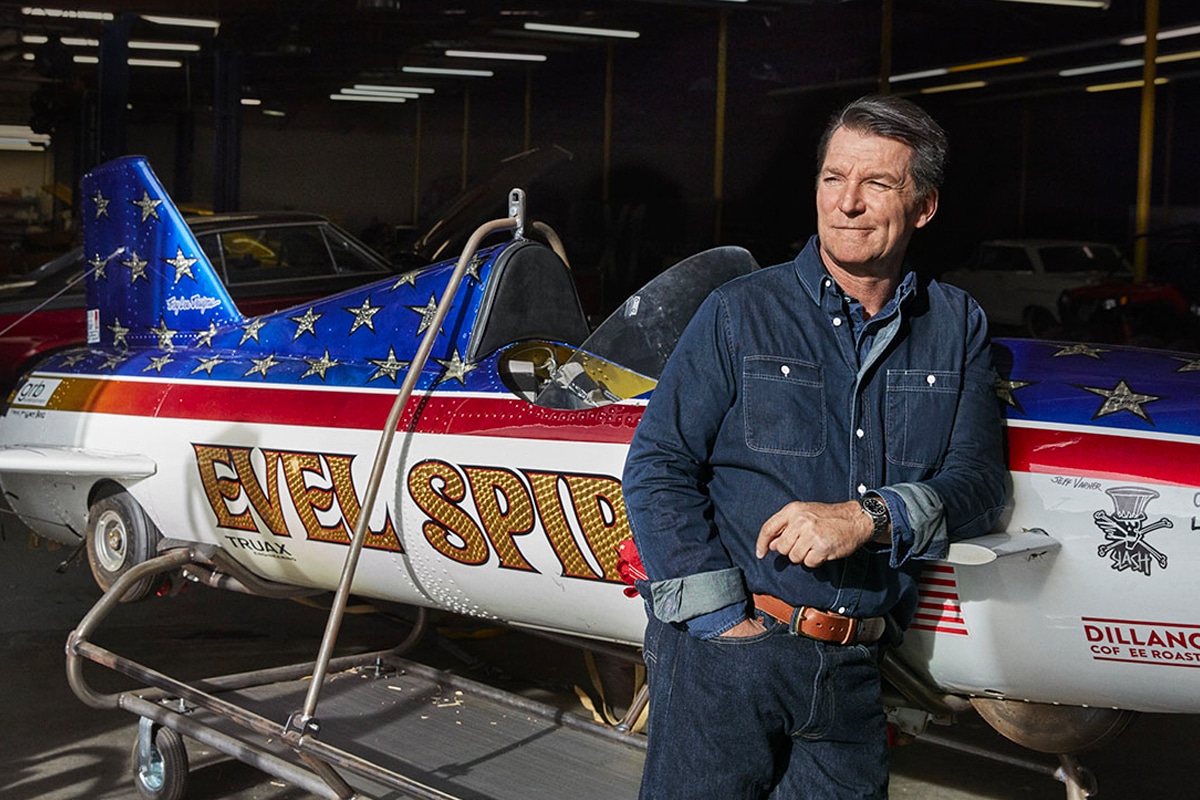 Stuntman
Badass. That's how we describe this new Disney+ series. From executive producers Dwayne Johnson and Dany Garcia from Seven Bucks Productions, Stuntman chronicles the highs and lows of veteran Hollywood stuntman, Eddie Braun as he attempts what many argue is the most dangerous stunt in cinematic history. Braun is attempting to follow in the footsteps of his childhood idol, Evel Knievel, but before doing so, he must reflect on having survived multiple car crashes, explosions, and death-defying leaps over the course of his 30+ year career in film and television. Now, in his mid-50s and contemplating retirement, Braun decides to cap off an extraordinary career by recreating Evel Knievel's infamous unsuccessful Snake River Canyon rocket jump. Heart-racing, blood-pumping and testosterone-boosting, this is one for the dudes.
Release Date: 23 July 2021
Playing With Sharks
Perhaps the best of the 4,000 new shark series coming to Disney+ in July, Playing with Sharks is a National Geographic documentary film crafted by two-time Emmy-nominated director Sally Aitken and WildBear Entertainment. It captures the life of Valerie Taylor—a woman ahead of her time whose life's work has become the basis for much of what we know about sharks today. A fearless diver, cinematographer and pioneering conservationist, Valerie is a living legend and icon. Through remarkable underwater archival footage, along with interviews with Valerie herself, Playing with Sharks follows this daring ocean explorer's trajectory from champion spearfisher to passionate shark protector. This is a deep dive into a fearless and inspiring woman.
Release Date: 23 July 2021
Turning the Tables with Robin Roberts
In this new talk-show style docu-series, Robin Roberts talks shop with some of Hollywood's groundbreaking women as they detail their incredible journeys through life. Disney describes each episode as a "profound conversation filled with emotion and inspiration", so bring the Kleenex and settle in.
Release Date: 28 July 2021
Disney+ July Full Schedule
Disney Junior Mickey Mouse Mixed-Up Adventures (S1) – July 2
Disney Raven's Home (S4) – July 2
Gordon Ramsay: Uncharted (S3) Ep. Lush And Wild Puerto Rico – July 2
The Sandlot – July 2
The Sandlot 2 – July 2
Monsters at Work – July 9
Loki – New Episode – July 9
Marvel Studios Legends – July 9
Flicka – July 9
Gordon Ramsay: Uncharted (S3) Ep. The Great Smoky Mountains – July 9
Miraculous World: Shanghai, The Legend Of Ladydragon – July 9
Orca Vs. Great White (AKA: Killer Whale Vs. Shark) – July 9
Rogue Shark (AKA: Rogue Jaws) – July 9
Shark Beach With Chris Hemsworth – July 9
When Sharks Attack (S7) – July 9
World's Biggest Bullshark – July 9
Black Widow – July 9
High School Musical: The Musical: The Series – Episode 209 "Spring Break" – July 9
The Mysterious Benedict Society – Episode 103 – July 9
Star Wars: The Bad Batch – Episode 111 "Devil's Deal" – July 9
Loki Finale – July 14
Monsters at Work – Episode 102 "Meet Mift" – July 14
The Croc That Ate Jaws – July 16
Gordon Ramsay: Uncharted (S3) Ep. Incredible Iceland – July 16
Shark Attack Files (S1) – July 16
Shark Attack: The Paige Winter Story – July 16
Shark Gangs – July 16
We Bought A Zoo – July 16
When Sharks Attack (S7) – July 16
World's Deadliest Sharks – July 16
High School Musical: The Musical: The Series – Episode 210 "The Transformation" – July 16
The Mysterious Benedict Society – Episode 104 – July 16
Star Wars: The Bad Batch – Episode 112 "Rescue On Ryloth" – July 16
Turner & Hooch – Episode 101 "Forever And A Dog" – July 21
Behind the Attraction – All Episodes Streaming – July 21
Marvel Studios Assembled: The Making of Loki – July 21
Monsters at Work – Episode 103 "The Damaged Room" – July 21
Gordon Ramsay: Uncharted (S3) Ep. Holy Mole Mexico – July 23
Ice Age: The Meltdown – July 23
Shark Attack Files (S1) – July 23
Walking With Dinosaurs (2013) – July 23
Playing With Sharks – Premiere – July 23
Stuntman – Premiere – July 23
High School Musical: The Musical: The Series – Episode 211 "Showtime" – July 23
The Mysterious Benedict Society – Episode 105 – July 23
Star Wars: The Bad Batch – Episode 113 "Infested" – July 23
Turning The Tables With Robin Roberts – All Episodes Streaming – July 28
Chip 'N' Dale: Park Life – Episode 101 "Thou Shalt Nut Steal / The Baby Whisperer / It Takes Two To Tangle" – July 28
The Wonderful World Of Mickey Mouse – Batch 2 – July 28
Monsters at Work – Episode 104 "The Big Wazowskis" – July 28
Turner & Hooch – Episode 102 "A Good Day To Dog Hard" – July 28
Jungle Cruise – July 30
High School Musical: The Musical: The Series – Episode 212 "Second Chances" – July 30
The Mysterious Benedict Society – Episode 106 – July 30
Star Wars: The Bad Batch – Episode 114 "War Mantle" – July 30
You'll also like:
New On Netflix in July 2021
New on Amazon Prime Video in July 2021
New On Netflix in June 2021