Watch Brendan Fraser's Incredible Physical Transformation for 'The Whale'
It's no secret that Brendan Fraser underwent an incredible transformation for his role in Darren Aronofsky's latest film, The Whale. In fact, the star actor's physical changes have been the talk of the town since the film's release. But how did he manage to pull off such an astounding feat? And what went on behind the scenes to create such a stunning visual effect? Well, A24 has just released a behind-the-scenes video that gives us a glimpse into the intricate and time-consuming process that went into transforming Brendan Fraser into the character of Charlie. The video is a timelapse clip that shows the special effects makeup team working their magic on Fraser's face and body. Check it out below.
Related – Good Guy Brendan Fraser Receives 6-Minute Standing Ovation for 'The Whale'
View this post on Instagram

To play the part of the reclusive and morbidly obese English teacher, Fraser had to gain weight for the role. But it wasn't just a matter of packing on the pounds – he also underwent six hours of makeup application every day. Thick prosthetics were used to create the appearance of a 600-pound man, making filming an extremely hot and uncomfortable experience for the actor. To combat the heat, Fraser reportedly required five bags of ice a day to stay cool on set.
But the transformation wasn't just about the physical appearance of the character. To portray the realistic movement of an overweight person, Fraser went through several months of training with a dance coach. His goal was to faithfully convey the life of those suffering from obesity, and he consulted with the Obesity Action Coalition to learn more about the physical and mental state of those afflicted. But Fraser isn't the only one deserving of recognition for his work on The Whale. The special effects makeup team, led by Adrian Morot, also deserves a round of applause for their incredible work. Their attention to detail and commitment to creating a believable character is evident in every frame of the film.
Brendan Fraser is making a major comeback in Hollywood, thanks to his recent riveting performance. Not only has he received critical acclaim for his acting skills, but he has also been nominated for an Oscar for the first time in his career. In a recent interview with Howard Stern, Fraser shared his thoughts on winning the Best Actor award and what that would mean to him.
Fraser revealed that he would "absolutely" love to win the Academy Award for his performance as Charlie. However, he also expressed his concern about running out of time during the acceptance speech.
"If I've thought about it, it's that I've wanted to make sure that I don't run out of time. I've been at a lectern one time to receive an award only once really and that was for the Critics Choice Awards three weeks ago. I was not expecting to hear my name called," Fraser said. "Everything that I had in mind and written on a piece of paper in my pocket went out of my head the moment that I stood up there. I had to really, in a good way, forget about the intellectual stuff, and speak from the heart."
Fraser also talked about his past acting career, where he was mostly known for action and children's movies. He acknowledged that he had not been able to showcase his acting skills in those roles, but was grateful to finally have the chance to prove himself as an actor.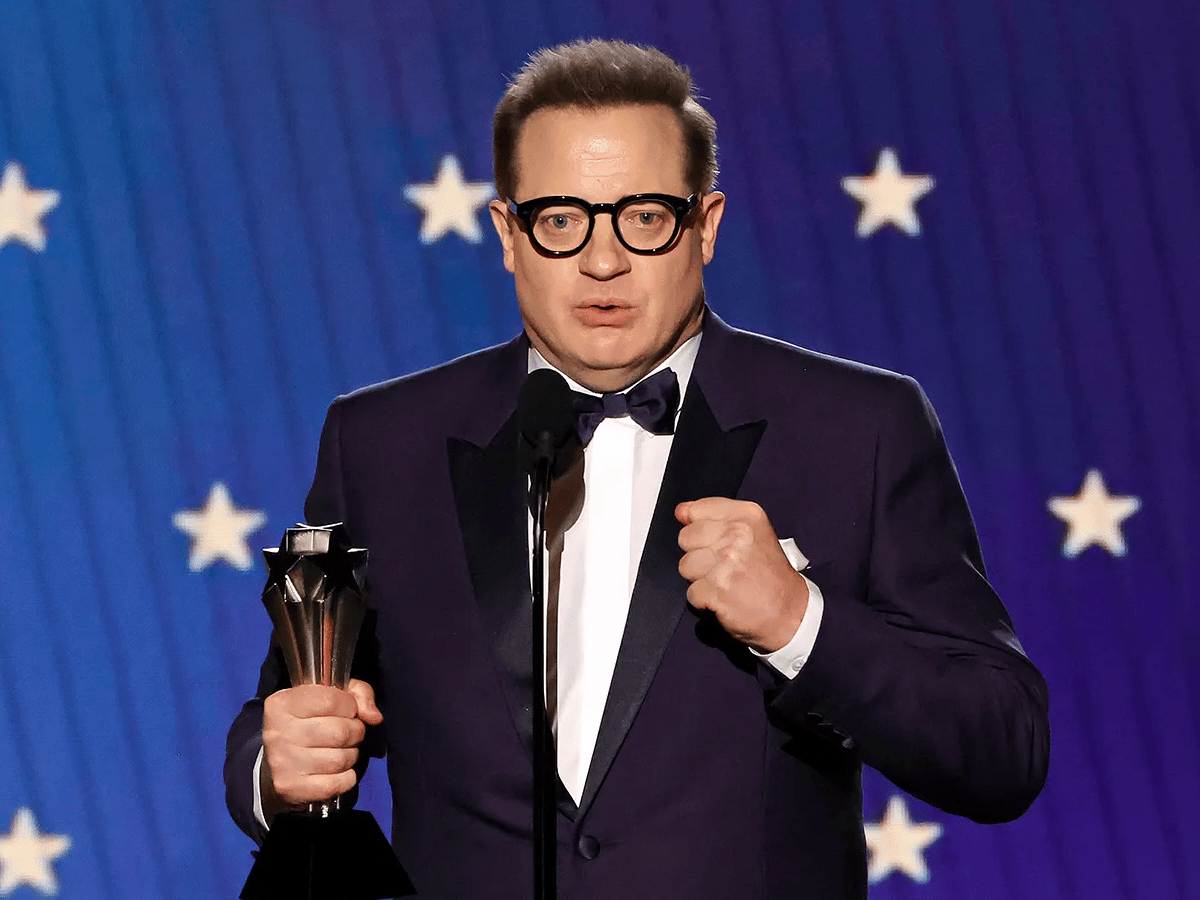 Fraser's portrayal of Charlie in The Whale was intense and memorable. He played a man who was struggling with obesity and self-destructive behaviour, which made the audience both sympathize and feel repulsed by his character. Despite the emotional weight of the role, Fraser's performance was able to humanize the character and show his inner struggles. This made the movie all the more compelling, and the audience was left questioning their own moral philosophies.
It is heartening to see Brendan Fraser making a successful comeback in the entertainment industry. He has worked hard to prove himself as an actor, and his Oscar nomination is a testament to his talent. Regardless of whether he wins the Oscar or not, Fraser's performance in The Whale will go down in history as one of his best works.
The Whale is now playing in theatres.
Related – 'The Whale' Trailer Sees Brendan Fraser's Hollywood Return in Gripping Drama