Fender's Bruno Mars Signature Stratocaster is a Glorious Celebration of 1970s Excess
While Bruno Mars isn't exactly on high rotation in the Man of Many office, the new signature guitar he's made in collaboration with Fender has certainly caught our attention. This is largely because it succeeds in being as cool as Mr Mars so often tries to be. The limited-edition Bruno Mars Signature Stratocaster is the embodiment of an aesthetic that's deeply rooted in the 1970s—very much aligned with the look and sound of Mars' Silk Sonic music project with Anderson .Paak—and it's about as premium and luxurious a take on the iconic Strat design as you're ever likely to see. 
According to Fender, the Bruno Mars Signature Stratocaster has been "meticulously crafted with songwriters and performers in mind" and it "empowers artists to unleash their creativity and self-expression." The famed luthier also claims the guitar has been refined to the point that it feels like it's already been played for years from the first moment you take it out of its case, with a neck sculpted to recreate that of Mars' own 1969 Stratocaster; its maple fingerboard and stainless-steel frets intended to provide "a silky, polished feel for smooth bending and effortless playability." 
More: Fender Launches Stunning "People Pleaser" Stratocaster With Modern Guitar Hero Steve Lacy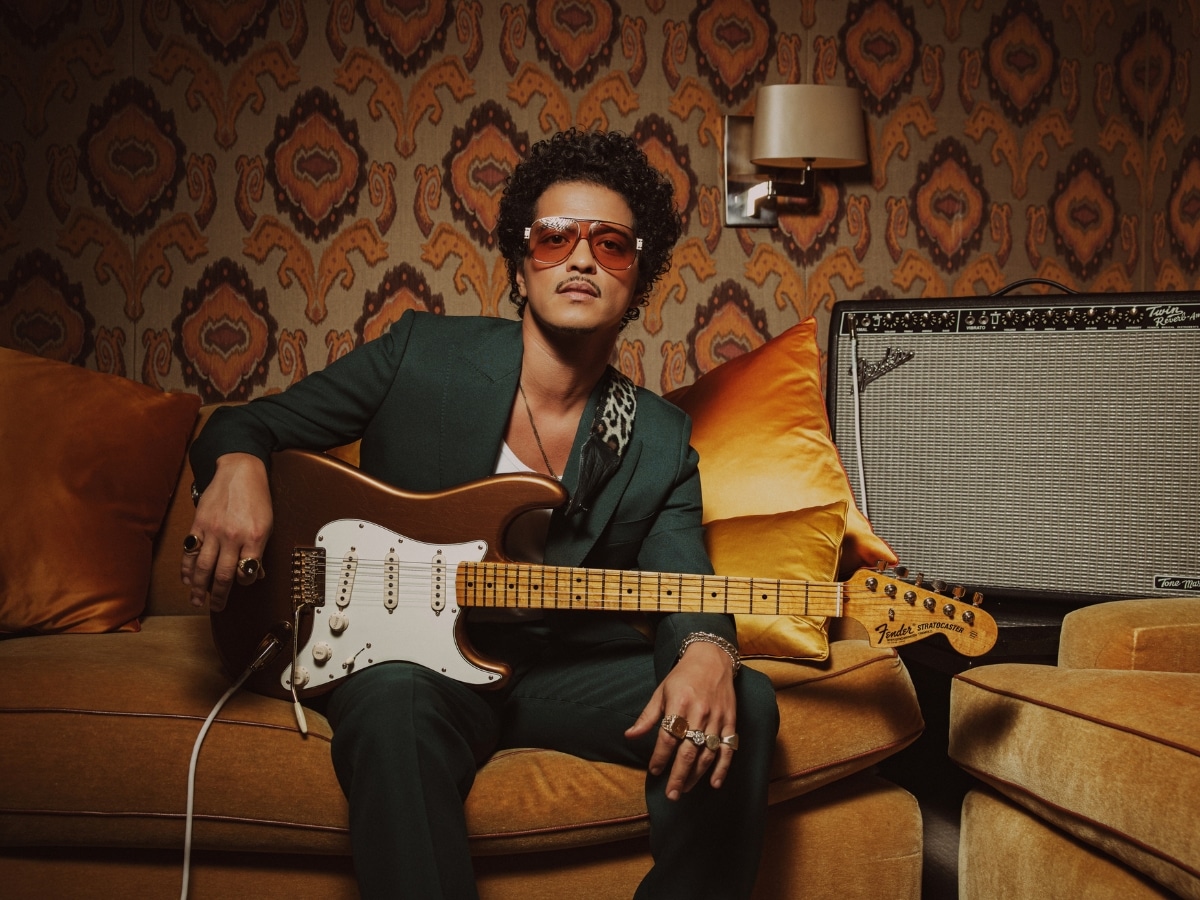 The guitar's custom-voiced pickups have also been fine-tuned to offer a variety of the signature Strat sounds Mars is particularly fond of. These range from the sparkle Strats have come to be known for to soaring lead tones, while the 2-Point Synchronised Tremolo and Deluxe Locking Tuners are designed to keep things in tune no matter how much punishment is meted out on the fretboard. 
As crucial as sound and playability are, it's this guitar's looks that have us really singing its praises. We applaud the introduction of the new Mars Mocha Heirloom nitrocellulose lacquer finish, which is a particularly welcome development when you see it paired with the guitar's Heirloom Aged Gold Hardware (for that classic broken-in appearance) and its big, retro-style headstock. This instrument is as bold and quintessentially '70s as oversized collars, orange carpet, and bell-bottoms.
More: Hands On: The Fender Johnny Marr Limited Edition Jaguar Purrs and Roars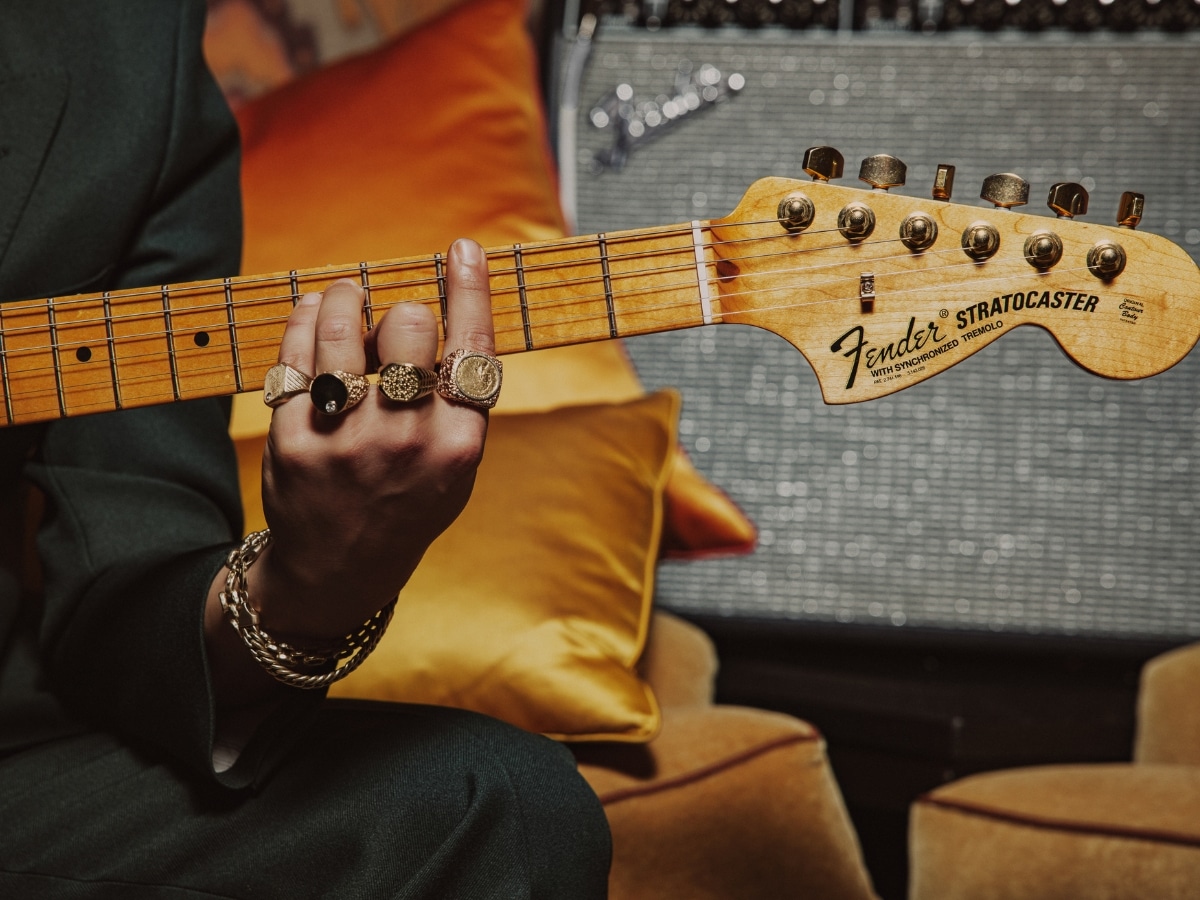 Happily, Fender (and Mars) know performers want to mix up their look from time to time, so while the guitar comes equipped with a standard three-ply black/white/black pickguard, you'll find an additional (and very slick) three-ply mint green pickguard in the case as well. Plus, there's a custom leopard-print strap included too, which is intended as a nod to two of Mars' guitar heroes: Jimi Hendrix and Prince. Speaking of which, if you doubt Mars' guitar-playing chops, check out this performance of "Let's Go Crazy" in tribute to the Purple One (skip to 5:56).
Discussing the guitar's inspiration, Mars said, "I don't think of myself as a guitar player. I'm more of a frustrated songwriter. Every song is like a puzzle you have to solve, and a good guitar can bring something out of you that can help take you to the finish line. That's what I wanted from this guitar."
---
Featured Video from Man of Many
---
Whatever the intention, Mars and Fender have come up with one of the finest-looking instruments we've seen all year. You can pick up the Fender Bruno Mars Signature Stratocaster now at the premium price point of AUD$5,199.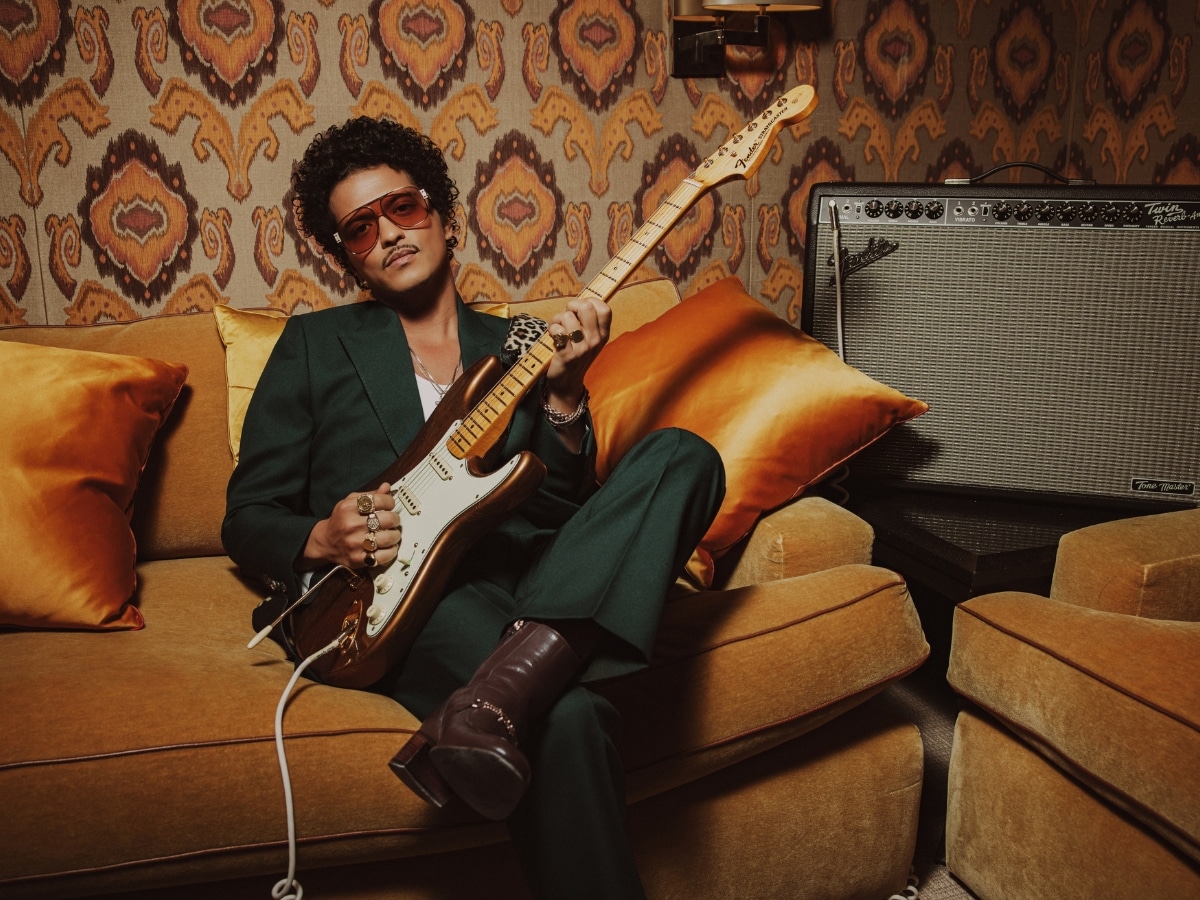 ---
Featured Video from Man of Many