10 Best Courses for Mini Golf in Sydney
Mini Golf, it's the age-old pastime that has pitted families against each other for centuries (this may not be factually accurate). With summer peeking its head around the corner, we're happy to give Sydney putt fans an excuse to bust out the flannel pants and break out the putter.
We've whittled down a list of the best spots for mini-golf in Sydney. A couple of them even do away with kids entirely and have thrown bars into the equation so bring your friends, bring your family and get on down to the green.
RELATED: These are the best go-karting tracks in Sydney right now.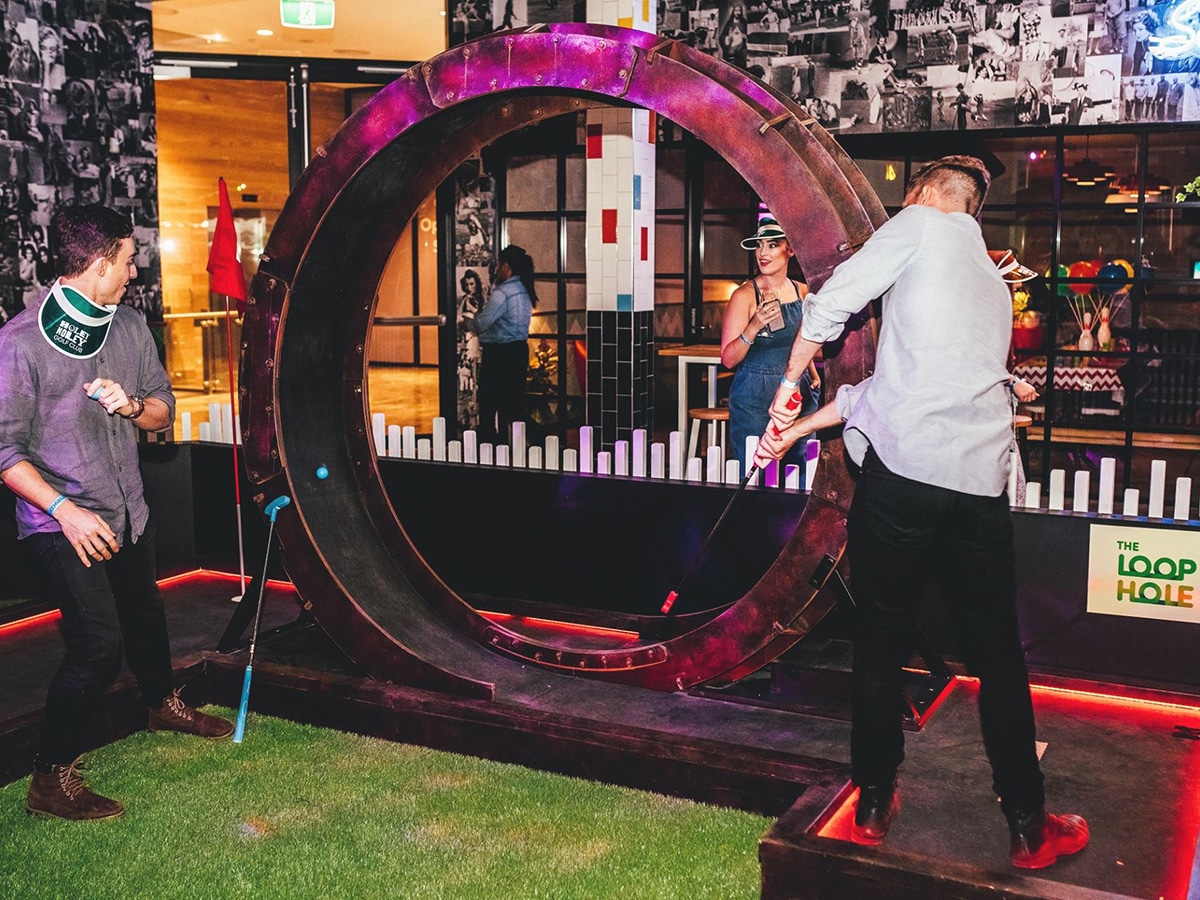 1. Holey Moley Darlinghurst
One of the younger chains to break out into the Sydney mini golf space, Holey Moley has quickly established itself as a go-to spot. Blurring the line between theme bar and event space, each hole has a unique pop culture flavour as you take a wild ride through 9,18 or 27 holes. If you've been wondering where your mates have been snapping photos on the Simpson's couch, you've just found it. Dads, don't be put(t) off as kids are welcome to be booked in before 5pm. If you're after a big group they're all about the functions and have an on-site bar, the Caddyshack, for a post-putt nip.
Address: 82-94 Darlinghurst Rd, Potts Point NSW 2011
Hours: Tue-Thurs 5-11pm, Fri 4pm-12am, Sat 12pm-12am, Sun 12-10pm
Phone: (02) 7201 8316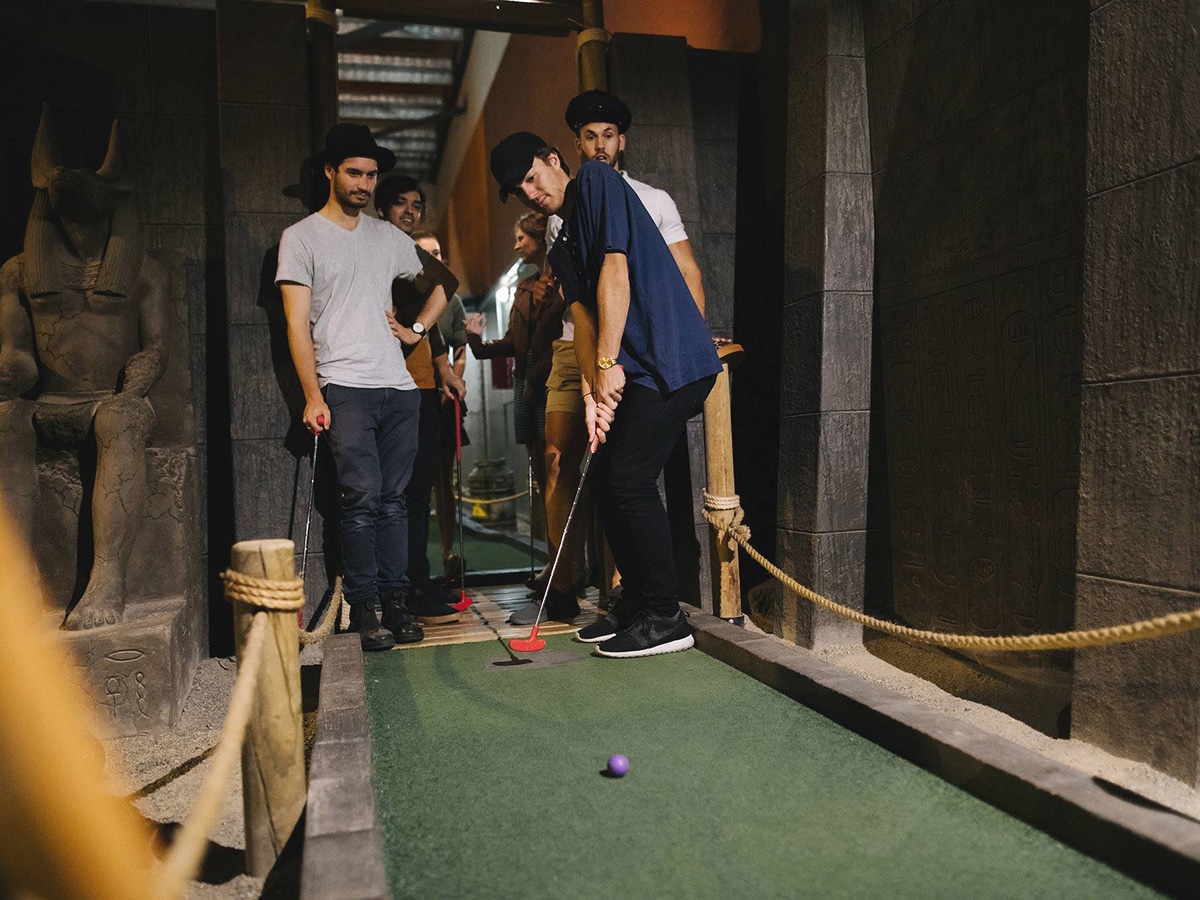 2. Unreal Mini Golf
Unreal Mini Golf is Penrith's pride and joy. This mammoth indoor play centre boasts 18 holes across six themes as well as an expansive collection of classic arcade games if you need a sit out from the putt putt. Here you'll find old Egyptian Mummies (no Brendan Fraser), take a jaunt through a jungle, discover the ingredients of gunk in a science lab and command an imaginary fleet of pirates as you putt your way across the world. If the above isn't enough they also bring Dipping Dot's Ice Cream to the table as well as a couple of escape rooms to lose the kids in.
Address: 10/69 York Rd, South Penrith NSW 2750
Hours: Fri 4-10pm, Sat 9am-10pm, Sun 9am-5pm
Phone: (02) 4722 9229
---
Featured Video from Man of Many
---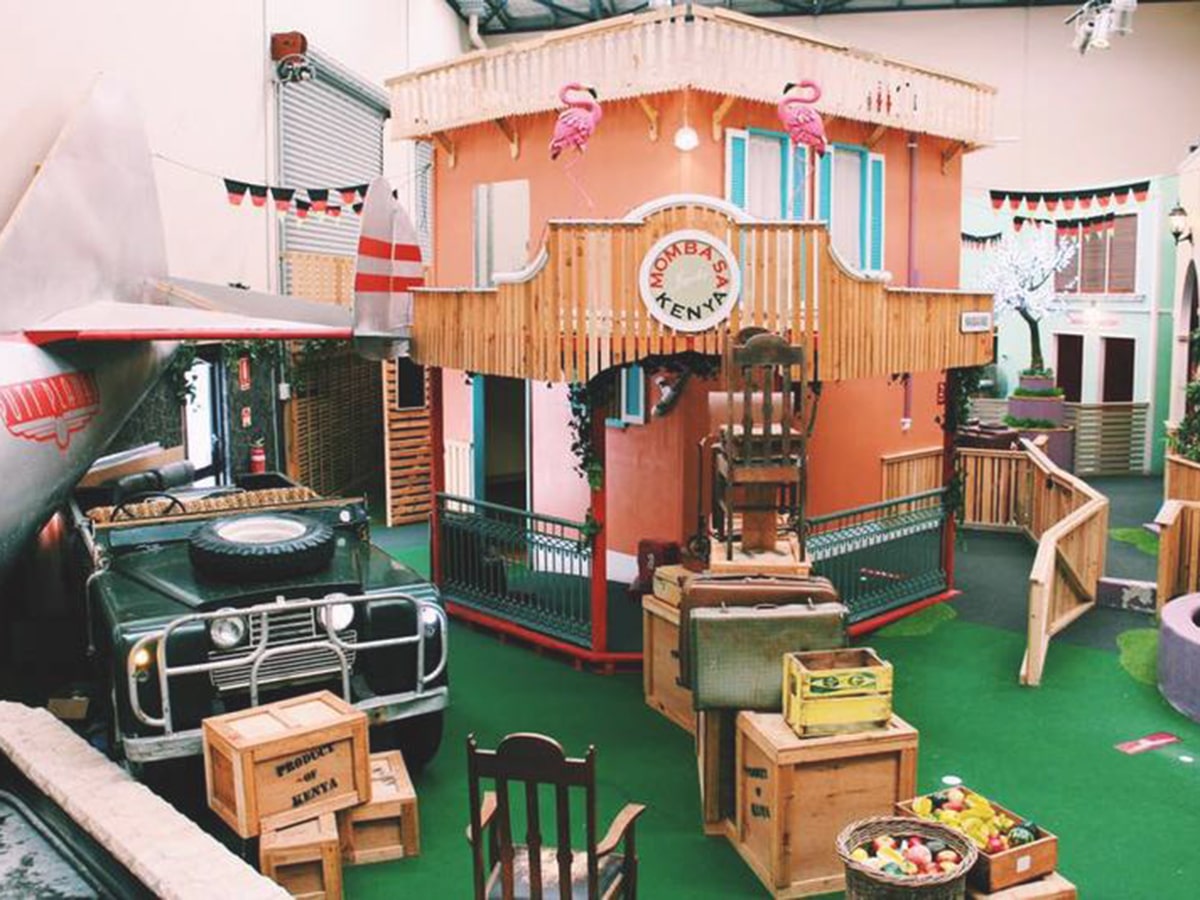 3. Putt Planet
Putt Planet brings a taste of Africa to Miranda. Squeezing all the joy of the Savannah into 18 holes, the venue invites you to Old Mombassa for this combined outdoor and indoor putt putt course. Located 15 minutes from the Miranda traino, Putt Planet is all about kids and family groups. Particularly interesting was a series of co-ops it runs with local schools, what better way to get prepped for a maths exam then a cheeky set of 18?
Address: 1/205/213 Port Hacking Rd, Miranda NSW 2228
Hours: Fri 10am-10pm, Sat 5-10pm, Sun 10am-10pm
Phone: (02) 9522 7888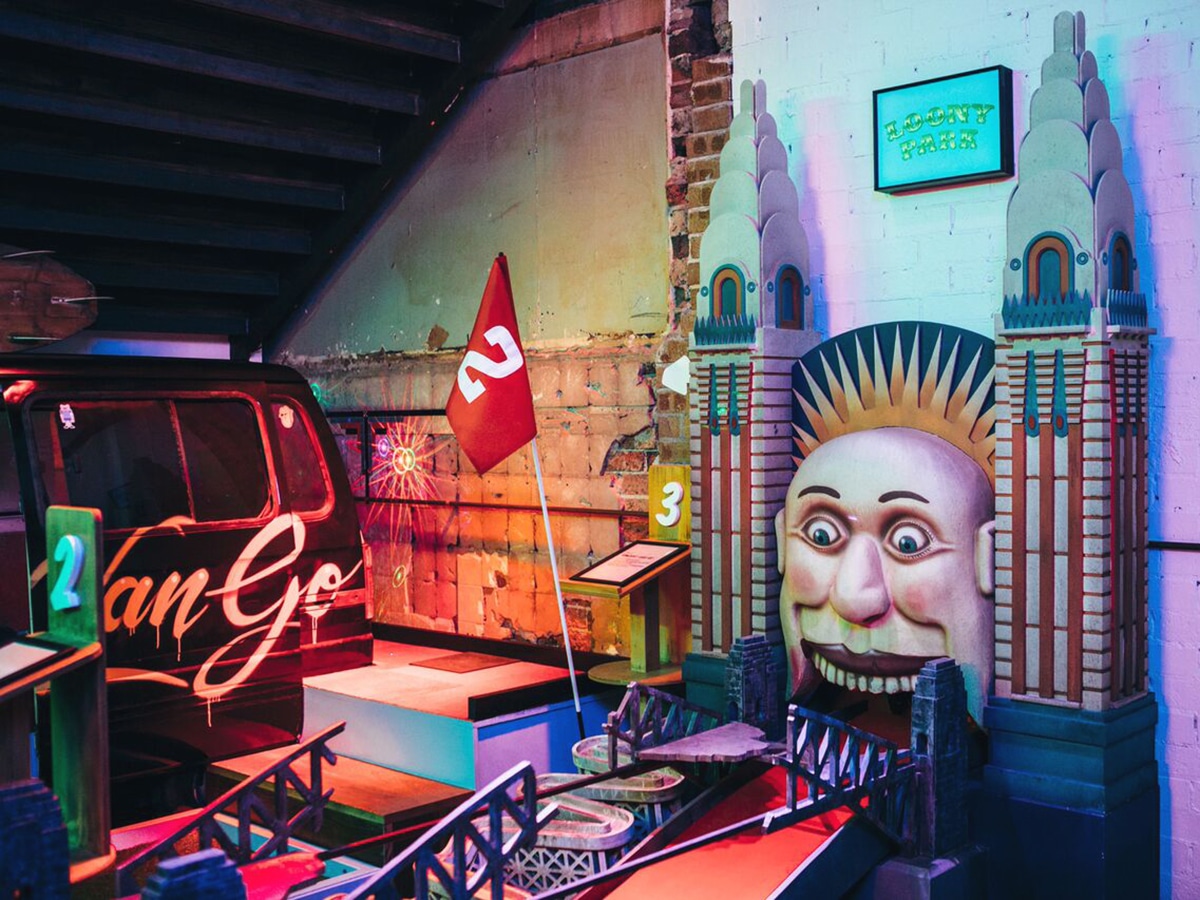 4. Holey Moley Newtown
Wanting to get involved without leaving the inner west? Holey Moley has a spot in Newtown to cover all of their bases. Bringing the same 9,18 or 27 hole goodness and more pop culture than Pac-man could fit in his mouth, this is easily one of the best spots for putt putt Sydney locals can enjoy. The onsite cafe also does a bang up coffee, who would expect less from any spot in Newtown?
Address: 387 King St, Newtown NSW 2042
Hours: Mon-Thurs 4-10pm, Fri 2pm-12am, Sat 12pm-12am, Sun 12-10pm
Phone: (02) 7201 8316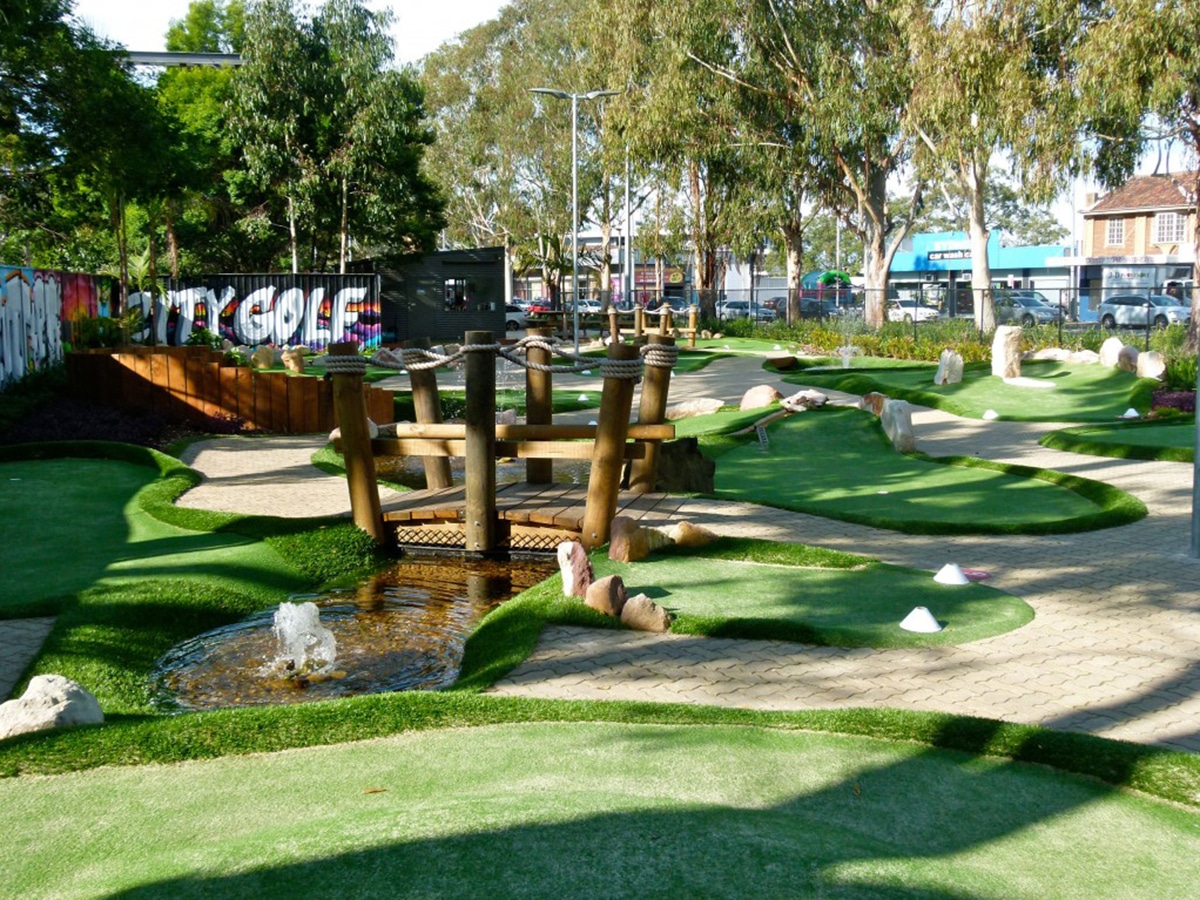 5. City Golf
City Golf gives you the full top to bottom mini golf experience, catering to different skill levels it allows everyone to get on board with its European-esque 18 hole outdoor course. Putt amongst the trees day or night as they're floodlit up for the evening golfers amongst us. If you find yourself racing through the course, it offers second rounds at half price to make sure you'd never need to leave. Just don't forget you're still in Aus.
Address: 817 Pacific Hwy, Gordon NSW 2072
Hours: Wed-Thurs 10am-10pm, Fri-Sat 10am-11pm, Sun 10am-6pm
Phone: (02) 9499 8914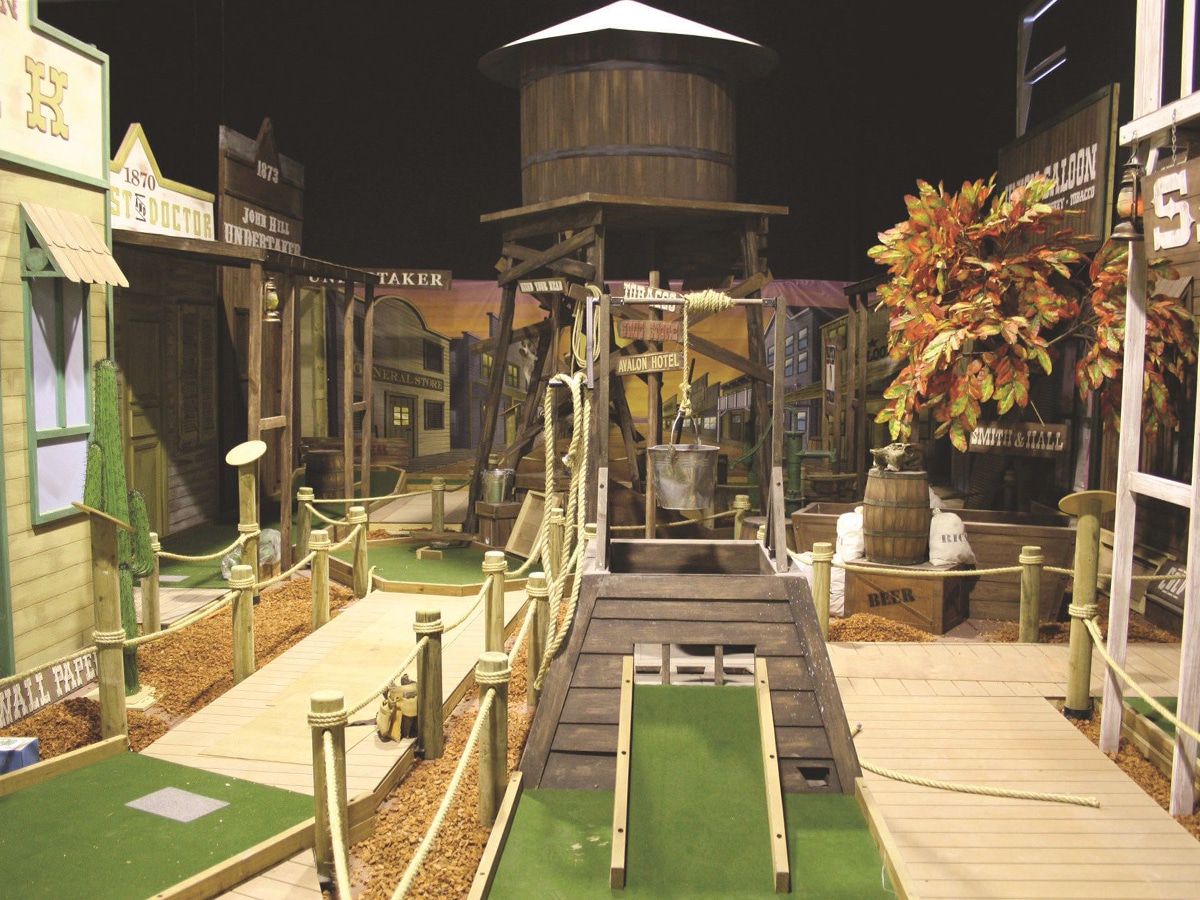 6. Mega Mini Golf
An air-conditioned indoor putt putt spot, Mega Mini Golf takes themes and runs with them. It offers three different courses, American, Under the Sea (No Sebastian) and ol' favourite: Egypt. Aimed more at the families, it offers a reduced rate of entry for children 15 years and under. That's kids coming in with an adult, so don't expect to see roaming groups of urchins causing havoc in the mornings.
Address: 1/8 Rose St, Campbelltown NSW 2560
Hours: Tues-Weds 10am-4:45pm, Fri 4:30-9:15pm, Sat 10am-9:15pm, Sun 10am-3:30pm
Phone: (02) 4626 6222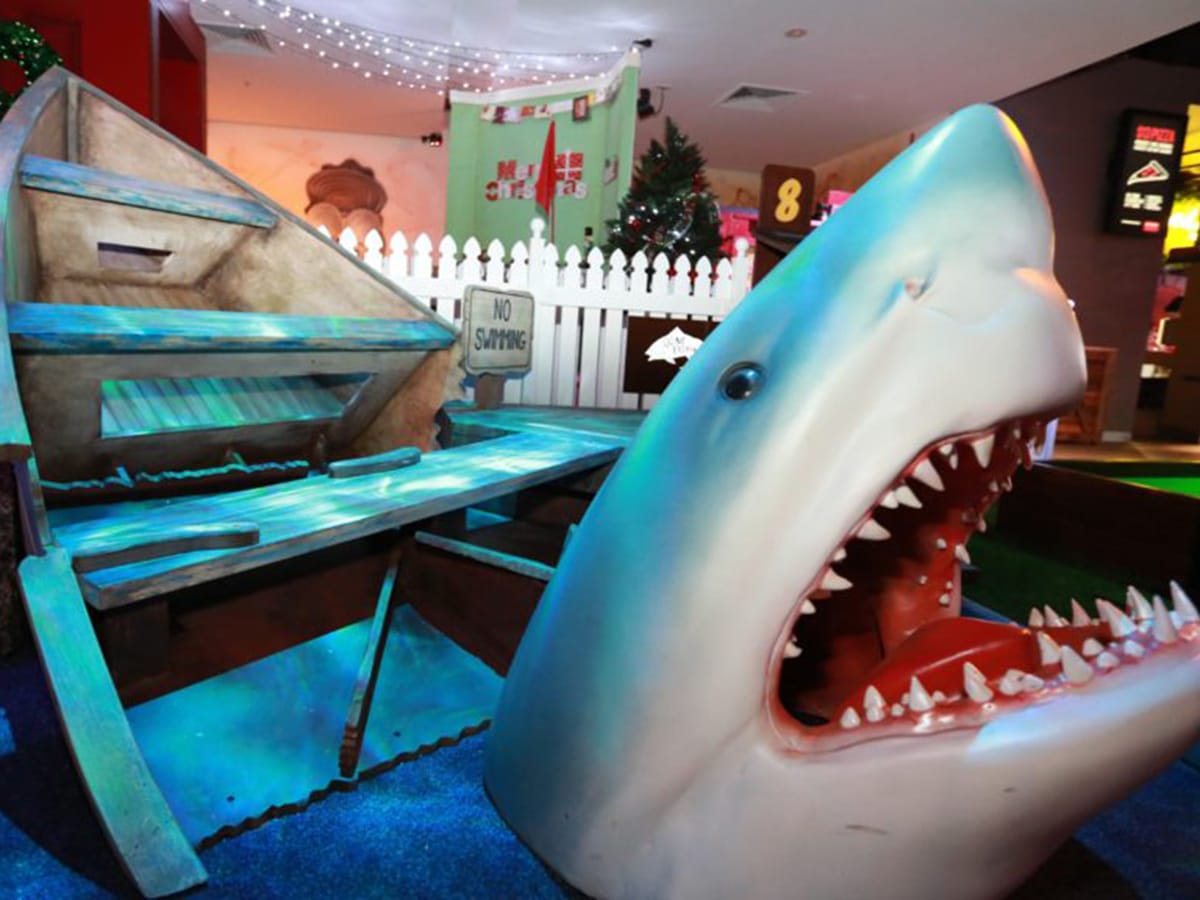 7. Holey Moley Chatswood
It's pretty safe to say these guys have a hold on the Sydney putt putt golf scene. No matter where in the Harbour City you are, chances are you'll be able to find a Holey Moley putt putt near you. Completing the chain's spread across the city in a family-centric location; Holey Moley Chatswood brings the joys of the other two locations to the 'burbs. Right in the Mandarin Centre you can take a pre or post shopping dive into its funky coloured world. Bringing you everything you've come to know and love about the Holey Moley name, enjoy food and bevs to the mini golf world in a way only they can.
Address: Level 4/65 Albert Ave, Chatswood NSW 2067
Hours: Mon-Thurs 12-10pm, Fr 12-11pm, Sat 10am-11pm, Sun 10am-10pm
Phone: (02) 7201 8316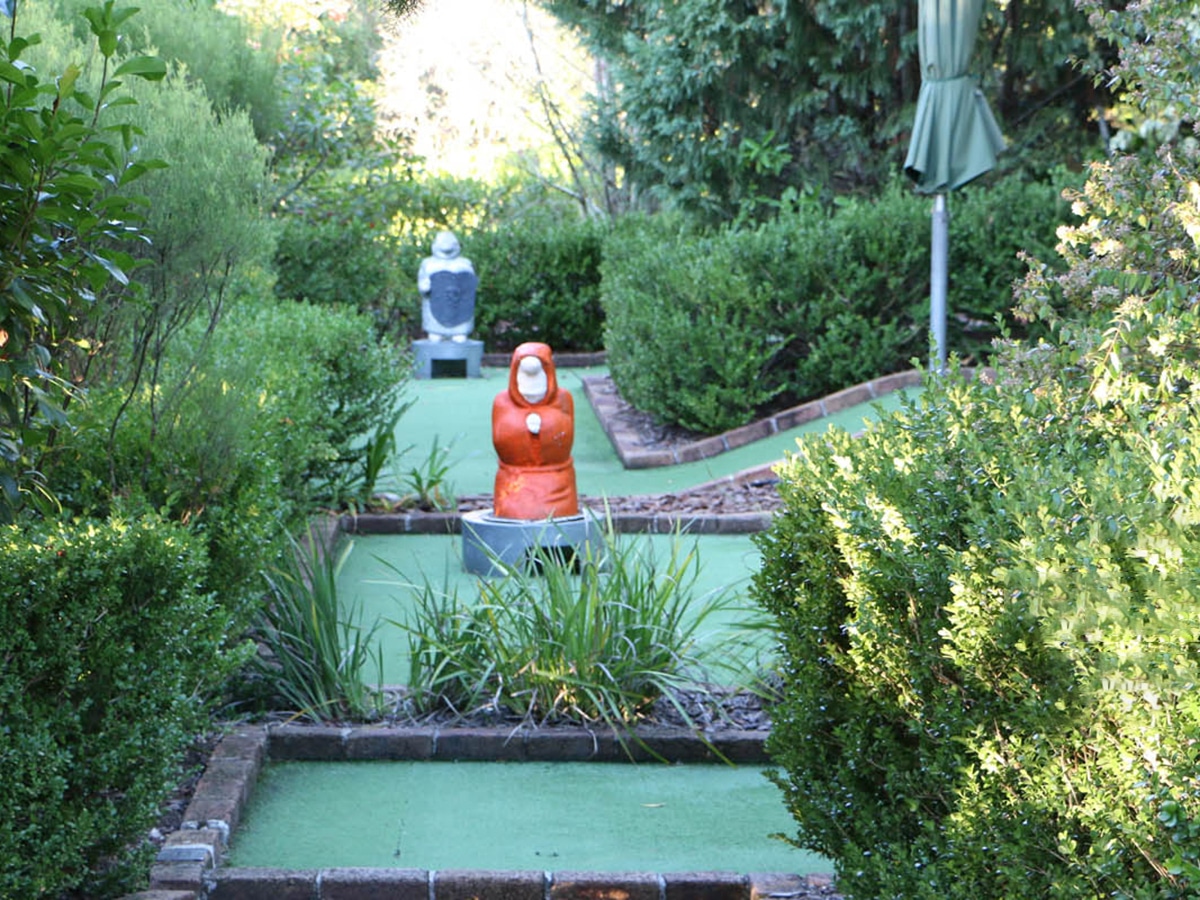 8. Dural Putt Putt
Dural Putt Putt offers one of the largest games we've seen with a 36 hole course set in its outdoor garden setting. Smash Shrek or King Arthur with the kids with tickets at a third of the cost of adults. Big on kids parties and functions, the outdoor mini golf centre also has an 18 holer for the less committed. Either way, you'll find good times at Dural, located just over half an hour from Sydney's CBD, it's not even Far Far Away!
Address: Cnr Cranstons Road and, Old Northern Rd, Middle Dural NSW 2158
Hours: Fri 10am-5:30pm, Sat 9am-5:30pm, Sun 9am-5:30pm
Phone: (02) 9651 1334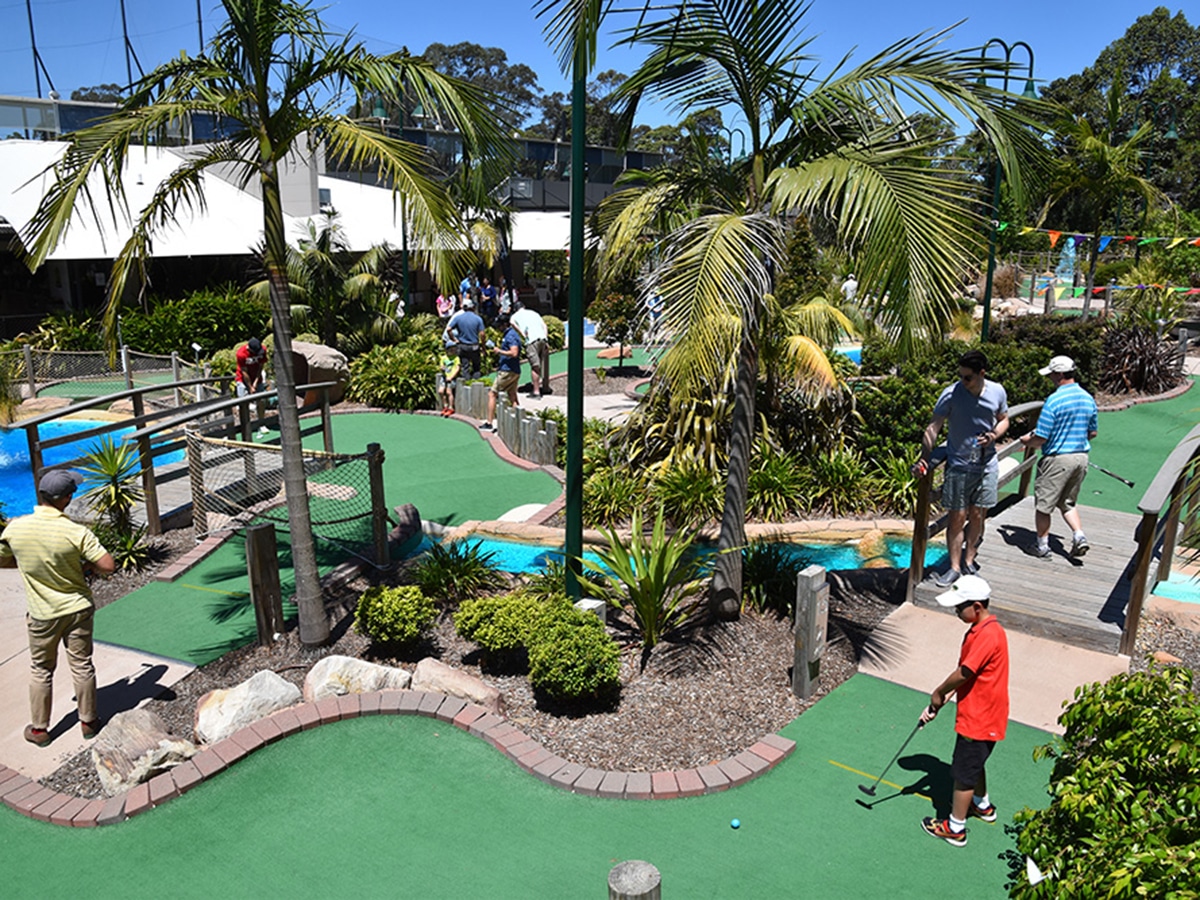 9. Thornleigh Mini Golf
Thornleigh Mini Golf is a section of Thornleigh Golf Centre, which adds a driving range and golf shop to your Sydney putt putt experience. It also has two 18-hole outdoor courses that are crafted to test everyone, from the hardiest mini golf fanatic to fledgling putt putt enthusiasts. Grab a feed at the onsite cafe, work on your swing, and get good at all this place can offer.
Address: 142-178 Pennant Hills Rd, Thornleigh NSW 2120
Hours: Mon-Fri 8:30am-9:30am, Sat 8am-9pm, sun 8am-8:30pm
Phone: (02) 9875 5445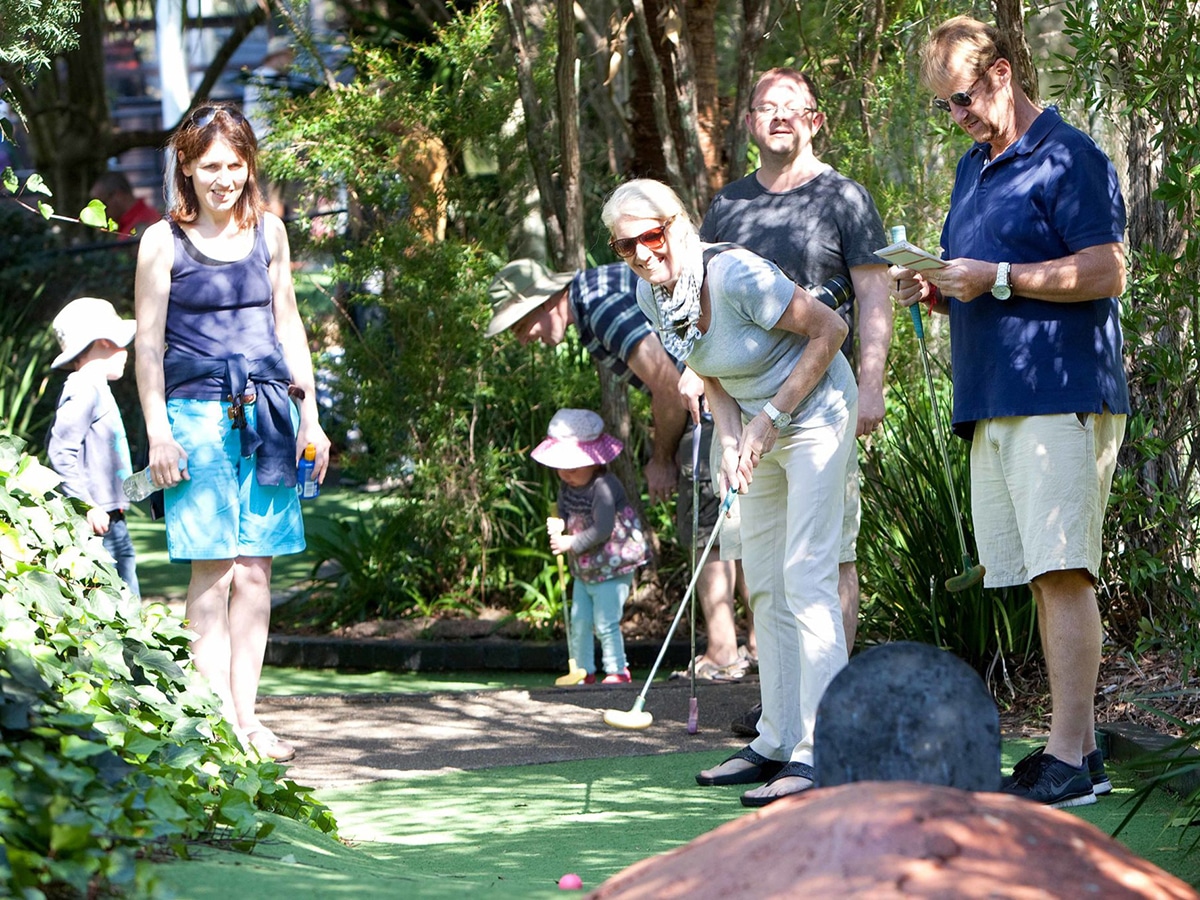 10. Pittwater Golf Centre
Rounding off the list of the best courses for mini golf Sydney has to offer, Pittwater Golf Centre is a behemoth playhouse for the whole family to enjoy. Based in Sydney's Northern Beaches, it brings pirates ashore with two linked 36-dhole courses. Done with one just link through to the second, or go for the unlimited experience and live with Blackbeard till closing time, just remember to pick the kids up on your way out. Galavanting abounds here. If you're seeking to leave the kids behind they run multi-activity parties for groups of tikes, preferably birthday though.
Address: 1500 Pittwater Rd, Warriewood NSW 2102
Hours: Mon-Sun 8am-9pm
Phone: (02) 9913 7991
General FAQ
What age is good for mini golf?
Honestly? 6-60. Mini Golf is one of those great activities you can do from the age you first start holding a stick, till you start using one to walk.
What is the difference between mini golf and putt putt?
We scoured the internet for an answer to this one: Putt putt is Played like golf, everyone takes turns with their putts, whoever's closest going first and working backwards. Minigolf is the one and done method of smashing through each hole in one go, leaving your friends trembling in your golf-y wake.
You'll also like:
---
Featured Video from Man of Many