10 Best Go-Karting Tracks in Sydney
Want the thrills and spills of Sydney's best go-karting tracks? Don your race suit, strap on your helmet, and prepare yourself for one of NSW's most exhilarating days out. Whether it be a family outing with the kids, a high-speed bucks party, or a unique corporate gathering, go-kart racing has become an increasingly popular activity for all ages and groups. So if you're up for an exciting four-wheel adventure, look no further. We present to you the ultimate list of Sydney's top 10 Best Go-Kart tracks.
RELATED: Looking for a fun activity in Sydney? Paintball is a great option too.
Best Go-Karting Tracks in Sydney at a Glance
Our list of the best go-karting tracks in Sydney goes like this.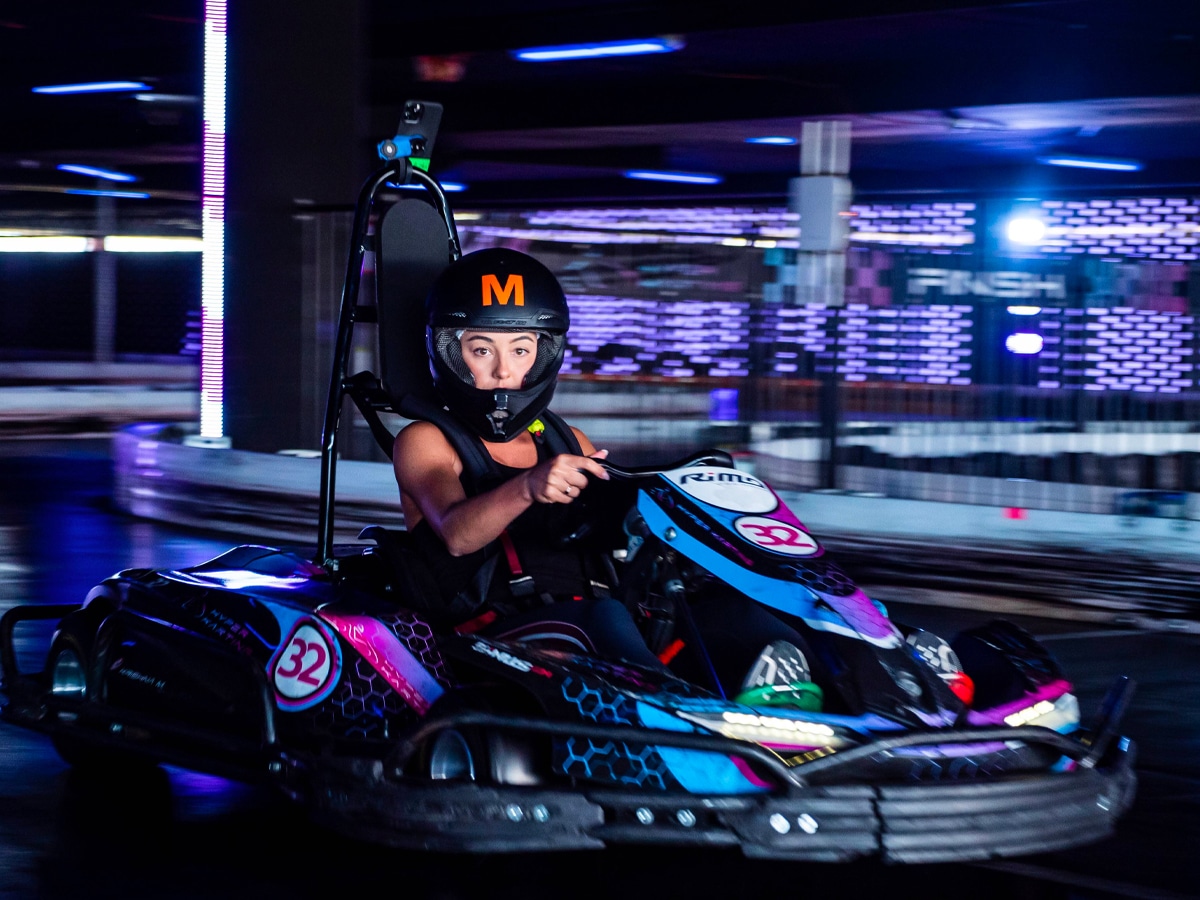 1. Hyper Karting
Buckle your seat belts and start your electric engines because Hyper Karting karts fly! The company's German-made RiMO electric karts are faster than petrol go-karts and hit their top speed much quicker. A key feature of Hyper Karting is the F1-style steering wheel that displays driver live stats throughout the race. The good news is, you don't have to be Michael Schumacher to compete; the circuit is suitable for all ages and experience levels. Even better, the massive 460m indoor race track is situated right at the pinnacle of Sydney's renowned Entertainment Quarter car park. It's a dream come true for all fans of The Fast and the Furious series, finally fulfilling their long-held Tokyo Drift fantasies.
Address: Level 5 Car Park, 207 Park Rd S, The Entertainment Quarter, Moore Park NSW 2021
Opening Hours: Mon-Sun (9am-12am)
Cost: 1 x 10 minutes: $29 pp
Engine: Electric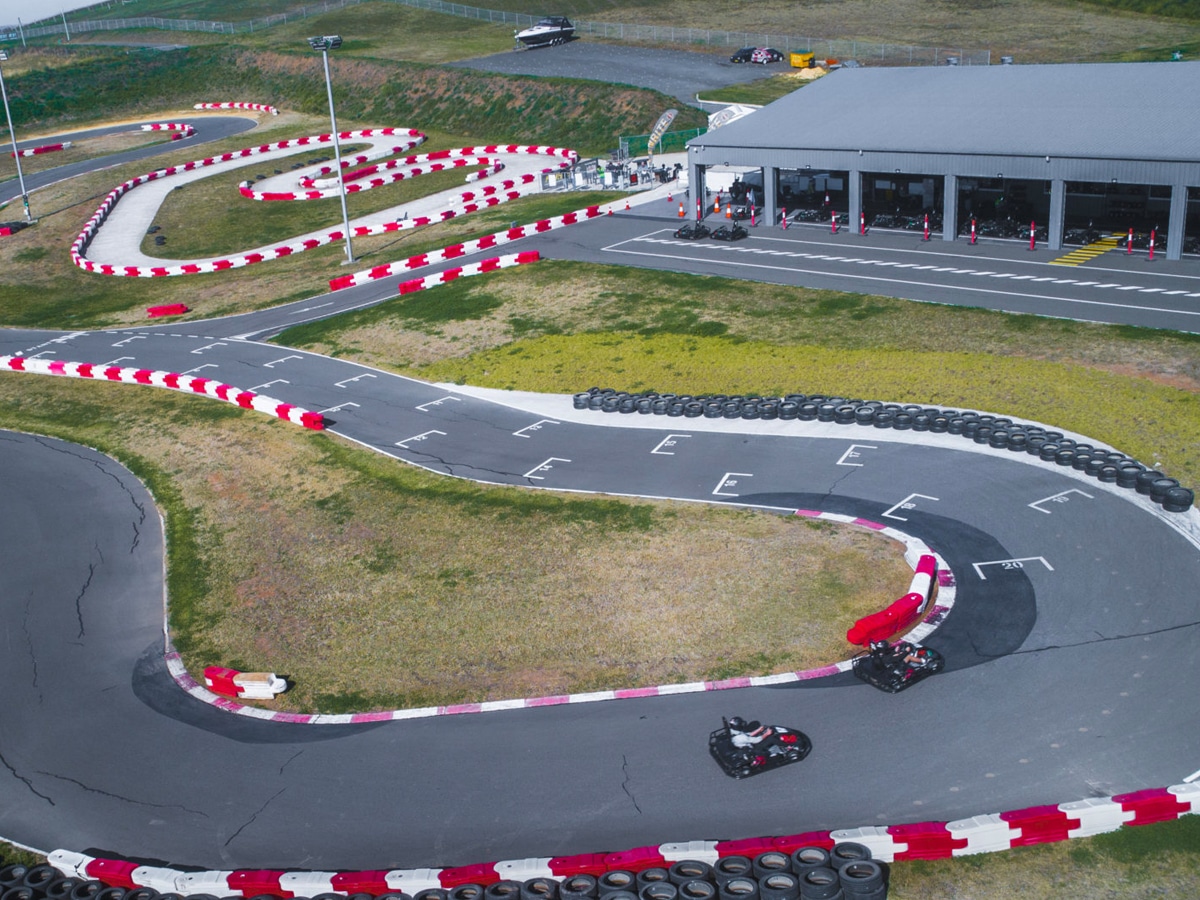 2. Luddenham Raceway
Great for adults and kids alike, Luddenham Raceway has both a Pro Circuit (for ages 15+) and a Rookie Circuit (for juniors aged 8-14 years). These outdoor tracks cater for varying skill and experience levels and provide a great deal of fun for all the family. Here you can test your driving skills with high-speed corners and elevated sections of track. For pro drivers, they also offer the ultimate nighttime driving experience complete with a spectacular array of LED lights.
Luddenham raceway also has a Paintball and Motorsport park, if you would like to combine your Go Kart racing with some extra action for the ultimate day out.
---
Featured Video from Man of Many
---
Address: 821-849 Luddenham Rd, Luddenham NSW 2745
Opening Hours: Mon-Fri (10am-5pm), Sat (9am-9pm), Sun (9am-7pm)
Phone: +61 (02) 9834 2366
Cost: 1 x 10 minutes: $45 pp
Engine: Petrol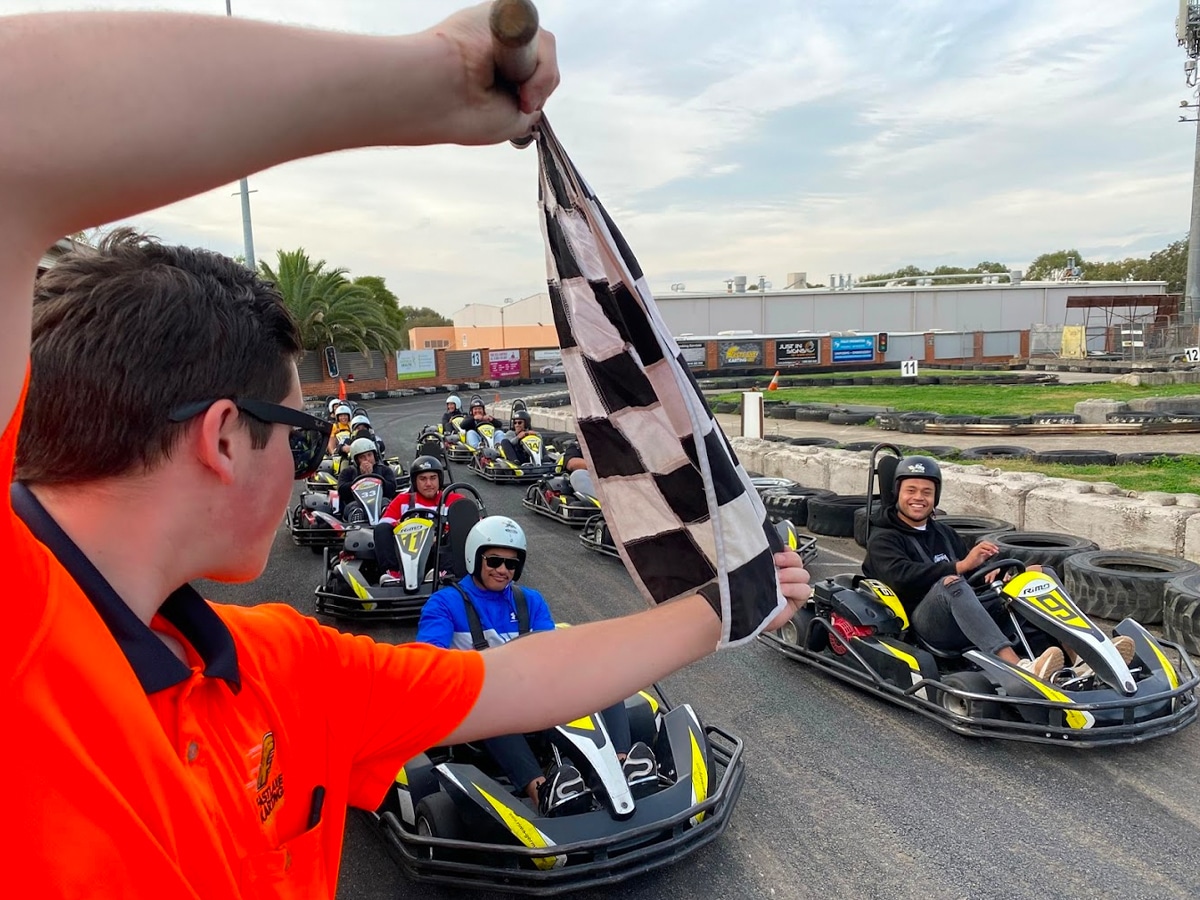 3. Fastlane Karting Sydney
Who doesn't love a party? Fastlane Karting is more than just a Go Karting complex. With its themed events nights, outdoor firepit, and public viewing platform, you can get your mates together for a trackside beer.
With its reputation for racetrack parties after dark, Fastlane Karting Sydney caters for the young' uns too. It is the proud host of its very own Junior Race Leagues; courses to inspire and inform youngsters (8-17 years), teaching all aspects of karting, from fitness to driving skills and drills.
And if you didn't already think that one of the best spots for Go Karting in Sydney, you can get 2 for 1 karting with their "Twosdays" promotion – bring a friend from 4 pm on Tuesdays for free.
Address: 20 Swettenham Rd, Minto NSW 2566
Opening Hours: Mon (Bookings only), Tues-Thurs (4pm-10pm), Fri (4pm-11pm), Sat (10am-1am), Sunday (10am-8pm)
Phone: +61 (04) 1444 4221
Cost: 1 x 10 minutes: $37 pp
Engine: Petrol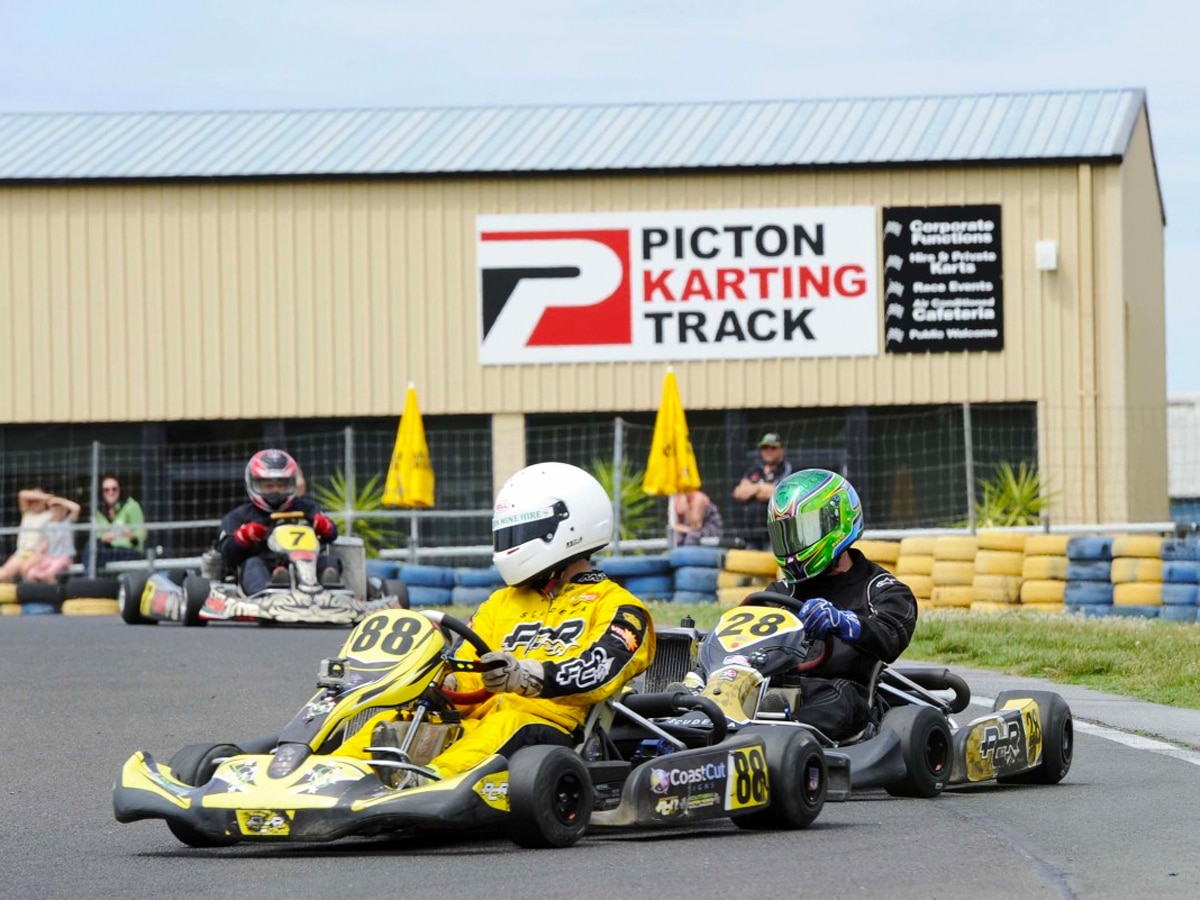 4. Picton Karting Track
Powered by the Subaru 4-stroke engine, Picton's karts are the epitome of high-end go-kart racing technology. Racing around nine corners and a nail-biting hairpin bend, you will feel totally exhilarated as you compete to be the first to finish this 640m Sydney go-karting track.
With an incredibly impressive range of karts and both outdoor Pro and Rookie tracks, Picton Karting boasts exceptionally maintained circuits for adults and junior racers. The pro race track is definitely not for the faint-hearted and requires both commitment and stamina from its drivers. On this circuit, you can bring your own kart, or jump in one of the popular 17HP Two-stroke karts which are kitted out with unrestricted KT100S Yamaha racing engine and can reach up to a whopping 110km/h!
For those who want to relive those breath-taking moments on the track, go-pros are also available for hire, to take a digital copy of your unforgettable experience home.
Address: 200 Picton Road, Picton, NSW 2571
Opening Hours: Mon-Sun (10am-5pm)
Phone: +61 (02) 4677 3330
Cost: 1 x 10 minutes: $35 pp
Engine: Petrol
5. Spitfire Paintball and Go-Karts
Heralded as the best indoor go-kart racing track in Sydney, Spitfire Paintball and Go Karts adds a unique element to the thrill and excitement with the inclusion of in-house paintball and laser tag arenas. The focus here, is on an all-round experience, with the ability to combine activities and tailor your own event.
Spitfire offers kids' party packages for the little ones, alongside exclusive track hire for Grand Prix-style events. But do not worry if you have forgotten to plan, they make it super easy to get your speed fix with their highly utilised option: "arrive and drive".
With a focus on world-class technology, Spitfire impresses with state-of-the-art, lap timing software and big-screen displays. It also is home to a host of full-motion racing car simulators, and for the competitive amongst you, it also provides access to a unique Facebook App with lap timing software so you can challenge your mates.
Address: 212 George St, Concord West NSW 2138
Opening Hours: Mon (11am-5pm), Tues (11am-6pm), Weds-Fri (11am-9pm), Sat (9am-9pm), Sun (11am-7pm)
Phone: +61 (02) 8765 0039
Cost: 1 x 10 minutes: $36 pp
Engine: Petrol
Spitfire Paintball and Go-Karts
6. Sydney Premier Karting Park
Adrenaline Junkie? Take a spin at the home of Australia's fastest go-karts. Situated entirely outdoors, Sydney Premier Karting (formerly known as Eastern Creek Karts) is the largest go-karting complex in the world and offers karts with speeds of over 100km/h! These speeds, combined with ultra-high grip tires, allow drivers to experience the G-force of professional racing. For kids with a need for speed, they also boast the title of Australia's fastest junior kart.
(Novice drivers, fear not, SPK has 6 different types of kart available for all ages and abilities.) Go on, put your foot down. See you at the trackside!
Address: 50 Peter Brock Dr, Eastern Creek NSW 2766
Hours: Thurs-Sun (9am-10pm), Fri-Sat (9am-11pm)
Phone: +61 (02) 8355 6395
Cost: 1 x 10 minutes: $30-$100
Engine: Petrol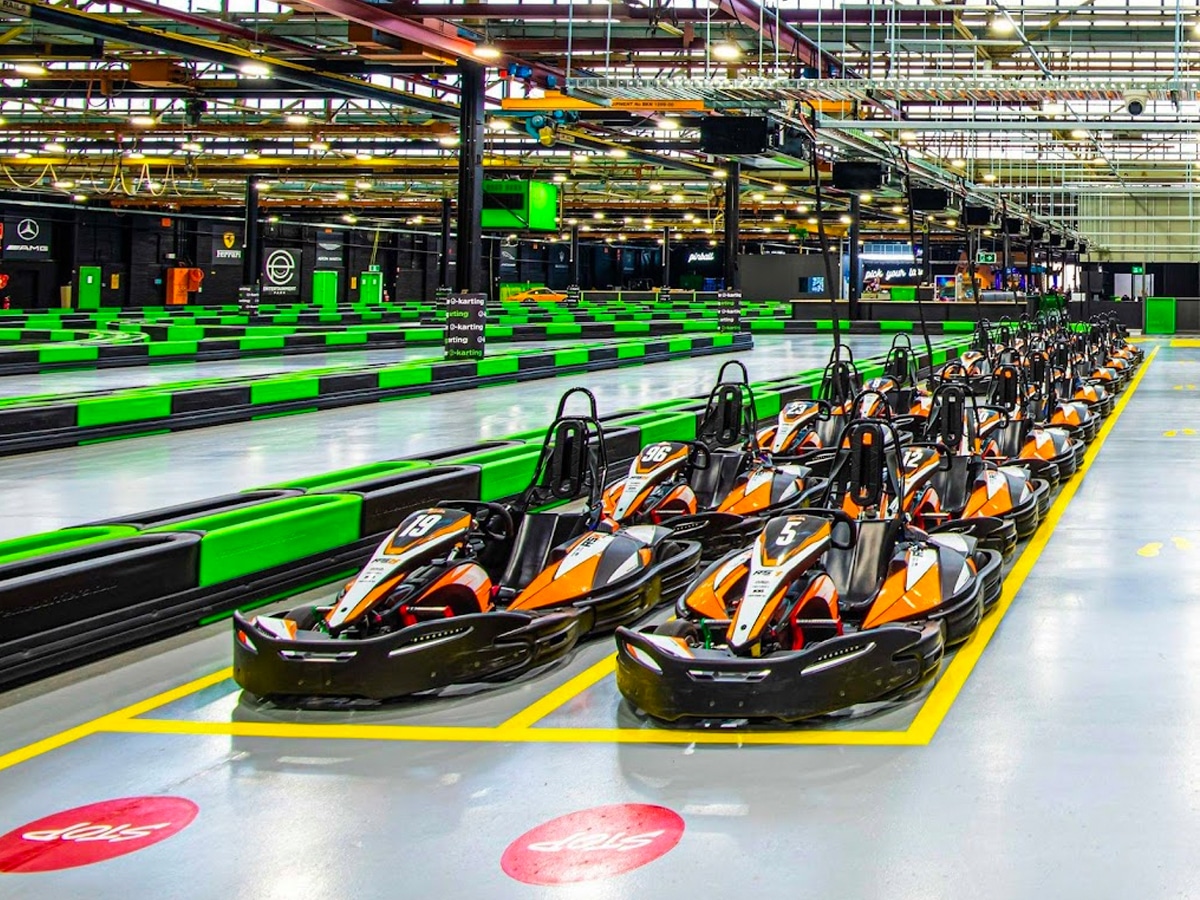 7. Entertainment Park
There is a new location in Sydney for you to test your racing skills. Entertainment Park in Bankstown is a new location for E-Karting, bowling, racing simulators, and parties. You can power through Sydney's largest indoor e-karting race track in a fumeless race track experience with electrifying go-karts that reach speeds of up to 85km/h. So whether you race individually or with friends, you're in for a ride to remember at Entertainment Park.
Address: 361 Milperra Rd, Bankstown NSW 2200
Hours: Mon-Wed & Sat-Sun (10am-10pm), Thur (10am-6pm)
Phone: (02) 9773 1398
Cost: 1 x 10 minutes: $25
Engine: Electric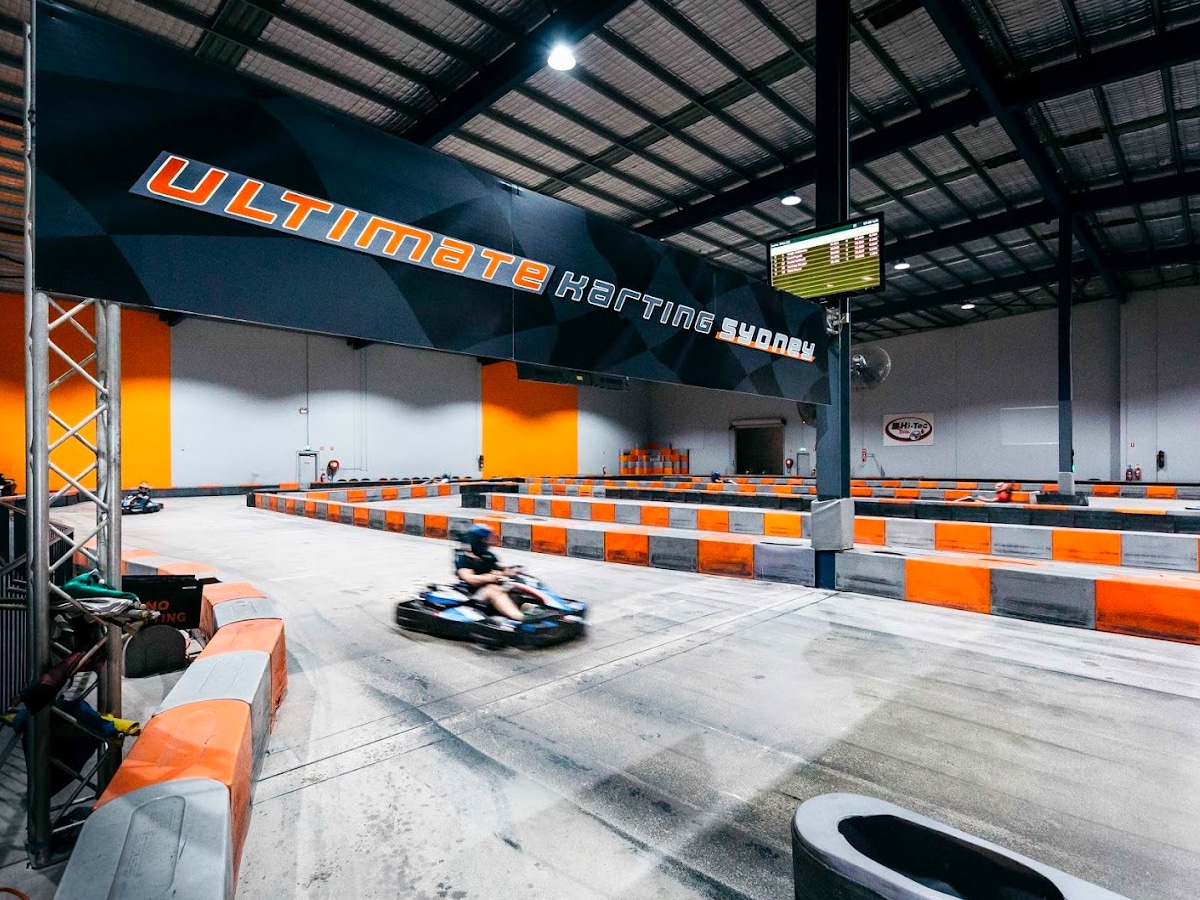 8. Ultimate Karting Sydney
If you have the need for speed, Ultimate Karting Sydney is home to Australia's fastest indoor go-karts. Rain, hail or shine, you can always count on its 3745 sq/m venue for an adrenaline-pumping adventure. With an extra spacious track spanning 450 metres, you'll have ample room for exhilarating wheel-to-wheel action.
The karts are equipped with Honda 9hp 270cc engines, guaranteeing a truly authentic racing experience from the moment you hit the accelerator. To top it off, it boasts a fantastic café where you can indulge in a delicious breakfast or mouthwatering burgers. Whether you're planning a group outing or seeking one of the best go-karting tracks in Sydney, Ultimate Karting Sydney has to be on your list.
Address: 40 Anderson Road, Smeaton Grange
Hours: Mon (10am-5pm), Tues-Sat (10am -10pm), Sun (10am-6pm)
Cost: 1 x 10 minutes: $35
Engine Petrol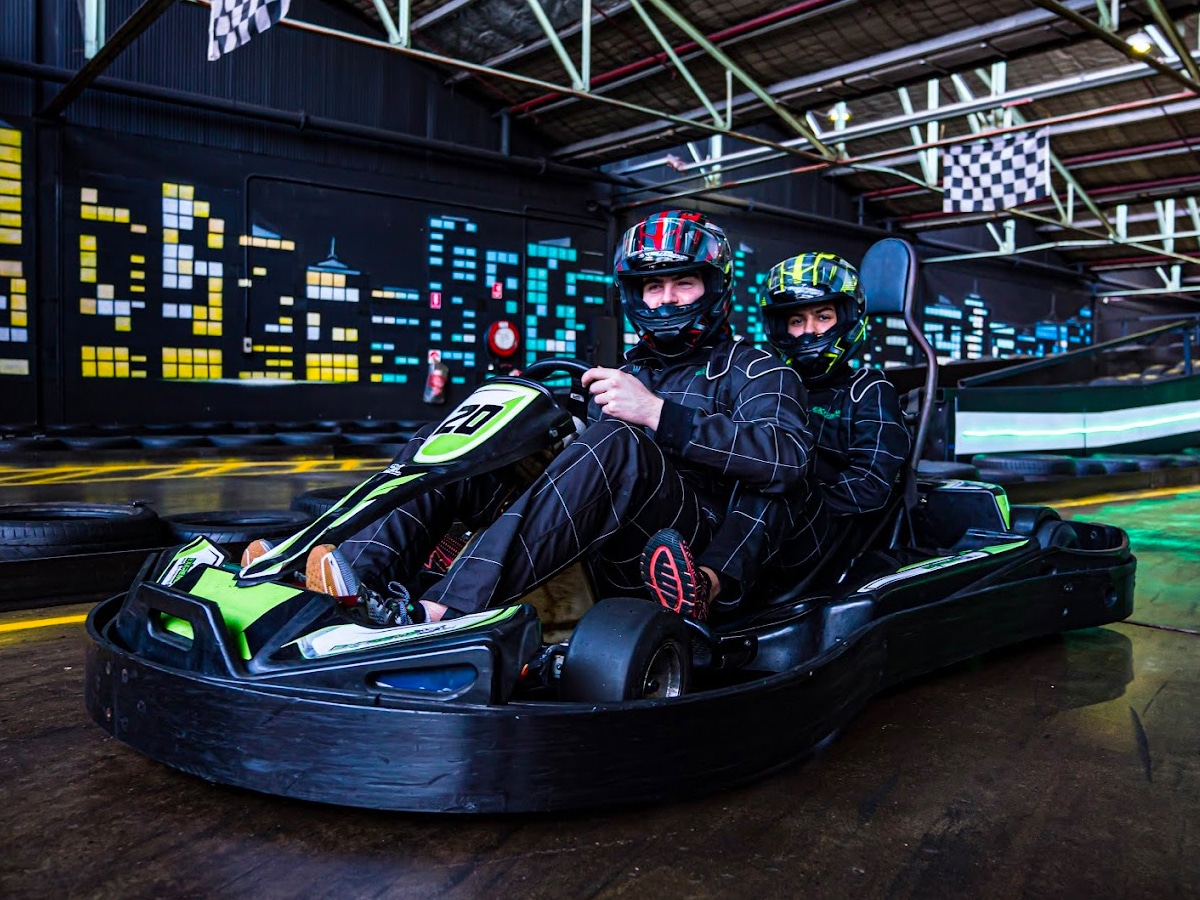 9. Extreme Indoor Go Karting Sydney
Extreme Indoor Go Karting Sydney truly stands out as one of the best go-karting tracks in Sydney, and here's why: it's incredibly versatile. This place has something for everyone, no matter your driving skills. They've got not just one, but three awesome tracks with different levels of difficulty and speed. If you're up for some heart-pounding action, the Extreme Track is where you want to be. It's a whopping 500 meters long and filled with hair-raising turns that'll make your adrenaline soar. And get this: you'll be racing in supercharged Honda 9HP (270cc) Biz Karts that can reach speeds of up to 80 km/h.
They've also got a race format that mirrors real professional racing. Picture this: you start with qualifying sessions to determine your starting position, just like the pros do. Then, you move on to heats and final races, battling it out with other karting enthusiasts for the top spot. If you're a hardcore racer looking for the ultimate challenge, you've got to ask about their "Endurance Cup." This is where things get intense. It's a long-distance Le Mans-style experience that'll test your stamina and teamwork. You'll be doing driver changes, and hitting the pits for fuel stops—it's a true test of will.
Address: Unit 3, 66 Christina Road, Villawood NSW 2163
Opening Hours: Mon-Thurs (12pm – 10pm), Fri (12pm – 11pm), Sat (10am – 11pm), Sun (10am-10pm)
Cost: 1 x 10 minutes: $40 pp
Engine: Petrol
Extreme Indoor Go Karting Sydney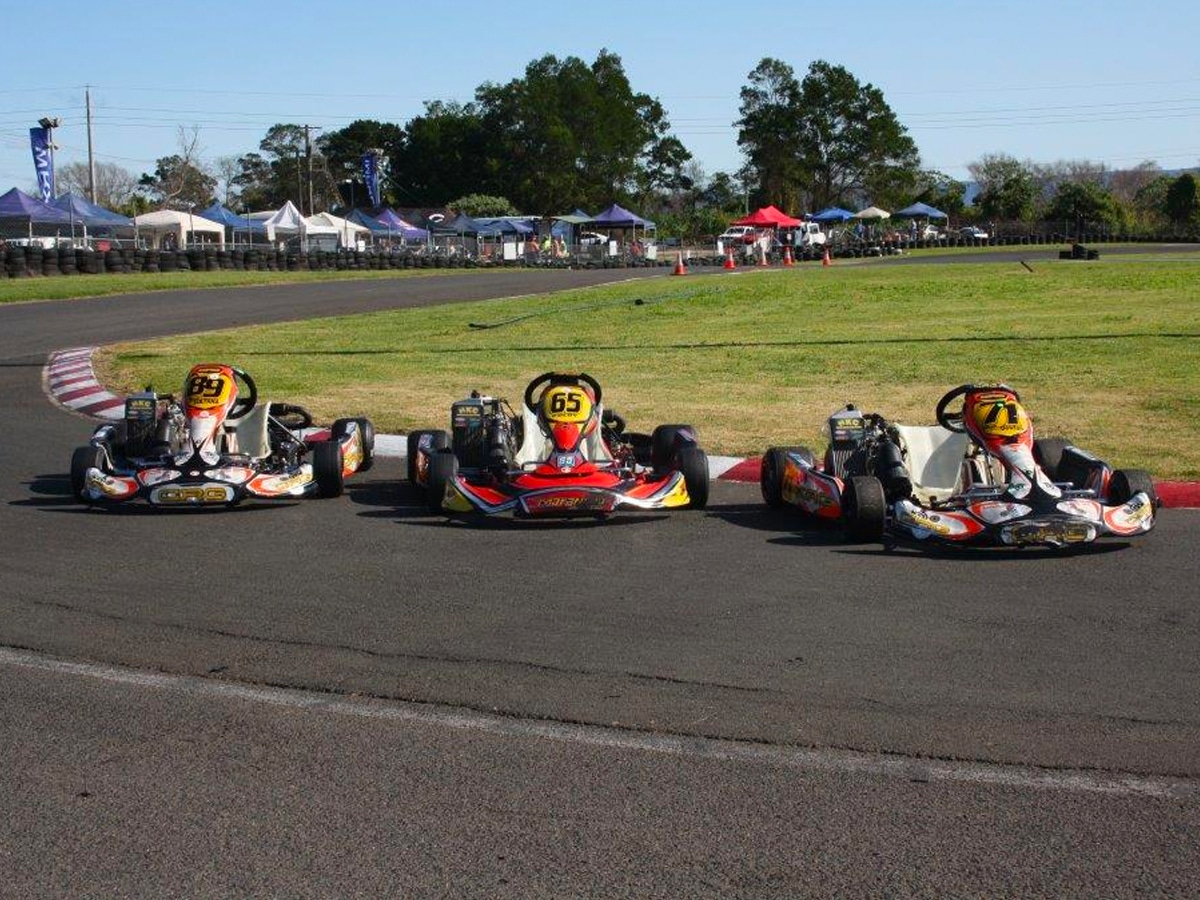 10. Indy 800 Kart Track
Indy 800 Kart Track is an absolute legend among go-kart tracks in Sydney, earning a stellar reputation since its inception in 1997. It's one of the longest tracks you'll find in Sydney, stretching a whopping 800 meters. With a width of 8 meters, this track has everything a seasoned driver dreams of long straights, tricky 'S' bends, sweeping corners, and heart-pounding hairpins. Sure, it's more demanding than your average circuit, but that's what makes it all the more rewarding when you overtake your buddy and claim victory.
Indy 800 Kart Track goes above and beyond by providing you with more than reasonable 6hp karts. As you zoom around the track, you'll be treated to breathtaking views of the scenic Butterfly Farm along the Hawkesbury River. The combination of the thrilling karting experience and the stunning scenery will leave you in awe. And here's an added bonus: after your race, you can kick back and relax with a well-deserved beer. A top choice for group bookings, take in the picturesque views of the water and chat race strategy all afternoon long.
Address: BUTTERFLY FARM INDY 800 446 Wilberforce Road, WILBERFORCE, NSW 2756
Opening Hours: Mon (9.30am-5pm), Tues-Wed (Closed), Thurs-Sun (9.30am-5pm)
Cost: 1 x 10 min – $35 per person
Engine: Petrol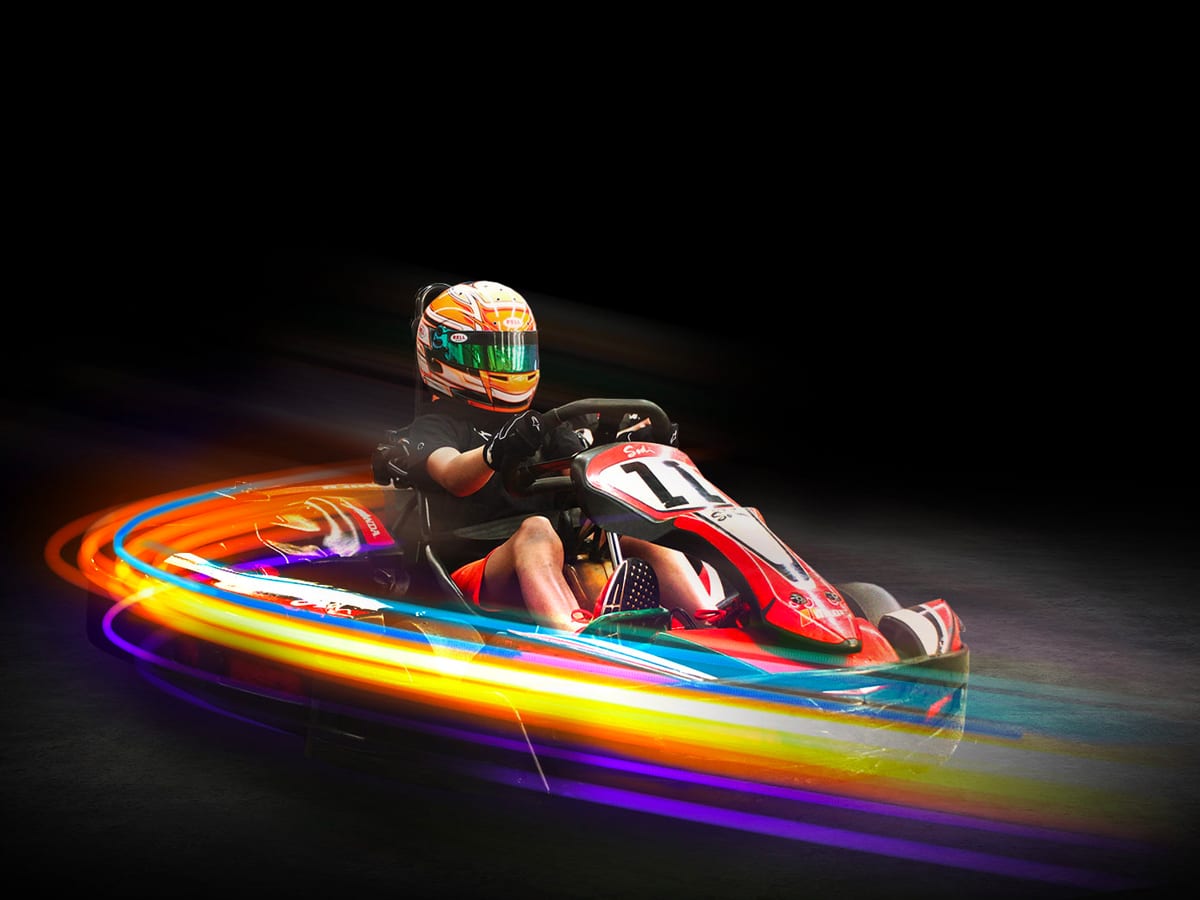 Is Go Karting Safe?
Go Karting is a fast-paced, adrenaline-fueled, fun activity for all ages. This can raise safety concerns for even the bravest or most practised of drivers. It is because of this that, no matter which tracks you choose, go-karting in Sydney is underpinned by strict rules and regulations to ensure the safety of all participants, big or small.
Strict rules and regulations: Go Karting in Sydney prioritizes safety, implementing strict rules and regulations to ensure the well-being of all participants, regardless of age or experience level.
Safety-focused design: Go-Karts are designed with safety in mind, featuring essential safety features like seatbelts and roll bars. Kids' Go Karts have smaller engines for slower speeds, ensuring a safer experience for younger drivers.
Continuous supervision: Officials closely monitor drivers throughout the activity, maintaining a vigilant eye on the track to ensure safety. Safety briefings are conducted before anyone hits the tarmac, emphasizing the importance of adherence to safety guidelines.
Protective gear: Safety equipment is mandatory for all drivers, regardless of age or kart size. Helmets, face protection, and gloves are essential to safeguard participants during the exhilarating and adrenaline-fueled Go Karting experience.
Considerations Before Go-Karting in Sydney
Before going go-karting, there are several considerations to keep in mind, especially when differentiating between kids and adults. Here's a list of things to consider:
For Kids
Age and Height Restrictions: Check the go-kart facility's age and height requirements to ensure your child meets the criteria to participate.
Safety Gear: Make sure your child wears appropriate safety gear, including a helmet, gloves, closed-toe shoes, and possibly a racing suit if provided by the facility.
Supervision: Determine whether the facility requires adult supervision during the karting session and ensure there will be a responsible adult available if needed.
Skill Level: Assess your child's driving skills and choose a suitable karting track that offers options for different experience levels.
Rules and Guidelines: Review the facility's rules and guidelines with your child, emphasising the importance of following them to ensure a safe and enjoyable experience.
For Adults
Age and License Requirements: Check if the go-kart facility has any age restrictions or requires a valid driver's license for adult participants.
Safety Gear: Similar to kids, adults should wear appropriate safety gear, including a helmet, gloves, closed-toe shoes, and possibly a racing suit if provided.
Skill Level and Experience: Consider your driving skills and experience when choosing a karting track. Some facilities offer different kart and track options based on experience, allowing more experienced drivers to go faster.
Rules and Guidelines: Familiarise yourself with the facility's rules and guidelines, paying attention to any specific regulations for adult participants.
Briefing and Training: Even if you have prior go-karting experience, it's recommended to attend any briefing or training session provided by the facility to ensure you understand the track layout and safety protocols.
Physical Fitness: Ensure you are physically fit and in good health to handle the physical demands of go-karting. If you have any medical conditions or concerns, consult with your doctor beforehand.
Track Safety Measures: Prioritise safety by ensuring the go-kart facility has adequate safety measures in place, such as safety barriers, seatbelts, and well-maintained tracks.
Remember, these considerations may vary depending on the specific go-kart facility you visit, so it's important to contact them directly for any additional guidelines or requirements.
How We Chose the Best Go-Karting Tracks in Sydney
To curate our list of the best go-karting tracks in Sydney, we relied on the expertise of our team of editors who have over five years of experience covering go-kart content. Man of Many has had the opportunity to personally experience and test each of the racing tracks on this list, often with the help of our industry connections. Our evaluation process takes into consideration three key factors: go-kart performance, track condition, and price point, ensuring a comprehensive rating. As a reputable recreational activity blog that knows a thing or two about having a fun time, we possess the necessary knowledge to discern the qualities that make a go-kart track truly exceptional.
General FAQs
Is Go Karting Safe?
Go Karting is underpinned by strict rules and regulations to keep participants safe. All racetracks employ marshalls, conduct pre-race safety briefings, and participants must wear crash helmets and protective clothing at all times.
What do you wear to go Go Karting?
When going Go Karting, participants must wear comfortable clothing and closed-toe shoes. Race suits may be hired or are often provided to wear over clothes to stop the clothes from getting dirty.
How fast can Go Karts go in Sydney?
Most standard Go Karts will accelerate at around 40-50km/h. In Sydney, there are a few tracks that house high-tech Go Karts that reach speeds of over 100km/h!
Is Go Karting considered an essential exercise?
Hyperkarting in Moore Park is a registered COVIDSafe venue and their 20min sessions for two registered customers is considered essential exercise under the NSW Public Health Order.
You'll also like:
---
Featured Video from Man of Many