"For anyone who thought I left – I never left. I just moved aside for a while." Those were the defining words that echoed through the McLaren team radio system as Aussie legend Daniel Ricciardo took out the Italian Grand Prix at Monza just a few weeks ago. A maiden victory under the iconic orange flag, Ricciardo's big win couldn't have come at a better time. Years of car troubles at Red Bull and Renault had thwarted the Perth native's attempts to claim an inaugural championship, and when his first F1 season with McLaren started off in familiar fashion, the doubters emerged.
"You're getting thrown into a whole new environment, new people, so you've got to try to quickly build very strong relationships," Ricciardo tells Man of Many. "You're trying to not only learn the new car, but also figure out how to drive it fast. That is the biggest challenge and that win confirmed that I found it."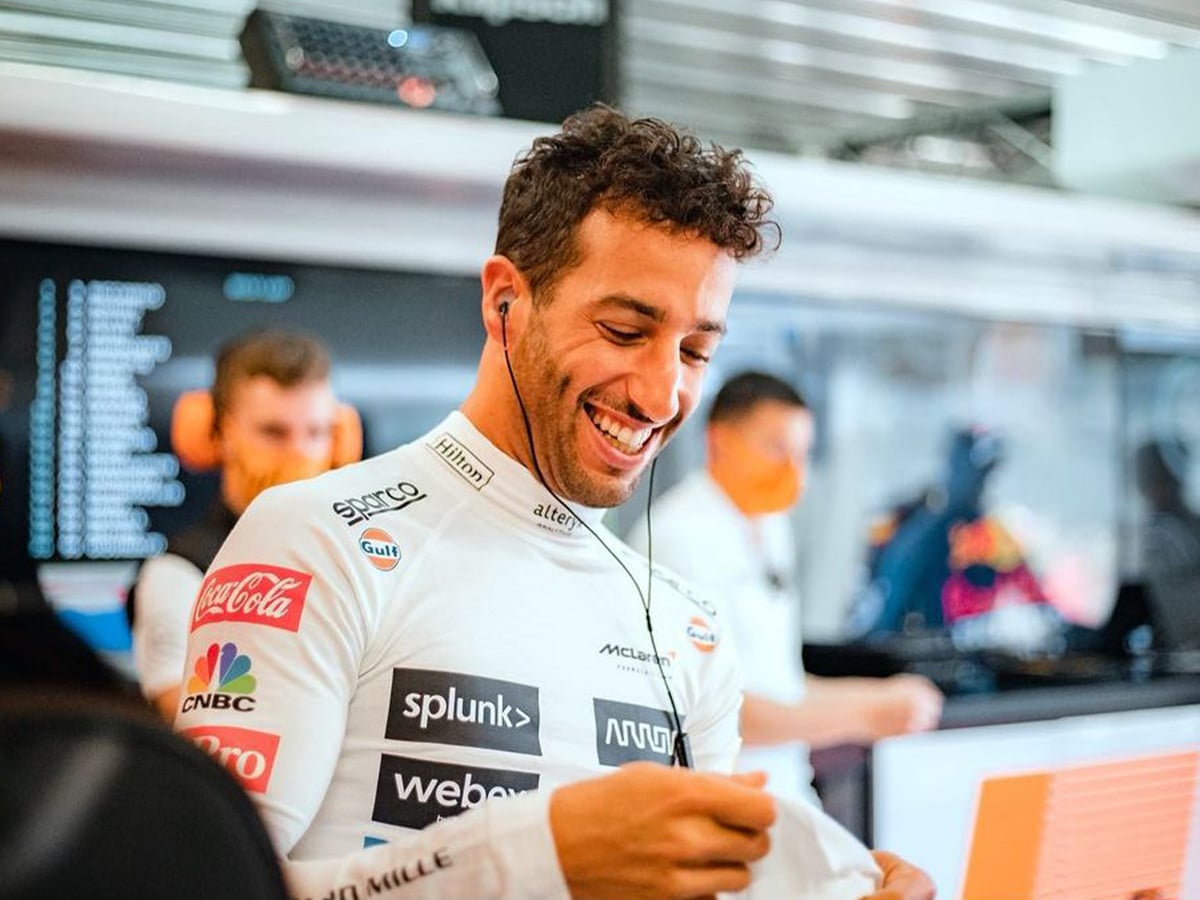 Taking It Personally
Prior to Monza, the 32-year-old's season was slowly building, but somewhere along the line, the switch was flicked. A dominant qualifier put the Aussie in the box seat for his first win of the season and from the opening seconds, Ricciardo was in control. It was the birth of a new Danny Ric, confirmation that behind the toothy smile and goofy laugh was a killer waiting to be unleashed.
"I was pissed after the Friday qualifying," Ricciardo says. "I got out-qualified by milliseconds with Lando and Max, and that was the sore loser in me. I used that as fuel for the rest of the weekend. I just channelled it right."
Famous for his laid-backed attitude and the iconic shoey celebration, Ricciardo's admission might come as a surprise to most, but the fire has always been there.
"It's something I've had since I was a kid. I've always been the easy-going kid with a smile, but I've always had the ability to switch attitudes, switch focus very quickly," he explains. "I think as a kid it made me quite a sore loser, I'd throw little tantrums. As I've got older and a bit more mature, I've understood how to use that rage for something more positive."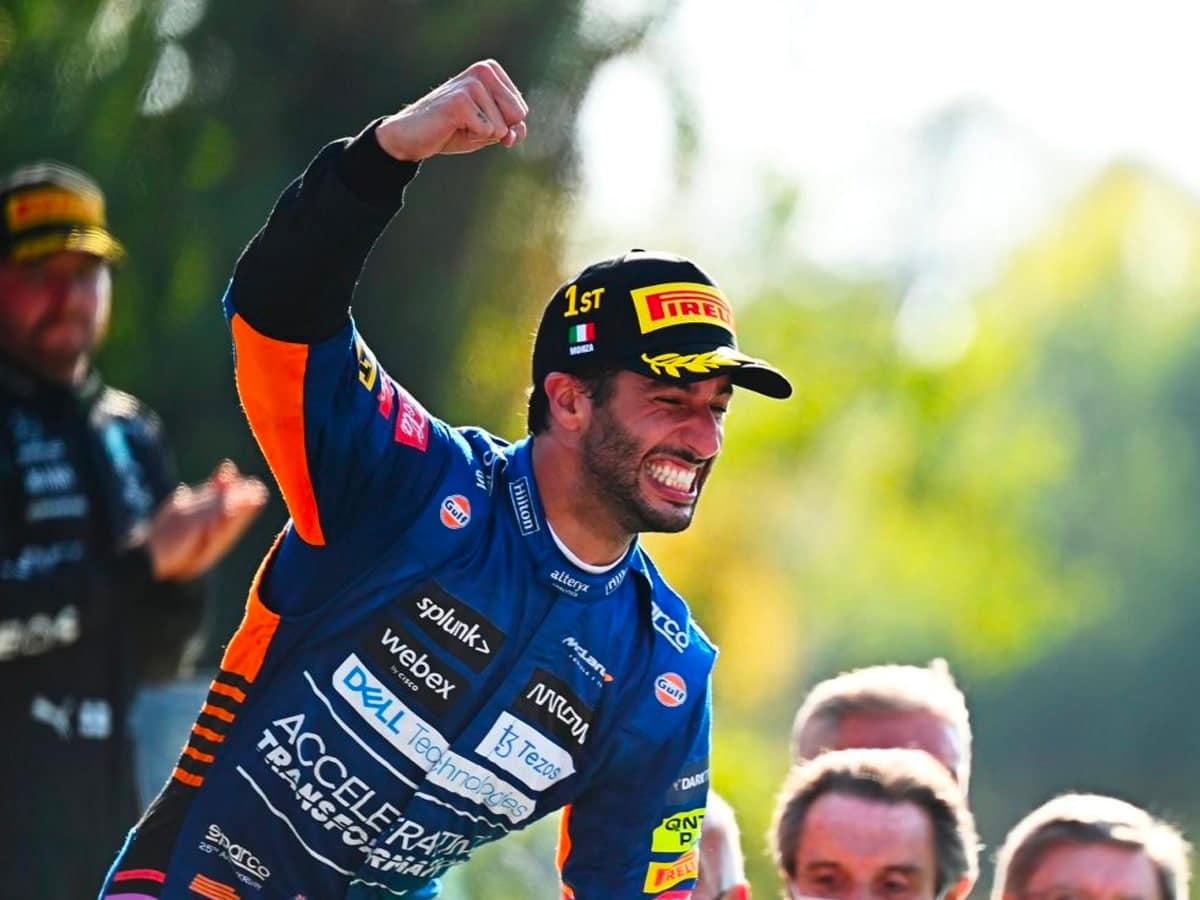 The Italian Grand Prix victory marked the first top of the podium finish for Ricciardo since 2018 and the first GP win for McLaren in nine years. Not quite redemption, merely vindication for the Honey Badger.
"It felt amazing. I think to win in general, it's obviously a big part of why we do it, but it had been so long for me, it had been so long for the team," Ricciardo tells us. "And it was a new experience for me to win with another team. I've only ever won with one team before, so there was quite a bit of emotion involved. There was a lot of fulfilment taken from that."
But more than just a victory, Monza was a landmark moment for the McLaren team. Not only did Ricciardo snag a famous win, teammate Lando Norris chalked up a second-place finish, recording the first 1-2 team podium of the season. According to the Honey Badger, it was confirmation things were all headed in the right direction.
"It certainly is a big step, but it doesn't guarantee anything moving forward. It doesn't guarantee more wins or anything, but it should guarantee less of the bad days," he says. "With the team around me, like my mechanics, my engineers, for them to stay confident and keep the faith, think that was important for all of us as a unit."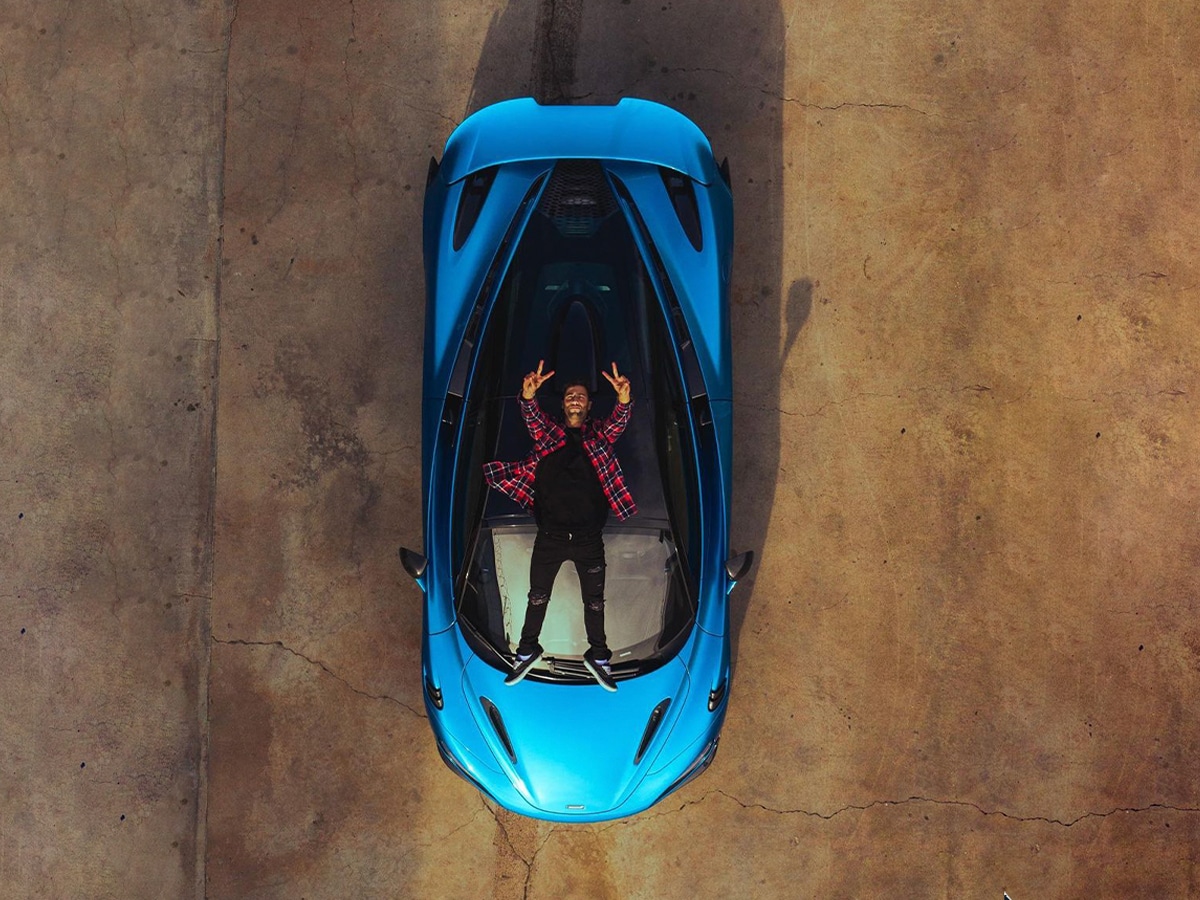 Fuelling the Fire
But while Monza signalled a return to the podium for Ricciardo, it also served as a stark reminder of the dangers of F1. Championship leaders Lewis Hamilton and Max Verstappen collided in a horrifying accident that saw the latter's Red Bull car wind up on top of the Mercedes. Follow up reports indicated that had it not been for the newly introduced 'Halo' safety feature, Hamilton may not have got out of the accident unharmed.
For Ricciardo, seeing instances like this first-hand isn't unusual, but they never fail to hit home. Just last year, Romain Grosjean's fiery crash showed just how dangerous the sport can be, a fact that isn't lost on Ricciardo.
"We've grown up with the awareness of the risks. Even when we started racing go-karts as kids, it was dangerous from day one. Maybe not always a life or death situation, but there is a certain danger that comes with this sport over many other sports," he says. "You grow up with it and therefore it's not really at the front of your mind, it's somewhere in the back because you've just learned to live with it. It's there, but it's also kind of not."
As we saw in the Netflix series Drive to Survive, the danger is never far from sight. While the quest to be the fastest remains the core motivator, hitting corners at 300km/h goes against every fibre of your being.
"I don't really block out the nerves. I choose to use the nerves as something positive. I use it as excitement. I use it as a form of energy," Ricciardo says. "Music and stuff on the grid will keep me calm, so perhaps that is a way to block out some of the nerves, but I try not to completely shut it out as it provides you with a bit of adrenaline. On track, I wouldn't say I feel nervous once the race is underway. It's then just focus and excitement."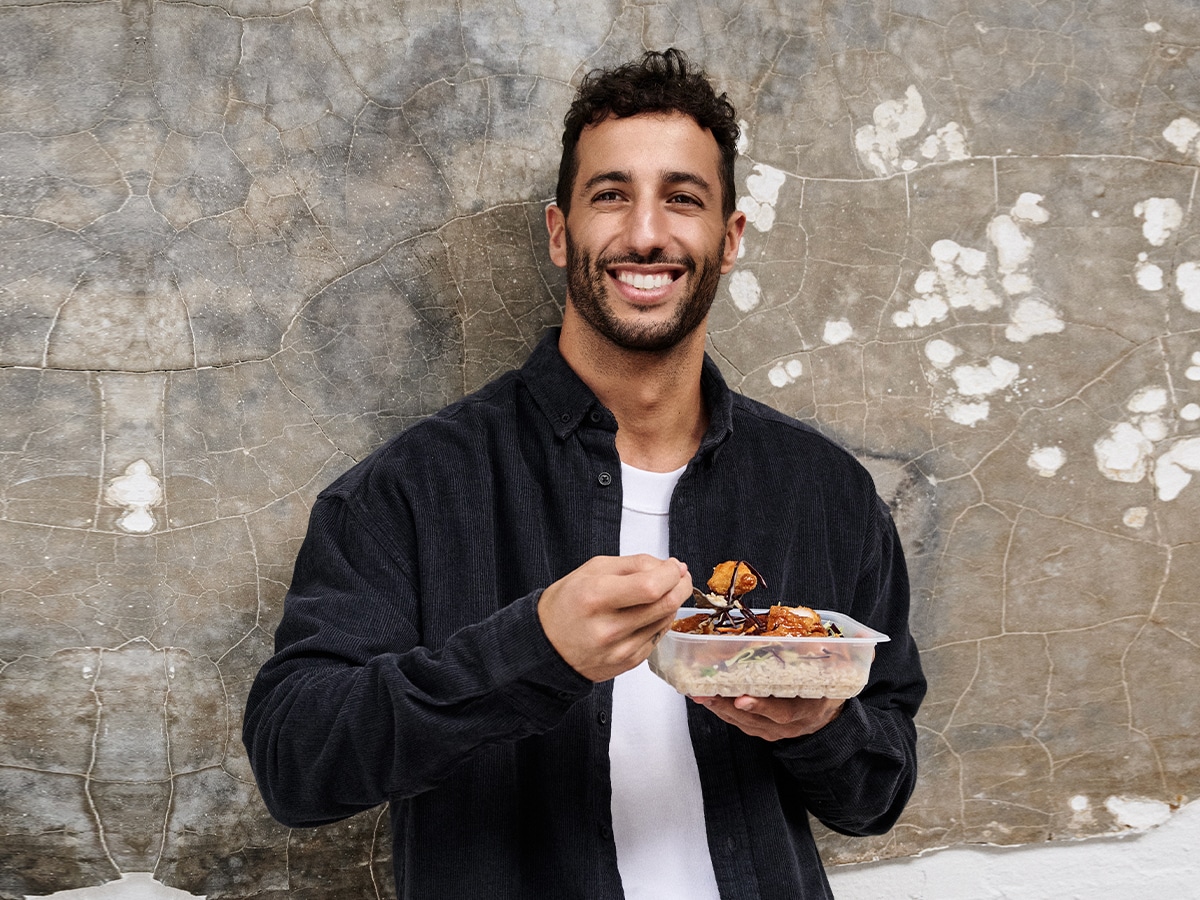 The New Danny Ric
Changing teams and moving home base is never easy and Ricciardo admits it's taken some adjusting. The 32-year-old credits a greater emphasis on health and track-specific fitness for his renewed focus, with the McLaren team putting an emphatic training plan together.
"There are certain races where we'll target with more emphasis than others. Some of the hot circuits and the faster ones, which are harder on the neck, for example, we might do some more heat training or get more into the neck stuff," Ricciardo tells us. "In pre-season we do as much as we can to build that base, and then through the year, it's just maintaining it. I'll train most days a week, but it's just being smart as the year goes on. We have to balance our energy as well. You want to rock up on a race weekend feeling fresh, not depleted from over-training."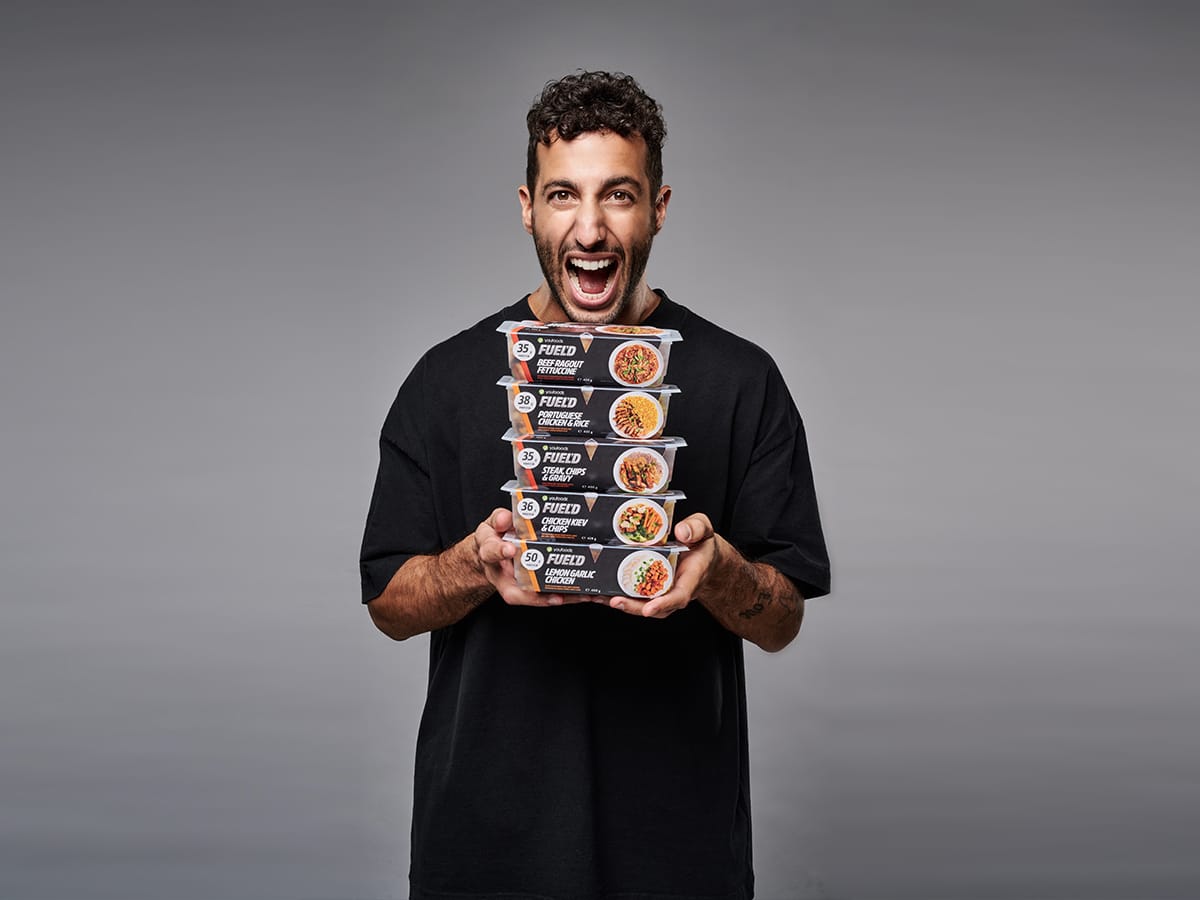 Ricciardo's biggest gains have been in the kitchen. The F1 star has revamped his diet, looking for greater balance in the foods he eats. The strict meal plan may have cut booze for the time being, but if Monza is anything to go by, champagne might be back on the menu sooner rather than later.
"I've certainly experimented over the years, but I feel I function best with balance. Obviously, with the training we do, protein is important, but I think also we need the carbs for a bit of extra energy, we need fats as well for that more sustained fuel and not to just wither away," he says. "Fortunately I still have a pretty fast metabolism, so I can get away with a little extra flavour."
The F1 driver isn't just playing around either. Ricciardo is set to be the face of home-grown meal delivery platform Youfoodz, teaming up with the brand to unveil FUEL'D. The new high protein meal range launched on September 30, offering up ready-meals designed for male high-octane performers. The bigger portion sizes and increased protein has helped the Drive to Survive star to focus on the big picture without needed to worry about fuel.
"Getting that extra protein in, it's something a lot of people look for when they're doing exercise. I liked that they didn't shy away from making their stuff taste good as well," he says. "I think a lot of the time with, call it, a healthier meal option, it tastes pretty uninspiring. With the FUEL'D range, they didn't cancel that out. It's like, "All right. We want you to eat well, but we're not going to shy away from that." And it's obviously driven then by convenience, which is a big part of my lifestyle. You're on the go and sometimes time is against you, so the convenience side of it was a big one."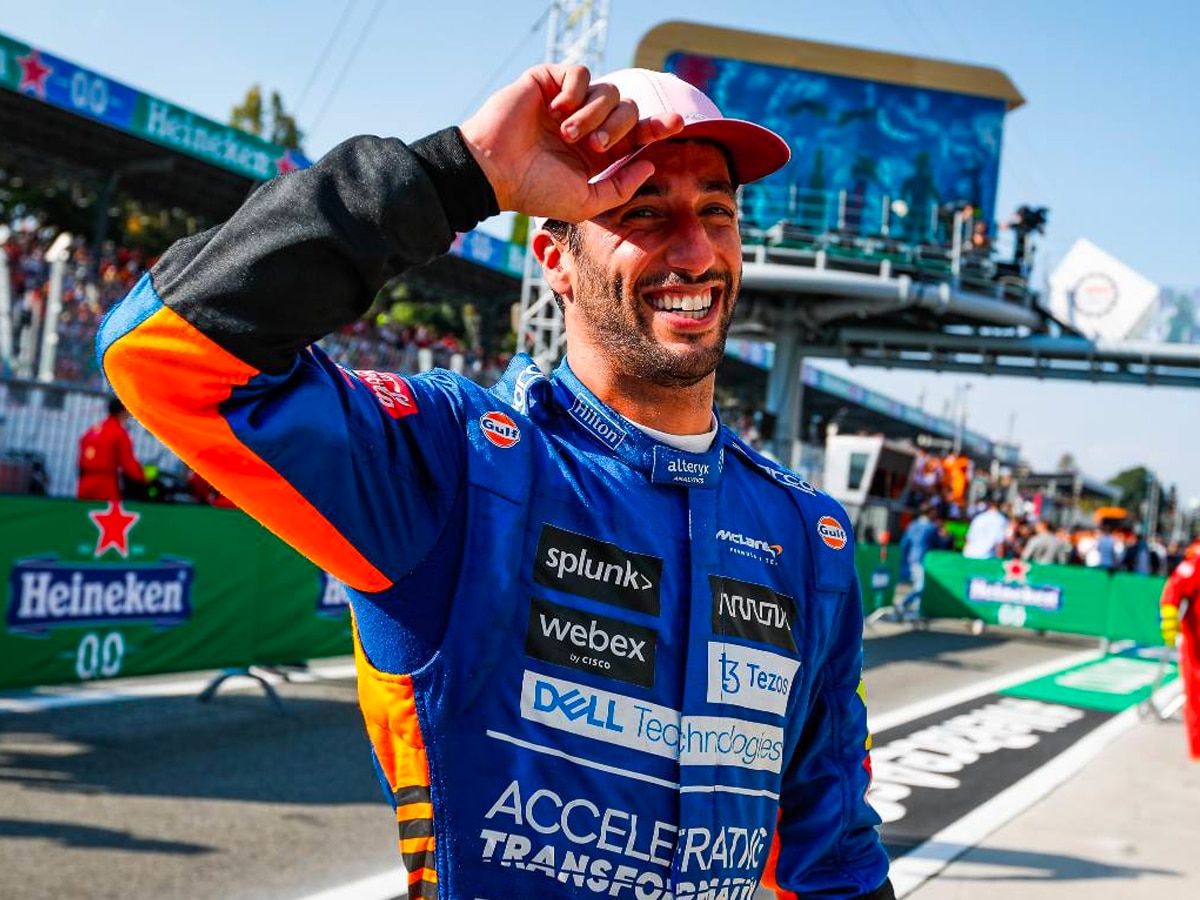 The Road Back Home
The Honey Badger is peaking at the right time. After two false starts in a row, the Australian Grand Prix looks certain to kick off next year, bringing a welcomed return home for the Aussie star. The wait has been long and the pressure to perform is palpable (Aussie F1 fans already have their shoes in hand), so naturally, Ricciardo has one goal in mind.
"What have I got in store? Fuck. A good result. A good result in Melbourne. It's been overdue," he jokes. "I think 2018 was my last good result there. I finished fourth, knocking on the door of a podium. But that aside, I just can't wait to get back and race in front of a home crowd. It's a privilege."
Speaking with Dan, you get the sense that Monza has stirred something in him. There's a fire that has been reignited under the McLaren banner and it's starting to catch on. The determination we saw in Drive to Survive is coming to fruition before our very eyes and with the backing of a world-class team, one thing is for certain.
Dan Ricciardo is back, and this time, he's not going anywhere.