Usman v Covington 2: Results & Highlights from UFC 268
Back to back weekends of high-profile bouts trumpeted with talent: uncle Dana has had the fight world eating out of his hands. At UFC 268, the welterweight champion & top pound-for-pound fighter of the world, Kamaru Usman sensationally snagged his fifth title defence in a gruelling five-round showdown against arch-adversary Colby Covington. The card of this magnitude broadcasted a co-main title fight, where Rose Namajunas retained her strawweight title from Weili Zhang via a razor-sharp decision win and the edge-of-your-seat dust-up of lightweights Justin Gaethje and Michael Chandler.
You'll also like:
Michael B. Jordan's 'Creed' Diet & Workout Routine
UFC Boss Dana White's House is Almost as Insane as His Fridge
What is 'Mexican Martial Arts'? The Iconic & Comedic MMA YouTube Channel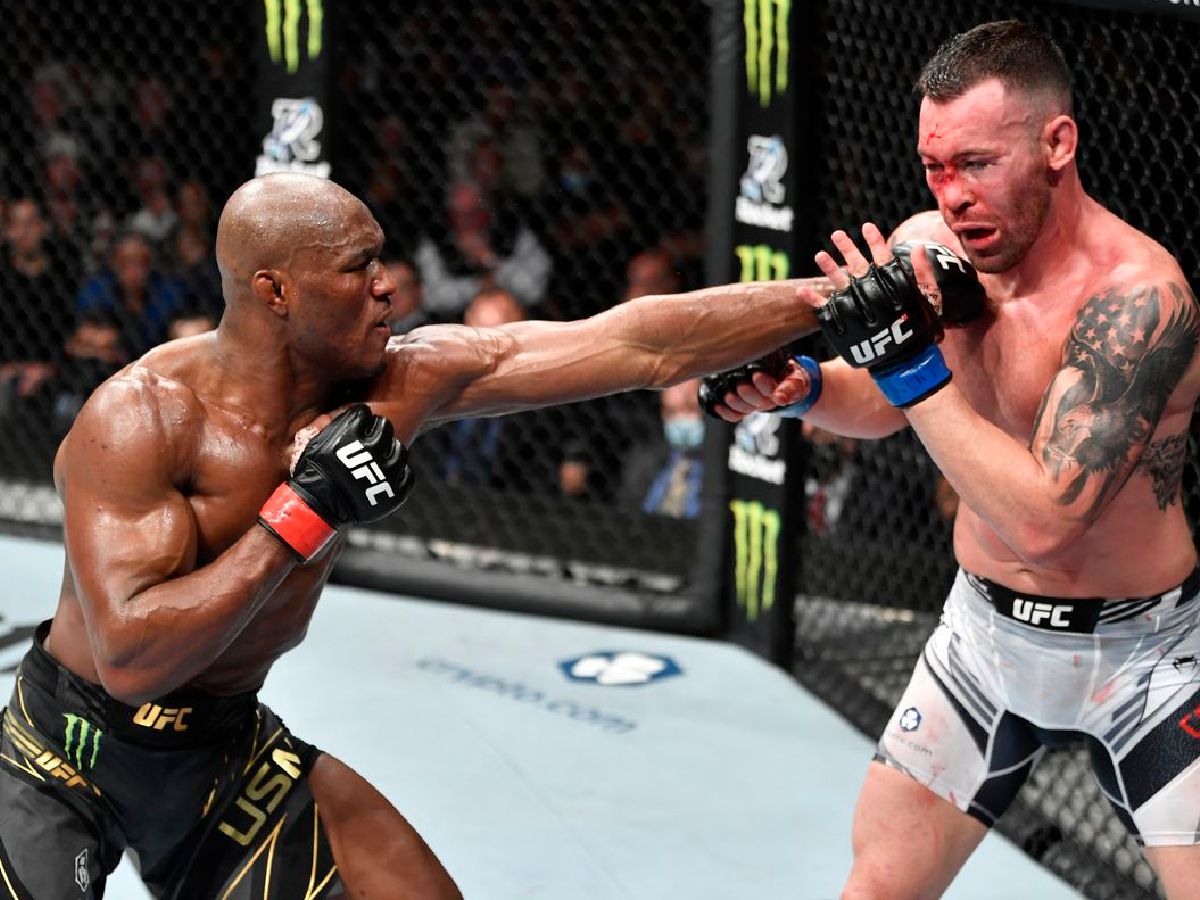 The ruthless rivalry was renewed once Colby 'Chaos' Covington and Kamaru 'The Nigerian Nightmare' Usman rendezvoused in the Big Apple's Madison Square Garden Arena. Watching the bulk of bouts in the prelims was staggering, but all were drumming their fingers for this barnburner. Convington, openly pronounced as the most loathed fighter in the game, reified himself as championship calibre, yet Usman continues to eclipse all in the division.
Prior to the Armageddon, Covington made his same-old walkout — draped in the American flag with the patriotic walk-out song of WWE wrestler Kurt Angle You Suck blasting — and had fans roaring. Usman made his walkout enveloped in the Nigerian flag and greeted with a mishmash of boos and support. Once the octagon gate was locked, it was all business. Neither touched gloves and came out in the opening round poised and maintained their distance. Covington attempted a takedown in the round that backfired, and with such desperation to steal the belt, he manifested reckless in his swings; landing only 30 per cent of his offerings, enabling Usman to bank the judge's scores.
The Nigerian Nightmare verged on TKO'ing Covington in the second round. While Chaos landed more body kicks, Usman was seemingly headhunting. The all-American continued to make flunked takedown attempts before exchanging by the side of the cage and being clipped, knocked down twice and saved by the bell. Round three saw more body kicks by Convington, jabs and crisp combinations that wobbled Usman. The Nigerian remained composed and wary of his distance before being dismantled for the first time in his professional fight career.
The fighters began picking up pace in the fourth and final rounds. With the pugilists throwing stinging uppercuts and jabs, Covington appeared to have canned round four when loading up headshots. The championship round of the main event got underway with the two patty-caking prior to landing some exceptional hits to the head, though the significant strikes weighed in favourably for Usman. At the closing of the fight, the blood masked Covington approached Usman, put down his loathsome façade and uttered sportsman-like remarks — Usman reciprocated.
It would have taken a herculean effort to knock Covington off the perch, but Usman triumphed by unanimous decision, knocked Georges St-Pierre off the record books and is on the cusp of toying with Anderson Silva's UFC record of 16 consecutive wins. Usman wowed fanship when maximising the microphone in the octagon interview.
"I am the pound-for-pound best alive right now. I'm going to tell you what: he's tough, he's super tough"- says Kamaru Usman.

MASSIVE left from Usman and he wobbles Covington 😳 #UFC268 pic.twitter.com/cd4igi57I0

— ESPN MMA (@espnmma) November 7, 2021
Almost seven months after 'Thug' Rose Namajunas snatched the strawweight title from China's Weili 'Magnum' Zhang, the duo returned to the octagon for a buzzworthy five rounder. And anyone prying for a trilogy was silenced when the Thug instantiated her rarefied talent. Before kicking off, Namajunas repeated, in sotto voce, her patented phrase "I'm the best" in the walkout and octagon, and had the arena go haywire.
In a promising first round, Zhang began landing some outside leg kicks and stalked her prey meticulously prior to a backfired takedown attempt by Namajunas. The champ was glued to the canvas for over two minutes for a ground and pound. Thereafter escaping, the two went the stretch in the jabs. In the latter rounds, Namajunas secured more takedowns and chalked up almost double the amount of control time than her vindictive opponent. And with both fighters mustering an impressive number of high and low leg kicks, jabs and flurries of combinations, it was Namajunas' superb takedowns and penchant to pivot over Zhang in rounds four and five that banked her the bout.
It was most endearing to see Namajunas' boyfriend Pat Barry imbue her with momentous corner advice between rounds in tow with her stalwart Coach Trevor Wittman, dropping the f-bomb after every slant he spits.
"I was pretty confident in the end that I won it. The first couple of rounds was a little close and wasn't sure what was going on, but I was just present in the moment. I wasn't too worried about the result"- Rose Namajunas said.
Impressive grappling by Zhang Weili to end Round 3 😯 #UFC268 pic.twitter.com/0BkEkZuYlD

— ESPN MMA (@espnmma) November 7, 2021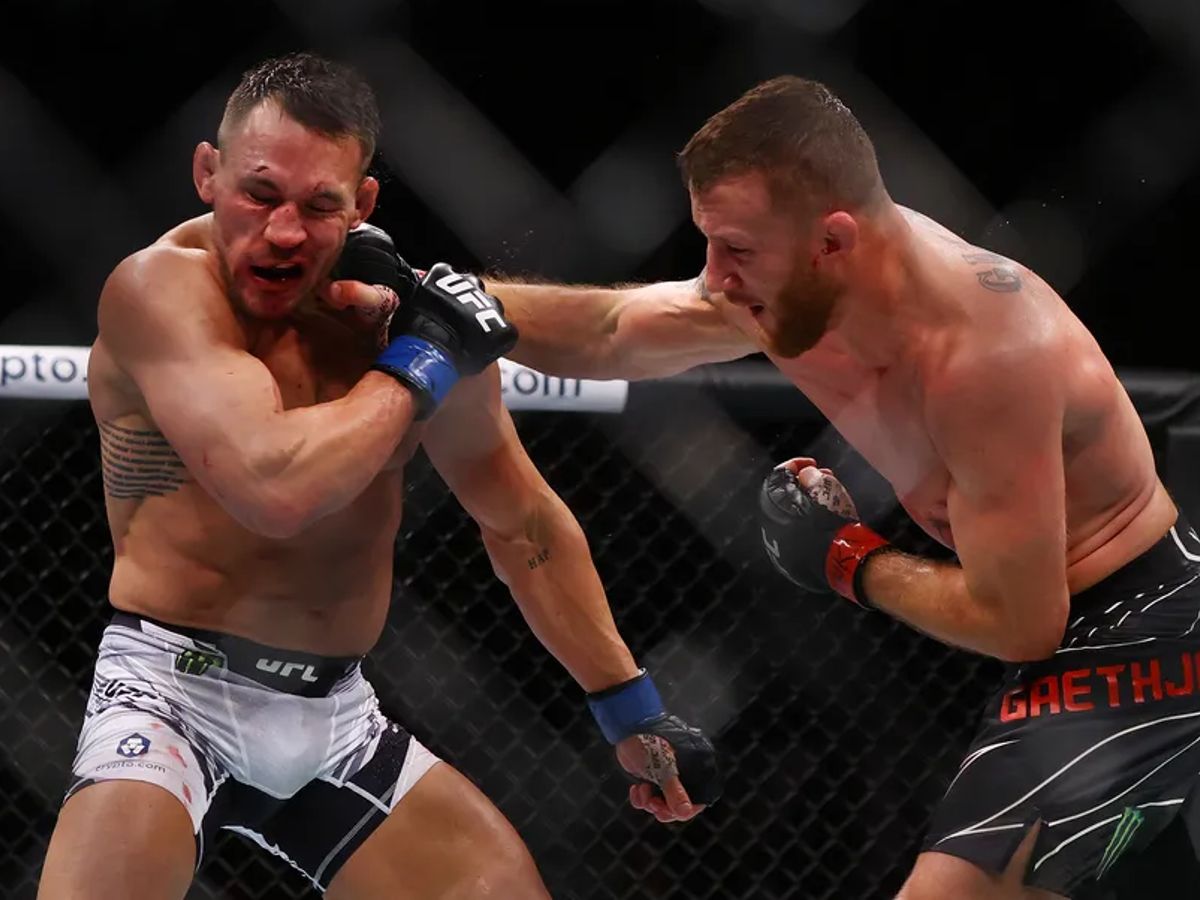 A three-round slugfest with one of the lightweight division's most murderous strikers: the crowd went ape shit. The opening round manifested so explosively with leg kicks, jabs and counter strikes by both. Chandler appeared to shake Gaethje with a combination and a flying knee before getting punished by The Highlight's uppercuts.
Round number two is where Gaethje found his groove. The two showcased more turbulence when Chandler was knocked down by an uppercut, subsequently returning to his feet for more exchanges. And the final round had viewers gobsmacked by Iron Chandler's knack to eat heavy head hits. The highbrow violence fight closed with Gaethje bagging a unanimous decision win and coach Trevor Wittman witnessing three of his fighters sink their opposition.
"We're fighting to fight for that belt. The winner of December, I will f–king be stepping in there, and I will be pushing you everywhere and anywhere" – said Justin Gaethje.
Chandler just EATS these punches from Gaethje and then walks him down 🤯 #UFC268 pic.twitter.com/Y1hfd2U9vq

— ESPN MMA (@espnmma) November 7, 2021
You'll also like:
Michael B. Jordan's 'Creed' Diet & Workout Routine
UFC Boss Dana White's House is Almost as Insane as His Fridge
What is 'Mexican Martial Arts'? The Iconic & Comedic MMA YouTube Channel