Southern Hemisphere's Biggest Surf Park Gets Approved
The surfing community of Western Australia breathed a sigh of relief last night, as the Western Australian Environmental Protection Authority (EPA) approved the construction of the biggest surf park in the southern hemisphere. The proposed AU$100 million surfing park, developed by Aventuur, was met with concerns about the impact on the habitats of Black Cockatoo and Banksia trees, but the EPA ruled that the likely environmental effects were not significant enough to warrant formal assessment (per ABC News). The announcement, however, has not gone down well with the shark community, who are now left to scour the Western Australian coast for alternative sources to satisfy their appetite for the region's tastiest delicacy: human limbs.
MORE – URBNSURF Sydney: First Look at the $50 Million Mega Surf Park Complex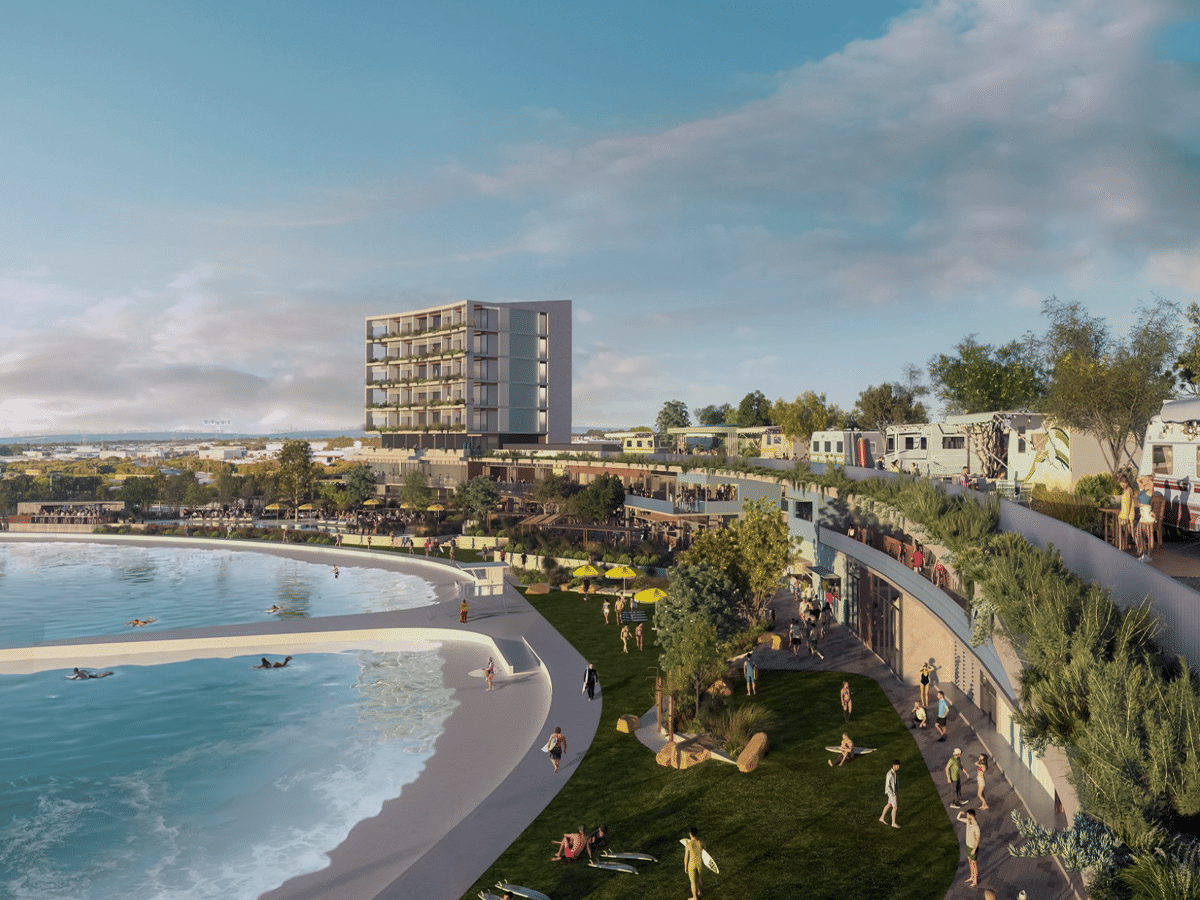 The proposed location for the park is the suburb of Jandakot in Perth, chosen for its accessibility and proximity to major roads and public transportation. The park will cover an area of 5.78 hectares and offer a range of wave types and sizes for surfers of all skill levels. A man-made lagoon, over 300 meters long, will use advanced wave-generating technology to create consistent, high-quality waves that simulate the ocean surfing experience.
The project faced opposition from environmental groups concerned about the impact on native vegetation, including Banksia Woodlands, a state-listed priority ecological community. However, the EPA found that the vegetation was already too degraded, and the park would not pose a significant risk to the Black Cockatoo population.
"The EPA considers that the likely environmental effects of the proposal are not so significant as to warrant formal assessment," the EPA concluded. "The vegetation has been impacted by historical clearing and ongoing degrading processes leading to large proportion of weeds and limited canopy connectivity. The vegetation is of low to moderate quality foraging habitat for Black Cockatoos."
Aventuur, the project's proponent, has committed to donating an 18-hectare nature reserve of Banksia Woodland on the Swan Coastal Plain to offset the land clearing required for the surf park. The company has also promised to exceed the stringent requirements of the WA government to deliver a world-leading example of sustainable, responsible surf park development.
"In each aspect of our project, we aim to exceed the stringent requirements of the WA government to deliver a world-leading example of a sustainable, responsible surf park development," it said in a statement.
The proposed surf park would feature not only surfing facilities, but also accommodations, bars and restaurants, a function centre, an events space, a skating area, and a health and wellness centre. The buildings will be five-star green-rated, and existing Banksia trees will be removed during clearing and replanted on site.
Construction is set to begin in late 2023, with the park opening to the public in late 2025.
MORE – 16 Best Wetsuits for Surfing