49 Best Minimalist Small Men's Wallets
A wallet is nearly a necessity, and something you don't want to be without – but that doesn't mean you want to carry half your life around in it, either. Wallet styles have changed, small wallets for men are now much more preferred than their bulky predecessors. If you're a minimalist, or trying to be one in the future, here is a list of 50 of the best small wallets for men that might just work for you as part of your everyday carry. Or if you're a little showier, you can rock one of these 10 wallet brands for the man of luxury.
You might also like:
50 Best Watches Under $500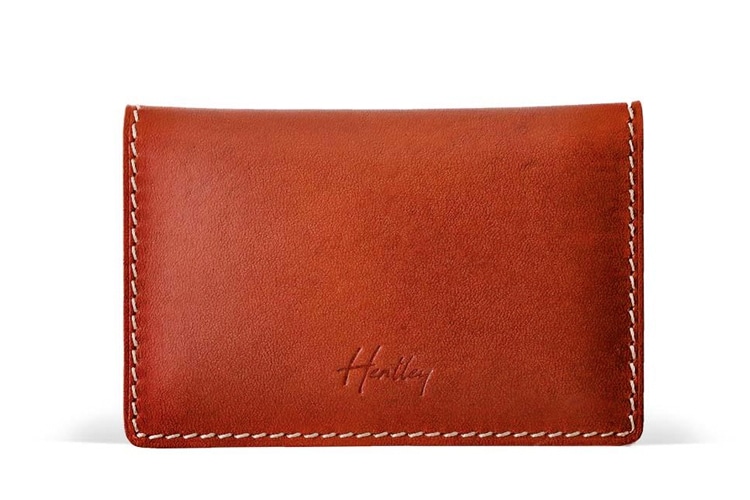 1. Hentley Bagan Slim Leather Bifold Wallet
Hentley wallets are handmade from the finest Italian leather. The wallet brand claims that it will be with you for years to come whilst only getting better with use. Both modern and slim, the Hentley Bifold minimalist men's Wallet offers more than enough storage for your cards and cash whilst maintaining a minimal finish. Free personal monogramming is also available with every wallet making it just that extra bit special. A worthy opener for our list of the best small wallets for men.
Brand: Hentley
Colour Options: Whisky, Charcoal
Price: AU$97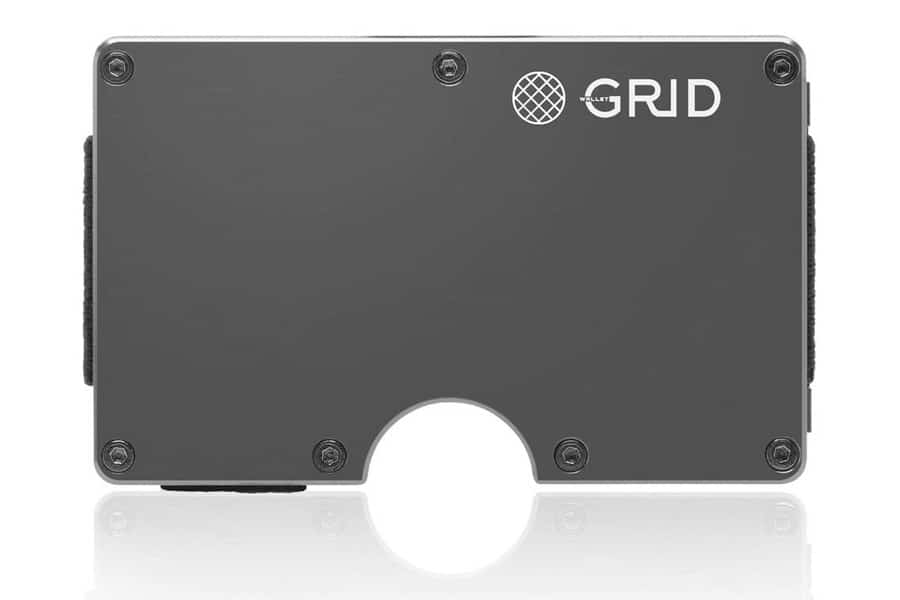 2. Grid Aluminum Wallet
Grid is said to be the slimmest wallet you can own and apparently also the last. They are so confident with their lifetime warranty that if anything goes wrong with your wallet, they'll send you a new one. The wallet can hold up to 12 cards and includes a money clip for your cash. It's slim and stylish and comes in a variety of colours to suit just about anyone.
Brand: Grid Wallet
Colour Options: Black, Gunmetal, Silver Aluminum, Blue Aluminum, Gold Aluminum
Price: from AU$65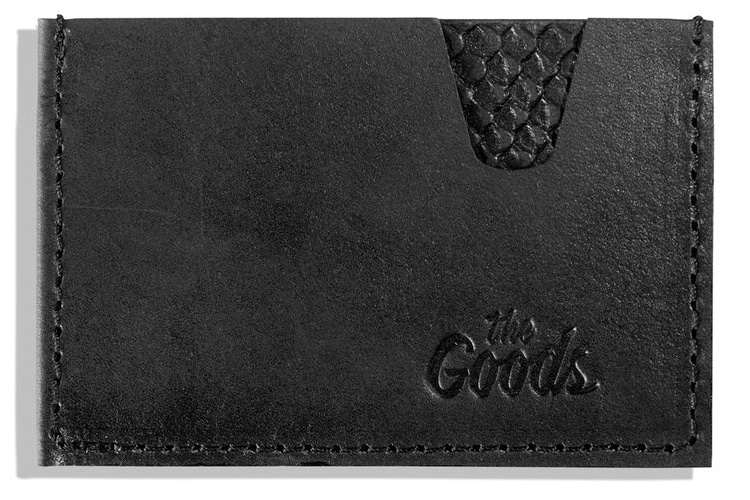 3. The Goods Black Leather Wallet
LA-based company The Goods is well known for a collection of quality handmade products. Their simple leather wallet for men, named "The Hit" is no different. The Hit is durable, slim, compact and uniquely stylish with the snake-skin pattern finish. Its composition is vegetable tanned cowhide leather. If you are looking for a stylish, reasonably priced minimalist wallet, the goods look the goods.
Brand: The Goods
Colour Options: Black
Price: US$70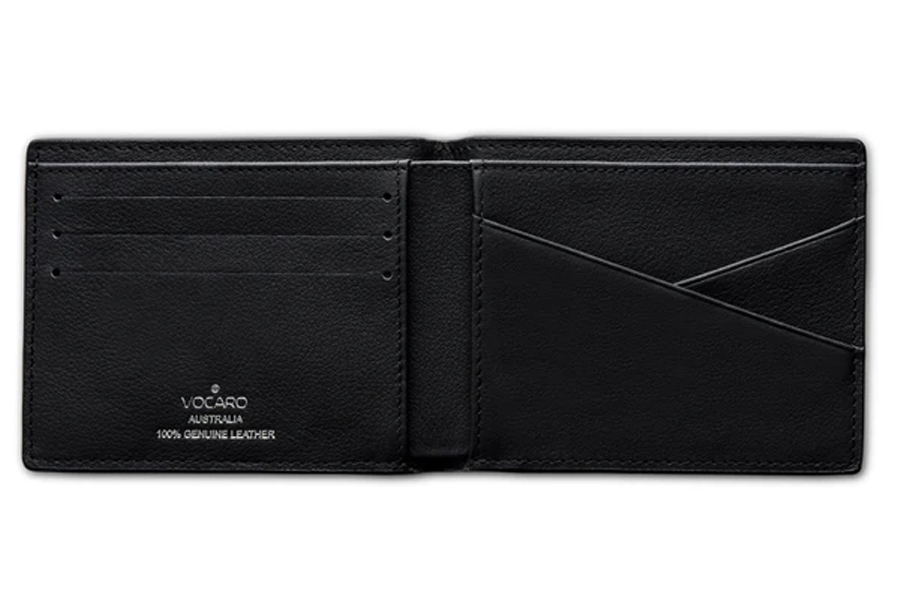 4. VOCARO Classic Wallet
Wallet and everyday carry brand, VOCARO makes some pretty sleek full-grain leather goods. With a focus on functionality alongside versatility and design, the Classic Wallet is a premium addition to the minimalist portfolio. This unique wallet features a carbon fibre pattern on 100 per cent genuine leather with a matte finish and soft touch. Additionally, the VOCARO Classic Wallet has an inbuilt layer of RFID blocking material, meaning you can travel safely in style.
Brand: VOCARO
Colour Options: Matte black
Price: AU$80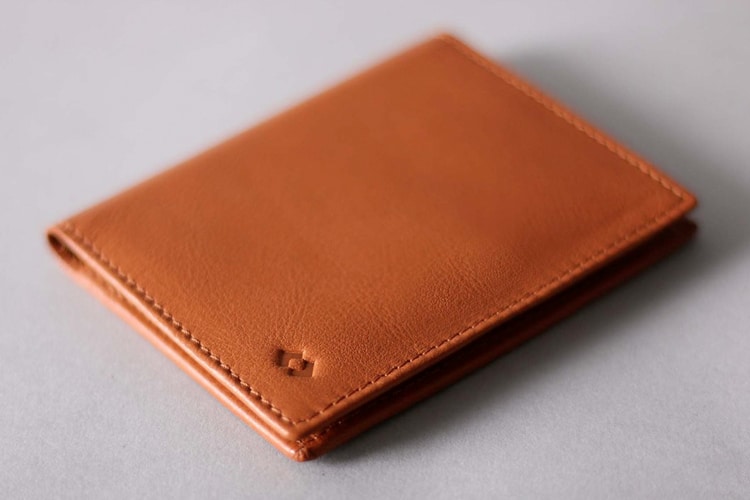 5. Harber London Leather Card Wallet
Both luxurious and minimalist, the Harber London Leather Card Wallet with RFID protection is the perfect choice for the man exuding quality and style. For those not familiar with RFID, RFID blocking is a great feature that assists in protecting your credit cards against skimming. Crafted in Spain from full-grain vegetable-tanned cowhide leather, you'll be surprised that this slim design can hold up to 16 cards. The men's leather card wallets conveniently come in 2 timeless colours; tan and black.
Brand: Harber London
Colour Options: Tan, Black, Deep Brown, Navy, Grey, Burgundy
Price: £79

6. Ezra Arthur Bison Cash Fold
No linings, rubber, glue or stitching, the Ezra Arthur Bison Cash Fold is just a beautifully tanned piece of leather which will hold your cards, cash and is designed to last forever. A leather card and money wallet that is beautifully crafted and modestly priced.
Brand: Ezra Arthur
Colour Options: Green, Jet, Navy, Jet Top Stitch, Malbec, Whiskey
Price: US$40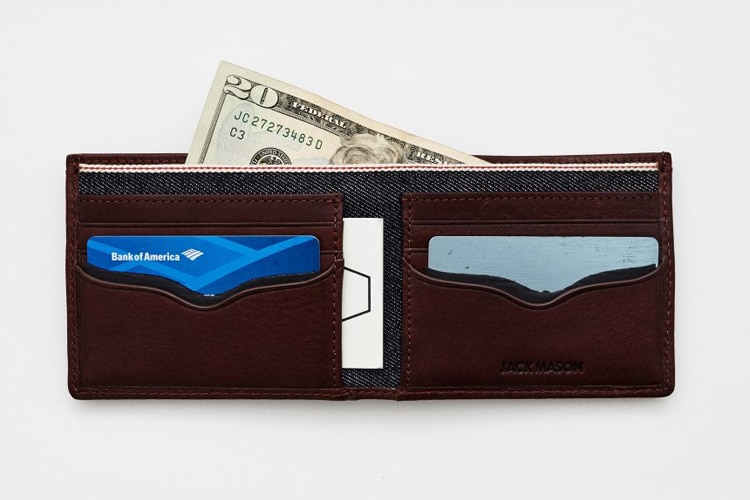 7. Jack Mason Brown Leather Bi-Fold
A simple-on-the-outside, quirky-on-the-inside wallet that uses a classic bi-fold design with simple, modern philosophy. Folded it looks like any other classic brown leather wallet for men, but open it up and you'll see a selvedge denim bill separator and longhorn-esque card slots, a cheeky nod to Jack Mason's Texan roots.
Brand: Jack Mason
Colour Options: Brown
Price: US$115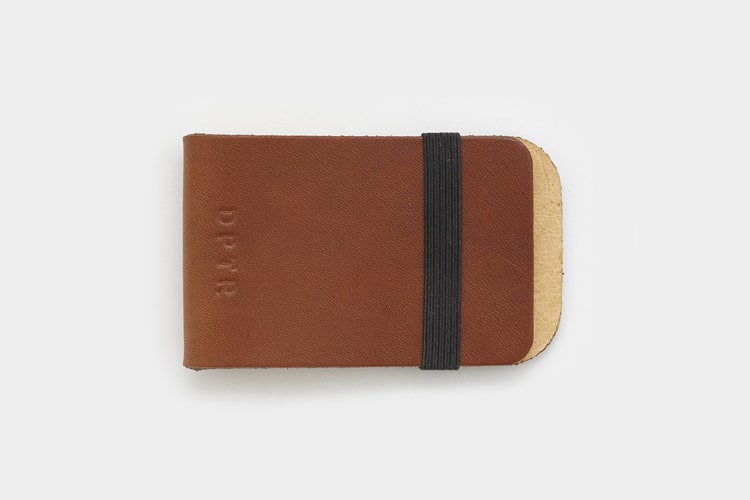 8. DPTR Clamshell Wallet
Made in Chicago, this is about as simple and minimalistic as wallets get. With a calfskin lining and a braided elastic loop to keep everything nice and tight, that'll keep your cash and cards organised without any unnecessary extras.
Brand: DPTR
Colour Options: Black, Rio
Price: US$59.95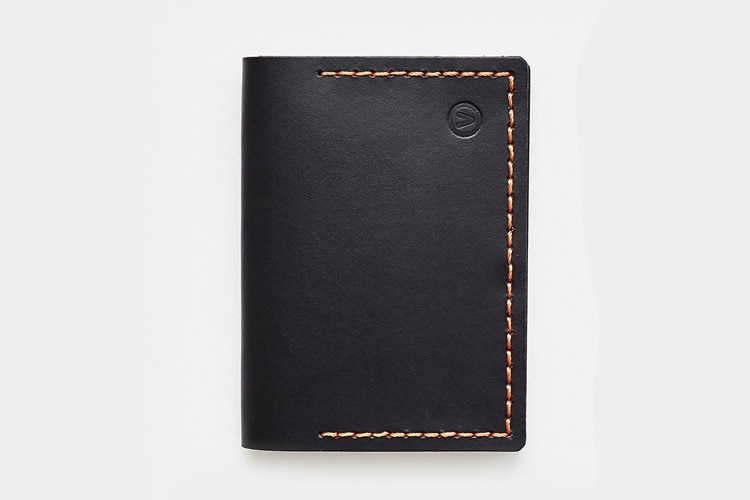 9. Vacavaliente Stack Wallet
Made from recycled leather, this folding minimal wallet gives new life to discarded leathergoods and with 8 card slots, will hold everything you need with style and simplicity.
Brand: Vacavaliente
Price: US$43.95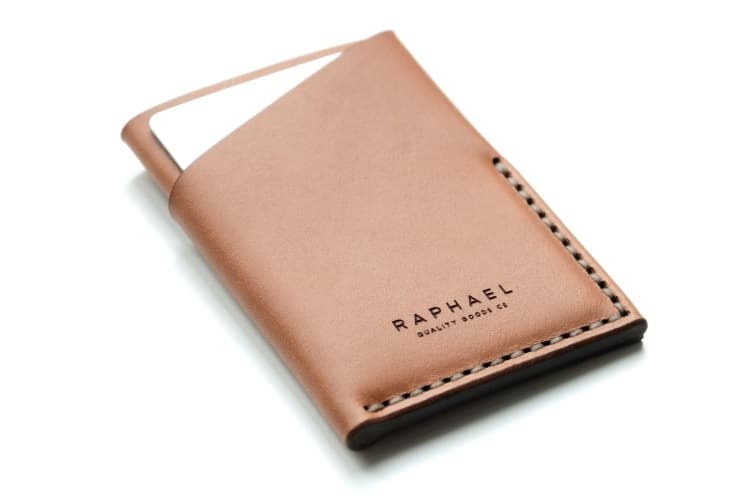 10. Lean Essentials Wallet
With a single piece of leather wrapping carefully around itself, this men's fashion wallet is very simple and very lean. You can get it in your choice of several different colours, and with a hand-sewn saddle stitch that's going to be stronger than the machine stitching found on too many wallets today.
Brand: Lean
Colour Options: Tan, Medium Brown, Dark Brown, Black
Price: US$65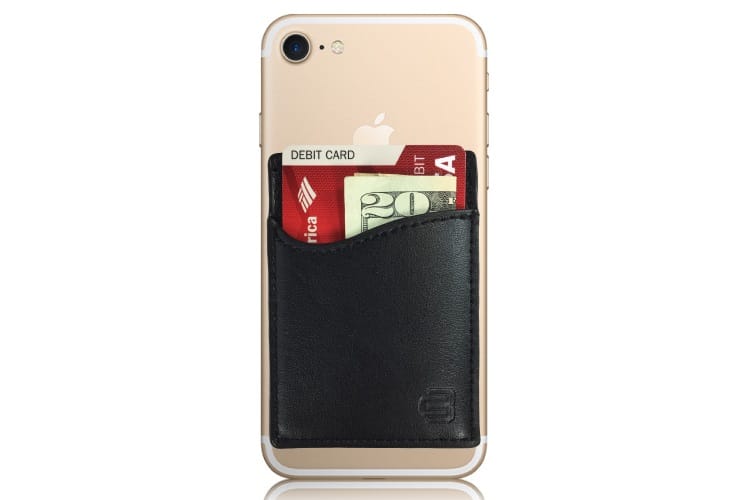 11. CardBuddy Deluxe Wallet
What can be more minimal than almost no wallet at all? CardBuddy does a great job of combining the two things we have with us most, your smartphone and your wallet, into one simple package. The genuine leather holds up to three cards and cash, fitting almost any phone or case.
Brand: CardBuddy
Colour Options: Brown, White
Price: US$20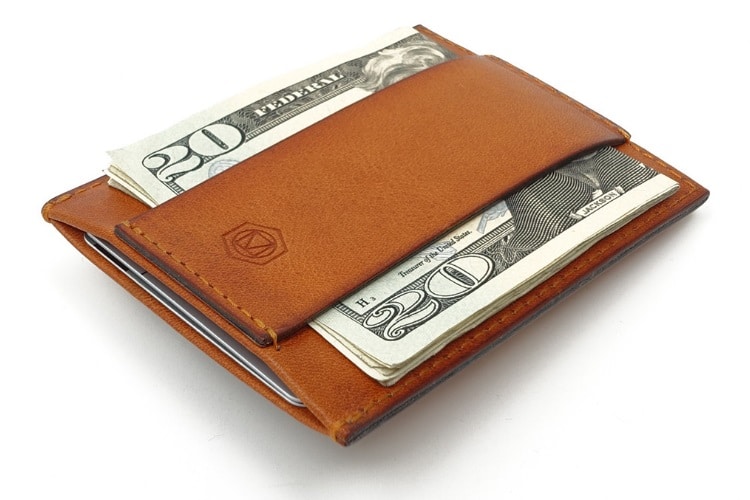 12. Capsule Tan Wallet
With cowhide leather sourced from Tuscany, this slim men's wallet will give you minimalism and style. One or two cards can be stored in the front slot, and you can store another two to four cards in the interior slot for convenience. Handmade and reinforced, this wallet will last.
Brand: Capsule
Colour Options: Tan
Price: US$75
13. RFID Dash 4.0
With RFID design and a quickdraw style, you can store folded cash and from one to 15 cards. This flat men's wallet fits in your front or back pocket, and in your shirt pocket, too. It keeps the bulk to a minimum and lets you have only the most important cards right at your fingertips.
Brand: Dash
Colour Options: Black, Navy
Price: US$20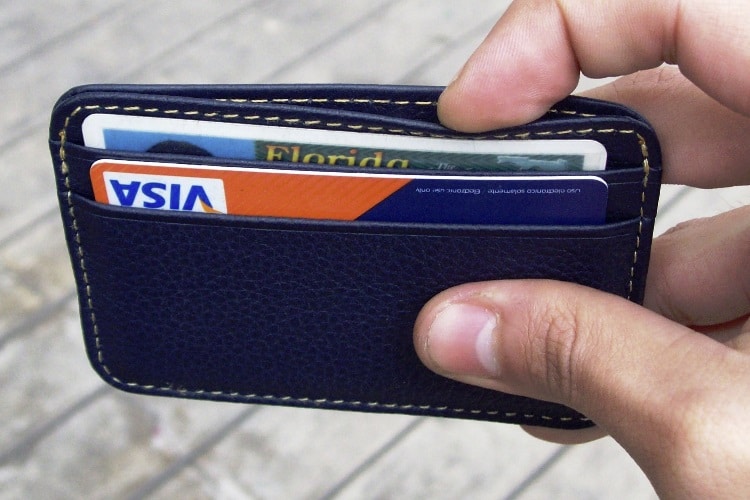 14. Shamrock Minimalist Wallet
Billed as the modern leather wallet for the man looking for a minimalist lifestyle, this is an ultra-thin leather wallet. A good-quality option that won't cost you a lot. Everyday cards can be stored with ease, and there's room for a little bit of cash, too.
Brand: Shamrock
Colour Options: Black Matte, Navy Blue
Price: US$14.99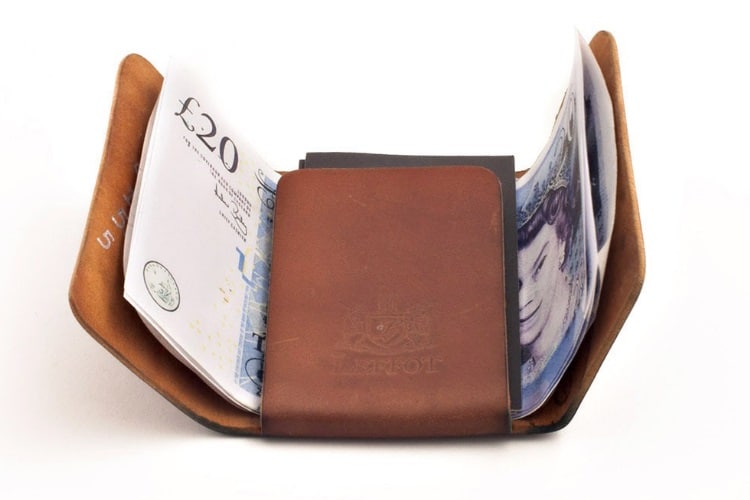 15. The Fold by Leffot
With just one single piece of leather and three folds, this is a minimalist wallet at its best. It holds international currencies and will keep your cash secure and cozy. It also holds a credit card, or even two, but won't fit much more than that, forcing you to keep it to a minimum.
Brand: Leffot
Colour Options: Color 8, Natural, Navy
Price: US$135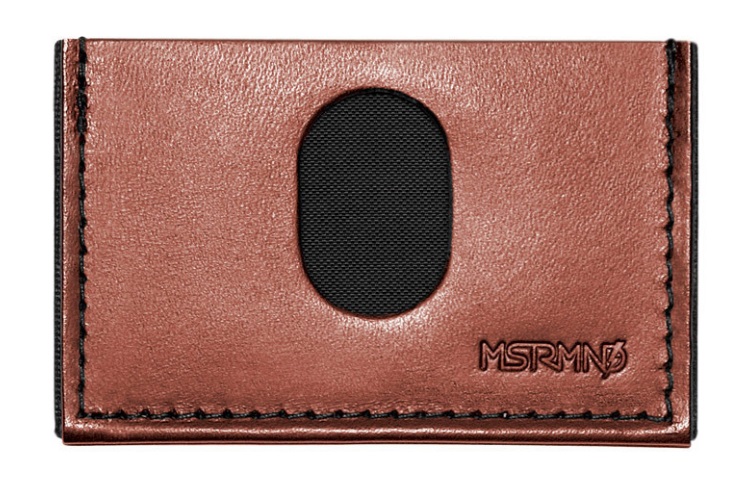 16. MSTRMND Brown Slimplistic Wallet
This simple men's leather card wallet is the epitome of slim and minimalist. At 1/8 of an inch thick and weighing half an ounce, this wallet is one of the best for people who don't want to have a bulky wallet crammed in their pocket. The silhouette will be barely visible in any pocket you choose.
Brand: MSTRMND Collective
Price: US$35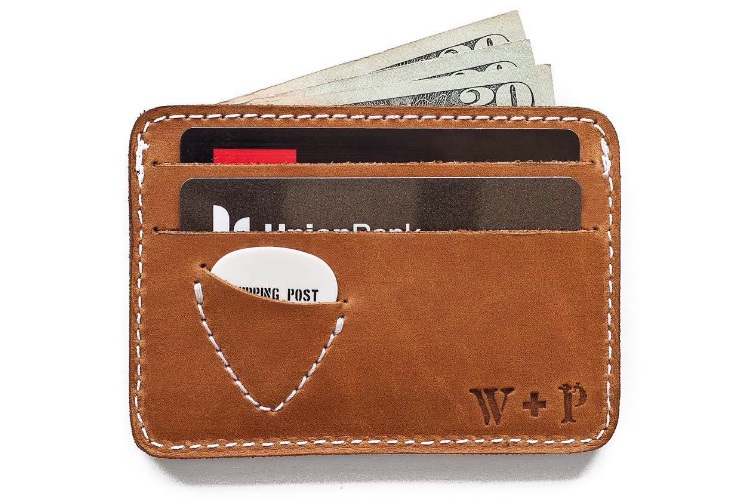 17. Whipping Post Picker's Wallet
With a cash compartment and three slots for credit cards, along with a driver's license pocket and a special space for a guitar pick, this thin leather wallet is a great minimalist choice for the rock star or folk musician.
Brand: WP Standard
Colour Options: Tan, Black
Price: US$38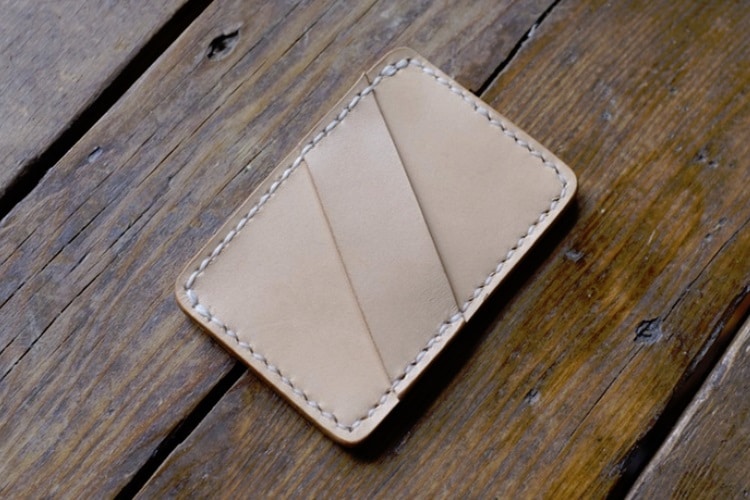 18. KC Co. Simple Wallet
Two pockets for cards and a cash strap. That's all you really need, and you can get it with this minimalist, simple no-fold wallet for men that gives you everything you need and nothing extra to get in the way.
Brand: KC Co.
Price: US$85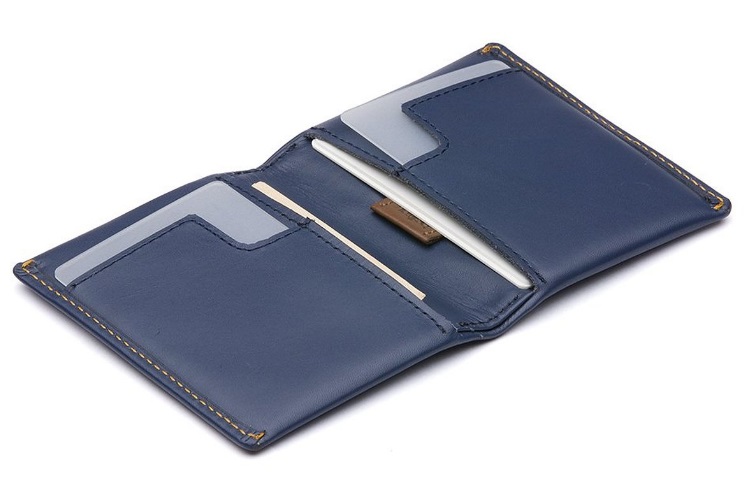 19. Bellroy Slim Sleeve Wallet
Available in either blue steel or black, this minimalist mens wallet is a great balance of size and convenience. There's a quick draw space for two credit cards and a tab for more infrequent cards. With a half fold, you can get your cash in there, too. See more of Bellroy's wallets here.
Brand: Bellroy
Colour Options: Cocoa Java, Java, Java Caramel, Navy Tan, Tan, Tangelo, Wine
Price: US$79.95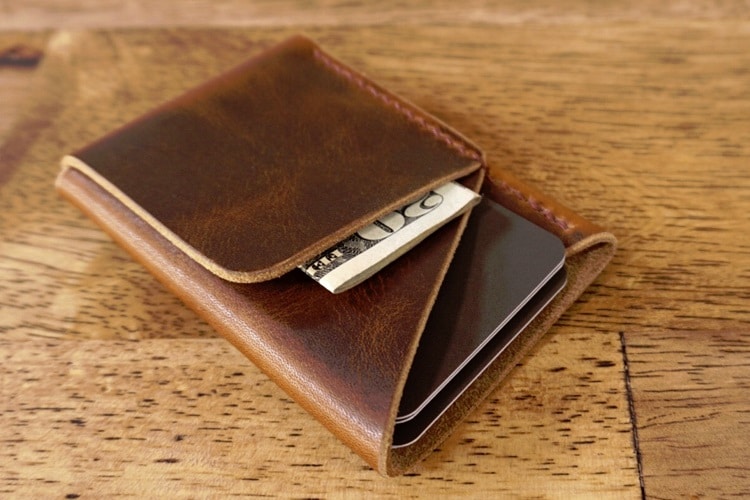 20. Inkleaf Double-Cross Wallet
A single piece of leather creates this lovely and minimalist wallet. It's smooth and supple feeling, and the color is rich and deep. Holding six cards comfortably along with some cash, you'll have everything you need right here.
Brand: Inkleaf
Colour Options: Buck Brown, Russet, Mesa, Natural, Vegtan
Price: US$55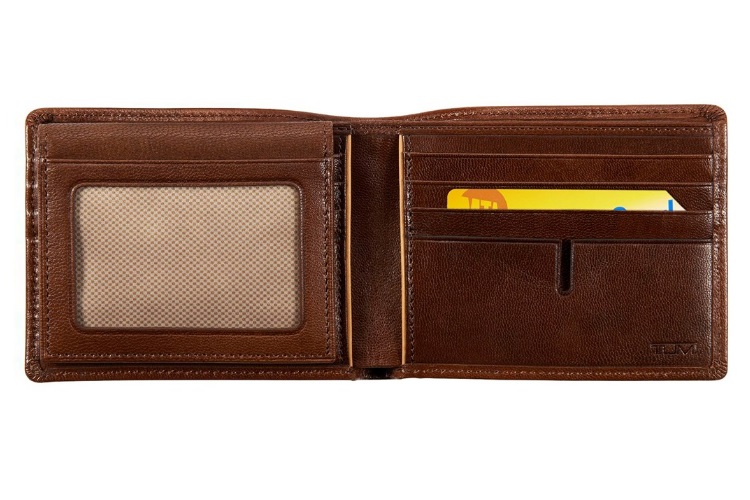 21. Tumi 'Chambers-Global' Leather Passcase Wallet
This lovely wallet provides you with an elegant look and feel, but a minimalist design that can keep you from ending up with too much stuff in your pockets. There are 11 card slots and a currency pouch to hold everything you need.
Brand: Tumi
Price: US$155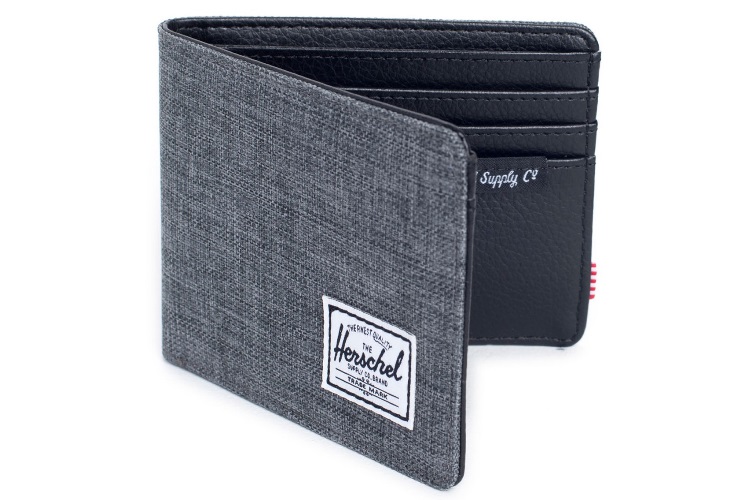 22. Herschel Supply Co. 'Hank' Harris Tweed Bifold Wallet
With a canvas and charcoal denim look, this stylish men's wallet is casual and comfortable. Its bi-fold design helps you store everything you need without taking up a lot of unnecessary space, and there are three card slots for your convenience.
Brand: Herschel Supply Co.
Price: US$35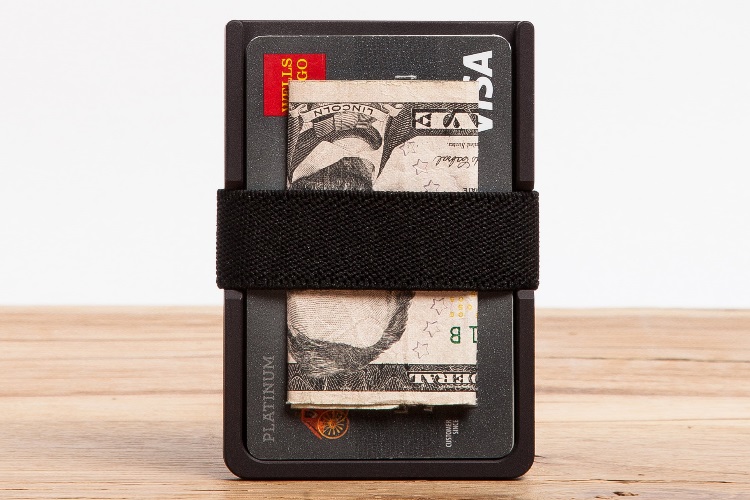 23. Machine Era Wallet
Your wallet needs to be functional and simple, but you also want something that feels good when you handle it. It easily holds between two and six cards, and there's a convenient strap on the back for cash, too.
Brand: Machine Era
Price: US$31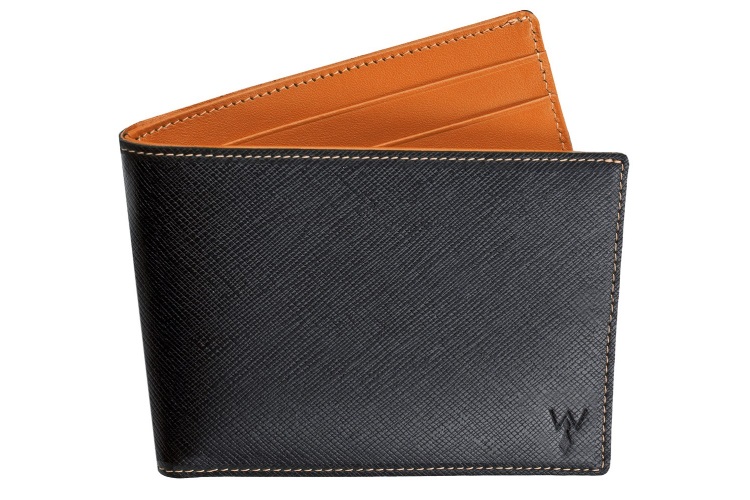 24. Würkin Stiffs RFID Blocker Wallet
Blocking hackers is a great way to keep your information safe and will help you avoid ID theft and related problems. This wallet also gives you space for credit cards and identification without taking up a lot of space in your pocket.
Brand: Würkin Stiffs
Colour Options: Black
Price: US$75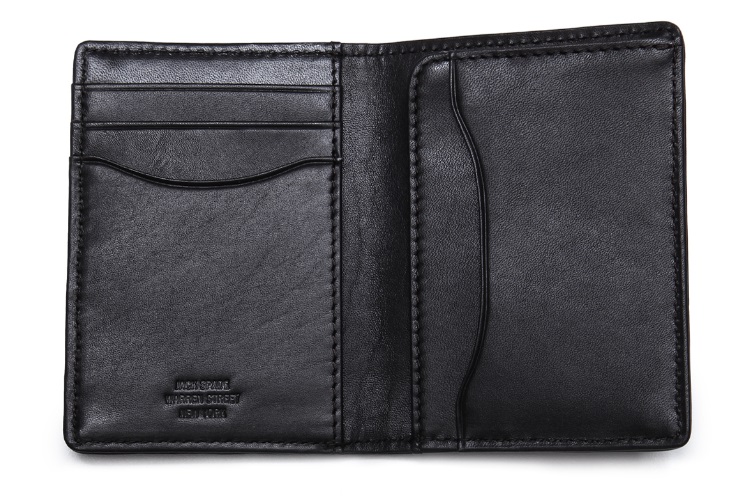 25. Jack Spade Wazwear Vertical Wallet
The vertical flap wallet provides a waxed canvas shell and six card slots in the interior. This minimalist, vertical wallet is a great choice for anyone who doesn't want to have a lot of bulk in their pocket but still needs adequate card and bill storage.
Brand: Jack Spade
Colour Options: Chocolate
Price: $75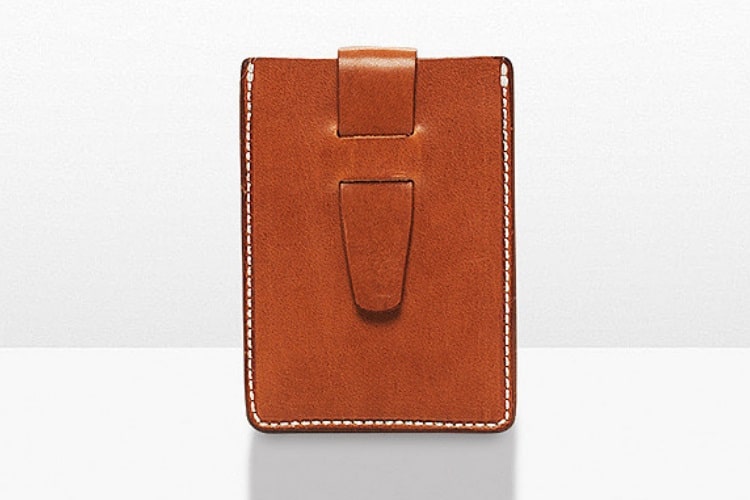 26. Böle Card Case
If you only need to carry cards that are most essential to you, this minimalist wallet could be the right one. Swedish cattle leather adorns this men's card wallet, providing a naturally tanned look that is beautiful and highly functional. Copper rivets and white thread add a touch of class that will get you noticed.
Brand: Böle
Price: $109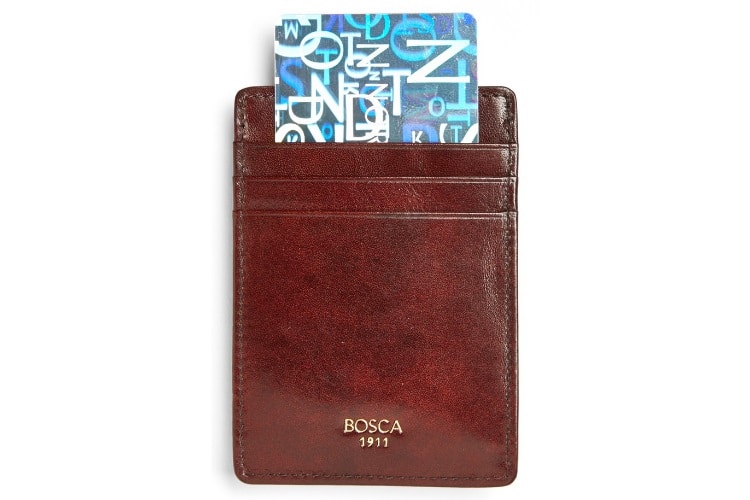 27. Bosca Leather Money Clip & Card Wallet
This dark brown super-thin men's card wallet is hand-stained, vegetable-dyed Italian leather. Three card slots grace one side, with a money clip on the other side. There is a top-loading slot for currency and a streamlined look that keeps your pocket from puffing up.
Brand: Bosca
Colour Options: Cognac, Amber, Black, Dark Brown
Price: $65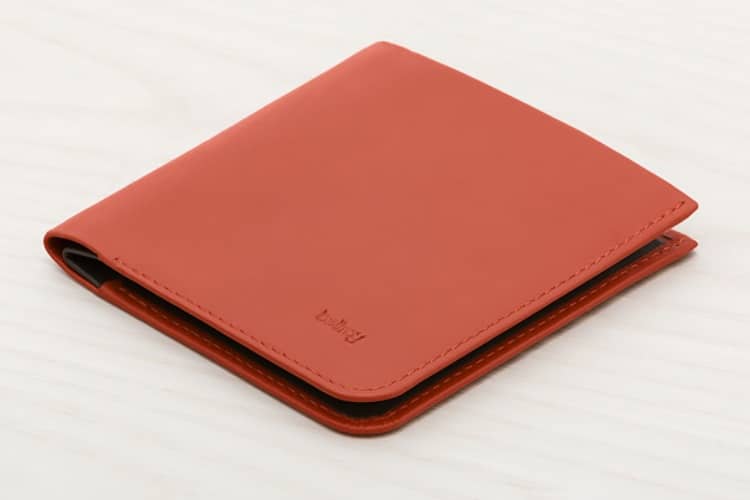 28. Bellroy High Line
Holding two to 10 cards and offered in five different colors, this minimalist wallet is made from vegetable-tanned leather. It also holds flat bills, and the card storage is discreet. You don't have to fold your bills up, which can reduce the pocket bulge caused by less minimalist wallets. This super stylish wallet for men was also included in our list of 7 Products That Will Instantly Improve Your Life.
Brand: Bellroy
Colour Options: Navy, Black, Java, Tan, Caramel
Price: $79.95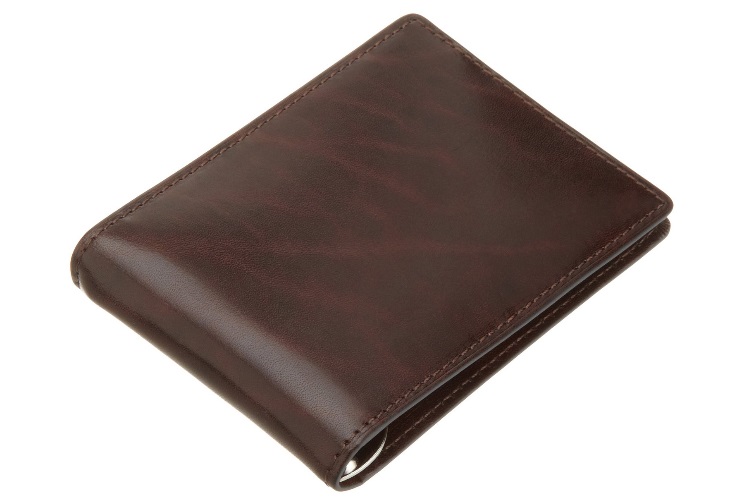 29. Trafalgar 'Cortina' Money Clip Wallet
This 100% Belgian men's leather wallet is an excellent choice for the man looking for a minimalist wallet that holds everything needed for everyday life. It comes in three different colours and holds both cards and cash.
Brand: Trafalgar
Colour Options: Black, Burgundy
Price: $65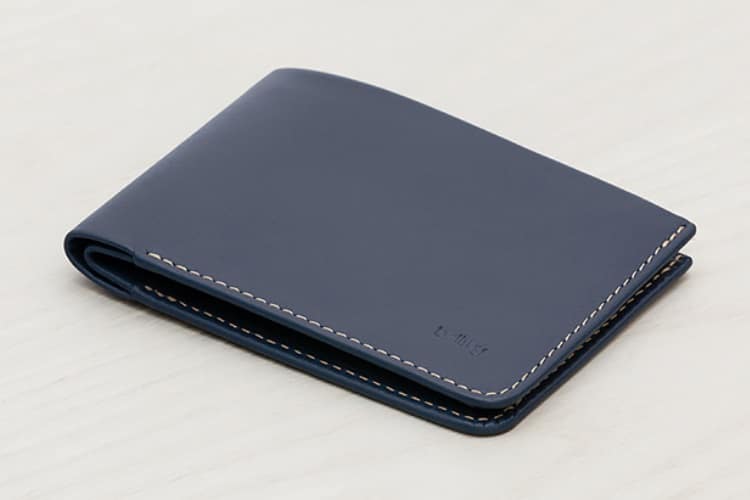 30. Bellroy Low Down
Holding flat bills and between two and 10 cards, this thin leather wallet for men offers a discreet level of card storage, a warranty, and quality vegetable-tanned leather. It's a great choice for a minimalist lifestyle.
Brand: Bellroy
Colour Options: Black, Java, Tan, Caramel
Price: $75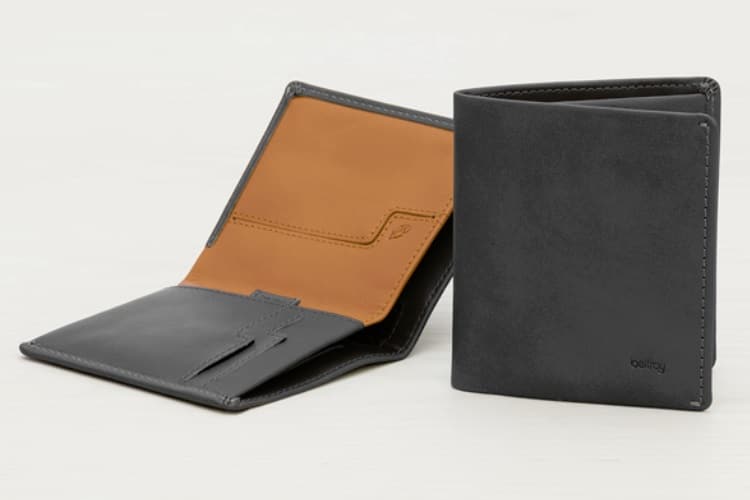 31. Bellroy Note Sleeve
This great note sleeve can hold as few as four or as many as 11 (or even more) cards. Holding flat bills is another big plus, so you won't have to worry about crowding your pocket. Vegetable-tanned leather, a coin pocket, and a note section equal some great options.
Brand: Bellroy
Colour Options: Teal, Charcoal, Black, Java, Cocoa, Tan, Racing Green
Price: $89.95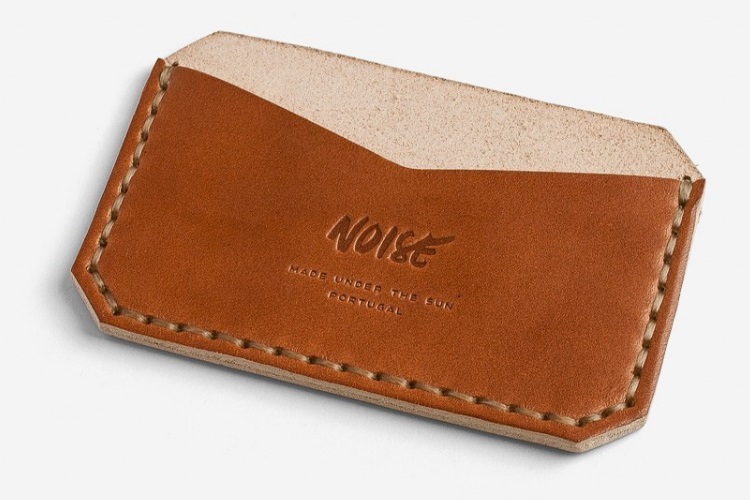 32. Noise Goods Card Holder
For everyday carrying and up to six cards, business cards, and bills, this is a great choice. It's made from full-grained Portuguese leather and hand stitched. Organic beeswax is used for conditioning, giving this holder a great, elegant look.
Brand: Noise Goods
Price: $30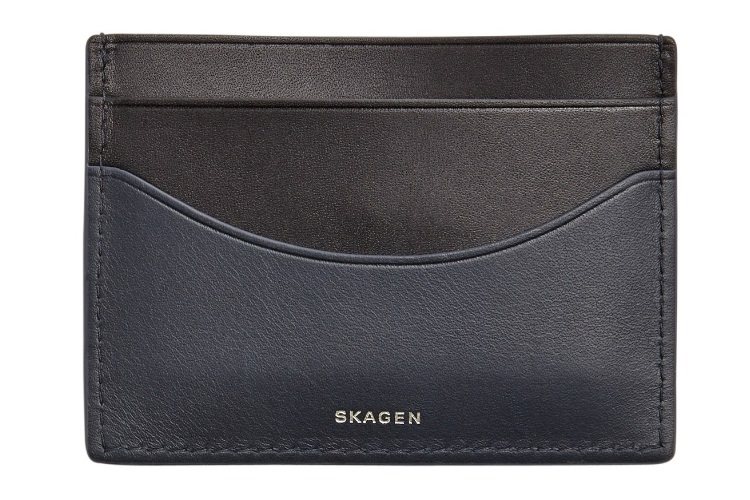 33. Skagen 'Torben' Leather Card Case
Available in five different colours, this card case comes in two-tone leather and an understated, stamped branding. With a slip pocket and four different card slots, you can store what you need without adding a lot of bulk to your pocket.
Brand: Skagen
Price: $35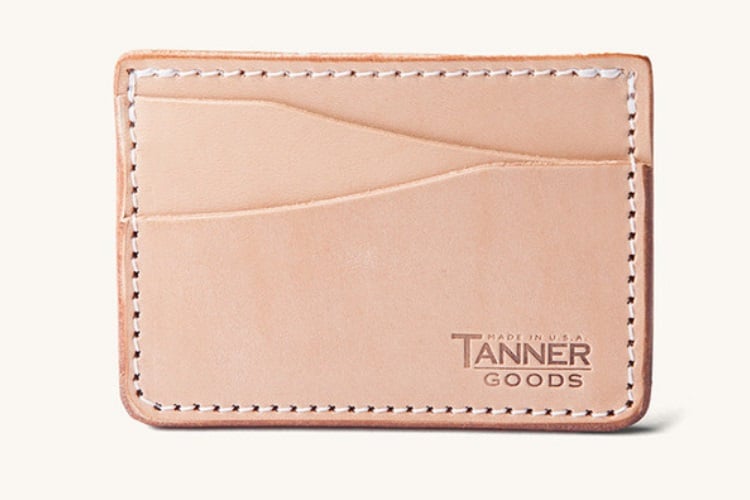 34. Tanner Goods Journeyman
This wallet is slim, but highly sturdy, which will provide you with everything you need right at your fingertips. It holds cards and folded bills, so you won't be caught off guard or unaware, and you can always be prepared.
Brand: Tanner Goods
Colour Options: Natural
Price: $65
35. Ted Baker London Leather Bifold Wallet
With two colour options and two-tone leather, this wallet is stylish and will work with just about anything. There are slots for eight cards, and you can also use the interior pouch for currency and the slip pockets to give you a little extra storage space while keeping the bulk to a minimum.
Brand: Ted Baker London
Price: $95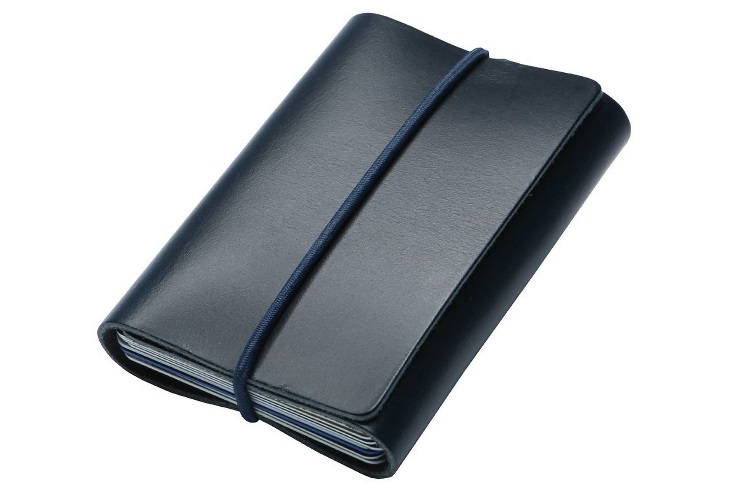 36. The Money Wrap by Daycraft
When you want a small storage option but you're looking for a minimalist choice in wallets, this is the choice for you. It folds right up and you can just put the band in place, so you have everything right at your fingertips whenever you need it.
Brand: Daycraft
Colour Options: Orange, Red, Pink, Navy, Black, Brown
Price: $56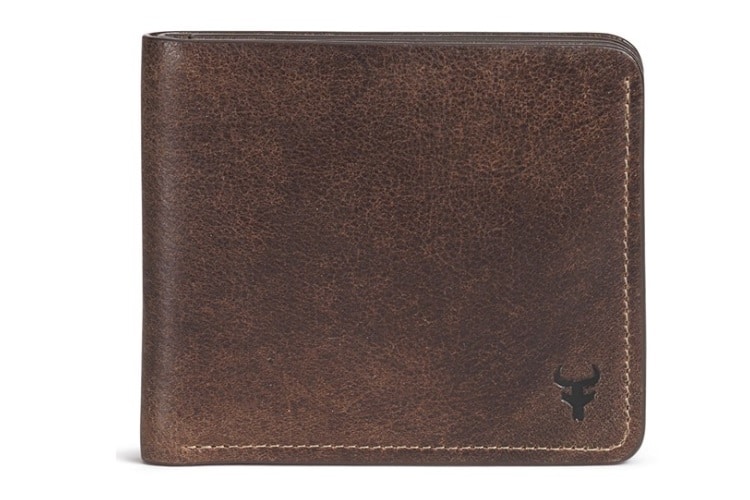 37. Trask 'Jackson' Slimfold Bison Leather Wallet
Five different colours and a slip pocket, along with four card slots, give you everything you need right in your pocket, without the bulk of a standard wallet. Made from high-quality leather and with an understated look, this single-fold slim leather wallet is a great choice for minimalists.
Brand: Trask
Price: $35
38. Postalco Card Holder
This great card holder is a single piece of leather with a beautifully finished edge. The two pockets on the inside expand to hold a card assortment, and will also hold folded bills. That keeps everything where you need it, without taking up too much space.
Brand: Postalco
Colour Options: Black, Brick Red, Navy Blue, Olive Green, Signal Red, Painter's Blue
Price: $107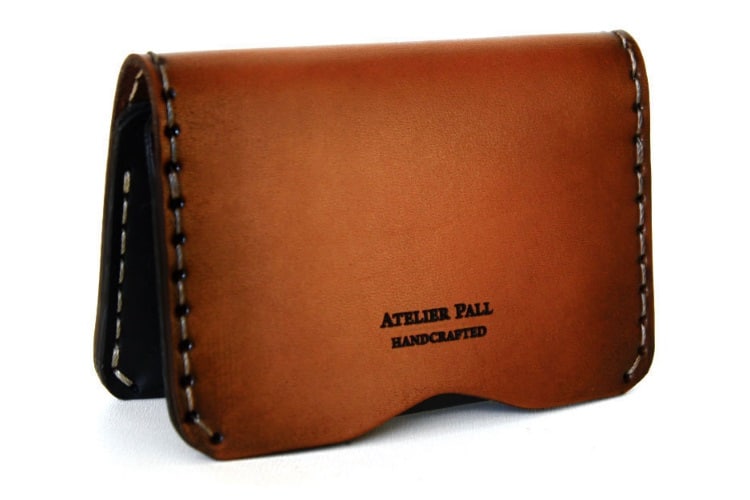 39. Atelier Pall Slim Fold Wallet
This wallet is made to order, and ready for custom engraving, as well. It's made from premium materials and has six different pockets for cash or cards. This single-fold wallet can store up to 10 cards and is hand-stitched and compatible with Euro and US currency to give you plenty of options.
Brand: Atelier Pall
Price: $49.99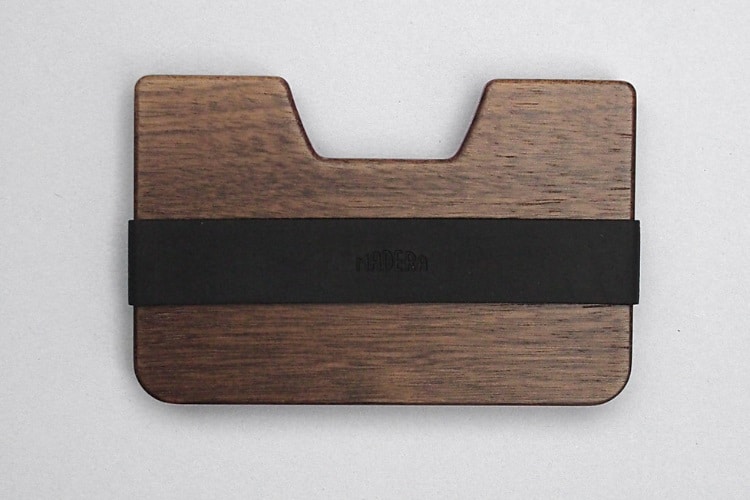 40. Poquito Wallet in Walnut
A hand polished front-pocket wallet that carries all your essentials. It fits up to six cards. The Walnut colour is highly rated for its durability and decay resistance and is made from a unique piece of wood.
Brand: Madera
Colour Options: Cherry, Oak, Walnut
Price: $55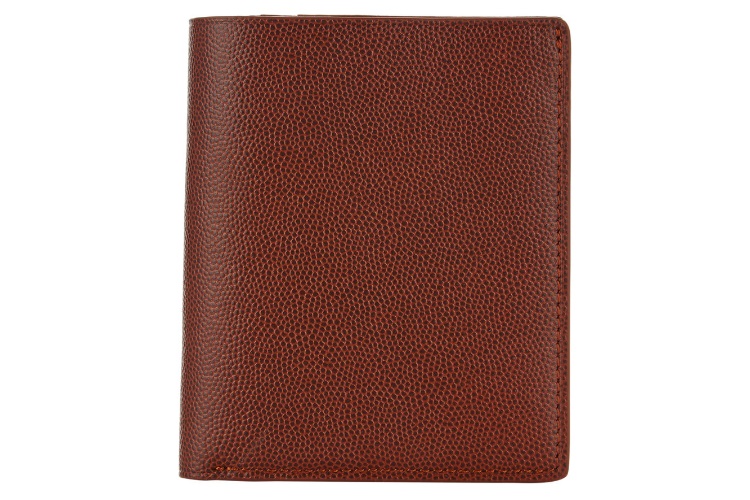 41. Want Les Essentiels de la Vie 'Bradley' Bifold Wallet
With two different colours and caviar grained leather, this wallet offers six card slots and six organizational pockets. It also comes with two bill pockets and a zip pocket, so you can store a lot of things in a small, easy to handle space.
Brand: Want Les Essentiels
Price: $225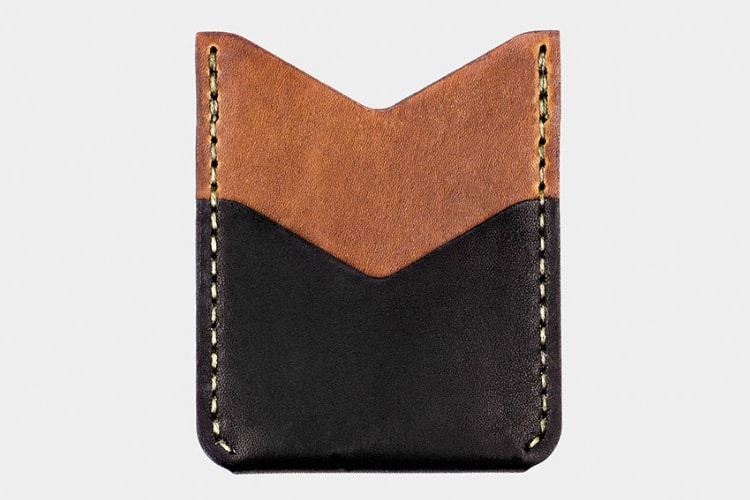 42. Winter Session Slash Wallet
A vertical card holder with an additional half sleeve helps this wallet hold credit cards, business cards, and cash. It's made from vegetable-tanned leather and hand stitched, with a stamped muslin sleeve.
Brand: Winter Session
Colour Options: Tobacco Dublin, Tobacco/Black Dublin, Black Dublin
Price: $65
43. Herschel Supply Co. Raven Leather Wallet
The raven is Herschel Supply's most minimal wallet with a full grain leather vertical card holder and a money clip on the back. A very utilitarian wallet for those who like to keep their essentials in place.
Brand: Herschel Supply Co.
Price: $44.99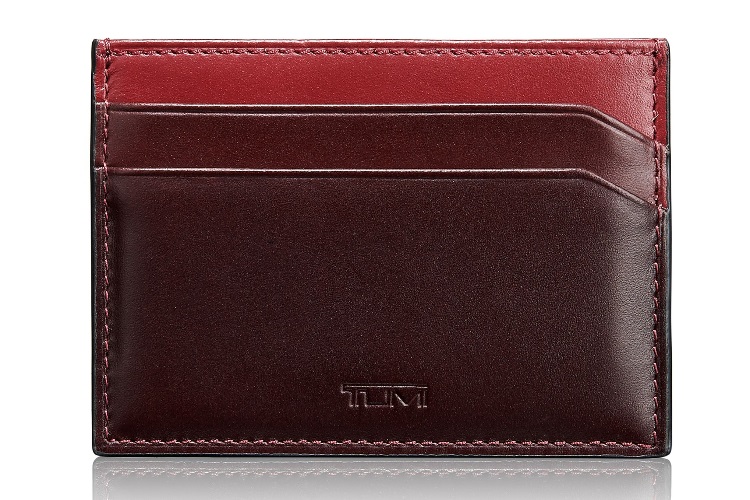 44. Tumi 'Grant' Leather Money Clip Card Case
When you need a minimalist money clip with an understated approach, this is a great choice. It's made out of fine leather with beautiful detailing and holds both cards and cash with ease and the opportunity for quick access.
Brand: Tumi
Price: $45
11 Best Australian Denim Brands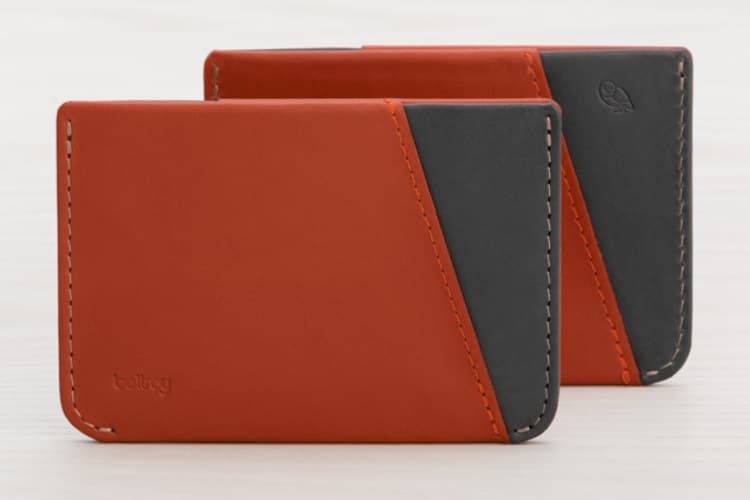 45. Bellroy Microsleeve
This wallet holds between two and four cards for quick access, and comes in five different colours. You can store two more cards in the interior, along with folded bills. Made from vegetable tanned leather, it's a great choice for a minimalist lifestyle.
Brand: Bellroy
Colour Options: Black, Caramel, Navy-Tan
Price: $64.95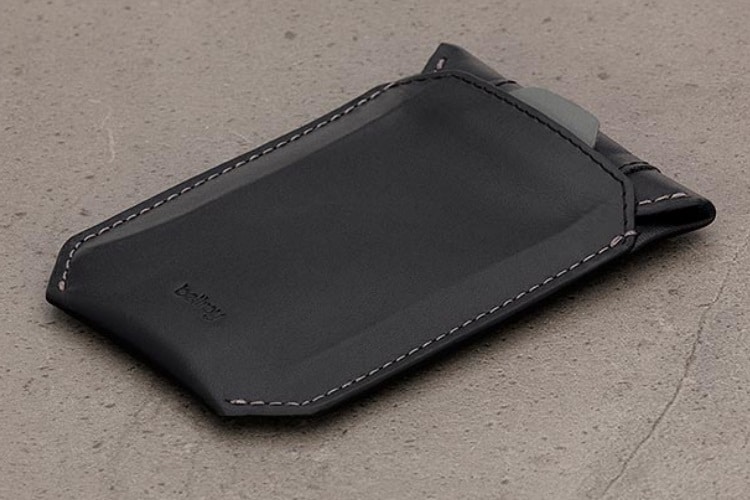 46. Bellroy Elements Sleeve
In three colours and holding between three and six cards, this wallet is a great option for anyone looking for a more minimalist storage choice. A pull tab seal for water and grit protection and a key stash, along with a three-year warranty and water-resistant leather, make this wallet one that any minimalist can use with comfort.
Brand: Bellroy
Colour Options: Black, Cognac, Slate
Price: $69.95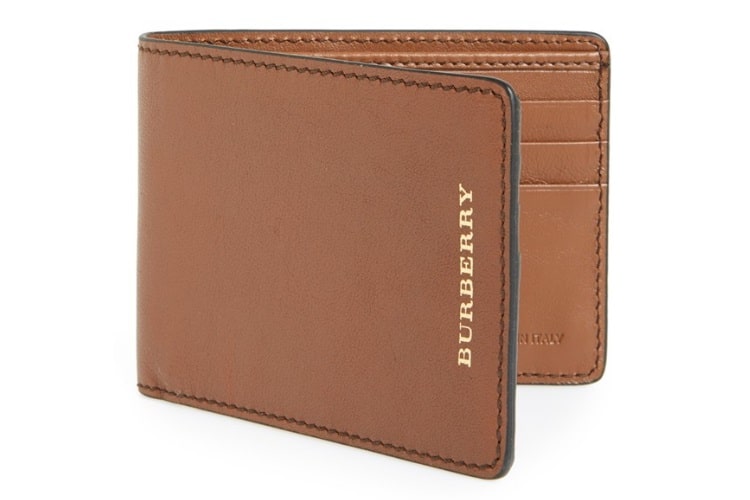 47. Burberry Calfskin Wallet
Six card slots, an interior currency pouch, and slip pockets make this stylish leather wallet for men is a good option for a man who wants a minimalist choice that will hold everything they need. It's made in Italy with traditional Burberry quality, as well.
Brand: Burberry
Price: $285
Purchase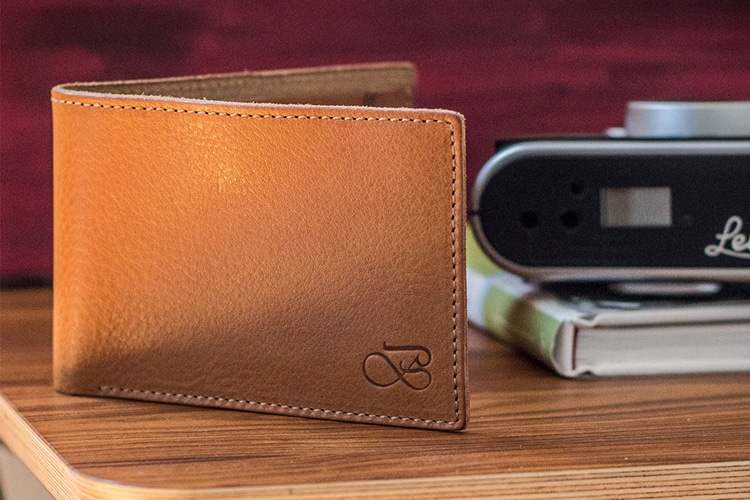 48. Baurdi Admiral
Made for people who don't follow trends (that is: those who know that style is timeless whereas fashion is not), Baurdi makes quality, robust products that are built to last. This one here in bronze is simple and refined, and the quality leather will only improve with age.
Brand: Baurdi
Price: $285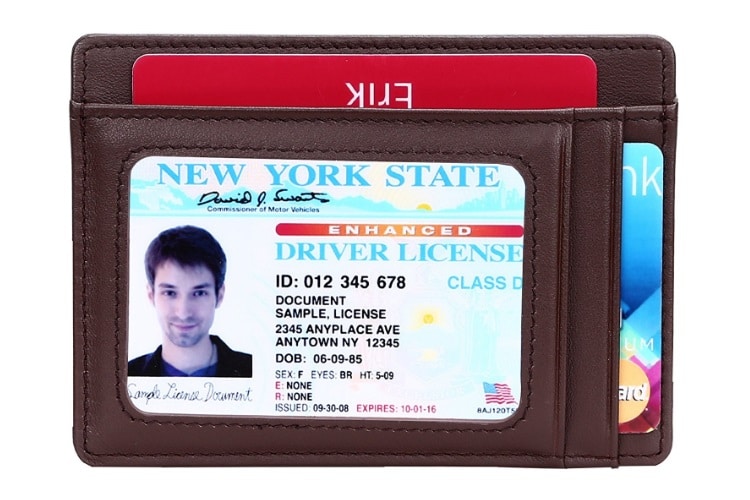 49. Slim Wallet RFID
Made from 100% Napa Leather by Kinzd, the Slim Wallet RFD slides comfortably into your front or back pocket, and features a plastic window for ID display. Throw in an unbeatable price point and this baby's a steal.
Brand: Kinzd
Colour Options: Black, Crazy Horse Khaki, Dark Brown, Grey
Price: $9.99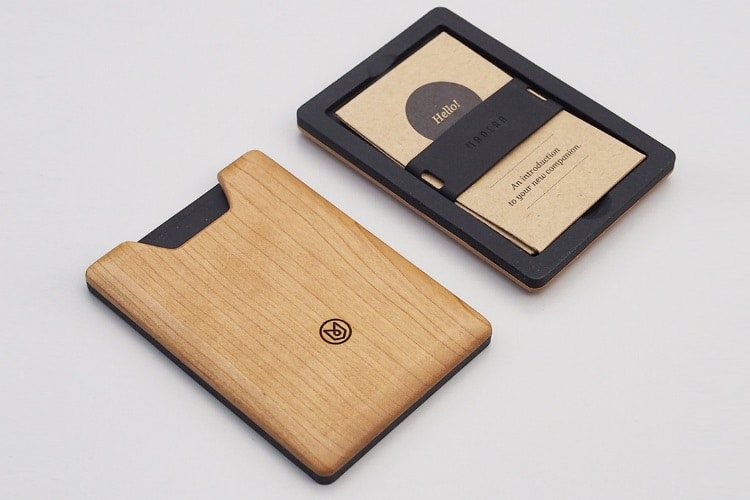 BONUS: Union Wallet in Cherry
This wood wallet is minimalist and holds both cards and cash, along with everyday essentials. If you want something different that can carry up to six cards, and you aren't looking for leather, metal, or elastic options, this wallet gives you a different choice to consider.
Brand: Madera
Colour Options: Cherry, Oak, Walnut
Price: $75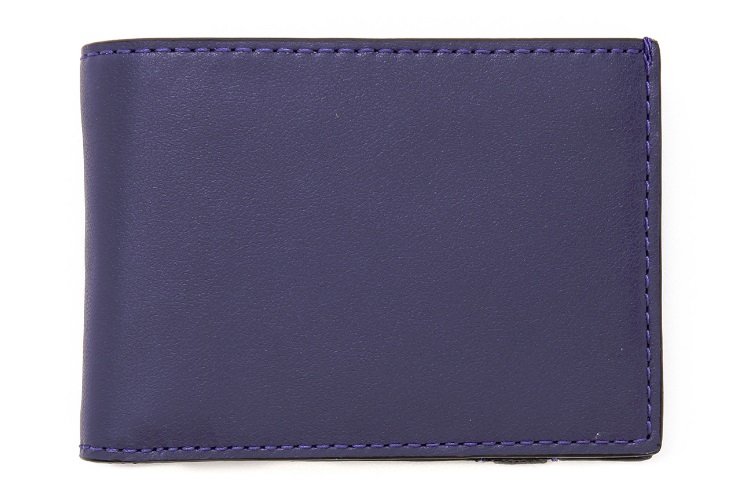 BONUS: Jack Spade Bicolor Index Wallet with Elastic
This small leather wallet with an elastic band stays solidly closed but is easy to access when you need something from it. Inside, there are two pockets, a slot for bills, and six slots that will hold one card each.
Brand: Jack Spade
Price: $95
Oi Oi! Score Up To 30% Off Dr Martens In This Mid-Season Sale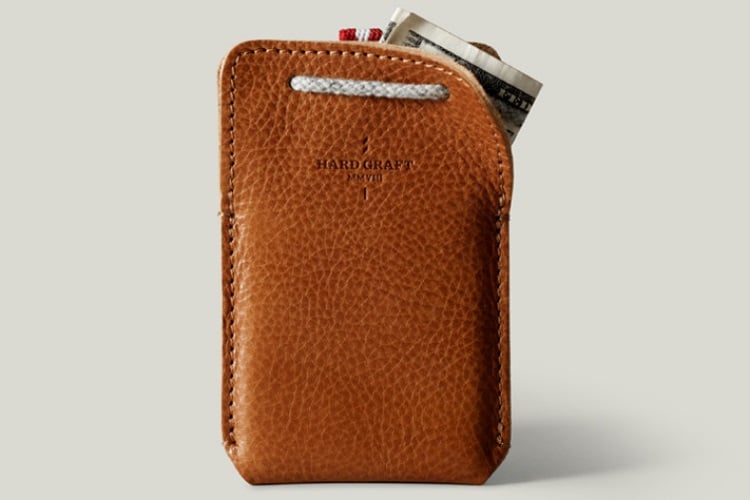 BONUS: Hard Graft Draw Card Case Heritage
Even with skinny Puma's Air Force Neins Are Being Compared to Hitler, this small leather card case will fit easily and comfortably. You won't have to deal with unnecessary bulk, but you will have enough storage space for everything you need. It holds five cards and folded bills for convenience.
Brand: Hard Graft
Price: $58
Purchase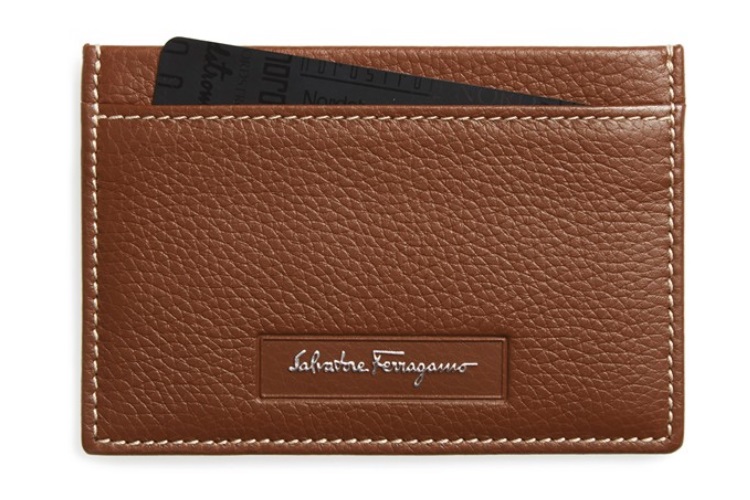 BONUS: Salvatore Ferragamo 'Manhatten' Card Case
Available in two great colors of smooth calfskin, this tiny Italian-made card case is just the thing for the minimalist with style. With two card slots and three other slots for further storage, it's easy to have plenty of room while not taking up a lot of space.
Brand: Salvatore Ferragamo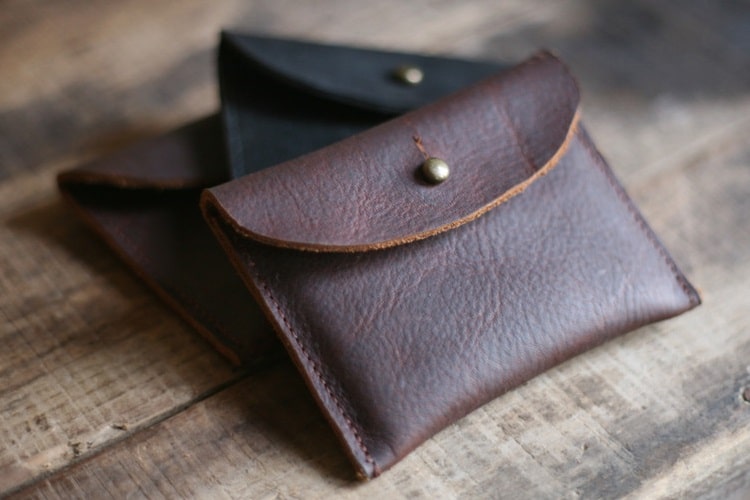 BONUS: Elliot Wallet by Forrestbound
With durable oil-tanned cowhide, you can get this stylish men's wallet in brown or black. A brass stud rivet closure is simplicity itself, and you can store all the cards and money you need for standard usage. Everything you need will be right at your fingertips.
Brand: Forestbound
Price: $45
BONUS: Ermengegildo Zegna 'Hamptons' Textured Leather Bifold Wallet
With softness and scratch resistance, this leather wallet is branded with a metal logo. There's a textured finish on the front and ample storage to appreciate. Six card slots, stash pockets, and an interior sleeve for currency complete this great tiny wallet.
Brand: Ermenegildo Zegna
Price: $275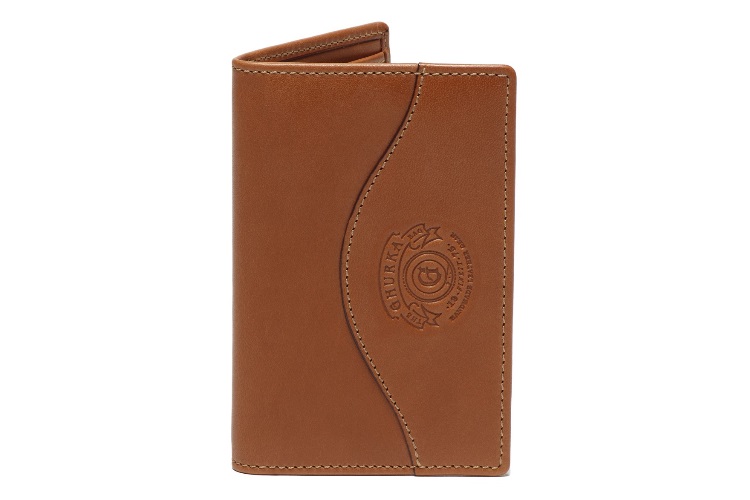 BONUS: Ghurka Credit Card Window Wallet No. 202
This ID window wallet is made from gorgeous calfskin leather, for great strength and a great look. This wallet with ID window slot also features seamless construction, with a bifold body and flexible boning that moves with you and still securely holds the cards you need to store.
Brand: Ghurka
Price: $175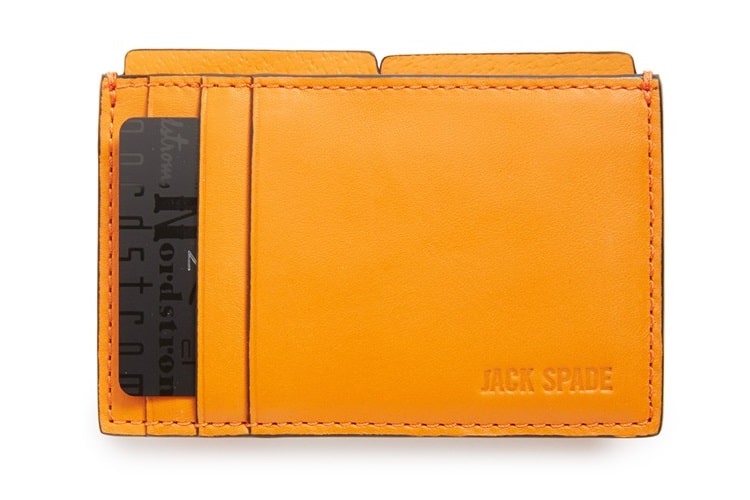 BONUS: Jack Spade 'Grant' Leather File Wallet
This is a bare-bones wallet with great orange colour, and it will stand out and bring a sense of fashion to your pocket. What it won't bring is bulk, with two currency slots and four slots for cards. The quality leather and the black edging for contrast make this small fashion wallet for men unique and beautiful for any minimalist.
Brand: Jack Spade
Price: $40.80
You might also like:
50 Best Watches Under $500
100 Best Watches Under $1,000
40 Best Minimalist Watches for Men
21 Best Watch Blogs
What kind of wallet should a man carry?
Your wallet of choice depends on the number of cards, cash and coins you plan on carrying. For minimalist men, a vegetable-tanned leather card-holder is always a good option, while the bi-fold is a classic take on EDC.
What are some good Australian leather wallet brands?
Brands such as Bellroy, R.M. Williams and Status Anxiety are all excellent men's wallet brands designed in Australia.
What is the best leather for a wallet?
While genuine and real leather is great for wallets, vegetable-tanned leather is perfect for fading and longevity.