11 Best Wallet Brands for Men
The mark of a modern man is being comfortable in his own style. Let your clothes and accessories be an extension of your personality and never let your possessions wear you. The best wallet brands for men are often neglected but can and do say so much about a man. Choosing the right one can be a tough ask, it's as important as choosing the right clothes for your body shape, a quality timepiece and the correct shoes. There are many options for sprucing up your look, so it's time to throw out the Velcro wallet you've been using since high school and let our list of the best wallet brands for men to guide you one step further to being complete.
Related: These are the best luxury watch brands in the world you should know.
Best Wallet Brands for Men
Whether you're looking for designer wallets or a simple branded wallet for men, we've cut down our list to what we believe are the quintessential wallet brands for men. You'll notice our list rotates between expensive options for those with luxury in mind and more affordable options that offer great value for money.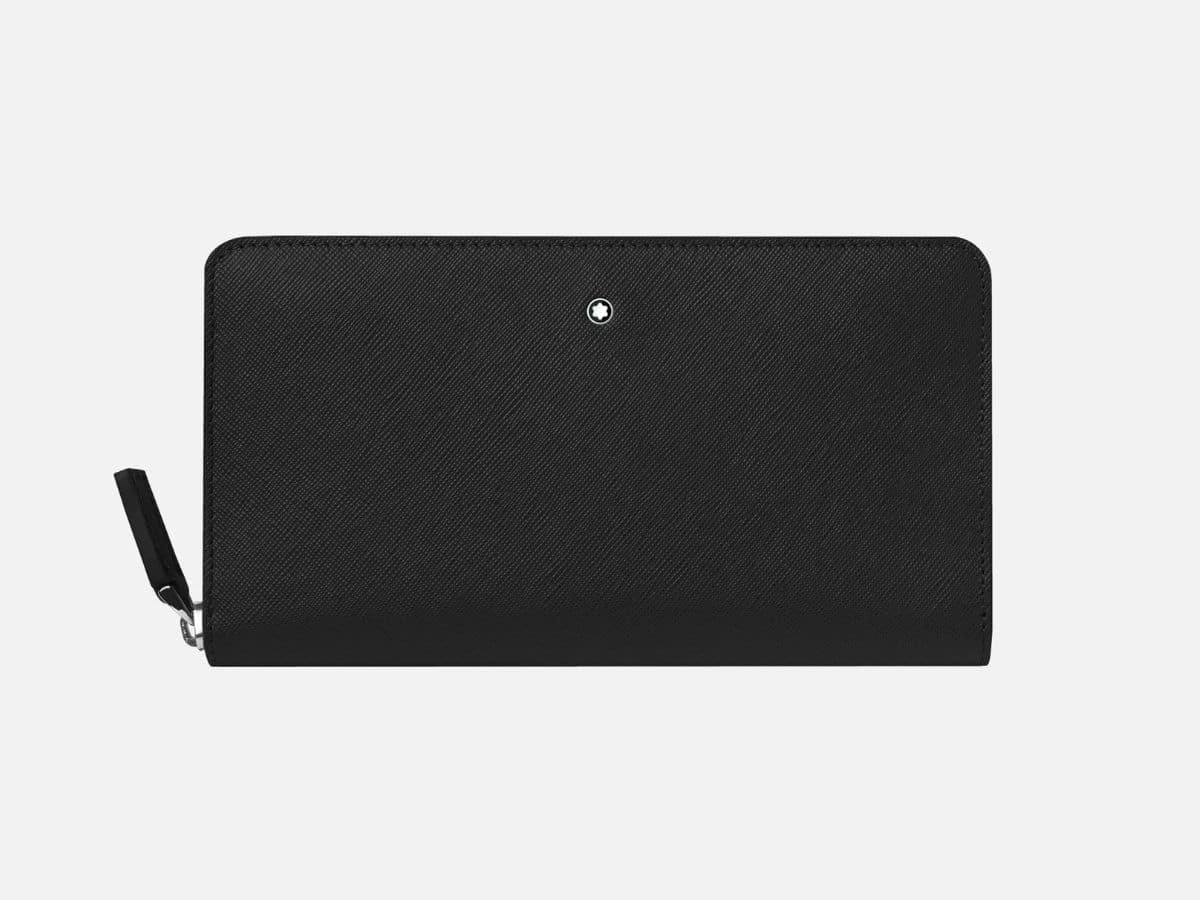 1. Montblanc
Montblanc is synonymous across the globe as a traditional connoisseur of writing instruments, and since 1926 it has been adapting its quality and traditional craftsmanship into its small leather goods. The company actually acquired its name from Mont Blanc – the highest peak in the Alps – and thanks to a focus on quality cowhide used throughout its collection it sits well appointed on our list of best wallet brands for men.
At the lower end of the price spectrum you have the Meisterstück Wallet 4cc price from $390 AUD. This is a favourite of ours for its black full-grain cowhide construction with classic Montblanc deep shine. We rank this as a great value for money option thanks to the exterior leather finish that is luxurious, durable, and ages like a fine wine. The interior is lined with jacquard style and includes the Montblanc brand name, Montblanc emblem with palladium finish ring, and 4 pockets for credit cards and banknotes.
At the higher end of the price spectrum sits the brand's range of zipper wallets that cost upwards of $700 AUD. Our pick of the bunch is the Montblanc Sartorial Wallet 12cc zip-around that features a timeless Saffiano leather print that's made from the finest calf-skin leather. This wallet is a good choice if practicality is what you're looking for with room for money, 12 card slots, a coin case with zip closure and 2 additional pockets.
Parent organization: Cie Financiere Richemont SA
Founded: 1906
Headquarters: Hamburg, Germany
Price: from $270 AUD
Buy it here (Montblanc) Buy it here (David Jones) Buy it here (Farfetch)
---
Featured Video from Man of Many
---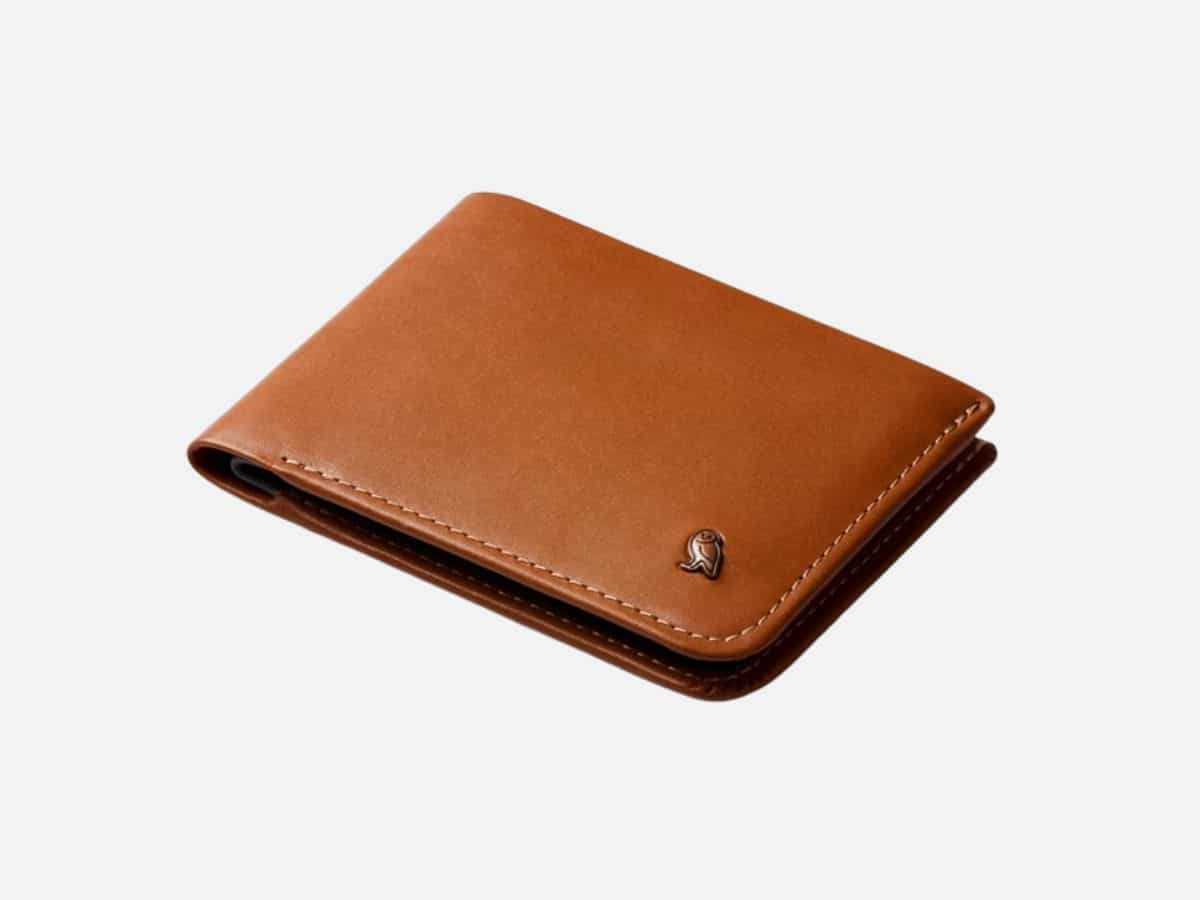 2. Bellroy
Bellroy is one of our favourite gear brands full stop but their selection of men's wallets is one of the best on the market. The brand has a focus on precision craftsmanship that's subtly visible in even the smallest details. We've chosen two of our favourite wallets from Bellroy below.
The best all-around wallet from Bellroy is their Hide & Seek, priced from $126 AUD. More than its name suggests, the wallet is made from premium, environmentally certified leather and backed by a 3-year warranty. In terms of practicality, we love the separate sections for business cards, notes, and cards, that include RFID protection. This quality wallet comes in eight classic colours including Burnt Sienna, Black and Forest. For peace of mind, the Hide & Seek.
For those looking for an affordable yet practical everyday wallet, the Bellroy Folio is our pick of the bunch and is priced from $259 AUD. The ability to hold more than 14 cards, loads of bills in two separate sections, and even your smartphone are why this one lands on our list of best wallet brands for men. Of course, the typical Bellroy quality is there too with premium, environmentally certified tanned leather.
Founded: 2009
Headquarters: Melbourne
Founders: Andrew Fallshaw, Hadrien Monloup, Matthew Fallshaw, Lina Calabria
Price: from $126 AUD
Buy it here (Bellroy) Buy it here (David Jones) Buy it here (The Iconic)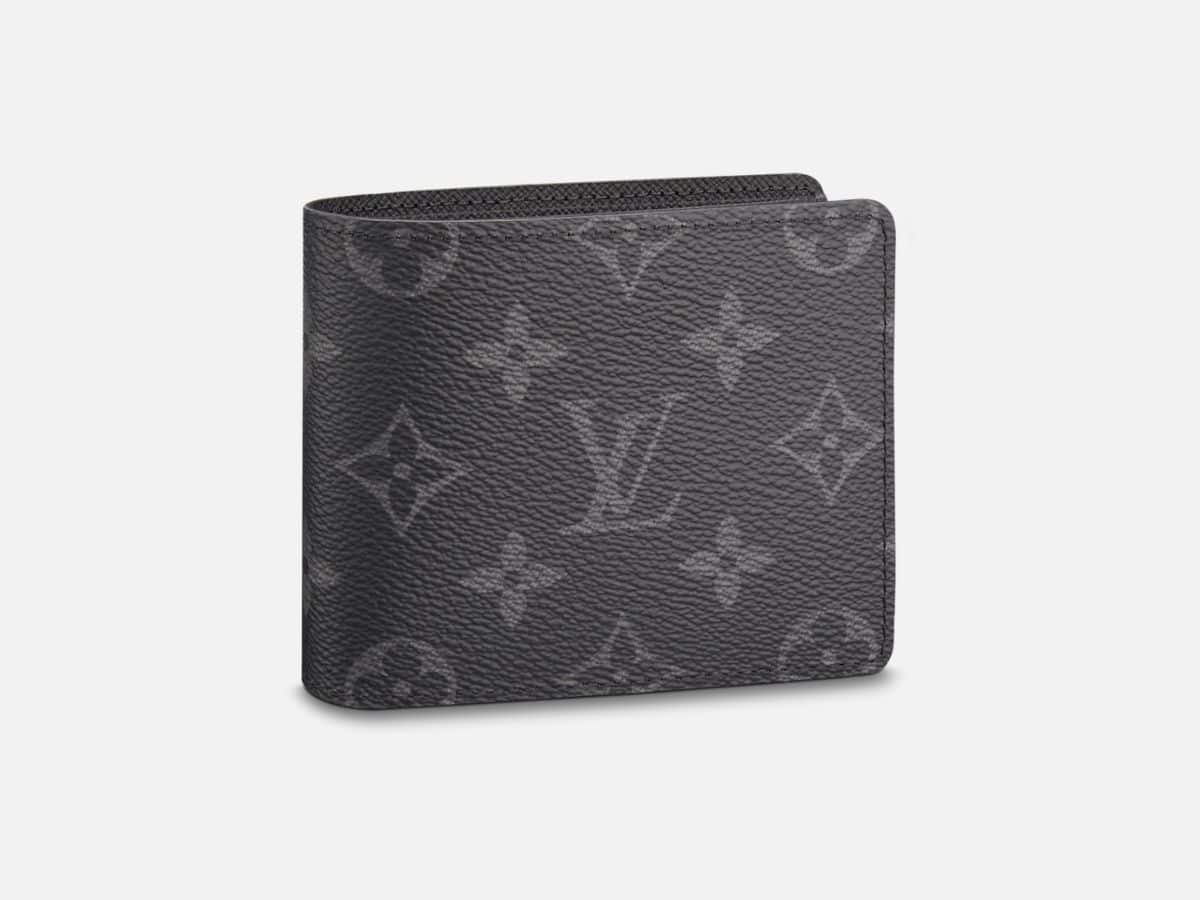 3. Louis Vuitton
Who would have thought that wanting to become a trunk-master would have set Louis Vuitton on a path to creating the most recognisable and profitable designer brand on earth? Louis Vuitton wallets sit right alongside Rolex watches, R.M. Williams boots, and Common Projects sneakers when it comes to the stylish essentials for men.
The Slender Wallet in monogram eclipse canvas is what we like to call THE signature luxury wallet for men. With an uncompromising style, the choice of long-lasting materials and workmanship are a testament to the brand's design aesthetic. This is a staple no matter the season and features slots for up to eight credit cards and a bill compartment. Priced from $665 AUD it's not the best value for money, but it's LV and is quite reasonably priced on the spectrum of designer wallets.
Those who are looking to add some extra storage space to their luxury wallet selection should take a look at the Louis Vuitton Zippy Organizer. Another classic from the Parisian fashion house, this wallet is finished in premium Taiga leather and offers space for multiple credit cards, a zipped coin compartment and even a large pocket for plane tickets.
Founder: Louis Vuitton
Founded: 1854, Paris, France
Headquarters: Paris, France
Price: from $580 AUD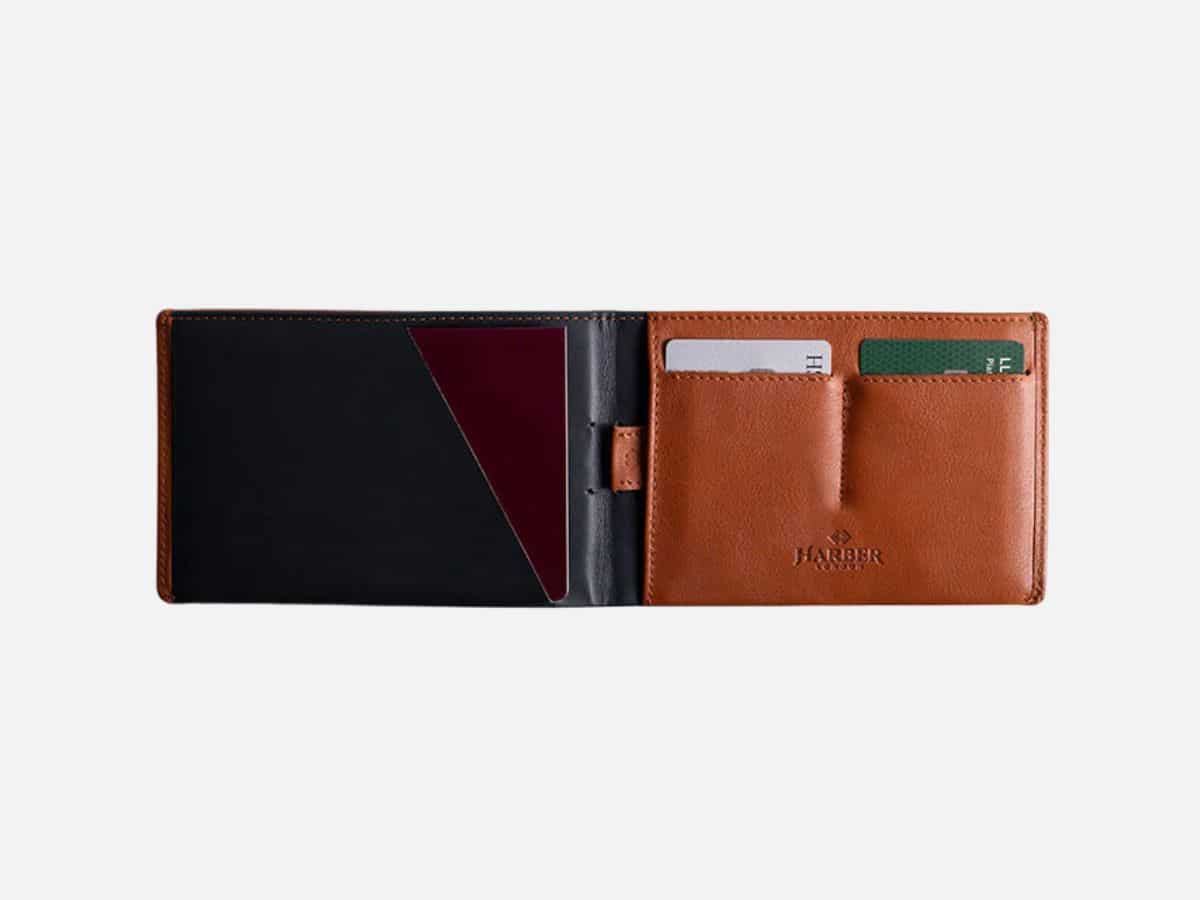 4. Harber London
Harber London has been a staple on our lists whenever we're talking about small leather goods. The family-run business based out of London manufactures each of its pieces in Spain with a team of skilled craftsmen to bring a wide selection of wallets for men. The range has a focus on bi-fold wallets with built-in RFID protection and we've outlined two of our favourites below.
Both luxurious and minimalist, the Harber London Leather Card Wallet with RFID protection is the perfect choice for the man exuding quality and style. The addition of RFID blocking is a great feature that assists in protecting your credit cards against skimming. Crafted in Spain from full-grain vegetable-tanned cowhide leather, you might be surprised that this slim design can hold up to 16 cards. This is one of the best wallet brands for men and conveniently comes in seven timeless colours.
With a global pandemic putting travel on hold back in 2020, things are returning to normal and carrying your designer wallet overseas is never something we recommend. Instead, take a look at the Harber London travel wallet that comes with the same RFID protection as the card wallet, but offers a few travel extras such as dual currency compartments for different currency notes, tickets or expenses. You'll fit up to 12 cards in this affordable wallet that's priced at £79.00. This is our favourite wallet on the list for travel.
Country of Origin: United Kingdom
Price: from $150 AUD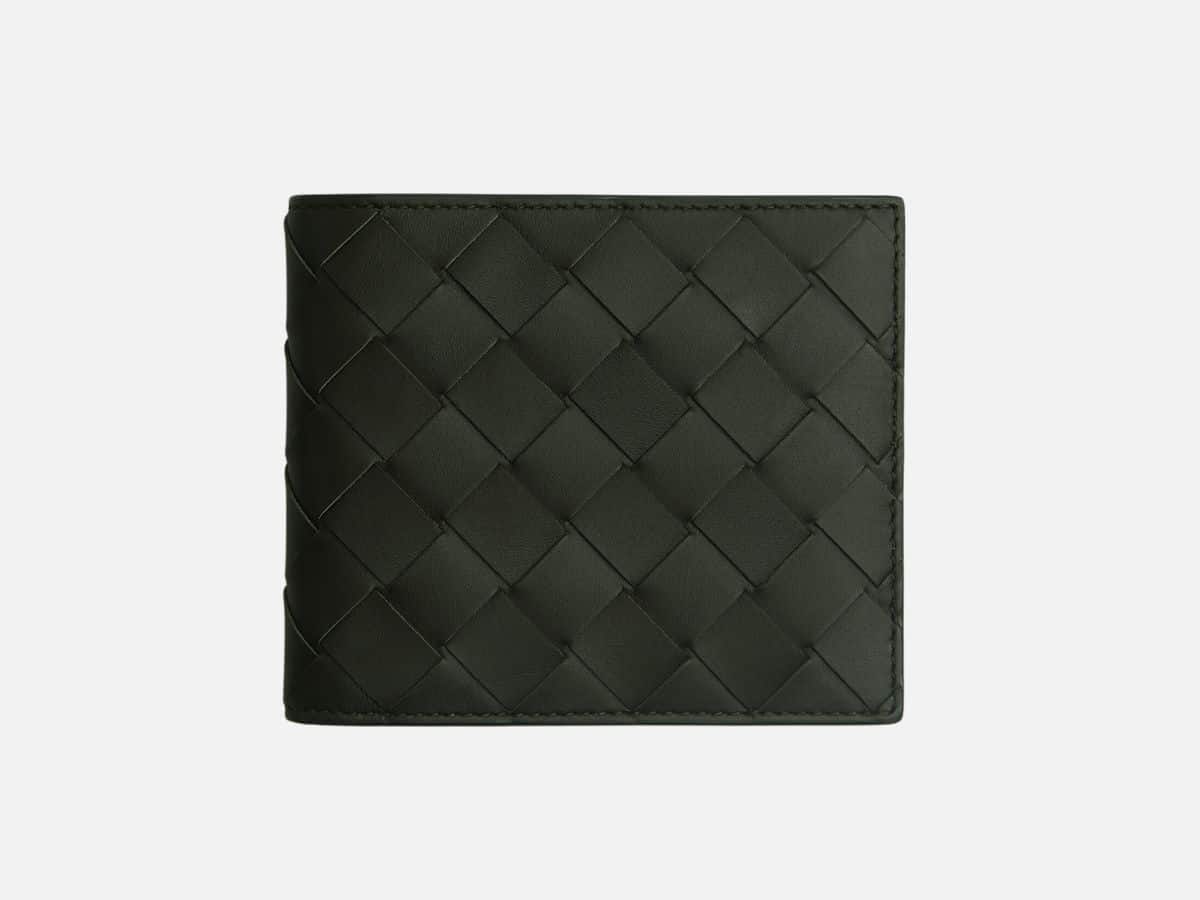 5. Bottega Veneta
A purveyor of exceptional luxury leather goods since 1966, Bottega is best known for its expertise in working with leather. One of the best wallet brands for men, they invented the leather weaving technique known as intrecciato, and in doing so, ushering in the start of a new era of understated fashion with their famous motto "when your own initials are enough".
One of our favourite designer wallet brands for men, our pick of the bunch is the classic Bi-Fold Wallet ($770 AUD) that's a great alternative to the Louis Vuitton monogrammed wallet. The wallet features the aforementioned Intrecciato leather in its construction and is made from calfskin with a calfskin lining. We love the choice of colours available with everything from classic Bottega 'parakeet green' to a more understated 'Thunder grey'. Looking for the best minimalist designer wallet for men? We think you've found it.
Founded: 1966, Vicenza, Italy
Headquarters: Milan, Italy
Founders: Renzo Zengiaro, Michele Taddei
Price: from $540 AUD
Buy it here (Bottega Veneta) Buy it here (MR PORTER)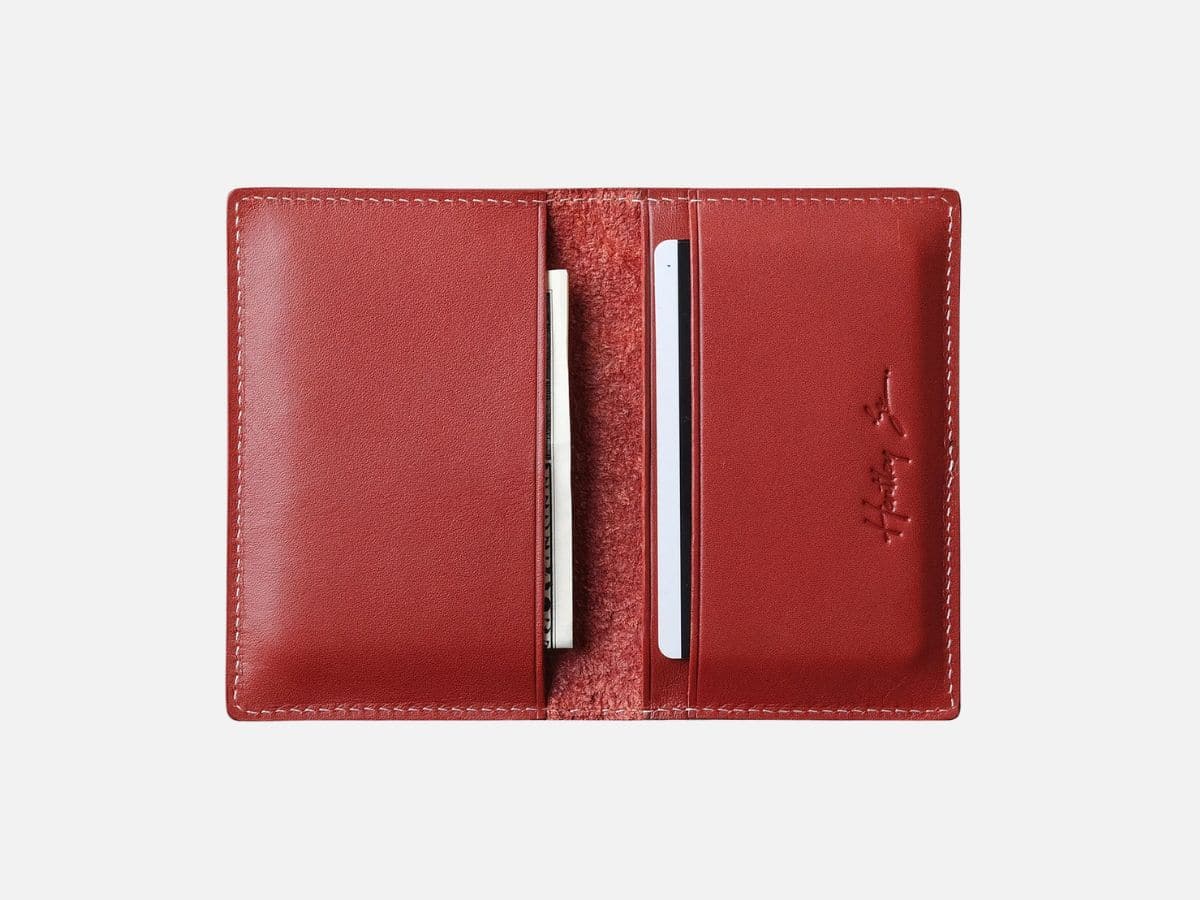 6. Hentley
We like to think of Hentley as the Australian alternative to Harber London, that is, both brands take advantage of the finest leathers to create some of the best wallets for men that are also affordable. In the case of Hentley, their wallets are handmade from the finest Italian leather that will be with you for years to come whilst only getting better with age.
Our favourite wallet from Hentley is their modern and slim Bagan Bi-Fold. The wallet offers more than enough storage for your cards (holding up to 15) whilst maintaining a stylish finish in 100% Vegetable Tanned Italian Leather. It's slim enough to make it another great option for travel with flexibility for a weekend getaway.
Best of all, you can add some extra style points with free personal monogramming that's available with every purchase. If we had to choose any wallet on this list as a gift, then Hentley would be it.
Country of Origin: Australia
Price: from $155 AUD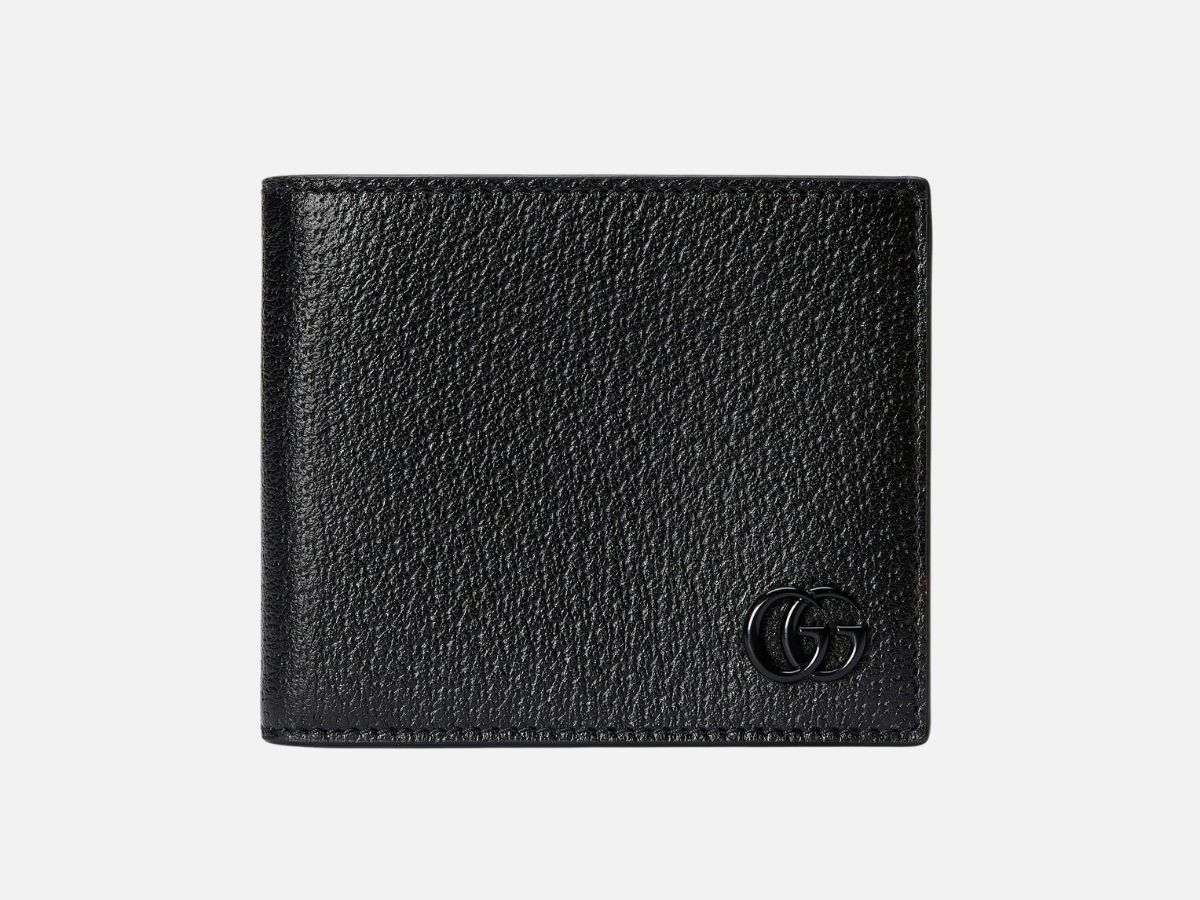 7. Gucci
1921 was the year we were introduced to the small Italian leather goods store, opened by Guccio Gucci. A company founded on its craftsmanship of leather goods of all sizes and through its evolution has grown into of the largest and most well-known fashion houses to date; encompassing a long history of ready-to-wear.
This is one of the best wallet brands for men, the discerning gent cannot go past the signature GG Marmont leather bi-fold wallet. Priced from $775 AUD this is a great alternative to the designer wallets mentioned throughout this article and features maybe the most understated look of them all. If the black logos are a little too understated, we recommend taking a jump with the silver or even gold double G that are available as variations.
Made in Italy, and featuring eight card slots, and two bill compartments it's hard to fault the practicality of the wallet either.
Founder: Guccio Gucci
Founded: 1921, Florence, Italy
Creative director: Alessandro Michele
Price: from $550 AUD
Buy it here (Gucci) Buy it here (Farfetch)
8. Goyard
Goyard is one of the oldest leather goods luxury houses with over 150 years worth of experience, specializing in everything from trunks & hat boxes, men's and women's wallets and even Chic du Chien (Pet accessories). With an impressive list of clients ranging from Picasso, the Grimaldi royal family, Edith Piaf and even Karl Lagerfield.
There are literally thousands of different combinations and personalization options to choose from but we guarantee that no matter which one your choose, you'll not only have an entirely unique beautiful handmade wallet but also one of the best men's wallet brands around right there in your pocket.
Over the last few years, the brand went from an illusive designer label to an easier-to-come-by label (still expensive) and our pick of the bunch is the Saint Florentin Wallet. This is the most functional designer wallet on our list of the best thanks to its extremely flat Goyard-engraved clasp that keeps things safe while being slim enough to fit in your pocket comfortably. Available in 11 different colours that will be the hardest decision to make! Quality is outstanding – as you would imagine – with Goyardine Canvas & Vauzelles Calfskin.
Founder: Pierre-François Martin
Founded: 1853, Paris, France
Headquarters: Paris, France
Price: approx. $1,020 USD
Buy it here (Goyard) Buy it here (StockX)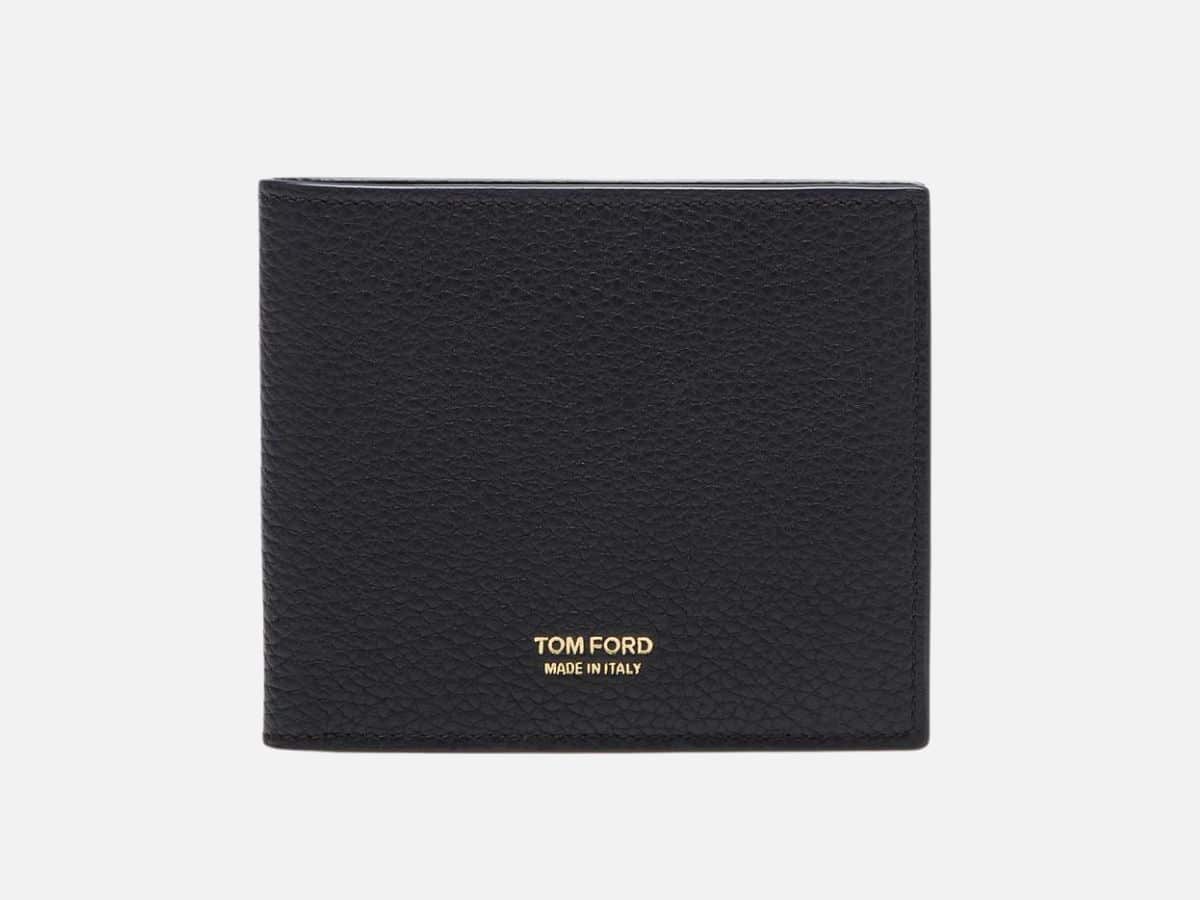 9. Tom Ford
When Jay-Z writes a song not only mentioning you but using your name as the title, you know you're one cool mf'er. Tom Ford has been influencing pop culture with his understated swag since bringing the "sexy back" to fashion in the 1990s at the helm of YSL and Gucci and since 2008 has been bringing his reputation of the highest quality products with the seasons must-have designs.
Our pick of the exceptional products in the catalogue is the classic small-grain leather bifold wallet highlighted in 100% black leather that's only flanked by the signature gold highlights on the logo. Priced at $520 it's one of the most affordable designer wallets on our list.
Founder: Tom Ford
Founded: 2005, New York, New York, United States
Headquarters: USA
Price: from $520
Buy it here (Tom Ford) Buy it here (Harrods) Buy it here (Farfetch)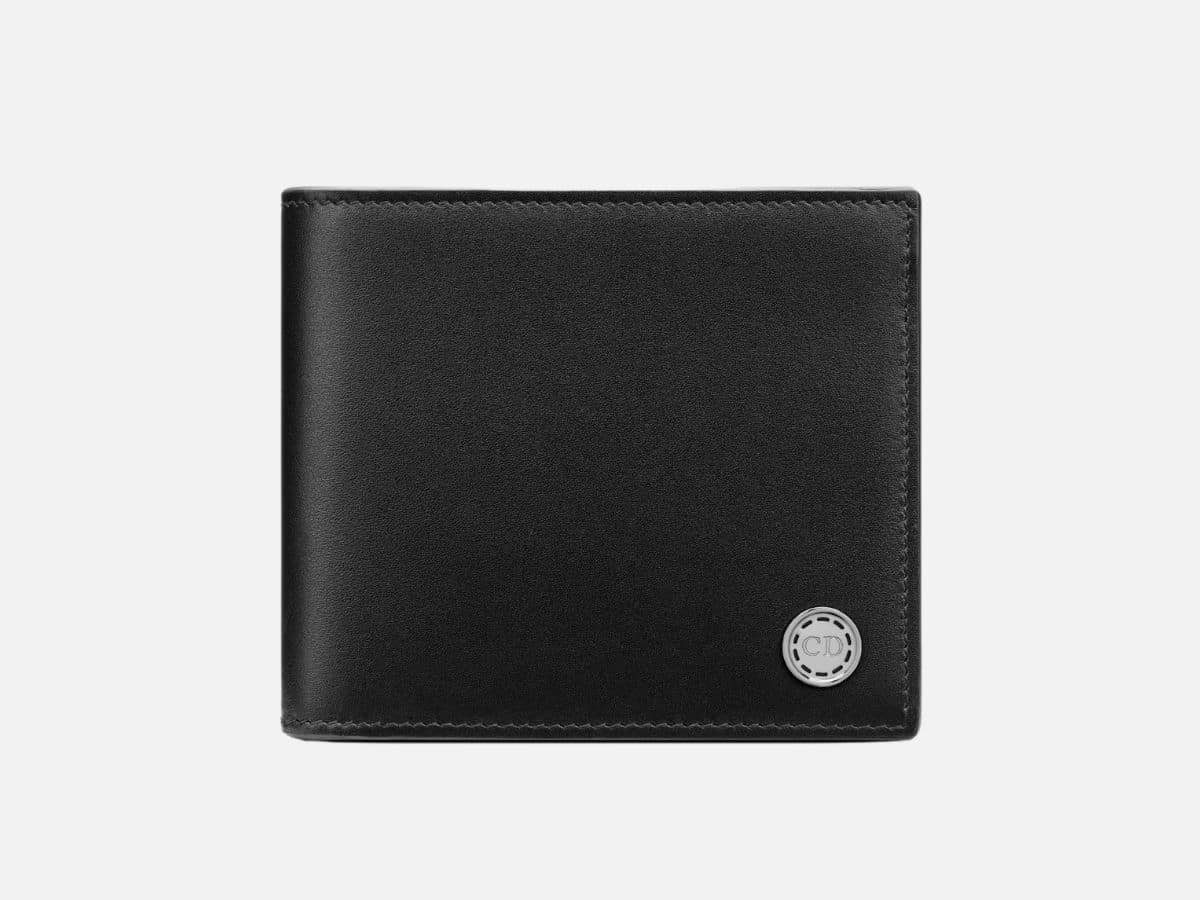 10. Dior
When it comes to the best wallet brands for men, there are very few like Dior. Known for defining a new look for men's fashion from 2001 with their signature skinny black suit and even getting Karl Lagerfeld to lose more than a few kilos to adapt to the brand's aesthetic. Their DNA can be traced from the inspiring RTW collections, right down to the shoes, sunglasses and of course leather goods. Understated subtleties are the brand's signature and this season's wallet collection is filled with options.
Our favourite from this designer label has to be the black smooth calfskin with CD Button signature. About as functional as wallets come you'll find its interior boasts a double bill holder, two flat compartments and eight card slots. We find it to be the perfect-sized bi-fold wallet to easily slip into any pocket or bag.
Founder: Christian Dior
Founded: 16 December 1946, Avenue Montaigne, Paris, France
Country of Origin: France
Price: from $890 AUD
Buy it here (Dior) Buy it here (Farfetch)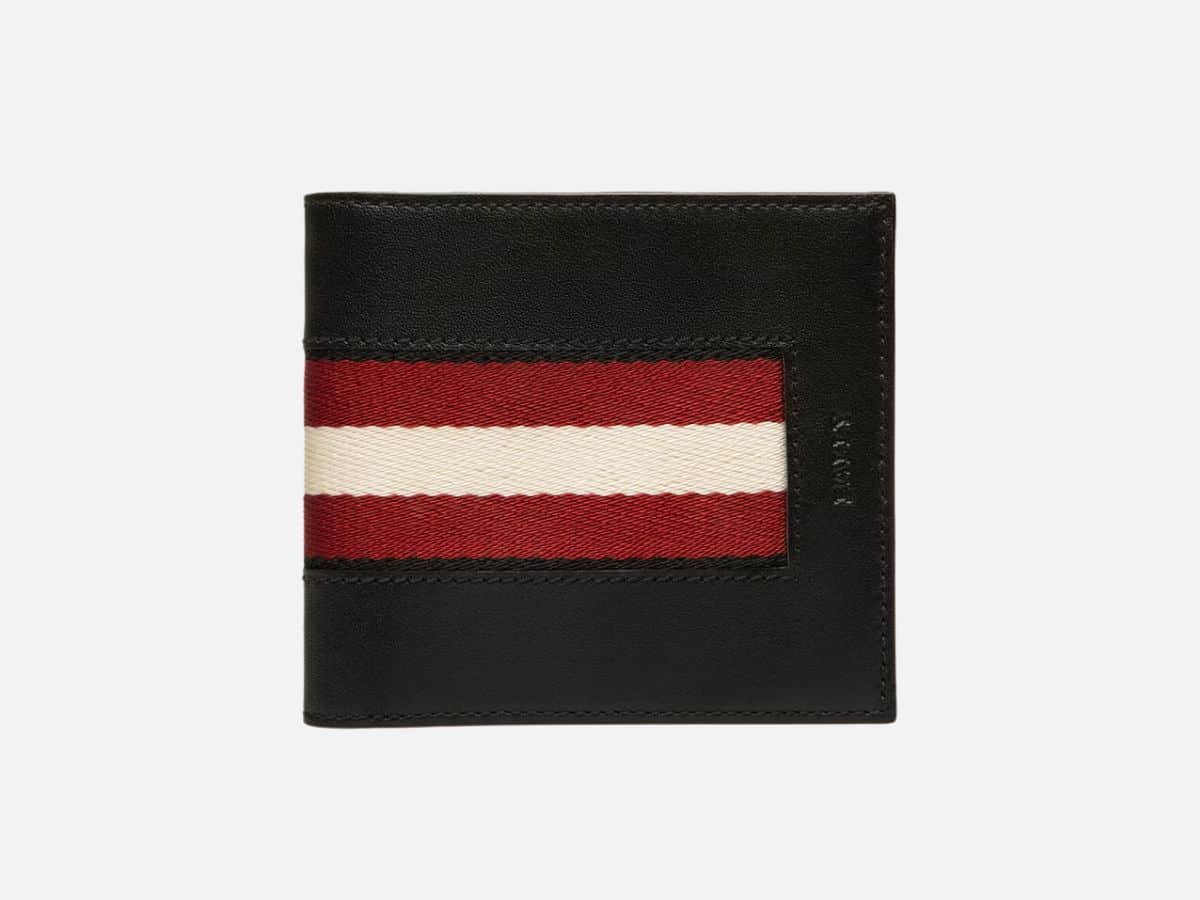 11. Bally
Functionality and modernity are the names of the game at Bally. Carl Bally was the brand's founder, with a vision to create the best wallets for men, using the most innovative craftsmanship. This is why one of the world's oldest luxury brands is a key player when it comes to us choosing one of the best wallets.
Our pick of the litter is a leather wallet in black whose name is Brasai a classic black men's bi-fold finished in scratch-resistant fine-grained leather that holds eight cards and two note pockets.
Founded: 1851, Schönenwerd, Switzerland
Headquarters: Caslano, Switzerland
Founders: Carl Franz Bally, Fritz Bally
Price: from $430
Buy it here (Bally) Buy it here (Farfetch)
How Man of Many Chose this List of Wallet Brands
When it comes to our list of the best wallet brands for men, it goes without saying, that expertise is key. While we've had our hands on every wallet on this list over the years, we've also turned to the wider public for their overall ratings. Our list takes into account three major factors to determine the overall rating. In addition to our own experience, we've taken into account sales data from StockX before collating the information together and measuring the wallets in overall quality, features, price, and value for money.
General FAQ
Which is the best wallet brand for men?
The best brands of wallet are those that use a calfskin exterior such as Montblanc, Bally and Louis Vuitton.
Are bi-fold or tri-fold wallets better?
Tri-fold wallets are often thicker than bi-fold wallets, so can take up more space in your pocket. However, tri-folds are often wider than a bank note meaning bank notes can be stored without having to be folded first.
Are expensive wallets worth it?
Luxury wallets look better, feel better, and last longer than traditional counterparts. Made of superior materials, they also function as status symbols. If you can afford one, get one.
You'll also like:
Hentley is the Ultimate Minimal Australian Leather Wallet
50 Best Watches Under $500
100 Best Watches Under $1,000
---
Featured Video from Man of Many