12 Best Blue Light Glasses: Block, Protect, Reduce Strain
Let's be honest, since we entered the hybrid working lifestyle, we've been spending a lot more time slouched in front of our screens. Whether it's watching endless amounts of Netflix, hitting up the newest video games or trying to smash out some proposals while you work from home, we're constantly surrounded by technology.
Recent studies suggest the average Australian spends close to 10 hours a day looking at digital screens. It's the 21st Century dilemma; the rise of technology has made our lives more convenient than ever, improving almost every facet of our everyday existence, but at what cost? Sure, we know how important it is to get out every now and then for a bit of exercise and vitamin D, but beyond that, what else can we do?
It turns out one potential issue working from home presents is the often-overlooked issue of blue light. We've collated the information you need to know about blue light and which blue light glasses can potentially help you to fight the effects. But before we kick-off, the question remains; what is blue light?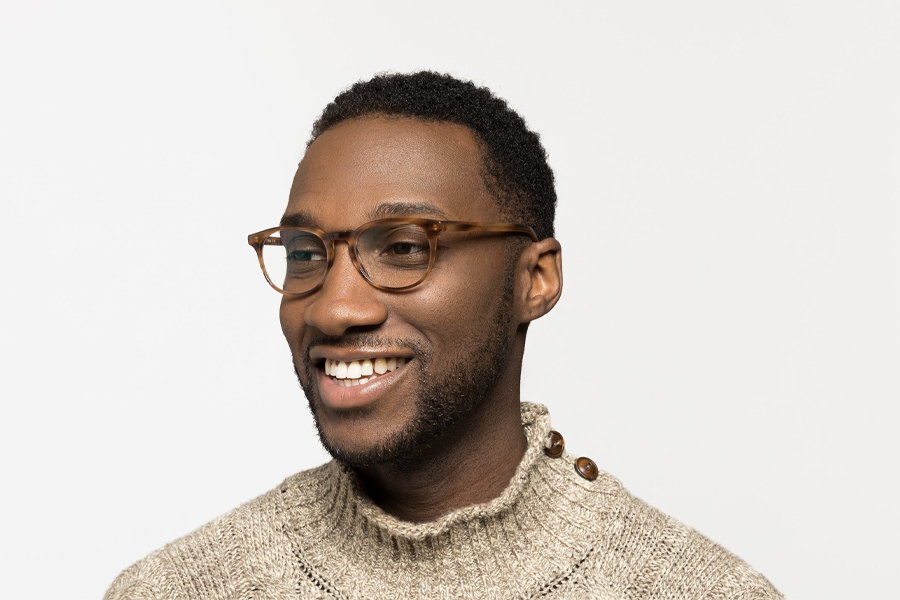 What is Blue Light?
Blue light is a common form of light that is emitted from a range of natural and artificial sources. The phenomenon is all around us, permitted by the sun and by our digital devices, tablets, smartphones, TVs, computers and even some energy-efficient lighting. Sunlight, for example, contains many shades of red, orange, yellow, green and blue light rays, which vary depending on the energy and wavelength of the individual rays. When combined together, the spectrum of coloured light rays creates a phenomenon known as 'white light', which we refer to as sunlight.
It's important to note that different light rays have different wavelengths, which means varying levels of energy. On a very basic level, light rays on the red end of the visible light spectrum regularly have longer wavelengths and therefore, less energy, compared to rays on the blue end of the spectrum, which have shorter wavelengths and more energy. These high-energy, short-wavelength blue light rays are sometimes referred to as blue-violet or violet light. As 21st Century workers, watchers and producers, we spend a lot of time in front of digital screens, meaning we are exposed to a significant amount of blue light being emitted from our devices.
But what exactly does that mean? Well, according to the latest research, extreme and sustained exposure to blue light may cause damage to your eyes, but it isn't the only concern.
Is Blue Light Bad For You?
While research has indicated that extreme exposure to blue light isn't exactly good for your health, you don't have to throw out your smartphone or tablet just yet. There is no evidence to suggest that being subjected to blue light in small doses will have any lasting effects. Instead, you may encounter short term issues as a result of blue light. Here are three of the most commonly reported side effects of blue light exposure.
Eye Strain
One of the major issues that people report is eye strain. Going hand in hand with technology use, you can often spend too much time focusing on small objects and digital screens. This can lead to dry or itchy eyes, loss of focus, headaches, fatigue and even neck pain.
Interrupted Sleep
Blue light can be a tricky beast and a confusing phenomenon for our bodies to understand. The most common issue related to blue light exposure is interrupted sleep. As we get most of our blue light rays from sunlight, using technology long into the night can trick our brains into thinking it is still daytime. These blue wavelengths disrupt our bodies' circadian rhythm, telling our biological clocks to stay awake and wait for the darkness.
Further, blue wavelengths are known to enhance mood and increase energy, so using your phone or tablet immediately before bed may make it hard for you to relax and get to sleep. All colours of light may suppress the release of melatonin, our body's natural sleep hormone, but studies indicate that blue light is particularly disruptive to our sleeping patterns.
Eye Damage
As we mentioned above, prolonged extreme exposure to blue light may have dire consequences for your eye health, possibly leading to macular degeneration. This could mean incurable damage to your vision and the potential for blindness, however, the studies are not conclusive.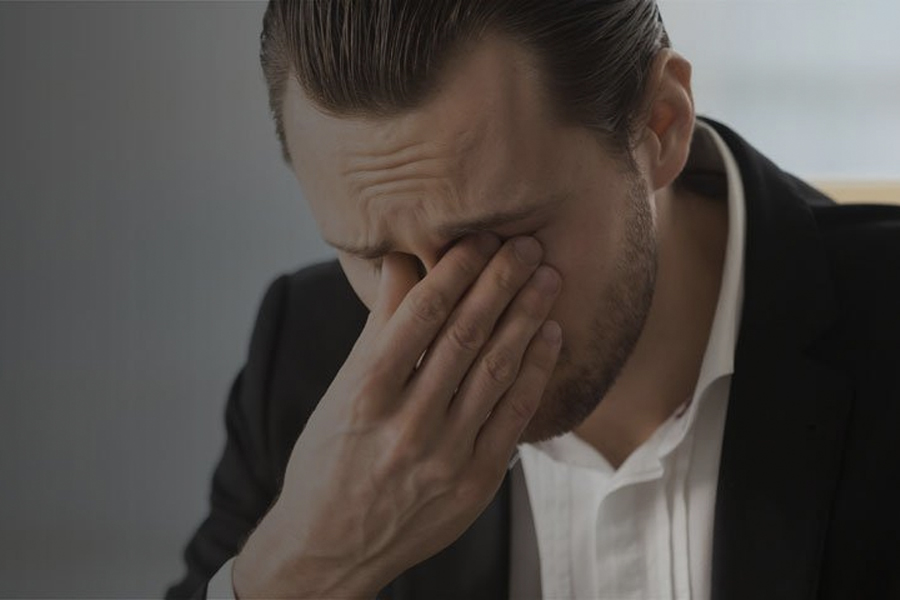 Simple Guide to Blue Light Protection
While there are a wealth of ways you can protect yourself from blue light, it's important to remember the easiest way to stay healthy is to tune out. Avoid using digital devices in the hours closest to bedtime in order to let your body adjust to the lack of white light.
If you find yourself suffering the effects of blue light during the day, either from working too hard or spending too much time playing Animal Crossing, one method for protection is fitting yourself with blue light blocking glasses.
What Are Blue Light Blocking Glasses?
Blue light blocking glasses are essentially glasses fitted with a specially designed film that is constructed to adjust the light emitted by our devices from cool to warm. Blue light blocking glasses are one of the easiest and best ways to filter blue light and are ideal for anyone who spends the bulk of their time fixated on a screen.  The film can be added to your sunglasses, prescription glasses or to frames with a clear lens. The blue light blocking film is clear, so it won't significantly alter your vision as you look through your glasses.
How Do Blue Light Glasses Work?
The lens tint technology, while clear, filters out the highest energy and shortest wavelength light rays. Yes, those pesky blue light rays are blocked before they reach your eyes. By absorbing the blue-violet light from our devices and lighting, the lens film may potentially help you to avoid headaches, eye strains and interrupted sleep, regulating your body and keeping your health in check.
The Best Blue Light Blocking Glasses
It seems like every optical brand is jumping on the blue light glasses trend at the moment, and for good reason. The film is easy to produce and can be fitted over essentially any frame shape you can think of. In fact, many of the brands you know and love have offered blue light blocking glasses for years, you just may have never noticed what they were. Here in Australia, there are a bunch of local operators muscling into the market.
We've picked our favourites, from home and abroad in this list of the best blue light blocking glasses to save your eyes.
1. Pacifico Optical – Buckler
Australian sunglasses brand Pacifico Optical is born in Bondi Beach. These particular frames are named after the iconic north headland, Ben Buckler Point. A classic unisex round frame shape, we love the champagne finish although practically every frame from this company can be switched to a blue light protective lens with their Made to Order range. Each set comes with Blue Light Blocking lens, carry case, microfiber cloth, maintenance and cleaning kit.
Width: 140mm
Price: AU$136
2. BARNER Blue Light Glasses
We've been using the BARNER blue light glasses for months as they were the first pair to jump on our radar with a classic round tortoiseshell design. As we move between home and the office in a hybrid working environment these glasses are our new best friend – working in front of an open window at home means our monitor has to run at full brightness all day and headaches and bloodshot eyes were a regular occurrence. We're pleased to say the CR39 lenses do a great job at blocking 100% of the Blue Light under 410nm (45% of the Blue Light on the 410nm – 450nm spectrum) and our eyes are no longer strained from sitting in front of a bright monitor. The fit is more than comfortable for all-day wear and the rubberised texture provides ample grip on our nose and ears. Priced at $95 USD these are a great budget option.
Fit: Unisex Lens
Material: CR39
Size: 50-20-135
Frame material: TR-90
Price: US$95
3. Warby Parker – Landon
These versatile glasses are vintage-style personified. The square bridge, round bottom frames feature a sculpted keyhole bridge for added comfort. In addition to being one of the best blue light blocking glasses, the Harby Parker Felix is made from hand-polished cellulose acetate and are have akulon-coated screws for durability.
Frame width: 135mm
Lens width: 50mm
Bridge: 17mm
Price: from $95 USD
4. Garrett Leight – Wilson
Garrett Leight is one of the best glasses brands on the market full stop. So when they began to offer Carl Zeiss blue light lenses with the majority of their range, it only made sense that we updated this list with a few of their styles. The Wilson – seen here – is inspired by music legend John Lennon, this iconic round metal frame with Windsor rims and tortoise temples comes in new colours to suit every season –  US only.
Eye: 46mm
Temple: 145mm
Bridge: 22mm
Price: from $385 USD
5. QUAY Australia – Blueprint
Simply put, you'll never get lost in the world of blue light glasses if you opt for the Blueprint style from QUAY Australia. The classic injection frame is mega durable and while hosting a unique panto shape design, it's far from anything revolutionary – perfect for office wear. These are a great alternative design that's a little different from the classic Ray-Ban Wayfarer, but not too far off track.
Style: Pantoshape
Width: 137mm
Height: 48mm
Temple: 143mm
Bridge: 18mm
Price: AU$65
For the Best Men's Wedding Rings, Call in the KAVALRI
6. Bailey Nelson – Esquire
With think, transparent frames, the Bailey Nelson Esquire is a lesson in timeless, 1950s design. Effortlessly simple and refined, these blue light glasses are a showstopper.
Style: 1950s inspired.
Eye: 48mm
Temple: 145mm
Bridge: 21mm
Price: from AU$145
7. Tom Ford – Blue Block
Tom Ford is the king of men's style and his signature blue block glasses have become part of his iconic aesthetic. Designed to prevent and relieve eye strain caused by long exposure to blue light from digital devices these square acetate glasses are enriched by intricate details. Cop his look with a pair of these high-end, blue light blocking glasses.
Style: FT5478
Size: 55-14-145
Price: $380
8. Zenni – Unplugged
If you've been considering getting a pair of blue light blocking glasses but aren't keen on dropping a couple of hundred dollars on a risky move, Zenni is the answer. The retailer has a bunch of super-cheap frames that you can customise to suit your style. Our pick is the Unplugged in black, you know the vibes.
Shape: Brownline
Width: 142mm
Height: 53mm
Temple: 147mm
Bridge: 19mm
Price: from AU$29.95
A Guide to the Men's Black Tie Dress Code
9. Baxter Blue – Frankie Large
Baxter Blue is an Australian brand that specialises in stylish blue light blocking glasses. You'll find heaps of different designs and styles on their site, all at affordable prices. We're a fan of the Frankie (Large) in Crystal Toffee for a casual look. Opt for something in black for a more simple, understated aesthetic better suited for the office.
Style: Big / Beautiful / Warm and Playful
Width: 143mm
Temple: 145mm
Bridge: 20mm
Price: AU$125
10. Felix Gray – Roebling
Roebling's sophisticated, circular shape is a perfect fit for almost any face shape. Felix Gray implemented its signature keyhole bridge for this elegant and stylish pair of blue light glasses. These are the original Blue Light lens glasses (15X better, in fact – according to Felix Gray).
Width: 133mm
Temple: 140mm
Bridge: 18mm
Price: from $95
11. MVMT Ritual Crystal Everscroll
These square frame blue light blocking glasses from MVMT are made from clear crystal acetate for a timeless design. The large fit is constructed for optimal balance, fitting every face shape.
Style: Square
Width: 138mm
Price: from AU$78
12. Local Supply – CBR Blue Light
Like most of Local Supply's Digital Readers line, the CBR blue light blocking glasses are zero-waste, plant-based (resin), and fitted with protective lenses made by internationally leading lens producer Carl Zeiss Vision. Like every pair of blue light blocking glasses on this list, they'll help you avoid digital strain and reduce eye soreness.
Temple: 145mm
Bridge: 23mm
Price: $95
Do blue light glasses really work?
A 2017 study done by the University of Houston found that participants wearing the glasses showed about a 58% increase in their nighttime melatonin levels.
How do I know if I need blue light glasses?
If you are experiencing symptoms like headaches, aches, strain or interrupted sleep, you may be suffering from the impacts of blue light exposure.
What do blue light glasses do?
Blue light blocking glasses have specially crafted lenses that are said to block or filter out the blue light given off from digital screens.
You'll also like:
Bowflex SelectTech Adjustable Weights Free Up Space
Fitbit Charge 4 Keeps the Design and Adds Features
Top 5 Health Benefits of Apple Cider Vinegar