Grey Suits for Men: Types, Brands, How to Wear
The grey suit is the swiss army knife of suits. It is the most flexible suit there is, and we've put together this trusty guide on how to wear this transcendent shade. This guide will answer all the questions you have about wearing a grey suit, from ties, shoes, and pocket squares. There are more than 50 shades of grey but don't fret, we're here to break it all down.
The suit comes in a variety of forms and accommodates a full spectrum of occasions, and blends. With a host of peripheral colours, it's no surprise that grey suits are back in vogue, as more and more men veer from black or blue in an effort to distinguish themselves.
Of course, don't take your bevy of options to mean you should just throw an ensemble together and let the chips fall where they may. On the contrary, men's style is an art form and should be treated as such. So before you visit the nearest suit shop or tailor, check out our guide on the 18+ best ways to wear a grey suit.
What's the Grey Suit for You?
As with Blue Suits for Men: Types, Brands, How to Wear, grey suits are relatively broad in concept until you break them down into narrower categories. Consider the difference between light grey and charcoal grey and you begin to get the idea, there are so many shades of grey we don't want you to get lost in the sauce. Bring fabrics and patterns into the mix and your options essentially explode. So what's the type of grey suit for you? Well, it's a tricky question.
The good news is that grey suits are more in fashion now than ever before. In turn, there's essentially no dress code that doesn't make room for grey. That said, some suits work best for some occasions over others. So when asking yourself what type of grey suit is the best one for you, the answer can change depending on the season or event.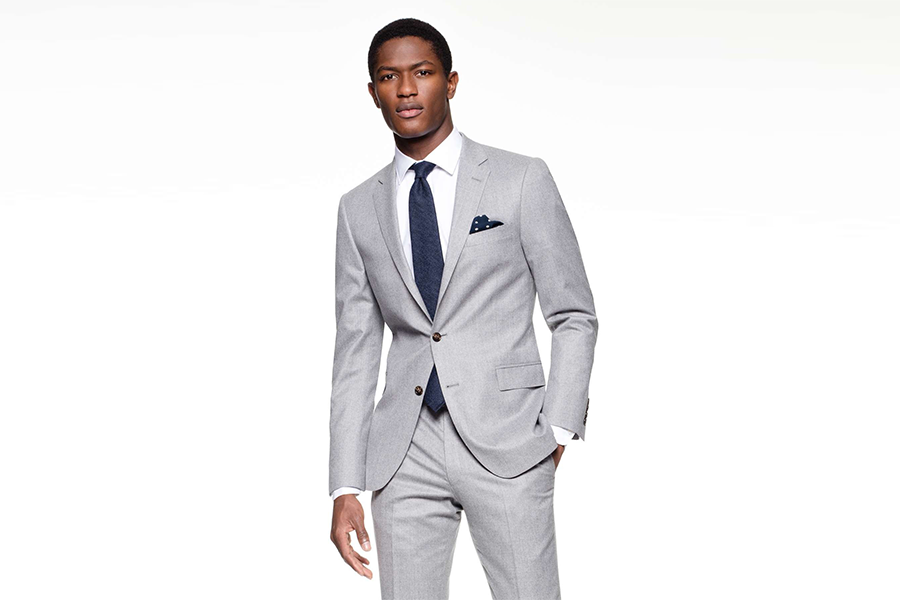 Light Grey
A light grey suit makes for the perfect smart-casual statement. Projecting a softer and sunnier vibe, it delivers approachability and effortless flexibility. Pair it with a dark shirt, chinos, and expensive white trainers and you're keeping pace with the latest street style trends. Light grey is best for semi-formal events. Should you be wearing a light grey suit to your next festivity, consider taking the traditional route by throwing on a dark tie and white or muted colour dress shirt, along with some accessories like a pocket square and watch.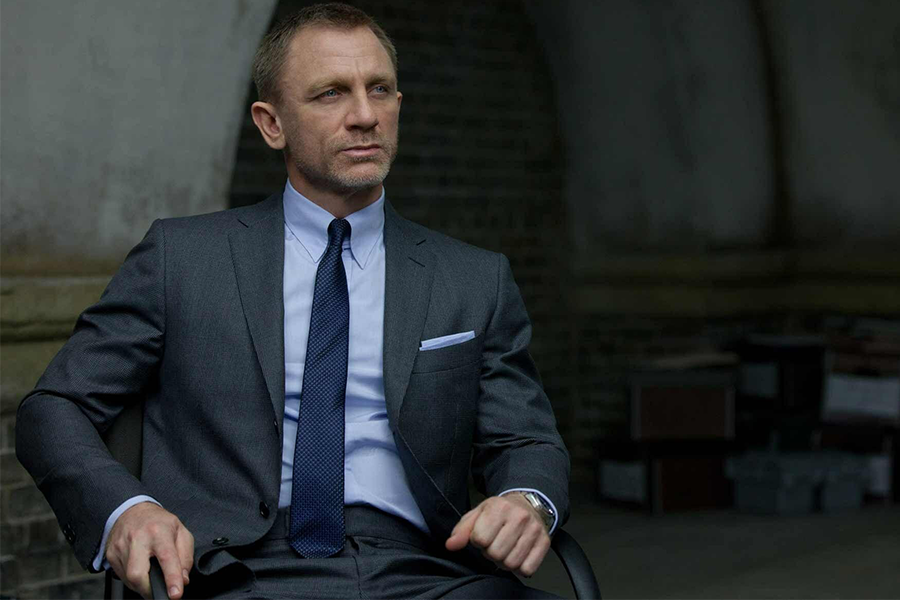 Dark Grey
The dark grey suit allows you to make a stronger statement than that of the light grey. When matched with a coloured shirt such as blue, as popularised by Daniel Craig, you find yourself with a professional fit that asks to be taken seriously. A dark grey suit is a great option for the man who likes to change things up and is a great alternative to the plethora of navy and black suits you commonly see today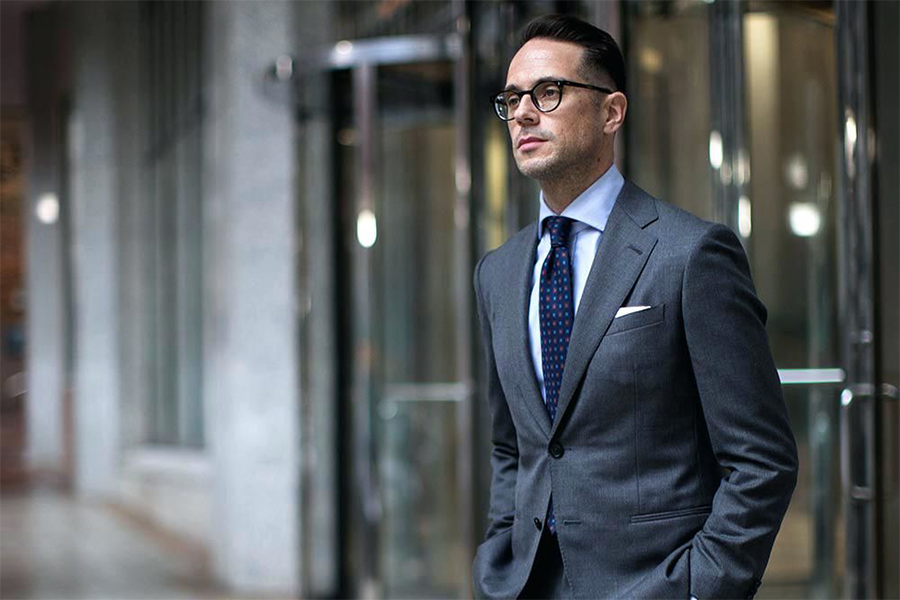 Charcoal Grey
Striking a more serious and professional tone is charcoal grey. Charcoal grey comes in various textures and blends with a swath of colours. While indisputably handsome, charcoal grey is somewhat narrower in scope. For the most part, you should only bring your tailored charcoal suit out of the wardrobe for important business meetings and formal events. Like the dark grey suit, you can comfortably match your charcoal suit with a white or coloured shirt and a matching tie and pocket square. For shoes, we recommend sticking to black dress shoes.
---
Featured Video from Man of Many
---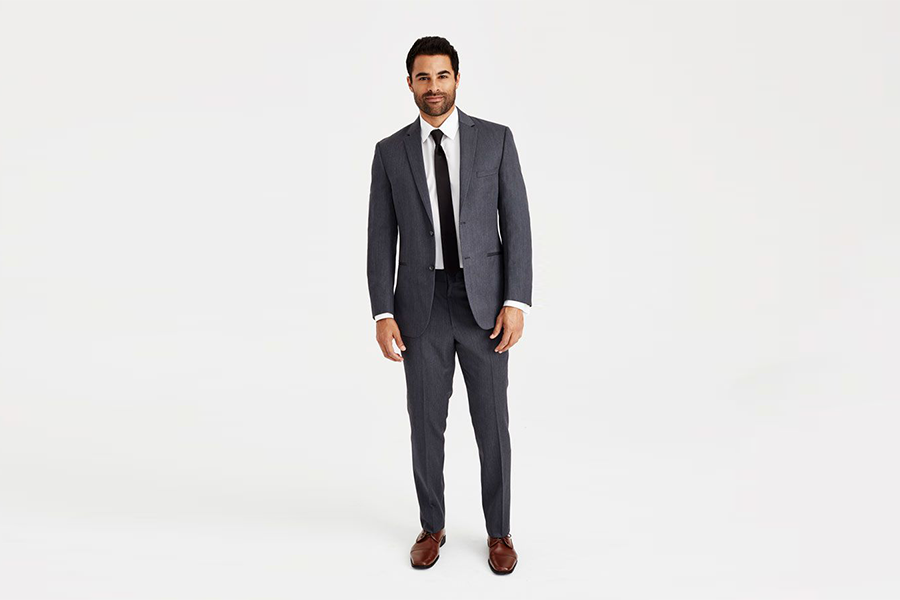 Mid-Grey
In between light grey and charcoal is mid-grey (also known as plain grey). Unsurprisingly, the mid-grey tone has a supremely wide reach, making it appropriate for a slew of dress codes, environments, and colour combinations. In many ways, the mid-grey suit is the most flattering shade to pair some less traditional shirts, ties, and shoes with. We recommend pairing the mid-grey suit with a quality white shirt, black tie, and dress shoes (black or brown, the choice is yours).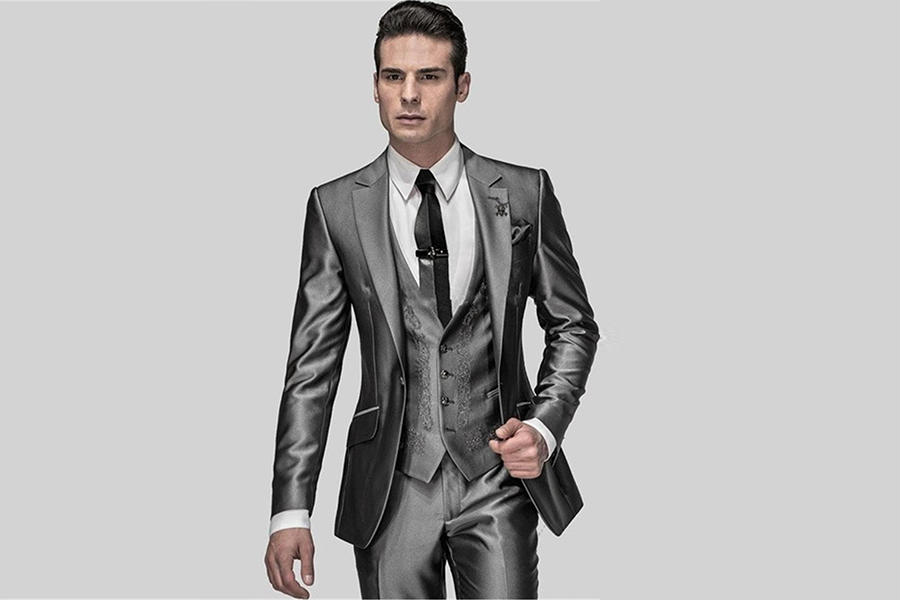 Silver
If you want to be looked at, forget everything else and invest in a silver suit. When shopping for a silver suit, the key feature to look for is reflection and quality quality quality. With a low-quality silver suit you might end up looking like a cheap version of the silver surfer, so make sure you only choose the highest quality tailor. The silver suit is best reserved for the big shot, don't under any circumstances wear a silver suit to a job interview. If you must wear a silver suit, hold back until the time is right, bring it out for a special occasion and pair the suit with a white shirt and black tie.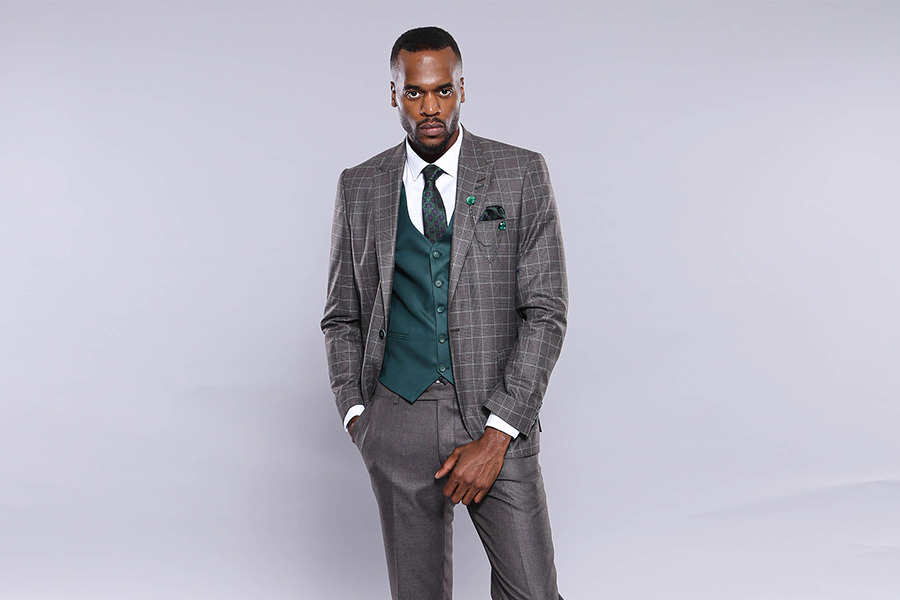 Patterned
The patterned grey suit allows you to casually explore some less traditional prints. A suit of this magnitude will project a certain level of comfort within oneself. The suit is best brought out for semi-formal occasions and parties. The suit will allow your tailor to play with some contemporary materials such as wool, suede, and velour which transforms your attire to either the casual or professional ends of the spectrum. The patterned suit is best paired with brown dress shoes, and colourful shirts, even a matching waistcoat.
What to Wear with a Grey Suit
Okay, so you've decided to wear your new suit to a fancy cocktail party. Thus begins the harrowing process of choosing the right tie, shirt, and shoes. Thankfully, grey is a neutral and versatile colour, so you can basically do no wrong as long as you stay within the parameters of good taste. In other words, avoid neon yellows and orange pastels and you should be just fine. Of course, we'd advise you to do that no matter what kind of suit you were wearing.
Ultimately, grey suits allow you to play with contrasts and you shouldn't be afraid to do so. Light grey will serve as a springboard of sorts, accentuating the darker or brighter colours around it. Charcoal grey, meanwhile, is more of a dominant shade. To give you a better idea of potential combinations, let's break things down by category.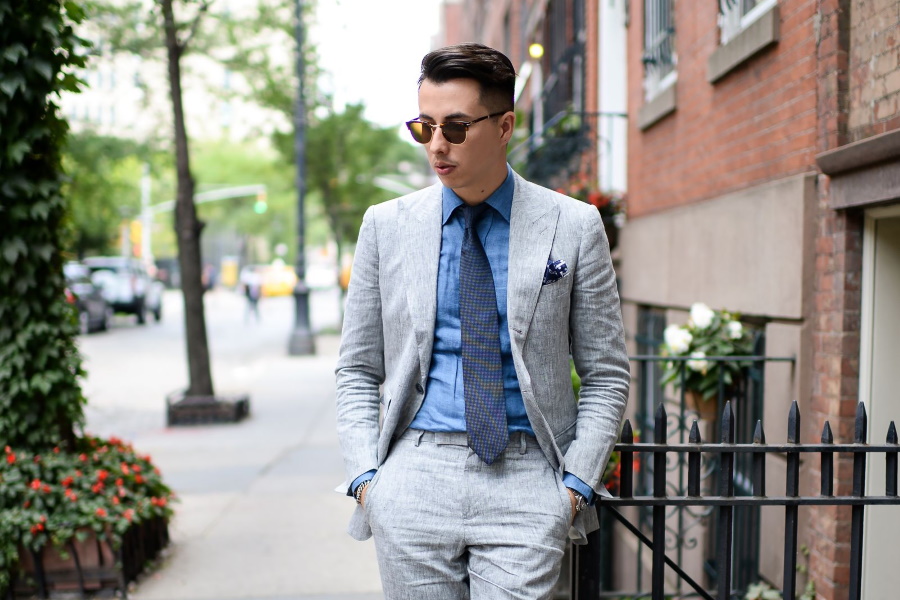 Ties
When determining what tie to wear with a grey suit, don't forget to take both the shade of grey and the event you're attending into consideration. Light grey and mid-grey tend to be versatile and summery and so you can afford to experiment in the tie department, bringing in brighter colours, different textures, and eye-catching patterns. Charcoal grey, meanwhile, is more business-like and professional, meaning you should generally opt for dark and monochromatic ties. For weddings or similar engagements, a charcoal grey suit with a pale pink tie and flower lapel pin makes for a terrific ensemble.
Here are some grey suit and tie combinations and their adjoining statements:
Purple Tie – For something just a step outside the box, consider the purple tie. Synonymous with creativity, it delivers warmth and personality when paired with a grey jacket.
Blue Tie – This colourful combination is like summer in suit form. Seal the deal with a pocket square or a flower lapel pin (or both).
Navy Blue Tie – Pair this elegant combination with a crisp white shirt and you're performing a deft balancing act between contrast and uniformity.
Black Tie – When attending important business meetings, this combination will never let you down.
Red Tie – Red is a highly emotive colour and can send different signals depending on the shade. No matter which shade you land on, expect it to stand out.
Patterned Tie – Grey suits come in various forms, as do the ties that go with them. Rock this combination only when you've mastered the art of sartorial style.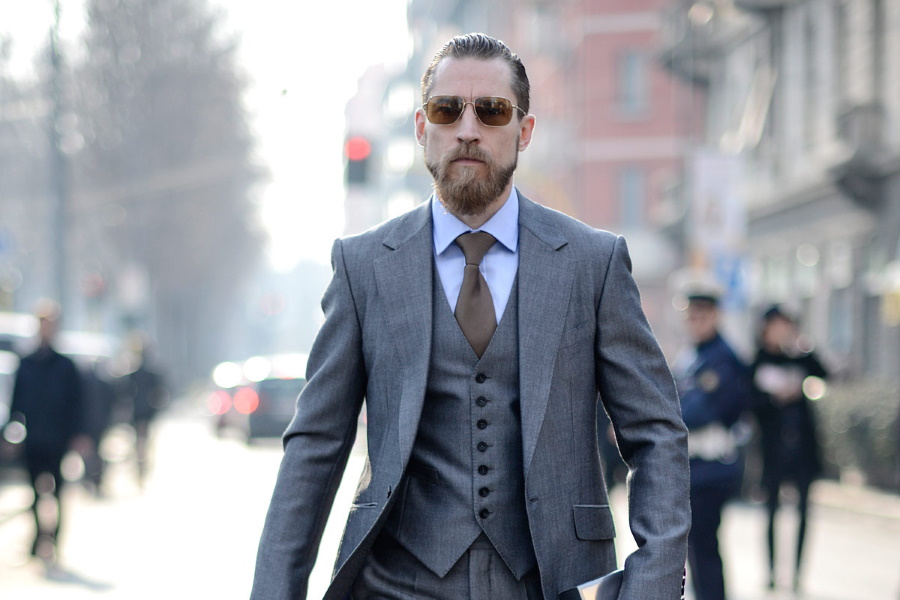 Shirts
As most style experts will attest, you can do no wrong pairing a suit jacket of any colour with a crisp white dress shirt. Grey suits are naturally no exception. Of course, white is far from your only option. Here are some others:
White Shirt – The white shirt is for the formal event or wedding. When all else fails the white shirt and grey suit combination pulls through with a touch of elegance and simplicity.
Pink Shirt – Whenever you opt for the coloured shirt underneath the monotone jacket you're looking to make a statement. The pink shirt and grey suit combination has a history of success when executed properly. We'd recommend choosing a pale pink and pairing it with a light grey for less formal occasions.
Blue Shirt – The light blue shirt is a reasonable statement that reflects many of the same characteristics of the pink shirt. The blue shirt is less of a statement maker then the pink shirt, however, make sure you match the blue shirt with a light grey or patterned suit to make a more casual statement. Combine the blue shirt with the light grey suit and you have yourself a tasteful play in contrasts.
Black Shirt – The black shirt is the definition of a power move. The combination has been popularised by the likes of Chris Hemsworth and Russell Crowe. The black shirt and grey suit combination is best paired with a black or grey tie and finished off with a black pocket square and black shoes.
Red Shirt – There is a simple rule when wearing a red shirt with any shade of grey suit. Should you wear this somewhat bold combination, make sure you match the shade of red with the shade of grey, that is, match a light grey with a light red and vice versa. Ultimately avoid bright reds and try to stick with a deeper or lighter hue. The redshirt is best matched with a grey tie and black shoes, avoid burgundy shoes at all costs!
Black Turtleneck – The turtleneck and suit combination is always there for you if you want to rock the smart casual look.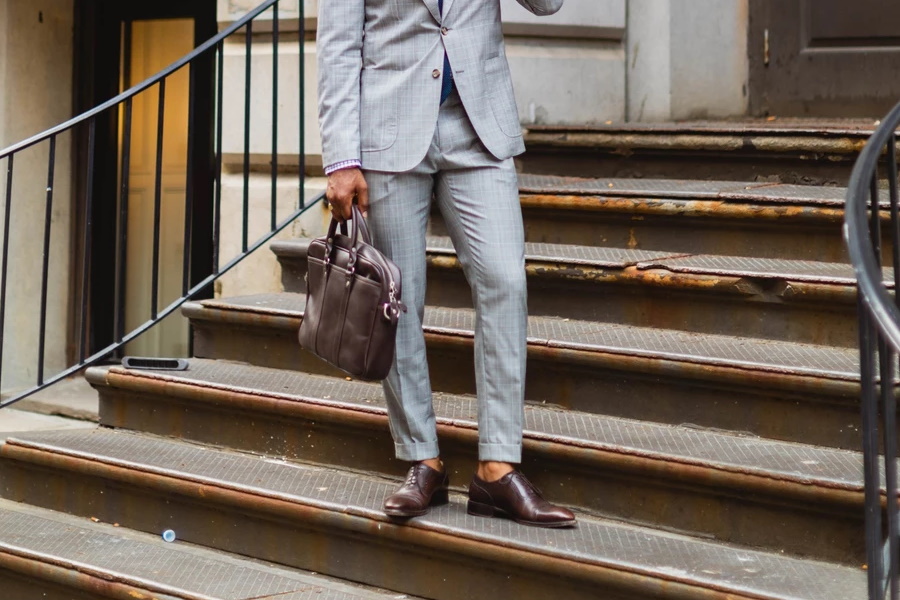 Shoes
What shoes to wear with a grey suit will vary depending on a variety of factors. The most important things to consider is the shade of your grey ensemble as well as the environment in which you'll wear it. For instance, a light grey blazer with minimalist sneakers makes for a savvy smart casual get-up.
If you're attending a formal or semi-formal event, leave the sneakers at home and throw on some brogues, monk straps, Oxfords, or loafers instead. The grey suit is fundamentally neutral, as such, you have plenty of choices in terms of colour, meaning tan, brown, black, and burgundy alike. Among them, burgundy might be your boldest bet, as it plays off the grey to heightened effect.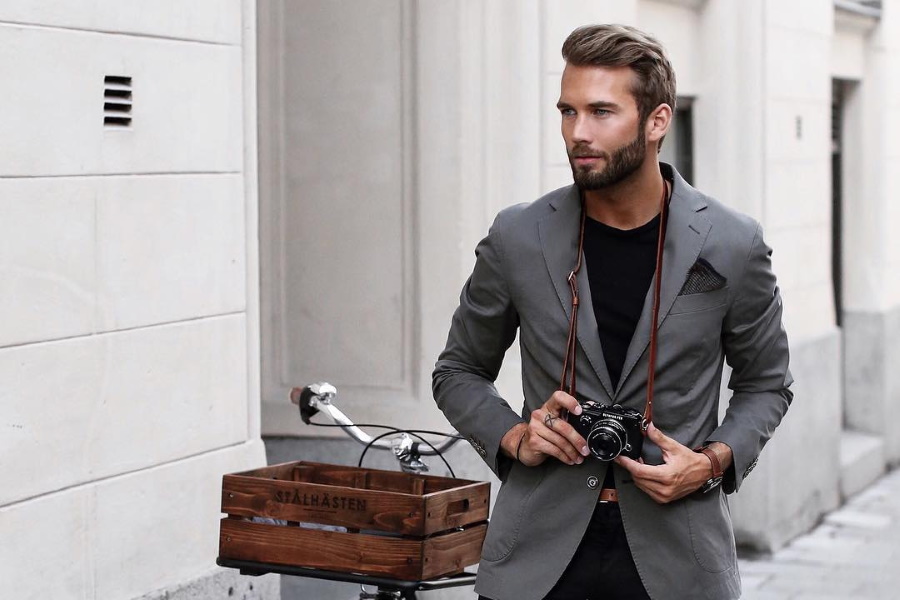 When to Wear a Grey Suit
You can safely wear a grey suit to virtually any kind of event, including cocktail parties, business meetings, weddings, upscale sporting events like the Melbourne Cup, and so on. Even when the invitation says "black tie," there's a grey tuxedo with your name potentially written all over it—just be prepared to stand out (you might even want to clear that tux with the host in advance).
Ultimately, you can consider grey to be almost as reliable a colour as blue or black. For a safe and classic ensemble, pair your grey jacket with matching pants, a white shirt, a dark tie, and dress shoes. When you feel like mixing things up, bring more colour combinations into the fold, such as black pants, muted blue shirts, and so on.
The more confidence you gain, the more you can experiment in virtually every regard. On that note, don't forget that grey suits come in various forms, such as wool, linen, and plaid. It's all about starting from a point of relative familiarity and then branching out as you proceed. Along the way, keep the following pointers in mind:
Grey suits and accessories definitely go hand in hand. Remember to bring in a dress watch, flower lapel pin, pocket square, or some combination of the above. Of course, make sure everything matches.
You can never go wrong with the classic combination of a white shirt, black tie, and grey suit. On the other end of the spectrum are pastels like pink and powder blue, which go well with a light grey and brighten up any day.
When it comes to metallic accents or hues (tie clips, lapel pins, cufflinks, etc), stick with silver or white gold.
When dressing smart casual, light grey is your friend. For business meetings and professional engagements, charcoal grey will never let you down.
Striking a middle ground between light grey and charcoal grey is mid-grey, which is predictably versatile.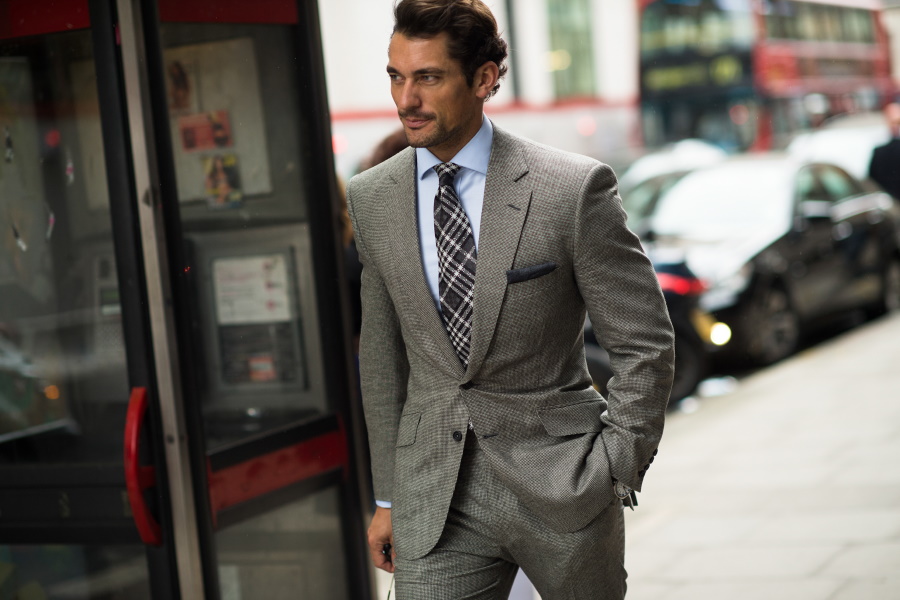 18+ Best Ways to Wear a Grey Suit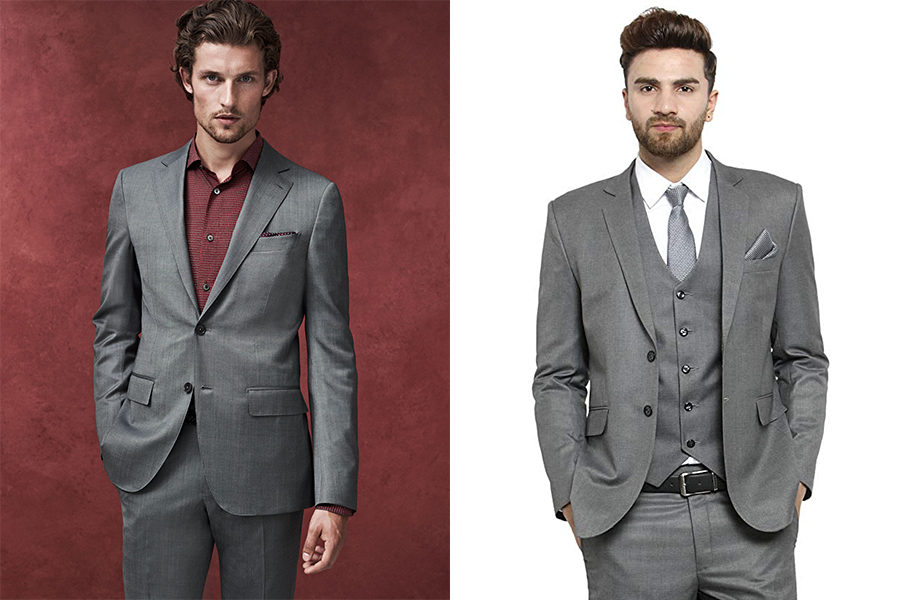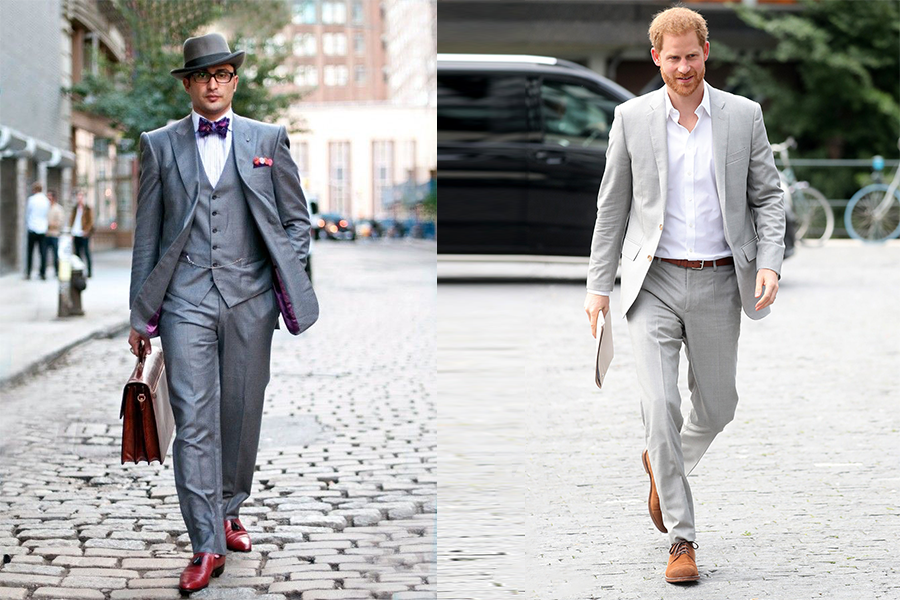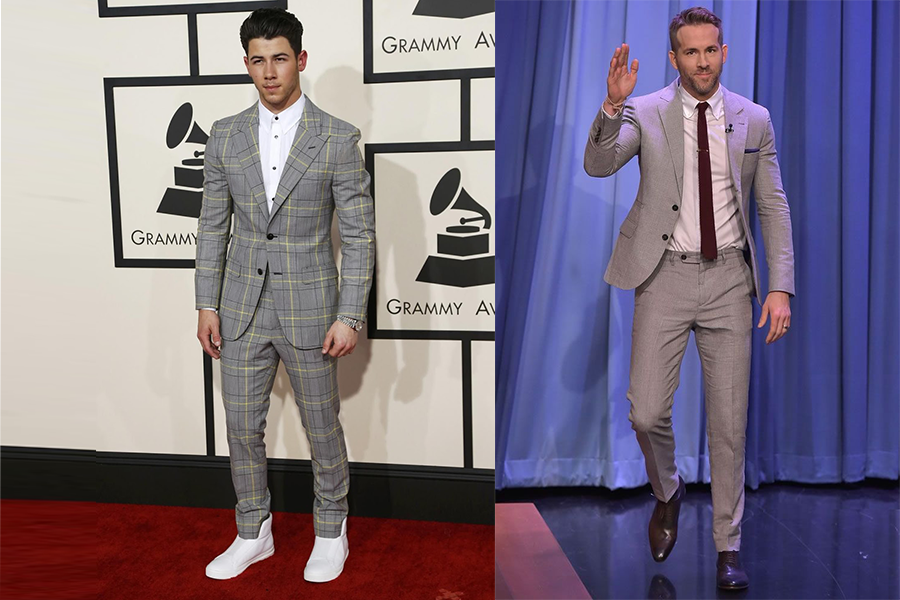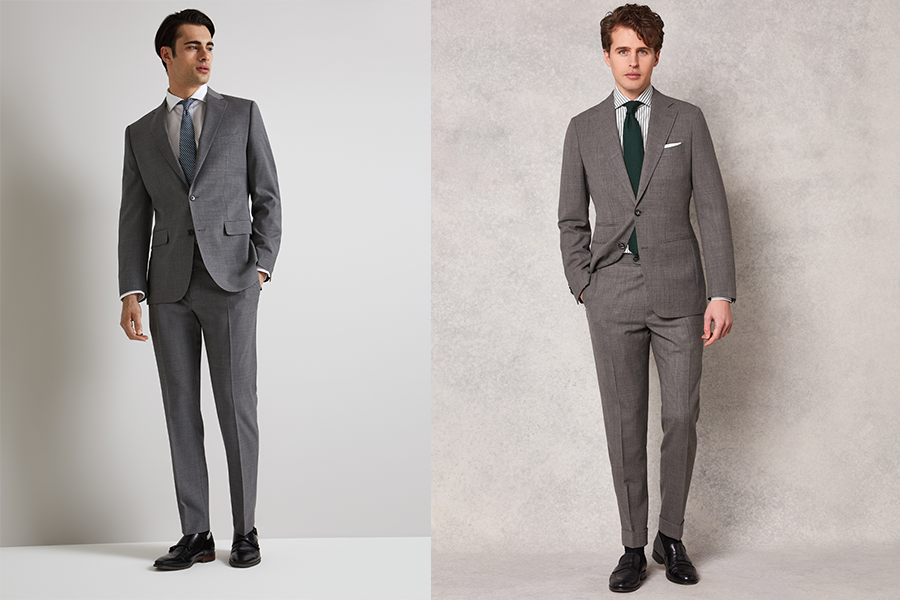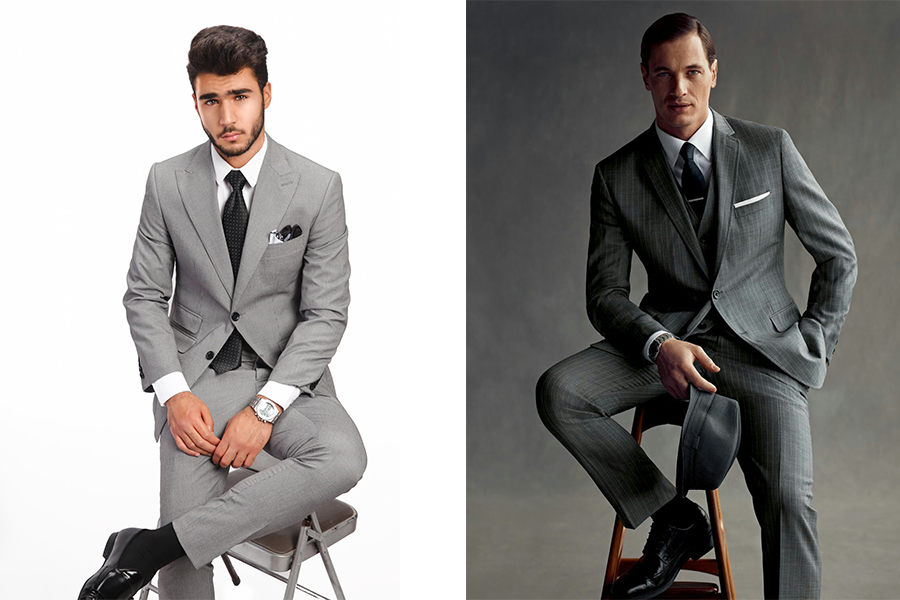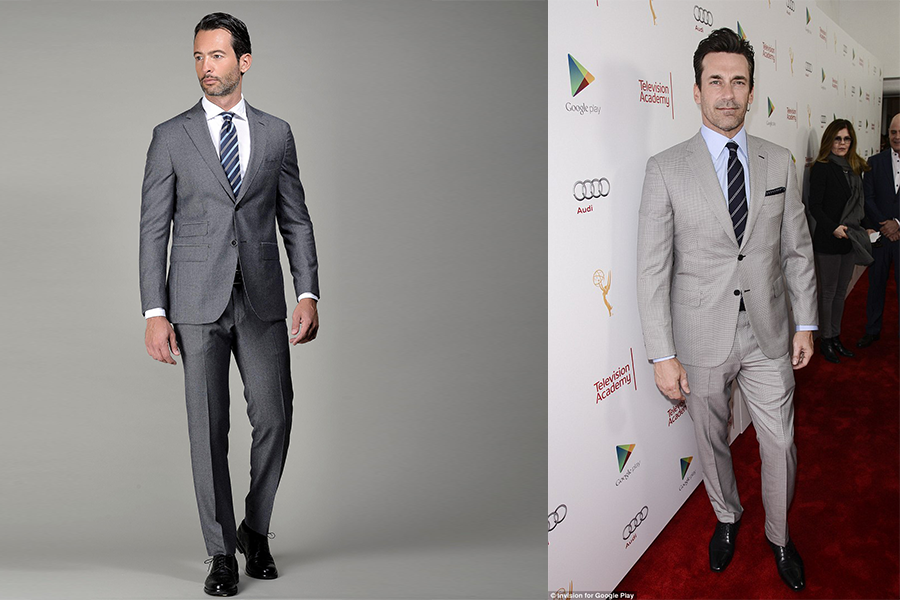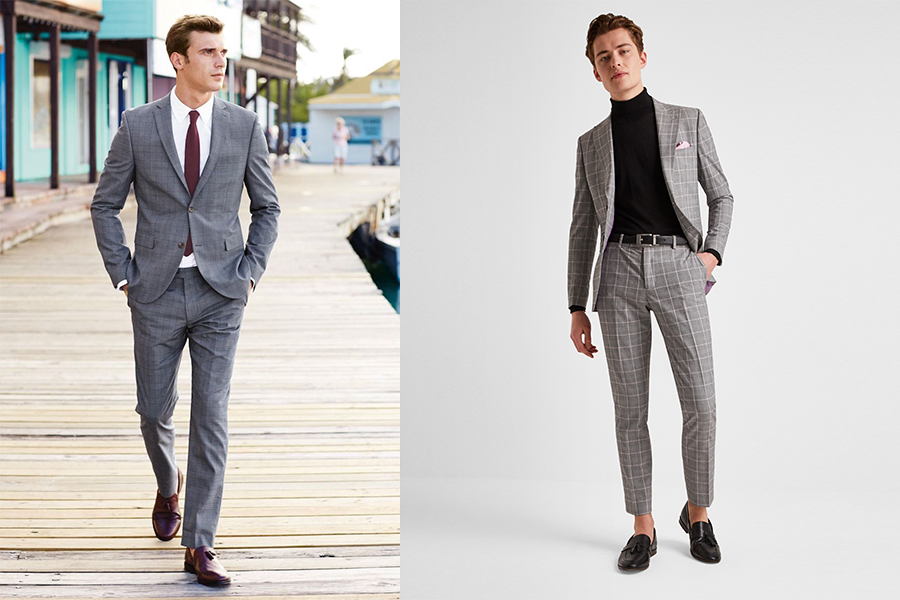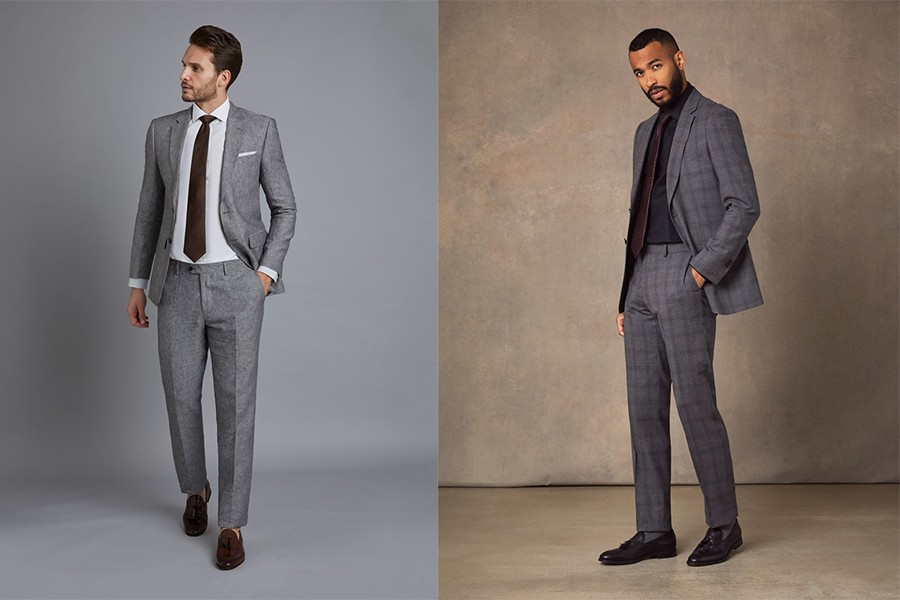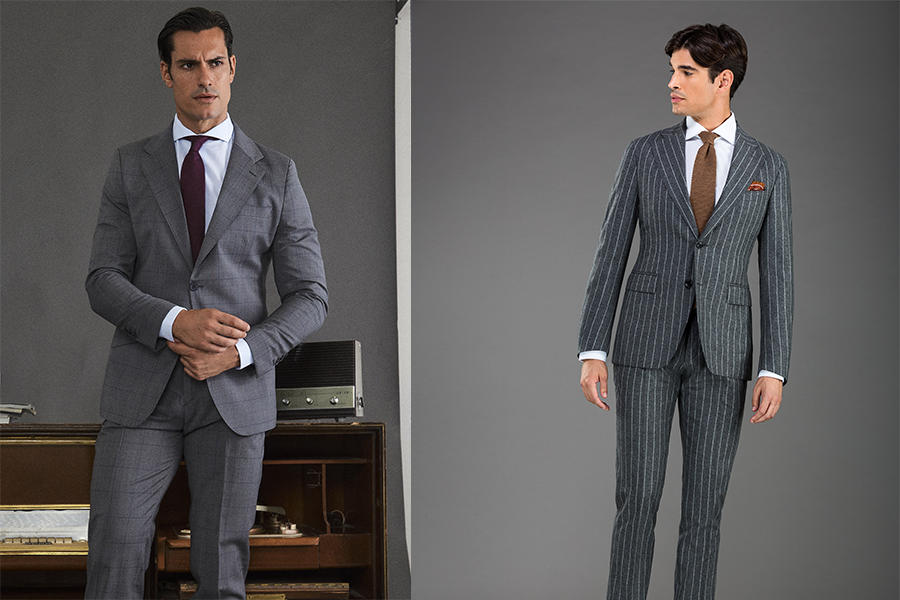 What colour shirt goes best with a light GREY suit?
A grey suit of any tone will always match a crisp white shirt. To cultivate a little more distinction, wear a blue or light blue shirt with your grey suit.
Can I wear a light GREY suit to a wedding?
Light grey suits are traditionally associated with the smart casual and semi-formal dress codes. It's not completely unheard of to wear a light grey suit to a wedding, but you're probably better off with a mid-grey or charcoal grey suit.
What colour shoes go best with a GREY suit?
For medium grey suits, black dress shoes are your safest bet. If you want to draw more eyeballs, burgundy makes for a subtle study in contrasts, even if it projects a slightly more casual aesthetic.
Is a light GREY suit professional?
Light grey suits are typically considered more casual when compared to charcoal grey suits. In a business setting, you're better off going with charcoal grey.
What does a GREY suit mean?
Depending on the tone and texture, grey suits can convey everything from amicability (light grey linen) to isolated power (charcoal grey silk suit) Choose your shade and fabric wisely.
What color suit is most professional?
Black and navy blue are arguably the most professional suit colours, with charcoal grey trailing close behind.
You'll also like:
3 Suits Every Guy Should Own
Blue Suits for Men: Types, Brands, How to Wear
20 Best Tailors and Bespoke Suit Shops in Sydney
---
Featured Video from Man of Many