This 1800 Tequila x Jody Just Jacket is An Intense Visual Piece of Art
In Partnership with 1800 Tequila
When he's not crafting hand-painted custom garments for Post Malone and Swae Lee, Sydney-based designer Roman Jody is locked away in his Marrickville studio fanning a different flame. Bold by nature, the designer behind Jody Just marches to his own drum, blending elements of traditional Americana with contemporary nightclub aesthetics to create something that feels almost…dangerous. And like the touch of fire lurking in his favourite 1800 Tequila cocktail, Jody's pieces hide beauty behind abrasion. Sure, not everyone will get it, but for Roman, that's kind of the point.
"It's all about energy, I want people to have like a reaction," he says. "It's not supposed to be muted lifestyle wear at all."
Famed for his label's signature custom cowboy hats, Roman's work is an exploration of influences and textures. Playfully toying with velvet tracksuits, gothic crosses and splashes of graffiti lettering across upcycled jeans, Jody Just is a master of modern rebellion, but the path to fashion's inner circle has been a slow burn.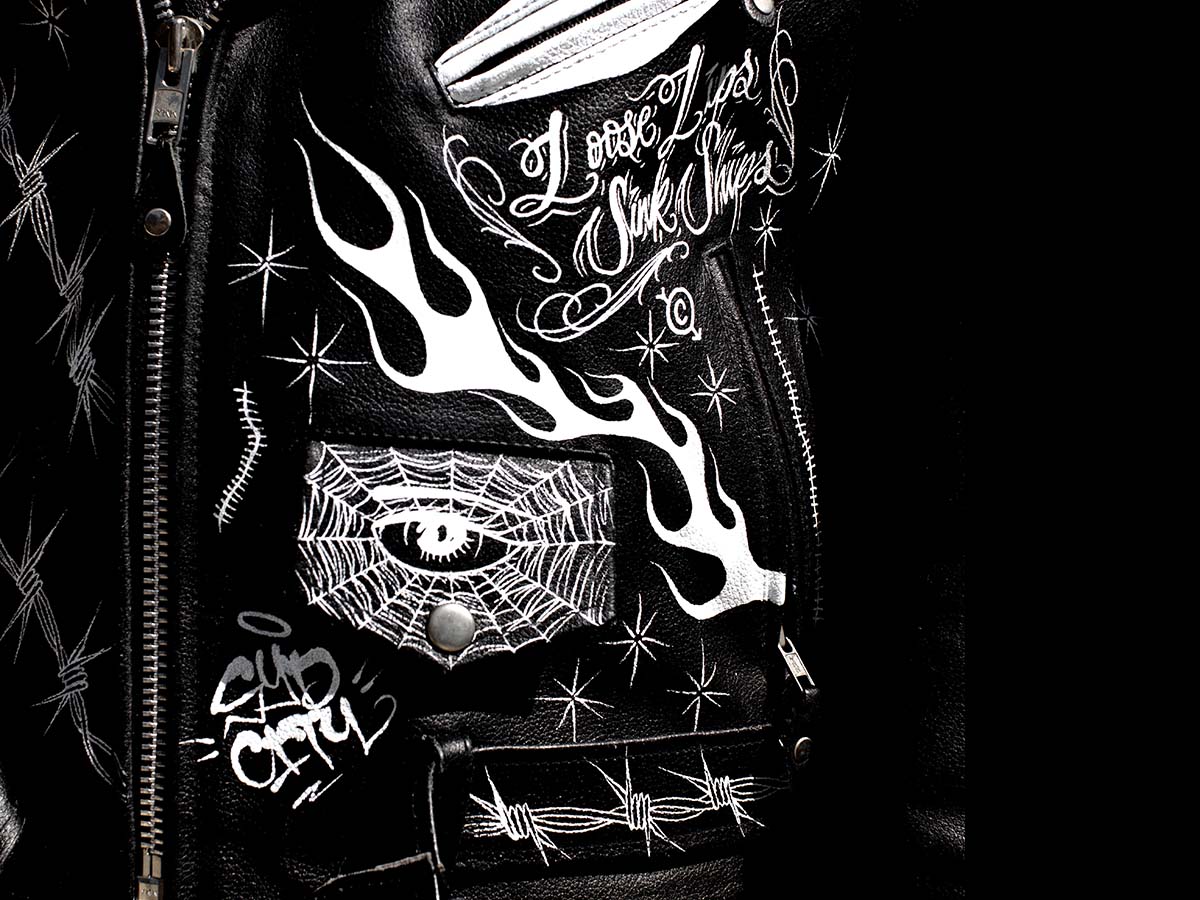 Raising Hell in NYC
Destined for bigger things, Roman's endeavour has always pushed boundaries, both creatively and geographically. In fact, by age 19, the then-aspiring creative had packed up and moved to the Big Apple, something he describes as a true culture shock.
"It was like the best type of culture shock. It wasn't intimidating, something that made me retreat into myself – it was one where I realised there was this playground for adults," he says.
For the kid from suburban Sydney, the infamous skyline opened a new chapter of exploration, littered with history and the promise of reinvention. Taking his talents to the iconic Parsons School of Design, Roman forged ahead with a new vision. Influenced by the boisterous New York art, music and fashion scene, Jody Just – the label was born.
"New York gave me the freedom to do, express, and be however I wanted. I always felt there was a level of tall poppy syndrome in Sydney. It's sometimes hard to talk about or express yourself," he says. "Living in New York and studying, designing became my creative outlet. It turned into like a primarily custom-based brand where I would just do a lot of upcycled pieces, and that just made more sense logistically for me, but also it was a nice point of differentiation, 'cause it was something that was more unique to me. I knew that I was the only one who could get me to do this."
In between stints moonlighting as a DJ, Roman's early pieces were inspired by the New York nightlife scene and speak to the fluidity of rebellion. Landing somewhere between punk and sensibility, refined yet gritty, the Aussie designer found a kinship with premium spirits brand 1800 Tequila that goes deeper than just good taste.
"I've always loved tequila and the 1800 brand," he says. "When I was DJing in the States, it was all I drank. I'm inspired by hardcore music, that gritty aspect, but then I've also always liked that nightlife scene, because it's gritty but flashy. Just on a personal level, it makes sense. It is not designed to blend in. When you wear something that is custom made, that is a big, intense visual piece, it's to draw that attention. You have to be aware."
The Prodigal Son Returns
It was precisely that self-righteous attitude that caught the attention of Post Malone, opening the door for more celebrity placements. His custom upcycled jeans and cowboy hat served as the key statement pieces throughout the rapper's Australian tour, birthing a modern western maverick aesthetic that has helped capture worldwide attention. It meant validation for Roman and more importantly, the opportunity to branch out into cut and sew, but that niggling Sydney voice still lingered.
"Even after a few years, I still didn't really take the brand seriously. I never thought that I would really be able to make a career out of it. It was almost just a resume piece," he says. "Then I just thought, all right, we're doing this. I'm going to put all my attention into it and give Jody Just a shot. That's when I decided to move back to Sydney."
Turning his attention to Jody Just as a full-time option, Roman set his sights on developing a movement. Launching his first capsule collection, Candy Flip in 2021, the designer threw a combination of cut-and-sew pieces and hand-painted bespoke garments together with surgical precision. The response was enormous, capturing global recognition and now, Sydney's own nightlife fashion maverick has teamed up with a back bar icon from his past.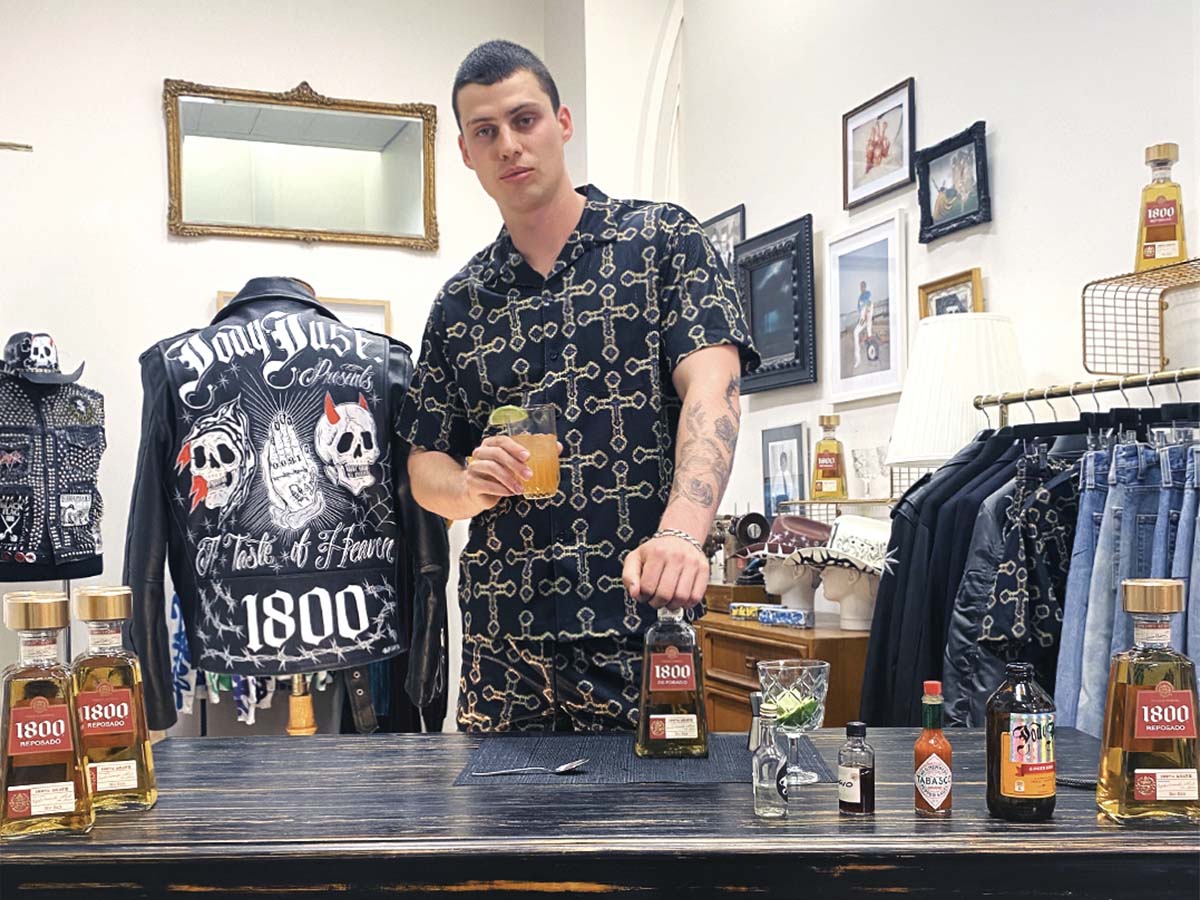 1800 Edge x Jody Just
To celebrate unapologetic underground trailblazers, premium spirits label 1800 Tequila launched a campaign, '1800 Edge'. A collaboration of ideas and motives, the brand tasked Roman with crafting a bespoke garment that encapsulates his personal flavour in true, trademark style. Ever the renegade, only one piece came to mind.
"It's all about going against the grain, so we did an upcycled vintage motorcycle jacket that I got in Sydney at Route 66, which is not only on-brand for 1800 Tequila, but a place that I frequent," he says. "The leather jacket has always been this symbol of rebellion throughout pop culture and historically in movies. It symbolised rebellion and the freedom to do whatever you want. That made sense to do a leather jacket in that way, because it is that maverick attitude."
Emblazoned with skulls and praying hands, the bespoke garment is reminiscent of those early Jody Just custom pieces, but with a decidedly more refined artistic flare. It still has that head-turning attitude, but there's a maturity that can't be denied in Roman's new work with 1800 Tequila. Much like the premium 100% agave Tequila, the latest Jody Just collaboration garment is refined to an art form. Where 1800 has remained uncompromising commitment to passion, hard work, and honesty, Roman's work bears a similar renegade approach. Sure, it's big, bold and demands your attention, but peel back the layers and you're met with a subtle sophistication and the technical skill to back it up.
"It's a labour of love. I genuinely don't want to sell it or give it away, I really see it as artwork."
The Juicy Just
Naturally, the collaboration didn't stop at a custom leather motorcycle jacket. Working alongside 1800 Tequila, Roman developed a bespoke cocktail that perfectly captures his bold take on life. Enter, The Juicy Just.
"When we worked together on this cocktail, I said, you got to make something that's dark and intense. That has a bit of oomph to it, to represent that jacket and the ethos," he explains. "It was really important for me to make something that is actually sick and that does the 1800 Tequila brand justice. What we've ended up with is an embodiment of Jody Just and 1800 Tequila, that's the whole point. It's something that I'm genuinely into and does feel like a kind of authentic connection. It's dope."
Starting with 1800 Tequila's classic Reposado and blending it with amaro, ginger beer and a few dashes of Tabasco, the cocktails leave you with a burning sensation that you won't soon forget. In a way, it's the perfect marriage. Much like his designs, The Juicy Just is spicy and abrasive on the palate, with just enough sweetness to keep you wanting more.
Ingredients
40ml 1800 Reposado
10ml Amaro
10ml Simple Syrup
20ml Lime
120ml Ginger Beer
3 Dashes Tabasco (or alternative hot sauce)
Method
Add ice to a tall glass
Build in all ingredients
Stir thoroughly
Garnish this with almost anything: a lime wedge, capsicum slice, candied ginger, charred chilli, cooked pineapple with cayenne, go crazy!