16 Best Bomber Jackets for Men
A bomber jacket is a staple in any fashionable man's wardrobe. There is plenty of variety when it comes to the versatile jacket and we firm supporters of the belief that there is a perfect bomber jacket for every occasion. We believe three is the magic number and have done some research to help you find the perfect classic jacket, good quality jacket and lightweight jacket. With one of each, your wardrobe will be brimming with jackets to complement any outfit and suit any type of weather. Whichever you choose, you can't go wrong with one of these bomber jackets.
16 Best Classic Bomber Jackets

1. Alpha Industries MA-1 Parachute
This trendy parachute bomber jacket from Alpha Industries is versatile and timeless. The jacket features a ribbed band collar, ribbed cuffs and a ribbed hem for a cool, finished look. There are plenty of pockets as well, so not only is the jacket stylish, it's also functional. The fit is roomy, which means it's great for layering.
Brand: Alpha Industries
Style: MA-1
Material: Nylon/polyester
Price: AUD$278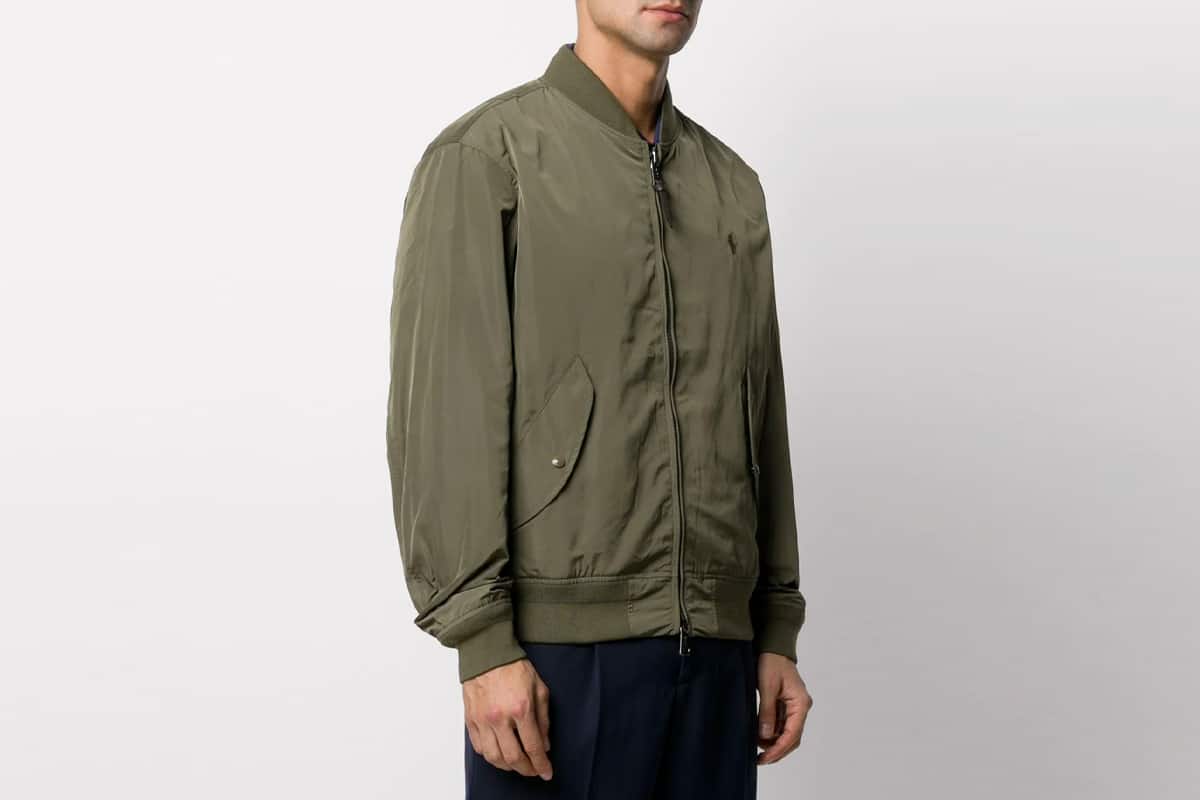 2. Polo Ralph Lauren Embroidered
If you want to rock up to your next social occasion looking fierce and classy, this suit-style bomber jacket by Ralph Lauren will certainly help you out. The olive green is as regal as it sounds and combined with a high standing collar- you may as well be the star in the next Bond film. Best of all, the jacket is functional with front flap pockets at the front and is made from a breathable wool blend.
Brand: Ralph Lauren
Style: Casual
Material: Polyester
Price: AUD$484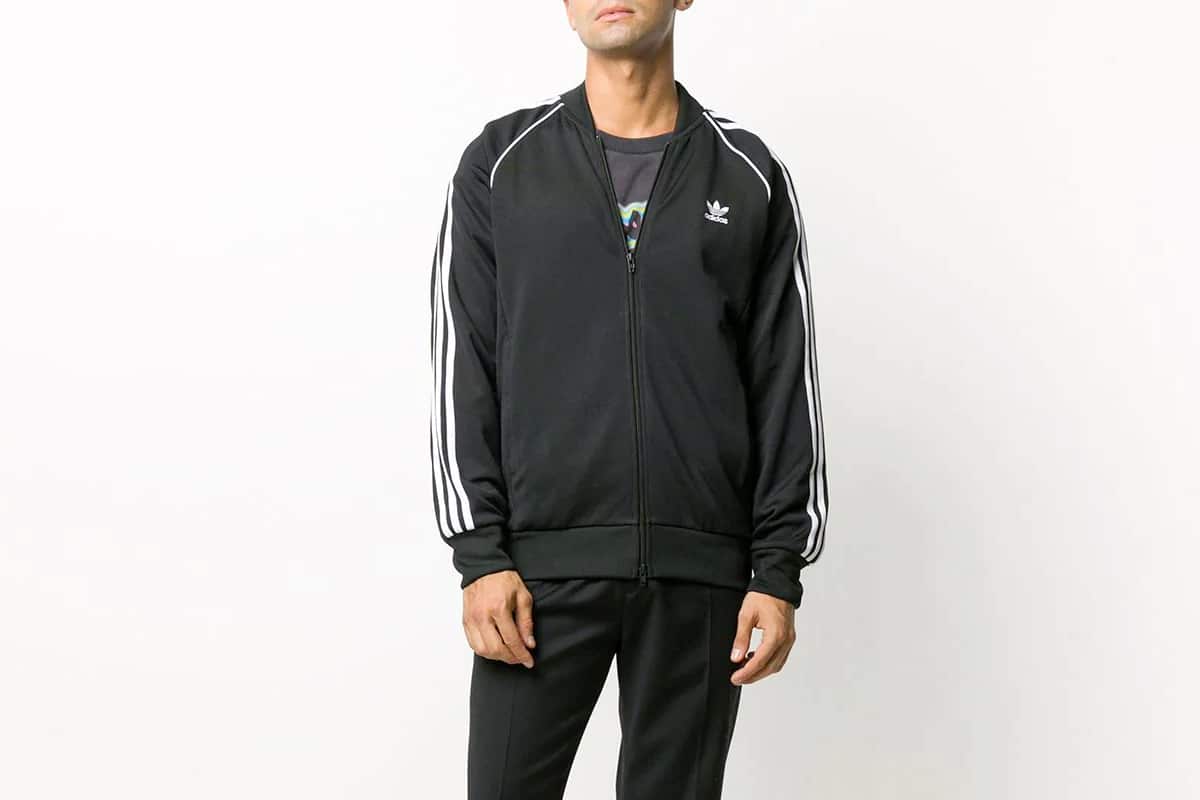 3. adidas Stripe
Sporty-chic with a conscience, the adidas stripe bomber jacket can do no wrong. If you like to feel comfy and appear relaxed, this classic jacket in black and white is the simple solution to a versatile, cool, comfy jacket. The fit is relaxed, and the jacket features a front zip fastening. Most importantly, at least 50 per cent of the material this jacket is made from either organic, recycled or upcycled material.
Brand: adidas
Style: Sport
Material: Polyester/cotton
Price: AUD$103
4. Men's Icebreaker City Label Cool-Lite Merino
Designed for comfort and layering around thttps://www.lululemon.com.au/en-auown, this bomber jacket from Icebreaker is made of Merino wool and features a woven face fabric that is internally bonded with Cool-lite to keep the jacket lightweight and breathable. The blend of merino and TENCEL is designed to wick moisture away from the body and the contoured shape promises that this bomber is guaranteed to stay a versatile staple for years.
Brand: Icebreaker
Style: Casual
Material: Merino wool-woven face fabric
Price: AU$550.00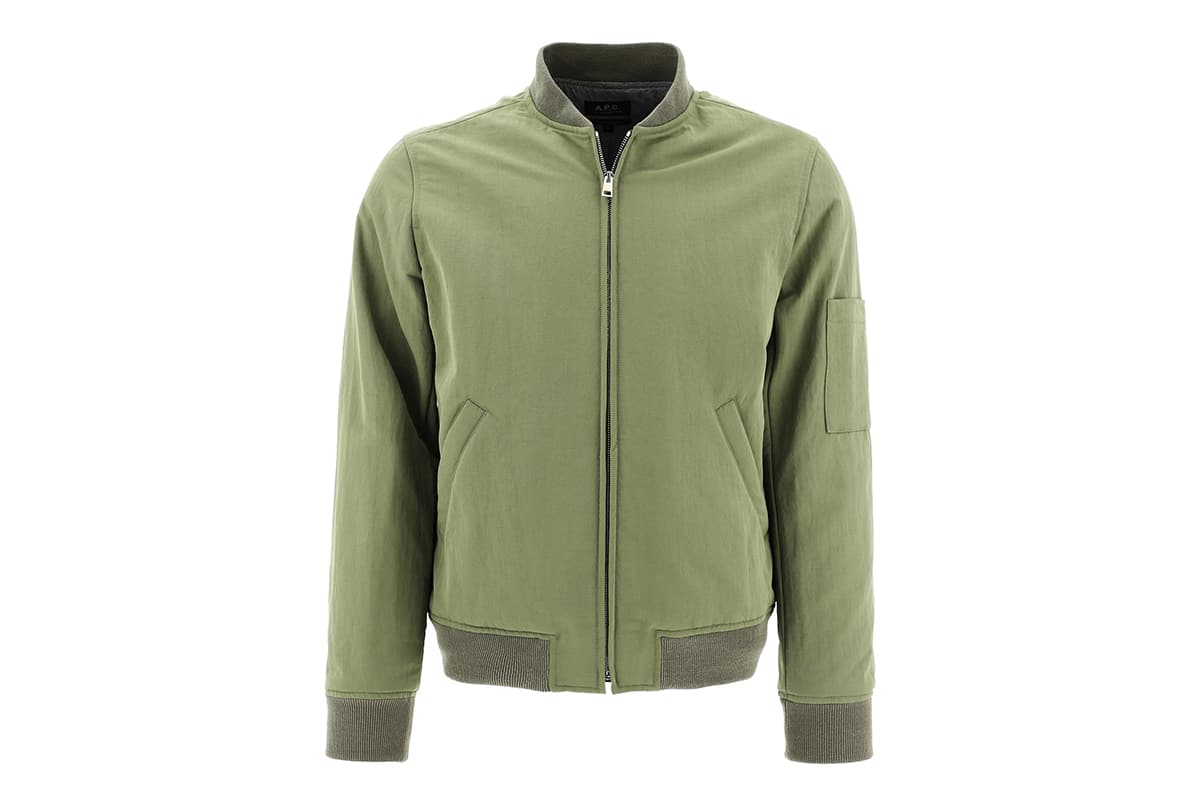 5. A.P.C. Grégoire Gabardine
A classic bomber jacket with a vintage touch, the A.P.C Grégoire Gabardine jacket is one of our favourite styles. The jacket is modelled after classic flight styles with a striking army-green shade and a hard-wearing gabardine. The jacket even features a patch pocket on the sleeve and is fully lined.
Brand: APC
Style: Flight
Material: Polyamide
Price: AUD$625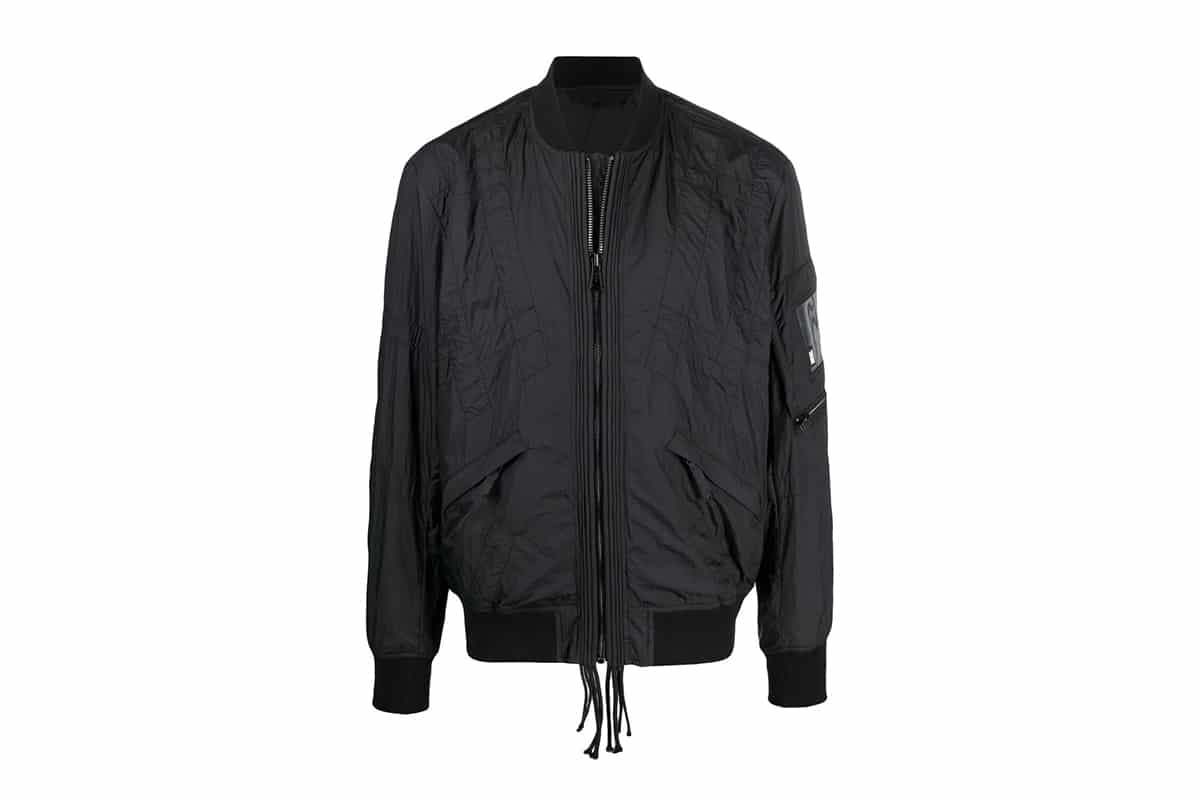 6. Diesel Stitched
There's nothing safe about this black bomber jacket from Diesel. To complete a dapper and dangerous look, the jacket is perfect. It features a baseball collar and a front zip for a fresh, stylish finish. The nylon finish will keep you warming whilst not comprising on style. Comfort is also key here- the elasticated cuffs and hem meaning it will fit perfectly pre-lunch and post-lunch!
Brand: Diesel
Style: Flight
Material: Nylon
Price: AUD$488
Best Quality Bomber Jackets

7. Stone Island Logo Patch
Stone Island is known for its unique textiles and fabrics, and this bomber jacket is no exception. The style perfectly complements the brand's selection of military-inspired designs and uses 100% polyamide, making it extremely durable as well as stylish. Beyond the materials, the jacket boasts two side inset pockets, a striking straight hem and a logo patch at the sleeve.
Brand: Stone Island
Style: Casual
Material: Polyurethane Resin
Price: AUD$785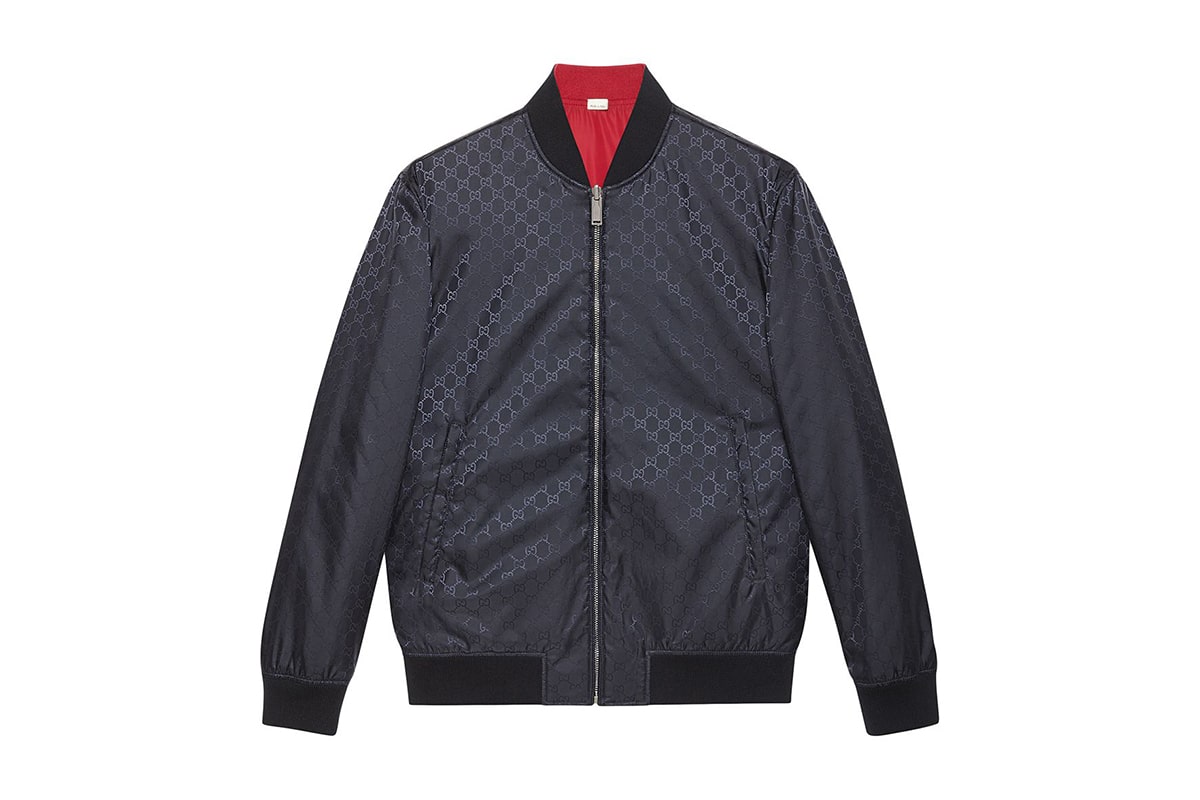 8. Gucci GG Pattern Reversible Bomber
Gucci is famous for its seamless combination of style and quality. The Gucci GG pattern reversible bomber is a shining example, sleek and effortlessly cool and made with quality material that won't wear over time. This navy-blue bomber features a ribbed collar and an all-over GG pattern which we love. The style is reversible, so rock whichever look you feel depending on your mood!
Brand: Gucci
Style: Luxury
Material: Polyamide/Cotton
Price: AUD$2,170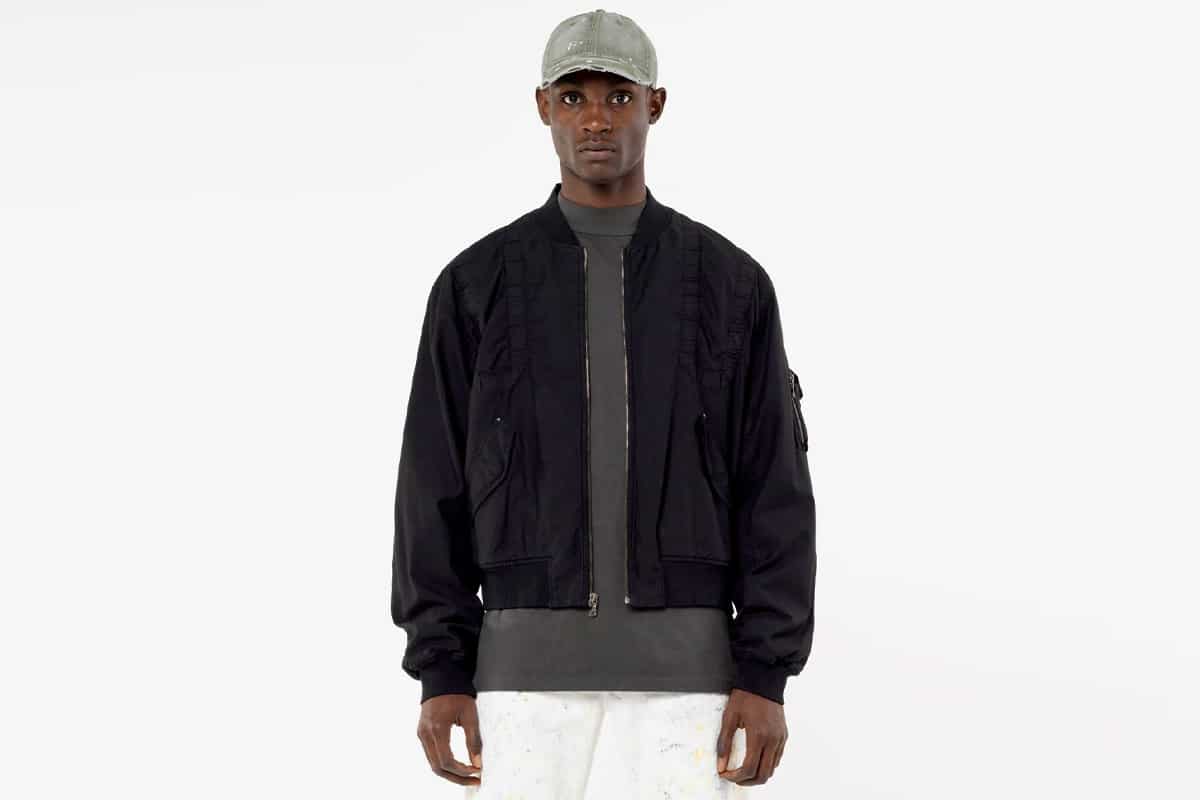 9. John Elliot Cotton Poplin Frame Flight Jacket
Keep cool while sporting a trendy layered look with this lightweight cotton poplin frame flight jacket by John Elliot. The style is fairly classic, with a subtle but fresh tonal rib at the collar, hem and sleeves. We love the geometric texture of this jacket, which comes from the combination of heavy herringbone tape with cotton poplin. The best bit- this jacket features hidden straps in the back pocket which function as a backpack!
Brand: John Elliot
Style: Casual
Material: Cotton
Price: AUD$700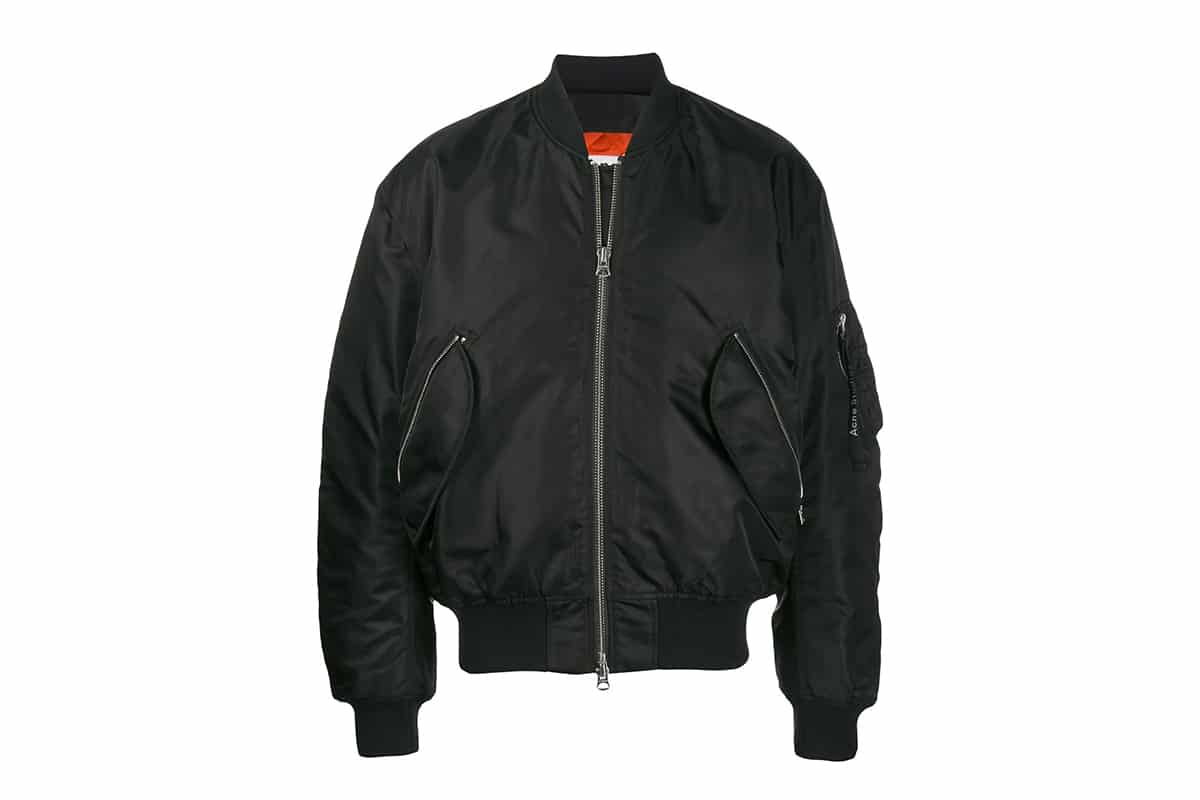 10. Acne Bomber
Acne Studios latest pilot bomber jacket in shiny nylon is classic, durable and the height of cool. Not only does the nylon finish and diamond-quilted fabric lining make you stand out from the crowd, it means the jacket is water repellent and can take any wear and tear. This is an oversized fit and comes at a cost, so save up your pennies!
Brand: Acne Studios
Style: Flight
Price: AUD$930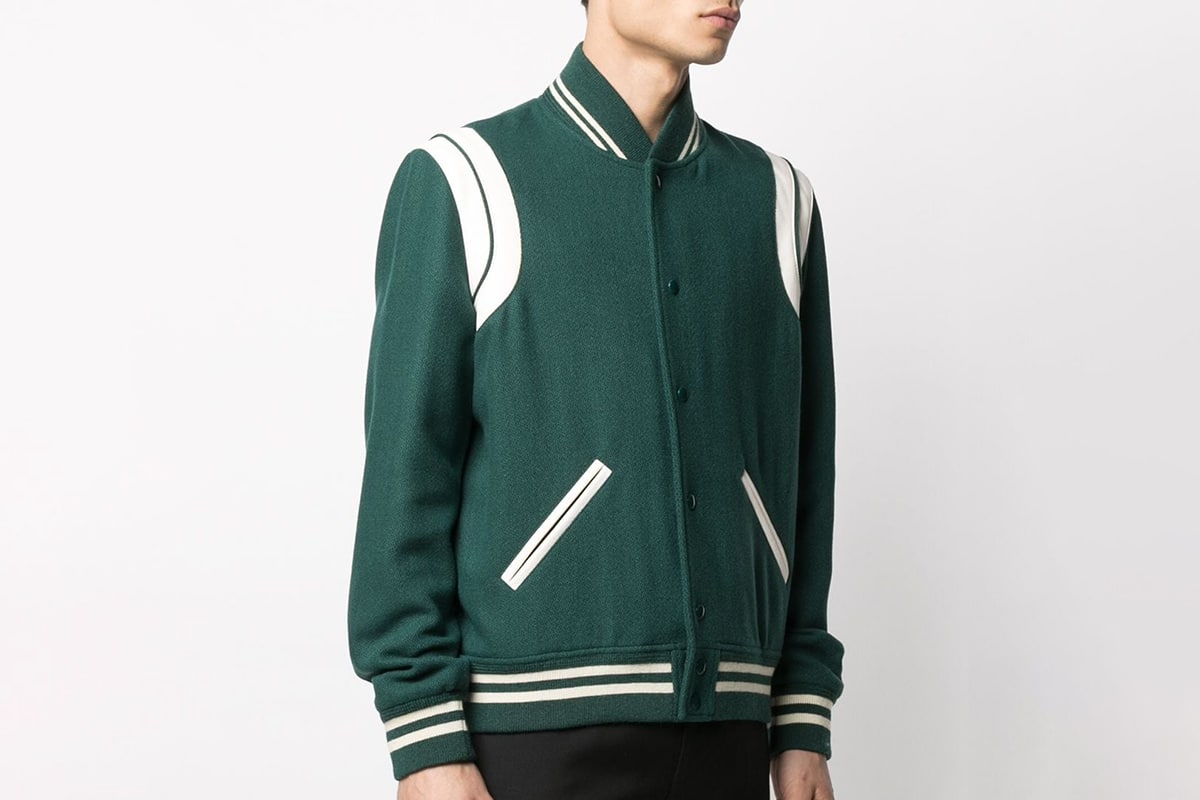 11. Saint Laurent Teddy
Get ready to be crowned the king of streetwear with this teddy bomber jacket from Saint Laurent. Rock the relaxed baseball player look, but without the scrappiness. In a cool green, the jacket is made from virgin wool-blend and lambskin. The pockets diagonal positioning looks sharp whilst also remaining functional. The jacket's snap button fastening, and stand-up collar is the perfect finishing touch that casts just the right amount of streetwear finesse.
Brand: Saint laurent
Style: Preppy
Material: Lamb skin
Price: AUD$2,800
Best Lightweight Bomber Jackets

12. Lacoste Reversible Lightweight Bomber
Another jacket with two moods, Lacoste delivers one of its most versatile, trendy jackets with their reversible lightweight bomber. There is one solid side with flat pockets and one bicolour side with flap pockets. If you love variety, this jacket comes in a variety of subdued colours perfect for your palette. It is a lightweight quilted fabric, perfect for a layered outfit.
Brand: Lacoste
Style: Casual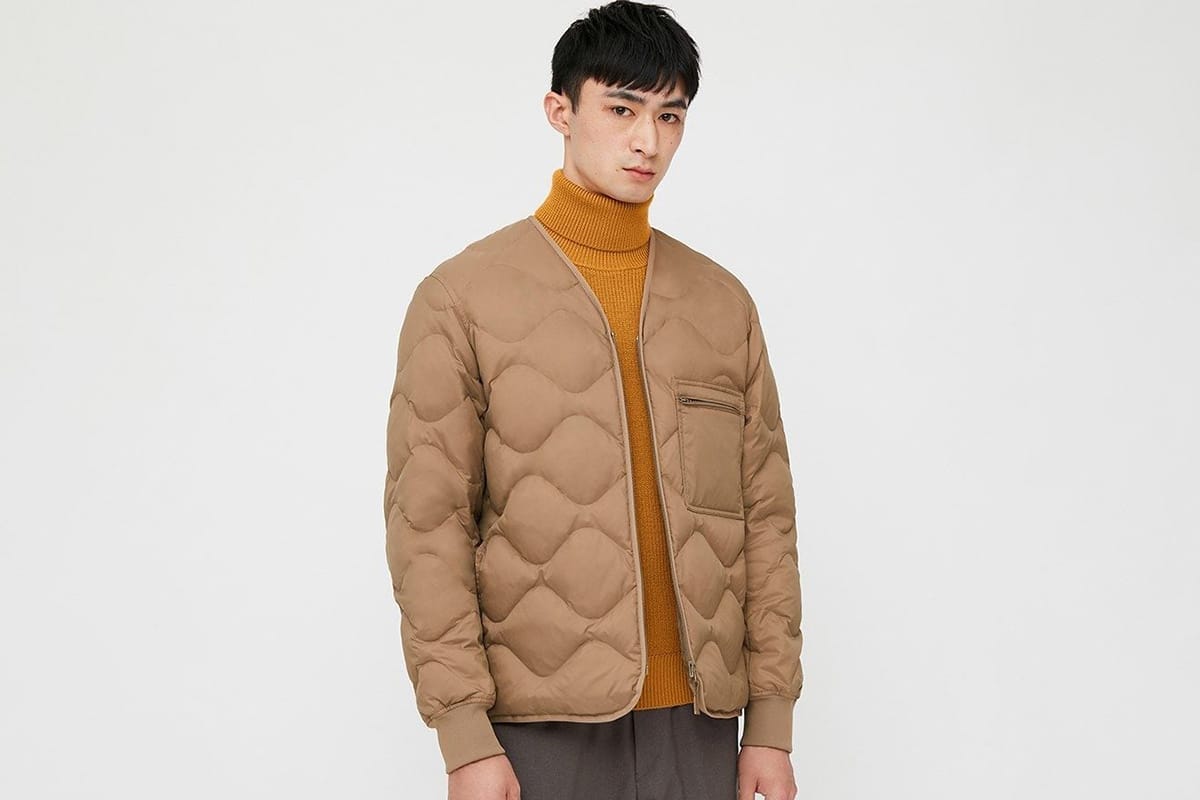 13. Uniqlo U Recycled Down Jacket
The humble brand is great for finding classic, staple pieces to add to your wardrobe. The recycled down jacket is the newest to their collection, dedicated to unique, functional design. The jacket has a V-neck, so it's perfect to throw over a tee you want to show off. The jacket comes in four different colours, so pick wisely or get all four!
Brand: Uniqlo
Style: Casual
Material: Down
Price: AUD$130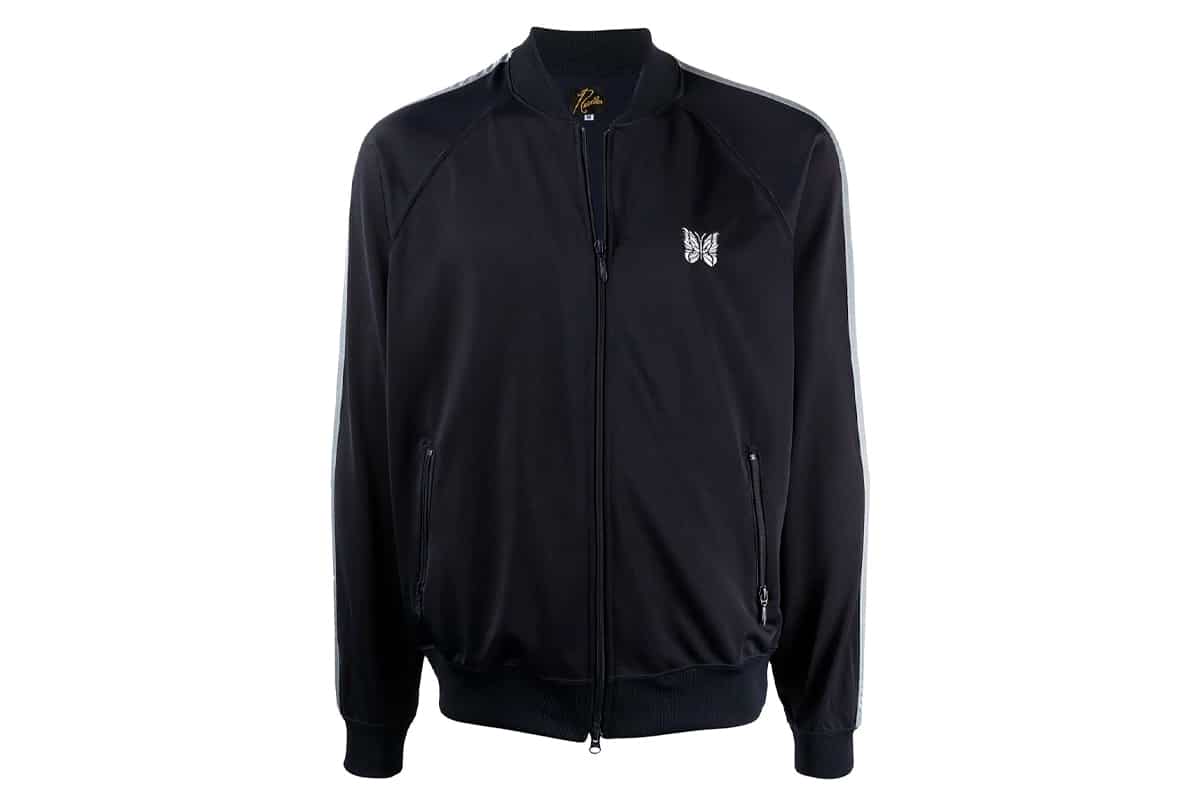 14. NEEDLES Embroidered-Logo
A lightweight jacket with a flashy embroidered logo, NEEDLES have outdone themselves with this trendy jacket. The jacket comes in a cool navy blue and has a baseball collar that is the perfect touch for creating a laid-back, stylish finish. It's made with polyester and rayon, with white stripes down the sleeves giving an elongated, sleek look. We recommend pairing this jacket with your favourite dark denim jeans.
Brand: NEEDLES
Style: Sport
Material: Polyester
Price: AUD$500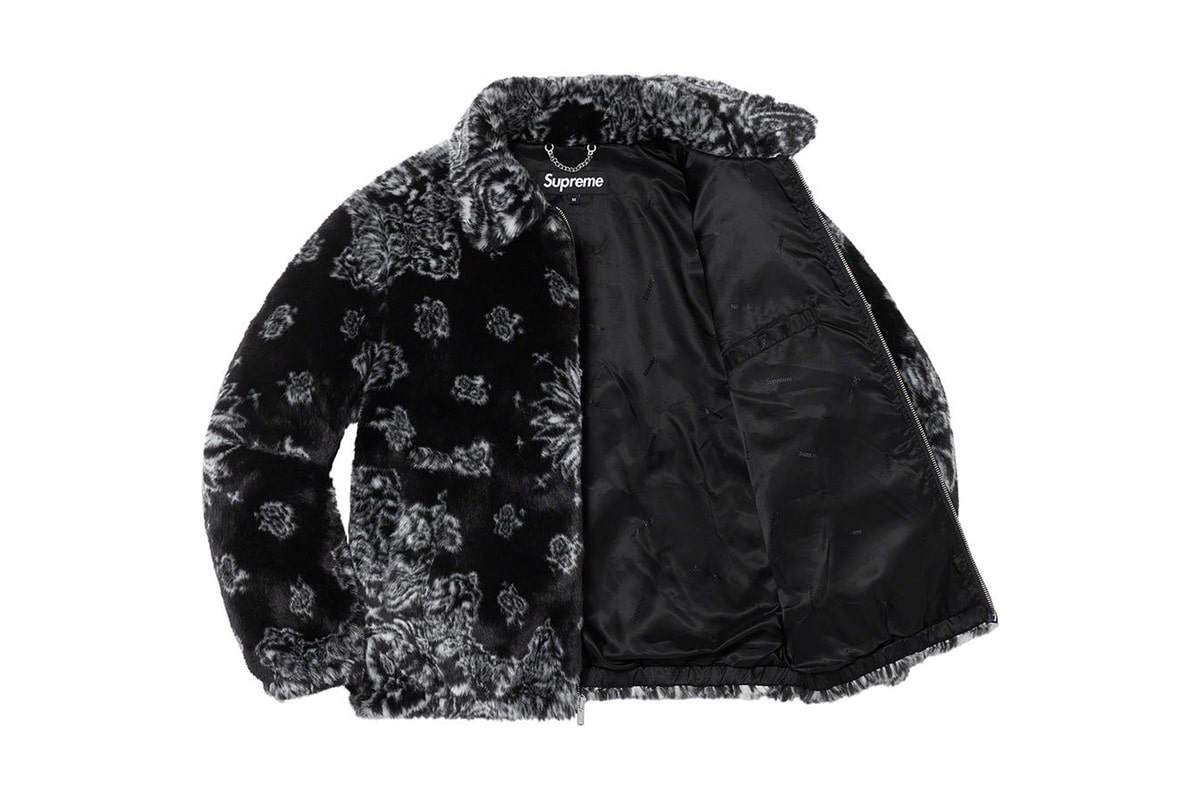 15. Supreme Bandana Faux Fur Bomber
Nothing says casual, conscious cool like this faux fur jacket from Supreme. This a great option if you love the fur look but want to shop ethically. The jacket is also made from water-resistant nylon material with a cotton jersey and taffeta lining. The portable hood is the perfect add-on, great for rainy days or for when you just want to appear that extra bit mysterious.
Brand: Supreme
Style: Luxury
Material: Faux fur
Price: AUD$650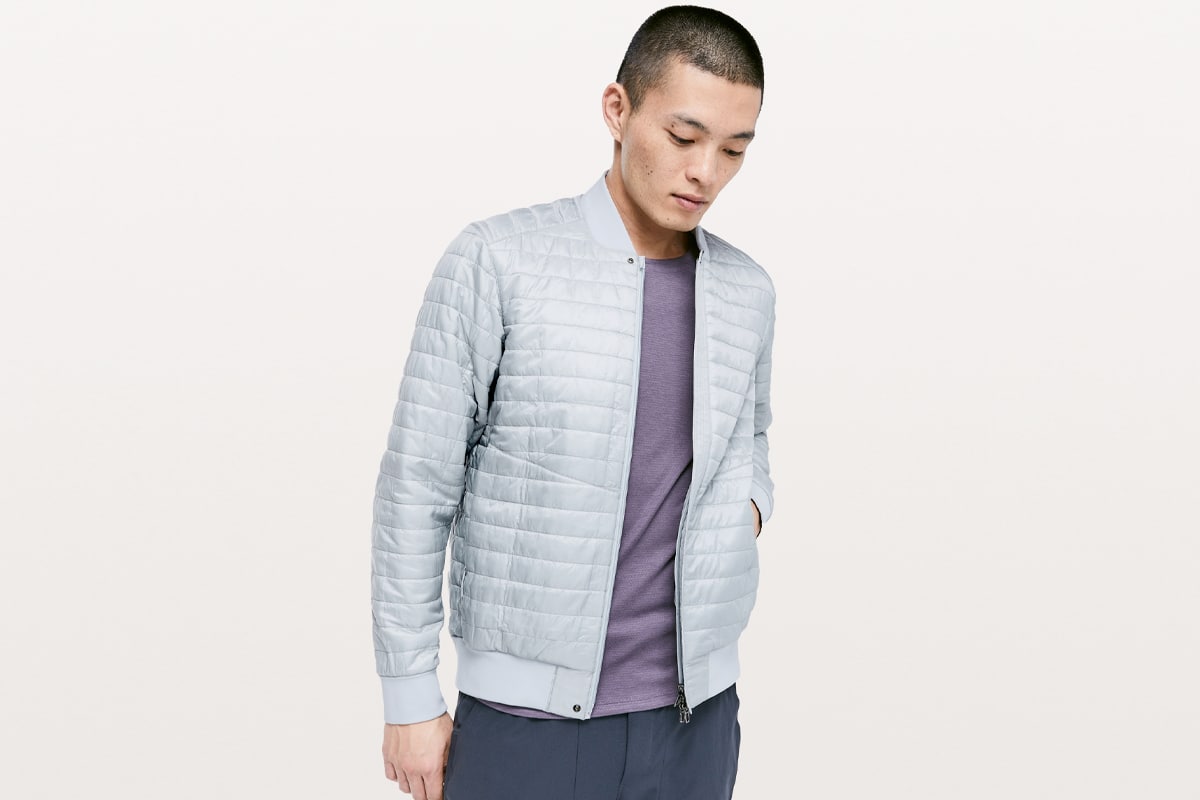 16. Lululemon Switch Over Bomber
Lululemon is a true pioneer of sport-luxe, and this bomber jacket is a sleek design for those of us that are always on the move. The jacket is insulated and reversible which allows you to seamlessly navigate changing seasons and occasions. The fabric is water repellent and will shield you from the wind- perfect for rainy, cold runs!
Brand: Lululemon
Style: Casual
Material: Polyester/nylon
Price: AUD$199
General FAQs
Where did the bomber jacket originate from?
Bomber jackets have military origins, becoming a fashionable clothing item in Europe during the 1960s after the jackets were popularised by European Air Forces.
What's the difference between a bomber jacket and a flight jacket?
A bomber jacket and an aviation jacket is the same thing, the terms can be used interchangeably.
What is the name of the original bomber jacket?
Bomber jackets were originally called flight jacket, the first ones termed the A-1, A-2, and G-1.