WIN! A $3,000 M.J. Bale Return to Work Wardrobe Refresh!
In Partnership with MJ Bale
If there's one thing we've learnt over the last two years, it's that we have to stay in control of the controllable. While your workspace might look different from one day to the next, that doesn't mean you have to miss out on the hybridity that comes with a work from anywhere attitude. Whether you're exercising physical, career, or style strengths, it's all about crafting and keeping your character strong and professional for the years ahead.
M.J Bale thinks the same, and we've teamed up with the brand to take care of the style side of the equation – giving away a $3000 wardrobe refresher in celebration of their latest Working/ Progress collection. The brand's on a quest to rework the timeless in a bid to reimagine the future and they want you to be a part of their history. Enter below for your chance to win!
WIN! A $3,000 M.J Bale Return to Work Wardrobe Refresh

M.J Bale is Carving a Path For the Future
With 59 stores across Australia, the odds are you've already heard of the brand, but did you know M.J Bale is Australia's first fashion brand to become certified Carbon Neutral for products and organisation by the Federal Government? When they're not trialling zero-emission wool, they're fitting out the Australian Cricket Team, Wallabies, and a host of other professional and cultural organisations. These guys know style, and while most of the fashion industry waits for the sustainable "silver bullet," M.J Bale is investing in an authentic, ethical and traceable future.
Provenance is the aim of the game, and M.J Bale works with the conservationist Kingston farm in Tasmania to access a sustainably-sourced, ethically-produced 'single-source' wool fibre for their Kingston suits; they also collaborate with custodial Australian cotton growers in northwest New South Wales and Southeast Queensland who abstain from using herbicides and pesticides and focus on progressive water management for their Australian cotton chinos. It's a trickle-down effect that finds its way into most pieces of the collection, let's take a look at our favourites.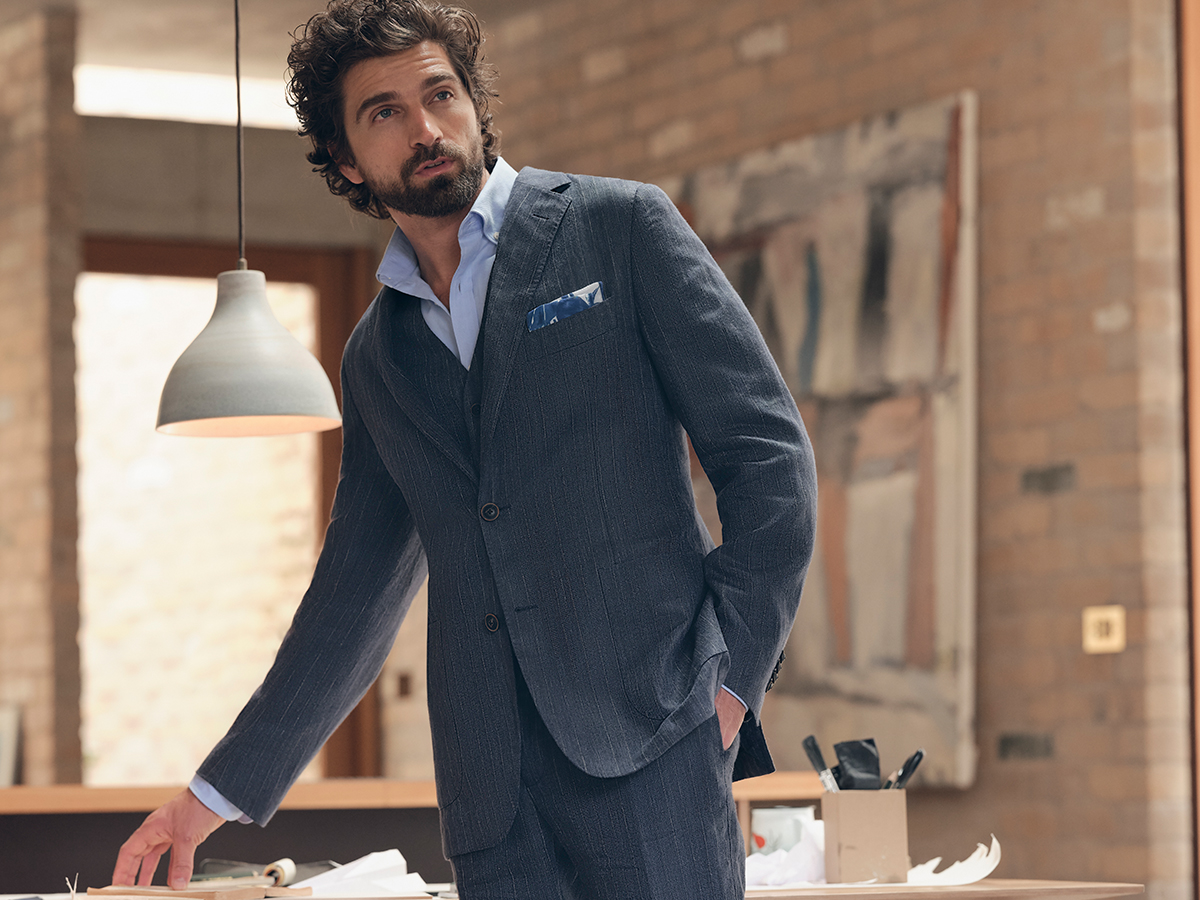 How to Dress for the Return to Work
Hybridity is at the heart of the modern-day working model. Having the choice between riding the desk in the office, taking the classic lunchtime walk around the block, or choosing to take your workspace with you wherever you want is a blessing in disguise for the modern worker.
Dressing for the occasion as you return to work is as easy as reading the guidelines below.
Work from Office
If you're planning to return to the office this year allow us to steer you back in the direction of your favourite suit. We recommend throwing it back on to double-check your measurements are still aligned in a bid to avoid the dreaded case of ripped trousers. In any case, check out the options below for new suiting options, because if the time calls for some threads, M.J Bale has you covered.
Work from Home
Under no circumstances does working from home mean working in your pyjamas. Business meetings must go on and your choice of attire still matters now more than ever! You don't want to be caught slacking by the big boss, so dressing in some smart-casual clothes is the best way to impress. We recommend looking at the options below for some inspiration, but in short, aim for a knitted polo and some chino pants at the bare minimum.
Work from Anywhere
Working from anywhere, more often than not, means combining both of the style points above. In some circumstances, the anywhere model could include business meetings with employers, clients, or even networking with an old friend. You'll want to be looking your best in any given circumstance and we recommend a linen sports jacket like those mentioned below as you transition back to work.
Our Favourite M.J Bale Return to Work Pieces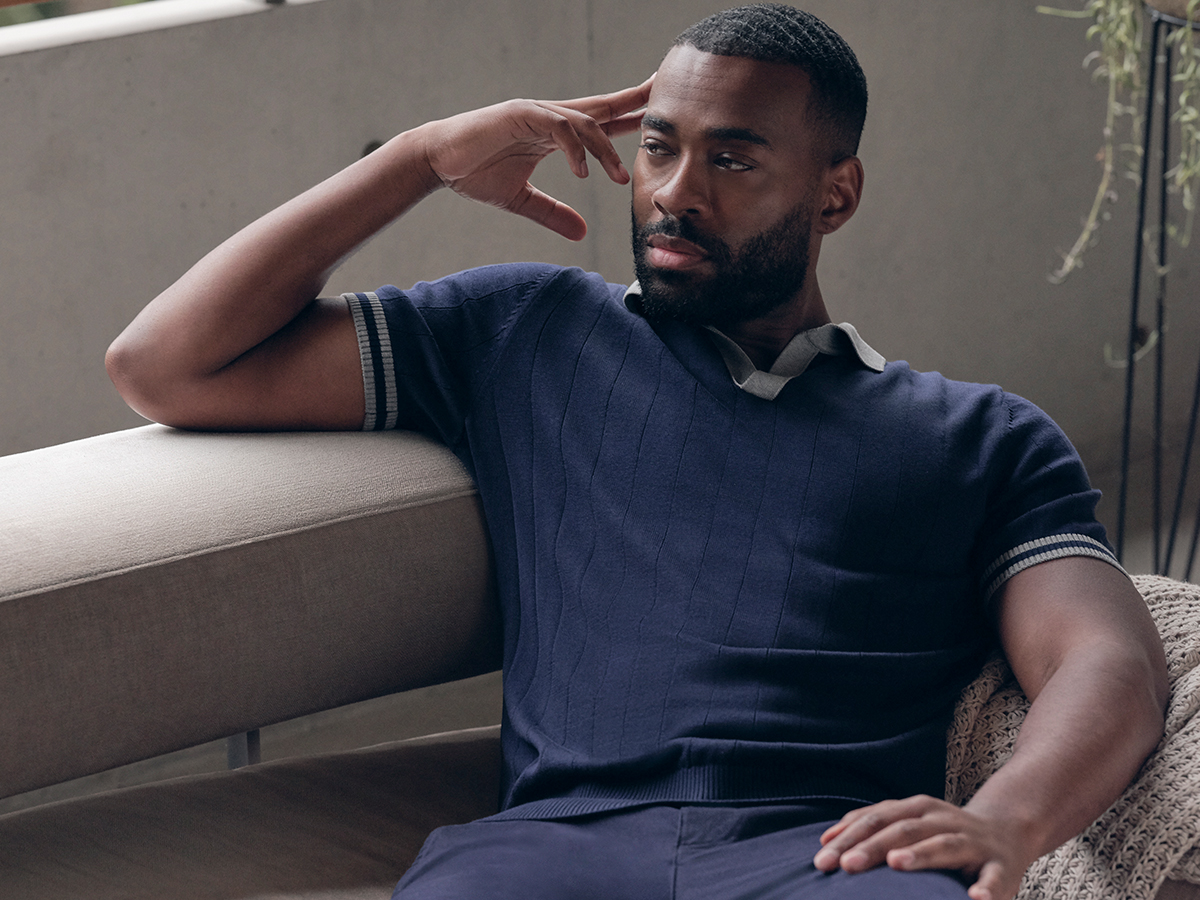 1. Mondays Moody Muse
Monday blues can really ruin a mood, but with a hybrid working environment, a few extra hours of sleep can have you turning the tide in an instant. This rib-knit polo and chino combo from M.J Bale will have you doing the same as a stylish alternative to your traditional WFH fatigue. Forget trackies, the chinos do most of the talking here by complementing the rib-knit polo thanks to their Australian cotton-twill construction that provides extra flexibility and comfort in every step.
Buy it here (Polo) Buy it here (Chino)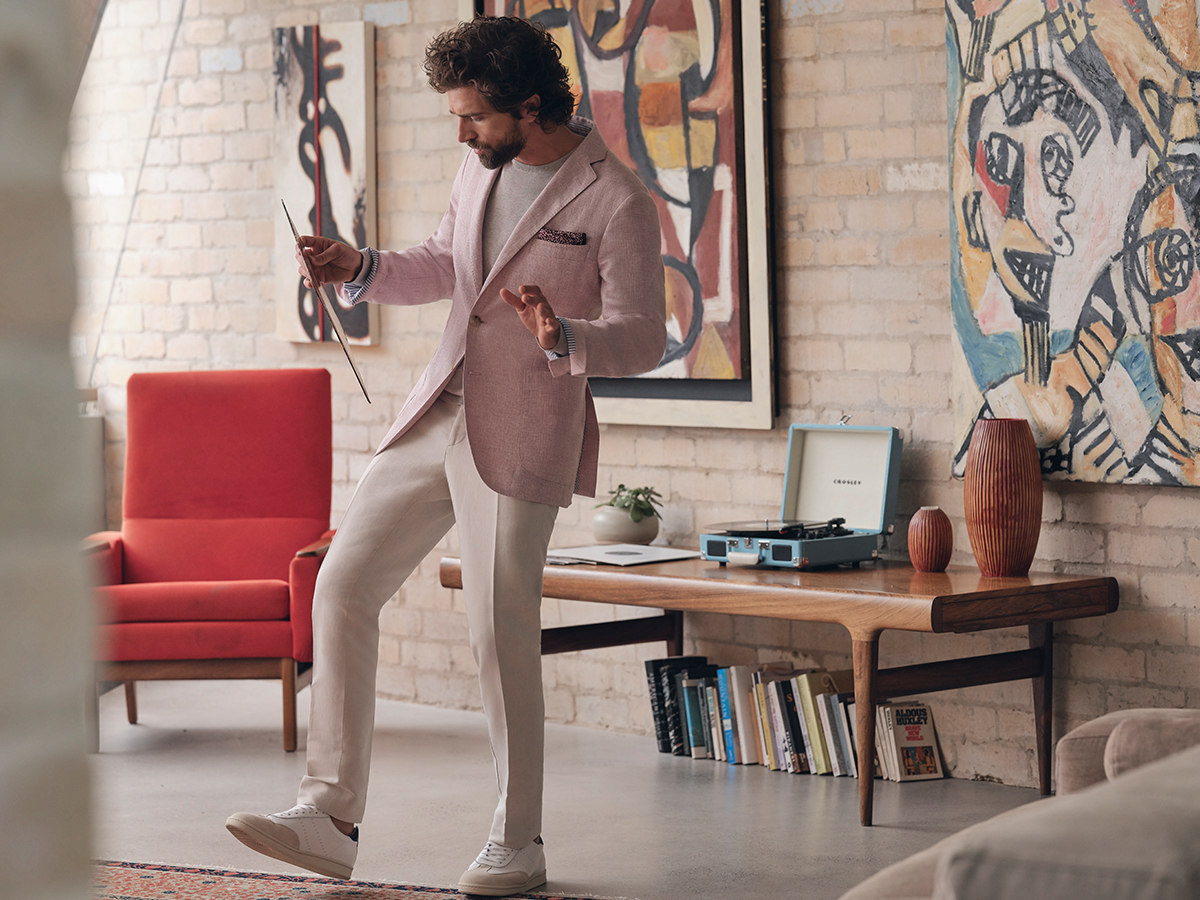 2. Paradisus Pop Out
There isn't a situation the Paradisus Jacket isn't ready for, by offering good looks and a professional demeanour every time you throw it on. Seen here in the classic salmon hue, this jacket is made from 100% linen and offers a breathable and stylish layer for those times you need to pop out to take care of business. While far from typical formalwear, this one suits the work from anywhere motif to a tee, but if you're looking to take it to that extra level, we recommend matching the Paradisus Jacket with a quality pair of trousers such as the Robertson Trouser seen here.
Buy it here (Jacket) Buy it here (Knit) Buy it here (Trouser)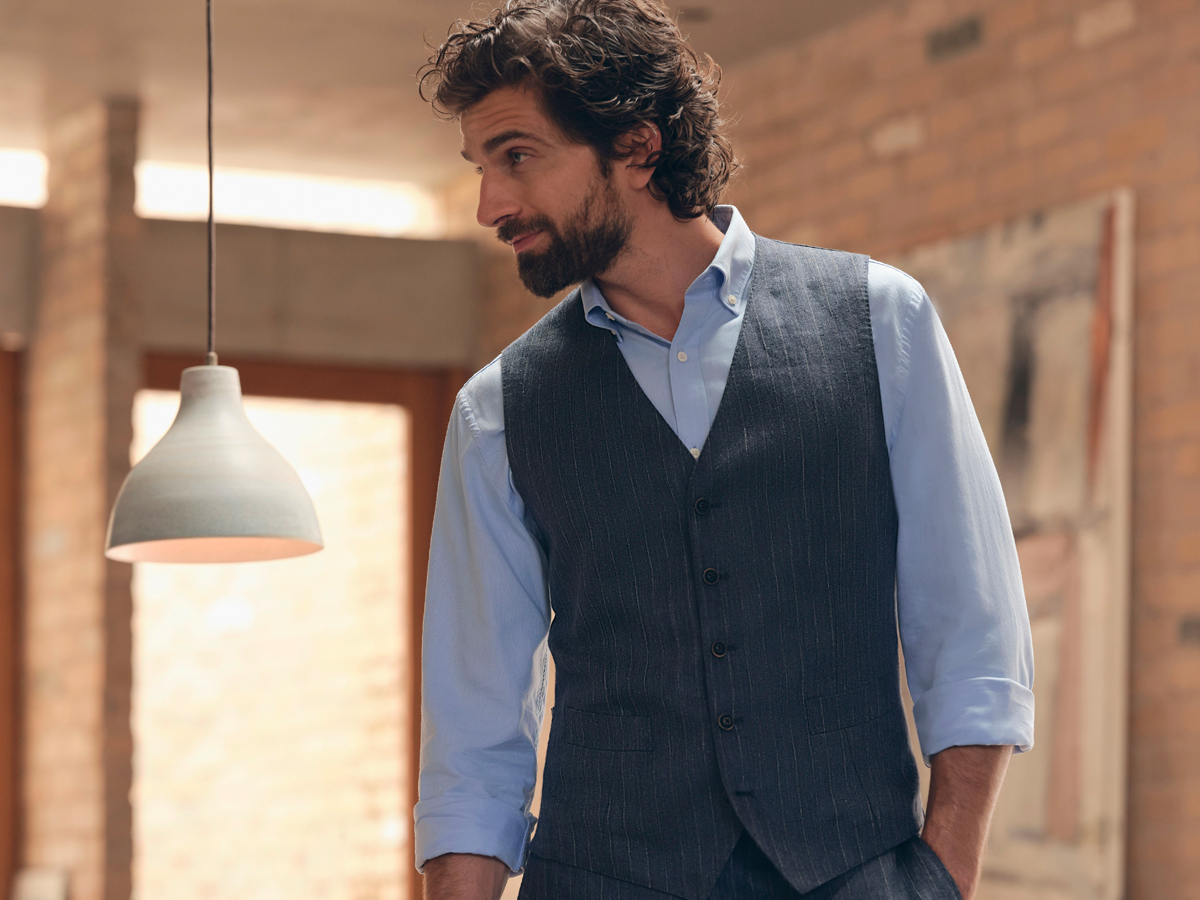 3. Long Lunch Larrikin
The Long Lunch Larrikin is a maverick only in his sense of style. While many opt for a relaxed look at the table, you're never unwilling to jump outside the box for a chance of true style recognition. Embodying the idea of 'work from anywhere' you'll be conducting business meetings from the comfort of your local 5-star restaurant when sporting M.J Bale's Pertuis collection, consisting of jacket, waistcoat, and trousers. Why not add a pocket square for good measure?
Buy it here (Shirt) Buy it here (Pocketsquare)
Buy it here (Jacket) Buy it here (Trouser) Buy it here (Waistcoat)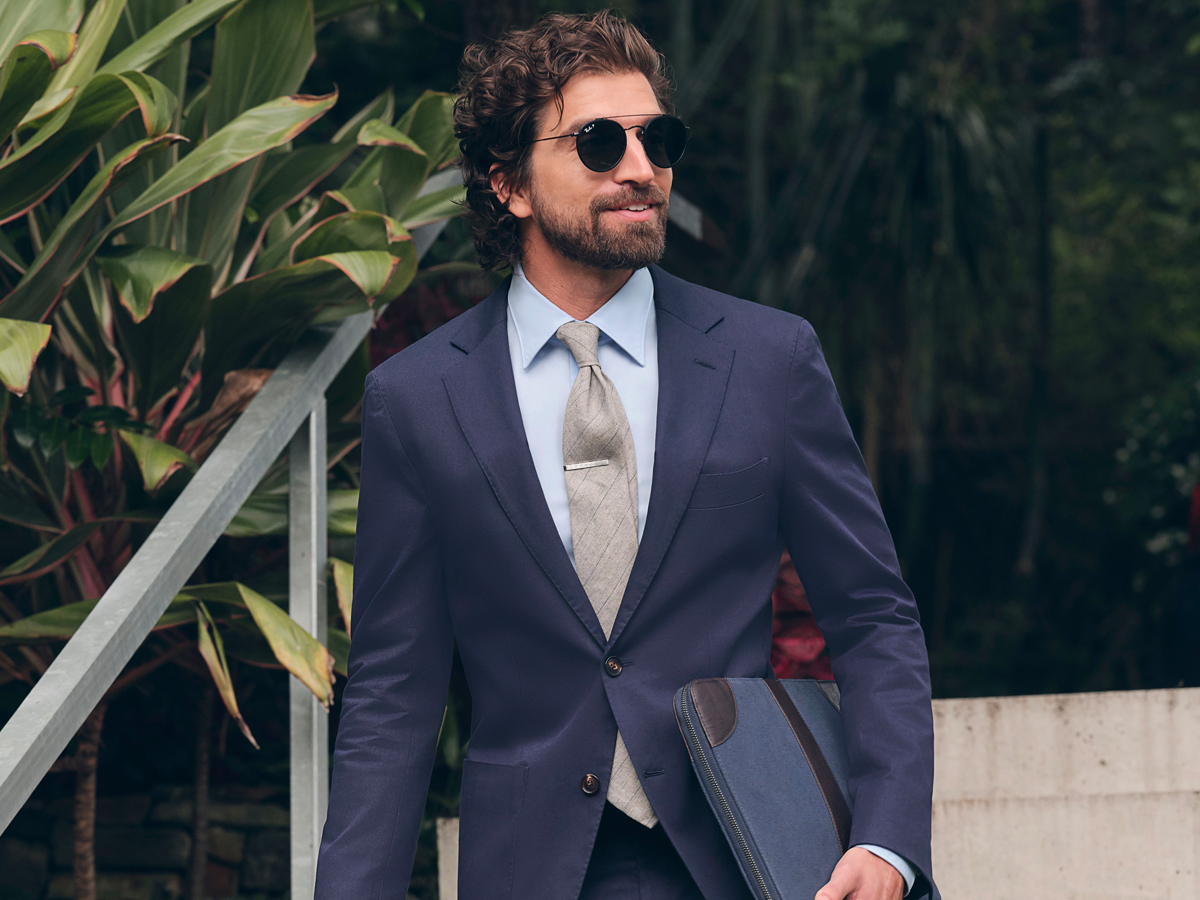 4. Suit and Tie Don't Lie
While many won't admit it, returning to the office just to get that new suit out of the wardrobe is something many of us have been dreaming of for the better part of 24-months. If you haven't we can't think of a better time than the present to jump on that train with the Fairbanks suit from M.J Bale. Made from GOTS-certified organic cotton and 1% elastane for comfort, this suit is woven in Italy into a twill fabric before making it onto the backs of all stylish men. Fairbanks is a dressy cotton suit that we recommend pairing with its matching trouser to create a handsome, lightweight ensemble.