Where to Buy Nike Dunk Low Panda in Australia
The Nike Dunk Low in Black and White or 'Panda' as they've been nicknamed, have fast become some of the most popular and sought-after sneakers on the planet. Sales volumes from leading sneaker resale site StockX indicate 139,340 Panda Dunks have been sold through their site alone since they were first released on 03/10/2021, a trend that will only continue as the shoe becomes more widely available with re-releases happening almost monthly.
The good news for buyers is with a wider number available to the public, the shoe will become cheaper and easier to acquire with more pairs going straight on feet than to the myriad of sneaker resale sites that stock them below.
Related: Panda Dunk out of stock? Why not make your own with Nike By You?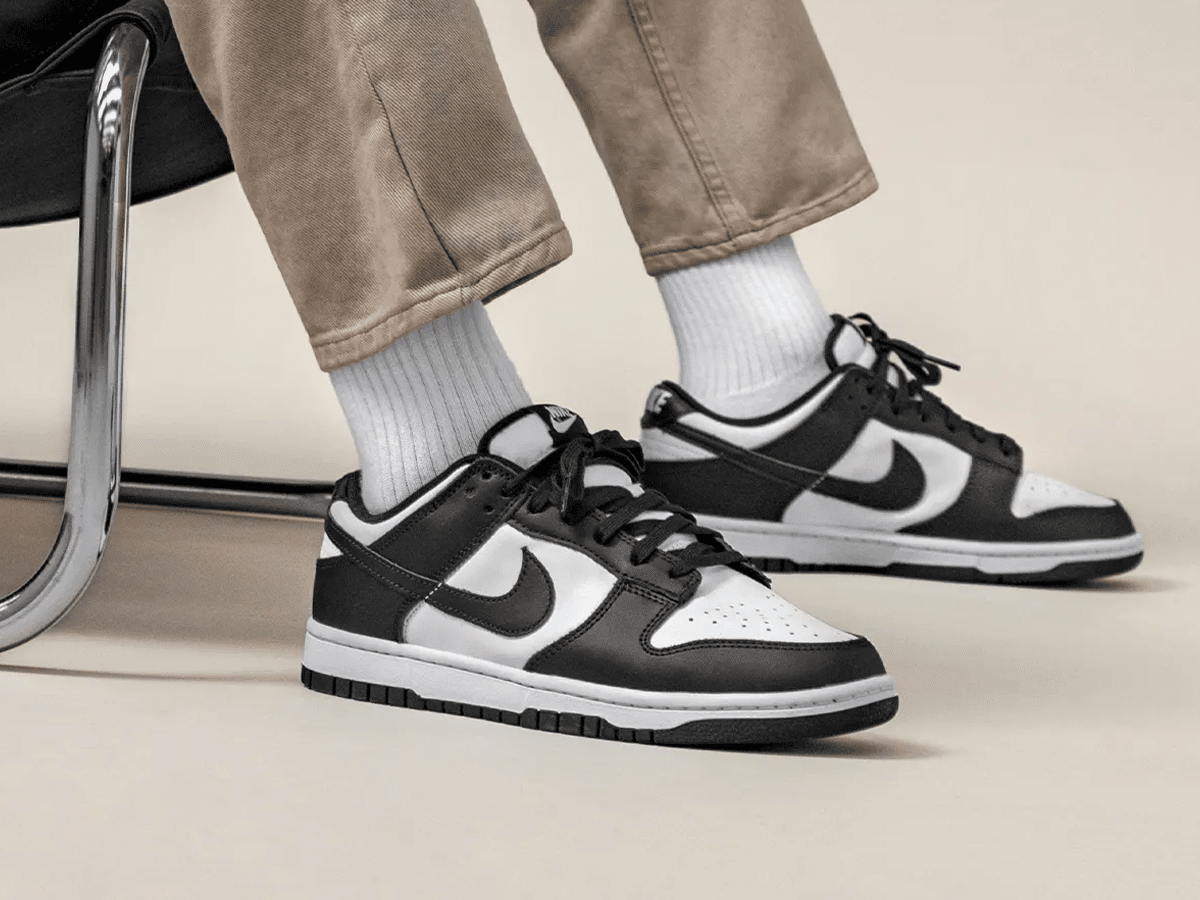 What is the Nike Dunk Low Panda?
Style: DD1391-100
Colorway: White/Black
Retail price: $150 AUD
Release date: 03/10/2021
Commentators have suggested that the Panda Dunk Low has fast become the modern-day equivalent of the Nike Air Force 1 – a bit of stretch when you consider that shoe nets $800 Million annually for the brand – however, the eye test certainly suggests these are fast becoming the sneaker of choice for would-be fashion heads from all walks of life. Look around any of the trendiest suburbs in your city and you're sure to spot a pair quickly.
It's hard to argue with the shoe's aesthetic, it purports a very clean and monotone colour scheme featuring a white midsole, panelling, toe box, and heel all surrounded by black overlays. The Panda Dunk is finished in smooth leather, with a flat outsole that's best for skating and a black signature Swoosh. Originally released around the same time as other 'college' colourways, that is, Nike Dunk Lows with solid panelling overlays set over a white midsole and underlay, the shoe has become a favourite for its 'go with anything colour'.
Why Is It So Popular?
As mentioned, the Panda Dunk has become a favourite for fashion conscience men and women everywhere, there's even 'Women's' sizing available from each of the retailers listed below, and what's cuter than matching Panda Dunks? Fans of the shoe love it for the simple and monotone colourway that goes with just about any pair of pants you can throw at them; double-knee Carharrt pants, Dickies, Levi's 501 Denim Jeans, or even a pair of your favourite chinos – the shoe is extremely versatile.
Related: Nike Tom Sachs 'General Purpose Shoe' is Boring.
Where to Buy the Nike Dunk Low 'Panda' in Australia
We've listed our favourite places to buy real Nike Dunk Low Pandas below.
1. StockX
StockX is one of our favourite places to buy sneakers and due to its high volume of sales it works as more of a marketplace than a traditional sneaker resale site. The price you pay here is going to be one of the lowest on this list and all shoes are Verified Authentic, New and Unworn, and In their Original Box. When looking to purchase a US10 at the time of writing the total cost was $325 AUD (processing and shipping fees inclusive).
Type: Resale
Price: from $260 AUD
2. GOAT
GOAT is the best alternative to StockX when looking to buy Panda Dunks, however, they offer shoes that are Verified, Due to Be Verified, Damaged Box, and even Used with prices decreasing consecutively. We recommend GOAT if you're looking to pick up a pair of Panda Dunks for the lowest price.
Type: Resale
Price: from $246 AUD
3. eBay
eBay is another sneaker resale site that offers Panda Dunks for sale. Ebay's shoes are direct from sellar, however, they do come with Ebay's authenticity guarantee meaning if the shoes are fake you get your money back. We recommend checking out eBay if you're looking to grab a quick bargain from a seller who's looking to offload a pair as fast as possible. Most shoes on eBay are DS, and they typically have the fastest shipping.
Type: Resale
Price: from $250 AUD
4. Secret Sneaker Store
Secret Sneaker Store is one of Australia's biggest sneaker resale sites with physical stores across the east coast of Australia. Members of the Man of Many team have sold shoes through consignment here and while the prices are some of the highest in the market (around 20% higher), walking into a physical store and purchasing the shoes means you don't have to wait for shipping.
Type: Resale
Price: from $445 AUD
5. PUSHAS
PUSHAS is a great alternative to Secret Sneaker Store if you're looking to buy Panda Dunks straight from a resale site in Australia. PUSHAS is proudly Australian-owned and located in Sydney and Los Angeles, however, they don't have any physical stores. Their pricing is some of the best from Australian resellers but not as cheap as StockX, eBay, or GOAT.
Type: Resale
Price: from $400 AUD
6. Retailers
If you're looking to try your luck online or in-store on release date, HYPE DC, Footlocker, and JD Sports will typically restock the Panda Dunk Low for their retail price of $150 AUD. Check out any of the links below to keep up with release dates.
Type: Retail
Price: $150 AUD
Buy it here (Hype DC) Buy it here (Footlocker) Buy it here (JD Sports)
You'll also like:
Best Jordans Of All Time
Best Minimalist Sneakers for Men
How Nike is Paving the Way to a Zero Carbon & Zero Waste Future