A Modern Moon Phase Timepiece from One of Switzerland's Best
In Partnership with Raymond Weil.
There's a lot to be said for Swiss watchmaking maison Raymond Weil. We should know, we've said a lot about them in the past. Where other watchmaking giants have been folded into one of two or three main luxury brands companies, Raymond Weil has remained independent, family owned, and continues to get better and better.
While we've recently looked at the roll-out of their first in-house movement, the RW1212, for their Freelancer series, as well as their homage to rock 'n' roll heroes AC/DC, here we're looking at another stalwart from their collection, but one which has enjoyed a resurgence in popularity thanks to a slight facelift.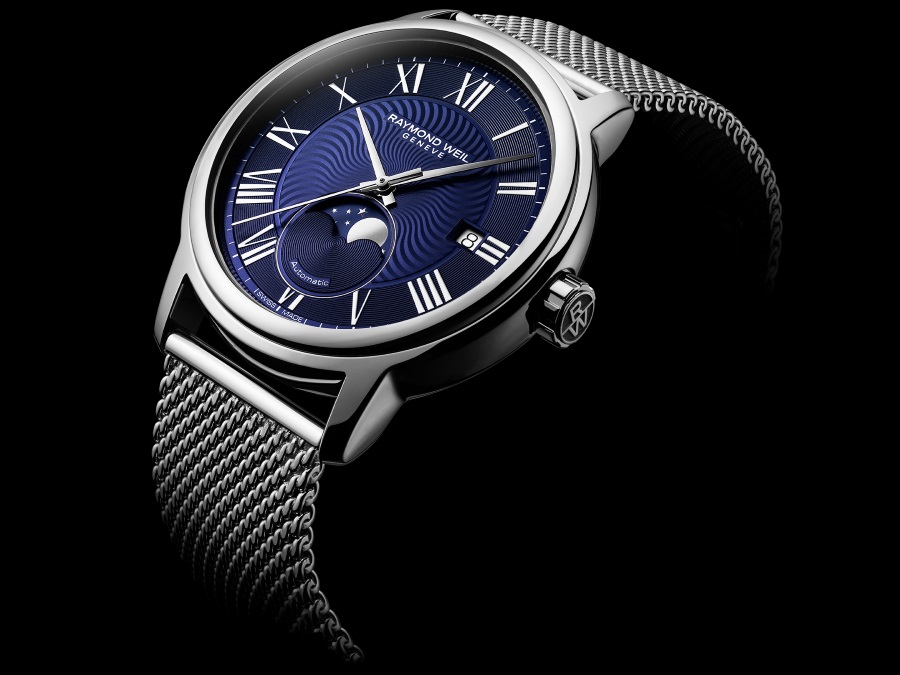 This is the Maestro Moon Phase, an elegant and handsome timepiece which incorporates a moon phase function at the 6 o'clock marker; a classic haute horology addition and a stamp from the Swiss Family Weil; a reminder that their maison is one that stays true to its roots, while continuing to innovate.
While there aren't any major changes from similar, previous offerings from Raymond Weil, that's half the point. A major key to their success so far has been consistency, and fitting this in with the notion that trends drive the market (i.e. case size and strap materials) is no small feat.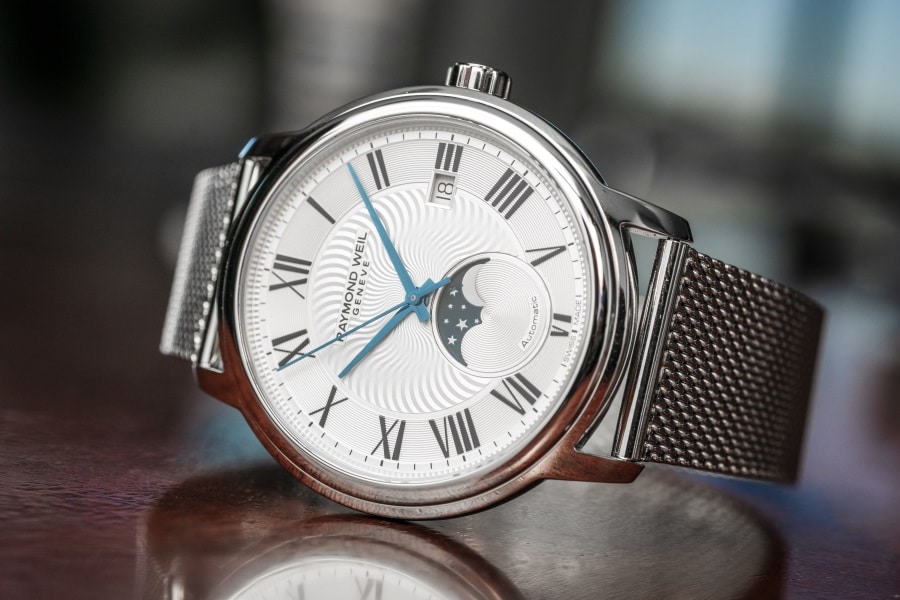 On this newest model, we see their RW 4280 automatic movement give life to the cogs, which is produced for them by manufacturers of renown Sellita, with whom Raymond Weil has a long-standing partnership. Available in grey, silver and blue options for the dial, this watch looks equally as handsome on its traditional leather band as is does on the flashier milanese bracelet. The textured dial adds an appealing aesthetic without being too blingy, and the simplicity of the case lets the star of the show, the moon phase indicator take the stage.
At 40mm, this is a dress watch that belongs as much in a boardroom as it does a ballroom; the slight size increase from its predecessor another reminder that the designers at Raymond Weil have a sharp eye on market trends.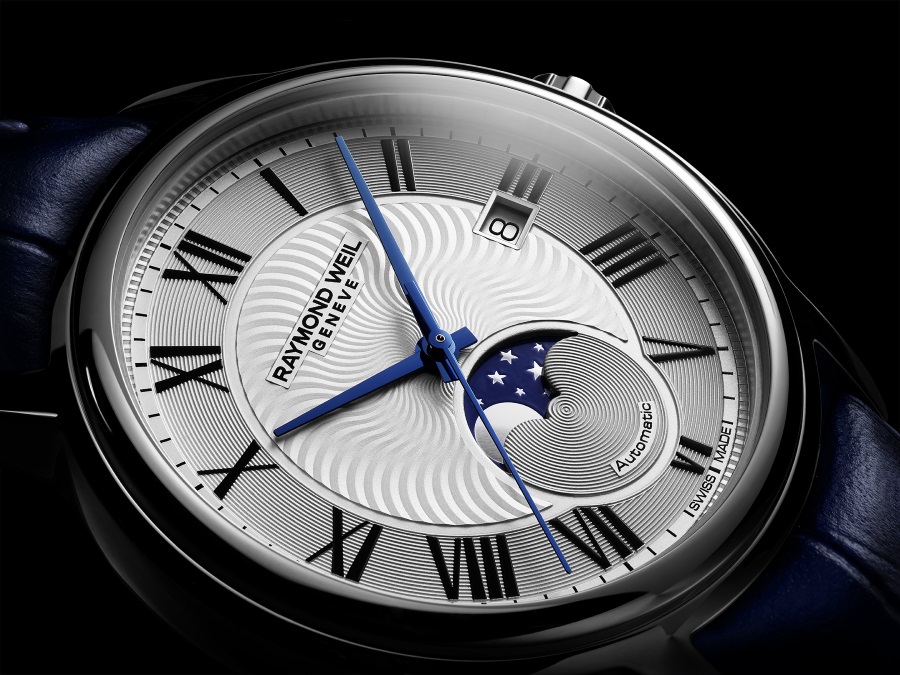 A moon phase is one of horology's oldest and most cherished complications, as it represents man's first desire to tell the time. From long before accurate time telling, we would look to the moon to track the lunar calendar, from new moon to full moon, and back again. This waxing and waning taxes 29 ½ days, or, a lunar month, which has dictated much for a very long time, from harvesting crops to pagan rituals.
Two identical moon icons slowly rotate beneath a scalloped aperture in the dial, which represents the current phase of the moon. Unlike other complications in automatic watchmaking, a moon phase is very accurate, and shouldn't need adjusting for hundreds of years. Here, the crescent-shaped aperture, which sits at the 6 o'clock position, is subtle yet eye-catching, and the midnight-blue rotating disk beneath is allowed to do its job without showing off.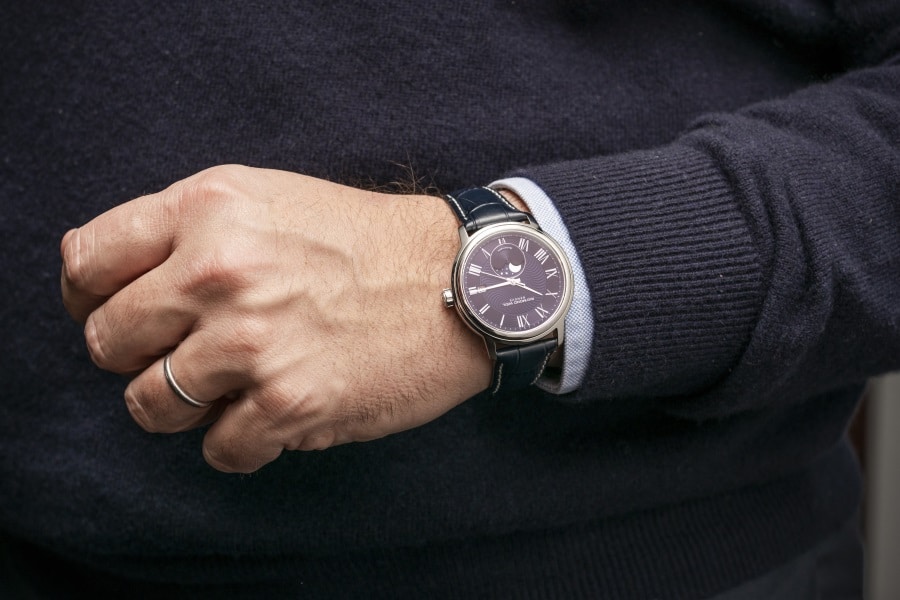 Where other moon phase watches can come across as gauche or flashy, the restrained design principles that Raymond Weil applies as a company keep this dress watch, as likely intended, dressy.
Unlike the CW 1212 movement, the RW 4280 from Sellita also allows for a second hand and a date function, making the Maestro Moon Phase a more versatile daily wearer than many others in its category. It's also water resistant to 5ATM (50 metres), and can be hand wound when its off the wrist.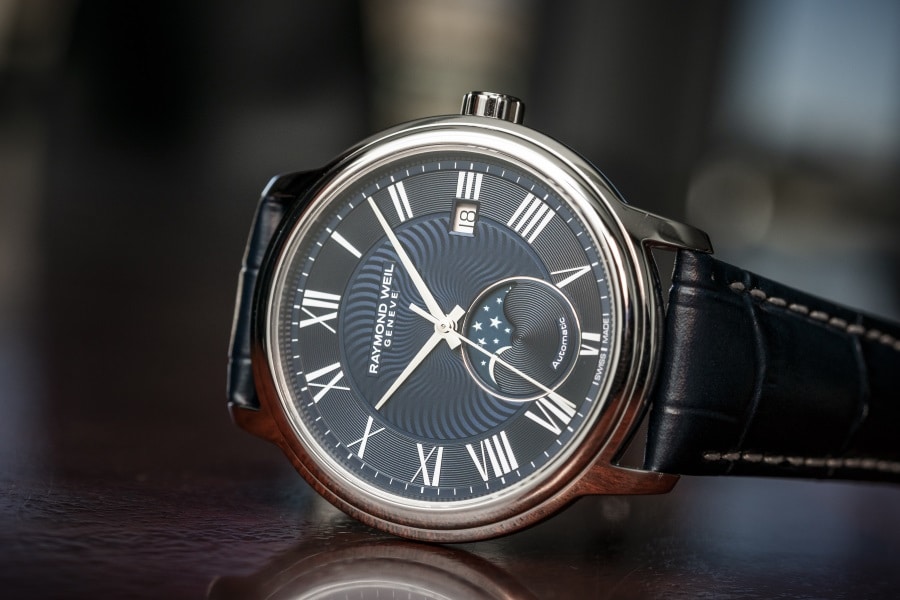 Moon phase watches have a dedicated following for their quaint anachronistic charm. This is, after all, one of the first complications to be developed as soon as we graduated from sundials to mechanised cogs to keep track of time. Though seldom required today, a moon phase indicator is a nod to the inception of horology as we know it, and an interesting piece of history to have on your arm.
While the entire Maestro collection from Raymond Weil comprises well made, handsome dress watches, the addition of the moon phase on this particular model is a sophisticated touch, and one which, given it harks back to ye olde days of telling time, has a slightly nostalgic element that makes for an elegant addition to the collection, or a great daily wearer.
Features: RW4280 mechanical self-winding movement with moon phase function; 38 hours power reserve; date window at 3 o'clock; polished steel-fluted with RW monogram crown
Case diameter: 40mm
Water resistance: 50 m / 165 ft / 5 atm
Price: from $2,950