Jacob & Co. Unveils $280,000 Bugatti Chiron 16-Cylinder Tourbillon
It sounds impossible, but when Bugatti and Jacob & Co got together to work on a project, the idea was to put Bugatti's iconic W16 engine on your wrist. What the duo came up with is the Bugatti Chiron Tourbillon—a timepiece that much like Bugatti's cars is the pinnacle of precision, beauty, and performance.
You'll also like:
1,824Hp Bugatti Bolide Hypercar is Capable of Hitting 500kmh
6.3-Litre V12 Touring Superleggera Aero 3 Coupe Cops a Rear Fin
The Luxury SUV You've Probably Never Heard of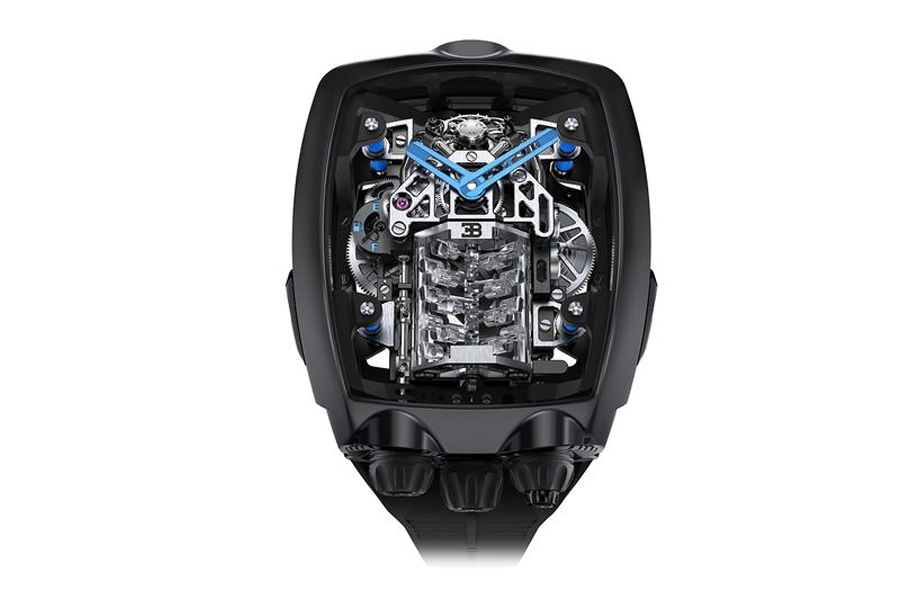 Over the course of a year, Jacob & Co worked on developing a watch that would pay homage to the Bugatti Chiron. The project starts with a case designed to mimic the lines of the Chiron. The movement was viewed—rightly so—as the watch's engine block and was created to duplicate the Bugatti engine. The whole thing was placed under a sapphire crystal. The watch goes beyond just mimicking the looks of the Chiron, though. By pushing the right-hand crown, the movement's crankshaft will turn, causing the pistons to pump up and down. The miniature engine even has two turbochargers on the side of the engine block that spin as the pistons go. Two "exhausts" come off of the engine to suspend it in the case.
Even without the beauty of the engine, the Bugatti Chiron Tourbillon is a collector's dream. The movement consists of 578 components, all of which are visible thanks to the large sapphire crystal. These aren't your typical watch pieces. The crankshaft is made of one piece of solid steel and is one of the smallest and most complicated watch parts ever made. The watch is water-resistant up to 30 metres and it displays hours and minutes. There is also a one-minute tourbillon cage inclined at 30 degrees that you can use to compensate for any errors in timekeeping caused by gravity. The watch has a 60-hour power reserve. To get the thrill of a Bugatti W16 on your wrist, you'll have to put down USD$280,000.
You'll also like:
1,824Hp Bugatti Bolide Hypercar is Capable of Hitting 500kmh
6.3-Litre V12 Touring Superleggera Aero 3 Coupe Cops a Rear Fin
The Luxury SUV You've Probably Never Heard of