Ressence Type 3 BBB Monochromatic Mechanical Unveiled
"The name stands for 'Black, Black, Black' in reference to the reduced colour palette used on the dial, as well as the black DLC-coated Grade 5 titanium case of the watch," says Ressence in explaining the name for their new Type 3 BBB watch. And just as the name suggests, the Type 3 BBB is everything black. The only parts that aren't completely black are the white and grey used for the indicators, dial, and markers.
You'll also like:
LeBron James Wore the Tiffany Patek Philippe to Super Bowl LVI
$2,000 Oris Big Crown x Cervo Volante Unveiled as Serious Value for Money
Razer's New Smartwatch for Gamers is Actually Kind Of Brilliant
The Type 3 BBB is the latest version of Ressence's oil-filled mechanical watch. There's no crown for this watch, which adds to the round and smooth finish that he watch has overall. The movement powering the watch uses Ressence's patented in-house Orbital Convex System (ROCS).
"The patented ROCS unit is fundamental to the Type 3's creation. Featuring an ever-changing dial with elements that continually orbit around each other, its purpose is a more efficient and intuitive reading of time," explains Ressence. The mechanism of the watch runs in an oil-filled top chamber, which eliminates refraction and gives the watch better legibility from any angle.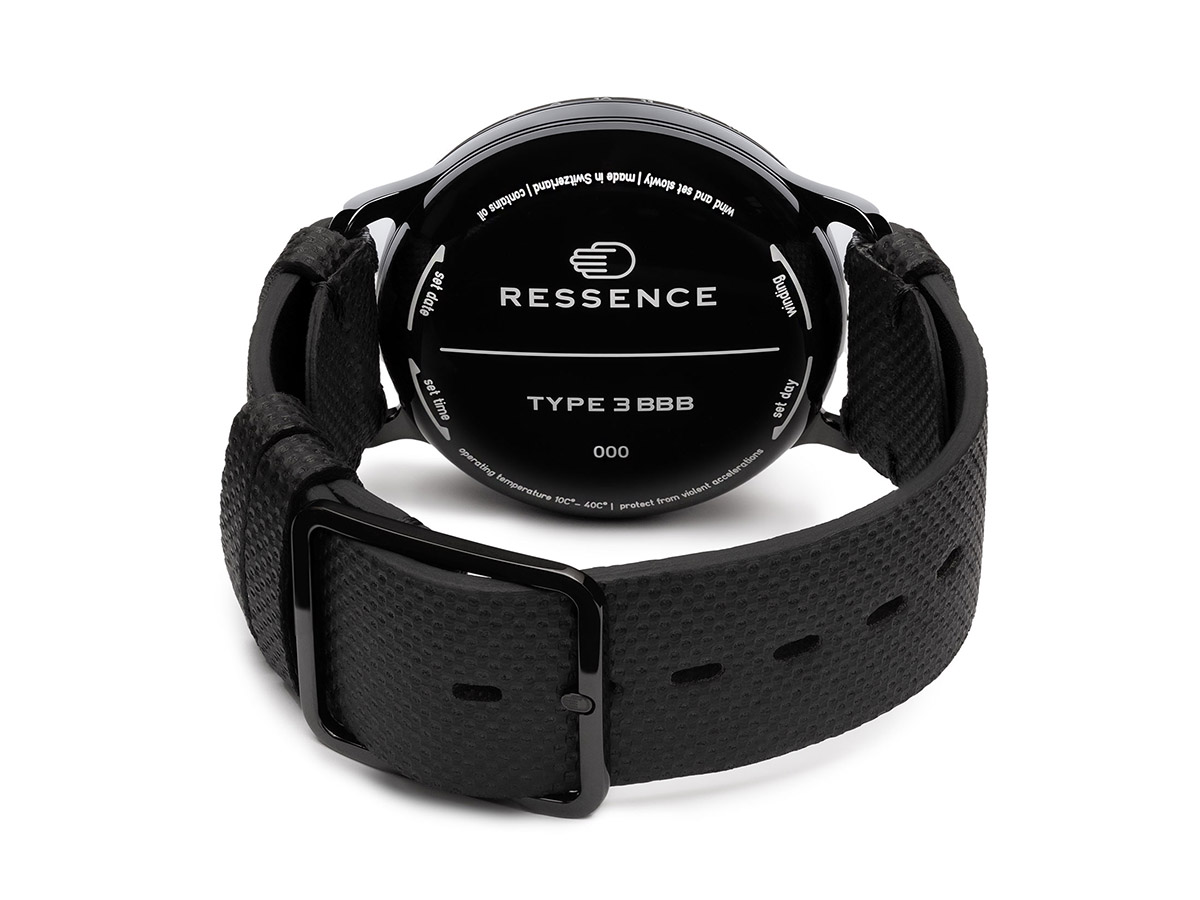 Inside the bottom chamber, which is air-filled, resides the mechanical and self-winding movement system. Transmitting movements between the chambers are accomplished via micro-magnets, which also allows the oil-filled chamber to be hermetically sealed, making it impossible for there to be a leak. Of course, the oil expands and contracts with temperature, so the watch also features a unique bellow system to compensate.
The watch comes on a honeycomb strap and also features SuperLuminova on the dial that makes it glow green in the dark. The case features and edge-to-edge sapphire crystal on both the front and the back, and is DLC coated to make it scratch resistant. Just like there's a repetition of Bs in the name, you can expect to see a repetition of zeros in its price. You can expect to shell out USD$38,900 for this unique watch.