WIN: A New Suit from Indochino worth $599 & a Complete Charles + Lee Skincare Set worth $99
In Partnership with Charles + Lee & Indochino
It's a brand new year: you know, the time filled with endless new possibilities and hope when you're supposed to make all your new year's resolutions… and then try and stick to them. Well, whether you are someone that hates resolutions or embraces them, we can almost guarantee your skincare regime did not make the list. Are we right? Rest assured we are not here to judge. Instead, we are here to lend a helping hand because while we all like to think we can pull it off and get away with not looking after our skin, there's little excuse to slack off when you have products from Charles + Lee to keep it simple.
As we roll into the new decade, Aussie skincare brand and purveyor of all things good for your face Charles + Lee has teamed up with online suit retailer (and purveyors of some of the freshest threads on the web) Indochino to remind fellas that keeping on top of your skin this summer is as easy as putting on a fresh suit (and has just about the same effect in terms of making you feel a million bucks).
Charles + Lee products are all made in Melbourne, and are specifically formulated for men's skin. While the men's skincare market is flooded with women's spin-off products ostensibly made for men (read: they smell different), and very expensive niche labels, Charles + Lee successfully eschews these trends and just makes simple, effective products for blokes who just want practical, easy skin products. Their cracking goods can be found at both Myer & David Jones.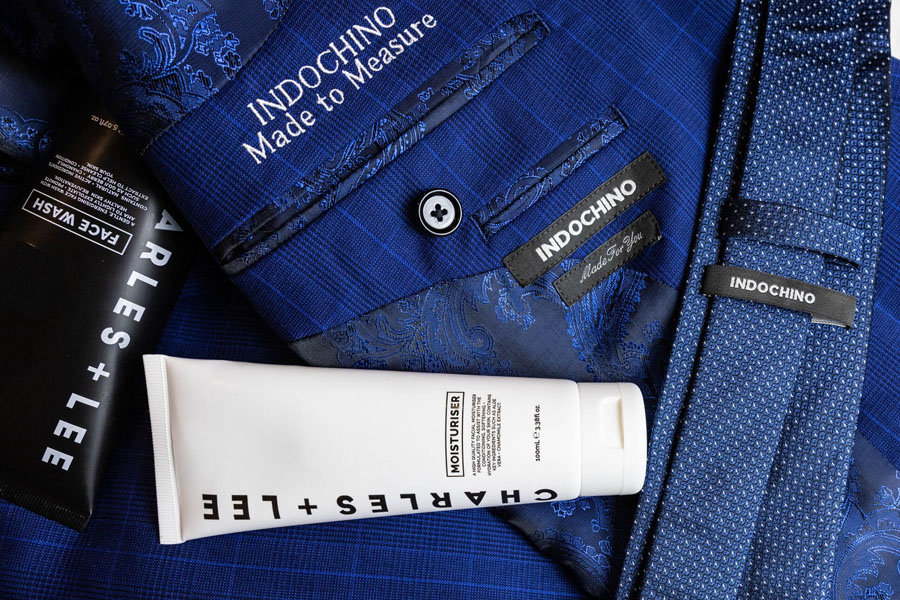 Indochino is the global leader in men's made-to-measure garments, with over a decade's experience in online suiting, making it easier than ever to get yourself decked out in a custom made suit that won't cost you an arm and a leg. With everything customisable, including buttons and monograms, the brand has cemented itself as a staple in the wardrobes of men the world over, from those who need to stand out in a crowd to the daily suit wearers who need reliable pieces that'll look good time and time again. Never resting on their laurels, Indochino just stepped up a gear, now offering made-to-measure overcoats, trench coats, and mac coats that are the first of their kind.
To celebrate this collaboration, we've got three killer prize packs to give away to three of our loyal readers. One lucky camper will score a brand spanking new Indochino suit (up to AUD$599) as well as a Full Compliments Charles + Lee gift set valued at AUD$99.75; a total prize value of AUD$698.75, while two runners up will get an Indochino shirt, valued at up to AUD$139, as well as an Active Man gift set valued at AUD$73.90; a total prize value of AUD$212.90
To go into the draw, fill out the form below with your details because looking (and feeling) fly this 2020 really can be as simple as a few quick clicks.
WIN: Prize Packs from Indochino & Charles + Lee to Keep You Fresh this Silly Season