WIN! A Smeg Black 50s Retro Espresso Machine Valued at $549!
Here's something to perk you up in the morning! From 23 June to midnight on 1 July, we're giving people the chance to win a brilliant espresso machine from Smeg. It's being offered through Australia's kitchen and laundry specialist Winning Appliances, home to exceptional products and outstanding customer service. With its glorious retro aesthetic, this espresso maker will bolster your decor before boosting your energy levels for the long day ahead. Cappuccino, anyone? Enter below.
Valued at AU$549, Smeg's Black 50s Retro Espresso Machine comes fully loaded with all kinds of optimal essentials. Look beyond the stylish mid-century design and you'll discover modern features like a thermoblock heating system, anti-drip system, adjustable cappuccino system, flow stop function, integrated milk cleaning programme, and descaling light indicator. That's in addition to qualitative mainstays such as 15 bar professional pressure, stainless steel components, metal steam lever, removable water tank, anti-drip system, and more.
Compatible with either pre-ground coffee or coffee pods, Smeg's Espresso Machine is compact in size but massive in performance. The unit we're giving away through Winning Appliances comes in the striking finish of black, a timeless colour if there ever was one. Should you purchase the machine for yourself, you can also choose between alternate colours such as pink, red, green, blue, and more. Your kitchen will thank you and so will your brain from the moment you take your first sip of a piping hot espresso drink.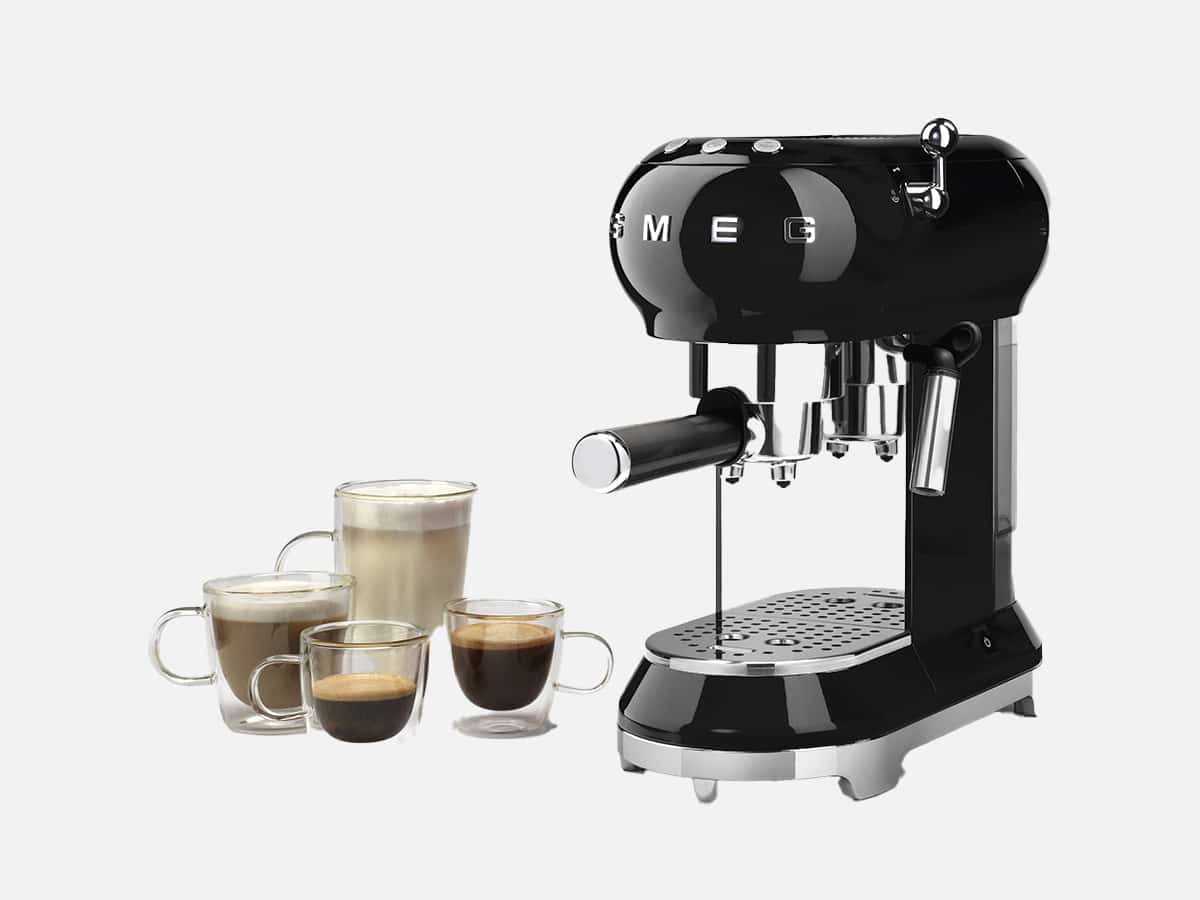 It's also worth noting that a number of incredible deals are currently being offered through Winning Appliances as part of their End of Financial Year (EOFY) sale that's on till the 30th of June. Some quick examples include savings of up to $700 on Miele MasterCool refrigeration appliances, a complimentary rangehood when you purchase a select Falcon Range Cooker, extended warranties, free installations, bonus gifts, killer discounts, and more from premium brands such as Fisher & Paykel, Smeg, AEG & Fhiaba.
Expect serious quality no matter where you land because that's the name of the game over at Winning Appliances. Not only do they source incredible products from the world's best cooking and laundry brands, but they provide unbiased and impartial assistance and never sell on commission. By matching the right customers with the right solutions, they've generated a huge and loyal following here in Australia. It's all part of what they like to call "The Winning Way."
In the meantime, you've got a Smeg Black 50s Retro Espresso Machine to win! Our contest runs from 23 June to midnight on 1 July and extends to Australian participants. Enter below and good luck.
GIVEAWAY: Win a Smeg Black 50s Retro Style Espresso Coffee Machine!