The Meaning Behind the Viral Phrase 'Nah he Tweakin'
If you've opened your Instagram in the last few hours you'll be confused to see almost every comments section filled with the phrase "Nah he tweakin'," and the first question is why? The phrase gained massive popularity after Lil Nas X commented on a post from Instagram page @rap saying "nah he tweakin" in response to Tony Hawks blood infused skateboard. We've done our research and got to the bottom of why every single comments section is filled with the famous phrase, and somehow Tony Hawk of all people is the person to blame.
Update (27/08/2021): In a less than surprising turn of events the American rap star, Lil Nas X, has announced the release of his upcoming album Montero. Set to release on September 17th via Columbia Records, he made the announcement via his Twitter not long after the "nah he tweakin" meme gained serious traction online. In the post, he mentions how creating this album was a form of therapy for the 22-year-old superstar, "I've learned to let go of trying to control people's perception of who I am, what I can do, and where I will be. I've realized the only opinion of me that really matters is my own," he said.
You'll also like:
What does Cheugy Mean? Gen Z's New Favourite Phrase
What is the Milk Crate Challenge? A Battle the TikTok Olympians Were Bound to Lose
Nike is Suing Over Lil Nas X's 'Satanic' Air Max 97s That Contain a Drop of Human Blood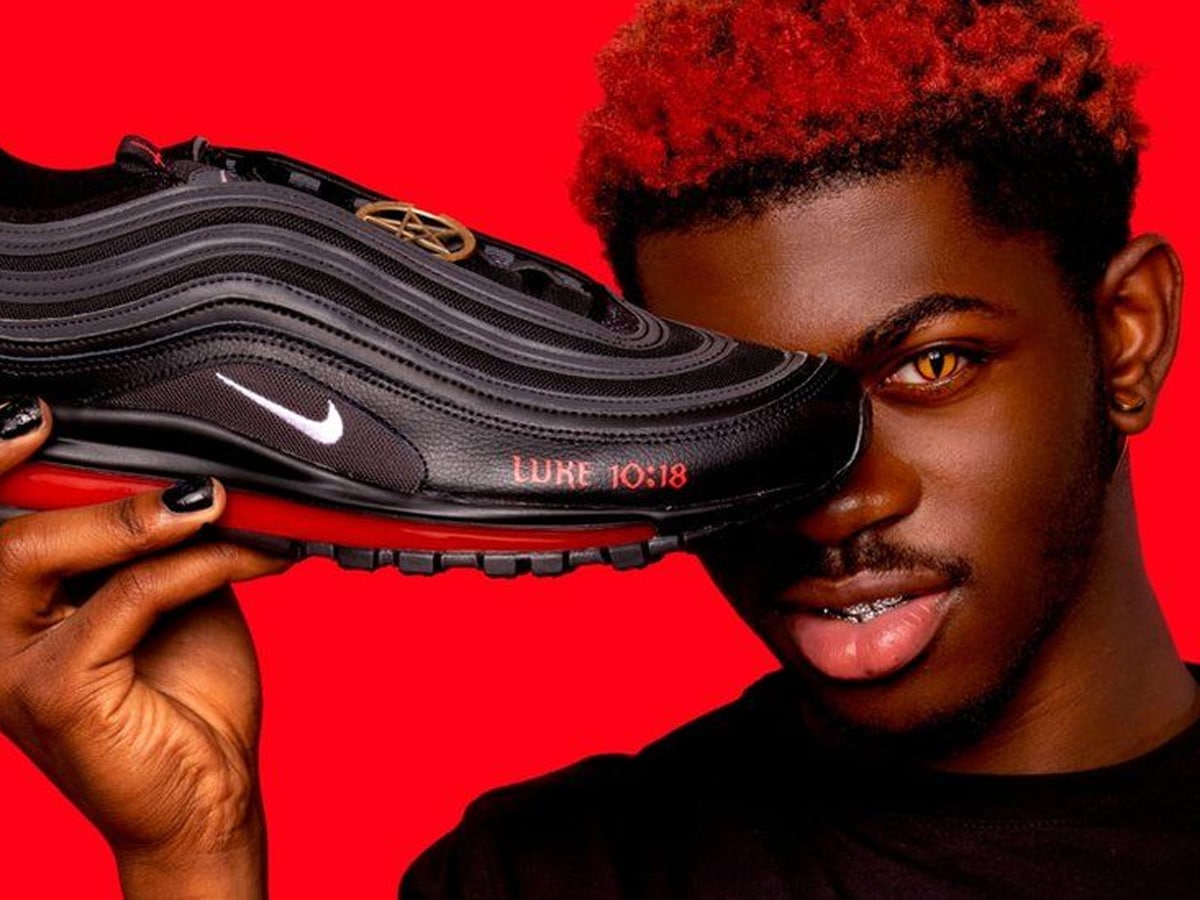 Why is Instagram filled With 'Nah He Tweakin'?
It begs the question, and your answer is Tony Hawk. The most famous skateboarder on earth recently announced that he is selling skateboards infused with his blood for $500 each. Instantly reminding the fashion world of the famous human blood-filled 'Satan' Air Max 97 that rapper Lil Nas X released – and promptly got sued for – back in March this year.
In a moment of frustration, Lil Nas X took to Twitter to speak on the matter, stating; "Now Tony Hawk has released skateboards with his blood painted on them, and there was no public outrage," he said. And he's probably right, however, we'll note the visual representation of satanic sneakers paints a completely different perspective to a skateboard promotion with the goal of raising profits to alleviate plastic pollution. It's still weird, Tony Hawk.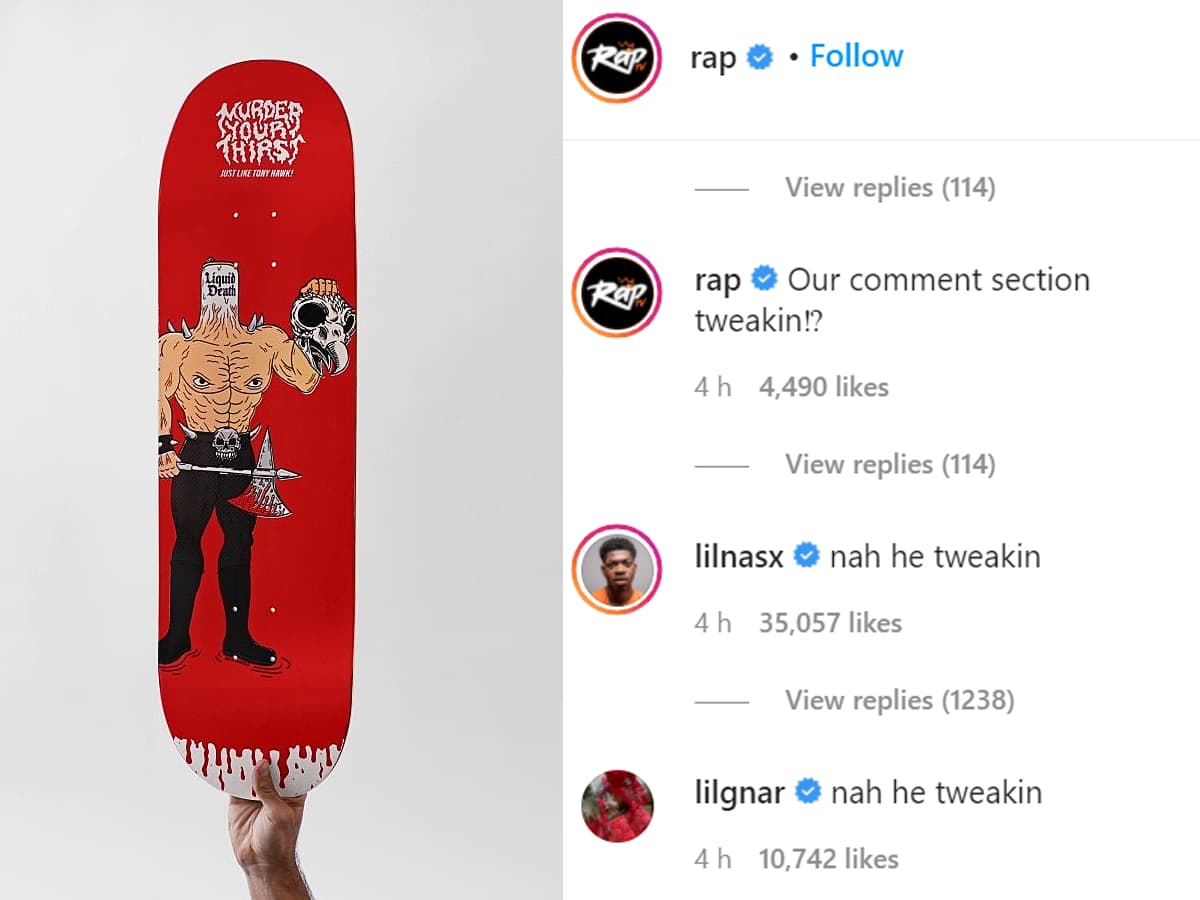 Tony Hawk Bloodboard
The board was released as a collaboration between Tony Hawks brand Birdhouse and Liquid Death, a mountain water company. It's a limited edition board – only 100 will be made – and will sell at a list price of $500, all for a good cause. A portion of profits will go towards the alleviation of plastic pollution and the building of skateparks in low-income communities.
In a statement, Tony said "This collaboration is taking those connections to a new level, as I have literally put my blood (and soul) into these decks, and I take pride in knowing that organisations fighting plastic pollution and creating skate parks worldwide will be supported through our efforts," he said.
We think it's still a bit weird, and too "trendy" for Mr Hawk. However, everyone's talking about it and the comments section NEVER lies, so maybe raising a little money for charity isn't so bad after all. Find the link below to see Tony getting his blood extracted and poured into the red paint which is then used to cover the board. Yuck.
General FAQ
What does nah he tweakin' mean?
The phrase Nah he tweakin' comes from the word 'Tweakin' that describes the act of not making sense of anything or saying stupid shit.
Why is Nah he tweakin going viral?
The phrase is going viral after Lil Nas X commented 'Nah he tweakin' on an Instagram post in relation to Tony Hawks blood infused skateboard deck.