18 Best Beer Gardens in Melbourne
There are certain pleasures in life that are almost universally enjoyed. Enjoying a beer in a tranquil outdoor setting is something that many cultures love. With many options to choose from in Melbourne, we have rounded up a list of the 18 Best Beer Gardens in Melbourne (in no particular order) to help you decide which one to visit.
When it comes to beer gardens, Melbourne has many establishments that specialise in craft beer and gourmet food. Others, provide patrons with pub classics. All of them have excellent gardens where you and some good friends can enjoy the amenities. When the weather is on in Melbourne, its on. This all lined up together means you're certain for a good time, let's get into it.
You'll also like:
20 Best Hidden Bars in Melbourne
25 Coolest Bars in Melbourne
20 Best Rooftop Bars in Melbourne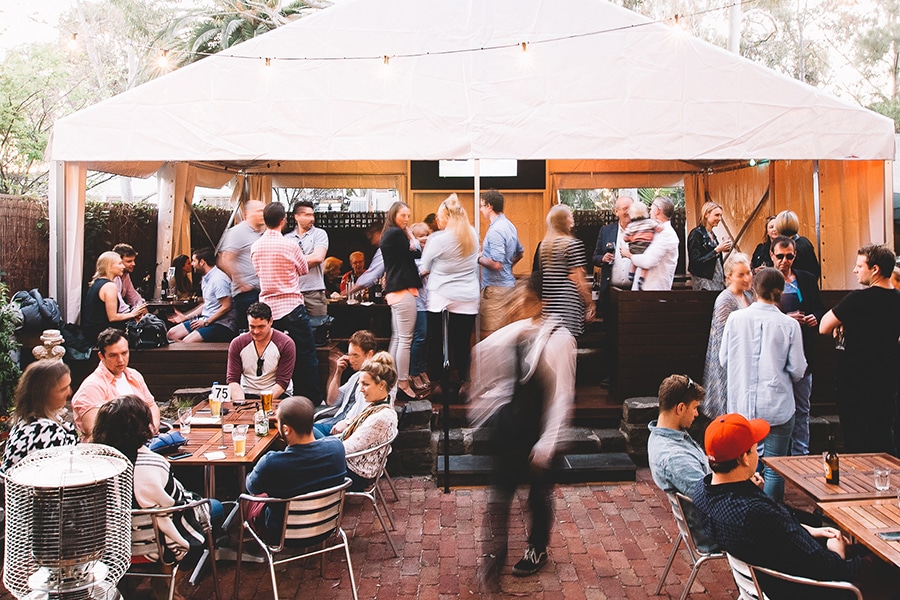 1. The Flying Duck Hotel
We begin our list with a bar that is renowned for its beer garden and its beer garden alone. Don't get us wrong the entire Flying Duck Hotel is smashing, but their beer garden is what a drunk man's dreams are made of. The Duck features a peaceful location ideal for enjoying a drink on a sunny afternoon.  When dinner time rolls through feel free to sample some of the delicious eats to go along with your beverage. The perfect start to a cracking night.
67 Bendigo Street, Prahran, Melbourne VIC 3181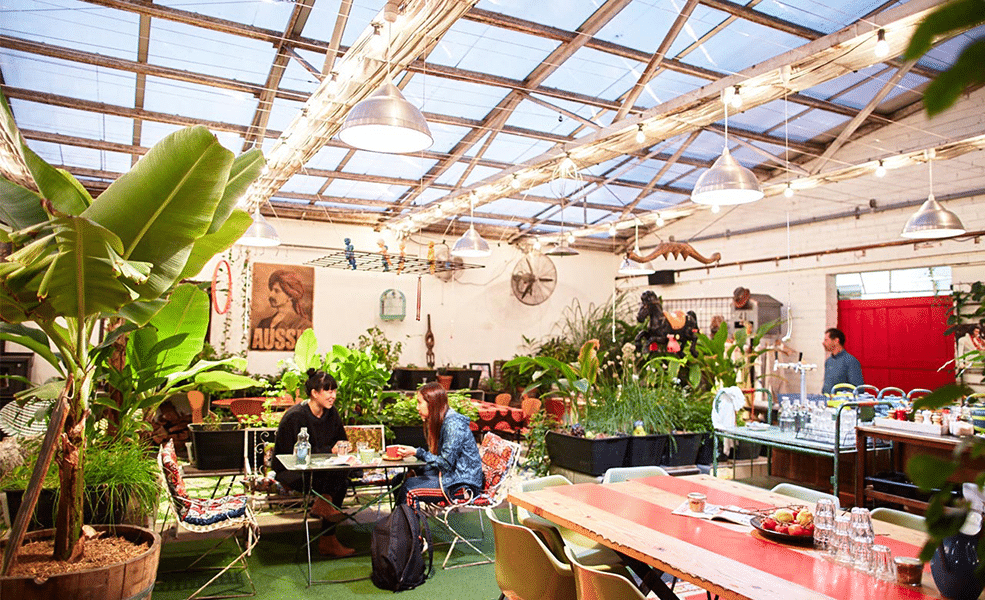 2. Grub Food Van
Located in the trendy suburb of Fitzroy, the Grub Food Van is one of the best beer gardens Melbourne has to offer. If that sounds odd than fair enough, but hear us out, what the pub lacks in outdoor amenities it makes up for in bountiful green foliage. The place is decked out with beautiful plants and charming little garden gnomes and for those with a competitive streak, then you can sip on your drink while having a go at the bars table tennis. The drinks menu focuses heavily on a boutique Australian drops, another element that makes this oh so Fitzroy.
87-89 Moor Street, Fitzroy, Melbourne VIC 3065
3. The Boatbuilders Yard
What makes the Boatbuilders Yard is not just it's impressive beer garden but also it's incredible views that greet you. It seems fitting that you should be having a drink in a place called the Boatbuilders Yard while being able to see, you know, boats. If you head down to the harbour at South Wharf Promenade you will be greeted by an impressive sight. This is the particular place to bring friends from out of town, to simply prove to them just how great Melbourne is. After all, it is the world's most liveable city.
23 S Wharf Promenade, South Wharf, Melbourne VIC 3006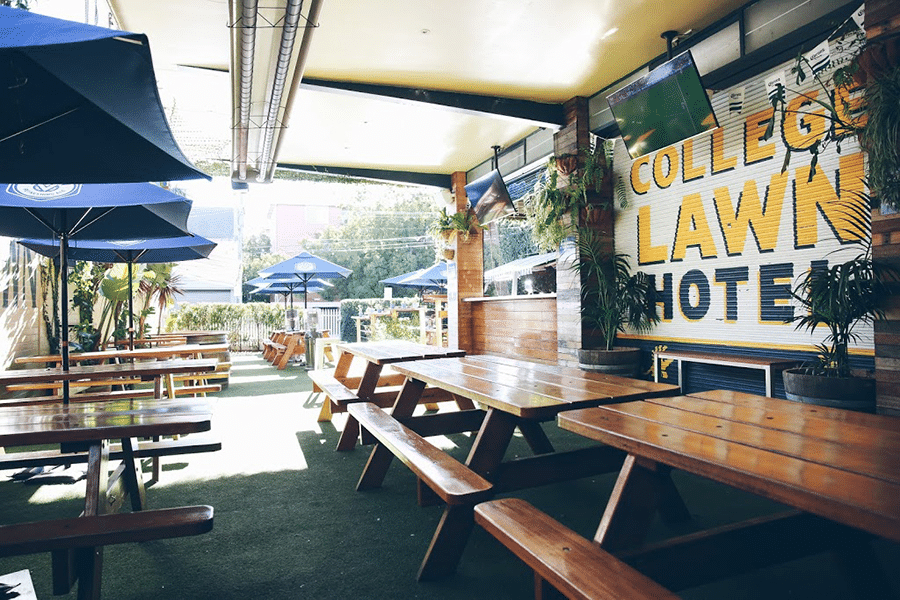 4. College Lawn Hotel
In the Melbourne suburb of Prahran, you'll find an establishment that focusses on providing traditional service with quality, cheap drinks. The College Lawn Hotel's beer garden has been known in the past to house hundreds of patrons, especially on Sunday's during their infamous weekend session's. That being said during the week it can be a nice secluded haven from busy of Melbourne.
36 Greville Street, Prahran, Melbourne VIC 3181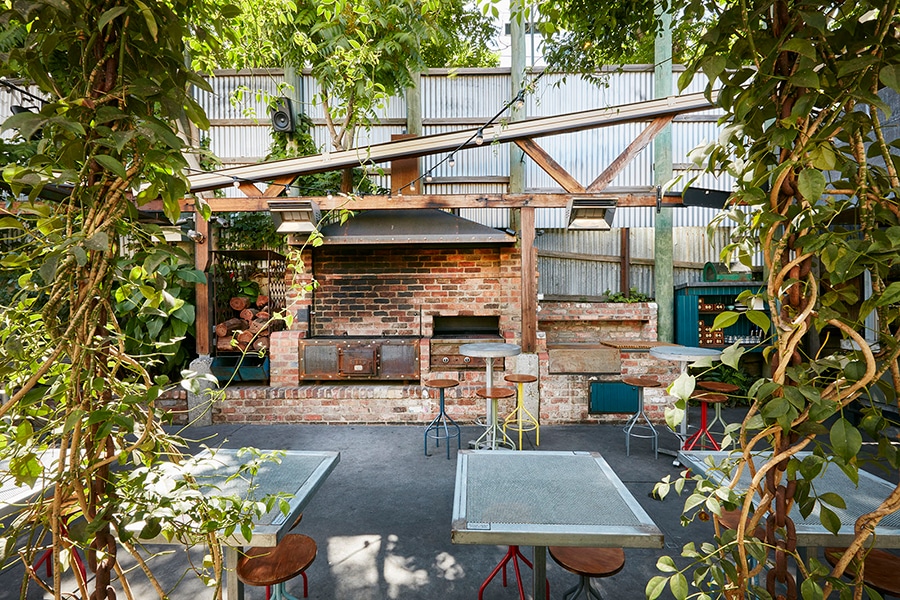 5. Dr Morse Bar and Eatery
Considered consistently as one of the best beer gardens in Melbourne, Dr Morse Bar and Eatery is a place where you can get a cure for what ails you, especially if you're after some superb ale. We all know Melbourne is known for its, well, less than predictable weather. This is an issue most beer gardens face, even the best in the city. Unlike others, Dr. Morse has thought ahead with a generous portion of the garden dedicated to an undercover area. After all, in Melbourne, the sun will be shining with anger and ferocity one moment and then in the blink of an eye you'll be soaked to the bone, shouting "Marge, Marge the rains are here!".
274 Johnston Street, Abbotsford, Melbourne VIC 3067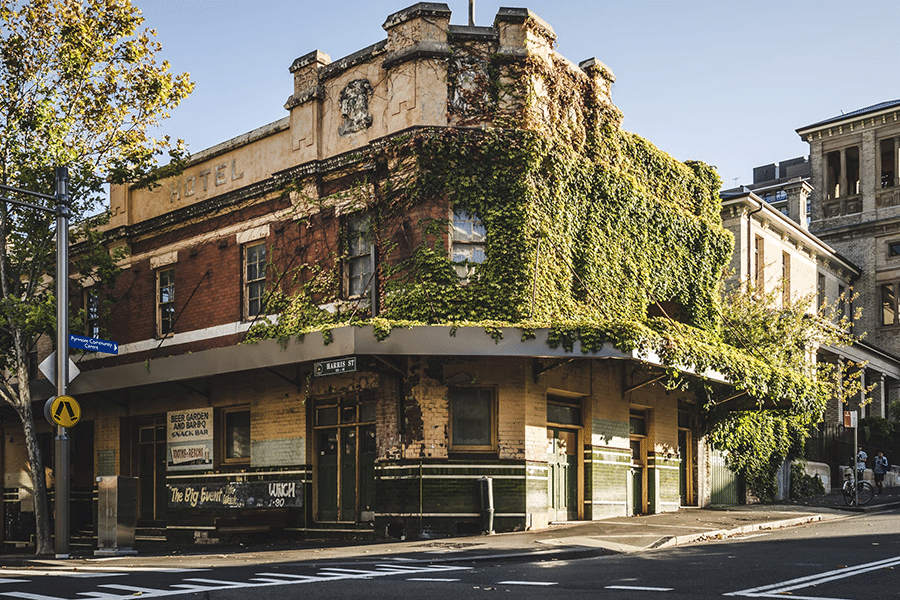 6. Terminus Hotel
The Terminus Hotel has been resurrected and reinvigorated, the Abbotsford icon has triumphantly returned with a fresh and inspired new look while maintaining the original and distinctive green façade. Something that is truly intriguing is the two-level urban jungle themed beer garden.
605 Victoria Street, Abbotsford, Melbourne VIC 3067
7. The Standard
Another Fitzroy member of our list, The Standard has gained a reputation as one of Melbourne's best. The jewel in The Standard crown is the sprawling, beer garden. Designed to thrive in the ficklest of Melbourne weather (boiling hot one minute, hailing thunderstorms the next), it accomplishes the significant triumph of keeping the masses cozy in the winter months and festive in the summer sunlight.
293 Fitzroy Street, Fitzroy, Melbourne VIC 3065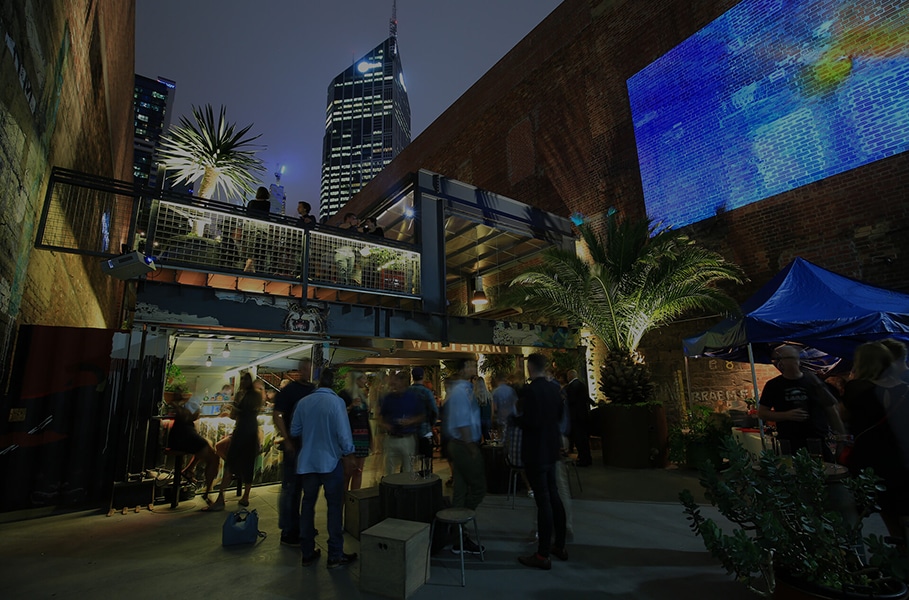 8. Whitehart
Located smack bang in the Melbourne CBD, with views of the ever impressive skyline, Whitehart capitalizes on the popular trend of shipping container buildings. The bar's outdoor area is often lit up with some rather impressive wall projections designed by local artists. All this alongside a cast of craft brews, boutique wines and signature cocktails, and eats from a selection of the city's food vendors, this a new place to watch and visit.
22 Whitehart Lane, Melbourne CBD VIC 3000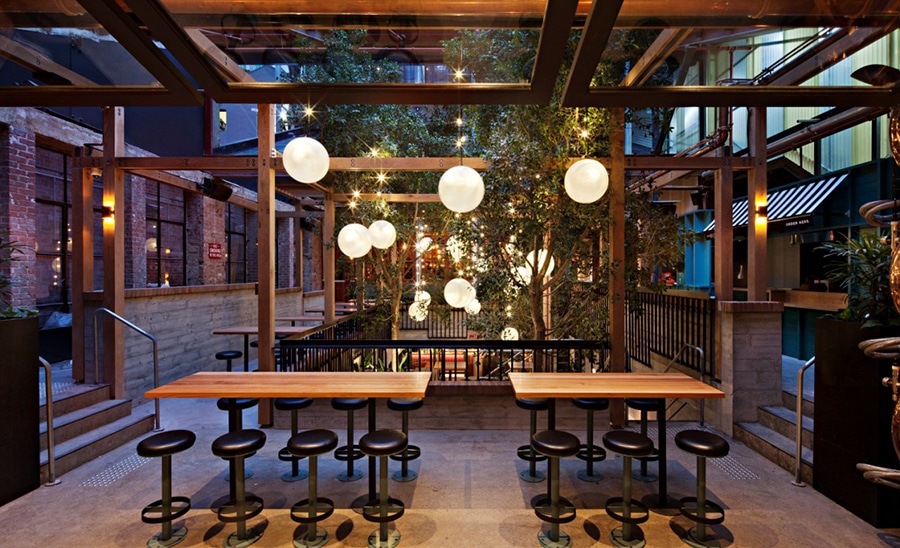 9. Garden State Hotel
Remaining in the Melbourne CBD we have the Garden State Hotel on offer to beer garden lovers. This particular incarnation of outdoor areas definitely ups the sophistication factor. The drinks list contains all of the usual suspects, but perhaps the biggest drawcard is the food menu. Offering a wide array of delectable gourmet eats we recommend sampling anything that comes off the New York style grill.
101 Flinders Lane, Melbourne CBD VIC 3000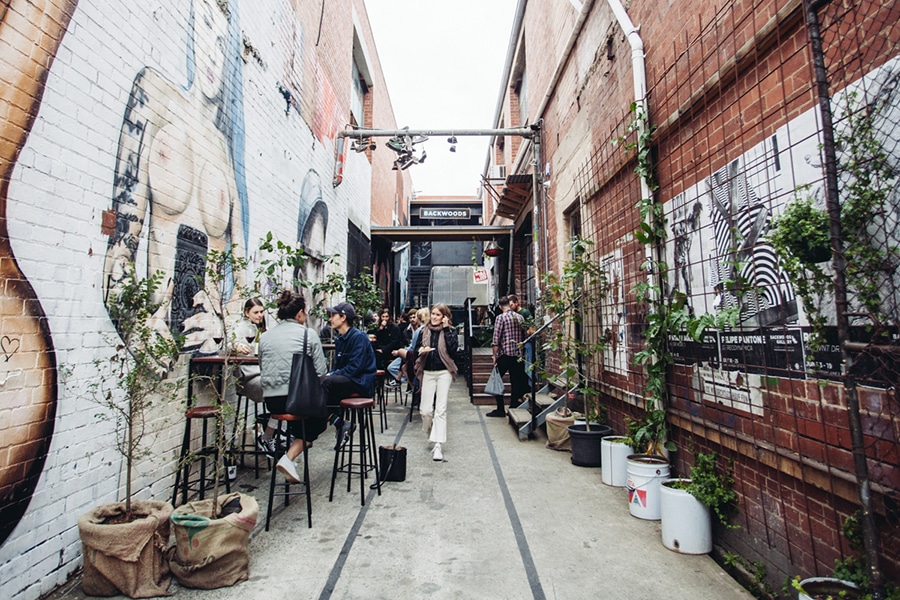 10. Paradise Alley
An esteemed member of some of our other lists concerning bars in Melbourne (25 Coolest Bars in Melbourne), Paradise Alley is a great place to spend an evening. The communal nature of this bar is what makes it so desirable, with the bar working alongside fellow business to provide food and drinks to visitors. Its outdoor area, its walls adorned with street art makes this one of smoothest establishments on our list.
25 Easey Street, Collingwood, Melbourne VIC 3066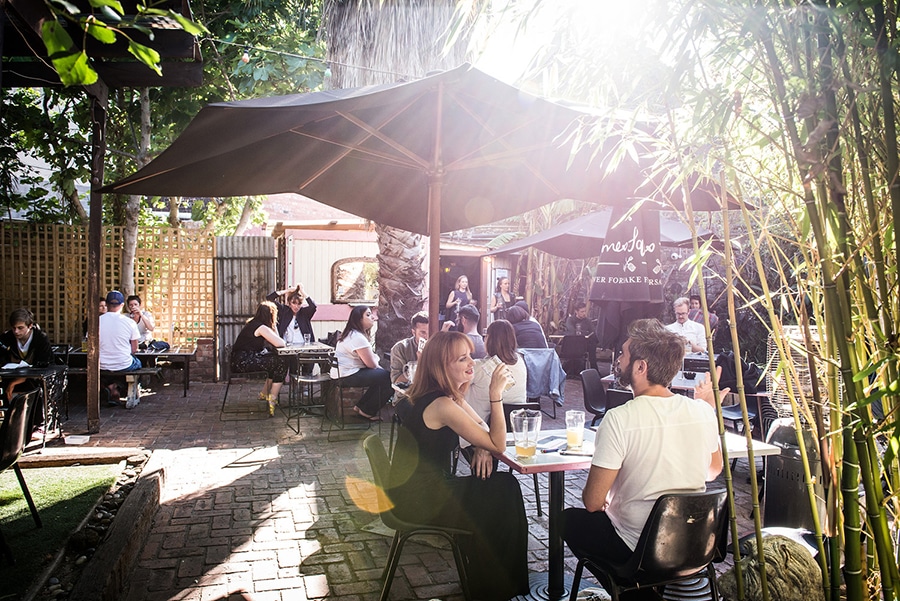 11. The Wesley Anne
The Wesley Anne is where it's at. Well, that is when it comes to having a leafy beer garden on offer. Once you get past the bars interior gothic vibe, then your greeted with a pleasant tranquil place where you can pull up a chair and have a well-deserved drink. The fact that this particular bar is housed in a former church will have you singing their praises. If the décor doesn't then the respectable food menu and wide-ranging drinks menu will certainly get your tongue a-wagging.
250 High Street, Northcote, Melbourne VIC 3070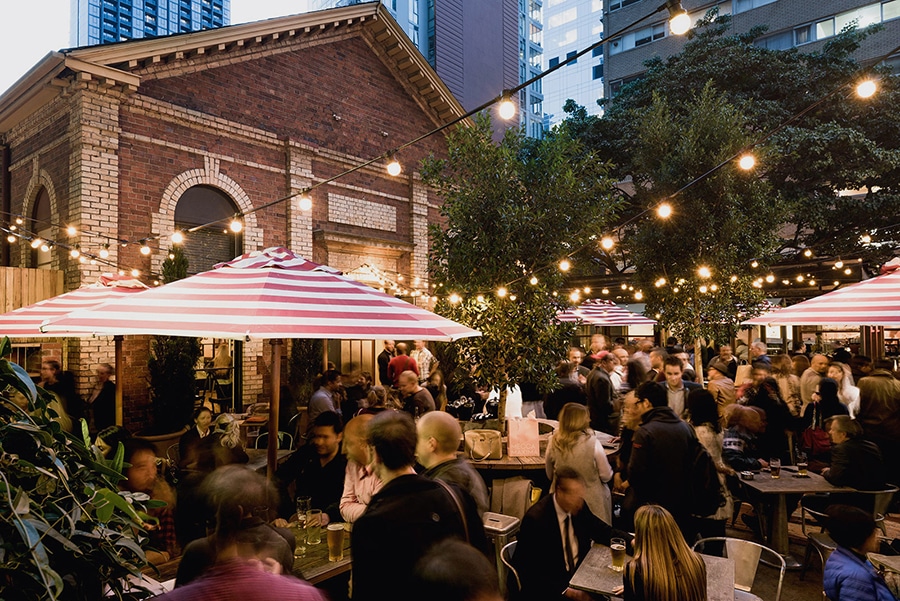 12. Trunk
In the Melbourne CBD, the options for drinking venues are seemingly never-ending. So how does a bar differentiate itself from the pack? Trunk does so by offering a staggering amount of options to patrons. This and this alone makes it a fitting member of any list with regards to the best bars and best beer gardens in Melbourne. Continuing the conversion theme of the last few establishments, the building that Trunk calls home began its life back in the 1850's as a synagogue. With 14 Beers or tap and over 100 wines to choose from, you're sure to find what you need.
275 Exhibition Street, Melbourne CBD VIC 3000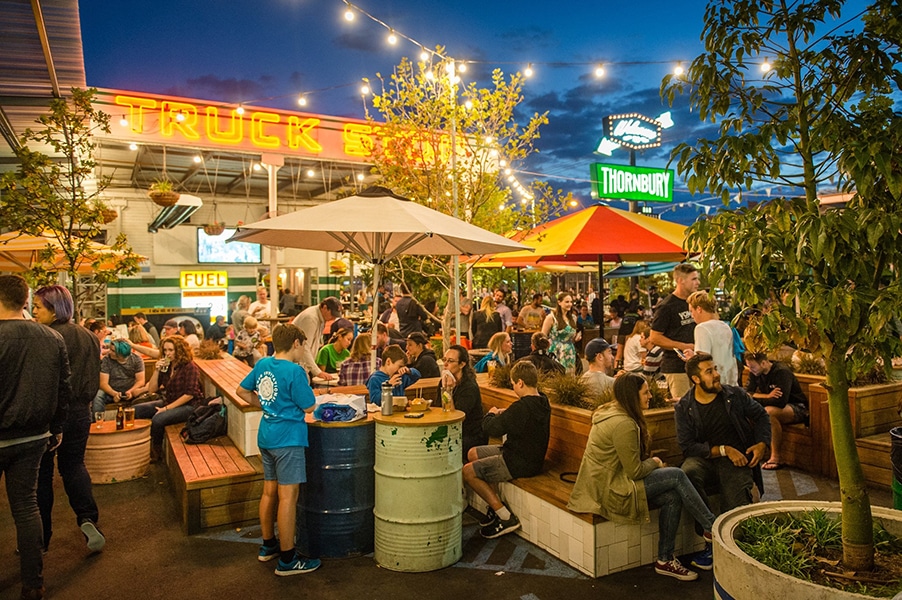 13. Welcome to Thornbury
Welcome to Thornbury is and, in many cases, has always been a mainstay of the Melbourne evening scene, functioning as a car manufacturing factory for much of the 20th century, and now, as the second largest beer garden and only permanent bar and food truck stop in Melbourne. Each month punters can look forward to up to 80 food trucks rotating daily, with 5 to 7 on site. This site is so massive that it can hold up to 530 people in its outdoor area and the entire facility is licensed to hold at least 700. Feeding time around here is a sight to see.
520 High Street, Northcote, Melbourne VIC 3070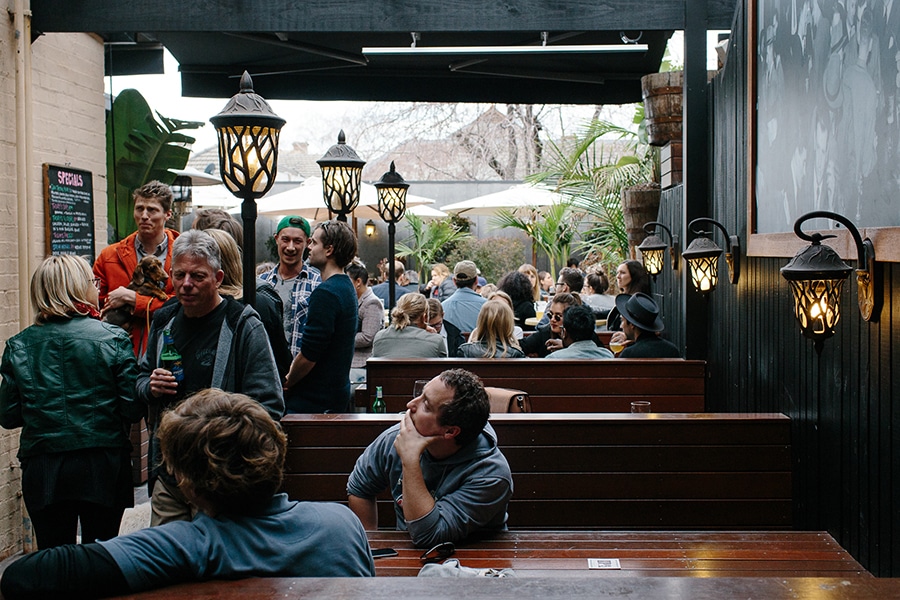 14. The Great Northern
The penultimate member of our list is one that has a massive reputation for its massive beer garden. The Great Northern states that its beer garden is the largest in Melbourne if not Australia. We highly recommend visiting this place. We've said that a lot in our list but this one, in particular, is something special. Ever since opening back in 1883 The Great Northern has provided Melbournians with a space to create many great memories, and we hope that it will continue to do so for many years to come.
644 Rathdowne Street, Carlton North, Melbourne VIC 3054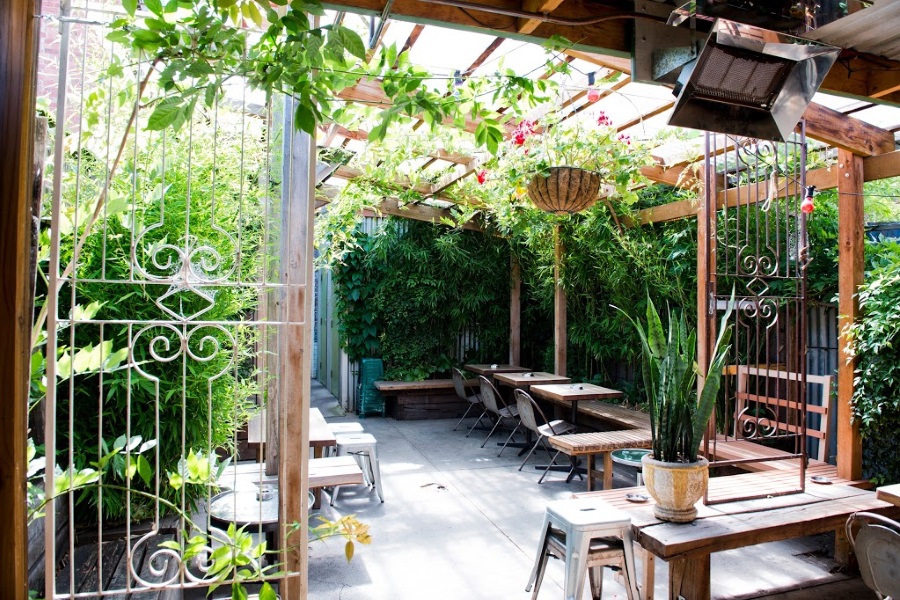 15. The Alderman
The thing about The Alderman is that it is a very intimate, cozy establishment. The kind of place you'd come to visit if you had a close-knit group of friends or a significant other. It is more commonly known as a winter bar, but during the summer months, its courtyard out the back gets lots of love. Truth be told, it gets love in the colder months as well. With craft beers by the bottle and everyone's favourites on tap, it's a quaint kind of place to visit.
134 Lygon Street, East Brunswick, Melbourne VIC 3057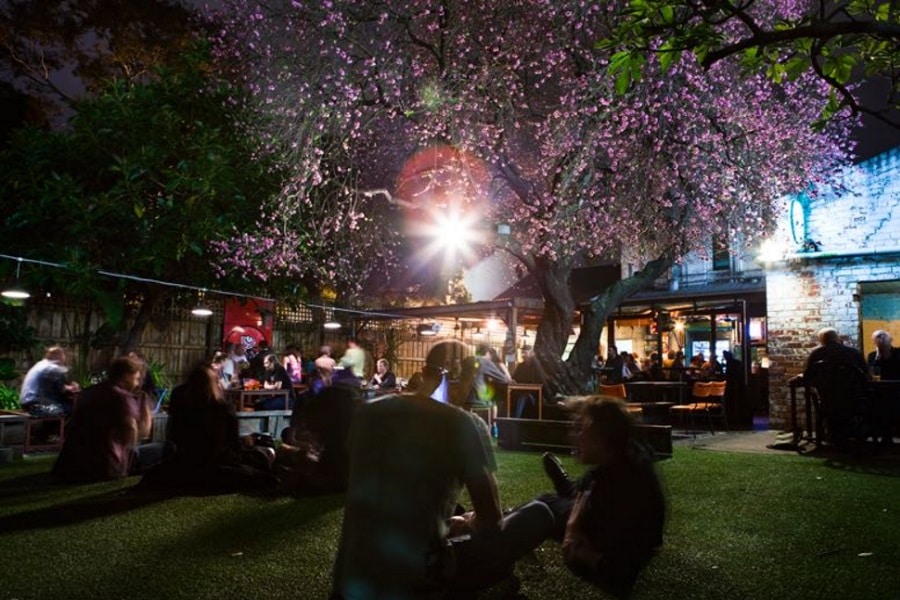 16. The Retreat
The Retreat Hotel's main drawcard is its live music. For years it has been known for this and to this day it continues to put on show some killer bands to patrons. Once you usher your way past the dance floor, you'll find a beer garden that has become a legend in itself. Astroturf on the floor, fairy lights in a large knobbed tree and seats aplenty its the ideal place to come a chill with some good mates, while listening to some smashing tunes. This might be the funnest beer garden Melbourne has to offer.
280 Sydney Road, Brunswick, Melbourne VIC 3056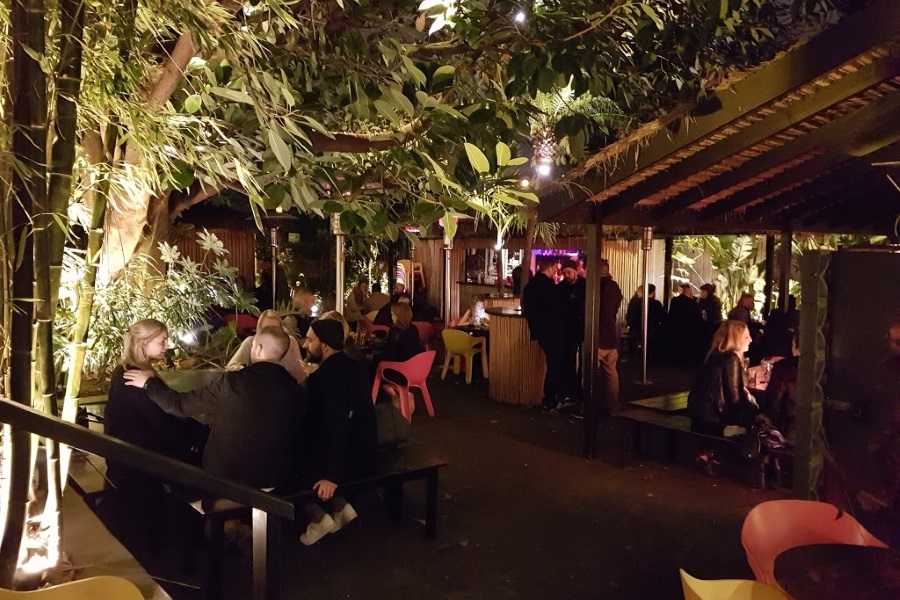 17. Windsor Castle
For those of us who enjoy a tiki-inspired cocktail bar that also has an accommodating outdoor drinking area then we should thank the minds who brought us the Windsor Castle. The outside of this establishment is painted in what can only be described as energy-drink green. But wait, what's that on the roof? A bunch of Elephants that's what. Quite the quirky place to be. On a sunny afternoon it's a place like no other, if you look close enough you may just see one of the bar's famous stuffed peacocks…who are we kidding, you don't have to look that hard.
89 Albert Street, Windsor, Melbourne VIC 3181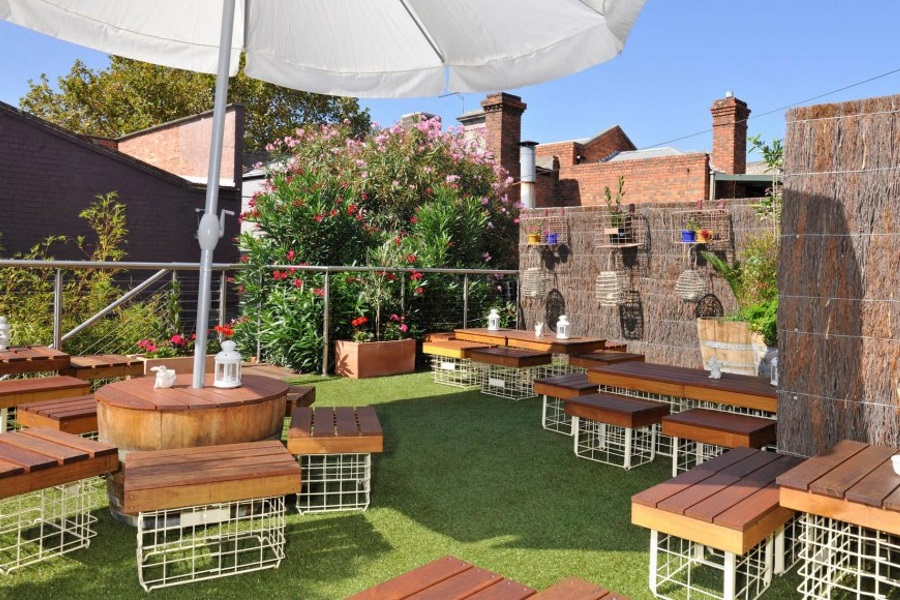 18. Jimmy Watson's
We finish on a civilized note; The garden is nestled between the rear of Jimmy Watson's and the stairs to the Wolf's Lair Treetops.  This established, leafy courtyard is an oasis from the hustle and bustle of busy Lygon Street. In summer the Courtyard is a great place to sit with friends and sip on a bottle of Watsons Dry and Dry and discuss the day's issues. In winter snuggle under one of the heaters and enjoy a glass of Rutherglen red and a good book.
333 Lygon Street, Carlton, Melbourne VIC 3053
You'll also like:
20 Best Hidden Bars in Melbourne
25 Coolest Bars in Melbourne
20 Best Rooftop Bars in Melbourne