23 Best Tasmanian Whiskies & Distilleries
Thanks to the island's temperate climate and abundance of barley and peat, a thriving Tasmanian whisky scene has sprung to life over the past few decades. To this day, Tasmanian whisky distilleries continue to pop up and churn out some of Australia's best single malts. And while names like Lark Distillery and Sullivans Cove lead the charge when it comes to the best whisky in Tasmania, there's no shortage of small-batch producers hot on their tail.
It all makes for a genuinely exciting and rewarding industry, which is why more and more people are walking the Tasmanian Whisky Trail each and every year. Should you do the same, you'll end up tasting some of the world's best Tasmanian Scotch, which gives actual Scotch (i.e. whisky made in Scotland) a run for its money. That's what the best Tasmanian whisky is all about, folks.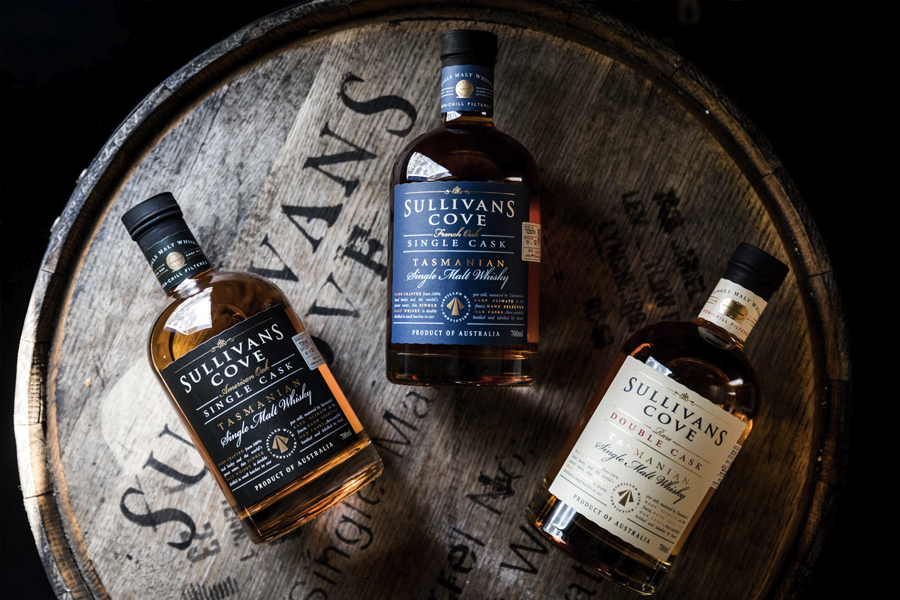 As you can probably guess, the ideal way to experience whisky in Tasmania is to take a distillery tour. Not only will you get the chance to sample the occasional rare dram, but you'll learn how this wonderful juice gets made in the first place. That said, you don't need a tour to appreciate the rich taste waiting inside every bottle of delicious Tasmanian Scotch whisky; all you need to know is which bottle to buy.
Enter our list of the best Tasmanian whiskies and distilleries. Running the full gamut, we leave no quality bottle behind, thereby exploring our favourite spirit to its utmost potential. It's thanks to each hard-working distillery that some of the best whisky in the world hails from Tasmania, with the awards to prove it. Try one or try them all. You won't be disappointed.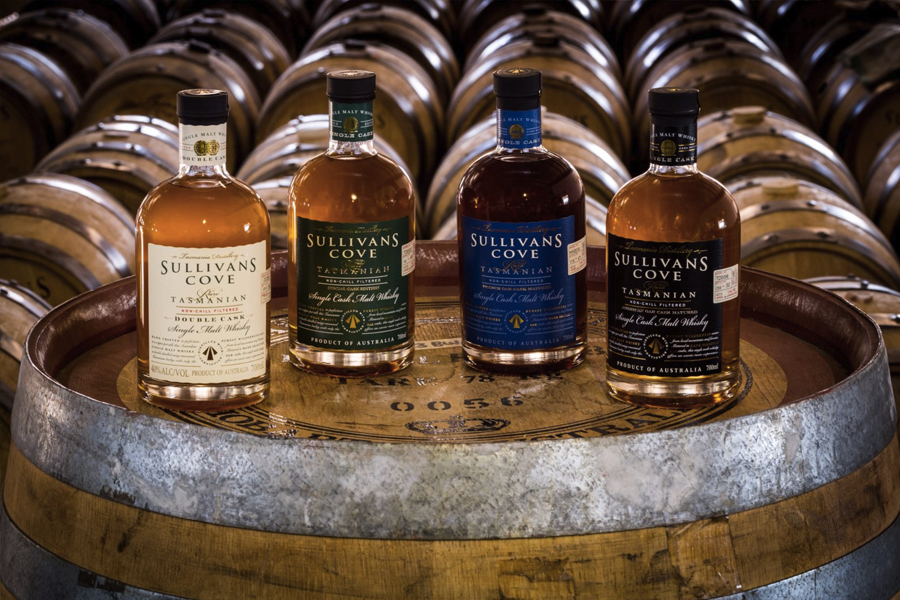 1. Sullivans Cove
No discussion of the best Tasmanian whisky is complete until you land on Sullivans Cove. From its original operation in Hobart to its recent relocation to Cambridge, this epoch-making distillery helped put Australian whisky on the world map and keep it there.
Where to even begin? How about with the American Oak Single Cask, i.e. the first Aussie whisky to be hailed as "Liquid Gold" in Jim Murray's Whisky Bible? Then we have the French Oak Single Cask Tasmanian Whisky, winner of "World's Best Single Malt" at the 2014 World Whiskies Awards.
These days, Sullivans Cove is still churning out the world's best Tasmanian Scotch and some of the best whisky in the world, period. It's the very essence of what Tasmania's thriving industry is all about.
Address: 1/10 Lamb Pl, Cambridge TAS 7170
Phone: +61 3 6248 5399
Hours: Mon-Sun 10am-4pm
Distillery Tours: Daily by appointment from 10am-4pm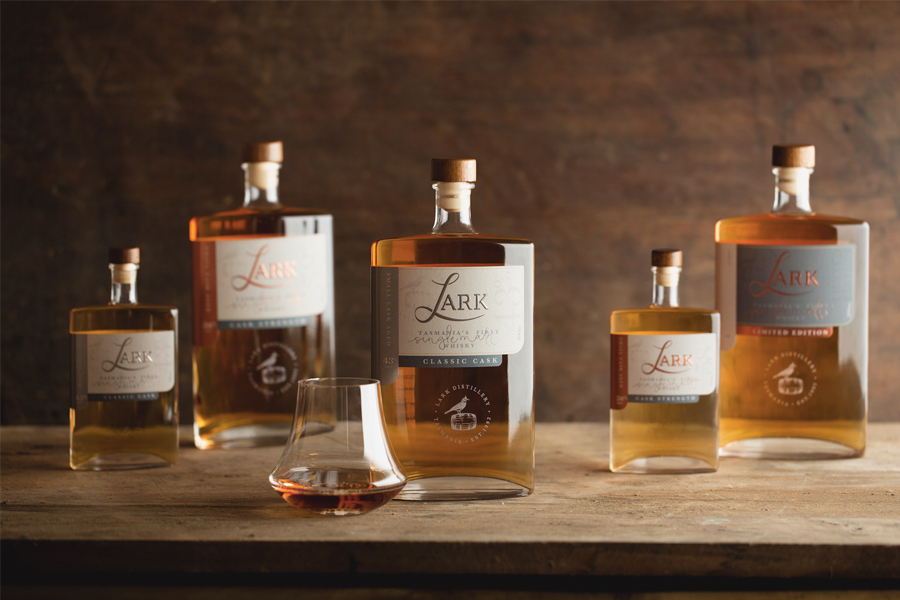 2. Lark Distillery
More than a frequent award-winner, this Tasmanian whisky distillery basically launched the entire scene. That's because founder Bill Lark (aka the godfather of Tasmanian whisky) was amongst the first to challenge a local ban on hard liquor, which dated all the way back to 1839. Upon borrowing some barley from Cascade brewery, Lark and his family produced their first batch of Tasmanian whisky in 1992, and history was born.
To this day, Lark Distillery's single malts are the stuff of legend, hence the loyal following and heaps of acclaim. Your journey for some of the world's best Tasmanian Scotch could very well start and end here.
Address: 14 Davey St, Hobart TAS 7000
Phone: +61 3 6231 9088
Hours: Sun- Thu 12pm-8pm, Fri-Sat 12pm-11pm
Distillery Tours: Daily by appointment from 10:30am-1pm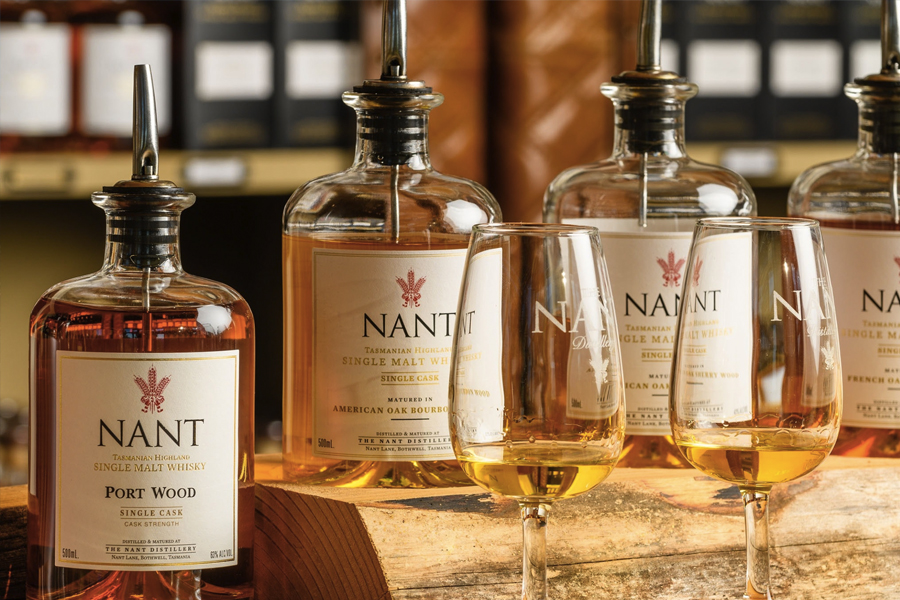 3. Nant Distillery
Drawing upon centuries of tradition, Nant Distillery makes for a textbook case of quality over quantity. That is to say, this top Tasmanian whisky distillery does a few things and it does them well. Its beloved Single Malt Whisky Classic Collection consists of three choice expressions, which are respectively aged in either American oak sherry casks, American oak bourbon casks, or French Oak port casks.
To provide a touch more variety, each one is available at either 43% ABV or cask strength. Also featured is the occasional limited edition release. Should you be walking the Tasmanian Whisky Trail, come here for the tastings, and stay for the heritage landmarks and sweeping views.
Address: Bothwell TAS 7030
Phone: +61 3 6111 6110
Hours: Wed-Sun 12pm-4pm
Distillery Tours: Daily by appointment at 11:00am & 1:30pm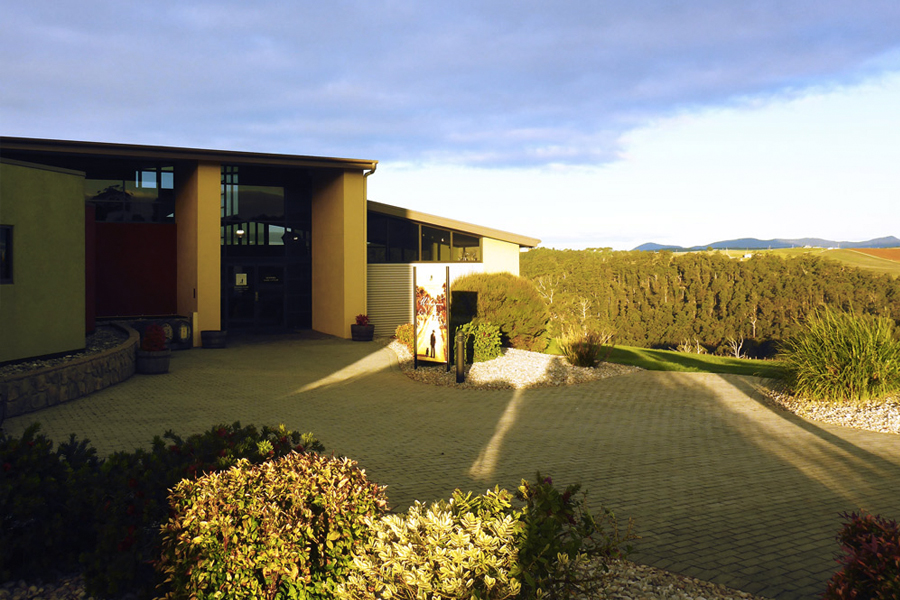 4. Hellyers Road
Thanks to a healthy investment of $10 million, a long-running dairy co-operative turned its attention toward Tasmanian Scotch whisky in 1999. Jump ahead to the present day and Hellyers Road continues to craft a small, but delicious range of premium single malts. While the Original 12-Year Single Malt tends to be the fan favourite, expressions such as the Original 15 Year, Slightly Peated 10 Year, and Pinot Noir Finish are no less rewarding.
Upon visiting this whisky distillery in Tasmania, guests will also discover a fully licensed restaurant and fantastic tasting bar, along with epic views of Emu Valley.
Address: 153 Old Surrey Rd, Havenview TAS 7320
Phone: +61 3 6433 0439
Hours: Mon-Sun 10am-4:30pm
Distillery Tours: Daily by appointment at 10:30 am, 11:30 am, 2:00 pm & 3:00 pm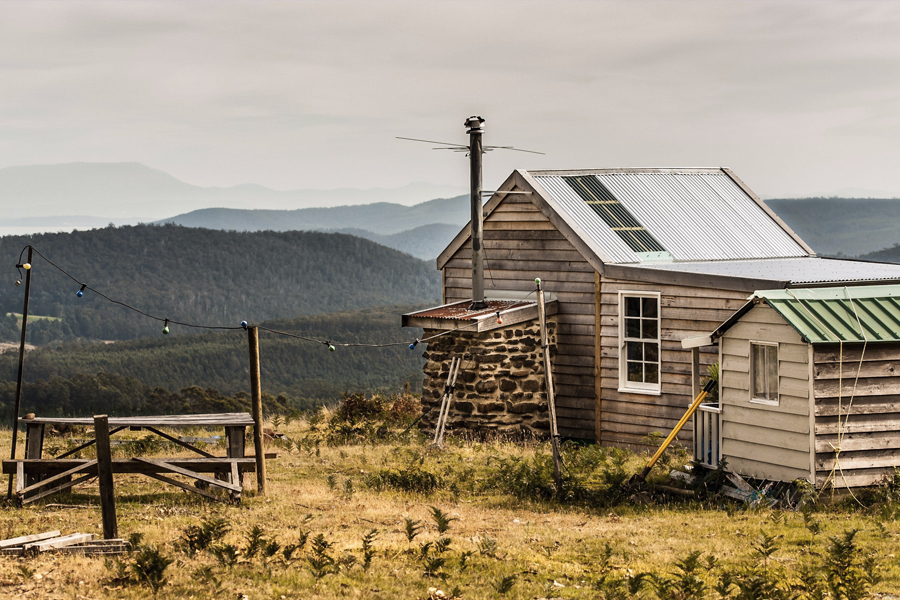 5. McHenry Distillery
Perched on the Tasmanian Peninsula, Australia's southernmost distillery doesn't stop at whisky. Making deft use of the area's abundant spring water and maritime climate, McHenry Distillery (formerly known as William McHenry & Sons) also churns out tasty bottles of vodka and the nation's "finest gin," according to Australian Gourmet Travel.
It all comes to us from William McHenry, who left his post at a Sydney biotech company to pursue his true passion for crafting quality spirits with his family. Mission: accomplished.
Address: 229 Radnor Rd, Port Arthur TAS 7182
Phone: +61 3 6250 2533
Hours: Mon-Sun 10am-4pm
Distillery Tours: Daily by appointment from 10am-4pm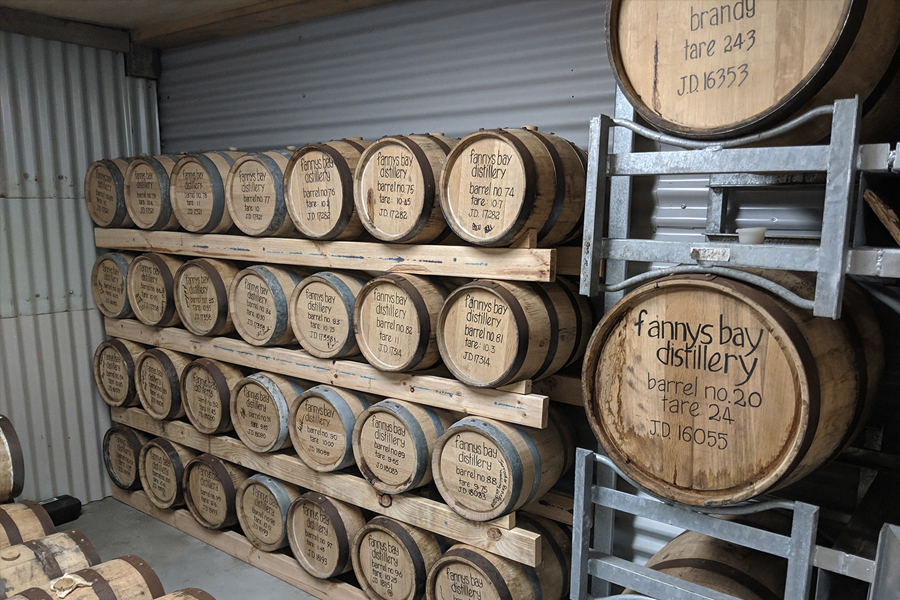 6. Fannys Bay
Located on the northern coast of Tasmania, Fannys Bay Distillery has been producing small-batch whisky since 2014. As if putting the local sea breeze in a bottle, each expression imparts a subtle, salty undertone.
This distillery is also quite crafty when it comes to maturation, utilising a variety of different barrel types to rich and flavourful effect. Pulling no punches, a number of releases come in at cask strength. The privilege of tasting these top Tasmanian whiskies isn't cheap, but it's worth it.
Address: Tam O'Shanter, 15 Seascape Dr, Lulworth TAS 7252
Phone: +61 431 512 006
Hours: Fri-Mon 10am-5pm
Distillery Tours: Cellar Door is typically open during business hours, but contact in advance to confirm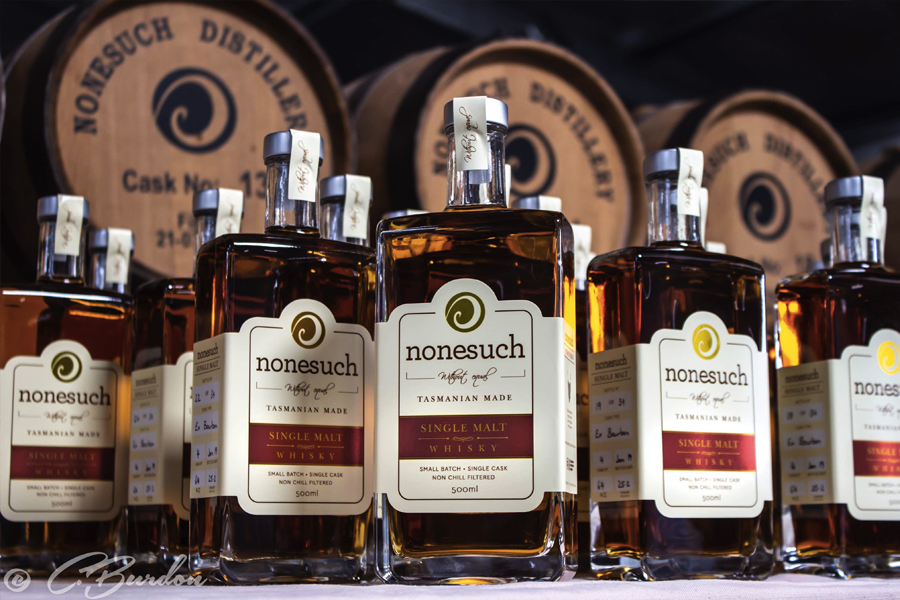 7. Nonesuch Distillery
From a working farm in Tasmania comes this family-run operation, which officially launched in 2015. In that short time, Nonesuch Distillery has made quite a name for itself, to become one of the best Tasmanian whisky distilleries you can find. After selecting, grinding, and fermenting local grain on-site, the family double distils its whisky in a bespoke copper pot still.
As you can probably guess, the resulting output is preciously limited in supply. It's also quite distinct and delicious, as are the label's two signature gins and its sloe malt.
Address: 491 Arthur Hwy, Forcett TAS 7173
Phone: +61 408 616 442
Hours: Mon-Tue & Thu-Fri 10am-3:30pm, Sun 11am-2pm
Distillery Tours: Available during business hours – call ahead to confirm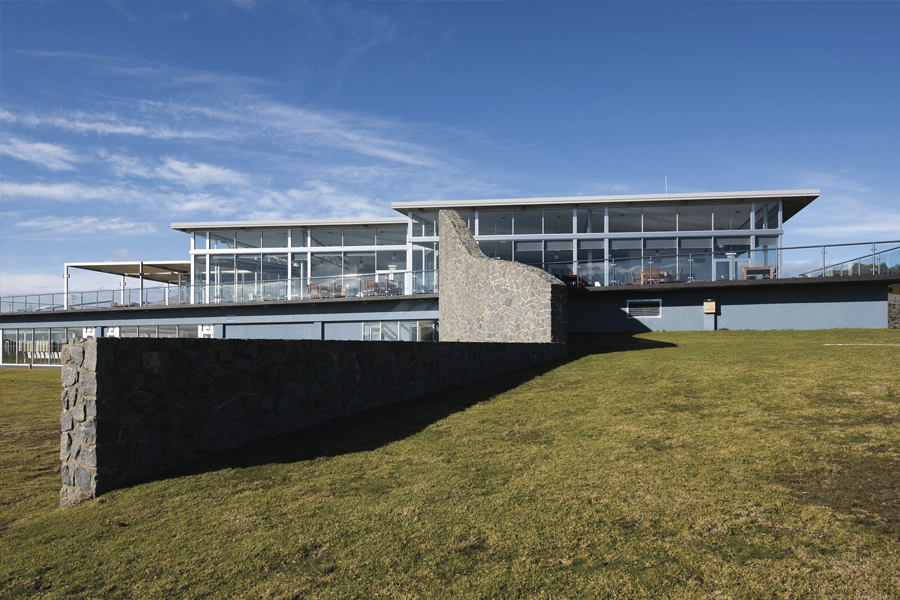 8. Iron House
Iron House was an established brewery with a problem on its hands: what to do with all that excess wash. Originally intending to sell the wash to Tasmania's other whisky producers, head brewer Michael "Briggsy" Briggs had a better idea: to launch his own distillery. That brings us to a handful of exceptional brandies and the release of Tasman Single Malt, i.e. the distillery's first official whisky.
Will it hold up as well as Iron House's range of coveted beers? You might just have to visit the brand's epic property in the White Sands Resort to find out.
Address: White Sands Resort, 21554 Tasman Hwy, Four Mile Creek TAS 7215
Phone: +61 3 6372 2228
Hours: Sun-Thu 8:30am-5:30pm, Fri-Sat 8:30am-8:30pm
Distillery Tours: By appointment only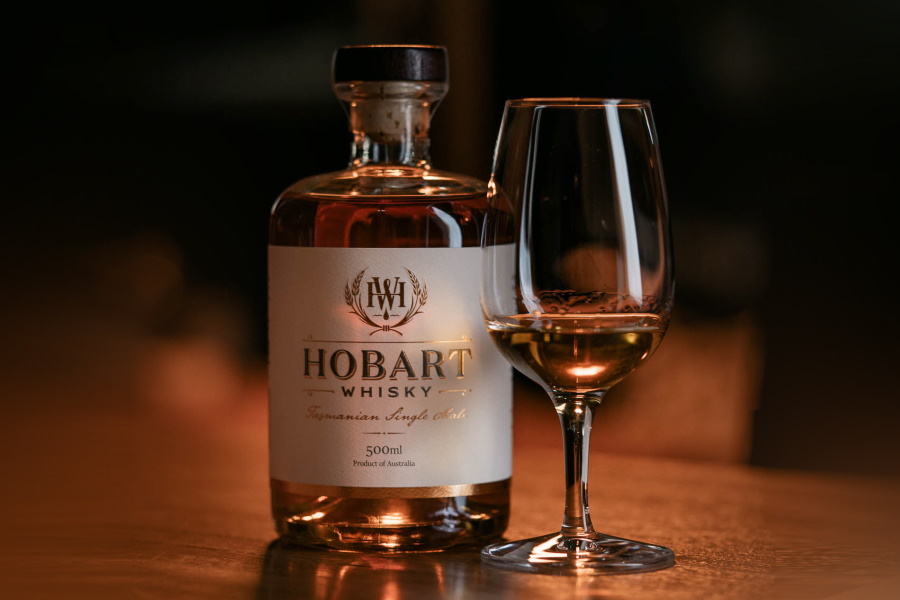 9. Hobart Whisky
From the family-owned two-man operation that is Devil's Distillery comes the aptly named Hobart Whisky. This celebrated brand flips the bird to convention and believes in releasing products when they're perfect and not just when they're ready. This means that each Tasmanian whisky released is unique, craft distilled, and individually cut, with decisions based purely on scent and taste.
Every bottle is individually numbered and labelled and sold until the distillery is out of stock. That means any particular release from Hobart Whisky will never exist again, however, they are constantly producing and preparing products for release. In other words, there's a chance they'll have something similar maturing, or in the works, at any given time.
Address: 1 Gormanston Rd, Moonah, TAS 7009
Phone: (03) 6165 1116
Hours: Mon-Fri 9am-5pm
Distillery Tours: Available by pre-arranged appointment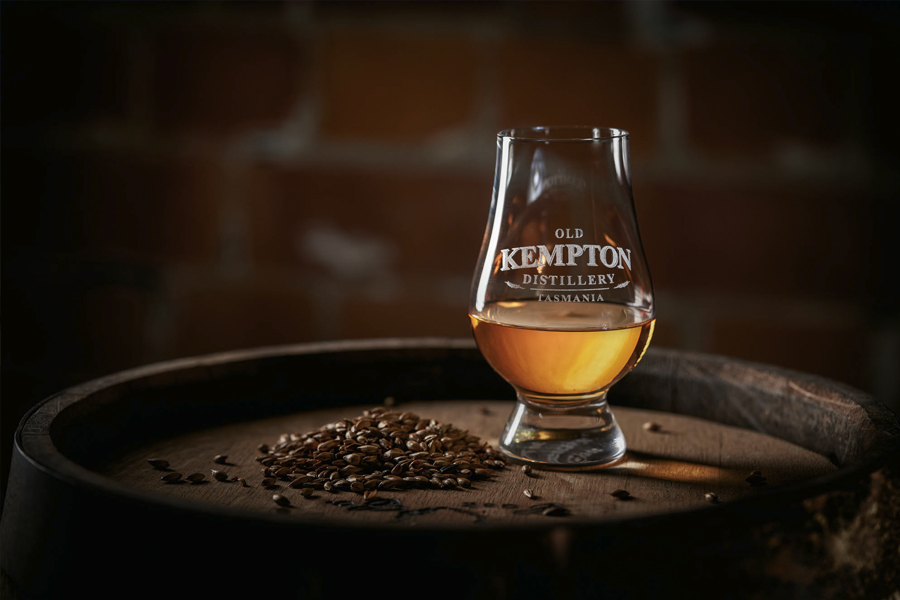 10. Old Kempton Distillery
What was formerly Redlands Estate is now Old Kempton Distillery, located about 50 kilometres north of Hobart. Old Kempton produces some of Tassie's most delicious distilled spirits and liqueurs (and keep an eye open for their shiny new distillery, to be opened next door to their Dysart House property, which will see a return to "paddock to bottle" distilling for the brand.)
The distillery also produces a London Dry-style gin, an apple liqueur, and infused spirits like barley vodka. They're likewise famed for their Lavender Malt, a liqueur produced from their new make spirit. Throw in a cafe, a colonial setting, distillery tours and tastings at 1:30 pm daily (free if you're a member of their Whisky Club, AUD$35 for visitors), and you have yourself a must-stop destination on the Tasmanian Whisky Trail.
Address: 26 Main St, Kempton TAS 7030
Phone: +61 3 6259 3082
Hours: Mon-Sun 10am-4pm
Distillery Tours: 1:30pm Daily (excluding public holidays)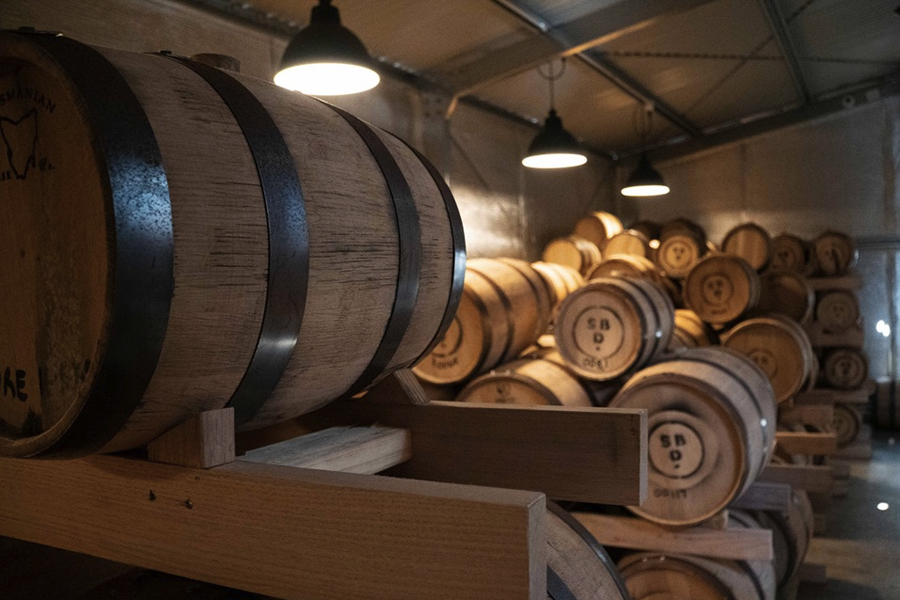 11. Spring Bay Distillery
What do you get when you combine superior Tasmanian barley, expert distillation methods, careful cask selection, and some of the purest water in the world? Spring Bay Distillery whisky, that's what. Located in lovely Spring Beach, this small-batch operation uses Tasmanian East Coast rainwater when producing its single malts, which deliver robust colour and impeccable flavour. This is Tasmanian Scotch done right.
Sure, you can order a bottle online, but you're better off visiting the distillery to take in those idyllic surroundings.
Address: 6 Hoods Rd, Spring Beach TAS 7190
Phone: +61 418 270 054
Hours: Mon-Wed & Fri-Sat 11am-2pm
Distillery Tours: Check website for availability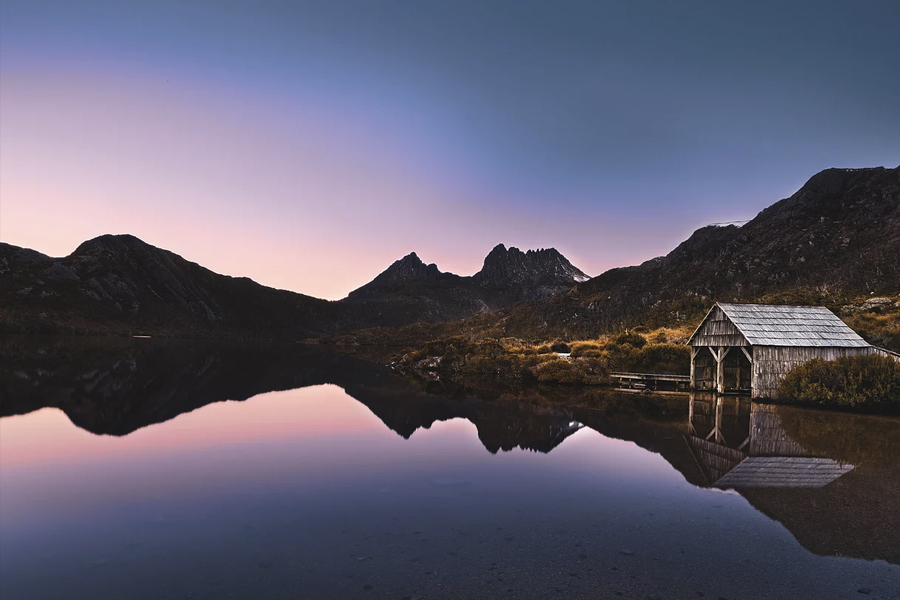 12. Cradle Mountain Whisky
The first batch of Cradle Mountain Whisky was distilled all the way back in 1989, under the name of Darwin Distillery. Name changes and revamps would follow, but the quality and craftsmanship at this commercial operation persist. Meanwhile, that sizable head-start has allowed the brand to keep its whisky in the barrel for considerable amounts of time.
For proof, look no further than Cradle Mountain Single Malt Whisky "Aged 17 Years," which makes up part of the Tasmanian Australian Heritage Collection. That collection, by the way, is said to be the island's oldest commercially-produced single malt.
Address: PO Box 69 Legana, 7277 Tasmania
Phone: +61 3 9010 5090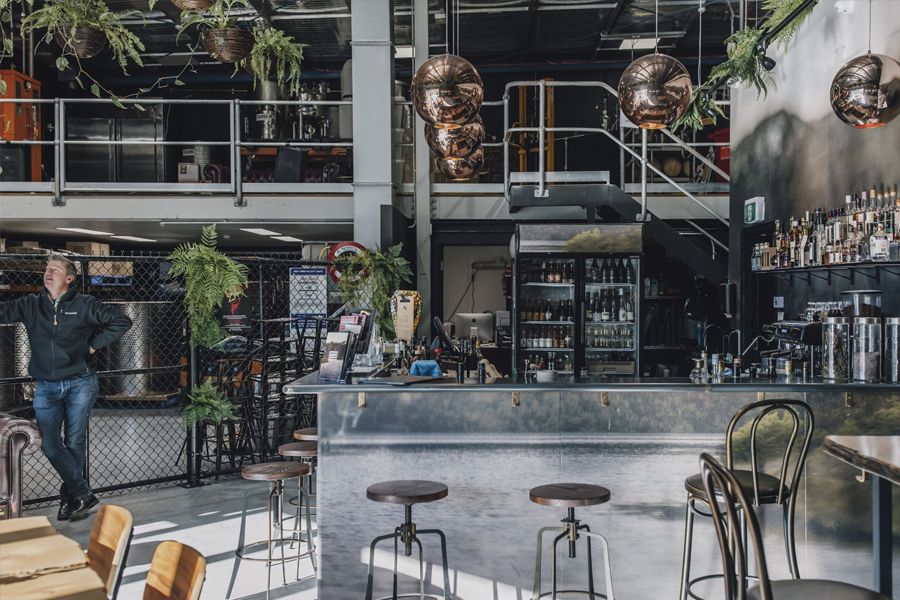 13. Southern Wild Distillery
It might be a stretch to call Southern Wild Distillery one of the best whisky-makers in Tasmania, as no one's had a taste of the actual whisky yet. Being that this is a relatively new company, its whiskey is still sitting in the barrel. Nevertheless, the distillery's signature gins have become hugely popular in just a few years time, so it's only natural to expect great things from any upcoming single malts.
Address: tenancy at 5/13-17 Oldaker St, Devonport TAS 7310
Phone: +61 3 6423 5981
Hours: Mon-Thu 12pm-6pm, Fri-Sat 12pm-10pm, Sun 10am-5pm
Distillery Tours: By appointment only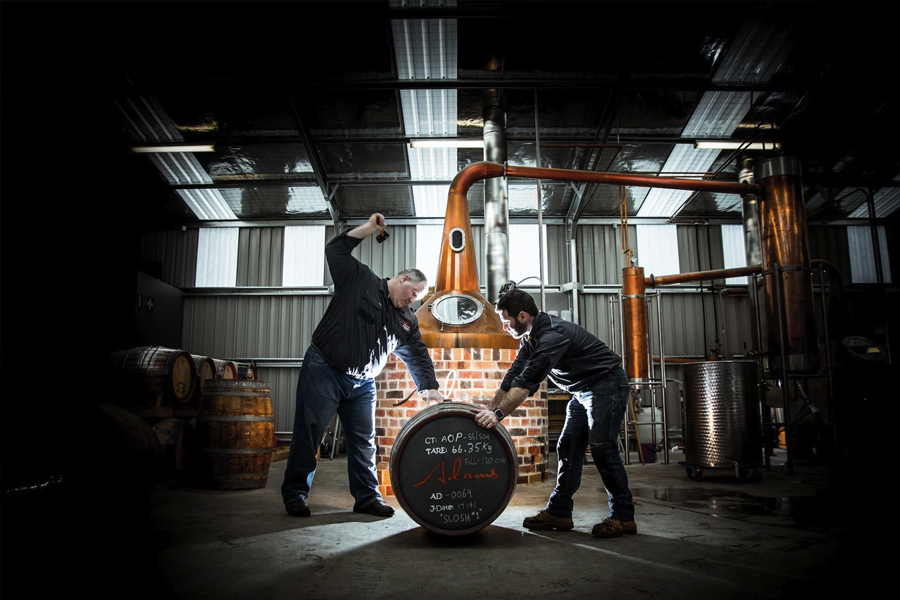 14. Adams Distillery
After visiting Scotland's Speyside region with his father, Adam Pinkard developed a passion for single malt whisky. With help from Fanny Bays head distiller Mathew Cooper, Adam began learning how to turn that passion into action. The next move was to build a distillery of his own with help from his friend, whose name also happened to be Adam.
That brings us to the fittingly named Adams Distillery, which just began releasing its first batches.
Address: 35 Drummond St, Perth TAS 7300
Phone: 0407 315 741 or 0459 479 040
Distillery Tours: By appointment only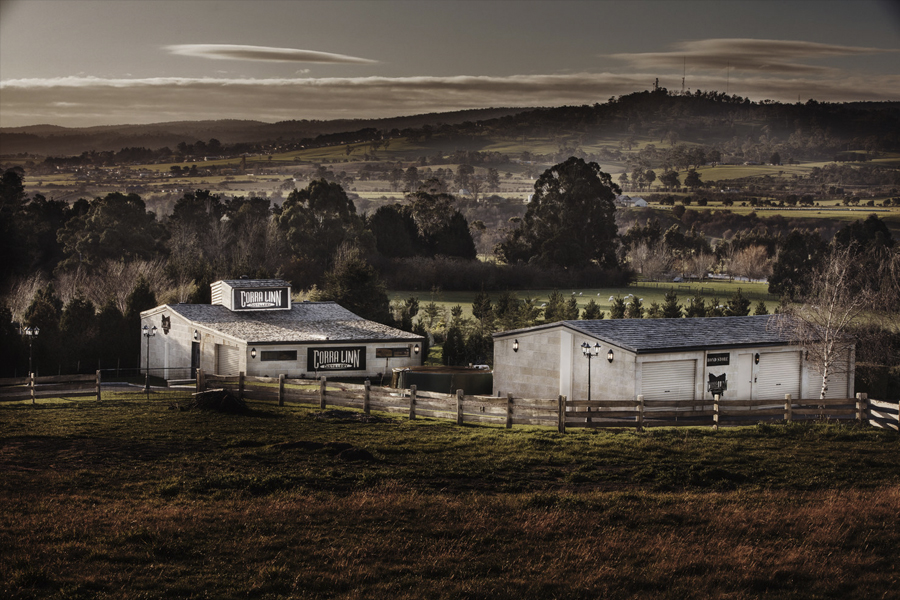 15. Corra Linn Distillery
It takes the best Tasmanian ingredients to make the best Tasmanian whisky, which is why Corra Linn Distillery uses local Westminster and Macquarie barley of the highest quality. Thanks to a superior mash and crafty ageing techniques, this nascent brand is churning out some exceptional product.
An inaugural single malt balanced sweetness and spice to perfection and quickly sold out. Expect more great things to come.
Address: 93 Correa Dr, Relbia TAS 7258
Phone: +61 418 135 150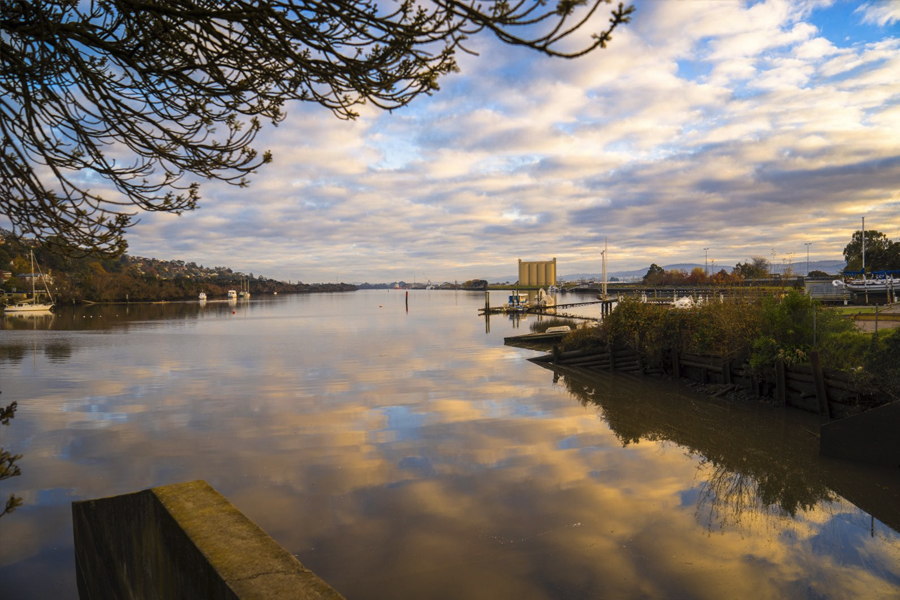 16. Launceston Distillery
Tradition reigns supreme at Launceston Distillery, which uses local barley and pure river water when crafting its output in small batches. The action goes down in Launceston Airport's Hangar 17, also known as the state's oldest commercial aviation building. This Tasmanian whisky distillery's range is quite impressive, running the gamut from affordable single malts to cask strength iterations to limited-edition releases.
Address: 287 Evandale Rd, Western Junction TAS 7212
Phone: +61 3 6391 9140
Hours: Mon-Fri 10am-4pm
Distillery Tours: By appointment only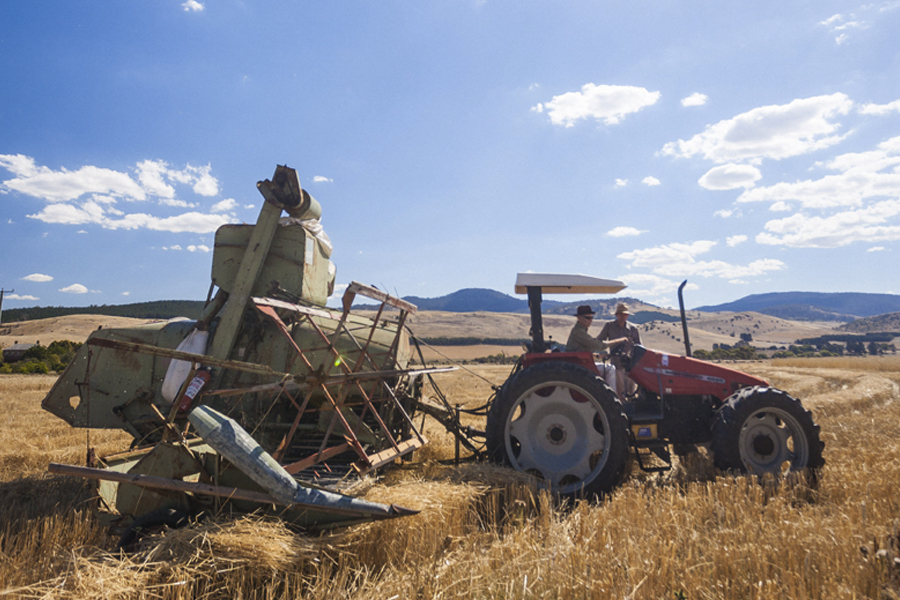 17. Belgrove Distillery
What began as a surplus of grain became Australia's first and only bespoke rye distillery, which produces a full spectrum of unique expressions. Overseeing the operation is Peter Bignell, whose transition from Kempton farmer to whisky distiller has been relatively seamless and wildly successful.
The rye is grown just metres from Bignell's bio-fueled distillery, and all the grain is malted on-site. Bottles of acclaimed whisky go out to consumers and any leftover mash goes to Peter's sheep.
Address: 3121 Midland Hwy, Kempton TAS 7030
Phone: +61 409 144 560
Hours: Mon-Fri 9am-5pm
Distillery Tours: By appointment only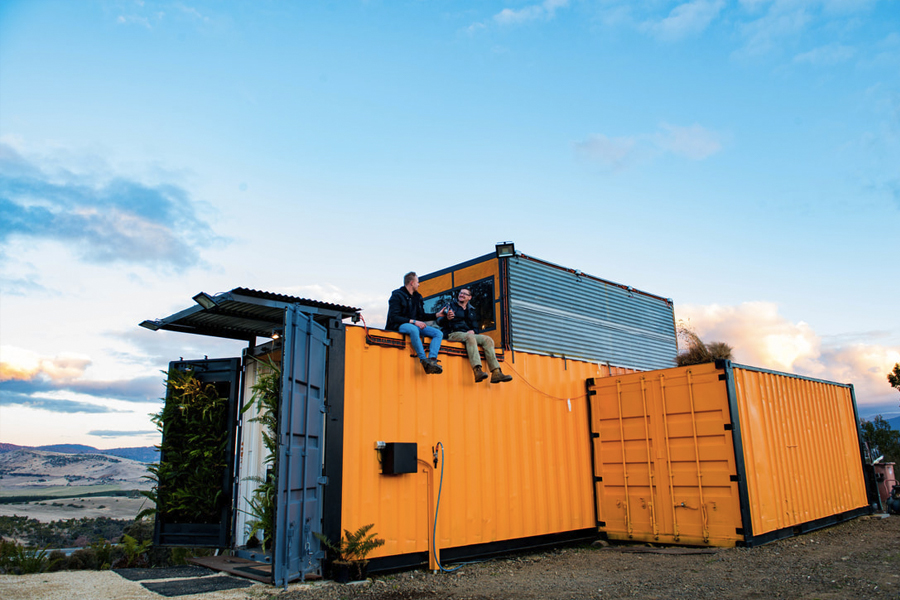 18. 7K Distillery
One of Tasmania's newest distilleries is also one of its best. Founded by Tyler Clark, 7K Distillery excels at the innovative approach, leading to a wildly exciting gin program, in particular. Australian whisky is one of Clark's earliest passions and it's only a matter of time before his juice leaves the barrel. Speaking of which, you can currently "adopt" a 20L Tasmanian Oak cask (i.e. barrel) in support of Clark's ongoing efforts.
Address: 69 Brighton Rd, Brighton TAS 7030
Phone: +61 437 782 663
Distillery Tours: By appointment only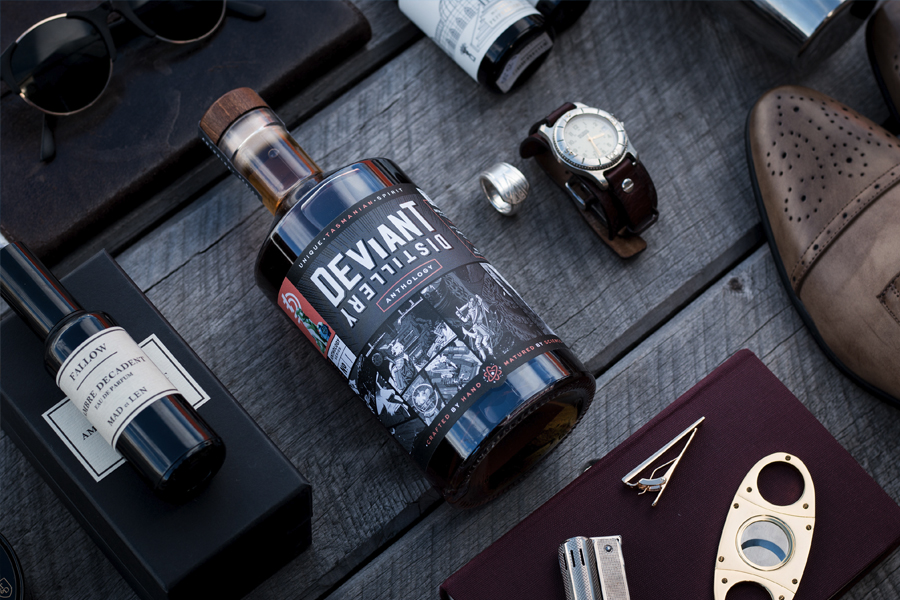 19. Deviant Distillery
True to its name, Deviant Distillery subverts the entire ageing process by way of modern technology. As such, it claims to craft whisky of the 10-year-old calibre in a mere 10 weeks time. One might wonder: are these guys blowing peat smoke or does this single malt Tasmanian Scotch really taste as luscious as its elderly counterparts? Track down a bottle to find out.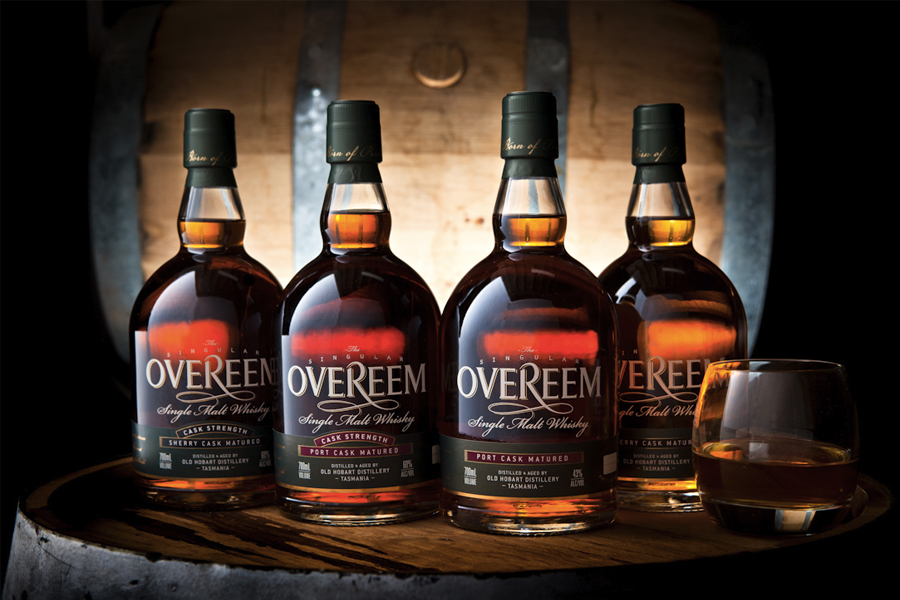 20. Overeem Distillery
Based in Hobart, this esteemed Tasmanian whisky distillery takes its name from founder Casey Overeem, who distilled his first batch at a relative's house back in 1980. Over the years that followed, Overeem fine-tuned his craft to spectacular effect. Produced in small batches using the finest ingredients, every single malt is matured in 100 litre French or American Oak casks for a minimum of five years.
Look to the hand-scrawled number on each bottle to see which single cask it came from. These Tasmanian whiskies are highly sought after and with good reason.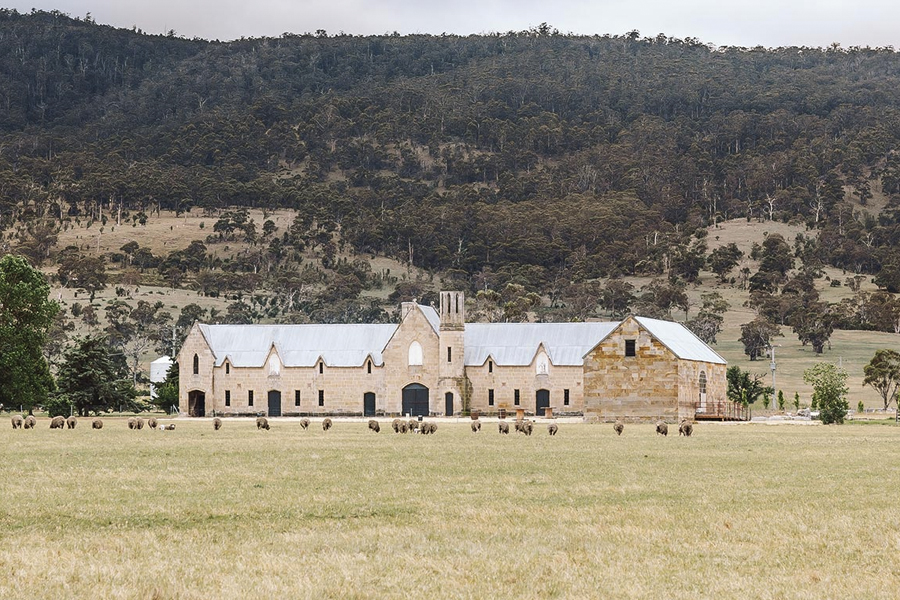 21. Shene Estate Distillery
If you like the idea of sipping Tasmanian whisky or gin in a heritage setting, then you owe yourself a trip to Shene Estate Distillery. Once home to early colonialist Gamaliel Butler, these prestigious grounds have direct links to historical figures like King George III and Governor Lachlan Macquarie.
This is also where you'll find Tasmania's only triple distilled whisky, better known as Mackey Tasmanian Single Malt Whisky. Delicious.
Address: 76 Shene Rd, Pontville TAS 7030
Phone: +61 432 480 250
Hours: Mon-Sun 10am-4pm
Distillery Tours: Book online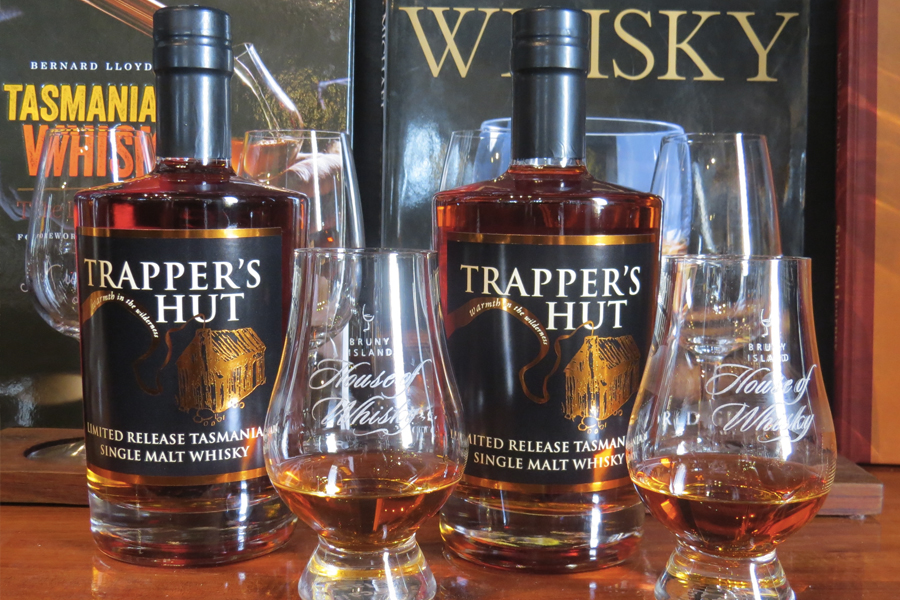 22. Trapper's Hut Whisky
Upon scoring some old barrels of surprisingly exceptional Tasmanian whisky, Trapper's Hut became the island's first independent bottler. It's since been nothing but one hit after another for this popular brand, which produces single cask whisky in very limited supply.
Get the latest release before it's gone…because it will definitely be gone soon.
Address: 360 Lennon Road, North Bruny Island, TAS 7150
Phone: +61 3 6260 6344
Hours: Mon-Sun 9:30am-5:30pm
23. Heartwood Whisky
Technically, Heartwood Whisky isn't a Tasmanian whisky distillery because it doesn't actually distil whisky. Instead, it's an independent bottler that purchases juice from other distillers and then provides additional maturation in carefully selected barrels. The result is veritable liquid gold, hence the massive following and swath of awards. It's also some of the oldest whisky in Australia.
Address: 49 Tasma St, North Hobart TAS 7000
Phone: +61 419 531 015
General FAQ
What is the best Tasmanian whisky?
The best Tasmanian whisky comes to us from distilleries such as Sullivans Cove and Lark's Distillery. Sullivans Cove French Oak Cask won World's Best Single Malt at the 2014 World Whiskies Awards.
How many whisky distilleries are there in Tasmania?
According to the most recent count, there are 31 active distilleries in Tasmania, with even more on the way.
What is the best whisky in Australia?
The best whisky in Australia arguably comes from Sullivans Cove. Pick up the brand's Double Cask Single Malt to start your journey.
How much is Sullivans Cove whisky?
Sullivans Cove whisky is quite hard to come by. Prices can range from US$295 for the Double Cask Single Malt all the way up to US$1700 for the coveted 16-Year French Oak Single Cask.
You may also like:
Guide to Australia's Best Distilleries
Watch How Whisky is Made
20 Best Bourbon Whiskeys